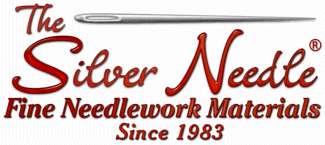 Don't miss more new-ish designs on pages TWO,
THREE and FOUR!
6068 S. Sheridan Rd. Tulsa, Ok. 74145 (918) 493-1136 (888) 543-7004
E-Mail



New Designs from a New Designer

- Cosford Rise Stitchery
We have almost 3 dozen new designs by Kelly Grundy of Cosford Rise Stitchery - coming from all the way 'Across the Pond.'
All are clearly charted and coded for DMC floss. Here we go!
Happy Christmas to All - LOVE this! Santa floating above the sleeping village. Weeks Tin Roof Linen (your choice of count), this measures 130 x 160 - so approx 8 x 11 on 32ct.
A Jolly Happy Soul - Another super-cute one... this is done on Weeks Tin Roof linen with a mixture of hand-dyeds, but DMC conversions are given. 169 x 69 -- so 9-1/2 x 4 in 36ct.
Holy Holy Holy - Just a classic! Worked on Weeks Twilight Linen, this one is NOT coded for DMC. Everything pops on that dark fabric, this measures 140 x 84 - so approx 9 x 5 on 32ct.



Christmas Gnome Littles


from Waxing Moon Designs
Here's the next set of Littles by WM! Super-cute sets of 6 small designs, along with Halloween Monsters and Forest Animals, this time we have Gnomes getting ready for Christmas.

3 x 3, they make cute pin cushions to nestle together in a basket. This is the 8th in the set. Chart includes all six designs which are coded for DMC.



Peace on Earth


from Twin Peak Primitives
A new Christmas Sampler by the Twin Peak Primitives Girls, there are a lot of charming elements in here. Check out the border - there are reindeer inside all that holly! I think just that part would make a lovely pin drum. Then, Santa and his reindeer are flying above the grand manor... and there is a stitching blackbird and even scissors on here.

Love the colors, love the house, the balance of it all - just everything. Measuring 211 x 176, this finishes about 12 inches on 14/28ct, and is coded for DMC floss. Pretty colors, fun elements, I just keep going back to those lovely reindeer!



A Joyful Hollyday

from Val's Stuff
Here's a darling set of 2-1/2 inch ornaments by Val. Worked on 18ct perforated paper they are done with your bits of bright colors of DMC flosses. Love that pop of the lime green!

The kit includes both charts, the 18ct paper, red and black backing felts, bell, button, twisted cord and black hanger thread. These are so fast to work up, and they take NOTHING to finish... but gosh, they look great and will make you smile!

A Late Pony Needle Arrival - Hypo-allergenic Black Eye #28 Tapestry Needles!
This little package of needles belongs in our collection of hypo-allergenic stainless needles by Pony. We're 'storing them' on our Needles page, in the same description line as our other black needles - with white eyes - but these are all black!

These are really fun... and because they are black you can see where your needle point is! We like the white-eye versions because they are easy to thread, but honestly, these aren't hard either - because you can see the light through the eye!

Something new and unique - just don't confuse yours with black kitty hair on the couch! A lovely petite size too!
Scroll down just a bit, or click through to our Needles page, to see lots of other new Pony Needles.

You can always subscribe to Secret Needle Night every month... but if you want a little bargain/treat in the process... think about our PrePay Special. You pay for this next Jan to November of 2024 (kits are only $17.50 each) and get next December's FREE! We always offer this special this time of year - to get you ready for next.

SNNs are easy-to-stitch seasonal designs. We use 20ct linen, because it holds up to all the fun specialty threads like Pearl Cotton Fyre Werks, and the furry and fuzzy threads out there. We design and kit up a limited number of kits each month, and they are NOT available again. Super fun and quick to stitch, easy on the eyes and the budget... We've been doing these monthly for 30-ish years! (which I actually cannot believe!) If you've even been in the shop, you might have seen our backroom walls full of all the past ones!
P.S. This makes a great gift for a beginning stitcher!

To Summarize:
Prepay for 11 SNN Kits ($17.50 plus $2.50 shipping each) and receive December 2024's Kit for FREE
or
Prepay for Jan thru June 2024 SNN Kits WITH Finishing Kits now ($44.50 + $5.50 shipping each x 6 = $300.00)... we'll charge the last 5 months to you ($250) in July... and you'll receive December 2024's set of kits FREE!

Click through to our Secret Needle Night page to take advantage of this special.



Peppermint Mocha -- Something warm to drink this cold January!... Our November 2023 Secret Needle Night Kit
Our Secret Needle Night design for November brings you this mug of cheer - overflowing with marshmallow men and peppermint sticks! #5 Perle Cottons, a little Very Velvet thread and metallic Fyre Werks ribbon... it'll stitch up in a jiff. We wanted a wintry decoration, and here it is!

Your kit contains the chart, 20ct linen, needles and all the fun threads and beads. We even found a couple of peppermint mocha recipes to toss in - one with vodka!



Newest Designs

from Plum Street Samplers - Coming after Thanksgiving!
Paulette has been busy... here we go! All are available as charts.
New World Sampler - Inspired by The Mayflower and the year the Pilgrims landed in America. It features those Pilgrims along with Wampanoag Indians (she did a little research for us to get them right!) and some floral motifs from the Loara Standish Sampler. She tossed in some of her notes for you to enjoy while you're stitching this charming piece. Love the colors, the village, the ship, the pumpkins... all of it! Worked on 36ct hand-dyed using Weeks and Classic flosses, it finishes about 9-1/2 x 10.
Autumn Joy and Winter Blessings - These are 2 of the 4 seasons of a new set of 4 designs - they feature a little lady with her deer companion, which will be the theme throughout the series. Paulette says Pennsylvania is full of deer who happily eat most of her landscaping! Stitched on 36ct, these 3-1/2 cushions are done with Weeks and Classic flosses and feature Lady Dot trims.
Christmas in the Colonies - Here's a Pilgrim couple celebrating Christmas outside their bright red home - which is most likely the talk of their town. They've welcomed their friends with the eternal symbol of hospitality - the pineapple. Stitch count is 120 x 53 - stitched on 36ct - with Weeks and Classic. It measures about 7-1/2 x 3.

The Latest Re-Stock of Mill Hill's Button & Bead Kits
The latest restocks from Mill Hill this week... Just a heads up of the newest golden oldies to finally reappear! All are in stock!
Toy Shop is from a million years ago.
Clarissa Cow and Percy Pig have been on order since last April.
Fall Leaves and Haunted Tower have always been favorites!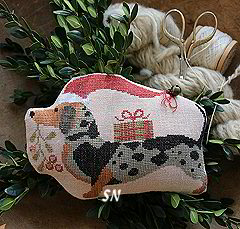 Christmas Sausages

from Stacy Nash
Stacy has two new designs in her Animal Cracker Series! Presented as charts.
Finley is the little spotted guy - he measures 113 x 82 and will finish about 6-1/2 x 4-1/2 on 36ct. He's stitched with Weeks hand-dyeds and accented with a little Rainbow Gallery white Wisper thread - it's the fur on his Santa hat.
Little Frankie is the brown one - looks like a hot dog! He's the same size, Weeks hand-dyeds again, just the cutest! Both charts have now arrived.



The 2024 Christmas Ornament Kits are on the way

from Satsuma Street
Jodi has 4 cute ornament designs all presented on 14ct perforated paper. They come as complete kits of the chart, paper, flosses and any embellishments she uses.

About 3 x 4 - these are always bright and colorful - so darn cute! Of course you should get all 4, Cool Kid, Lolly Claus, Santa Cruiser and Calling Birds!

Presenting Pony Black Needles! *Hypoallergenic Blacks* and *Colored Eye Tapestry*
You Need these Needles! A new line for us in the shop - we're excited for the selection and the features they offer. Each package contains 6 needles.
Hypoallergenic White Eye - This is a collection of BLACK STEEL needles. They do not have nickel plating on them. (Shiny needles have a nickel plating that can be an allergen - that is one reason shiny needles tarnish.) These are awesome because they feature a narrow shaft with that high contrast white eye - against the black - for easy threading. The black needle gives you a tip that is easier to see when you're aiming for your stitching hole, too! We have several sizes and types:
Tapestry - Regular Cross Stitch Needles in #24, 26 and 28 and an assorted package of 2-18, 2-20, 1-22 and 1-26. Check out those gorgeous-easy-to-see-eyes!
Ball Point - This is an assorted-sized package - smaller white eye, sharp tip - but with that micro-ball tip.
Chenille - An assorted-sized package of sharp needles with large eyes, these are used for wool applique embroidery -- we also use them for our embroidered tea towels. These follow the same size that tapestry needles do... they are simply sharp rather than dull like a Tapestry.


Pony Colored Eye Tapestry Needles - Love these too! These are nickel-plated steel needles - with colored eyes! You can tell by looking at them what size your needle is! The #24's have a black eye - which is actually very easy to see. The #26 has a teal eye, and the teeny-weeny #28's have a red eye! We have these in an assortment pack of 2 each #24, 26 and 28, and single-size packs of 6 needles each as well. (#28's have 5 in the pack vs 6.)
Look at the size difference of the Red Eye #28 needle! It is next to a John James #28 gold tapestry needle! It is definitely smaller!
Introducing Just Nan's Christmas Eve Mouse
Just Nan has announced her 2023 Christmas Mouse - Eve. The Candles are lit, the garlands are hung, presents are wrapped and the clock is ticking down to midnight. Eve is waiting for Christmas Day to begin. Stitched with DMC and touches of gold metallic on weeks 32ct Mocha hand-dyed linen, she is wearing a red flower hat decorated with a striped bead. A gold bow bead holds the bead garlands in place - and notice her festive green tail!

This is Nan's final Gingerbread Christmas Mouse... so Eve finishes this delightful set of charming mice. The kit includes color cover, graph and instructions for stitching and finishing, along with the green tail, button base, beads, red glass flower and gold bow bead. A sweet ornament for your tree!


Christmas Snowfall Biscornu - A 3-1/4 inch biscornu cushion, stitched on both sides, this is covered with Nan's pretty lacy snowflakes, red flowers, greenery and flowing ribbons. She has white and gold beads everywhere and iridescent snowflake sequins decorating all the corners. Stitched on 32ct Natural linen with bits of DMC and metallic, (all available separately) the chart comes with the beads and snowflake sequins. Just a pretty little thing - this is also small enough to be a hanging ornament.



Nicolas Fob


from Fern Ridge Collections
Here Comes Santa Claus.. Here Comes Santa Claus!
The Fern Ridge Ladies have a new beaded scissor fob design that looks like a super-fun project to construct. Santa is holding a wish list and his sack has several cute toy charms hanging from it - so I guess he's been reading that list!

The complete kit contains the chart styles - colored and numbered - all the beads and findings, charms and threads. This little guy is approx 1 inch wide with 2 inches of Peyote and then another inch and a half of that wild and frizzy beaded fringe.



Pastel Ornaments

from Country Cottage Needleworks
Nikki is beginning a new 12-part set of ornaments - first one ships this December of 2023. They will be all different sizes, and we know they are on 32ct Beautiful Beige Linen but beyond that, we don't have many details! She'll be featuring her Mom's floss - Classic Colorworks - for the entire series.

One chart each month till next Dec... these first two look darling! #1 is called Christmas House, measures 55w x 52h, and uses mostly Classic Colorworks with a bit of DMC thrown in. We'll begin an auto-ship... you are welcome to choose any fabric you like... and we'll be gathering thread sets as well. More info as details release!



Little Annie Lewis


from La-D-Da
La D Da has a new sampler - lots of alphabets, but pretty fonts and a playful bottom panel.

Measuring 226 x 219, it finishes a generous 14 x 14 on 36ct. Coded for DMC and Weeks, it is a reproduction. Something about it is simple and charming! Presented as a chart.



Merry Christmas Cupcakes


from Les Petites Croix de Lucie
Wow, this enchanting set of cupcakes came through our shop doors - 'on paper only!' What a yummy collection of stitched cupcakes... each measures about 40 x 45 in stitch count so will finish about 3 inches on 32ct!

The whole design measures 160 x 170 - 10-ish inches. We liked the idea of stitching just one of two of these - that way you get the charm of the piece in 25% of the stitching time! Presented as a beautfully large colored chart and coded for DMC - I lost count at 60 different colors in this!



Sweet Petites


from Little House Needleworks
Little House Needleworks has released her 10th 'Petites' design - this one celebrates Sweets of the Christmas season.

Same 39 x 39 size... this joins a really cute collection of seasonal smalls. Presented as the chart of 4 designs.



Give Thanks Always and Thankful for Everything!


from Shepherd's Bush
Shepherd's Bush has two new Holiday designs releasing now... and both have now arrived!.
Give Thanks Always is a complete kit on 32ct. It features Weeks flosses, a few button embellishments and that pretty trim by Lady Dot. I think the ship with the pilgrims aboard is the cutest!
Thankful for Everything is another of the plaid mesh pouch designs. This one worked on the Burlap brown colored bag. Done with #5 Perle Cotton, the two tiny coordinating pin cushions are on 32ct Flax Belfast.
Christmas Releases

from Jeannette Douglas
Ms J has been busy... and we reap the rewards! New things arrive around Thanksgiving time.
European Christmas Box - This was one of Jeannette's projects to our group on our Christmas Markets European River Cruise last year! You'll recognize her little 6 x 6 wooden tray, which is offered separately... it is sort of optional, as you COULD finish all these smalls into cases and cushions just by themselves.
Stitched on a green background - you'll need a 12 x 13-1/2 cut of 32ct to fit the pieces into the tray - Jeannette used luscious silks for everything. The trees are on the front of a needle case, gnomes are a cushion, the the signature wreath and candle blocks hold scissors and a threader (I believe) on their backs. We have the leaflet, thread pack and wool set - for all the piece finishing - all together for this!
Winter Bouquet - This is her second smaller seasonal bouquet design... she meant it to be WINTER, but it came out a little Christmassy - we told her nobody would mind! About 4 x 4, just a pretty size for a medium cushion...she used a mixture of hand-dyeds or DMC. This is available as a small chart, and if you like, we can add you to our auto-ship for the rest still to come.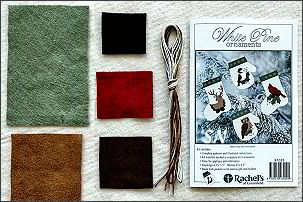 White Pine Felt Ornaments


from Rachel's of Greenfield
Rachels of Greenfield has a new set of charming retro-flavored felt applique ornaments. We have several other fun sets, Gnomes and Forest Critters pictured here... and this set of birds and a deer join them. Offered as complete kits, you get the wool pieces and actual sized cutting templates for them to cut your individual pieces, and necessary flosses.

Follow the colored diagrams inside the kit for placement... each mitten or stocking ornament can be finished leaving the 'top' open to hold money or gift cards from Santa! Straight or Blanket Stitches - you decide - either way these are fun to make and make you feel good!
Let it Snow Music Sewing Set

from Mani di Donna
Mani di Donna's charming Christmas music box sewing set is in the shop. We have the stitched piece, and it plays 'Let it Snow' while the green tree topper rotates and enchants! Her companion to the Ghostly Music Box Set, which plays 'The Addams Family,' this set includes the charts to stitch the box, and matching needle and scissor cases, along with the stiff finishing pieces, templates for topper pieces, and the actual music movement.

Let it Snow features Santa in his sleigh flying through a snowy sky. Like the Ghostly one, the stitching on this is about 30 x 130 - so just 2 x 8. You construct the drum base shape, put the music box inside (little crank pokes through the bottom so you can wind it), and then construct the topper felt cushion. Absolutely too stinkin' cute for words - this is exactly the kind of thing your grand-kids will remember seeing every year... and wanting to wind it! Over-the-top cool and fun. You'll need a 13 x 18 cut of 32ct Cocoa linen, a few flosses, a few beads, and wool schnigglet cuts for the toppings.
A Ghostly Music Box

from Mani di Donna
Well, this is pretty cute! This is a set of needlecase, scissor sheath, and pin cushion drum that doubles as a music box! That stitched music box's topper rotates as it plays the theme song from The Addams Family!

The entire set is stitched on Weeks 32ct Tin Roof Linen with Weeks hand-dyed flosses. You'll need to choose wool and trim for the topping, but maybe get your other 'ingredients' first to see what you like best. Simona has a video of the assembly of the box system, and we are offering her finishing pack of all the precut skirtex box pieces, so that shouldn't be the scary part of this. I think it's just delightful! SO unique, what a fun decoration to play with every year you bring it back out!

We've brought the model home from Galleria with us. You can see it set against our Weeks wools and Lady Dot trims. See what your heart desires! You'll need a schnigglet cut of wool ($6 ea) for the top and another for the bottom, and one (?) color of trim ($6 ea.) Let us know in the comments box of your order what you prefer, or call us 888-543-7004. Fabric is Weeks 32ct Tin Roof - you can get by with a 13 x 18 cut, which gives you about 1-1/2 inches around each small stitched piece for finishing.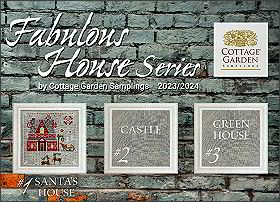 Presenting The Fabulous House Series for 2024

from Cottage Garden Samplings
Vinniey has announced her next series of designs - it promises to be a charming set of whimsical houses. Santa's House is the first!
Beginning in December of 2023 and continuing - 1 house a month, until we finish in November of 2024 - the first one is on the way to us now! Each design will be 120 x 120 in size and can be stitched individually or all together. (370 x 495 for the whole thing!)

So, Santa's House is first, followed by a Castle in December. Green House, Cottage, Hobbit House, Tree House, Housebarn, Lighthouse, Floating House, Fairy house, Haunted House and Log Cabin will be the other pieces of real estate in the set. The fabric in the first pic is a medium gray. Since we have no idea what the other designs will look like, I am thinking any neutral should work - Country Vintage Mocha? Natural? Lambswool? Any lighter hand-dyed? As for counts... YOU choose - it's YOUR piece! 32ct would be 7-1/2-inch houses, 40ct would be 6-inch houses. Coded for DMC (parts 1 and 2 have 2 hand-dyeds each, part 3 has no hand-dyed) Promises to be pretty festive! Our Auto-ship will include the charts each month.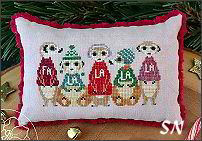 Christmas 2023

from The Blue Flower

12 Dogs and Cats of Christmas - Presented in two different books - enjoy all these little fur babies doing things they are supposed and NOT supposed to do at Christmas! Jeannine has cats in one book, dogs in the other... she's mixed up the dog varieties, and given all those cats different colors of fur coats, so you can find your favorites and adapt if need be. Cats are worked on a steel blue color (close to DMC 415), dogs are on a tan (DMC 613/453 background.), and coded for DMC and hand-dyeds. Both are full of cuteness and color!
Language of Flowers - Peace - Just a very pretty piece - so very relevant in the world this year. Jeannine chose holly and hellebore as her flowers. We had a Google lesson in hellebore as I am writing this description - they are Christmas Roses, and have a lonnnngggggg and fascinating history. Anyway, this finishes approx 9-1/2 x 3 on 40ct, and is coded for DMC.
Holiday Card 2023 - This year we are treated to Merry Meerkats - who are all bundled up for their unseasonably cool weather. 4 x 2-1/2 On 40ct, the are done in DMC and hand-dyeds - but since they are so tiny - you don't need much thread, or even a big piece of fabric! Presented as a chart.

It's A Sizzling Scissor Sale!
Super Sensational and Simply Spectacular..
We have a lot of pretty Premax Floral Scissors on sale ***1/2 OFF***, along with our seasonally enameled styles! Even Harry Potter is in on the fun... this is just a quickie pop-up thing... nicer quality, perfect for stocking stuffer gifts, excellent for random fob decorating... all are 1/2 OFF!

Use the cart dropdowns to choose your favorites, but please please, let us know if we can sub something if we run out of what you choose! We have oodles of fun options!

From Left: Just Be, Be Inspired, Be a Friend, Be Amazing.


New Sticks Designs Have Arrived

from Mill Hill!
Four cute, colorful 'Be Uplifting' cross-stitch designs bring a smile to your face and happy thoughts to your head. Mill Hill has a great collection of kits by artist 'Sticks' that they have adapted to cross stitch, and embellished with just a few glass beads. Stitched on 14ct perforated paper with DMC floss and garnished with Mill Hill's beads, these finish approx 7 inches square.

Always super colorful, always inspirational in subject, we have several of these stitched in the shop - and they are always noticed. Lots of stitching, the paper makes an easy background to work on...complete kits contain the chart, paper, threads, beads and needle. Make sure you look at the others released over the years - really nice offerings.



Winter Seasonal Thread Pack

from Little House Needleworks
Diane Williams of Little House Needleworks and Classic Colorworks Flosses is doing a 4-Seasons set of thread packs. 'Winter' - releasing late October 2023 - is the first of the 4. You get her chart... she describes the cover pic as a 'nice computer image'... along with 6 full skeins of her CC hand-dyed floss. We are not aware that any of the colors are new... just pretty colors you'll probably use in other designs as well.

You have enough thread to stitch the design on just about any count you want. She suggests a blue-grey or dark beige fabric so that the snow shows up. Stitch count is 101 x 78. No word on release of the other three designs and threads... but I have no doubt they'll be the same size and compliment this one. (Auto-ship is available on them!) The threads regularly run $2.60 per skein, so effectively, that cute little chart is costing you $.40!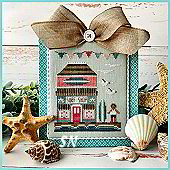 #5 Souvenir Shop is Here!


from Country Cottage Needleworks
Introducing Beach Boardwalk, the new 7 part series, released monthly beginning June, 2023. This series has been inspired by the whimsical feel of a vintage seaside boardwalk.
Nikki has used 32ct Star Sapphire linen and Classic Colorworks overdyes with a bit of DMC for good measure. Each design has a stitch count of 59w x 71h.

The models can be stitched and finished individually, or you can finish all of the charts together to look like one long boardwalk. This is a really pretty one... just perfect for an auto-ship! Individually, designs are expected to cost $7 each.
Winter Pears


from Artful Offerings
Karina has a new design. She describes it as pears on the kitchen windowsill - adorned with greenery and berries - and the peaceful silence of the falling snowflakes though the window.

Choose a Sand-dune-y golden colored fabric and some hand-dyeds for this 7-1/2 x 11-1/2 piece. Main color is Gentle Art's Pomegranate - you will need 2 skeins, so go through your stash for just that perfect red color - against that honey background. Presented as a chart.




#115 Pins & Needles


from The Prairie Schooler!
Prairie Schooler has sent one of our very favorite past leaflets - #115 Pins & Needles.

Years and years old, it includes cute pin cushion designs, a couple of fobs and fun little scissor case. Timeless charm on these, it's a must have for your stash, because you might actually STITCH some of these!
(Designs are displayed on the Prairie Schooler page by number.)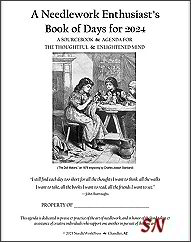 It's HERE!... The Needlework Enthusiast's Book of Days - 2024
*A Sourcebook and Agenda for The Thoughtful and Enlightened Mind*
This year's necessary stitching journal has been ordered and will be here in just a few weeks! By Needlework Press, this is a softcover full-double-page monthly calendar for 2024 - designed for us stitchers! Lots of space for notes, lists, comments and contacts, the idea is to use this as your GO-TO calendar for stitching projects, meetings, events, trips, shopping lists. Keep track of anything fun you want to remember about your needlework.

Vicki has included a pyn keep chart this year as a bonus as well. Super handy to have, she's decorated the inside pages with vintage needlework artwork, and given you lots of space for your special notes. She adds just for fun: This agenda is dedicated in praise and practice of the art of needlework, and in honor of the kind talent and assistance of creative individuals who support one another in pursuit of this fine art!

Santa Claws, Santa Paws and Country Christmas from Dirty Annie's
A trio of fun little Christmas ornaments by Dirty Annie's will help you decorate for the holidays in style! Goodness knows those little furry creatures we love need recognition on the tree! Each Paws and Claws measure about 4 x 4 when finished... coded for DMC. Each of the single charts comes with a charm (Paws has a bone, and Claws has a fish skeleton and mouse.)

Country Christmas is just cute for anyone who wears/loves boots! Tone down the stripes if need be... or stitch 'em to match that favorite pair of boots. Each comes as its own single chart.
The November Releases from Erica Michaels Designs are due in the shop mid-November.
Christmas Countdown - Linda says to count the days till Christmas with this design that can be stitched three ways. Create the calendar, a December pin-drum, and finishing with a matching berry pin cushion. Fresh and bright colors, it looks like an easy stitch.
Quilting A-Bee-Cs is finally finishing with this part 5 to the design. Just a fantastic collection of smaller designs, Linda has arranged colorful quilt blocks and inspirational thoughts into the patchwork piece. In each of the 5 charts, she has assembled/finished three or four different projects, so you are getting a super-creative collection of different smalls. We're kind of sad that this project is finished... but thrilled to finally be able to offer the complete set of charts!



A Few New Offerings

by Heartstring Samplery
Beth Twist has some fun the designs arriving in the shop the first week of November...
Advent Season Ornament Set is a contemporary-flavored 4-part design. JOY, PEACE, LOVE and HOPE are the words that correlate with the lighting of weekly Advent candles. She's stitched these 41 x 68 pieces on Fibre on a Whim's 36ct Dusk hand-dyed linen - which is just the most gorgeous deep, rich blue color. (We have it in several counts... 36 makes them about 2 x 3-1/2) She's trimmed these with red and white striped butcher's twine that looks like peppermint!
Hear the Angels Sing features the lyrics from the 4th verse of 'It came upon a Midnight Clear.' She's charted Satin stitches in the angel's wings, and used DMC and Weeks flosses.
Hope Song celebrates the song of winter Chickdees that Beth loves to hear. She's included 5 more charts in here for the 5 most common Chickadee varieties found in North America - so your birds can be the right ones! Worked on 36ct Country Vintage Mocha Linen with DMC and a few Weeks, 127 x 127 in stitch count, just something to brighten the gray winter days.
Joyous All Together - a companion to Love & Joy, these lyrics are from 'Deck the Halls.' Choose a simple fabric, and one single hand-dyed thread color, this finishes approx 3-1/2 x 7 on 36ct.
Pop of Halloween and The Leaf Flag

from Bent Creek
Pop of Halloween -- Here's a new 'Zipper' Kit that companions their 4-seasons like this... a plump little tree filled with Jack-O-Lanterns and seasonal color. (Zippers were originally called 'zippers' because Bent Creek packaged them in semi-clear zippered plastic project pouches. They started as all snow globes with cute Christmas things inside, them morphed into the 'Big' and 'Big Round'... still in pouches... but then they added these trees - but dropped the zippered pouches. So that should help the name confusion side of things.
These have nothing to do with zippers, and they do not come with zippers! We occasionally get asked!) Anyway, your trees are stitched on 20ct Natural Linen with size 5 perle cottons. Super easy to see and do, the threads, fabric and needles are nice and bog - perfect for road trip stitching. Pop finishes approx 4-1/2 x 7 and the complete kit contains the chart, linen, needle and threads.
The Leaf Flag - This little guy is just the sweetest! He's only 30 x 50 - so he's only 2 x 3! (f you put him over one on 28 Lugana, he'd make a darling scissor fob and be only 1 x 1-1/2! Stitched with bits of DMC and classic Colorworks flosses, he'll finish in a fast flourish! Presented as a small chart.



Christmas Parade and The Pilgrim

from Cottage Garden Samplings

Christmas Parade is just the cutest! A Jolly plump Santa is leading his tiny forest friends... maybe they are little Santas-in-training... because they all have on little teeny Santa hats! Measuring 100 x 200 in stitch count, this will finish approx 5-1/2 x 11 on 36ct. Choose a murky winter-colored background for this - so the white and pink snowflake detail shows up along the top and bottom. Everything is stitched in DMC. I think those little animals just steal the parade!
Cottage Garden Samplings is finishing her year-of-snowmen series with her Pilgrim Snowman. You had several chances to think of snowmen in 'different and creative situations' this past year... lots of stitching for this entire set... but colorful and full of cute design details. Pilgrim is the final chart in the set of 12. You can pick and choose any of them you like... or still collect them all.

Needle Print & Plays from Just Another Button Company
Cecile at Just Another Button Company is a whiz with her business printer machine. She has figured out a way to run perforated paper through her printer. (This is a 'don't do this at home' kind of thing!) She has designed backgrounds, then cross stitch designs to go over the backgrounds, and then added her hand-made polymer clay buttons to embellish each. Absolutely enchanting, we loved having the models in the shop when she came for a She Shed Retreat a few weekends ago.

These are hard to explain, but I hope you can see from my pics what I am talking about. You see part of the design stitched, you see part of the exposed paper, but what she's done, is printed a back-sheet to put behind your paper to cover the unstitched holes - so you don't really SEE the paper! (You can see this in detail when you go to our JABC page and click on each individual deesign.) Look at 'Wicked' - it's a really good example - behind the paper you stitched on is another printed sheet that mimics the design so the moon is yellow and the sky is black - with no paper holes to see!


Really fun, clean, colorful and creative, the stitching on these is pretty minimal, so especially after button attachment - you get a lot of 'visual bang for your buck!' Each design comes with the printed paper, printed backsheet, chart, and buttons. You add bits of floss from your stash. Ready for framing when you're finished, they are all super cute, and all finish somewhere around 4 x 5 x 6.
Plenty & Grace Sampler and The Good Shepherd Sampler from Brenda Keyes of The Sampler Company
Brenda Keyes has two new samplers... both offered in chart format; we like to stitch ours over one thread on 28 Lugana or with half stitches over two. Charming motifs and houses, the border on the Shepherd reminds me of the marks on a ruler! Always coded for DMC, her pieces are simple and pretty - but we notice that she is using some hand-dyed threads now. Due in the shop anyday, we can't wait to get the models stitched.

Plenty & Grace measures 12-1/2 x 9-3/4 on 14/28 - but if you do the over one, you can get it down to 6 x 5!
The Good Shepherd measures 175 x 177 - so 12-1/2 on that 28, but again - it could be 6 x 6-ish too! Brenda suggests these are easy to stitch and rates them as great projects for beginning stitchers. (But I'm an old stitcher, and I like them too!)

Autumn and Thanksgiving Designs from Samplers and Primitives Are Back In!
A new company for us to carry, these 4 designs are available as charts.
Rose Band Sampler - Well, I lied... this one is for all year long - not necessarily Thanksgiving! LOVE the vintage-inspired rose medley medallion as well the the 4 delicate rows beside it. You could do a large 'mattress' cushion and stitch the 4 bands as the sides... or even do parts of those as smaller cushions. Lovely, and very classic.
The Autumn Quakers - Choose a white or creme for these, pretty acorn shadings with a hint of Quaker borders tossed in! Smaller one is close to 4 x 4, larger is closer to 6 x 6.
The Autumn Alphabet - Companions the cushions, right at about the same size... same motifs, colors... all three of these would be pretty together in a woven basket with acorns and dried leaves!
1869 Thanksgiving Pin Cushion - Celebrating the year the US made Thanksgiving a National Holiday! Love the little shade pumpkins and vine... I might re-arrange those numerals on the date a little - but that's a personal thing. Tuck this in with the Autumn Quaker and Alphabet pillows.



Berlin Woolwork Fragments #7 and 8, Wear Your Woolies and Emily's Bliss

from Summer House Stitch Workes
Summer House Stitche Workes has a few new arrivals for us...
Fragments in Time for 2023 ends with these last two - #7 and 8. An absolutely gorgeous set of 8 small pin cushion designs all inspired by antique Berlin Woolwork designs, each part has been presented in small card format - perfect smalls to stitch!
Wear Your Woolies - Choose any dark fabric you like - this is stitched with only one color of hand-dyed floss - Whitewash. Coverlet-inspired, it has a cheerful winter-y personality to it. So even though this is essentially red and white, yours could be khaki and green, or blue and taupe... match it to the walls of your cozy winter cabin in the woods! (only a dream for me!)
Emily's Bliss - 'Every leaf speaks bliss to me' - This is stitched on 32ct Natural Linen with shades of Weeks hand-dyed cottons or Gloriana hand-dyed silks. Just gorgeous, Beth gives finishing instructions for the drum assembly as well as the embroidery on the wool leaves. Very bright and pretty for Autumn!

New Designs from Hands On Design Have Arrived
Cathy has a few new designs to 'decorate' your tree and possibly your stash!
The Tree Lot - This chart includes all three of these pink, red and green trees - all stitched on 32ct Charcoal/Gunmetal fabric. Measuring 53 x 64 - they'll finish approx 3 x 4 on that 32. Classic Colorworks flosses of Bamboo, Cherry Tomato, Chocolate Mousse, Frog Legs, Onion Skin and Pea Pod - they all 'pop' against that dark background.
Pere Noel - Another chance to use the charcoal fabric color, this little guy is coded for Sulky or DMC flosses - he's just a little over 3 x 3, so if you leave off the letters, he's be even smaller.
A Homestead Gathering - A sewing set of Sampler block needlecase, barn quilt pinwheel, flag fob and pumpkin patch pin cushion. Everything is done on natural linen, but the pic on the cover looks like a light blue. Coded for good old DMC.
Enjoy The Stitch - Here's something fun for us stitchers! You could take out the words and add your name - then put this onto a stitching pouch. Both designs are included in this chart and stitched on 32 Angel Wing or any light neutral you have - using DMC. The cushion is only 47 x 36 - so a bitty little thing!



Smart Punch Needles


We have a new Punch Needle option! They describe their little gems with lots of important details:
Smart punch is ergonomically designed with a larger handle to reduce the risk of tendonitis, pain of arthritis and carpal tunnel syndrome. Designed for comfortable punching, you will also enjoy the thumb indentation on the front of the punch needle that lines up perfectly with the front, beveled edge, of your needle, always keeping it in the proper punching position. With five different loop heights that can be easily adjusted you will find yourself creating beautiful punch needle projects in no time at all.

Smart Punch comes with the most commonly used medium size needle, needle threader and even an extra needle. You will be able to put 2 strands of 8 or 12 wt perle cotton through this needle or 4-6 strands of floss. The needle comes with a punch needle lesson and great tips and hints along with some Do's and Don'ts!



Little Cushions Coming Our Way

from Primrose Cottage Stitches
Christmas Quaker - Grab three skeins of your favorite red hand-dyed and a cut of 28ct (or smaller fabric and less thread!) to stitch this little cushion that companions the Autumn Quaker.
Christmas Trees & Stitching Please - This one measures just 71 x 67 - a little under 4 x 4 on 18ct - coded for 7 shades of DMC.
Autumn Quilt - Just a simple little 75 x 75 piece, this is done with Dublin Bay and Bright Leaf hand-dyed flosses. Charming to tuck into your bowl of stitched cushions!
I Love Fall Most of All - This one measures only 60 x 71 - so could be under 3 x 4 on 18ct! 6 Colors of DMC, the finishing treatment adds some size and matching color.


New From Teresa Kogut - Hello Autumn
Teresa's newest book, Hello Autumn features 8 fun seasonal designs to stitch. There is a very happy dancing scarecrow surrounded by all sorts of glorious sampler motifs, sunflowers, pumpkins and birds. 'Harvest Scarecrow' has another scarecrow tucked in his pumpkin and sunflower patch. Both are super charming! Then you get Harvest Ted and Harvest Tina - the chubby pumpkin-head couple are wearing matching gingham clothes.

Another 'Sunflower Sam' scarecrow (I guess she's giving you lots of scarecrow options this season!) and a pretty white manor house all decked out for Halloween. DMC and Weeks for everything... multiple hand-dyed fabrics will work on most of these as well. Always cute, full of Teresa' artistic talents and personality!

With Thy Needle & Thread's New Winter Offerings - on their way into the shop,
Brenda loves birds and charted a few of her backyard favorites this time around.

The Light of Winter is a 175 x175 sampler celebrating the winter solstice. It's a little christmassy but not too much - just more of a festive winter flavor. Model is stitched on 36ct winter brew - but many of the gorgeous hand-dyed on the market will look wonderful with this - you are not limited! DMC along with weeks and a bit of gentle art hand-dyeds, Brenda tossed in a few satins and Smyrna crosses fir a little texture and design interest. Very pretty and peaceful
Peppermint & Pine - Love these! A trio of birds in Brenda's new backyard, she's done these with a contemporary personality and added totally awesome pine cones to the mix. Super striking and geometric you get those long tails, the fat birds and the round cones full of tiny triangles for all the little scales. DMC and a medley of hand-yed flosses, they are stitched on Country Vintage Mocha fabric - which comes in several different counts. All three designs in the chart, they are charming.
Snow Magical - Here's a chunky looking little guy in his wintery-aqua-blue sweater. Finished into round shape, Brenda remembers her Grandmother's Snow Globes and this frigid friend might have been inside one of them. Approx 100 x 100, 5 x 5 on 40ct, he's done with DMC and hand-dyeds.
Reindeer Games - A trio of ornaments featuring our favorite Jolly Old Soul and his playful reindeer. There's an ugly Christmas sweater, some light untangling going on and a pair of peppermint patrons! These all finish around 3 inches in size and are stitched on Country Vintage Mocha fabric. Brenda HAS the finishing boards included in the chart - you'll need to paint them, but they have that little topper-thingie, so they look like ornaments.
The Annual Christmas Issue of Punch Needle & Primitive Stitcher Magazine
Arrives Late October
Always a great magazine, this year's Christmas issue is no exception. They have a slide show up on their website that shows you previews of all the projects inside - and there are several that I think are really nice. There is a frosty snowman mug with peppermints popping out all over, a couple of house/winter/sleigh scenes in cross stitch, a cardinal punch needle project and a sweet little 'Have Yourself a Merry Little Christmas' piece.

Over 20 projects... tons of pages... gorgeous pics and lovely instructions. You can't go wrong with this one! They will not be re-printing this issue, so when it sells out (as it does every year) it will be gone forever! Reserve your copy now.
Sunshine Jack Pin Cushion

from Val's Stuff
Here's a limited edition happy little fellow for the season! Val Danish presented here this weekend... and little Jack was a surprise bonus for the class ladies. We have a few kits left over to share. Grab a needle, a little black floss and some glue.

The complete kit for 4-inch tall Jack includes orange wool for his pumpkin head, 3 wool sunflower pieces, green and brown felted wool for his leaves and nose, orange polka dot ribbon, 3 hand-made Just Another Button Company clay buttons - his eyes and flower swirl, 2 black painted spools (one for his stand and the other for his stem) and a black topper button.

You'll see a trio of decorated clay pins poking from him... we have several different sets of those, and they are optional and offered separately to dress up your little guy! Any of these look cute on this... we can choose for you if you want!



New Curly Girls

from Mill Hill
Curly Girls excels at motivational and cheerful messaging! Charming new designs put into Cross Stitch by the Mill Hill people are now available. Joining our 12 collections of 48 kits so far... here are the next 4. Presented as complete kits of chart, flosses, a few beads and 28ct linen (the correct size for the beads) each will finish about 5 x 5. We special order the frames for these as well... just an FYI. Shown from left to right above:
Four Legs - Some friends have to walk on four legs just so they can carry around such big hearts. Just makes you love your kitty and doggie all the more!
Look Within - Just like garden seeds - Turn your face toward the sun and remember you have it all inside of you!
Make Lemonade - Preheat the oven! Kind of a get ready to life's successes... you can do it!
Absolutely - We must absolutely do what we love, or we run the risk of doing nothing at all. Which means that Cross Stitch is your lifesaver! Check out that busy tool box full of life's adventures and loves!



A Couple of New Autumn Designs

from Chessie & Me
Harvest Huswife - This is a sewing case sampler shown as one long piece, or folded into a case. Worked with Classic and Weeks flosses, the main design measures 81 x 213 - finishing approx 4-1/2 x 12 on 36ct hand-dyed. Then, there are multiple smaller pieces to finish as pin cushions or decorative pockets, panels, and fobs for the case finishing option. Pretty Autumn colors, Linda does use specialty stitches for her pops of texture - the pumpkins, the house roof and Smyrnas in the glorious pot. She has two huge chart and direction sheets in here, as well as a photo of the inside finishing of the case.
Be Scary Pyn Pillow - A cute bitty seasonal house with resident cat and crow in the yard keeping the nice fat pumpkins company! (My big pumpkins like that always get eaten by 'the locals! Weeks flosses, 36ct Weeks Putty Linen, Satin Stitches on the pumpkins. Classic Chessie!

Shabby Halloween Calendar
from Cuore e Batticuore
Here's a fun Halloween design to stitch as one piece, or split into 31 little bitty pieces! Charted for DMC each day of October is represented with a cute little bird, ghost, jack-o-lantern... all sorts of stuff. Very cute! In all, it measures 218 x 345 - so a generous 13-1/2 x 21-1/2 on 32ct. She has presented everything inside in colored charts - very clear and easy to read.

If you have Google Translate on your phone, you can even hover over her words and read them in English! (but you don't need to because DMC is the Stitcher's Universal Language!)
The Tiny Modernist is continuing a couple of cute series pieces.
The Night Before Christmas Part 2 features a poinsettia basket of flowers, chart includes that right-hand top corner of the border chart as well.
Twas All Hallows Eve Part 4 finishes this fun picture. I think the colors o the jack-o-lantern square and that haunted house block are the best!
The Spooky Teapot - A 6 x 6 design stitched on 14/28... I actually think the blackbird would be pretty in the center of this instead of the teapot! Then, move the web down and add some sparkle to it and the spider!



Trims and Finishing Packets

from Lady Dot

We love these small assortment packs of finishing velvets and trims from Lady Dot Creates. Offered in Neutrals (lt gray, soft white, dk gray) or Primitive (black, white, camel/taupe) colorways, you get three 9 x 10-ish cuts of velveteen and 3 yard-ish lengths of coordinating trims. Enough to finish three pin cushions, everything in each collection coordinates so you mix and match between them. Just Enough!
Ruler Twill Tape Trims - What a fun set of ruler tapes! By Lady Dot, here are three colorways of printed cotton twill tape - printed with accurate measurements! Perfect trims to garnish pin cushions and sewing pouches, choose the color that looks best on your fabrics. We have black with white printing, Vintage hand-dyed that looks coffee stained and old, and School Bus vintage yellow - it even has metric on it! All 1/2 an inch wide, just full of personality to make your finish fabulous!



The Witch & Cast a Spell

from Cottage Garden Samplings

Here comes the next Cottage Garden Snowman! The Witch is pretty cute... especially if you live somewhere that has snow on the ground at Halloween. Add to your ongoing medley - or just stitchin this one by itself. Did you notice the spider on his/her nose?
Cast a Spell - Stitched on Picture This Plus's Murky or Atomic Ranch's Cobblestone hand-dyed, I'm thinking this looks pretty mangy and intense - just like those fabrics. Coded for DMC, it measures 99 x 99, so 5-1/2 on 36ct. 7 x 7 on 14. I think my favorite part is that awesome kitty on the roof! I think you could stitch JUST that cat with the moon and you'd be good to go!
Then, don't forget about Cottage Garden's OTHER fun Halloween designs! We have these pictured and described on her page, and think they are too good to pass by!
Trick or Treat is stunning in 'stitched-person.' Gorgeous web detail surrounding each circle, and charming little pics in each!
Halloween Samplers I and II feature an eerie font and lots of fun little motifs scattered between the words.

Several reprints of Blackbird's favorites are on the way!
Due in the shop any day... have you been looking for any of these? Another Second Chance!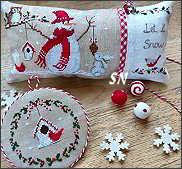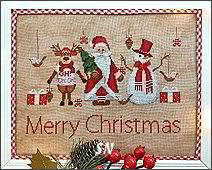 Several pretty new designs

from Serenita di Campagna - We're ready for Autumn, Halloween and Christmas!
Let it Snow #220 - A darling scene of snowman and forest friends... the bitty owl on the branch, the hungry rabbit, and then the snowy cardinal! This is shown as a pin cushion - they've stitched the 'Let It Snow' panel on a different fabric - and the finishing treatment really sets that off. Coded for DMC, you could take that round greenery border around the birdhouse ornament and insert the owl or bunny instead!
Merry Christmas #219 - Here's that same busy snowman with Santa and Rudolph... her group photo! Leave off the words if you want... it'll make it a little smaller to finish. Coded for DMC.
Paesaggio d' Autummo #213 - Autumn Country A classic farm scene... complete with pumpkin patch. Coded for DMC, 162 x 38 is the stitch count.
Foglie d' Autunno #212 - Autumn Leaves Love this one! Just a medley/spray arrangement of Fall leaves and berries. 86 x 26 for the smaller design, 169 x 42 for the larger - the charts are huge and in color - almost as pretty as the finished stitching! Coded for DMC.
Melodia Autunnale #214 - Autumn Melody - Gosh, what a gorgeous fox... sitting among the gourds and pumpkins - very peaceful. Measures 187 x 136 in stitch count - so finishes about 10 x 7-1/2 on 18/36ct. Coded for DMC.



Poltergeist Pirates

from Glendon Place
Glendon Place's Cheryl has designed a friendly pirate ship that isn't as scary as the skulls on there would like! Stitched on Crossed Wing's hand-dyed BANG! linen... chart calls for 28, we also have 32... it finishes a huge 18 x 21 on the 28ct.Charted ofr DMC floss, Cheryl has featured 6 colors of Rainbow Gallery's Silk Lame' braid in this and several Just Another Company clay button embellishments.The Lame is a silk-rayon blend with touches of opalescent metallic in it - gives a shimmer!

So, the ghosts are glow-in-the-dark, and so is the skull on the flag. The lightest blue in the waves is stitched with the Lame in frosty blue. I like the shark in the water, the dragon on the front of the ship, the ghosts clinging to the masts, but the little skeleton crow steals the show! He's got his captains hat on, and he's on guard! Offered as the chart, we have the Lame' threads, the fabric (24 x 27 cut) and button set all gathered together as a set - because you really need all the right things to capture the charm of this cute piece. Choose from 28 or 32ct.

Did you know that little Owlvira is this TINY and this CUTE?
She belongs in the attic of her stitched haunted house... but she came out for a quick viewing!

Our model came back at the shop today. Owlvira is traveling to Galleria this weekend with us; we hope you get to see her! Her complete details are on our Nan-Page.

Lady Dot has New Rik Rak Colors
4 dreamy new colors of Rik Rak... I THINK Lois did these to coordinate with the plastic plaid mesh pouches that Shepherd's Bush stitches on. Might be my imagination... but they match perfectly!

Pumpkin Patch is closest to DMC 922, Wisteria Lane is 153, Coraline is 760 and Olive Branch is closest to 3013. More great color options offered in 3-yard packages, to help make your finishes professional and perfect!



The Fall 2023 Issue of Punch Needle and Primitive Stitcher Magazine is here!


(If you've never gotten one of these, choose this issue - everything in it this time is good!)

Really a NICE collection of designs this season... you can just tell there is great stuff hidden inside - just by the bits on the cover. 12 Punch Needle projects, 12 Cross Stitch, the 5-page finishing spread featuring spools, we cannot say enough nice things about this magazine.

Super heavy glossy paper (that smells really good!!), each project is beautifully photographed, and the corresponding directions are huge and clear - right next to the pictures. No trashy ads - just pretty one! Full sized templates and patterns... it's worth all of its $9.99!
Announcing our Next Round of A Little Help From Our Friends Stitching Circle!

Running November 2023 through Novmber-ish of 2024
We are proud to feature designs from: Artful Offerings, October House, Satsuma Street, Pansy Patch, Scarlett House and The Drawn Thread.
Every 8 weeks (or so!) we'll be sending you a fun pin-cushion-sized design, that will be kitted with fabric and threads (occasionally trim too). Our target budget this year is around $45 per kit. We always tuck in some sort of bonus 'treasure or what-not... hopefully a functional needlework trinket or something cute that goes with our project. Our six Designers will do their best to bring you something charming, we promise! Everybody loves surprises in the mail... and these certainly fit the bill!
CLICK HERE FOR OUR FLIER.
Regular enrollments have now closed, but we have a waiting list if you'd like to do that.



The Omens


from Cherry Hill Stitchery
Here's a crisp piece for the Fall season - looks like it's done with just 3 colors - but actually 7 good 'ol DMCs are in here!

Measuring just 7 x 5 on 14/28ct, it would be pretty stitched with hand-dyeds instead of the solids.

The chart is presented with a nice color cover pic of the finished piece, but then she's given you the chart in both black and white and a colored version, so you can stitch off of the one you like better. Just a pretty piece.
Teresa Kogut has a Few New Designs
Pernice Manor - Presented as a single chart (vs in a larger book), this was originally presented at a Retreat last fall. Teresa wanted a sampler style design with worn, faded colors. She started with her border, built the house, and then that bird - she LOVES her bird! Pernice is Italian for partridge - this little guy claims artistic license! Manor meaning a large country home with lands. This pernice roosts every morning on the roof of his favorite manor to greet his friends who frolic around the grounds. This measures 221 x 156 - so finishes approx 11 x 8 on 40ct, and is stitched with a combo of Weeks hand-dyed and DMC flosses.
Harvest Friendship - A book featuring three designs... 'Friendship grows from the seeds planted. The harvest is a kindred spirit.' You get the main sampler, and then a biscornu shaped cushion as well as a standing drum piece. Pretty Autumnal colors of DMC, there is just one Weeks thread in here - Indian Summer color. Look at those three friends - gotta love those body-types!



Animals on Parade Chart Set

from Stitchy Squirrel
Wow, this is a darling set of designs! By Stitchy Squirrel, it is a set of three forest animals surrounded by their favorite fall foliage. Each measures about 80 x 80 in stitch count - so about 4-1.2 inches on 18/36ct. Coded for DMC and a combo of Weeks and Classic hand-dyed flosses, they are really good looking. You get a mouse, a fox and little gray squirrel.

The charts are BEAUTIFULLY presented... you get the card stock cover with clear pics on the front and back, and then EACH animal has its own separate card, with a picture on one side, with colored chart on the reverse. Darling!



Two Designs just for fun

from New York Dreamer

Laundry... Again? - Something cute to stitch for your laundry area! Might give you a reason to smile when you're all bent over pulling stuff out of the washer and realizing that someone left a Kleenex in a pocket and you have white flakes stuck on everything! Presented as a chart, stitched with DMC, it finishes about 5-1/2 x 7 on 16/32ct.
Home is Where the Fabric and Floss Are - Might be cute to hang in your stitching room! I like this pinch tray finishing idea - makes it a fun piece to store your scissors and project threads while you're working. Stitched with Weeks and DMC, it measures 154 x 76. You might want an extra inch or two of fabric around your edges to ensure you have enough for tray finishing.



New

from Jeannette Douglas

Chubby Fox - He's a little pattern for a darling little guy! He finishes about 3 x 3 and is worked in Weeks hand-dyed cottons - DMC conversions included. Presented in a small single chart.
Budding Bouquet #1 Autumn - The first of 4 (at least) medium-sized floral bouquets. Jeannette has teeny ones, and her 6 large Blooming Bouquets - but this series will measure a nice medium 4 x 4 on 36ct. Just the right in-between size! Coded for Weeks or DMC. It's presented in a small chart format... and we're doing an auto-ship for the other three seasons as they release - so join that and you'll be all set! First design ships September of 2023. Second, Winter Budding Bouquet, releases in October.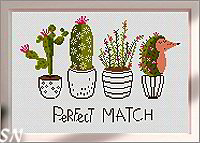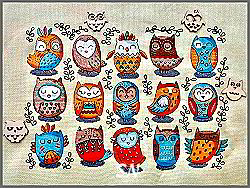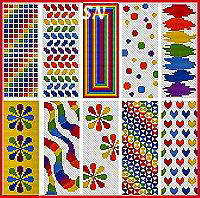 Perfect match, Everyone Needs an Owl, Cats and the Sea, 10 Rainbow Bookmarks

from Artmishka Cross Stitch
We have 18 new Charts in the Shop by Artmishka Designs of Italy! I couldn't put them all here... so how about 4 as a preview? Visit our interior Artmiska Page for the rest! All are presented as charts with a big, clear colorful pic on the chart front, and very clear multiple pages of the charts inside. All coded for DMC.
Perfect Match - Isn't this little guy the cutest? He knows he fits right in! Approx 11 x 7 on 14/28, coded for DMC. You could even leave off the words and you'd know what it 'says!'
Cats and a Sea - Love that water of hearts! A pair of kitties reflecting on life and love... this measures approx 8-1/2 inches square (round!) on 16/32 ct. DMC.
Everyone Needs an Owl - What a darling collection of little birds! Someone for everyone! Each owl measures about 40 x 50 in stitch count - so only about 2-1/2 x 3 on 16/32ct. Perfect for individual stand-up blocks or little individual cushions... you can even arrange these into a long row or tall skinny piece! DMC, choose your favorites or stitch them all!
10 Rainbow Bookmarks - Don't stitch these to hide in a book... forget the bookmark idea and make these into larger pieces - make pillows, or basket bandings, or little cushions... anything! Do 20ct over 2 with metallics... do 28ct over one. What I like about it is the fact that you get 10 super-colorful repeating patterns to stitch over and over again to make anything! DMC.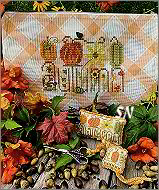 Autumn Bag


from Shepherd's Bush
Tina and Teri's latest plastic mesh pouch design, Autumn, is done on the new 'pumpkin' colored bag.

#5 Perle Cottons, big stitches, big needle, great roomy project pouch when you are finished... this whole series of these are colorful and cheerful. Offered as the chart with pouches, threads and button set available separately.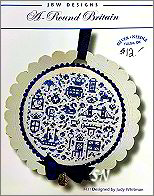 Pretty New Offerings by JBW Designs!
Another Round, some bitty stockings and a charming Bluebird Sampler. All the stockings are presented in Judy's small booklet format.
A-Round Britain - Another of Judy's 4-inch circular designs, she says she has more than 19 British-themed motifs in here. Great gift for a traveling friend... and you know, you can pull out recognizeable motifs to stitch just by themselves ofr smaller cushions or ornaments.
Bluebird of Happiness - This is a lovely sampler presented in a full-sized leaflet format. Stitched on any creme or neutral linen, the motifs, rows and birds are so pretty... lots of options for cushions and sewing cases from this one!
Hannah's Bluebird Sampler - More birds to companion Judy's larger sampler, I love the signature and date area long the bottom.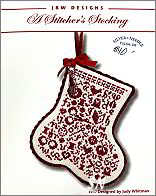 A Bristol Stocking - Small Bristol-Styled sampler stitched in red.
A Danish Stocking - Scandinavian influences in this one... you can see the stitched color reverse in the pic - white on red fabric.
A Sampler Stocking - Third tiny stocking ornament this time around - house on the hill, alphabets, floral basket.. all 'samplery!'
A Stitcher's Stocking - Filled with scissors, bobbins, sewing birds, needles, a hoop or two... this one would make a neat stitching friend gift.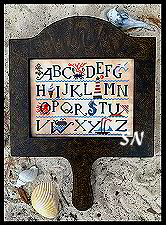 A few Fun Charts

from Carriage House Samplings
Sampler of the Sea - I like this one! Finishing about 6-1/2 x 5 on 36ct - choose a 'seashore color' of fabric for this - and stitch with DMC or silks. The alphabet is bold and simple - but Marty has tucked cute seaside motifs all over in here - the S is a seahorse! Love the crab and coral, the lighthouse, octopus and whale. Now I just need a beach house to go with it!
Skating Santa Stocking - Another of the charming super-duper-long-and-skinny (like 24 inches!) stockings by the Barrick girls. Kind of a challenge for Santa to actually fill! This one is delightful - and in my mind companions those three sledding scenes - Christmas Time, Bringing Christmas and Christmas Joy Ride. Same colors, same personality for this cute set of designs. Santa is skating, kids are playing, rabbits and deer are jumping, there's even a train going by! Finishes to an endearing size and shape - definitely a decorative stocking rather than a functional one - a darling Christmas decoration!
Twisted Pumpkin - Oh... you need that fun orange fabric for this to highlight all that striking black stitching. What a fun knarley tree, and that fat pumpkin, just kind of an intense looking little piece!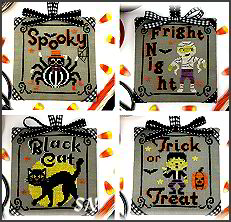 Halloween Spooktacular Ornaments

from The Tiny Modernist
This is a three-leaflet set of 12 small 4 x 4 inch designs. Cuter than cute, it's a fantastic set of coordinating 'personalities' that I find charming. Worked on a darker background, all with the same 7 shades of DMC - Cheryl has these coded for Weeks hand-dyeds as well.
Very vintage in feel, she also includes a digital pic of the entire set stitched together.



Autumn Traditions Sampler and Halloween Terrarium

from The Tiny Modernist
Autumn Traditions Sampler - This looks like it'd be a fun jigsaw puzzle to put together! A delightful neighborhood - it kind of looks Halloween but really isn't. The smoke plumes coming from the chimneys are not ghosts! The pumpkins aren't carved... and I did look - there are no trick-or-treaters! BUTTT colors are great, and it looks to be a fun stitch. Finishes approx 7-1/2 x 11 on32ct. Coded for DMC the chart is huge and colorful - easy to read.
Halloween Terrarium - A cute little FLORAL Halloween scene! I like everything about this, especially the dead relative buried in the yard! Cute an colorful - stitch it and see if anyone notices that in here! Finishes about 4 x 6 on 18/36ct - coded for DMC.
>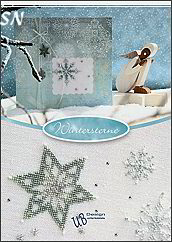 Six New Books by UB Design
Oh, we love Ulrika's design style, and her publications! We have quite a page full of them, but here are 6 new ones! She publishes groupings of designs in 30 to 70 page books, thick glossy pages, gorgeous photographs and beautiful, huge colorful charts in each. She's pretty good at taking smaller elements out of her main designs and showing you different ways to finish and present them.

She has a lovely contemporary style, but some of them are old fashioned and charming too. In the Hallo Fruhling book, there is a lovely wild flower bouquet, along with polka dot and floral bunnies! Enjoy your browse!



They're Here! Autumn Designs

from With Thy Needle's Brenda Gervais
When Pumpkins Glow - A sweet pair of pumpkin-headed dolls are the stars of this design, along with the old-time verse, There's magic in the night when pumpkins glow with candle light. Measuring about 10 x 4 on 40ct (12 x 4-1/2 on 36), this is stitched with a medley of DMC and hand-dyed flosses.
When Witches Go Riding - This is a trio of pin cushions that together, spell out the saying, When witches go riding & black cats are seen, the moon laughs & whispers tis near Halloween. Part of the verse is on each design. Each measures 70 x 61 - so about 3-1/2 x 4 on 36 to 40ct. They are stitched with a medley of DMC and hand-dyeds, are are just the cutest! All three designs are in the chart pack.
Autumn Splendor - Brenda describes this little 4 x 4 design as having stitched rows to resemble timeless ticking fabric along with a central motif that hints at Quaker. Just a very pretty Autumnal design - not Halloween, just classic. Stitched on 36ct using Weeks hand-dyed flosses.
Coming to America - The Women of the Mayflower - This is a reprint of the chart Brenda released in honor of the 400th anniversary of the Mayflower sailing to America. Stitched on your choice count of Country Vintage Mocha fabric - it's charming! The names of the women who sailed are stitched on here... it's much shorter if you leave those off... so many fun finishing variations from this! Presented as a chart.
Celebrate Harvest - This is a reprint of the smaller bonus design that came with the original Women of the Mayflower Limited Edition kit. Available as a chart now, it's just a sweet pilgrim scene remembering the blessings of their recent harvest. Again, stitched on your choice count of Country Vintage Mocha fabric.
Just Announced from Just Nan!
Presenting Owlvira's Frightful House
The Ghosts and Goblins at Scream House have new neighbors! Owlvira has moved in next door!

Frightful House stands deep in the gloomy shadows of Haunted Hollow. When the leaves begin to fall, the house wakes up, and all the inhabitants take their places to show us how scary they can be. Owlvira Owl is the house manager. She has a room in the attic where she plans all the entertainment for each frightful night. The Stitch Guide includes behind the scene stories for each side of the house.

Fences with garlands of purple lights surround the house, and the front door has a spider knocker. Ghosts, grimacing pumpkins, frogs, bats, spiders, skeletons, monsters and one menacing mummy appear on the 4 sides of the house, and you will find more creatures on the roof and in the creepy crawl space below. Owlvira's attic room features a spider web rug and black felt walls for needles and pins (and a little frog charm).

Using DMC (B5200, 209, 310, 581, 646, 648, 740, 741, 900, 937, 947, 972, 3032, 3787, 3837, 3819) and 4 shades of Weeks Floss ( London Fog, Bark, Autumn Leaves and Onyx), stitch the house as one piece on one large piece of linen. The 4 roof sectionsare stitched on another, and Owlvira on a third piece of fabric. Linen choices are Weeks 32 CT Tin Roof Linen. Finished size for the bungalow is approx. 51/2" X 21/4." We are offering fat quarter cuts for fabric, to ensure you have enough for proper piece placement.

Owlvira is stitched as one piece, then folded in half. Black and purple beads sparkle on her chest and her eyes are hypnotic orange sequins. A bat flies across a harvest moon on her back. Black hairpin wires are included for her "feet" and a bronze bead and purple flower sequin for her hat. Owl is not available separately. Materials included: Color cover, 12-page Stitch Guide, Linen Layout page, 24" of ribbon, black felt, 1 piece of cardboard, beads, owl eye sequins, 2 hairpin wires, spider charm, verdigris frog charm, bronze bead and purple flower. Your linen and threads are offered separately.


Just the cutest EVER... you may remember our Scream House Exclusive Nan did for us years and years ago. Sold out for all this time, Owlvira's Frightful House has come to 'save the day' or 'scare away the rest of the neighborhood!' She is VERY LIMITED and will NOT last till Halloween!

Autumn Mix
Another little "Mix" of seasonal florals by Nan, joining Wintery, Jasmine, & Pansy Mixes... it's time for Pumpkins and all the pretty colors! Leaves, grapes, pumpkins, acorns, apples, purple asters along with a chrysanthemum are all 'Mixed" in here! Stitched on 32ct Raw Belfast with DMC and Peach Cobbler Week hand-dyed floss, this finishes petite 3-ish inches - just like its seasonal companions. Presented as a chart with embellishments included.



Winter Stash


from Scattered Seed Samplers
This is a neat little design - it's stitched in only two colors of regular DMC - 611 and 3799! Shown on Country Vintage Mocha - this particular color of fabric comes in several different counts of aida and linens, so you have lots of options.

I love those little squirrels up there in the branches! Measures 160 x 100 - so finishes about 10 x 6 on 16/32ct.



S is for...

from Finally a Farmgirl
This is a cute little design reminiscent of postage stamps I think! Measuring only 132 x 57, this finishes approx 8 x 3-1/2 on 16/32ct fabric. Coded for DMC.

It'd make a charming 4-sided cube - stitch Santa and Snowman on opposite sides and flakes on the opposing sides! It is presented as a small chart.
Several New Designs Coming From New Designer - Counting Puddles!
Santa's Moonlight Ride - Grab some darker navy fabric - something you can see on - to create your night sky. There is a lot of stitching on here... but it's Santa, so he's worth it! Measuring 154 x 186 - on 14/28ct this will be 11 x 13. The larger fabric is fine to work this on - it's definitely going to be an annual family favorite - so if your eyes need Aida - GO FOR IT! Coded for DMC, we think it's delightful!
Spooktacular Party - Another fun Holiday piece n a dark background... gunmetal is called for - much easier to see than black! Lots of bright DMC color, lots of geometric patterns in everything - this measures 10 x 13 on 28/14.
Squirrel's and Rabbit's Bright White Winter Night Ornaments - Two different charts, these are done on Blue Spruce linen with DMC. On 28ct - 4 x 4, on 32 a bit smaller. They're pretty cute in their matching sweaters!
Sweet Summertime - Changing seasons to NOW, this looks cool, refreshing and delicious! LOVE all the patterns imbeded in the cantelope, lemonade and watermelon. What a a pretty way to give them depth and add lots of charm and happiness to this piece! Measuring 112 x 137, stitched with DMC this will finish approx 7 x 8-1/2 if you use 32ct. LOTS of stitches in here, but I love the colors!
Several New Designs from The Artzy Housewife Coming Our Way!
Golden Delicious - All these glorious Autumnal colors... the apples are nestled quietly on their tree while the borders burst with all the excitement of Fall and the promises of eating all those delicious apples! This measures 7 x 11 on 36ct, and is coded for hand-dyeds or DMC. Gigi chose a neutral creme fabric.
Pink Barn - Charted for DMC and stitched on Lambswool linen, I love the lavish border and that curious cow! Not sure I want a pink-ish barn, but it actually goes with the rest of the picture!
Pear Hill - More pretty fruits dripping from the trees, this one features a penny rug inspired border and pinwheel flowers in the garden. 6-1/2 x 9-1/2 on 18/36.
Oona Owl - Isn't the a fun design? That sweet little owl against that charming and whimsical background - she measures just 6 x 6-1/2 on 18/36 and is done with all the hand-dyeds



Really Cute New Pins and Patterns

from PuntiniPuntini's Paola!
All of these are charts. Paola creates matching/coordinating pins to go with all her clay buttons - everything is fine and super detailed. We are including all the pin sets with the charts this season.
Autumn Friends with Pin set - HOW CUTE is this? A forest scene of life around the log ... check out the little hedgehog button right in the center! The mushroom house has a chimney, and the forest friends down below include a fox and snail. Stitch count is 91 x 75 - 5-1/2 x 4-1/2 on 32ct. A pin cushion size, we are including Paola's handmade Autumn Friends Pin Set that she features on her model. The pins include a squirrel, snail and another hedgehog - all handmade polymer clay. Exquisite!
Moonlight Owl - This little guy measures the same 4-1.2 x 5-12 on 32ct, and features a single owl button. Paola's matching Moonlight Owl pin set has another owl, a leaf, and HOOT - which could kind of be the moon! We ae including the pin set with the chart - since they coordinate!
Fall Trio - Another set of charts with coordinating pins. Fall trio has all three stitched designs, and that pin set is EXQUISITE! (We do have a few extra pin sets.) You get two striped gourds, an acorn, leaf, pumpkin and mushroom pin in that set. Her details in the clay layers is lovely - so much shading.
Christmas Trio - Peppermints, ornaments and Santa all adorn these little cushion pillows. The matching pin set includes a striped gift, candy cane, evergreen, holly leaf, and peppermint... just a pretty frosty set. Everything about this one is cute... charts and pins.
Sparkle and Shine - Here's a fun old fashioned tree all decked out for the season. Very classic in personality, the coordinating pin set includes a tiny evergreen tree, star and candy cane.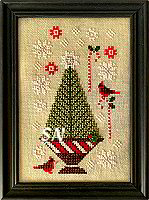 Autumn and Christmas Designs - HERE

from Stitches by Ethel
Ethel K has two cute new designs that both finish about 3 x 5 on 18/36ct fabric.
Vintage Bird has deep browns and soft greens to accent that big orange pumpkin. She's coded this for DMC and handyeds.
Wintergreen has that same pot - but the lush evergreen with visiting cardinals. Very pretty, balanced and organized, I think there are a few stitches of gold metallic in the flakes and a bead in the tree topper. Hard to see but she's added a Just Another Button Company holly leaf button on the tree. We thought petite seed beads on those skinny candy canes would be fun too!
Silver Creek's Diane has been busy! Lots of New Arrivals!
Autumn's Wardrobe - 'As the trees undress the cool winds throw their garments to the earth below.' Gee - kind of reminds me of how kids undress... clothes thrown to the wind all over the floor! Pretty colors, love that whole colorful yard!
Don't Quit your Daydream - Charted for a guy or gal... bringing a little uplifting message to either! (But tell them not to quit their day job either!)
You Are My Greatest Catch - I love this one! Stitch it for your fishing buddy! Good colors, fun sentiment.
Home with You - This is a 'Family Established' thing. Might be really fun for your new house r even a wedding gift.
Spruce it Up - A cute little Christmas decoration - make it into a cube stand-up. OR do just the tree on the sled for a smaller ornament!
Vincent Vein Gogh - 'To all a good bite!' This is DARLING! We have lots of 'intense' blue fabric that would be good for this, and I think metallics in the bats, moons, stars and candle flames wuld be stunning.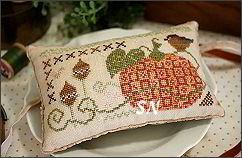 Pumpkins!

from October House
Pumpkin Faire is one of October House's newest releases. It is the 3rd in a set of similar designs - Strawberry and Honey so far. The glorious fruit full of stitches that make it look geometrically textured... very eye catching! Measuring about 4 x 6, you CAN pull of the actual fruit and stitch a bowl of those!
Pumpkin Row - This is another Skinny Mini design - about or 9 inches long and only an inch high, these make delightful cushions! Check out Snip Snip, Tomato Row, Deck the Halls - they are all like this one. Fun little geometrics in the pumpkins - not much to this so a very quick and fun stitch.
Coffee & Pumpkin Pie - Breakfast of Champions! Any time of year! Measures 76 x 106 - so 4 x 6 on 36ct.



New Releases

from Liz Matthews
Boo - Cute little pin cushion to tuck among your pumpkins, stitched on 32ct with Weeks or DMC flosses.
Homespun Hearts - We were looking for the hearts in these! Three different colorways offered, the plaids are lovely!
Ninth Day of Christmas Sampler and Tree - This set is charming - smaller in finished size than you think - the stitched tree is about 8 inches tall before its wooden trunk.
The Pumpkin House - Darling! Choose two fabrics - have to be the same count - the house part is on a yummy dark blue and pumpkins below on something else neutral. Really a cool piece!
The Sampler Tree - Here's one of Liz's cute trees but a SAMPLER MOTIF design. On 36ct, it measures 99 x 126 - so really only about 5-1/2 x 7 in total size - but when you assemble it'll be smaller!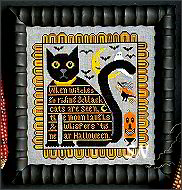 Three New Halloween Treats

from Kathy Barrick
Tis Near Halloween - Who doesn't LOVE this little kitty? Kathy found the verse on an old postcard and gave it a new home on little black kitty. Cool penny rug border, that busy sky - choose a fabric medium in color so you don't lose the bats in the background, metallic for the moon would be fun, wool for the cat would be awesome! Measures 131 x 145, 'When witches go riding and black cats are seen, the moon laughs and whispers tis near Halloween.'
Come on In! - 'Take off your skin and dance around in your bones!' Measures 129 x 178 - would be 7 x 10 on 36ct... and we have AWESOME fabric choices for this one! Lots of deep angry blues to look like night sky!
Haunted - You get BOTH of these design arrangements in this book! Haunted is super fun... more and more motifs keep showing up - I love all the zig zags and geometrics in here. Check out the skeleton bats. All the cute jacks underneath the house, that awesome tree... all of this! Lots of design options on this one, just have fun with all the pieces and parts!
Amy Bruecken has 5 new designs! Halloween, and Just Plain Fun
Trick or Treat - The model is stitched on natural linen with white dots. You could use most any bright yellow or green fabric you have as well... this is tiny at 63 x 50 - you could even split these up and do pumpkin pokes.
Good Morning - Might be good for the Coffee Nook of your favorite crabby person... measures a generous 191 x 80 so it can be a large reminder!
Stitchcraft - Super cute, and full of AB Personality, this is on the Splashed Lugana. All bright DMCs it measures 144 x 170 - about 9 x 10-1/2 on 32.
Friend Love - Oh, something for wintertime! You could do this as a two-sided pin cushion... that would make a gift that is easier on the finishing, and your friend could take it with her where ever she goes!
Be The Good - Good Advice for Life! Amy originally introduced this as a kit with a fun wooden bowl, but now it is just the chart. 101 x 34, it'll be a petite 6 x 2 on 32ct!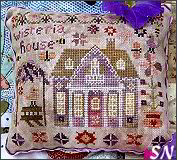 Lori from Pansy Patch Quilts and Stitchery is bursting with pretty new designs! Everything is offered in charts.
Here we go!
Autumn Garden at Cranberry Manor - This is a companion to Summer at Cranberry Manor - which was released this last March. I imagine we'll get all four seasons with this, just don't know for sure and when. Delicate quilt motifs scattered everywhere, Lori likes pinks and reds, and it's fun to see them in an Autumnal design. Measures about 6-1/2 inches on 36ct, stitched with Classic and Gentle Art hand-dyeds.
Betsy's Halloween Basket - Super unexpected to see a floral basket of yellows, oranges and purples, there's a little jack-o-lantern hiding in that bouquet. Really fun, it's stitched on Murky by Picture this Plus, and notice that some of the flowers are drooping out of the basket... so it's just charming! Measures 103 in stitch count - so 5 x 5 on 18ct. This is the first in a new set of Holiday Baskets, and they promise to be CUTE! Betsy's Christmas Basket is next - due to release late this Fall. We're beginning a new Auto-ship for this!
Wisteria House - Chart #1 of a new 9-part series of the Houses on Wisteria Lane! Our auto-ship begins with this first chart... each one is 97 x 87 - about 4 x 5 in size. You can make individual cushions for a bowl, or stitch them all together for a larger picture, or put them into a quilted wall hanging. Worked with a medley of hand-dyed flosses from Weeks, Classic and Gentle Art, Lori does have DMC conversions for these. This whole 'village' goes with houses of Peppermint Lane and Houses of Pumpkin Lane - just as charming!
Peacock Manor - Another pretty red house surrounded with delicate quilt and sampler motifs, this one measures just 77 x 100 - 4 x 5 - on 36ct.
Red Bunny Sampler - Oh this is cute! It measures 10 x 10 on 36ct, and is done with any red hand-dyed you want - although you could choose lots of other colors and DO this in color. I like the idea that it 'looks' Quaker, but really isn't - it's full of quilt motifs instead. Look at all those little individual pin cushion designs you could do! Charming and old-fashioned in personality.

4 New Designs from Blueberry Ridge
Pansy Patch's Daughter, Emily, is the artist behind these charming new designs. Just releasing, these are her first 4 designs! All quilt-inspired, each is presented in chart pack format. They are stitched on various hand-dyed fabrics with the medley of Classic, Gentle Art and Weeks hand-dyed flosses.
Birds and Blossoms Sampler - Measures 118 x 100 - so 6-1/2 x 5-1/2 on 36ct.
House on Blueberry Hill - Features a cute border of those berries... this finishes about 5 x 7 on 36.
House on Strawberry Hill - A companion for Blueberry, the little berry row would be cute as a tiny drum!
Sampler Seasons - Autumn - I think this is probably going to be the first of the seasons. It measures 183 x 124 - so about 10 x 7. One color of hand-dyed throughout.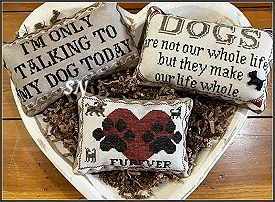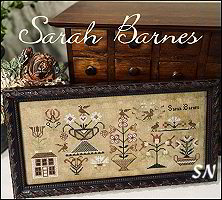 Tanya from The Scarlett House's has been busy - here are her 8 newest releases!
A Sampler For All Seasons - This is charming - it's a story about stitching! The main sampler features the fun verse and a set of 4 houses in different seasons of the year. Each of those could be done as a little stand- alone pin cushion as well. You can see the bonus small cushion in the pic - Tanya has designed that with an alphabet on the back, but you could stitch one of the houses instead! Pretty colors from Classic Colorworks will work on lots of neutral fabrics - choose one you like to work on. The main sampler measures 343 x 145 - so will be approx 17 x 7 on 40ct!
Canine Quotes - Tanya is a dog-lover and no doubt designed this with pups in her lap! She says this is the first in a new series (don't know the series yet) but she does already have a fun design for cats or dogs discussing hair on your stitching! This chart includes all three designs - all done with Classic Colorworks on neutral fabrics. They make you smile...
Ghosts & Goblins - A whimsical Halloween piece... it finishes 5 x 5 on 40ct... quite a wild costume on that little Jack guy!
Sarah Barnes - An Adaptation from an antique, this one features a few lavish urns and a classic little house. It's smaller - 191 x 82, so will be just 9-1/2 x 4.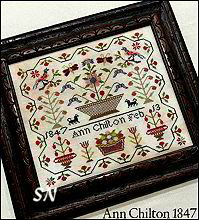 Alistair - Tanya found a handsome dog from an antique sampler and featured him on his own pin pillow! Measures 109 x 77, Alistair is worked with Classic Colorworks hand-dyed cottons.
Ann Chilton 1847 - A reproduction, this one is simple and organized. 144 x 136 - It will measure about 8 inches square on 36ct.
Betsy Jewitt - Another reproduction piece, it's hard to make out from the pic, but there is a white dog that is running against a greenery background on here. Very, very pretty with the meandering twigs and leaves, it finishes a petite 7 inches on 36ct. Stitched with a mixture of Weeks and Classics.
Scarlet Berries - An adaptation of an antique, much more traditional in shape with the alphabets at the top. Lots of Algerian Eyes on there! It finishes a generous 8 x 13 on 36ct.
Handy 3-Inch Corner Gauges
Something fun to stuff into your stitching tote, these handy wooden boards measure three inches in size. Align it with the corner of your fabric, and it will show you your starting place three inches in and three inches down.

We chose some vintage dry goods shop artwork for ours... I like the color variation from the lazer etching on the wood. Makes a great stitcher-friend gift!



Three New Releases Coming our Way

from Heart in Hand Due in the shop August 16th!

Harvest Tiny Town - 'Piles of pumpkins both orange and white, apples overflowing red and yellow bright.Hues of amber, crimson and tangerine abound in the quaint little harvest Tiny Town.' Just as cute as all the rest of these in Cecilia's series, LOVE the colors and all the cute houses. Makes a cute drum cushion, or fun window sill trimmer... presented in chart format like it's companions.
Harvest Frill - The little bonus add-on design for HTT... it's sized correctly to insert anywhere into your town that you want, or you can make it a stand-alone piece. Cecilia tells us 'A trio of Dahlias towers over the harvest field... cornucopia of color explodes!' Presented as a smaller chart.
Wee Santa 2023 - Cecilia's annual small Santa design... this year she writes, Peering through the poinsettia patch, this dapper gent certainly has no match. His socks, tho' striped, are such a delight! He enjoys the Holiday season without a gripe. (Of course, he's Santa!)
Home Town Holiday #24 - Ice Cream Shop


from Little House Needleworks
Look what has floated into the shop! The 24th little business in Diane's Christmas Village of stand-ups. You might be collecting this whole occasional set.. or maybe not, but all are still available and pictured on our Little House Page.

Same colors as the rest, same fabric... just another cute addition to the set!

Look at Mill Hill's

2023 Gnomes!


By artist Jim Shore, these companion last year's red and green gnomes. This year, we have a little more white going on... which will make them really show up well on your tree!

Full kits stitched on 14ct specially painted perforated paper, you get all the beads, flosses and needles necessary to stitch these little guys, who all finish about 3 x 5. Choose from Rabbit, Evergreen, Owl, Acorn, Pinecone or Mushroom Gnome! Or choose them all!



Summer Story


from Pickle Barrel Designs
Summer only looks this good if you have a place on the water! I can only dream! anyway, by Pickle Barrel Designs, I thought this would be really fun mounted on the front of the guest book or photo album at your summer place.

Cute and colorful, it measures about 7 x 10 on 14 white. Coded for DMC, make it glisten with some metallics and beads... it's just a fun summer-y design!



Presenting The Pink Tulips Sampler


from The Drawn Thread
Cynthia was here last weekend as one of the guest designers at our Grand Summer Stitch Retreat - and she brought US a treat! Exclusively available at The Silver Needle, this charming little piece was inspired by the two guys who live next door to her - they brought her Pink Tulips on Valentine's Day this year!

Stitched on 32ct, it's just 64 stitches in size - so about 4 inches in size. Coded for silks, she has conversions on her site for DMC. Then, if you want, you can Google conversions to just about anything else you want. Just a pretty piece, it pops against the darkish fabric background!



Presenting the Just Cross Stitch Magazine's 2023 Annual Christmas Ornament Issue


They're here! Due to hit the news stands early October - we get our copies early - so you can have them early! This year's Ornament Issue promises to be really good! From the cover pic, I think the 2023 is CHARMING! I love the nighttime Santa scene just below it... the snowglobe with reindeer is darling, and the snowman close to the bottom right corner is super-cute! Not necessarily designers we all know... but 70 projects in here, with finishing instructions, recipes, fun family memories and stories by those designers... it's always fun to peruse and plan your next ornament projects!

Departments include: Bling in the Season, Child at Heart, Deck the Halls, Ho Ho Ho, Homespun Holiday, Merry & Bright, Snow Much fun, Tidings of Joy and Winter Wonderland. Christmas will be here before we know it! Reserve your copy now; we'll charge and ship to you the day they arrive to us!



The 2023 Annual Just Cross Stitch Halloween Issue is here!


50+ Projects to stitch, this year's collection is pretty good! The last two pages of the magazine offer a directory of everything - small pics with the page number, which is really helpful. A couple of my favorites are the 3-dimensional witch hat pin cushion, the sugar-skull-kitty, and the cute little spells, potions and cross stitch chart cushion. Lots of variety, a good bang-for-your-buck this year!



Red, White Bloom; House Trio, Witch's Brew and Farm Fresh Trees

from Shannon Christine
Just a few seasonal designs by Shannon Christine... All are offered as charts, everything is coded to DMC. Choose any neutral fabric colors or counts from your stash... sometimes that determines how you'll finish it. Larger 7 and 10 counts lend themselves to pillows, 18/36 looks great made into tiny pin cushions, and brick stand-ups.
We've hit all the seasons with these 4 designs, and as I look at them, I see a tiny 'tea-bag tag' for that Witch's Brew. It's only 58 x 67, so if you stitch it over one on 28 Lugana, you could make a 2 x 2 tag-on-a-string - what a cute Halloween decoration peeking from something!
Red White Bloom - 123 x 50 - So 7-1/2 x 3 on 32.
House Trio - 143 x 85 - so 9 x 5 on 32.
Witch's Brew - Only 58 x 67 - Make that tea Bag Tag at 2 x 2 on 28, or a 3-1-2 inch pincushion on 18/36.
Farm Fresh Trees - 70 x 70 - Will make a 4-inch ornament stitched on 18ct perforated paper.


Presenting the Mill Hill 2023 Annual Santas - This Year from Down Under!
Australia is the place to be this year. With these new annual Santas, at least we know he's visited there.. and he's an animal lover! We have Koala Santa, Kiwi Santa and Kangaroo Santa and each has an animal or two for company.This is the 25th Annual Trio. Best to reserve now, as they go fast!
Each kit comes with the chart, 14ct perforated paper, DMC floss and Mill Hill beads. This set finishes about 4-1/2 inches high.



From Left: Joy, Bird Feeder, Winter Greens, Village Physician, Amaryllis and Christmas Greetings
The Mill Hill 2023 Annual Christmas Button & Bead Kits are Here.
Complete kits to stitch the 5 x 5 designs contain the chart, beads, 14ct perforated paper, DMC flosses and the new JABCO buttons! Frames for each are available separately by order. Individual fabric cuts are also available below so you can stitch on Linen if you choose.


From Left: Sweet Sheep, Gift Trio, Holly Believe, Canada Goose, Baking Spirits Bright, Fishing Penguin.
The Mill Hill Winter Holiday Ornament Collection for 2023
Another cute set of 2 x 3 or 3 x 3 ornament and magnet-sized designs. Kits include Beads, treasures, perforated paper, magnet, floss, needles, chart and instructions. Simply cut the paper off right outside the design - and you're finished! (Don't use your delicate embroidery scissors to cut. Choose something a little more heavy duty - like our Dr Slick SN65 synthetic scissors - larger handles, they are super-duper and will even cut leather!)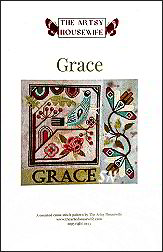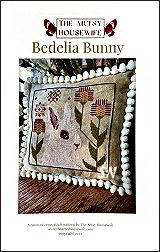 Peace, Grace, Byron and Bedelia

from The Artsy Housewife
This is a four-some of charming designs by Artsy Housewife. Presented in chartpacks, each uses a medley of DMC, Weeks and Classic Flosses.
Peace - measures approx 7 x 8. Gigi has used THREE DIFFERENT scraps of linen on this - and even mixed the counts between 30 and 32! She's joined her cuts together with an invisible ladder stitch, but informs that you can use just one color of material in one piece if you'd rather. What a great way to use up smaller bits of fabrics you have! Peace is worked on PTP 32 Oaken, 32 Seraphim Bees Knees, and 30ct Weeks Dolphin. I love the 'permission' to go wild and mix the fabrics - and you certainly don't need three inches on the sides of all your small cutsnixed fabrics!
Grace - companions Peace, and is basically the same size. Again mixed flosses, this time she hasn't told us what the fabrics are! Probably the same as Peace, but maybe you could do the bird section on yet a different color but keep the two side panels the same? It's a really cool design concept.
Byron Blackbird - Isn't this little guy eyecatching? Stitched on a 30ct creme linen that has been distresssed with RIT dye and coffee grounds, he measures approx 6-1/2 x 4 on 36ct. Coded for DMC, it does use Weeks Schneckley and Classic's Blackbird handdyeds. If you stain this after the stitching is done, it generally softens your colors... so you have a choice of when to stress!
Bedelia Bunny - Is darling! She measures 96 x 94 and finishes approx 5 x 5 on 40ct Picture This Plus Veldt linen. Only 8 shades of DMC on this, you might play around with your background fabric a little to help the bunny show up better. So soft and pretty as is though.

Presenting the New 2023 Autumn Mill Hill Button & Bead Kits and Harvest Collection
Always anticipated, always colorful and fun to stitch, Mill Hill's newest design collection is debuting! We'll have our kits by the end of this week!


The 2023 Button & Beads: MH kits have always come with handmade ceramic button embellishments. The manufacturer is retiring, so MH and Just Another Button Company have teamed up to include JABCO's colorful hand-made polymer buttons in all of the B & B kits going forward. We have been battling kit supply issues for over a year, and this solves everything - in a awesomely fun way! Going forward, Mill Hill's ceramic buttons will no longer be available - as they sell out - and all the current and new kits in the line will include the new buttons! We are thrilled to be able to offer so many past favorite designs again!



The 2023 Autumn Series Button & Beaded Kits
New for Autumn 2023 are Spotted Cow - how grand is she?
Wanda's Clothesline is colorful and full of spider webs - so she's obviously not a regular laundress!
Hello Autumn features a medley of Autumnal motifs... and I expect this will be the first of the 4 seasons like this.
Haunted Cottage is super cute - I think it'd actually be fun to live there!
Hayride features the resident farm cats taking over the wagon of pumpkins and hay
and Into the Woods features the new Mill Hill Glow-in-the-dark beads!
Complete kits to stitch the 5 x 5 designs contain the chart, beads, 14ct perforated paper, DMC flosses and the new JABCO buttons! Frames for each are available separately and by order.

Presenting the Mill Hill Autumn Harvest 2023 Collection
Always cute, these 3 x 3 designs work up into cute wearable pins, frig or cabinet magnets, and great holiday tree ornaments - for every seasonal tree you can think of! Complete kits, each contains the 14ct perforated paper, glass beads, DMC flosses, chart, needles, and MH glass or crystal treasure. We finish our backs with sticky felt, or you can glue fabric back there... and applying Velcro strips on the backs of these give you more display options as well. We have customers who have done these for years and years, and have literally hundreds of stitched ornaments on their Christmas Trees! We have a new white pumpkin bouquet.
There is a little ghost walking his pet spider!
Turkey Owl crosses the holiday a little... is he dressing up for Halloween, or does we want to be dinner on Thanksgiving?
Bat Cat is cute as can be...
School Mouse looks studious with his glasses on
and the Graveyard Pumpkins looks intense! Love 'm all!



New Designs

from Lila's Studio

Summer Quakers - Love this! A charming seaside village perched beside the busy sea! There is a ship arriving, and we are treated to all the 'busy-ness' below the water's surface! Next, all is surrounded by glorious Quaker-inspired sampler motifs - making an elegant and involved border. Notice the crabs and lobster in it? Measures 267 x 216 - so it finishes approx 15 x 12 on 36ct. Hand-dyed fabric in the picture is Fibre On A Whim's Latte - which is a gret neutral color. Coded for DMC.
The Lord's Prayer - The favorite prayer quietly stitched in DMC on a neutral background. This measures 238 x 296 - so about 13 x 16 on 36ct.
Mary Jane's Motifs - This is a set of pin cushions done from motifs taken from a larger antique sampler. Super classic urn and floral designs... you can change colors if need be - these aren't too involved, so that isn't hard. They are just classic, simple rpetty designs that caught my eye!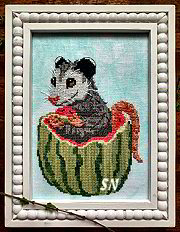 Millie Melon Eater and Peter Pumpkin Eater


from Ingleside Imaginarium
Oh my gosh, these are the CUTEST little opossoms enjoying fruits of the season! Little baby Millie has been munching on her sweet summer melon... and I bet she's nice and cool sitting right in it! Peter looks as pleased as pie... he's so lucky that he ran into an unattended pumpkin on someone's front porch! (We had something eat all our pumpkins we left outside last Fall ... I bet we made our yard critters as happy as these!)

Anyway, presented as charts, each finishes about 4-1/2 x 5-1/2 on 32ct linen, and uses both DMC and a smattering of hand-dyed flosses. I think these are charming and so unique, just love 'em!

We now carry Chala Handbags!
'Vegan' Leather... part of the company's profits are donated to animal rescue facilities across the nation. Their leathers are 'vegan' (a fancy way to describe 'faux leather') because their whole philosophy is to be kind to and appreciate animals!

Anyway... we have quite a fun selection of their totes, cross body cell phone cases and mini-purses, darling key fobs and coin purses. You can see a little of the variety from my pics... if you're near the shop, drop in. If you aren't but are familiar with this charming line, give us a call - we can choose something for the perfect gift!
Yes, there's even MORE!

6068 S. Sheridan Tulsa, Ok. 74145
(918) 493-1136 Fax: (918) 493-1933
Toll Free Order Line: (888) 543-7004
Store Hours: 10 - 6 CST, Monday - Friday
10 - 5 CST, Saturday
E-Mail
Need help with the website or with logging in?
Contact webmaster@thesilverneedle.com
© 2022 Silver Needle Ltd.
You may not reproduce, copy, or redistribute the design or layout of this web site, individual elements of the web site design, or Silver Needle images, designs, adaptations, charts, instructions or logos without the express written permission of Silver Needle, Ltd.
View our company's Privacy, Shipping and Return Policies
Prices are subject to change without notice.