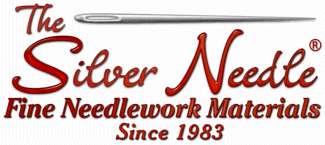 6068 S. Sheridan Rd. Tulsa, Ok. 74145 (918) 493-1136 (888) 543-7004
E-Mail
Here is a smattering of delightfully colorful designs by Satsuma Street! Presented in leaflet format each is charted in color and coded for DMC floss. Beautiful photography on the covers, and large, clear symbols and coloring inside, they are regular Cross Stitch with little or no Backstitch or specialty stitches.

The Pretty Little Cities also include inserts that list the buildings and landmarks featured in their designs. Super fresh and young... designer Jody Rice says her designs are *Cross Stitch for a Happy World!*



The 2024 Christmas Ornament Kits are on the way


Jodi has 4 cute ornament designs all presented on 14ct perforated paper. They come as complete kits of the chart, paper, flosses and any embellishments she uses.

About 3 x 4 - these are always bright and colorful - so darn cute! Of course you should get all 4, Cool Kid, Lolly Claus, Santa Cruiser and Calling Birds!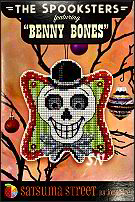 The Spooksters are Here


Satsuma Street's 2023 Halloween ornaments have arrived - super-cute as usual! All are presented as complete kits of 14ct perforated paper with all their necessary sequins or tiny smattering of beads.

Too hard to choose just one, get 'em all... once the stitching is done, back them with sticky felt or pretty scrapbook paper, and then cut them out. They make cute magnets, pumpkin pokes or hanging ornaments!





Springamajigs


Aren't these Springy and cute? By Satsuma Street, these are 4 new kits that make 8 little ornaments.
14ct Perforated paper, all the necessary flosses and a few sequins tossed on for glamour... these are fun to tuck into Easter Baskets or bowls of eggs and cushions, or hang in your windows! Each finishes approx 2 x 3.



Four New Christmas Ornaments by Satsuma Street!
Puppy Present Kit, Snow Angel Kit, Ring-a-Ding Santa Kit, French Hen Kit
Wow... you have months and months to get these done before next Christmas! Jody Rice has 4 new designs that are bright, colorful and cute for your tree. Presented in kit format of 14ct perforated paper, DMC flosses, beads and old fashioned shiny sequins, each design measures approx 3 x 4 in size.

Once stitched you can attach pretty fabric to the backs, then simply cut them out and you're finished! Because they are on paper, they are super lightweight, so they hang well on the tree and can be on the outside branches to show up really well. 



Tree Topper, Mitten Kitten, Holiday Horse and Turtle Doves
New Paper Ornaments for 2021-2022 - Jodi has 4 new Christmas designs to adorn your tree! Presented in kit format with 14ct perforated paper, DMC flosses a smidge of beads and sequins for sparkle... they are bright and colorful. Each measures about 3-1/2 x 4 in size, and are great to hang on a real tree because they weigh literally nothing, and won't make your branches sag. Fun to stitch, simply cut the paper around the edges to shape, and you're finished!





Colorful Paper Ornaments


Jodi Rice's first 4 new designs to grace your Christmas Tree! Each is stitched with DMC floss and garnished with old fashioned sequins. Bright, fun colors, they are presented as complete kits of the 14ct perforated paper, the threads and sequins, with a few glass beads tossed in for glitz. They finish about 3-1/2 inches high... and need a home by Christmas!

Satsuma has an entire set of The Nutcracker Ballet ornaments, as well as almost 15 scary Halloween ornament designs - they are all pictured on our Satsuma Street page - click the pic to see them all.





The Wizard of Oz, Heat Wave and Memento Mori


Jodi Rice has a few new designs presented in leaflet format - her books are always bright, pretty and super-clear and easy to work from.
Alice in Wonderland - Satsuma Street's version of Alice's adventures... we get the Cheshire Cat in here, the Mad Hatter at his Tea Party and Alice tumbling down the Rabbit Hole. It's charming and full of color - and companions the Wizard of OZ Piece that Jodi has done. (This was never my favorite children's story... and now we are mortified because there is a hookah-smoking caterpillar in there! But... never-the-less... a famous story with a cute stitched rendition. It's sparked a whole discussion here in our shop backroom about fairy tales and banned books!) Measures 184 x 184 in stitch count, choose a light blue fabric... this is coded for DMC and it would LOVE some metallics tossed in if you'd like!
The Wizard of Oz is CHARMING! First, it's a fun and different shape. Next, look into each of the 5 big sections... they tell the whole story. We get Glinda and the Munchkins at the top, Dorothy, Toto and the Scarecrow, Lion, and Tin Man all following the Yellow Brick Road. At the other side is the field of Poppies that puts Dorothy to sleep, then the Wicked Witch of the West and her flying monkeys. Finally the wizard flying back to the (Omaha wasn't it?) State Fair! Emeralds garnish the corners and the Yellow Brick Road and rainbows surround all. With a stitch count of 184 x 184, since it teases your eye by its shape, it really is 12 x 12 from emerald to emerald! Jodi has two 11 x 17 separate colored charts in here - two-sided. You get the entire scene charted in color, then huge individual colored charts of the back stitch details in each. Choose a mint green or Star Sapphire colored fabric... lots of count options for this, coded for DMC.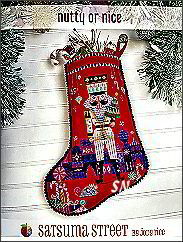 Nutty or Nice and Sunburst


Satsuma Street has two new designs - covering two totally different seasons!
Nutty or Nice is her next Christmas Stocking - the fifth so far. Stitched on a classic, rich red this is charted for DMC floss and does also use silver and gold metallic. On 14ct, it'll finish into a 10 x 16 stocking (there is a row or two of stitching inside the seams so the design will go all the way to your edge.) Such bright, happy colors... I like the mini-ball trim she's used as well. The chart comes in full color, and is printed HUGE, so you'll love working from it.
Sunburst is a vibrant yellow and rust piece stitched against a brilliant aqua background. Super striking! Coded for regular DMC, this measures 160 in stitch count - so 10 inches in diameter on 32ct. How can just NOT be drawn to the colors?



Halloween is coming - Satsuma Street says so!


4 new Ornaments coming our way! Each of the 4 ornaments finish in the 4-inch size range, all are stitched on 14ct perforated paper, and come fully kitted with all the necessary DMC flosses. SUPER Colorful!
Eye Scream - An pumpkin ice-cream cone trimmed with sprinkes and an eyeball!
Fun Guy - Well... that skull is growing mushrooms!
Haunted Hearse - Would be darling for a new teenage driver!
Hoppy Halloween - Nothing scary about this little guy! He needs to be stuck to your bathroom mirror so you are reminded of how much you are loved each morning!
Oh What Fun! - Satsuma Street gives us quite a colorful and bright Christmas Stocking pattern... full of Peace, Love and Joy - literally! Finished size is 10 x 16 on 14ct, alphabet chart and finishing instructions are included.
The Animal House - Something darling for a kid's room... there are animals popping out of the windows and door everywhere! This would be fun as a door hanger on 7ct... and you could name the animals in backstitch. Or you could stitch it on any regular-sized fabric, and add bright metallics and buttons or charms. You could even split the house parts and stitch just the front door with the peacock, just the tower with the giraffe or just the monkey one. The colors make this just delightful!
Pretty Little Greece - The newest in Jodi's series of international cities and countries. A stylized medley of everything special to that place... we have about 18 other destinations that might tantalize you. See how many you have visited!



Cactus Cat, Christmas Cat, Bertie, Ellie and Myrtle


Nobody does brilliant happy colors like Jody Rice from Satsuma Street! I ordered some things and truly forgot how charming they are until I unwrapped them today! Everything is beautifully presented with LARGE chart graphics, all is coded for regular DMC, in color, and on very stiff card-stock paper.
Cactus Cat - How can you not love everything in this? The geometrics of the sun, pots, cactus, and that cat! He's just sitting there like he owns the garden! 144 x 106 - it finishes about 7-1.2 x 10 on 28ct. (Or do it on perf paper and add beads!)
Christmas Cat - Might those be broken bulbs down there on the carpet? This one is fun, you could add some metallics and stitch the cat with Simply Wool thread! He's 8 x 10 on 28ct.
Flower Friends: Ellie, Myrtle and Bertie - What a darling trio - each measures just 65 stitches - so about 4 inches on 32ct, or 6-1/2 inches done on 20ct linen with #5 Pearl. Coded for DMC, I don't know where the colored frames come from... so just be thinking cute colored fabrics for pillows... or finding some fun wood shapes and get busy painting!



Noel Sampler, Twelve Days and Ghastly Greetings


A trio of seasonal designs... each of these offers small designs that can be stitched individually and finished into ornaments, blocks or pin cushions as well as joined in their medleys.
Noel Sampler - This measures 158 x 158 - each square 40 x 40 - so just 2-1/2 inches on 32ct! It's a fresh, new Christmas look... maybe for a fresh new family in their fresh new house?
Twelve Days of Christmas - These would be fun stitched and finished into 4-sided blocks - with stitching on all 4 sides. Festive bows on top of each... like tiny stitched gifts under the tree or nestled in the center of a wreath sitting on a table!
Ghastly Greetings is on black, but I think you could get away with something lighter so you can see it to stitch. A million different bands and borders you could make little sausage-shapes, or stacking blocks. Finished stitch count is 53 wide by 280 long... so on 14ct - even black perf paper would be fun for this - it'll finish 4-ish by 20! Another really good possibility for metallics in this one!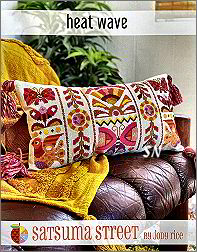 Heat Wave and Memento Mori

from Satsuma Street
Jodi Rice has a few new designs presented in leaflet format - her books are always bright, pretty and super-clear and easy to work from.
Heat Wave - All these bright, hot colors - it just makes you happy! Stitch count of 188 x 90, this finishes approx 13-1/2 x 6-1/2 on 14... although this is worked on an oatmeal-colored fabric, I think white would be stunning!
Memento Mori - After watching the movie 'Coco' I have a better understanding of Sugar Skulls, and their heartwarming, family spirit. So, these are happy and colorful. Worked on black - any count you can SEE, the stitch count is 71 x 257 - so they finish approx 5 x 18 on 14/28ct. Coded for lots of bright and pretty DMC flosses.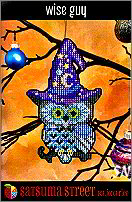 New Halloween Ornaments


Jodi Rice has 4 new Creepy Delights coming our way. Her things are always worked on perforated paper (but you CAN use fabric instead!) with regular flosses and studded with a few beads and sparkly sequins. Super colorful, they are all very eye-catching. Put magnets on the back on them for the fridge or file cabinet... sticks for plant or candy dish pokes. Stitch and frame 'em, or make them into little stand-up cubes -- they are way too cute to leave in a drawer unstitched!

Finishing about 4 x 4 each, the complete kits come with the chart, paper, flosses and sequins and needles. We have a pretty nice collection of her Halloween designs - these are #'s 14, 15, 16 and 17! Just love all the colors!






Look What's NEW From Satsuma Street! Oology!


This delightful set of 4 eggs is the perfect project for the start of Spring... and better yet, they are all presented in ONE leaflet!

Each 3 x 4 egg is stitched on 28ct linen - but Satsuma loves perforated paper as well, and these would be awesome as paper eggs too!

Coded for DMC, get out some beads and metallics if you feel like it... these gorgeous pastel eggs will be so much fun to stitch!


Sky-High Santa and Santa's Flight


Satsuma Street's Jodi Rice has sent two new Santa patterns both featuring hot air balloons - which is one of Santa's Sleigh alternatives!
Sky High Santa is glorious in his delightful balloon! Worked on a deep blue fabric - choose your count - it is coded for regular DMC floss, and will finish approx 11 x 17 on 14/28ct. Gorgeous, bright colors.... throw on some beads or add some metallics if you feel like it! (Our Rainbow Gallery Petite Treasure Braids come in about 100 colors so there are lots of possibilities!) The chart is huge, and printed in color, the leaflet includes complete stocking finishing instructions as well.
Santa's Flight features Santa in a pastel-colored balloon high over the sleeping village. He finishes about 6 x 11 on 14/28 - a little smaller than the Sky High Santa - but he'd make a nice stocking companion anyway. This pattern has a few silver glass seed beads called for, and some silver and gold metallic... just absolutely charming! Use the finishing instructions supplied in Sky High, use the beaded idea from this one for that one, and you can have a matching pair of hot-air balloon stockings!



4 New Halloween Ornaments

from Satsuma Street
By Satsuma Street, here are 4 more of these colorful designs! Joining the other Satsuma Ornaments, we already have in the set, these are full of the same bright colors and sparkle as the rest!

Finishing approx 3-1/2 to 4-1/2 inches in size, they are worked on black perforated paper - super easy to see and stitch with. So... enjoy the additions to this festive set of Halloween delights!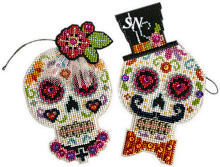 Presenting the Bride and Groom Sugar Skull Style!


If you've ever seen the movie *Coco* these will make you smile. Super colorful... you DO have to have the right couple to appreciate these... but they ARE fun, and really unique!

Stitched on white 14ct perforated paper, they finish approx 3 x 4 in size. The kits include the paper, chart, flosses, beads and colorful sequins, and the bride even has a bit of tulle for her veil! Too Darn Cute!





The Nutcracker Suite Ornament Collection


These are positively enchanting - just like their story! Jody Rice's set of 8 (Only two left, now!) paper ornaments are stitched on metallic 14ct perforated paper - the Snow Queen and Mouse King are on silver - the rest are on gold. Each measures approx 2-1/4 x 5 inches, and is stitched with DMC floss. Every one is garnished with glass beads and sequins - I see some snowflakes and flowers in them... so between the shiny paper and the glistening beads and those sequins, these really sparkle!

Super colorful, these look stunning on your Christmas Tree because they are lightweight and can hang on the tips of the branches or where-ever your twinkle lights will catch them. The kits come with a huge, gorgeous color chart, the flosses, beads, sequins, needle and good instructions for sewing on the beads and finishing.


Next, The Halloween Collection
These are just as cute and festive as the Nutcracker Collection... absolutely bursting with color and personality! They are done on 14ct Black Perforated Paper - which is actually pretty easy to see! For a change - you can work on black and SEE IT! Varied shapes and sizes, they are all in the 2-1/2 to 4-inch neighborhood. The Pumpkin King Nutcracker is done on silver metallic paper and he's 5 inches.

Each is stitched with DMCs of chartreuse/apple green, brilliant oranges, bright aqua, gorgeous purples, and deep fuscias. Totally yummy colors! The are garnished with glass beads and sequins in just the right places to make the designs 'pop!' Kits include the chart, paper, flosses, beads, sequins, needles and instructions for sequin-and-bead-attachment and finishing. It'll be hard to choose favorites!





Fa-la-la-llama and Oh Deer!


Satsuma Street has fun new stocking designs that certainly fits the bill for creative Christmas decor! This happy little guy is bringing tons of Holiday Cheer... he's all dressed up... isn't he cute?

Stitch count is 155 x 237, so they finish into a 10 x 16 stocking on 14/28ct fabric. The cover pics are worked on a light blue or black hand-dyed, and look perfect. Coded for DMC, the charts don't call for any embellishment, but some cute baubles or trims might be really FUN on these! Alphabet is included for personalization across that top banded area.





Garden Party Warm & Garden Party Cool


By Satsuma Street... these are the same design... but stitched in different colors! How on earth can you choose a favorite??? Such a fun, fresh design, it measures 109 x 127 in stitch count - finishing about 8 x 9 on 28ct Flax Cashel Linen.

Coded for regular 'ol DMC floss... I just love, love, love the happy colors in both of them!!! Maybe stitch them both and finish back to back so you can flip it around when ever you want a change? Presented as a full color leaflet, nice heavy cardboard and a huge, colored chart.





Verano, Primavera, Otono & Invierno - The 4 Seasons


Oh my gosh, this set of 4 designs is finally finished, and it is a show-stopper! Each season is presented in a full color, heavy cardboard, clear-chart format... and they are just beautiful. We joke in the shop that you could cut out the pics on the front cover and frame THEM, they are no pretty! Each season measures 113 x 113 - finishing 8 x 8 on 14/28ct. Choose whatever fabric you like best for them... they are coded for regular DMC floss.

Put them all together, or make the set of 4 individuals to hang in a grouping. You could stitch each on 18ct linen with #5 Pearl Cotton and make huge couch pillows that would be 13 inches of stitching - so like 18-inch mega-pillows! So fresh, clean, contemporary and colorful - we love them! Verano and Primavera have been available; Otono and Invierno are the new ones.


Halloween Cat Grab some Weeks Dye Works 30ct Periwinkle hand-dyed linen and 25 shades of your regular DMC floss and CREATE! Finishing approx 7 x 8... I love how the moon is transparent!
Dog Park This IS just a really happy place, and if you love a dog groomer... maybe you should stitch this for their workroom!! The pathway is done with only horizontal and vertical straight stitches - really cool texture on that. 7 x 8-1/2 on 14/28ct.
Forest OHHH... it's an Autumn forest... measuring 5 x 13. The pillow it is made into measures 9 x 18... so this could be a fun piece on real furniture!!! The chart is colored, and actually the printed colors are more brown and gray - and they look like a pretty colorway for this as well! Coded for DMC floss.
Happy Halloween - Colorful blocks... these would be fun with metallics and beads all over the place! 10 x 14 on 14ct... bright and bold - super easy stitching!
Egg Hunt - This is a fun piece - it measures 7 x 9 and is worked on Weeks Dye Work's 30ct Scuppermong Linen with regular DMC shades of floss. The green is neat... don't know what it would look like on white or a yellow... but I bet it's stunning!
Autumn Bird -- Luscious brilliant colors of Fall... finishes 8 x 6 on 14/28 Summer Khaki.
Sweet Spring -- Stitched on Weeks Dye Works 30ct Seafoam hand-dyed linen this finishes approx 6 x 7. LOVE those colors!
Garden Cat -- Finishes approx 7 x 10 on 14/28 natural. Skip the sun and clouds if need be -- it's darling either way!
Whooo's There?

Happy Travels to you!
Get these to commemorate a trip you've taken or a place you will be visiting! Stitch on it while you're THERE! Each of these leaflets has a little key inside that labels the landmarks for you.
Pretty Little Barcelona NEW! Another neat city you might have visited!!!! Satsuma has a whole series of these... just scroll down the page to see lots of them.
Coded for DMC, each is a leaflet, and includes a directory sheet of landmarks in the pic. 122 x 119.
Pretty Little Hawaii Finishes approx 8 x 9 on 14ct, coded for 28 shades of DMC floss. Just like all the rest of the 'destination designs' designer Jody Rice has included a landmark key so you can tell what is where of the features in the design.
The Emerald City -- Measures approx 8 x 8 on 14/28ct Flax linen. 29 colors of DMC.
Pretty Little Amsterdam -- 6-1/2 x 7 on Rustico... Features a windmill, canal houses and the Rijksmuseum.
Pretty Little Chicago -- 6 x 6-ish, Features The *Bean*, The El, and some of Navy Pier and the Water Tower.
Pretty Little Italy -- 6 x 6-ish, features the Leaning Tower of Pisa, the Colosseum, hills of Tuscany and several bits of Venice.
Pretty Little London -- 6 x 6-ish features the London Eye, Big Ben, Buckingham Palace and a few stoic guards.
Pretty Little Los Angeles features the Hollywood sign, Capitol Records, the Walk of Fame and Randy's Donuts!
Pretty Little New York sports the Statue of Liberty, Chrysler building, One world Trade Center, even the Brooklyn Bridge.
Pretty Little Paris -- Visit the Louvre, Sacre-Coeur, the Eiffel Tower and Notre Dame! (in between your stitching time!)
Pretty Little San Francisco has Chinatown, Golden Gate Bridge, the Painted Ladies and the Japantown Peace Pagoda. Love that little cable car!