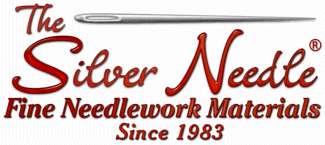 Our Auto-Ship Programs
6068 S. Sheridan Rd. Tulsa, Ok. 74145 (918) 493-1136 (888) 543-7004
E-Mail
There are several on-going series of Cross Stitch designs released at regular intervals. Our auto-ship programs for these let you be among the very first to receive them.
Choose options:
Join our auto to get all kits/patterns from the beginning

Join our auto with the current kit/pattern available.
We keep your credit card on file, and automatically charge and ship you the designs the day they arrive. They show up as stitching surprises in your mailbox! If you need to cancel for any reason... it's not a problem. Please let us know before the next design in that particular series ships to you!
These are auto-ships for your convenience.
Shipments may be cancelled at any time, with no further obligation. We do NOT charge a 'Membership Fee,' and shipping costs are discounted to you for these auto-ships.

Note: when you order an auto-ship, it will show up on your order form as a "zero-cost" or $.01 item, as we won't charge your credit card until we ship. Catch-Up & Continue will enable you to get ALL the previous designs in a series with your first shipment and then continue on monthly through the rest of the series. $$$ Amounts may vary and some add up very quickly!

Presenting our 8th *A Little Help From our Friends Stitching Circle*
Running November 2023 through Novmber-ish of 2024
We are proud to feature designs from: Artful Offerings, October House, Satsuma Street, Pansy Patch, Scarlett House and The Drawn Thread.
Each design will be a surprise, pricing is estimated at $45-ish each release. Beginning in November 2023, and continuing every other month till we're finished... we're once again, treating you to SIX exclusive designs by these six favorite designers! Each perfectly presented piece will be kitted with necessary threads and linen... and we'll tuck in some sort of charming little *BONUS GIFT-Y THINGY* to make it even more special! Everybody loves surprises in the mail... and these certainly fit that bill!
I truly love all my friends in the industry that have been helping us with this limited edition club... it has been so much fun to organize and 'make happen!'
Past Designers (and their limited exclusives to us) Include: Satsuma Street, Heart in Hand, Jeannette Douglas, Shepherd's Bush, La-D-Da, Chessie & Me, The Drawn Thread, Sam Sarah Studio, Scarlett House, Lizzie Kate, Blackbird Designs, Blackberry Lane, Heartstrings Samplery, Cross Eyed Cricket, Plum Street Samplers, Erica Michaels Designs, Hands On Design, Samplers Not Forgotten, Chessie & Me, Summer House Stitche Workes and Little House Needleworks, Shakerpeare's Peddler, Blue Flower, Sampler Company, Cottage Garden Samplings and Bent Creek - a pretty good line-up I think!!!! (That's our resume!)
CLICK HERE FOR OUR FLIER.
---



The Budding Bouquet Series


from Jeannette Douglas
strong>Budding Bouquet #1 Autumn is the first of 4 (at least) medium-sized floral bouquets. Jeannette has teeny ones, and her 6 large Blooming Bouquets - but this series will measure a nice medium 4 x 4 on 36ct. Just the right in-between size! Coded for Weeks or DMC.

It's presented in a small chart format... and we're doing an auto-ship for the other three seasons as they release - so join that and you'll be all set! First design ships September of 2023. Second, Winter Budding Bouquet, releases in October.


---



The Night Before Christmas

from Tiny Modernist
OK... a new series of 4 small designs - just like the Spooktacular Halloween set... a new chart releases each month.

Stitch the border or not... whole thing will finish approx 10 x 10 on 16/32ct. No other info... just promises to be cute! We'll begin an auto-ship on this one.


---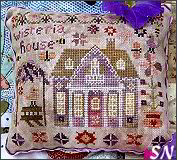 Pansy Patch Holiday Baskets and Houses on Wisteria Lane - 2 new series!
Betsy's Halloween Basket - Super unexpected to see a floral basket of yellows, oranges and purples, there's a little jack-o-lantern hiding in that bouquet. Really fun, it's stitched on Murky by Picture this Plus, and notice that some of the flowers are drooping out of the basket... so it's just charming! Measures 103 in stitch count - so 5 x 5 on 18ct. This is the first in a new set of Holiday Baskets, and they promise to be CUTE! Betsy's Christmas Basket is next - due to release late this Fall. We're beginning a new Auto-ship for this!
Wisteria House - Chart #1 of a new 9-part series of the Houses on Wisteria Lane! Our auto-ship begins with this first chart... each one is 97 x 87 - about 4 x 5 in size. You can make individual cushions for a bowl, or stitch them all together for a larger picture, or put them into a quilted wall hanging. Worked with a medley of hand-dyed flosses from Weeks, Classic and Gentle Art, Lori does have DMC conversions for these. This whole 'village' goes with houses of Peppermint Lane and Houses of Pumpkin Lane - just as charming!
---



Strawberry - The Berry Basket

from Hands On Design
A yummy mini-series kicks off with a strawberry covered strawberry! This one makes my mouth water!

Stitch Count is 86 x 68, on 32ct. Cathy says the berries will all be shown finished as strawberries, and that we can make a fruit salad with what is coming up. Assorted fruit, I expect, and perfect for a basket in your kitchen! We will start an auto-ship for these... they're going to be delicious!


---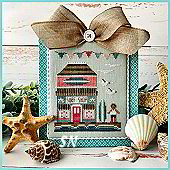 The Beach Boardwalk Series


from Country Cottage Needleworks
It's new series time! Introducing Beach Boardwalk, the new 7 part series, releasing monthly beginning June, 2023. This series has been inspired by the whimsical feel of a vintage seaside boardwalk.
Nikki has used 32ct Star Sapphire linen and Classic Colorworks overdyes with a bit of DMC for good measure. Each design has a stitch count of 59w x 71h.
The models can be stitched and finished individually, or you can finish all of the charts together to look like one long boardwalk. This is a really pretty one... just perfect for an auto-ship!
Individually, designs are expected to cost $7 each.
The series, in order:
June 2023 - Boardwalk Ice Cream Shop
July 2023 - Boardwalk Surf Shop
August 2023 - Boardwalk Bike Shop
September 2023 - Boardwalk Sign
October 2023 - Boardwalk Souvenir Shop
November 2023 - Boardwalk Salt Water Taffy Shop
December 2023 - Boardwalk Snack Shop
---



Presenting the 2023 Fragments in Time

from Summer House Stitch Workes
Beth has been doing Fragment sets for 10 years now - this year's designs are inpired by antique Berlin Woolwork Samplers. Each of the 8 small 3 x 3 pin cushions can be stitch individually or joined together inside Beth's freebie border chart. Color scheme is bold and deep this year! The first design is a charming cottage - I want to live there!

You'll need: Classic's Fresh Brew, Dublin Bay, Brandied Pears, Egghsell, Polliwog, Bean Sprout, Rose Petal, Chili Pepper, Tennessee Red Clay, and Weeks Loden. Lady Dot's Thndercloud is the featured trim, and you'll need a fat quarter of whatever linen you like best to stitch these either individually or together. Charts one and two release in March 2023, 3 & 4 in May, 5 & 6 in July and 7 & 8 finish the set in September.


---



Announcing Quiting A-Bee-Cs

from Erica Michaels
This is a charming 5-part sampler covering alphabets and quilt motifs. Lots of options for smalls to take out of the larger design, Linda is releasing this is 5 parts - one chart a month - March 2023 to November 2023.

Worked with Classic Colorworks hand-dyed flosses, it measures 263 x 223 - so will finish approx 14-1/2 x 12-1/2 on 36ct. Each square is 39 x 39, but each tiny quilt motif in it is just 24 stitches! Itty bitty! Linda promises indvidual finishes for pin pillows, spool bands, cubes, ornaments... all sorts of fun stuff. (I can see a drum with tiny quilt motifs all around.) Although there is a floss list, she also suggests that if you clean out your hand-dyed stash and use different dye lots of threads - it kind of mimics an old quilt - which is pretty cool and definitely OK!

Thread list: 1 each of Black Coffee, Blackbird, Dublin Bay, Hazelnut, Holly Berry, Little Sprout, Magnolia Blossom, Mistletoe, Old Blue Jeans, Queen Bee, Tea and Bisquits, 2 of Trail Dust, 3 of Wavy Navy and Wild Berries.
Our Auto-ship started with Chart #1. Let us know fabric count and color choice (she uses a vanilla/cream/hand-dyed) and add any threads you need... we can ship those with your first chart.


---



Jingle All The Way!

from AB Designs
Charts one and two are shipped! NOW is the time to join Amy's Stitch-Along for this charming design... here are the details!

Here is AB Designs' 2023 Stitch Along Piece! Amy's sampling of little Christmas people is stitched in Classic Colorworks flosses on 28ct Flax linen. The whole piece measures 134 x 164 - so on the 28 it'll be 9-1/2 x 12... but if you change fabric counts, finished size will change as well. (Individual ornaments could be 2 or 3 inches by themselves.)

Darling and full of color, each chart includes button embellishments. The first two of 10 charts will ship this April, with two more charts shipping in June, August, October and December. $10.00 each, we will charge your card for the two charts shipped each time - NOT the whole series at one time. The whole pic uses 13 skeins of the Classic Flosses but is also coded for DMC. The color key appears only in the first chart; individual monthly charts will not be available until next year when the Stitch Along Auto is finished.


---
Cottage Garden's 2023 Snowman Collector's Series!

WOWZA - This is going to be an awesome series by Vinniey Tan of Cottage Garden Samplings. Each month a new chart will release, beginning in just a few weeks - late November of 2022. Stitched on Fabrics by Stephanie's 36ct Chocolate Milk Linen. (We have it and 32ct as well!)

You can stitch each snowman individually or join them all together - as shown in her teaser pic. (This teaser pic only shows a tiny part of each of the upcoming designs, btw.) Each of the 12 charts finishes a little different in size, but all are worked with a combination of Weeks Dye Works hand-dyeds and DMC flosses.

The Needleworker is stunning - he's wearing his glorious patchwork coat, and his tummy is decorated with buttons. The background is scattered with scissors, a pin cushion, a sewing machine and spool of thread - did you notice that each of those motifs could be made into tiny fobs or cushions or ornaments? Promising to be a really fun series, we're beginning an auto-ship for the charts... lots of fabric options as well!


---

Presenting Just Nan's

The Mouse-on-a-Tin (MOAT) Series

from Just Nan
These are the first of Nan's new little Magnetic Mice on Mini-Tins. Representing Nan's favorite Garden Visitors, we will be getting a Bee, Butterfly and Ladybug in the set as well.
Mr Plumed Peacock is all decked out in peacock feathers stitched with vibrant DMC shades of blue, green, aqua and royal purple - Nan has added bits of gold metallic too. Decorated with teal and gold hex beads his topknot is a frosted glass flower bead.

All mice in this series will be magnetized so they cling to their little tins securely - to keep watch over that tiny needlebook inside. Tins measure 2 inches in diameter, top is decorated with peacock feather artwork and sides with scalloped trim. The 1-1/4 inch needlebook that fits inside the tin is stitched on the same Weeks Dye Works 32ct Linen (colored) linen and finishes a mere 1-1/4 inch!
Mr Plume measures only 29 x 57, and little book is only 19 x 19! Nan's kit includes the instructions for stitching and finishing plus the decorated tin, gold tail, beads, gold sequin, flower bead, painted peacock charm bead featured in the center of the book, cream felt, and magnetized mouse base button.
NOTE! Both the Glory Bee and Peacock Mise are now sold out! THANKS!


We'll offer a 9 x 9 cut of Weeks 32ct Linen Linen, which will be enough to fit both pieces. (We are out of the Linen linen at the moment... so auto-ships will not include fabric for now.)All the Mice sets will be on this fabric. We began our auto-ship for this little guy April 4th... and his three friends to follow in late 2022 and 2023! Each of the auto shipments will have your fabric.
NOTE:The TIN auto is NEW auto separate from the Mouse/ornament auto.


---




Holly Go Brightly Mouse


from Just Nan
Holly Go Brightly Mouse - Nan's 10th Annual Gingerbread Mouse! Holly wears a festive dress adorned with holly leaves, metallic red berry beads, gold garland and little red flowers. Greens and berries make up her hat, and Holly is holding a fancy satin holly leaf embellished with a gold sequin and red crystal.

Included in the chart are the red beads, gold tail, Nan's signature button base and the embellished holly. You'll need a 6 x 6 piece of 32ct Natural or Gingerbread linen, bits of DMC and a little gold metallic from your stash.

**We are REFRESHING our Just Nan Ornament/Mouse Auto Ship.**
(That's why you only see the current mouse here. You can view all of the others on our Just Nan page.)
If you would like to JOIN or CONTINUE on this auto, please click the box below to update your preferences.


---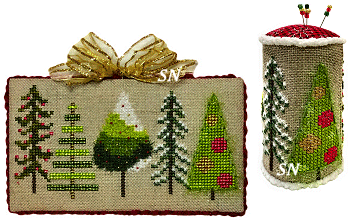 Secret Needle Night
from The Silver Needle
These are our shop-exclusive monthly kits! Each month, we release a specialty thread kit that we have designed ourselves, chosen fun fabric, threads, and embellishments, and kitted the whole thing! We even include a recipe for the desert served that evening!

They're always on large count material, always seasonal or holiday in theme, and limited edition kits. When each Secret Needle Night is finished, its kit is retired forever!

We've been offering Secret Needle Night for almost 18 years now... and have the past 5 years or so of projects up on our Secret Needle Night page. All the details are there... all the pics... take a look! Hope you'll join the program!

We automatically mail them each month, so they show up in your mailbox... a surprise every month! Overseas mailing isn't a problem, either. We send loads of them each month... all it takes is a padded envelope and a customs tag on our end... and they're on their way to you!
So, you see... every month we have something really fun and cool waiting to send off to your stitching fingers!

Visit our Secret Needle Night page to see more history of the program, and see if you want to enroll. You can sign up to receive it every month, to receive just specific months, or for a one-time trial. And don't forget gifts! What a great monthly surprise for a friend! Enjoy!