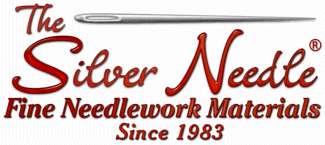 6068 S. Sheridan Rd. Tulsa, Ok. 74145 (918) 493-1136 (888) 543-7004
E-Mail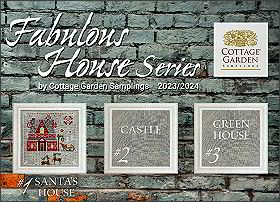 Presenting The Fabulous House Series for 2024


Vinniey has announced her next series of designs - it promises to be a charming set of whimsical houses. Santa's House is the first!
Beginning in December of 2023 and continuing - 1 house a month, until we finish in November of 2024 - the first one is on the way to us now! Each design will be 120 x 120 in size and can be stitched individually or all together. (370 x 495 for the whole thing!)

So, Santa's House is first, followed by a Castle in December. Green House, Cottage, Hobbit House, Tree House, Housebarn, Lighthouse, Floating House, Fairy house, Haunted House and Log Cabin will be the other pieces of real estate in the set. The fabric in the first pic is a medium gray. Since we have no idea what the other designs will look like, I am thinking any neutral should work - Country Vintage Mocha? Natural? Lambswool? Any lighter hand-dyed? As for counts... YOU choose - it's YOUR piece! 32ct would be 7-1/2-inch houses, 40ct would be 6-inch houses. Coded for DMC (parts 1 and 2 have 2 hand-dyeds each, part 3 has no hand-dyed) Promises to be pretty festive! Our Auto-ship will include the charts each month.


(Note: when you order an auto-ship, it will show up on your order form as a "zero-cost" or $.01 item, as we won't charge your credit card until we ship.)



Christmas Parade and The Pilgrim

.

Christmas Parade is just the cutest! A Jolly plump Santa is leading his tiny forest friends... maybe they are little Santas-in-training... because they all have on little teeny Santa hats! Measuring 100 x 200 in stitch count, this will finish approx 5-1/2 x 11 on 36ct. Choose a murky winter-colored background for this - so the white and pink snowflake detail shows up along the top and bottom. Everything is stitched in DMC. I think those little animals just steal the parade!
Cottage Garden Samplings is finishing her year-of-snowmen series with her Pilgrim Snowman. You had several chances to think of snowmen in 'different and creative situations' this past year... lots of stitching for this entire set... but colorful and full of cute design details. Pilgrim is the final chart in the set of 12. You can pick and choose any of them you like... or still collect them all.
Cottage Garden's 2023 Snowman Collector's Series!

WOWZA - This is an awesome series by Vinniey Tan of Cottage Garden Samplings. Each month a new chart released, with the last one due in early November. Stitched on Fabrics by Stephanie's 36ct Chocolate Milk Linen. (We have it and 32ct as well!)

You can stitch each snowman individually or join them all together - as shown in her teaser pic. (This teaser pic only shows a tiny part of each of the upcoming designs, btw.) Each of the 12 charts finishes a little different in size, but all are worked with a combination of Weeks Dye Works hand-dyeds and DMC flosses.

The Needleworker is stunning - he's wearing his glorious patchwork coat, and his tummy is decorated with buttons. The background is scattered with scissors, a pin cushion, a sewing machine and spool of thread - did you notice that each of those motifs could be made into tiny fobs or cushions or ornaments? With Design #12, the series is now complete.


Cast a Spell - Stitched on Picture This Plus's Murky or Atomic Ranch's Cobblestone hand-dyed, I'm thinking this looks pretty mangy and intense - just like those fabrics. Coded for DMC, it measures 99 x 99, so 5-1/2 on 36ct. 7 x 7 on 14. I think my favorite part is that awesome kitty on the roof! I think you could stitch JUST that cat with the moon and you'd be good to go!

Then, don't forget about Cottage Garden's OTHER fun Halloween designs! We have these pictured and described below, and think they are too good to pass by!


Trick or Treat is stunning in 'stitched-person.' Gorgeous web detail surrounding each circle, and charming little pics in each!
Halloween Samplers I and II feature an eerie font and lots of fun little motifs scattered between the words.



Trick or Treat


Halloween is around the corner - although the weather is just as scary RIGHT NOW! Check out this neat design - you have nine small cushion-sized designs that are all joined with a spider-web border! The whole piece measures 169 in stitch count, so each square is 56 - so 3 inches on 18ct.

Beautiful little designs in here... I love the owl, and at first my eyes didn't see the bat or the ravens, but I saw those webs! Coded for DMC and Weeks.


Halloween Sampler


from Cottage Garden Samplings
What a cute medley of Halloween-themed words all bunched together into this alphabet piece! Stitched mostly in hand-dyed blacks (There are three different shades in here... Blackboard, Raven and Soot!), you get just a hint of bright coppers and oranges here and there!

Finishing approx 10 x 10 on 32ct, they suggest Weeks Dye Works Havana Linen, which comes in several counts. Maybe add a little black Petite Treasure Metallic Braid to the capital letters???? Offered as a chart.


Halloween Sampler II and Christmas Sampler II


This is a pair of seasonal alphabet pieces that are neat in their own ways!
Presented as chart, Halloween Sampler II is worked on Picture This Plus's Murky linen - which the coolest, mangy color - it's just muddy and a MESS! So many things look REALLY good on it! You get all the letters plus some fun words for all of them with a few motifs tucked in here and there. LOTS of possibilities for beads, metallics and maybe a couple of charms or an old skeleton key!
Christmas Sampler II is much more subdued. Stitched on Ancient linen from Picture This Plus, the letters chart is huge - printed on one huge sheet of glossy paper - the motifs are super-cute, it finishes about 8 or 9 inches square depending on your fabric count choice. We like them both!



Christmas Star


Oh Look at Santa! He's perched atop snowflake blocks of ice (there's a tiny rabbit watching him!), and trimming his woodland tree with the topper star. Stitch this on any medium blue hand-dyed - just something to show off the snow detail and his swirly beard.

The tree features pine cones, and I think those birds and squirrels would look awesome stitched with Simply Wool by Gentle Art! Christmas Star measures 120 x 120, so it'd be only 6-1/2 inches square on 36/18ct!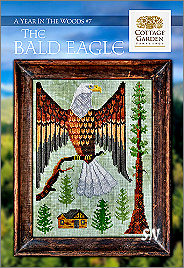 The New A Year in the Woods Series
Wow, is these little guys are elegant and exotic! Just look at them! Cottage Garden Samplings is has now completed its set of 12 designs entitled *A Year in the Woods.* You can watch for them to come out monthly in 2022 and collect JUST the ones you want... or you can join our auto-ship and just have them turn up in your mailbox (like magic!) as they are released this next year.

The Fox is the first in the 2022 series. Vinniey has such fun 'textures' in her designs - she just uses shapes (the curves in the tail) and tiny repeats (look at the body pattern) in her designs to really bring them to life.

This one is done on Picture This Plus's Mirage linen... possibly a challenge to get, we have some beautiful Cross Wing Collection darker hand-dyeds, but maybe you have something pretty already waiting in your stash!
This auto began in November of 2021 and continued with one chart monthly with a planned finish with #12.
Note: The 2021 Series, A Time for All Seasons, is now complete - We can now ship the whole set at once! Just scroll down a bit!





Christmas Delivery


Boy, this sleigh is so full, I'm not reindeer can fly with it! Santa is doing some fancy footwork to get his deliveries done... this is stitched on Picture This Plus's Alchemy hand-dyed linen. A yummy gray color... the chart is coded for regular DMC floss, and will finish about 8 x 12 on 32ct.

This might be a fun design to add some gold metallic into, or some beads, black metallics for boots, Simply Wool for fur or bear... see what you have hiding in your stash!





A Time for all Seasons Series


FULFILLED - ALL DONE - WE CAN NOW SHIP THE WHOLE SET AT ONCE!
This is a pretty set of 12 designs - each has a bird (or bee) or gigantic fruit - SOMETHING big and bold and colorful to celebrate its season.

100 x 130 In stitch count - all the same size - collect just some, or all of them!






Somebunny Loves You


from Cottage Garden Samplings
This cute little guy measures 93 x 125, so will finish about 6-1/2 x 9 on 28ct. It is simply coded for 10 colors of DMC.

We think it'd make a cute pillow for a little girl's bedroom!





The Songbird's Garden


Oh gosh, this is lovely set of designs that were released monthly. We have the first three - Forever and Ever (Northern Cardinal and Christmas Rose), Merry & Bright (Black-capped Chickadee and Winterberry Holly; and Winter's Wisdom (Golden crowned Kinglets and Conifers). Cardinals, chickadees, pine cones and holly... you can see that this entire set if going to be lovely!

Presented as charts, we have the first 8 so far. Each measures 159 x 159 and are worked on various colors of 36ct Weeks Dye Works linens. (Tin Roof and Dove so far.) Very elegant!


Peace on Earth


from Cottage Garden Samplings
Another Songbird design by Cottage Garden Samplings! We actually thought it was #9 of her Garden Songbird Series... and even sent it to our Auto-Stitchers by accident! (#9 is still on the way!) However, the other birds in this series of designs are really very classic, and they are a little larger.

Peace on Earth is stitched on Weeks Dye Works Dove hand-dyed linen and measures only 125 in stitch count. We love it, and know you have time to finish it before next Christmas!


Needleworker's Sampler


A cute sampler - this baby is huge! Stitch count is 235 x 196 -- so it finishes approx 17 x 14 on 28ct! Very pretty motifs, the basket of wool yarn, scissors and thread are fun -- you could probably work those together with the sheep and the verse if you don't have room or time to get the rest of this finished.

The shepherdess is hugely grand, however, and so is the house! Charted for DMC, the roses are 315 and 316, grays are 844 and 3787, and good greens of 503 and 3363.