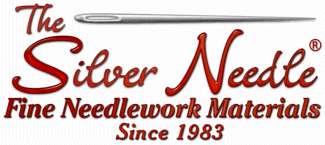 6068 S. Sheridan Rd. Tulsa, Ok. 74145 (918) 493-1136 (888) 543-7004
E-Mail



Berlin Woolwork Fragments #7 and 8, Wear Your Woolies and Emily's Bliss


Summer House Stitche Workes has a few new arrivals for us...
Wear Your Woolies - Choose any dark fabric you like - this is stitched with only one color of hand-dyed floss - Whitewash. Coverlet-inspired, it has a cheerful winter-y personality to it. So even though this is essentially red and white, yours could be khaki and green, or blue and taupe... match it to the walls of your cozy winter cabin in the woods! (only a dream for me!)
Emily's Bliss - 'Every leaf speaks bliss to me' - This is stitched on 32ct Natural Linen with shades of Weeks hand-dyed cottons or Gloriana hand-dyed silks. Just gorgeous, Beth gives finishing instructions for the drum assembly as well as the embroidery on the wool leaves. Very bright and pretty for Autumn!
Fragments in Time 2023
Beth has been doing Fragment sets for 10 years now - this year's designs are inpired by antique Berlin Woolwork Samplers. Each of the 8 small 3 x 3 pin cushions can be stitch individually or joined together inside Beth's freebie border chart. Color scheme is bold and deep this year! The first design is a charming cottage - I want to live there! You'll need: Classic's Fresh Brew, Dublin Bay, Brandied Pears, Egghsell, Polliwog, Bean Sprout, Rose Petal, Chili Pepper, Tennessee Red Clay, and Weeks Loden.

Lady Dot's Thndercloud is the featured trim, and you'll need a fat quarter of whatever linen you like best to stitch these either individually or together. Charts one and two release in March 2023, 3 & 4 in May, 5 & 6 in July and 7 & 8 finish the set in September.





Birds & Berries


We welcomed Beth Seal here this past weekend as a guest designer at our Grand Summer Stitching Event - and this charming little red, white and blue bird was her exclusive bonus to us!

Companioning the class kit, it's a sweet bird nestled among the summer leaves. Finishes about 3 x 3 on 32ct, and is offered as a single chart.

We also enjoyed a terrific trunk show... a took a few pics of all the charming Fragment cushions... when you scroll down to the Fragments in Time sets, you'll see even more. I just LOVE all of these! Thanks Beth!





Charms, Charms & Charms!


Both Hands On Design and Summer House Stitche Workes use these delightful little charms on their various collaborative designs. You don't HAVE to reserve them JUST for those designs. LOOK AT THESE - they are enchanting! Perfect for embellishing other cushions or ornaments - these little things are sometimes so very hard to find when you're looking for them!
French Kitchen Set features a strawberry, pear, cherries and an apple - these have a loop at the top for attachment.Set of 4 $6.00
Between Friends - Summer features charms that have a hole THROUGH some of them, so you can thread them onto a pin or length of thread - like to end a tassel or something. You can see the top loop on some, the rest in the pic have that hold running through them - the fly, bird, snail, butterfly. Attach the shears, carrot, radish, rake and shovel through their loops.
Christmas Past is a charm set for Summer House's trio of paper ornamnets. Snowflakes, holly, mittens, bells... just a medley of cute Christmassy and Winter charms.



Between Friends: A Summer Sampling


from Summer House Stitche Works and Hands On Design
Beth Seal and Cathy Habermann's seasonal collaboration book is here! Working together in their 'needlework garden' they weeded, coaxed and watered daily to bring us 7 cute summery/gardeny designs.

There is a picnic plaid pin cushion in here... great finishing instructions for tassel making, a cute tool holder for hoops, pens, trinkets - along with its finishing tutorial, and a pair of seed packet covers. 24 pages of pretty pictures and lovely charts - but nothing too big to not-get-done!





Between Friends: A Spring Sampling


The first of the 4 seasons, this is a collaboration between Cathy and Beth Ann Seal of Summer House Stitche Workes and Hands On Design. We're getting 4 books with 2 projects each... one from C and one from B. (Only from the pics - I count more than that.) They're big on finishing and lovely graphics, so this'll be a fun set! No release schedule yet for the other three, but we'll have them!

24 Pages of the 8 projects, each is beautifully photographed, and Cathy has added lots of clear pics during her finishing processes. They have a 'Stitch Academy' section in here... I read that the odd numbers in the stitch diagrams are always needle up, even number is always down, and remember to pull 'up' stitches to get the pretty holes you are looking for! Just a tiny tidbit of what resides inside these beautiful pages!





Days of Christmas Past


Paper ornaments inspired by old Victorian designs! Cut out the stitching and place a favorite photo in each center to really personalize your tree. Choose one color - your favorite - for these. One package of perf paper (we have that in numerous colors as well) will do your entire set... and there are charms to attach to each ornament.

(Charm Pack contains charms for all 9 ornaments, and right now, offered separately.) This is chart one of the set of three charts.





Superior Bees


Beth writes: 'Look into your imagination, where things in the garden are not quite what they seem. Time blossoms forth, tended by honey producing 'bees.' They are the key to life in this fanciful pollination production line. The contrivance is the dream-child of our mythical Professor Hivemann and is sure to enliven your agronomic stitching adventures.

Have a bit of stitching fun with this steampunk inspired design! Doesn't that put a neat spin on this? Stitched on a sage colored linen with only 3 colors Gloriana silks or DMC of 310, ecru and 167, the whole thing finishes only 4-1/2 x 5 on 40ct!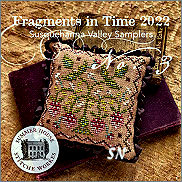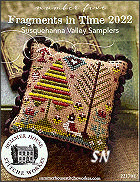 Presenting Fragments in Time for 2022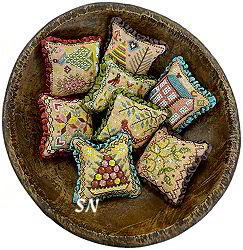 Beth Ann Seal's 5th Annual 2022 set of 8 small cushion designs is inspired by the antique samplers (late 1700 to 1840) of Pennsylvania's Susquehanna Valley. Lots of color this year, this set of 8 small charts all coordinate and make a very eye-catching set of bowl-fillers. Stitched on Weeks 32ct Straw Linen, (1/4 yard) the whole set will need Weeks hand-dyed flosses (but coded for DMC as well) of Cadet (2 skeins), Carolina Cecil (2), Cinnabar (2), Moss (3), Lichen (2), Chestnut (3) and Parchment (2). So far, two different rayon ribbon trims are featured on #1 and #2... don't know if we'll be able to keep up with that or not, but we'll try!

If you want to see the other 4 years of Fragments - we have them all nicely organized here... they are all so much fun to see all stitched together! Auto-ship will be offered, starting with 1 and 2... May brings #3/4, July brings #5/6 and September 2022 finishes with #7/8.





Lady Katherine Kitty and Sir Perceval Puppy - Hello and Goodbye!


This is a pair of stitched needle cases that features the front of the cat or dog on the front, and their backside on its backside. Then, open your stitched case to find little mice stitched on the inside 'endpapers' of Katherine's, and little dog bones inside of Perceval's.

Too darn cute! Worked on 32ct Flax linen with good old DMC floss, they measure 6 x 4 when open - so a mere 3 x 4 when closed. What a fun place to use a cute animal charm or button if you have one.


Winter Whites and Chronicles of Oline Marie II


I love these two new designs by Beth Ann...
Winter Whites is a soft piece stitched on natural linen in just Whitewash, Sandcastle and Flatfish Weeks Dye Works hand-dyed flosses. It's not very big - just 109 x 45, so it finishes just under 3 x 7, and if you make that baby drum - it's about 2 x 3! What I am so excited about as well, is that we are including the Lady Dot Creates finishing set with the pattern! You get the round matboard mounting piece, the Lady Dot Snow Chenille, the Weeks Houndstooth Wool cut in here, interfacing, the snowflake charm and the old fashioned safety pin the flake hangs from. NO chasing around to gather all the pretty and matching ingredients! Presented as the chart with finishing packet, linen and threads are available separately.
Chronicals of Oline Marie II - These are take-outs from a Norwegian sampler stitched by 14 yr old Oline Marie in 1844. The bird is shown on a needlebook, and the larger 91 x 91 stitch floral piece is mounted diagonally on a little velvet pillow made from Lady Dot's String Bean hand-dyed velveteen. Coded for either silks or DMC, colors featured are 520. 841, 733, 640, 833, 676 and 543 - so soft and pretty!



Chronicles of Oline Marie


This is a small bit taken from an antique Norwegian sampler stitched in 1844. Measuring 104 stitches square, it'll finish into a larger-ish pin cushion, the coordinating fob is smaller at 50 x 50.

Stitched with DMCs of 502, 841, 733, 640, 833, 676, and 543, it's a very soft palette, and looks elegant decorated with the vintage pearl buttons. Presented as a single sheet chart.





The French Kitchen


Enjoy this neat set of designs that celebrates the bounty of the French Kitchen with the fruits and flowers of the seasons. A collaboration between Hands On Design and Summer House Stitche Workes, Cathy designed Strawberries & Mint and Apples & Sage. Beth designed Pear & Rosemary and Blueberry & Thyme. (Don't know who designed the little bucket!)

Each tall sampler measures 53 x 135 - finishing approx 3 x 8 - stitched on 32ct linen. When your 4 are finished... either display them or store one or all of the 'out-of-season' panels in the cute little stitched 'bucket!' It's also perfect for storing recipe cards or chocolate!


Fragments in Time for 2021: Tales From The Sea
Another delightful set of 8 matching pin cushions from Beth Ann for 2021 is now complete! This year, we are headed to the sea for VACATION! Beth Ann's inspiration was antique sailor art, valentines and scrimshaw. Presented in 8 small cards - two release in January, 2 in March, 2 in May and we finish in July.

The first design features a brilliant sun lighting up a stylized ocean... perfect for frolicking whales.
Next is a Schooner - a 'pink' - a cargo ship.
Stitched on 32ct Platinum Linen, (but lots of other great neutrals will work - check your stash) each measures 51 x 51 (3 x 3) and is trimmed with Lady Dot's Caribe Chenille trim. (One pack will trim all 8 cushions.) Beth Ann is offering a freebie border chart as a stitching and finishing alternative as well. You're going to need a boat-load of floss to do this little set - get it all at once so dye-lots match! (Weeks color is listed first then DMC alternative numbers.) Gunmetal or 3799 - 5 skeins, Blue Jeans or 931 - 2 skeins, Turquoise or 943 - 2 skeins, Curry or 3820 - 3 or 4 skeins respectively, Red Rocks or 400 - 3 skeins, Sanguine or 3064 - 2 skeins, and Blue Beadboard (Classic Colorworks) or 3811 - 2 or 4 skeins respectively. LOVE love her annual sets of these Fragments!


Winter's Peace - Beth describes snowflakes falling, logs on the fire crackling... Winter's Peace embodies the serenity of a long Winter's night. With a stitch count of 78 x 48, this bowl-filler cushion will finish approx 5 x 3 on 32ct Ale Linen from Picture This Plus. Worked in only Gentle Art's Mulberry and Picket Fence floss colors, for a limited time, we have Beth's finishing materials available WITH this chart. You'll get the colonial-inspired cranberry-colored backing fabric cut along with red metallic mini garland trim and the silvery snowflake charm.
Snow Woods - Inspired by Robert Frost's poem "Stopping by Woods on a Snowy Evening," Beth says these three biscornus evoke the glimmer of falling snow. She says they are perfect for filling a Holiday dough bowl display! She's used 28ct Dirty Linen and says you'll need a whopping 3 skeins of DMC 3011, 2 skeins of 729 and 3 skeins of 415! (seems like a lot of thread, unless you're making some twisted cord for edging.) She's used assorted vintage buttons for her cushion centers. Chart includes all the designs.



Chronicles of Oline Maria


This is a small bit taken from an antique Norwegian sampler stitched in 1844. Measuring 104 stitches square, it'll finish into a larger-ish pin cushion, the coordinating fob is smaller at 50 x 50.

Stitched with DMCs of 502, 841, 733, 640, 833, 676, and 543, it's a very soft palette, and looks elegant decorated with the vintage pearl buttons. Presented as a single sheet chart.


Liberty Hill Farm


Summer House Stitche Workes has a CHARMING pair of patriotic designs that she has finished into little round stand-up cushions - Pin Drums. Worked on 32ct Weeks Dye Works Tin Roof Linen, these are stitched with a special pack of Sulky Threads. When you have stitched these two pieces... you'll STILL have enough thread left to stitch Hand's On's Memorial Day piece!! The girls planned their designs this way - and best of all the thread set is only $16.00!

The larger drum is 159 x 64 - and the smaller is 159 x 51. Super-duper-darn-cute... we even ordered the limited edition flower-pin packs to make those three pins poking from the tops! (I think those are little flower-shaped bits of wool that Cathy Habermann has done!) Love those bright colors... go check out Memorial Day, as well!


Presenting the Fragments in Time 2020 Series: Shaker Virtues
Behold all 8 designs that make up her set of Fragments in Time 2020. All designs have now arrived and the series is complete. Stitched on 32ct Flax Linen with a really unusual and pretty color palette of hand-dyeds, each matching cushion is trimmed with Lady Dot Chenille trim in licorice color. You can join all 8 designs together inside Beth Ann's freebie border chart (that is coming to her website), or make the individual cushions.

Threads needed for all are: Weeks Dye Works Lichen (3), Hunter (3), Flatfish (2), Blue Jeans (3), Gunmetal (4), and 3 skeins of Classic Colorworks Barn Door. One pack of the chenille will trim all pillows, and all are backed with Weeks hand-dyed wool of Red Pear.





Harvest Home


A 4 x 8 design by Summer House Stitche Workes, this can be finished flat, but Beth Ann chose a little circular drum shape instead! 32Ct Tin Roof Linen with Heirloom Gold, Toffee, Soot, Gingersnap, and Dark Chocolate hand-dyed flosses!

Wool topping is Week's Mountain Mist Glen Plaid. The design wraps, so if you make the drum your seam goes right though part of the design!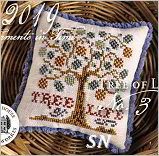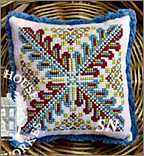 Presenting the Summer House Stitche Workes 2019 Fragments in Time Collection
The 2019 set of smalls is beginning to appear... this year inspired by Shaker ideals of simplicity, industry, harmony and economy. Beth's set of 8 small card charts releases mid-January and a pair of them will follow every other month to finish this July. Stitch each individually for pin cushions or join them all together - she has a freebie border chart available here.

Stitched on 32ct, the whole set needs 2 skeins each of Mulberry, Cornhusk, Heirloom Gold, Carriage Black, Dublin Bay and Lemon Grass, and one package of Lady Dot's hand-dyed chenille in Thundercloud will be enough to trim all your cushions! Our Auto-Ship has now finished.


---
Fragments in Time 2018
This year's set of 8 small designs celebrates sampler cartouches -- sampler motifs and bits. Just pretty little designs, each measures 51 stitches square -- so less than 3 inches square on 36ct. You can gather the 8 small cards and make 8 individual cushions -- the ones in the pic have been backed and trimmed with Lady Dot's velvet and chenille.

Your other option is to join them all together using Beth's freebie border chart (on her Facebook page... we will send a copy with the first shipment of patterns). It will make a 15 x 8 piece to frame. Pretty Gentle Art Sampler Threads of Ribon Red, Aged Pewter, Toffee, Currant, Mint Julep and Antique Rose... All 8 charts are new here.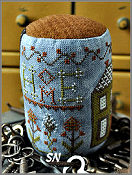 The Drum Series


All three small drum-shaped (cylinder) pin cushions by Summer House have new arrived. Presented as a small chart, we also have her special finishing kits included with our charts. Presented in small chart format, each drum is stitched on 32ct Linen (Home is on 10 x 12 cut of Nocturne by Picture This Plus.), and calls for only 4 DMC flosses. Your finishing kit includes the brown fabric shown on the back, that little piece of brown wool, the antique gold key charm, and bit of Week's wool to top your 4 x 6-ish inch cylinder.

Just the cutest little thing... HIVE follows mid June, and NEST ships mid September.


Liberty & Justice For All and Sister Suffragette


Summer House Stitche Workes has a pair of fun patriotic charts celebrating our Women's right to vote! The 19th Amendment was ratified on August 26th, 1920... and here we are 100 years later!
Sister Suffragette features the Votes for Women banner, and 6 vintage 'vote' button charts! USA in 1920, UK in 1918, Canada in 1917, Netherlands in 1919, France in 1944 and Australia in 1911. Banner measures 12 x 3 on 32ct and the buttons measure 3 inches in diameter. Beth Ann provides REALLY NICE photos of the finishing process on the leaflet's back - the beautiful ribbons around the edge are pretty easy when you see how she has done them!
Liberty & Justice is a trio of 3 x 3 designs - all stitched with Gentle Art's Grecian Gold, Uniform Blue and Ruby Slipper. All are backed with Weeks Lancaster Red hand-dyed wool... what a pretty little set of cushions!



E. Pluribus Unum


So classic in design... this is stitched over one on 28ct hand-dyed Straw/Gingham linen in only one color -- Weeks Kohl hand-dyed floss. Measuring approx 7-1/2 x 8 -- this will make quite a visual statement in your surroundings. You can choose the same gingham linen in 28ct and work this over two threads instead -- you've just create a larger piece at 13-1/2 x 16.

Offered as a chart -- this is very clear and looks like it'll be fun to work on!





Forever in Stitches


Just a small card design... this little thing is stitched with Gentle Art's Simply Wool - which is YUMMY to work with.

On 32ct, this finishes 10 x 3... might be a neat thing to make into a cushion for that awesome collection you now have... lovely shades of Garden Gate, Dungarees, Endive and Gold Leaf.


Harriet's Valentine Bouquet


This is a 9-1/2 x 3 pin cushion stitched on Weeks 30ct Straw Linen with Gentle Art Sampler Threads of Mustard Seed, Green With Envy, Apple Cider, Cucumber, and Woodrose.

Trimmed with Lady Dot's Sequoya Mini-Pom-Pom Ball fringe, it's very aged looking! Presented as a small chart.





Postcards From The Heart


Summer House Stitche Workes is presenting a pretty set of small designs and finishing them in super-cool ways on little burlap canvases. Each Postcard From The Heart features a pair of tiny designs that are all stitched on various colors of Weeks Dye Works 32ct hand-dyed linens -- in one color of floss, of your choice.

Next, get our bitty burlap-covered canvases -- you see them in the model pics... and then hit your button box for buttons and laces, your scrapbooking bins for cool papers and little trinkets, and your travel memoirs for ticket stubs and maps. Glue your stitching onto the burlap board and embellish with your *found objects!* Each card is offered separately, and the burlap boards are as well!
We have an auto-ship for these...