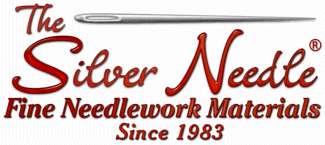 Country Cottage Needleworks
6068 S. Sheridan Rd. Tulsa, Ok. 74145 (918) 493-1136 (888) 543-7004
E-Mail



Pastel Ornaments


Nikki is beginning a new 12-part set of ornaments - first one ships this December of 2023. They will be all different sizes, and we know they are on 32ct Beautiful Beige Linen but beyond that, we don't have many details! She'll be featuring her Mom's floss - Classic Colorworks - for the entire series.

One chart each month till next Dec... these first two look darling! #1 is called Christmas House, measures 55w x 52h, and uses mostly Classic Colorworks with a bit of DMC thrown in. We'll begin an auto-ship... you are welcome to choose any fabric you like... and we'll be gathering thread sets as well. More info as details release!


(Note: when you order an auto-ship, it will show up on your order form as a "zero-cost" or $.01 item, as we won't charge your credit card until we ship.)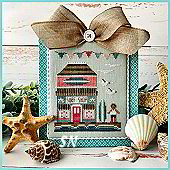 The Beach Boardwalk Series


It's new series time! Introducing Beach Boardwalk, the new 7 part series, releasing monthly beginning June, 2023. This series has been inspired by the whimsical feel of a vintage seaside boardwalk.
Nikki has used 32ct Star Sapphire linen and Classic Colorworks overdyes with a bit of DMC for good measure. Each design has a stitch count of 59w x 71h.
The models can be stitched and finished individually, or you can finish all of the charts together to look like one long boardwalk. This is a really pretty one... just perfect for an auto-ship!
Individually, designs are expected to cost $7 each.
The series, in order:
June 2023 - Boardwalk Ice Cream Shop
July 2023 - Boardwalk Surf Shop
August 2023 - Boardwalk Bike Shop
September 2023 - Boardwalk Sign
October 2023 - Boardwalk Souvenir Shop
November 2023 - Boardwalk Salt Water Taffy Shop
December 2023 - Boardwalk Snack Shop



Big City Christmas - FINISHED!


Our final installment of Big City Christmas - Music Hall - by Country Cottage Needlearts has arrived - finishing out the darling little Christmas Town. Each of the component charts are available if you want only a few, and if you haven't started yours yet... there are a million different fabrics and counts you can still choose for this!

Nikki suggests 32ct Lambswool linen and she uses Classic Colorworks hand-dyed flosses throughout. (DMC conversions included as well.) For the entire set you will need: One skinny 1/4 yd of 32ct Linen (enough for individual pieces or extra ornaments), Snowball (3), Little Sprout (2), Onion Skin (2), Licorice red (2), Hickory Sticks (2), Baking Tin (2), Eggshell (2), Wagon Wheel (1), Cocoa Bean (1), Thundercloud (1) and Cherry Tomato (1). One each of DMC 743, 754, and 3064. Cute as can be, this'll look great on a mantle or a wide window sill! Our Auto ships will start with first chart, and any fabrics or threads you need. Each subsequent shipment will be the charts.


Waiting for Santa


Nikki's newest design... everyone is at home sitting by the windows waiting for Santa. (But he isn't going to come until they are all IN BED!) Measuring 101 x 135, stitched on 32cct with Classic Colorworks hand-dyed flosses, it finishes approx 6 x 8-1/2.

Maybe they're waiting for the Amazon Truck instead - those come during the day! Either way, a darling, festive design!



Presenting

Nutcracker Village



OK all you 'Villagers' out there that love these little sets... Nikki Leeman began a new Village in November of 2021. 11 Designs - one released each month - the first design features Clara and the Prince among festive Christmas Trees. Its stitch count is 118 x 71 and is the largest center panel part - if you are going to stitch this as one scene. The other 10 designs - 59 x 71 (3 x 4-1/2) - surround the center.

Stitched on 32ct linen, the whole thing (236 x 217) will measure about 13-1/2 x 15. Total thread usage will be: Classic Colorworks hand-dyeds of Snowball (7), Little Sprout (3), Rain Shower (3), Blushing Beauty (3), Wagon Wheel (3), Sugar Plum (2), Hazelnut (2), Grasshopper (2), Finley Gold (1), Cherry Tomato (1), and one each of DMC 647, 754, 3064 and 3371. The charts will have DMC conversions for the hand-dyeds.

Anyway, Chart One releases mid-November, and the rest will follow each month till September of 2022. Join our auto-ship to easily collect as they release. Each chart is $7.00.





Greetings From The North Pole


A cute little North Pole wintery scene... Santa and Mrs are waving, and there is a pair of elves trimming a village tree up near the top. Finishes 8 x 11 on 32ct, you could actually split the three rows in this and stitch it all in a long row.

The houses are charming... coded for Classic Colorworks hand-dyed flosses or DMC.


Love Lives Here


A sweet little scene by Country Cottage Needleworks - this measures 5-1/2 x 8-1/2 when stitched on 32ct Linen. You could extend the side borders a bit and add a family name if you want... and you could change the color of the house... but gotta keep those valentines in the trees!

Calls for Classic Colorworks of Bamboo, Ribbon Red, Shrimp Cocktail, Little Sprout, Mariner's Compass, Sticks & Twigs and Trail Dust.





Home for the Holidays


Here's a little 6-1/2 inch quick-stitch for the Holidays. Worked on 32ct Water Lily linen, which has a lovely mossy green tint to it, you can make individual ornaments out of the houses... or even make a two-sided cushion with the row of houses on the front and the words on the back.

Teeny gingerbread people (only 9 x 13 in stitch count!), and peppermint words, the chart is coded for DMC and/or Classic Colorworks. Stitch the family name in the band of snow along the bottom!





Country Cottage's Sampler of the Month


Country Cottage has begun the 12 months wit skinny band samplers - January is the first, of course, and is here. They will all be the same size - 45 x 125 - so petite 3 x 8's on 16 Aida/32ct Linen.

Snowmen and greenery above and below the house, all is coded for DMC or Classic Coloroworks hand-dyed floss.

Presented in her small chart format, we'll offer a monthly shipment on these if you'd like to collect them all - the set should finish in November of 2021.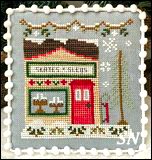 Announcing Snow Village
This new series begins in September of 2019 and continues until July of 2020. Country Cottage will release the Snow Village Banner center chart, and 10 more designs, monthly, that are all part of a little town named Snow Village! Stitched on 32ct Country French Rain linen with DMC and Classic Colorworks hand-dyed flosses, the entire set measures 223 x 185 when stitched together. (14 x 11-1/2.) The center design is 111 x 61, with each remaining mini-scene 55 x 61.

Flosses used are: Classic Colorworks Cherry Tomato (2), Jolly Holly (2), Tea and Biscuits and Hickory Sticks (2), along with DMC of: 304, 319, 646, 722, 869 (2), 3828 and white (5 skeins). Monthly charts are $6.50 each.


Away We Go


This is super cute! Nikki's newest, this is worked on 32ct Chalkboard Black fabric. There are quite a few dark charcoal and black-ish fabric options on the market now... so we can find you something that you can SEE on... don't be deterred by this dark background.

Finishing 8 x 6 on that 32... this is coded for DMC and Classic Colorworks floss. I love that little Santa on there! Wouldn't he be cute stitched with just the words below and made into a little drum?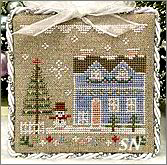 The Glitter Village Series
The nine-part set by Nikki is now complete... each monthly chart measures 57 x 57 stitches; your complete sampler will measure 177 x 177. Stitched on 32ct natural/metallic Belfast linen, using Classic Colorworks hand-dyed flosses, you'll need a card of gold metallic thread as well for Nikki's special touches! (Needed are 6 skeins of Bamboo, 2 of Four Leaf Clover, and 1 each of 8 others, plus the gold metallic - we suggest one of the pretty Rainbow Gallery Petite Treasure Braids that come in about 6 different shades of gold!!)

The charts will be cute finished like little easel stand-ups like in the pic - if you are short on stitching time to make them all into one larger piece. Large fabric cut and threads are optional!





Camping Trip


Country Cottage's new design... this celebrates camping! I know it's a tent down at the bottom -- reminds me of the Louvre! I think I see the flashlight sparkle in there... anyway, it's cute!

Finishes approx 5 x 8... with the words, bottom scene is 50 x 80 -- about 3 x 5. Charted for DMC and Classic Colorworks flosses.


Beachy Keen


Here's a fun little 4 x 4 design to make you smile. Presented as a small chart, you could add some beads to the sand, maybe a couple of wooden beads for the coconuts?

Blue metallic filament in the water for a bit of shine... and even add some baby shells (Hobby Lobby has them in the bead section) by that little castle! Coded for both DMC and 3 shades of Classic Colorworks hand-dyed floss.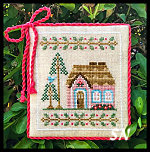 Welcome to the Forest
Country Cottage Needleworks is announcing her next series of designs -- *Welcome to the Forest.*
7 Designs, releasing once a month for the next 7 months, the first design -- Forest Banner -- is larger than the rest and has a stitch count of 121 x 67. Each of the following designs has a stitch count of 59 x 67.

There will also be a freebie border pattern available on the CC website as soon as this is released. If the entire series is stitched together with the border, it has a stitch count of 135 x 295. Choose any fabric you like, Nikki used 32ct Lambswool Linen. All the designs follow the same color scheme -- both DMC (12 shades from your stash) and Classic Colorworks. Design #1 releases the end of March 2018... and we'll offer an auto-ship on this set.

Options include charts only, charts and threads, and/or fabric of your choice. If you want to do all the parts singly, we'll be sending your big cut of fabric with your first shipment rather than trying to match dye lots each month, and not doing a good job of it! Thread Set of CC Hand-dyeds: Snowball - 3, Jolly Holly - 3, Hazelnut -2, Really Teally - 2 and Blushing Beauty 1.
This set introduced in March of 2018, expected to finish in October of 2018. Each chart will cost $8.


Welcome Spring and Spring Birds


We haven't finished with Winter around here, the weather-people say... but 'tis the season to get ready for everything pastel and Springy! Two new charts...
Welcome Spring is a cute row of carrots with resident garden bunnies. Each side is the mirror image of the other in this, stitch three carrots and 2 rabbits with their borders, and you've got it! Take the letters out of the carrots, add a few beads or special stitches to them and do the bunnies with Rainbow Gallery's Wisper... a smattering of JABCO buttons in the yellow and white flowers -- lots of potential here!


Beach House


Little gulls and sand dollars on the sand, this is a simple and sweet design that finishes approx 4-1/2 x 5-1/2.

Choose a 'sandy colored' fabric, maybe add a few sandy-colored beads on the beach, maybe a little blue metallic in the water, and maybe some long stitches for fronds in the palms... and maybe purchase a beach house to display this???!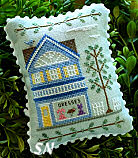 Main Street

- Now Complete!

This is a new series of 10 monthly charts releasing each month beginning this April continuing till January of 2018. Each has a stitch count of 59 x 83 (approx 3 x 5), if you stitch it together in two rows as shown, it'll measure 295 x 157 (18-1/2 x 10). Worked on 32ct Star Sapphire Linen a yummy soft blue/aqua color... this color works for both stitching options.

Along with several DMC flosses (3 of white), you will need 2 skeins of Classic Colorworks Cocoa Bean and 2 of Four Leaf Clover. Auto-ship begins in April... main fabric cut with first shipment or individual cuts each month!


Country Cottage Needleworks Completes

Snow Place Like Home



Country Cottage Needleworks is working on a new 5-part series -- *Snow Place Like Home!* One pattern releasing every month... (right now, #3 is already here), each finishes approx 3-1/2 x 4-1/2.. You can join them in one long row, then they will finish 19 x 4-1/2. Choose any fabric you like -- the model is on 32ct Lambswool -- any neutral will do.

Cute houses, a little snowman here and there... consider adding some glass beads or opalescent thread to make that snow glisten!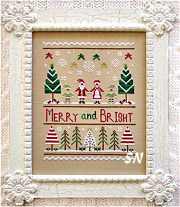 Merry and Bright


Merry and Bright measures 6 x 8 on 32ct. It doesn't call for any beads or metallics... but wow... you could really get creative with this!

Lots of pretty metallics or buttons for the stars... Mill Hill snowflakes (either the glass or metal ones would be fun), then opalescents for shine or Wisper thread for fluff in the snow... definitely beads for those cute little trees... this is presented as a chart.


Afternoon in Paris


This is a charming Paris street scene by Nikki Leeman of Country Cottage Needleworks. It is worked on 32ct Star Sapphire linen (which is a yummy, pretty and light seafoamy color) and uses a combination of 12 colors of DMC and hand-dyeds.

Finishing approx 13 x 4, it has so many separate design elements that you could pull out of here and stitch individually... or choose just the restaurant table and Eiffel Tower for instance... I love those balloons... and the Arch is pretty cool too! Offered as a chart.


Afternoon in New York


This is Country Cottage's third design in this set of little city rows -- she has London and Paris already published. So cool, the hot dog vendor is here, the park bench, Empire State Building, a taxi, a brownstone, and friendly fire hydrant for all the neighborhood dogs!!!

Offered as a chart, this is stitched on 32ct Waterlily linen with hand-dyeds and DMC flosses. it finishes approx 13 x 4... Something fun to remember your travels to New York City!!!


Afternoon in Rome


Country Cottage Needleworks has another CHARMING Famous City Street Scene! Rome is new, and joins London, Paris and New York!

All four are presented in chart format. They all measure approx 13 x 4 and are worked on 32ct Star Sapphire Linen. Regular DMC and hand-dyed flosses, each city scene is just the cutest... and you might need them ALL!


Afternoon in London


A cute companion to An Afternoon in Paris, this is another street scene with a few of the favorite landmarks of London. The double decker bus... Big Ben, and Buckingham Palace... I wish they still had those cool red telephone booths!!!

Stitched on 32ct Waterlily linen with hand-dyeds or D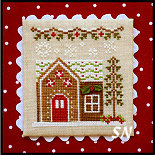 Gingerbread Village Series is Now Complete!
Beginning mid-October we're being treated to a new 11-part monthly series by Nikki Leeman of Country Cottage Needleworks. Beginning with a Gingerbread Train in the center (110 x 60 stitch count), there will be 10 more designs (55 x 60 each) surrounding it. You can stitch it all on one piece of fabric, or make your own stand-up village of buildings.

It will feature a few Just Another Button Company buttons, and can be worked on numerous different fabrics -- 32ct Natural Belfast, to Opalescent to the Polka Dot. Total thread usage will be Classic Colorworks Bean Sprout (2), and Ribbon Red (2). Week's Hazelnut (3) and Pecan (5). DMC White (4), 3371 (1), 469 (1), 741 (1). Each of the 11 designs is being released separately in small chart format... so of course we have begun an auto for this!!!

Please communicate to us in our comments box (or call on the toll free line 888-543-7004 -- which options you want! Charts only, charts and buttons, which fabric, floss or no floss... there are too many options here for me to list all the ordering combinations. We'll send flosses and fabrics with the first shipment, charts and buttons monthly thereafter.






Cake Menu


Choose your poison!

A sweet listing of life's treats, this measures 65 x 163 in stitch count and is coded for DMC floss.


Cottage Alphabet


One of Nikki's pastel cottage scenes tops this organized block of the alphabet. Finishing approx 8 x 10 on 32ct, stitch it by itself, or add the letters.

It might be kind of fun to personalize this a little -- instead of the repeating corner motifs with the letters... change them out and add family first names or special places your family likes -- lake -- in the L space, or Disney in the D space... or Rover for the puppy in the R space... just thoughts! Offered as a chart.


Merry Christmas, My Deer


What a fun Christmas decoration -- wouldn't it be neat to personalize for a first Christmas together... or fun to display in the foyer? By Country Cottage Needleworks, this is offered as a chart.

It is stitched on the 32ct Natural Petit Point linen that features white dots painted on. (Those little dots are way cute, but a little more challenging to negotiate than regular linen.) Anyway, just a few DMCs and hand-dyeds, it finishes approx 8-1/2 x 5-1/2... and the general concensus is that it is CUTE!





Countdown To Christmas


Country Cottage Needleworks presents an Advent Calendar that is bitty in size but big on charm. Finishing a mere 6 x 10 on 32ct, it's coded for DMC and hand-dyeds.

It might really be fun to frame this, and make sure there is a FAT chuck of foam board behind it, so you could stick-pin a piece of peppermint to each of the days-in-waiting!!! Offered as a chart.


Family Home


Is what makes a house a home. Something fun for a growing family... this might make a nice housewarming gift. Add the family surname, you could add initials below the people... and I bet you can find a tiny dog or cat chart somewhere and add that in here too!

Right now, with no design changes, it will finish approx 9 x 4 on 32ct. Offered as a chart, it uses DMC and hand-dyeds.





The Classic Ornaments Collection


Nikki has announced her next series of designs... a set of 12 ornaments worked in the classic red and green Christmas colors. The first releases mid-August and will continue till all 12 are released. Each is offered as a small chart -- various sizes and 32ct fabrics -- each uses DMC and hand-dyed flosses. JABCO buttons are optional each time. The first offering is *Angels* which measures 63 x 53 and features a bell button and Classic Colorwork's Ladybug floss.

This is tough one to offer on an auto while including all the variables, so we're choosing to include the chart and button each month. Fabric is YOUR call... and you might not need all the flosses... but as this progresses... we'll know a lot more.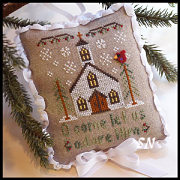 Snow Sampler


Country Cottage Needleworks has a charming new piece -- lots of white stitches make a wintery sampler. Worked on Natural Linen, on 32ct it finishes approx 5 x 8. If you have some lovely deep gray or a restful blue or green, those background fabrics would be lovely for this one, as well.

Just choose a fabric color that accents all the pretty white stitches. Maybe even blend in some opalescent metallic filament with the white??? Coded for DMC, the only hand-dyed floss used is Baby Spinach by Gentle Art. Lots of opportunities for scattered beads, a glass snowflake treasure and maybe even a little sticky-out clay carrot nose for that little snowman! Offered as a chart.


Cookies for Santa


Something cute to stitch as 'The Cookie Sign' for Santa... all the topping ingredients are mixed in with the alphabet!

Offered as a chart, DMC flosses, it finishes approx 9 x 4 on 32ct Lambswool.





Let Us Rejoice


DMCs and hand-dyeds in this 6 x 8-1/2 inch piece.

You may want to change the house color to stand out better against the recommended fabric, or darken that background a little.





The Frosty Forest Series


Released monthly, beginning in November of 2013, set is now complete! It's a Wintry Woodland Village consisting of nine different scenes.


Each will release as a small chart ($6.00) with button embellishment ($1.50 to $2) -- and will individually finish approx 4 x 4. Stitch all 9 together -- 3 across and in 3 rows -- and you will need is an 18-1/2 x 18-1/2 piece.

Names of the upcoming patterns conjour up a delightful village! Raccoon Cabin (can you see him in the front yard?), Snowy Deer, Snowman's Cottage, Snowy Friends, Bluebird Cabin, Snowy Foxes, Snowgirl's Cottage, Snowy Reindeer, and Frosty Forest.

Stitched on 32ct Pearl Grey Belfast Linen, purchase one large piece for the composite pic, or enough smaller cuts at the beginning so all your individual cuts match in dye lot.






Land of Liberty


Just a sweet piece with a cute stars and stripes border to accent!

A petite 5-1/2 x 7-1/2 on 32ct Lambswool, stitch it in the dusty hand-dyeds called for or DMCs.
Offered as a chart.





Be My Valentine


Hugs and Kisses! Pink, white and brown... strawberries chocolate and icing!

Just a sweet Valentine piece, this measures 7 x 8 on 28ct. Offered as a chart.


Happy Harvest


A cheerful barn-like farmhouse surrounded by the Autumn trees, a garden full of plump pumpkins and BIG, hungry crows in the yard! I'm kind of a random person sometimes -- so I think it'd be fun to shake up that bottom border a little -- rearrange the veges a bit and add a couple beneath the trees. Maybe even drop a leaf or two.

Offered as a small chart, it finishes approx 5 x 5 on 32ct.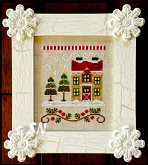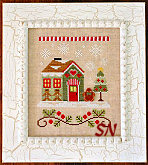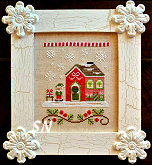 Country Cottage Needlework's Santa's Village -- 2013!
Nikki Leeman has announced brief details for her new 2013 series of designs -- Santa's Village. The first design ships the last week of November -- entitled Santa's House. All the rest in the set will ship one-chart-per-month for a total of 12 designs.

Each chart is a different building in her village, here are the names -- in the order they will be released. Santa's House; Poinsettia Place; North Pole Post Office; Mrs Claus' Cookie Shop; Santa's Stocking Store; Reindeer Stables; Christmas Tree Farm; Candy Cane Cottage; Santa's Sleighworks; Gingerbread Emporium; Elves Workshop; and Hot Cocoa Cafe.


You can stitch them all individually, or join them on one piece of fabric -- each has a stitch count of 72 x 88 -- which finishes approx 4-1/2 x 5-1/2 on 32ct Lambswool linen. Suggested group placement is 3 rows of 4 buildings each - which requires a 24 x 24 cut of the linen. There is also a button featured on each building for a little extra charm!

Soooo... you have options here! Pick up each chart as you like it... or join our auto-ship for the set. Next decide on fabric. You can stitch these on just about anything -- YOU CHOOSE your favorite -- and let us know what you'd like best. Big chunk or enough to stitch individually? (Need to purchase all smaller pieces together so dye lots match...) This promises to be a cute set of designs... and we can help with all those decisions!!!


Here is a pic of one of the shop Gal's stitching in progress!!! Deanna's stitching is over one on 28ct Lambswool!

Auto begins with Santa's House in December of 2012, and will end in November of 2013. If you join this auto anytime in 2013, you have the option to CATCH UP - meaning you'll get all the previously released months -- OR simply begin with the current month's release. You will continue till the end.






Up, Up and Away


Oh, a cute balloon scene!!! Stitched with Crescent's Persimmon, Mint Julep and Joshua Tree hand-dyed colors, we never see hot air balloons in things... so this is distinctive. Little House did release Around the World in 80 Days... another balloon piece... so enjoy them both!

(We had a customer years ago who was *into* hot-air ballooning -- the hubby/hot-air jokes were delightful, and this just makes me smile to remember her.) Fun colors... maybe personalize a balloon for a little one???


Cookies & Milk


The bestest comfort food snack!

Finishing approx 5-1/2 x 7-1/2 on 30ct Cocoa Linen, coded for DMC or hand-dyeds.


Cherries and Berries


The fruits of summer, both look yummy in their charming pottery bowls. I think there is a bit of 'artistic license' with those blueberries in the tree, though!

Offered as the chart, this finishes approx 4 x 9 on 28ct. If you are an over-achiever, you could stitch the 'bowl' squares and make them jam jar labels!!!


Our Love Nest


Housewarming gift? Country Cottage's newest, this finishes approx 8-1/2 x 5-1/2 on 28ct Lambswool linen, and is stitched in DMC and overdyeds.

Offered as the chart.





Christmas Carols and Joy * Love * Peace


Country Cottage Needleworks has released two new designs to adorn your walls during The Holidays.

Charted for DMC flosses, 5 x 11 and 4 x 9... both would be pretty finished into fabric wall hangings -- for a burst of bordering color. Festive and Quick!


Pumpkin Cottage


Some pumpkin grow white these days... I just bought one! So... our little cottage looks like a white pumpkin, and it does have some growing in its garden... but there are orange ones, too... for a bit more color, and really great pie!

Pumpkin Cottage finishes approx 6-1/2 x 8-1/2 and is charted for either DMC or overdyed flosses.


A Pirate's Life


Country Cottage Needleworks has a neat piece that needs to hang in a little boy's bedroom… or needs to be made into a pillow and stashed aboard the family 'yacht!' It'd be fun at the lake house, too… I can just hear those salty pirates singing away!

Offered as a chart, it is stitched in Crescent and Weeks hand-dyeds with some DMC cottons, and finishes approx 9 x 9 on 28ct. A fun theme, Nikki has a new mermaid piece, as well… to keep those pirates singing! Real cute!


The Nutcracker


Country Cottage Needleworks releases a darling padgent scene -- straight from The Nutcracker Suite! Clara, the Prince, Christmas Gifts everywhere and even the theatre curtains... this is darling! Stitch it for the star-performer in your life!!!

Offered as a chart, this is one of Country Cottages newest releases... very timely for the season!








Peppermint Lane



Cute cottages, complete with candy sprinkles on the rooftops!


Boys and Bugs


Country Cottage has two new designs that are perfect for young bedrooms! I picture best friends depicted in both of these... customize some hair colors, add some names of the featured foursome of friends... and you have lasting memories of days -- soon to pass!

Both are offered as charts, stitched on 28ct, they finish approx 6-1/2 x 8-1/2, and are stitched in DMC and overdyed flosses. Very, very cute!!!!


Cowboy Dreams




Giddy-up horse, it's time to ride, Into the old west's countryside, Where dreams are made and I can be, A cowboy living wild and free.

I can just imagine this hanging in a playroom or little boy's bedroom... I think it's precious!!!

Offered by Country Cottage Needleworks in chart format, this finishes approx 8 x 9 on 28ct, and is worked in Crescent Colours overdyeds and DMC flosses. I like the colors... the rope border is cute; so are the stick horse and prickly cactus in here! 4th In CC's Kids set of designs... the first two were for ballerinas and baseball lovers. This one and the Garden Girl -- also new -- are perfect for other special little kidlets!!!





Gingerbread Cottage


What a cute, whimsical Christmas House! Tucked between two very lacy holly borders, you find a candy cottage, complete with lollypops for the shrubs! The pine trees are decorated with candies, and notice the cupcakes and candy canes as the extra landscaping!!! The little cookie family is standing beside the cottage sign... all very quaint and magical.

Offered as a chart, this finishes approx 6 x 8 on 28ct linen, and is stitched in Crescent Colours Overdyed floss, and some DMCs, too.


Little League and Little Ballerinas



Well, I have a grandson this would be perfect for... oh, if only I stitched! (No, your Weary Webmaster, writing this description in Lindy's absence, doesn't stitch... isn't that ironic?) The design has a historic flavor that reminds me of the time of the old NY Yankees... Babe Ruth and all that.

Stitched with Crescent Colours threads, it measures about 8 1/2 x 5 1/4, and comes with an alphabet so you can personalize it.

Little Ballerinas, a design for dancers and those who love them, is the same size, and also includes the alphabet. The overdyed threads used in some areas give you more dimension, don't you think?


La Boutique


Country Cottage's newest shop-front scene... this needs to hang with The Bakery and The Flower Shop designs. I wish this was the way The Silver Needle looked from the outside... we'd have that whole second floor as a stitching lounge! And... I could be outside walking my little Westies!!!

Offered as a chart, this is stitched on 28ct and finishes approx 7-1/2 inches square, worked in DMC flosses. Crisp and fun!


Spring Violets


When the spring breezes blow, the violets all share, their sweet smelling scent with the birds in the air. A sweet Springtime piece... if you start it now... you'll be done in time for those blossoms! Offered as a chart, this finishes approx 6 x 13 on 28ct, and uses a mixture of Weeks and Crescent Colours Overdyeds and a few DMCs too. Very pretty, vibrant lavender and greens!


Forest Snowfall


Nikki's latest design (helped along by her daughter Juliet, we're told) contains an original verse and a lovely winter setting for you to enjoy. Finishing 11 1/4 x 7 1/4 on 28 count Pearl Grey linen, it calls for both Crescent Colors and DMC flosses. A wonderful addition to a winter wall.