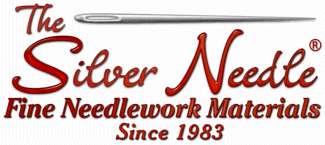 6068 S. Sheridan Rd. Tulsa, Ok. 74145 (918) 493-1136 (888) 543-7004
E-Mail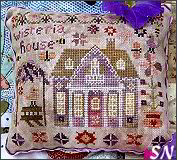 Lori from Pansy Patch Quilts and Stitchery is bursting with pretty new designs!

Everything is offered in charts.
Here we go!
Betsy's Halloween Basket - Super unexpected to see a floral basket of yellows, oranges and purples, there's a little jack-o-lantern hiding in that bouquet. Really fun, it's stitched on Murky by Picture this Plus, and notice that some of the flowers are drooping out of the basket... so it's just charming! Measures 103 in stitch count - so 5 x 5 on 18ct. This is the first in a new set of Holiday Baskets, and they promise to be CUTE! Betsy's Christmas Basket is next - due to release late this Fall. We're beginning a new Auto-ship for this!
Autumn Garden at Cranberry Manor - This is a companion to Summer at Cranberry Manor - which was released this last March. I imagine we'll get all four seasons with this, just don't know for sure and when. Delicate quilt motifs scattered everywhere, Lori likes pinks and reds, and it's fun to see them in an Autumnal design. Measures about 6-1/2 inches on 36ct, stitched with Classic and Gentle Art hand-dyeds.
Wisteria House - Chart #1 of a new 9-part series of the Houses on Wisteria Lane! Our auto-ship begins with this first chart... each one is 97 x 87 - about 4 x 5 in size. You can make individual cushions for a bowl, or stitch them all together for a larger picture, or put them into a quilted wall hanging. Worked with a medley of hand-dyed flosses from Weeks, Classic and Gentle Art, Lori does have DMC conversions for these. This whole 'village' goes with houses of Peppermint Lane and Houses of Pumpkin Lane - just as charming!
Peacock Manor - Another pretty red house surrounded with delicate quilt and sampler motifs, this one measures just 77 x 100 - 4 x 5 - on 36ct.
Red Bunny Sampler - Oh this is cute! It measures 10 x 10 on 36ct, and is done with any red hand-dyed you want - although you could choose lots of other colors and DO this in color. I like the idea that it 'looks' Quaker, but really isn't - it's full of quilt motifs instead. Look at all those little individual pin cushion designs you could do! Charming and old-fashioned in personality.



4 New Designs from Blueberry Ridge


Pansy Patch's Daughter, Emily, is the artist behind these charming new designs. Just releasing, these are her first 4 designs! All quilt-inspired, each is presented in chart pack format. They are stitched on various hand-dyed fabrics with the medley of Classic, Gentle Art and Weeks hand-dyed flosses.
Birds and Blossoms Sampler - Measures 118 x 100 - so 6-1/2 x 5-1/2 on 36ct.
House on Blueberry Hill - Features a cute border of those berries... this finishes about 5 x 7 on 36.
House on Strawberry Hill - A companion for Blueberry, the little berry row would be cute as a tiny drum!
Sampler Seasons - Autumn - I think this is probably going to be the first of the seasons. It measures 183 x 124 - so about 10 x 7. One color of hand-dyed throughout.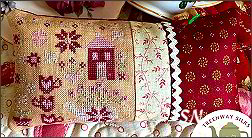 New Designs

from Pansy Patch Quilts and Stitchery

Summer Garden at Cranberry Manor - This is PP's show exclusive with limited availability before April, but we have plenty, and we brought home the stitched model with us! Pretty pinks, golds and soft greens, this finishes approx 6-1/2 inches square on 36ct. Stitched with varied hand-dyeds, it is coded for DMC as well. The house is little and surrounded by such a flourish of quilt motifs - it's extra charming!
Tea Garden Pillow - A tiny little pin cushion pattern, this measures just 60 x 60, and is done with DMCs of 25, 3727, 522 and 815.
Stitcher's Retreat House - Here's a fun piece... Two friends meeting at a stitch retreat! (Only, we're never wearing dresses, we don't have those big hips, and somehow the venue never looks like that charming house with all the thread spools and quilt motifs swirling around in the sky above!) Finishing about 7 x 7, pull out those spools for some cute pin cushions, and you're all set!
On the Way from Pansy Patch Quilts and Stitchery
Bloom, Stitch and Everlasting Friendship
Lori P of Pansy Patch is beginning a new series of Words to Stitch By. Bloom and Stitch are the first two. All measure 131 x 87, and she has stitched hers on 36ct to finish 7-1/4 x 4-3/4 in size. So far, the fabrics vary, but most of the threads are the same - a mixture of Gentle Art, Weeks and Classic. (DMC conversions are included.) We have no idea how many she will do, or release timing, so haven't started an auto-ship - but if you want that - let us know! Endive, Ruby Slipper, Avocado, Palomino, Rose Petal, Tennessee Red Clay, Ye Old Gold, Grecian Gold, Sea Foam, and Deep Fennel.
Mother-Daughter Everlastng Friendship is also a new release - dedicated to Lori's Mom. Measuring 103 x 123, its stitched with Gentle Art, Weeks and Classics hand-dyed and features both sets of initials - yours and those of your friend.



Presenting the Houses on Pumpkin Lane


Pansy Patch Quilts is beginning a new 9-part series of Autumn houses - just like her Gingerbread Cottage Set! Here are the first six (you don't have to get all 9 and stitch them all - it's OK to pick and choose favorites - less stress!)

The first 6 charts are ready now... the final three release in March '23. Lori has a fun freebie border chart to join this set together if you want to go that route, but they are shown as individual pin cushions on the chart covers as well. Anyway, pretty Fall colors, lots of fun quilt motifs decorating the houses, neat top and bottom borders... leave off the names of the houses if you want - and insert your own initials instead! Each house measures 97 x 87... is stitched with DELICIOUS colors of hand-dyeds (DMC conversions included) and finishes approx 5 x 5. Lady Dot trims are featured on the cushions.





Patchwork Baskets


Pansy Patch Quilts and Stitchery has new designs that have caught our eye!
Betsy's Summer Basket is the first of a series of 4 charted Patchwork Baskets... this one is filled with a flourish of colorful summery stylized flowers. Stitched on 36ct Wren from Picture This Plus; it uses a medley of hand-dyed flosses or DMC and measures a generous 6 x 6-ish! Love the big-ball fringe trim on there! Future release dates: Autumn Basket in late August 2022, Winter Basket in Nov '22, and Spring Basket finished the set.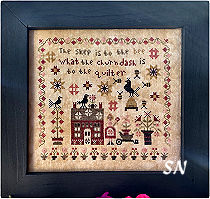 Mrs Beesley's Summer House - A cute little sampler - 'The skep is to the bee what the churndash is to a quilter.' Just a bitty 7 x 7 on 36ct... a few hand-dyeds... a quick stitch!
Little Red Schoolhouse Pinkeep - Love This! It's worked with a single red color of hand-dyed thread... on a natural color of linen. You have options! Stitch Count is 111 x 119 - so 6 x 6 would be the finished size on 36ct!
Autumn Crow - A sweet little piece, this is only 60 x 60 and is worked with hand-dyeds or DMC. Presented in a small chart format.
Bluebirds and Bluebells Sampler - This pretty sampler measures a whopping 251 x 332 - so on 36ct will finish about 14 x 18. The pattern includes finishing ideas for the pin cushion and scissor case - kind of a reminder that you can make lots of fun things out of all the different motifs and borders in this. Lots of hand-dyeds.
Hester's Special Delivery


Hester's Special Delivery - Lori writes, 'Who doesn't like a giant bunny delivering beautifully decorated eggs? Hester is making her way with her special delivery over a little house with a pretty shoofly decorated roof.'

Pretty hand-dyed flosses throughout - the 'bushes' look like they are growing out of giant spools, and we love that scattered alphabet in the sky! Finishes approx 6 x 7 on 36ct.


The Houses on Peppermint Lane

are Finished!
This charming set of 9 gingerbread houses by Pansy Patch Quilts and Stitchery has finished with these last three houses: Pomegranate, Needleworker and Christmas Houses. All basically the same size with lovely flower pots, a reindeer and snowman in all the yards, they all feature a different holiday house.

The cool sampler borders along their top row, great colors, and all those bitty dividing motifs, there is a lot happening with this set. Stitch each house individually, or join them together with Lori's freebie border chart which is available on her website. The whole thing measures 347 x 277 - so an impressive 19 x 15 on 36ct! Each house is presented in its own chart... so stitch away!


The next three Gingerbread Houses on Peppermint Lane
Pansy Patch's next three cottages - Tea, Cranberry and Pinwheel companion her Peppermint, Gingerbread and Sugar Cookie houses! (There are options on the Pansy Patch website for borders if you want to do the whole set as one.)

Cute little houses... we have plenty of time to get them all done before NEXT Christmas!


The Houses on Peppermint Lane
A new series of 9 gingerbread houses is coming our way from Pansy Patch Quilts and Stitchery.
Peppermint, Gingerbread and Sugar Cookie Houses are all already here, with the other 6 houses coming in January and March of 2022.

Stitched on Picture This Plus's 36ct Oaken with Weeks Dye Works hand-dyed flosses, each scene measures about 5 inches in size... with the individual houses a bit smaller if you leave off borders and floral urns. Little individual stand-ups would be charming!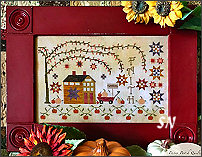 The Seasons & The Acorn Catcher
The Seasons - This is a charming set of 4 seasonal houses decorated with quilt motifs and surrounded by fun and unique borders. Spring is full of pink flowers and love, Summer is the simplest one - full of hope. Autumn features the quilt stars all over in the sky, while the pumpkins along the bottom and the glorious tree on top make up these borders. Winter features pretty poinsettias to surround our snowman and evergreen tree. Available as 4 separate charts, they are coded for hand-dyeds or DMC and finish about 7 x 11 on 36ct linen.
The Acorn Catcher - A cute little pin cushion for your big bowl of stitched fillers - 'In Autumn time pumpkins shine and acorns fall from the sky.' The little squirrel is down there with his little collection plate!