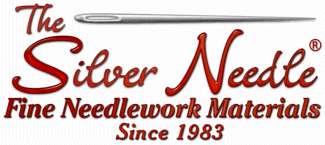 6068 S. Sheridan Rd. Tulsa, Ok. 74145 (918) 493-1136 (888) 543-7004
E-Mail
Charming Arrivals by Thistles - Direct from The Netherlands!
Liezbeth Gottshall has quite a collection of delightful Cross Stitch designs... you're going to love her things! We have a fun pumpkin curtain (!), cute baby pillows, day-of-the-week pin cushions, a multiplication table, stitched and stuffed sheep (you can make a flock of them!), a snowman penny rug, and some darling Christmas pillows! Everything is offered in chart format and stitched with Weeks and Gentle Art flosses. Unique designs, some different finishing ideas!



Some Cute Designs by Thistles


All are offered as charts and travel here from The Netherlands!
Counting on the Farm - is darling! One farmhouse, 2 horses, 3 tractors, 4 pigs... cows, sheep, goats and chickens round out the yard... all surrounded by a border of drying corn cobs! Finishing a generous 14 x 20 on 32ct olive green, this would be cute in a classroom or kids playroom. Coded for 23 shades of DMC or Weeks hand-dyed flosses, she has dominoes in the design to help teach counting! (Hence the dominoes glued to her frame. We brought home all her models - I have no idea how she carried this one over here in her suitcase, because it's pretty big!)
Make it Bloom - A cheerful little log cabin with a blooming yard of colorful flowers! Finishing approx 8 x 10 on 32ct Summer Khaki linen, it is so pretty. Love it all - charted for DMC.
Autumn - A unique-ly shaped pin cushion finishing treatment... might be fun to tuck these into a bowl of traditionally-shaped cushions and see if they are discovered! Worked with Gentle Art Sampler Threads, these are actually pretty good sized - about 5 x 6 on 32ct. Not a ton of stitching on them, but finishing is cute, and you could do a lot of decoration up by the stems.
Christmas Friends - A row of holiday personality... this is a medium-sized (3-1/2 X 10-1/2) pin cushion that would actually work well as a block stand-up for a windowsill as well. It is worked with Sampler Threads... maybe add some opalescent to the snowman face or fuzz to Santa's beard?
My Stitching Project Bag - This is a fun design - a nine-patch of sewing and stitching motifs. Each area is only 3 x 3 - so each would make a cute pin cushion to nestle together in a basket or box. They are stitched with DMC or Gentle Art Sampler Threads.
Lizbeth finished this with a backside of clear vinyl to make a stitching pouch (shown as the right-hand model). She has finishing instructions in here, but maybe my pictures of the model will help you with visuals. Pretty cute!
New Spring 2022 Arrivals
Hive Rules - Bee kind, honest, respectful, positive, grateful and most of all beelieve in yourself! Liezbeth's Hive Rules, this 223 x 127 piece will finish a generous 8 x 14 on 32ct! Coded for DMC... a smaller version might be just stitcing the middle hive-house, with one piece of advice from all these options!
Return to the Farm - A charming little farm scene - choose a fabric a little darker than the 36ct Picture This Plus Wren linen used in the pic... you lose the greenery on the tree and all the sheep standing on top of the hill! You'd never know that each sheep has a different pattern in his wool... this one is only 3 x 7.... and is coded for Classic Colorworks hand-dyeds or DMC.



Thistles has fun new designs!


Liezbeth is from the Netherlands...and when we took our Silver Needle/Jeannette Douglas Tulip Time River Cruise to Holland two years ago... she met our group of 90 stitchers for a day with a huge trunk show of her things. It was delightful... and a neat memory.
Flowershop comes straight from her imagination! Stitched with 23 different shades of Weeks hand-dyed flosses, I'm not sure how large it is... but I think about 8 x 15. I see three panels here... the little shop and all it's gardens of flowers and trees. It's so happy, I just love it!
Hugs & Kisses and Halloween Welcome A pair of piggies in LOVE! Little piglets... all in pinks of Cranberry, Faded Rose, Tea Rose, Black Crow, Briar Rose, Red Grape and Antique Rose... and a skinny black kitty along with his plump ghosty friend... he thinks he's the witch, and he's riding the broomstick!
Save a Pin - Oh my gosh... find an antique glass dish - one with the holes around the edge... Liezbeth designed a pin cushion center for her dish, and now it's perfect for storing scissors too! Find your dish, then decide on fabric count and colors to make it perfect!
Hilltop Village in Winter - This finishes Liezbeth's 4-season set... she traveled in southern Italy in 2019... and loved all the old villages on the hilltops and mountains. So we get smidgens of European villages all throughout the year. Finishing about 6 x 8... all of them are delightful!
Hilltop Village in Summer - The 3rd in Liezbeth's 4-season set. Finishing about 6 x 8.
Hilltop Village in Fall - The next seasonal installment of this set, stitch your happy little village in gentle Art's overdyed flosses - stitch count is 81 x 119. The houses have all changed color, but everything on the hill changes with the seasons!
Hilltop Village in Spring - A fun little scene, coded for DMC or hand-dyeds, it finishes only 4-1/2 x 6-1/2 on 18/36ct. You'd have to weight it a lot, but it'd make a cute doorstop too!
Friends - This is the CUTEST little kitty - do him on 18ct linen with lots of floss or #5 Pearl Cotton - he makes a DOOR STOP! The stitch count is 129 x 97 - so it finishes 14 x 11 and by the time you stuff it and weight the bottom - your kitty might think he has a new playmate! (or your dog might bark at it!) Coded for DMC floss... you'll use a ton... you can even change the cat color to match yours or even stitch the mouse in WOOL! Just a fun, fun design... presented in a chart.
Little Dumpling Travelbag - We call this *The Taco Sewing Case!* It is really an 8-inch round piece of stitching that Liezbeth folded like a TACO, and added a zipper closure! It is really cute! Stitched on 32ct linen with Gentle Art Sampler Threads or DMC, it's got tiny spools, scissors, needles and buttons all over it! Really a cute gift to make for stitching friends (especially if you're the one in the group that always gets the most stuff finished!) You know... gather three friends - one buys the stuff for all three, another stitches it for all three, and the third assembles them for all three. Three Happy Friends!
Star Village - This is a bustling village-in-the-city! The sheep are out in the schoolyard, and there is the church and high-rise apartment building - it does remind me of a European Village. Everything is all crammed in there, the narrow streets are so much fun to walk through... cute shops everywhere... and every building has neat windows! Measures 200 x 177 so a huge 13 x 14 on 28ct, it's coded or DMC or Gentle Art Sampler Threads.



The Chicken Coop


Liezbeth's Market exclusive... *What happens in the chicken coop stays in the chicken coop.*

A fun little barn full of noisy chickens, we'll never know what's really going on here!!! Coded for DMC, this finishes approx 11 x 12 on 32ct... might be kind of fun to fit that verse on the back of a pin cushion and stitch a chicken or two on the front side!





Cute New Arrivals from Liezbeth Cottschall


All different seasons this time... all presented in charts. I chose the Spring and Summer designs to show here... Winter and Halloween are on the inside Thistles page. Everything is coded for DMC floss as well as Gentle Art hand-dyed Sampler Threads.
My Soul is Fed - 'by needle and thread!' A sweet pin cushion design with tiny spools, scissors, and the verse. This was a challenge to photograph because she puffed it nice and round! Super cute!
7 Houses on the Beach - Aren't they cute? Perfect little dressing houses, you just want to change fast and get out onto the sand! Just 61 x 67 stitches - or 4-ish inches on 32ct.
To The Easter Party - The little chick is counting on the hen to get that wagon of eggs to the party in time! The fabric is Weeks Cappuccino, but I think this would be pretty on a pastel yellow or blue, too... and I love dark Easter Eggs! Stitch count is fairly large at 160 x 80!



Stitch a Flower Bag, Little Cabin in the Pines & Halloween Collection


Quite a variety of designs this time around...
Stitch a Flower Bag is a cute repeating design - each flower or verse square measures 60 stitches from side point to side. Liezbeth does include the finishing instructions in here to make her sewing case, but since I don't sew - I cannot tell you if they would make sense to you or not!!! So... I think I'd make two-sided pin cushions - verse on one side, and different colored flowers on the other, and make a set of 8 matching cushions!
Little Cabin in the Pines - This is a run little round... it is 108 stitches in diameter. I love all the different trees!



Fairy Woolly Winter, Wintersheep and Snowstop


These three winter-y designs are all totally different in finished size and shape. I am sure our pics cannot convey that enough, but I chose to group them by season... so that's just what we got!
Wintersheep is a little pin cushion! All the little fluffies are wearing beanie hats. Although this is stitched with cotton floss, I think it would be awesome stitched with Gentle Art's Simply Wool on the sheep and hats instead. This finishes just 3 x 8.
Snowstop is another whopping huge piece! Liezbeth has him finished into a charming door stop! He is stitched over two on 18ct natural linen, and although she has him coded for Gentle Art Sampler Threads - we think he'd be better worked with #5 Pearl Cotton! He finishes 16 inches tall and he's 11 inches wide... wouldn't he be fun perched in front of a door somewhere?
Fairy Wooly Winter - 'Bring frost, bring snow, come winter, bring us holly, isn't winter jolly? This banner finishes a whopping 7 x 32 on 32ct linen - stitch count is 103 x 477! You can always split up the sections and stitch those individually, but this is charming as one, long, skinny piece!
Hannah and her Birds


This is a fun Springtime scene... I especially like the flower vines along the sides. All the houses are a little different... not so much the birds!

Stitched on 36ct, it'll finish a petite 6 x 7 inches, and it is worked with Gentle Art Sampler Threads or DMC.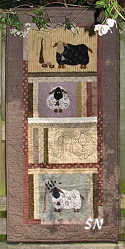 All Sheep Count


This is a cool design -- you get the charted sheep (90 x 130 stitches) underneath a tree, along with three more line drawings to do him in punch needle or wool applique... and then a general layout guide to assemble all of it into the 18 x 36-ish inch hanging quilt!

Get this pattern, study it a bit, and decide what you want your finished project to be. Lots of options, and they're all real cute!


Circle of Sheep


This is cool! Who knew squares could be sheep??? *Theres a white sheep in every flock!* Nine of these little guys -- all with patterns on them -- are arranged with such symetry.

Hand-dyed flosses or DMC, these finish approx 14 inches square on 32ct... I think she has used 20ct in the model pic -- so this pillow is 20 x 20!!! Really creative and contempoary... very eyecatching!


Primitive Village Roll


Don't these houses look like those little painted wooden block houses??? Stitch this row of houses on just about any fabric you want... Liezbeth has chosen a 20ct for this -- so her pillow is 28 x 5! Actually, bigger, because she has that cool row of mismatched buttons going across the top. Very pretty, this is coded for regular DMC floss.

If you want to work it on the larger linen -- we suggest #5 Pearl Cotton -- just like the Sepherd's Bush stockings. It covers well, is super easy to use, and comes in all the good colors -- DMC OR Hand-dyed!


Several Cute Seasonal Designs
Love Is... When your differences make no difference! Well, this is pretty cute, and only one of Thistle's newest designs we have been enjoying in the shop! Offered as a chart, it'd make a cute decoration in a threapist's office!!!!! Just for fun...
Snowballs -- aka snowman parts!!! Choose any fabric that will let the white show up, this finishes approx 6 x 8 inches on 30ct.
All Hallows Eve -- A skinny hanging trimmed with the 1-inch gigantic rik-rak, this is coded for Gentle Art Sampler Threads or DMC and finishes approx 8 x 30 on 30ct. It'd be cute with a smattering of buttons added, and some metallic in the spider web.
Lighthouses


You'll need a generous cut -- this finishes 22 x 22 -- of 28ct Blue Spruce Linen -- to highlight all of these lighthouses. Organized by a border of anchors and accented by the neat compass star in the center, it features lighthouses from The Netherlands and New England -- and Liesbeth has identified them all for you.

Coded for DMC as well as overdyeds, it uses 22 different colors and was really pretty in person when we saw it stitched at Market! Offered as the chart.


Sheep Herd


Quite the yearly schedule for these little guys! Sheep Herd has a winter/mitten sheep, Valentines, an Easter Egg with sheep on it, sheep getting sheared in the summer, apple picking, fall rains, one being taunted by a Halloween spider and one wearing a stocking cap grazing in an evergreen forest!

With a stitch count of 211 x 259, this finishes approx 14 x 16 on 32ct. Worked with Gentle Art and Classic Colorworks hand-dyed flosses, it is cute! Check out the plaid sheep at the beach in there!


Snowman in July


A PUNCH NEEDLE design, this is darn cute! This little guy stands about 7 inches high and is 5 inches 'fat.' He is punched in regular DMC -- white, 453, 644 and 3756.

Liezbeth suggests a JABCO sticky-outy carrot nose for him, and maybe if you're handy -- a little knitted scarf??? Offered as the line drawing you will need to transfer onto weaver's cloth.


In The Garden


Another PUNCH NEEDLE design, this one DOESN'T HAVE the punched background! It's a delightful garden scene -- the birds are so cute -- get someone to make you that darling little tray. This is coded for either Gentle Art or DMC threads.

Offered as the line drawing you will need to transfer to Weaver's cloth.


A Tree for Me - Spring


A sweet penny-rug finishing treatment on this, it is worked on Weeks 30ct Cocoa Linen with Gentle Art hand-dyeds or DMC flosses. Bunnies and Pine Trees, simple and cute.

Offered as the chart with the actual-sized penny rug finishing template.


Stitcher's Favorites


Spools, skeins and bobbins, buttons, pins and cushions, this 100 x 150 stitch count sampler is a perfect sampler for a 'needler!' Worked with Gentle Art Sampler Threads or DMC, it finishes approx 6 x 10 on 30ct.

There are so many fun things you could do with this... stitch the spools with Satin Stitches, actually loop the thread in the skeins, use actual safety pins and straight pins on here instead of stitching them, buttons are obvious, there is a tape measure on here -- maybe a bit of an old torn one would be cool -- and the little quilt could be a REAL little quilt! Just a fun piece all around, offered as a chart.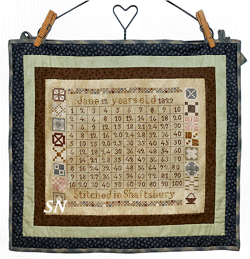 In Memory of Jane


Well, I don't know who Jane is... but I bet she had to learn this multiplication table... and it took her a long time to do it! Somehow or another these old tables always draw comments and are very eyecatching as needlework hanging on your wall. I guess all the numbers look daunting, until we remember that all of us learned all of this at some point, and were probably miserable during the process -- maybe like Jane?

Finishing approx 10 x 13, it is a charming table with some softly colored quilt blocks lining the sides.


Cornelia


Holy Sheep -- this is cute! Swirls and scallops decorate these silly square sheep -- your challenge is to find cool buttons to string for her legs and maybe a funky base for her as well. You'll need a schnigglet cut of black wool to make her face, and bits of any fabric you like to stitch her... you even choose whatever colors of thread you like. Her little legs are simply lengths of heavy thread knotted with several buttons on them, so they jiggle a lot.

If you put Cornelia on a springy base, she'll jiggle around. One of the pics on the cover features an old C-clamp as the base -- how cute to simply clamp her to the edge of a shelf or obscure table or lonely windowsill off in the corner of the room?? Offered as a chart, this is really a clever design!





The Cabinet


Oh, this is full of what-nots, curiosities, toys, antiques, even a pile of fabrics, a sewing basket and tiny 'home sweet home' sampler!!! I love the part that this whole thing is stuffed full of *stuff* and then, there at the bottom is a sign that says 'Simplify!' What a fun piece!

This measures 150 x 265 stitches -- so approx 9-1/2 x 16-1/2 inches on 32ct. Lots and lots of Gentle Art Sampler Threads or DMC colors, this is another piece that could handle any number of bitty embellishments you have unclaimed in your stash. Liezbeth has finished this in the shape of a little piece of furniture!


Pinkeep of the Day


This is actually the cutest thing! You stitch a different stylized flower for each day of the week. Find that cool *Simplify* ribbon (a search on the web??). (We're back to the silliness that pin cushions for every day of the week really don't simplify your life -- but who cares?!)

Then, find a MANGY wood tray or box. LOOK at what Liezbeth has done... she's found assorted and unmatched cabinet knobs (Anthropologie has tons of cool ones... old glass, mangy metal!), screwed them into the tray and hung her cushions!! Super cool and creative! And the little flower cushions are delightful -- don't forget about them!


Strawberry Fields


Strawberry houses, strawberry vines, a jar of jam... and a few lyrics from The Beatles... this is an interesting sampler with an equally interesting little mushroom house down near the bottom. Can you see the Strawberry outline in the center around the tree -- it has an alphabet all around it.

Fields finishes approx 16 x 26 on 35ct -- so it's quite large. Worked in all three brands of hand-dyed flosses or DMC, that little strawberry at the top is upside down, the top greens making the landscaping... and it's a little house!!!! (make it into a scissor fob or a little thimble holder!)


The Birds and the Bees


This is a small biscornu pattern that is shown mounted into the center of loops of wool -- like greenery, I suppose?

Very spring-y in feel with the ladybug, birds and bees... I don't understand the wool in the background, so that part of the finishing is up to you!


Snow Pennies


Gosh, this is really different and awfully cute. You are stitching only 4 different snowman heads -- 25 x 25 stitches each -- on 32ct light blue, grey or whatever color linen. Then, you are mounting them on various colors of Weeks Wools to make little *Pennies.* You'll need some #8 Pearl cotton for the Blanket Stitches.

Then, arrange them all in a pattern and either attach them to each other -- or mount them onto a larger base piece of felt for a little doily/rug. They all look different if you vary the scarf colors and wool combinations... We can choose awesome cuts and patterns of wools for you on this... I'd get 6 Schnigglet cuts and one main 1/4 yard cut of wool for the base. This is darling!


Rudolph's Travels


Oh gosh, this is cute! That same little fence as the sheep, this time we have the reindeer flying through the sky with the hint of the sleigh behind! Check out the finishing fabrics... choose something cute for the sky, and something coordinating for the sides -- and rik rak to cover the seams.

Look at how she's graduated the buttons on there to follow the deer up into the sky? Sampler Threads for everythong, this finishes approx 5 x 10. Real cute finishing that is different!!!!br>