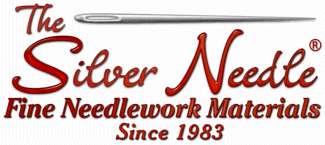 6068 S. Sheridan Rd. Tulsa, Ok. 74145 (918) 493-1136 (888) 543-7004
E-Mail

'Early Primitive patterns... Stitcheries wrought by my hand. Each piece is a reminder of earlier, simpler times.'
This is a collection of charts for sewing rolls, pockets and bags, pin cushions and pin drums, slipper pin cushions... a delightful assortment of needlework smalls. VERY primitive in design flavor, each chart includes complete finishing and assembly instructions and staining information using Stacy's Walnut Crystals.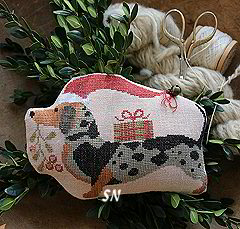 Christmas Sausages


Stacy has two new designs in her Animal Cracker Series! Presented as charts.
Finley is the little spotted guy - he measures 113 x 82 and will finish about 6-1/2 x 4-1/2 on 36ct. He's stitched with Weeks hand-dyeds and accented with a little Rainbow Gallery white Wisper thread - it's the fur on his Santa hat.
Little Frankie is the brown one - looks like a hot dog! He's the same size, Weeks hand-dyeds again, just the cutest! Both charts have now arrived.
Stacy Nash has a few new releases that we really like!
Big Chicken Little Chicken Pinkeep - What a cool two-sided pin mattress! (well actually 6-sided!) Stitching with Weeks hand-dyed flosses on 40ct Old Stationery Linen by Seraphim (or your choice of something perfect from your stash) this cushion features the mama hen in her basket on the front and sampler motifs on the reverse side. A wandering floral vine travels around the 4-edges, and really adds charm! This cushion measures only 4-1/2 x 4-1/2 x 1-3/4 inches high... cute as can be.
Chicken Thread Board - Stacy has been cutting down trees on her farm! A beautiful chicken has been etched into a 3-1/2 x 6-ish inch thread board. Five holes in there and a strong magnet on the back of the handle to help this cling somewhere, it just a fun thing to have and use. The wood has indeed come from Stacy's farm!
Velvet Carrot Needle Book - Love this design! A charming bunny is stitched on 40ct inside, and finished into a carrot! Stitched with Weeks hand-dyed flosses, we HAVE that Velvet - it's the Tangerine color you see below and on the Supplies page. Choose a coordinating calico finishing fabric after you have your velvet and stitching fabric - this is so simple but super cute!
Hand-dyed Velvets

from Fiddlestix Designs
Here is the hand-dyed Velvet that Brenda Gervais and Stacy Nash use in their finishing! Featured on The new With Thy Needle's Dutch Tomato Pinkeep and Nash's Velvet Parsnip Needle Book, this is gorgeous and very heavy hand-dyed 'fabric.' Absolutely luscious, my camera can't get a true color - I think because the nap of the velvet reflects the light!

Since no two computers see color exactly the same, I put DMC #5 Pearl Cotton colors in the dropdowns by each color, so you can compare the shades easily. (NOTE! The DMC numbers are close approximations but this is hand-dyed velvet - so therefore might vary in shades. I am sure there are many hand-dyeds and other DMCs that these will look good with - I just chose these basic colors as a starting shade reference for you.)

We've cut our pieces to an eighth of a yard - approx 11 x 17-ish. Plenty to finish numerous smalls, this velvet is substantial and dreamy! Strawberry is used in the Dutch Tomato, Vintage Lace is used on the Parsnip case.
Stacy Nash has outdone herself with her collection of Spring releases - we are ENCHANTED! Here we go...
Sarah's Sewing Bag - Stitched on the flap, backside and inside, this old brick house and flower baskets come from one of Stacy's antique samplers in her collection. 36Ct, Weeks flosses, case measures 10 x 5 when folded closed. Oilcloth, Charcoal, Swiss Chocolate, Oscar, Chesapeake, Straw, Linen, Chestnut, Carolina Cecil, Caper, Bright Leaf and Sanguine. Some basic finishing instructions are included.
Spring Chickens PinKeep - LOVE THIS! What a fun finish for a pin cushion - just simple tucked corners that follow the border stitching - it has a whole charming new look! 36Ct hand-dyed linen, Weeks threads of Kohl, Oscar, Palomino, Pink Sand, Charcoal, Arrowhead, London Fog, Havana, Pamlico, Confederate Gray, Red Rocks, Whitewash and Schneckley. It measures a generous 9-1/2 inches, and I think that size makes a really cool presentation - especially if it's stuffed with heavy lizard litter!
Pretty in Pink - A sweet pinkeep that features a spool of thread and a tiny skein of floss... I think this is the house of a stitcher - who must have a green thumb because her garden is lovely! Weeks Parchment, Grasshopper, Cocoa, Charlotte's Pink, and Raspberry - just 5 colors in this 7-1/2 x 6-1/2 delight! Finished with rik-rak trim.
Spring Basket Pinkeep - One of my favorites - A charming aqua basket with that spindly handle - full of lovely lilting tulips! The bunny, chicks and hen all add charm. Stitched on 36ct hand-dyed with Weeks flosses, this finishes approx 9 x 6-1/2 and is trimmed with rouched silk ribbon.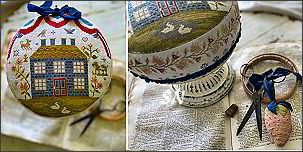 Birds of a Feather Needle Book - You stitch all FOUR sides of this! Stacy was thinking of all the pretty eggs that can fill Easter baskets - this one is covered in birds and berries. 36ct Linen, Weeks hand-dyed flosses, each side of the oval case measures about 3 x 4 inches... Havana, Raspberry, Sanguine, Chickpea, Oscar, Mascara and Dolphin. Remember you can split these up and do only fronts - and make 4 cases! Or little stuffed egg cushions! Alphabet included so you can intital anything you want!
Bees & Birds Sewing Roll - How Pretty! A 4-part piece surrounded by a traditional border... all the patterns for the coordinating smalls are included as well. The main roll measures 7 wide by 12 long stitched on 36ct. Weeks flosses of Oscar, Dolphin, Havana, Chickpea, Mascara, Raspberry, Linen and Sanguine... you kind of hate to roll it all up and hide all the cute parts!
Big Blue House Pinkeep Drum and Strawberry - Very Americana and Festive! Look at that glorious big house - and the festoons above. Then, notice the border stitch all around the sides! This is finished onto a (cheap!) candlestick from Hobby Lobby! 36Ct hand-dyed linen, Classic Colorworks flosses of Campfire, Eggshell, Muddy Purple, Baking tin, Avocado, Blue Corn (the house), Pea Pod and Cinnamon Toast - it measures an impressive 7 inches in diameter and a mere 2 inches high, and that extra little velvet berry is divine!
Faded Garden PinKeep Drum and Needle Keep - Stitched on 36ct hand-dyed with Weeks Blue Suede, Sanguine, Moss, Charcoal, Cornsilk, Dove and Drftwood, this finishes about 5 inches in diameter and 6 inches high. Stacy has lots of specialty stitches on ths one... her look is of pale colors on darker fabric.
Wonderful Life Pinkeep Drum - Wow... a Christmassy piece in plenty of time to get it finished for next year! Worked on Weeks 36ct Beige, this measures 6 high by 5 wide... gorgeous Weeks flosses... another fun Hobby Lobby candlestick base! What a presentation that makes!
Velvet Parsnip Needle Book - Stitching is done on 40ct with Weeks flosses... bunny is 3 x 6... but then you construct the wool case and cut out the velvet carrot. She's inclued all the finishing instructions in the chart. We now carry the delicious hand-dyed velvet used in this finishing!
Velvet Tangerine Needle Book - Another to stitch and then construct together with wools and velvets... I need to look these over at the show and see how they are done! But they look awesome in these pics! We now carry the delicious hand-dyed velvet used in this finishing!
A Walk Through the Garden PinKeep Stack - I love this finishing treatment! You get sneak peeks of the botton two cushions because everythng is stacked. Models are on 40ct, with Weeks hand-dyed flosses... Lady Dot Vintage Pom Poms are the featured trim. The chart contains all three tiny cushion patterns... I can see scissors on them, rabbits and berries.



Deck the Coop Pinkeep


Well, nothing wrong with hanging Christmas lights on the chicken coop in the backyard!

Grab a cut of your favorite neutral linen and some Weeks Dye Works hand-dyed flosses of Schneckley, Cocoa, Sanguine, Tin Roof, Grits, Oscar, Red Rocks, Lily Pad and Charcoal...and stitch this cute pinkeep. It'll finish a generous 7 x 7-1/2 on 40ct!


Stacy Nash has several Releases!
To My Friend Pinkeep Stack - Dedicated to Barb Adams - A set of 4 small pin cushion designs all in a neat stack. Worked on 36ct hand-dyed with weeks flosses, Stacy added a spool of thread and scissors on one and blackbirds and strawberries on another. I believe the scissor charm is included with the chart.
Strawberry Pinkeep and Scissor Fob - Another berry basket design, this one has a matching smaller fob - 40ct Havana Linen, more Weeks flosses. One of Stacy's strawberry waxers is featured in the photo - and is available separately. Again, the tiny scissor charm is included with the chart.
Jane Lefurgy Thread Keep & Hoop Sewing Bag - A little larger of a sewing case, it is a sampler reproduction Stacy has done, and rather than frame it, she's made it into a larger envelope to store something larger - like your hoops! On 40ct, the case finishes 7 x 9... can't wait to see this one stitched and finished.
Merry Merry Pinkeep - Oh a charming larger cushion - it measures almost 8 inches square! Decorated with a festive greenery border along the top, the grand house, prancing deer and finally the peaceful snowy evergreen scene along the bottom, it's stitched with regular DMC floss! 36 Patriot's Brew - Natural or some of the 'sampler colors' of hand-dyed linens will all work for this.



Charming Hand-Poured Thread Waxers by Taylor! We're treating ourselves to these this year... Little life-sized Strawberries and Raspberries!


Beautiful little 'things' to adorn or use... waxers are 100% pure Beeswax. You can gently run your threads over the wax to straighten and strengthen before you stitch... or just have these tiny berries as pretty decorations on shelves, fobs, pin cushion adornments, zipper pulls... you get the idea. Over time, beeswax waxers will develop a natural 'bloom' which looks like a film on the surface. It can easily be removed with a hair dryer on high heat - for JUST a few seconds! Some like that patina, some don't... so you have care options here!

Stacy suggests using the natural colored waxers to help condition any colors of threads, but says that the red and black waxes are better suited for darker threads. While the wax will not 'bleed or melt' onto your threads and fabrics, it's better to store the red and black pieces away from light fabrics... just in case. We have tiny raspberries and strawberries... some are on metal lobster clasps to attach to your scissors or tote or whatever; some have silk ribbons to tie, but all have a glorious metal decorative topper piece. Taylor has been busy pouring!


First Snowfall Pinkeep and Butternut House Pinkeep


A pair of charming pin cushion designs, these are actually on the large side, which makes them a fun surprise stuffed and tucked into your bowl of 'fillers.' They are finally back in stock again after waiting months for them to arrive!
First Snowfall is on Weeks 36ct Confederate Gray, stitched with 7 shades of Weeks hand-dyed flosses, and finishes about 6 x 5-1/2.
Butternut House is also on 36ct, but it is worked with regular 'ol DMC and Charcoal hand-dyed. You kind of miss the greyed-green 'lawn' of pumpkins down at the bottom, but then, you notice the cauldrons!
Rose Cottage Sampler Pinkeep and Holly Basket Sewing Roll


Stacy Nash has more neat designs that have just released...
Rose Cottage Sampler Pinkeep is just awesome. Finishing only 8 x 8 on Weeks Dye Works 36ct Confederate Gray Linen, it is stitched over 2 with DMC! It's a charming little sampler - nothing fancy - just the alphabet, house and floral urns... maybe it's the blue-gray border along the bottom that finishes it.
Holly Basket Sewing Roll - This one is larger at 8-1/2 x 11-1/2 on Picture This Plus's 32ct Ale Linen. Charted for regular DMC flosses of 355, 407, 730, 731, 829 and 3033; it is trimmed with Lady Dot's mini-ball-fringe in Vintage color. You can do all sorts of run finishing with this on the reverse side... cool pockets, fun buttons, needle pages, thread rings... lots of fun things that will be discovered when your roll is UN-rolled!




Be Kind Sampler


Be kind to one another, this is a world of care and there is enough of needful woe for every one to bear. An old verse with Stacy's new border design and big house.

Finishes about 8 x 10 - probably 36ct Weeks Cocoa - and it uses Weeks hand-dyed cottons of Oscar, Baked Apple, Battleship, Cherub, Charcoal, Straw, Oilcloth, Confederate Gray and Sanguine.





Pin Disks... Two-sided pin storage pieces!


These ovals are stitched on both sides, the floral urn on the front and a smaller design on the back, then joined together, wrapped with silky hand-dyed rayon ribbon.

Included in the charts are the two cardboard oval cut-outs and the silky-rayon ribbon. Measuring 3 x 4 in size, after you glue the two wrong sides together and wrap with the ribbon, then add some cool pins.




Stacy Nash Primitives has Several New Designs
Scarlett - The newest little stand-up 'person' to join this cute collection of stand-up animals, Scarlett is #12! About 8 inches tall, the chart has a really nice picture on the back cover of the scissor pocket you can construct on her when you assemble her.

Choose your favorite of all of these and make it to be the guardian of all those misc pin cushions you have nestled in your basket of smalls.





Animal Crackers and Crumbs


This is an ever-growing set of charming stitched stand-up animals and smaller animal face fobs -- all presented as separate charts. Each is stitched on hand-dyed linen -- various colors -- choose any count you want. On 32 the CRACKER stand-ups finish approx 3 x 7-ish... Harrison is 10-1/2 inches though because of his ears. Cute and very vintage, decorate each with old ribbons and buttons... The smaller ANIMAL CRACKER CRUMBS are the little faces and they're all around 3 inches in size.

How fun to tuck a couple of them into your ever-growing basket of stitched pin cushions???? Then add a couple of the standing ones in there too! Stacy has plain fabrics on the backs with a pouch to hold scissors, and you can see that Theodore is wearing a little thimble pouch as well! Such a neat set we have now!!!!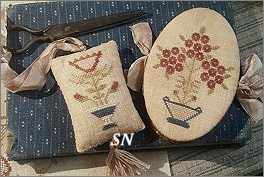 Fresh Picked Pinkeep and Mary's Garden Needle Book & Fob


Here are two designs by Stacy Nash. The Fresh Picked cushion finishes approx 7 x 10 on 36ct - pretty generous in size - it uses regular DMC of 730,. 371, 3721, 3859 and 3031.

The Mary's Garden piece has some creative finishing to it. You get the little fob pattern - pretty normal, but the Needle Book features a 2-3/4 x 4 inch oval piece is stitched on both sides, and ties onto the flat backing piece. That's a really neat way to display and enjoy multiple coordinating pieces I think! It's mounted to the front of an old book, but you could make a fabric-covered board, and attach your ties to that. Gives your work color around the edges without adding trims - a super-easy way to finish!





Be Kind & True Thread Keep


Be Kind & True Thread Keep -- On 30ct Ivory, this finishes approx 7 x 5, and is worked with only Apple Cider, Garden Gate, Barn Grey and Mulberry flosses! I like how she's cut off the house -- you don't see that very often, and I guess it really DOES cut down the stitching time! So pretty, the model in the pic has been coffee-distressed.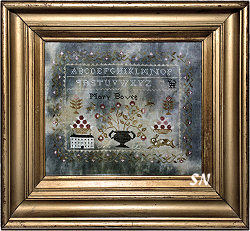 Mary Bovee Sampler


This is GORGEOUS in person! The cover picture really doesn't show the yummy gray/taupe colors of this fabric, and you don't often see pieces like this stitched on a darker linen. Stitched on Picture This Plus 32ct Murky Linen, it uses Gentle Art Sampler Threads of Apple Cider, Caramel Corn, Carriage Black, Antique Rose, Lambswool, Rose Garden and Old Hickory.

Finishing approx 10-1/2 x 8, it has a pretty floral border, double berry baskets and the most awesome house, running rabbit and huge urn along the bottom. Offered as a chart.





Spotted Pigs Pinkeep


How cute are these little pigs???! Mama and the babies, they are stitched on the same fabric as Mary Bovee (so if you get a fat quarter of it, it's a better price) -- Picture This Plus's 32ct Murky.

Finishing a generous 10 x 7, it's kind of large for a pin keep, but do it anyway, and enjoy! Gentle Art Threads of Carriage Black, Apple Cider, Lambswool, Antique Rose and Rose Garden -- the same ones as Bovee!!


Miss Baxter's House


Oh, everyone loves this cement and log cabin house -- it's quite large, and together with that border will give you LOTS of hours of stitching. Worked on Week's 32ct Beige, the little chickens in the yard are SUPER SPECTACULAR! They are shaped well and stitched in dusty blues and a deep red. If nothing else... make fobs or cushions out of those only!!! Stitch count of 221 x 186, this finishes approx 12 x 14. Love it!


Summer at Hollyberry Farm


What a fun place this would be to live! A pretty border of berries surrounds the cursive alphabet but the real showpieces in here are the house and flag! Look at the roofs on the main house and porch. Stacy has stitched diamond shapes in there first, with hand-dyed thread, and then gone back and filled in the areas. You can really see the hint of shingles.

Yummy colors of Gentle Art Sampler Threads -- Apple Cider, Country Redwood, Walnut, Oatmeal, Old Blue Paint and lots of other soft browns. Stitch count is 285 x 224 so on 35ct Old Mill Java, which is called for, this will finish approx 13 x 16. Offered as the chart, this will look really nice on most any brownish colored linen -- stay away from yellow undertones.