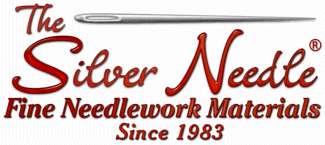 6068 S. Sheridan Rd. Tulsa, Ok. 74145 (918) 493-1136 (888) 543-7004
E-Mail



E Pluribus Unum


This is quite the different and quirky flag! Jan describes the stripes in her flag as ribbons streaming down. When the words came to her 'Out of many - One,' she decided the ribbons came to represent all of us who make up The United States - we're all different, large and small, different colors, different belief systems. All of us are needed to make this country what it is... beauty in diversity.

Measuring 114 x 171, this will finish approx 7 x 11 on 32ct, and is worked with an amazing array of hand-dyed flosses - there are 18 different colors in here! Love it!





Samplings of Lace Spring, Summer, Autumn and Winter


Oh my gosh, this is a lovely set of 'seasonally colored' lace motif pin cushions. Lovely, gentle flowing designs... each 'season' isn't really 'seasonal' - the colors you work them in simply suggest. You CAN work the Winter set in the pinks of Spring... nobody will be the wiser... so this means that you can choose whichever one of these 4 charts you like best and stitch them in any colors you want!

Each of the three pieces in each season is the same size across the collection, so they will all mix and match. The smallest square is about 3 inches on 36, the larger square is about 4 inches, and the strawberries are about 2 x 4. Just a really, really pretty offering of coordinating designs - ready for your favoite colors!





Stitch Happiness


A charming little sampler, this measures just 7 x 7 ish on 36ct. Stitched with a medley of hand-dyed flosses or DMC, it reads: Stitch a little happiness every day.

Every Stitcher needs this hanging in her house! Presented as a chart.


Palace of the Winds


Palace of the Winds is a pretty piece that has arrived this season - it is full of glorious flowing borders and florals with that half-circle motif in the center stealing the show. Stitch all in one piece or break up into smaller cushions or folded sewing cases.

Jan has done this in two different colorways, and has the links inside the chart to the video tutorial dealing with variegated and hand-dyed threads. Manipulating them, learning how to make color decisions based on what's coming next on the strand, and where your chart is going. Maybe skip the variegated totally for a design! Fascinating stuff, and a really pretty design to learn with! Stitched in its entirety, it finishes approx 13 x 14 on 36ct.


Peaceful Christmas Smalls


A pair of graceful pin cushion designs... Jan writes that these catch the feelings of Christmas and combine them with cool, wintery colors to give you a non-traditional pillow or ornament that you can leave out all season.

Believe used 5 colors of overdyed cottons, while Merry uses those 5 plus another. Absolutely gorgeous, you CAN switch to traditional reds or greens... but I love that blue option! Both designs are included in the chart.