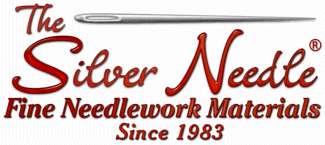 6068 S. Sheridan Rd. Tulsa, Ok. 74145 (918) 493-1136 (888) 543-7004
E-Mail



Painted Flowers, A Stitch in Time and A French Alphabet Sampler

from Shakespeare's Peddler
Theresa V has a new releases that are kind of fun!
Painted Flowers - Isn't this just gorgeous? Choose any black or chalkboard color fabric that you can see... stitch count is 235 x 80 - so about 14-1/2 x 5 on 16/32. It's just lovely!
A Stitch in Time Saves Nine OR Once Around the Floss Box! This charming little sampler was a marking sampler - its purpose was to teach the stitcher how to produce even lettering to label the household linens. Theresa talks about dyes and colors, and by the time the 1840s rolled around, there were better dyes, and MORE fun colors for little girls to stitch with! Little Miss Annie - the girl who stitched this sampler - used every color in her floss box - 30 of them! Measuring just 7 inches square on 36ct, this is cute little sampler.
A French Alphabet Sampler - F Delhomme 1873. A reproduction of an antique, Theresa makes any sampler interesting, and this one is no different. She's told you about the girl who stitched it, the significance of the train in here, the Aasop's Fables scenes at the bottom, the sacred hearts near the bottom, the irregularities here and there in the borders... this is truly gorgeous. It measures 418 x 426 - so a generous 21 inches square even on 40ct. Silks or DMC... you choose. Presented as a black and white printed chart and another with colored symbols as an additional stitching aide.



Most Humble Hands


Theresa Venette's newest sampler book, this is lovely! 40 Colorful pages of sampler history, fun stories, pretty pictures and marking sampler charts. Theresa is talking to us all the way through this book, so it's super fun to read. She talks about the differences in samplers, why people stitched them, what they were marking, why they saved them, how to determine their dates, hints about colors and where they came from, thoughts about the old frames and what they protect, where to hang your antiques, all the mistakes you find in them, WHOSE NAME DO YOU STITCH in there... is it OK to use yours? On and on and on! Definitely a fun book to page through and read - you'll learn lots - and get a few fun samplers to stitch in the meantime! 40 Pages of bliss!



Christina Webber's Marking Sampler


Wow... wait till you read all Theresa has to tell you in this chart! This sampler was stitched on two pieces of linen (info about that in here) - so she tells you how to DO that - joining them to look old. It finishes about 11 x 15 on 32ct... it has multiple charming mistakes, it's not finished and Theresa has lots to say about all that. She talks about staining your fabric, how to bake it dry, even SANDING part of the piece to age and distress it! I just love all the hints and how-to! Coded for Weeks or DMC, did you notice that little Miss Webber stitched 4 'W's in her sampler?





New Samplers


Shakespeare's Peddler has new Samplers! I do love her new covers she's done!
Two By Julia - A pair of samplers by two sisters... Theresa talks about how she found them and all the little quirky things in them that she loves! The one with the big house  had the yard stitched entirely in Chain Stitch! (But you don't have to do that - thanks to Ms Theresa!) Anyway, two charming little samplers in here abut 9 x 9 each on 32ct. Teresa has new software and she's been busy taking glorious pictures, so these new books of hers are just lovely to page through! Presented in a leaflet format with fun musings by Theresa.
Cathcart Colquhoun 1785 - Theresa can't resist Eyelet alphabets - and just found this little sampler in December of 2021! She bought it, recharted it, and here it is - 3 months later! She loves the chunky people, and the fact that that little girl who stitched it - Cathcart - misspelled her name in it! 237 Years old, the original was done in wool thread. Re-charted for DMC, you can look at the Gentle Art Simply Wools for that wool alternative! Cathcart's sampler finishes 13 x 15 on 36ct. There is a bit of history in here, and after you read all of it, you're just in love with this fun little sampler! Again, a beautiful publication to page through and dream of projects still to be!
Jane Summer's Work 1831 This is a neat one. Theresa talks about all the favorite classic motifs in samplers - this one ticks all the boxes for her! Gorgeous pots and flowers, neat borders... this one is generous at 14 x 16 on 32ct. Which - - she says - - is a 'good size' for a girl her age when she did it 200 years ago! Huge chart, fun info inside about the piece!
Throw Wide the Windows is simply the small take-out of the house from the larger Jane Summer piece. If you like just that and don't want the stress of the whole larger chart staring at you - get the little version! I like the dark band above the house, and I think it'd be pretty repeated below too. Charted for hand-dyeds or DMC, this finishes just 6 x 11 on 18/36ct.
Antique Cats & Crowns - This is the 6th in Theresa's set of little 'Antique Things' collection! We have keys, teacups, rabbits and baskets, scissors and birds - and they are a lovely set of cushioned designs. Grab any fabric in your stash you like - find a color of thread that goes with it... each of these is adorned with a bit of antique lace - which is always fun to find at a flea market! Presented in a small chart format. There is a pic on the back cover of the rest of companion designs - as a treat!
Red Letter Day

by Teresa Venette of Shakespeare's Peddler
*Dedicated to every little girl who ever held a needle and thread*
WOW... this is a LOVELY book! Ms Teresa has done a fantastic job with her first 35-page book featuring Antique Red Samplers. Published by the people who do the Blackbird large books (so you know the print quality of this) and featuring Teresa's gorgeous photography, she begins with the explanation of 'Why Red?.' History of dyes, all that. Next, she presents 5 antique samplers, with her stories and notes about each. She tells you where she found them... the little one on the cover was only $21.72!

She talks about pin cushion finishing and vintage trims and the romance of damaged and aged pieces. She even instructs you how to replace linen threads on your fabrics to re-create the woven borders old samplers sometime have. Then, there is a whole section about the mistakes the young girls made.. should you fix them? She talks about the 'train wreck' on one of them! After all that fun info, Teresa then goes into great length to tell you HOW to find an antique sampler: what to look for, the kind of fabric, the smell (really!), how much to pay, everything! I am IN LOVE with this book - she has done a great job... and if you love samplers of any kind, you NEED this book!






Oh!


*There's no place like home for the Holidays* New from Shakespeare's Peddler, just a fun thing to stitch and hang in the family room. Of course, this is in anticipation of family coming... lets re-visit when they're gone and you are finding socks, phone chargers, mystery food in the frig, and plastic dinosaurs in the end table drawers! All that proves this verse is right!

Stitched on anything neutral tan/brown you like, Theresa has used Weeks Dye Works hand-dyed flosses but included DMC conversions. On 36ct, this lovely reminder will finish approx 6 x 9.





Sarah Macgregor's Sampler: The Lords Prayer

AND

Choose Your Own Adventure: Sarah's Worke



The Lord's Prayer Sampler - Theresa Venette LOVES to find old samplers and discover their hidden charms. This particular one - a sampler stitched by a young Sarah features her age ripped out when she finished this! Delightful bands of floral pots and birds, little girls, and The Lord's Prayer; Theresa has re-charted it, and is offering the sampler two different ways.
The Lord's Prayer Sampler is the complete chart... 241 x 335 in size. Stitched with Weeks hand-dyed flosses or DMC, it finishes approx 13 x 18 on 36ct.
The Choose Your Own Adventure: Sarah's Worke Kit option gives you the bottom half of the sampler (no Lord's Prayer on there) and several different ideas for stitching pieces and parts of the original. What is pictured on the chart's cover is just one project suggestion. Measuring approx 13 x 7 on 36ct... Theresa added a little more detail to that second band of birds and flowers.
Presented in a kit, you are getting 12 skeins of Weeks Dye Works hand-dyed flosses, the chart (same as The Lord's Prayer Sampler just without the top part of the charted prayer), and a fun little wooden needle minder. Do that whole sampler or pieces and parts - all with Week's colors of Juniper, Cayenne, Havana, Sanguine, Tarragon, Dove, Pebble, Schneckley, Oak, Fawn, Teal Frost, Kohl, and Baked Apple.
So... get the chart ($22.00) if you want the Prayer option. Get the kit ($55 which includes the $30 of threads!) if you know you're going to need the threads and don't want to wait to get started stitching!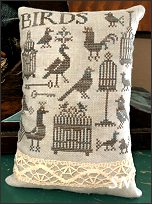 Collections of Antiques


Theresa has 5 small charts so far showing little collections of antique what-nots. Bunnies & Baskets is the newest.

Each measures 80 x 90 in stitch count, and they are all stitched with only one color of a hand-dyed thread. Theresa is big on suggesting you use whatever colors and fabrics YOU like, to make them your own.





Maria Phinney 1832 Adam & Eve's House


This sampler is part of Theresa's sampler collection. She talks a lot inside the chart about where she got this, the stitching, the sampler composition.

I love reading all that information... makes you feel like you did the stitching without the work and hours involved! Charted for DMc or hand-dyed cottons, it measures about 14 x 14-1/2 on 32ct.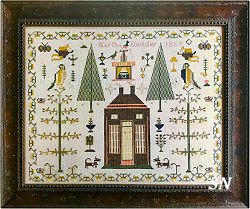 Two Skinny Dogs: Martha Moulder 1859


Teresa has a new sampler... it DOES have skinny dogs in it... and kind of a skinny house too! Stitch it on coffee or tea-stained, it uses Weeks and DMC flosses in it's 263 x 197 stitch count.

The central evergreens are so regular and pretty, the birds on either side are striped real funny - I'm sure Teresa has a story behind those! Juniper, Molasses, Sanguine, Pea Coat, Light Khaki, #3045, Tarragon and Pebble!


Hannah's Sampler


Here is Shakespeare's Peddler's newest reproduction sampler - Hannah's Sampler. Theresa found the original in terrible condition, but could tell she loved the leafy border and the charming farmhouse - next to the brick wall - covering that little babbling brook. Very pretty colors of reds and greens in here, the row of diamonds below the alphabet are done with Rice Stitch. Those bricks in the wall and the waves in the water are all loosely placed in the original... so neat... you can do that too. Stitched on 36ct Weeks Straw Linen with silks (Gloriana, Needlepoint Inc and Au Ver a Soie) or DMC, it measures a generous 16-1/2 x 15-1/2 in size.

Teresa came to Tulsa for a weekend retreat in our new 'She Shed' Stitching Room... and presented this sampler as our Silver Needle exclusive. (Our class included three small take-out designs from this charming piece... so the weekend was really a treat.) 'Raggamuffin #3' refers to her third antique reproduction piece that came from a really ratty, mangy, and damaged sampler that just needed a little love! So... Hannah's original sampler as well as her reproduction now hang happily at our shop... and she'll be here for years to come!






Saviour's Praise


This sampler came totally out of Theresa's head... how that can happen, I just don't know! Measuring approx 19 x 23 on 32ct, you get lots of biblical verses, a GORGEOUS border on three sides that repeats NOWHERE!

All the evergreens are different, there is one little dog facing the wrong way, tiny birds and critters everywhere, the whole thing is enchanting! Coded for Anchor or DMC floss, add some hand-dyeds if you want. I love every bit if this!!!!





Jenny Bean's The Parlour


Oh my gosh... you might remember this one... Teresa started with two parts of her eight, part three is now here! Each part is presented as a separate chart... this entire sampler is going to finish something like 4 FEET long on 32ct - 170 x 810! Stitched on 36ct Linen... you'll need a half-yard cut. Shown here are parts 1, 2 and 3.

Part One: Alphabet -- well, an alphabet!
Part Two: Adam & Eve -- pretty classic as far as samplers go!
Part Three: Noah's Ark. I don't think any of the rest of the parts will be biblical... we asked!
Part Four: The Good Shepherd.
Part 5: Verse.
Part 6: The Forest.
Part 7: My Beloved Town
Part 8: Jenny's House


Here Lies My Needle


Remember that flier we send you every year around the end of January about the Japanese holiday that celebrates the hard work of NEEDLES? Teresa did this sampler to kind of commemorate that holiday! The Festival of Broken Needles!

Theresa's sampler is charming! Stitched on hand-dyed linen, it provides a place for you to park broken, rusted or old needles... you can even leave threads in them from special projects. (What about finding Mom's needles still threaded... you could preserve some of them here.) *Here lies my needles, some bent, some broken some rusty.* Finishing approx 11 x 8, stitched with hand-dyed flosses, garnish this with antique buttons. The bottom area is a cut of Weeks Dye Works Red Pear Houndstooth wool.. isn't it pretty on there? Really a special piece for a stitcher. Presented as a chart.
No set release dates for subsequent parts, but each part's chart will run you $8. This collection released in Feb 2018, we expect a 12-month timeframe.





Fraktur Friends


AWESOME... this little piece can be stitched on ANYTHING, but the model is worked over ONE on 40 silk gauze! CHOOSE ANYTHING! This is dedicated to Teresa's three favorite and best friends -- Jennifer, Kathy and Sue. She tells you to notice the friend on the left is very put-together -- nice big house, and flowers in the urn. The friend on the right has a home made and patched dress with a simpler house, crazier hair and wildflowers.

*We're all of us different, but true friends know what counts is on the inside.* Presented as a chart... it's 4 x 4 on the gauze, but can be 11 x 12 on 28ct! Gorgeous!





Fraktur Bird


Our cute little bird pin cushion is back, choose Weeks 32ct hand-dyed for him.

Finishing about 4 x 4, the chart comes with the threads, jute and little black painted wooden spool - kind of a fun finishing treatment.


Mercy Goodehart's Sampler


Shakespeare's Peddler has a new ORIGINAL sampler design -- and it is so very pretty!!! Theresa has outdone herself with this gorgeous piece... "All of you be subject to one another, and be clothed with humility. For God resisteth the proud and giveth grace to the humble."

The stitch count is 315 x 273, so it finishes approx 17 x 20 on 32ct. Charted for Needlepoint Silk or DMC floss, her color selection is dusty, but pretty -- not too dark or drab. The border is different on all 4 sides, there are little mistakes here and there -- just because old samplers have those -- and the verse is over one thread. I don't know why, but the buildings on the left remind me of the Grand Canal in Venice... but then, there comes the tree, and that blows Venice! A very pretty sampler, with a neat verse -- offered as a chart.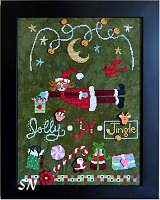 Jolly *Joy*Jingle


Raise the Roof has a companion piece to Boo*Scurry*Yum! Jolly*Joy*Jingle is stitched with the same flavor of cute motifs and yummy colors and lots of Just Another Button Company buttons embellishments -- everything here and there to make you smile. Worked on Swamp Linen from Picture This Plus -- that terrifically mangy green background sets off all the bright colors in Santa's flying elf and her friends.

Offered as a chart with buttons and fabric offered separately... looks like you're months ahead of schedule if you start this for next Christmas!!! Very Cute.


The Sweet Temper Sampler


An original design by Theresa Venette of Shakespeare's Peddler, this is a lovely piece with a summery feel. She wanted something that dealt with emotion, hence the verse; *Let your temper be as sweet as the daisies at your feet, be as gentle be as mild be a modest humble child.*

The neat primitive border is different everywhere, and Theresa mentions that she has stuffed lots of little motifs in here -- just where-ever. There are Spider Web roses in the basket which are stunning! A very pretty piece... this measures 301 x 297 -- so finishes a generous 19 x 19-ish on 32ct. Offered as a chart, coded for silks or DMC, so get out your overdyeds and see what you can customize to your piece!!


Ann Dale 1827: Big and Beautiful


Remember *A Part of Ann Dale?* Well... this is ALL of Ann Dale! A stunning reproduction of an antique sampler stitched and signed by Ann Dale in 1827, Teresa Venette has had a wonderful time presenting this beautiful piece to us! (I wanna start it RIGHT NOW!) Huge, huge, the stitch count of this is 402 x 531. Choose a fabric you like -- you'll execute over 65,000 X's in here!!! Teresa gives us a whole page of her *stories* about this piece -- Ann must have come from a wealthy family, as red threads were much more expensive than other colors -- and this is full of gorgeous red colors. All the floral urns in here -- all the traditional sampler elements, the splashes on teal near the bottom -- when you pay attention to this piece, you'll fall in love!

Teresa warns you to choose a fabric you like, and has charted this for silks, DMC or Sampler Threads. BUY ENOUGH thread, she says... and change your colors if they aren't grungy or bright enough for you -- this is YOUR piece! If you want smaller options -- look at *A Part of Ann Dale* and her other 'take-out chart' *Anne Dale's Flower Book* which is the compilation of all those urns in here -- without all the animals and borders. Lots of options here... on 36ct, this finishes a whopping 22-1/2 x 29-1/2! Offered as a chart. Love it, Love it!!!


Jenny Bean's Friendship Sampler




'Tell me ye knowing and discerning few -- where I may find a friend both firm and true.'

One of several new designs... the latest Jenny Bean Sampler from Shakespeare's Peddler. This is charming, both in verse and design! Neat houses, trees and landscape, lots of little critters scattered about, I love everything about it! Offered as a chart, it finishes approx 10 x 13 on 32ct, and is stitched with Gentle Art's hand-dyed Sampler Threads.

Teresa started *a thing* this Fall... she asked several other designers in the industry to 'sort of like JOIN' Jenny Bean's 'Friendship Page'... and design friendship samplers back to Jenny Bean! Lizzie Kate created Flora Mc Sample, Chessie created Scarlet Pomegranate. We have several in the 'chain' so watch for them!!! Meanwhile, stitch Jenny Bean's Friendship Sampler... awfully neat as a welcoming piece in your foyer, or some where near your *chatter-bench!* (How's that for a blast from the past!?)


God Bless Those...

Who struggle to be free.
Teresa designed this the week Egypt won its revolution for freedom! Offered only for a short while, it comes as a small kit with either 40 or 32ct Vintage Examplar Linen by Lakeside (very warm honey color), and three skeins of un-released limited edition Sampler Threads (a gold, a red-ish brown and a golden-brown.)

Her model is made into a pin-cushion piece, stuffed with something heavy -- like rice or walnut shells. Doesn't need any more description from me... that verse says it all!


Celebrating UFOs! License and Pin Set!


One of my favorite finds at Market came from Teresa and Sue at Raise The Roof. UFO is the affectionate name assigned to Un-Finished-Objects. You know... the stuff you started years ago, but just can't stand to look at anymore... you'll never finish them. This Licence and Pin Set can *set you FREE!* Somehow, Teresa's creative brain decided that it was OK to CUT UP some horrid thing you've started... and make a totally *dorky* pin cushion out of it... decorating it with this official UFO medallion and space-ship pin!!!!!

Oh my gosh... this is the funniest thing! Don't let this ugly model picture deter you! Your Official UFO License includes a coupon giving you permission to destroy what was, once, a piece of needleart! Her story that comes with it is delightful... and I cannot tell it here! YOUR pincushion could never look like hers... because each UFO has it's *own putrid personality!*... but think of the stitch group gift possibilities here!!! Everyone could make one, and it could be the gift exchange! You could raid the bottom of your friend's stitching tote, secretly steal her *embarrassment,* and turn it into the most charming UFO Cushion... presenting it to her with honor! Teresa's imagination at work!!!!! Anyway, Raise The Roof's UFO License comes with a bit of History, finishing suggestions, Teresa's *unfortunate* example -- pictured in living color, and the exclusive UFO label and space-ship pin. YOU supply the awful needlework!!! We have extra Space Ship pins available, in case you have more than one *Special Needs* piece!!!


Pumpkin Joe
Good News -- these patterns are here...


Pumpkin Joe and three old crows, Joe says 'Boo' and off they goes!

A fun little piece of orange and black delight, get that yummy hand-dyed linen, a mangy black hand-dyed cotton or silk, and add a few JABCO buttons, this is really cute!


Boo*Scurry*Yum!


Raise the Roof's newest Halloween design is too darn cute to be very scary! It features a witch-in-flight complete with billowing cape, wispy broom, the dark, swirling night-time sky, and lots of seasonal friends on the ground below! Check out the ghost for BOO. The Spider for SCURRY -- gotta love his hairy legs! And, YUM's candy corn and caramel apple.

Offered as a chart, this measures approx 8-1/2 x 12-1/4 on some dark and mangy 32ct linen. Worked in hand-dyed Sampler Threads, JABCO has a set of buttons gracing this, too. VERY CUTE... this'll make a great seasonal decoration. Something about it is cheerful, colorful, fresh and fun.





Home Springs Eternal


What a pretty piece by Shakespeare's Peddler -- the house, the alphabet, the border and basket -- and of course the lock and key to keep all safe and sound! Teresa's sampler has a stitch count of 145 x 95, and can be stitched on almost any fabric of your choice.

She chose two different colorways for this, or you can follow the alternate selections of Sampler Threads (in the regular color line) or even DMC. Pretty browns and greens, the house is stitched in Gold Rush (Gold Leaf) and there is a hint of Raisin (Grape Arbor) in the window panes and flowers. Offered as the chart with coordinating clay flower button embellishment (see it on the floral urn?)


A Sampling by Ann


Here's the 2011 version of the house and several other motifs directly from Ann Grant's 1829 sampler! Same shapes, brighter, deeper colors, less than 40,000 stitches -- because we don't have as much time to stitch these days as Ann did! Isn't this a fun way to compare both pieces?

Offered in small chart format, coded for silks or DMC, these colors are NOT the same as those in the larger piece!





This is Christmas!


Oh my gosh, this is DARLING! Stuffed full of overdyed color, there are a million motifs scattered about on this. Packages, sleigh bells, the staircase decorated with greenery, the snowman out in the yard, and even Santa tip-toe-ing up to the house -- I think he's too fat for the little chimney!

'This is Christmas' is offered as a chart and finishes approx 7 x 12 on 32ct. Just a fun piece, you keep seeing something new every time you look at it! Button embellishments offered separately.


This Is Halloween


'12 Million ghouls and goblins can't be wrong!' Raise The Roof has a fun new design for Halloween -- a medley of stuff, crammed and scattered -- here and there -- in it's 8 x 8-ish design size.

Stitched in overdyeds, the clay button embellishments are everywhere in here! Bats and cats, owls and toads, there is a vampire, and even a poison apple! Very busy, very cute... offered as the chart with button set separate!


Jenny Bean's Humble Servant Sampler




'You will surely reap what ye sow.'

Jenny Bean stitches this charming sampler... it's her third! With a stitch count of 180 x 180, yours will finish approx 9 x 9 on 40ct... or it could be 11 x 11 if you choose 32! Pick what makes you happy! Worked in Gentle Art overdyed Sampler Threads, the colors are very pretty pinks, lavenders, greens, some brown, and a *touch* of a mustard color. A spot-motif-type of arrangement, all the sections feature pretty designs -- the flower urn in the upper left corner is pretty all by itself, the house is cool, and so is the willow tree!

Teresa tells you to embellish your sampler however you wish. There are some tiny stitched keys on here -- charms would be fun, and the flower urn up there might like a few buttons from your antique button stash! Just some ideas. Offered as the single chart, the Olde Colonial Dowry Boxes are on order! (expected $$$ approx $160-$170)





Sarah Woodham 1770


This is Teresa's reproduction of a 1770's sampler she fell in love with in an antique shop and purchased! Beautifully charted, she has an entire page of thoughts about the original stitcher, her talents, and ideas about missing motifs and color choices. The verse is a prayer by Sarah that gives thanks for her good life, and a plea to make her a better person towards others. The words are all stitched over one thread, while the rest of the piece is over two -- Teresa says this has over 25,000 stitches in it! Charted for DMC, Sampler Threads or silks, this finishes approx 12 x 14-1/2 on 40ct!

Simply lovely, this piece has such balance, pretty and graceful motifs, awesome color, and just general CHARM! One of Teresa's favorite parts are the two girls near the bottom that are standing there with their hands on their hips! Definitely a happy sampler! Offered as a chart.





Antique Spring Sampler -- Ann Hobbs 1834


This is another sampler residing in Teresa's *Private Collection* (how neat is that!) that came from England. Originally stitched in 1834, the color palette of this features soft shades of beige, blue, gold, rose and coral -- so lovely!

Teresa includes a page of history about Ann, where she came from, and speculation about ink spills on her original piece. That sort of thing is so much fun to read about!

The verse reminds one to not put off things that are worthwhile... not 'To Put Religion By'...Very, very pretty! (She loaned us her stitched piece for a few weeks!)


I Love the Birds


Gosh, this is a sweet piece... its a tribute to the birds in your garden!!! Designed by Teresa of Shakespeare's Peddler, it measures 72 x 196 stitches, and can be worked in its DMC flosses on any number of different fabrics. (you choose!)



'I love the birds and count them all. They sit upon my garden wall. One, two, three, Crow, Lark Wren. Then one, two, three, they're gone again.'

Something pretty and totally *finishable* for a busy stitcher!!!! Offered as a chart.


A Weary World Rejoices


Teresa of Raise the Roof must have a split personality!!!!! She's designed this lovely little sampler -- under her other name of Shakespeare's Peddler that features words from 'O Holy Night.'

'The thrill of hope, A weary world rejoices, For yonder breaks A new and glorious morn.'

Teresa has a couple of paragraphs inside the pattern that tell of her inspiration for this piece... and the meanings of the symbols she has included in her original design. Just makes my heart warm all over!!!

Of special note are the colors called for in this sampler. Gentle Art dyed a special set of Winter Threads last year... and Teresa used that Limited Edition set! Not to worry, though! She has also converted those colors into those in the regular line in case you didn't get it. But if you were lucky enough to collect that little bag of threads this year -- HERE is something awesome to stitch with them!!! A petite sampler, this finishes approx 8 x 12 on 32ct... but you can choose any count you wish. Offered as the chart.