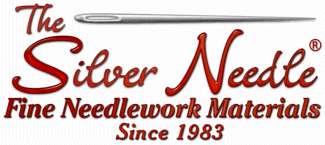 6068 S. Sheridan Rd. Tulsa, Ok. 74145 (918) 493-1136 (888) 543-7004
E-Mail



With Thy Needle & Thread's New Winter Offerings

- on their way into the shop,
Brenda loves birds and charted a few of her backyard favorites this time around.

The Light of Winter is a 175 x175 sampler celebrating the winter solstice. It's a little christmassy but not too much - just more of a festive winter flavor. Model is stitched on 36ct winter brew - but many of the gorgeous hand-dyed on the market will look wonderful with this - you are not limited! DMC along with weeks and a bit of gentle art hand-dyeds, Brenda tossed in a few satins and Smyrna crosses fir a little texture and design interest. Very pretty and peaceful
Peppermint & Pine - Love these! A trio of birds in Brenda's new backyard, she's done these with a contemporary personality and added totally awesome pine cones to the mix. Super striking and geometric you get those long tails, the fat birds and the round cones full of tiny triangles for all the little scales. DMC and a medley of hand-yed flosses, they are stitched on Country Vintage Mocha fabric - which comes in several different counts. All three designs in the chart, they are charming.
Snow Magical - Here's a chunky looking little guy in his wintery-aqua-blue sweater. Finished into round shape, Brenda remembers her Grandmother's Snow Globes and this frigid friend might have been inside one of them. Approx 100 x 100, 5 x 5 on 40ct, he's done with DMC and hand-dyeds.
Reindeer Games - A trio of ornaments featuring our favorite Jolly Old Soul and his playful reindeer. There's an ugly Christmas sweater, some light untangling going on and a pair of peppermint patrons! These all finish around 3 inches in size and are stitched on Country Vintage Mocha fabric. Brenda HAS the finishing boards included in the chart - you'll need to paint them, but they have that little topper-thingie, so they look like ornaments.



They're Here! Autumn Designs

from With Thy Needle's Brenda Gervais.
When Pumpkins Glow - A sweet pair of pumpkin-headed dolls are the stars of this design, along with the old-time verse, There's magic in the night when pumpkins glow with candle light. Measuring about 10 x 4 on 40ct (12 x 4-1/2 on 36), this is stitched with a medley of DMC and hand-dyed flosses.
When Witches Go Riding - This is a trio of pin cushions that together, spell out the saying, When witches go riding & black cats are seen, the moon laughs & whispers tis near Halloween. Part of the verse is on each design. Each measures 70 x 61 - so about 3-1/2 x 4 on 36 to 40ct. They are stitched with a medley of DMC and hand-dyeds, are are just the cutest! All three designs are in the chart pack.
Autumn Splendor - Brenda describes this little 4 x 4 design as having stitched rows to resemble timeless ticking fabric along with a central motif that hints at Quaker. Just a very pretty Autumnal design - not Halloween, just classic. Stitched on 36ct using Weeks hand-dyed flosses.
Coming to America - The Women of the Mayflower - This is a reprint of the chart Brenda released in honor of the 400th anniversary of the Mayflower sailing to America. Stitched on your choice count of Country Vintage Mocha fabric - it's charming! The names of the women who sailed are stitched on here... it's much shorter if you leave those off... so many fun finishing variations from this! Presented as a chart.
Celebrate Harvest - This is a reprint of the smaller bonus design that came with the original Women of the Mayflower Limited Edition kit. Available as a chart now, it's just a sweet pilgrim scene remembering the blessings of their recent harvest. Again, stitched on your choice count of Country Vintage Mocha fabric.



New Designs

from With Thy Needle's Brenda Gervais

At Home - This is an original design of Brenda's - inspired by the Frederick County, Maryland Samplers from the 1800s. Brenda says that typically you'll find a large brick home on a stepped terrace with surrounding trees and nature-inspired motifs. Her verse reads: 'For genuine happiness, we need not roam - tis doubtless found with little and at home.' The stitch count is 250 s 248 - so it'll finish a little smaller than 14 x 14 on 36ct Country Vintage Mocha. Coded for DMC, Weeks, GAST, and Classic hand-dyeds... very pretty!
A Girl in Her Garden - A fun little design to celebrate berry-picking season... and Brenda's childhood memories of canning, freezing and eating pie! Measuring 175 x 48 - it's almost 10 inches long and just 2-5/8 inch high on 36ct Country Vintage Mocha linen, and is stitched with Weeks, Classic and DMC. She has included the template for the drum finishing inside the chart as well.



New Designs Have Arrived

from With Thy Needle's Brenda Gervais

Every Opening Flower is an original sampler inspired by a very damaged and well-loved piece of needlework in Brenda's collection. Gorgeous soft colors of aqua-denim, cranberry and roses, gold and mossy greens, it finishes approx 11 x 12 on 36ct hand-dyed linen. Grits, Cornsilk, Oscar, Olive, Bee's Knees, Oilcloth, Mulberry, Mountain Mist, Brethern Blue, Woodrose, Hickory Sticks, Used Brick and Ye Old Gold round out the hand-dyed floss colors - crossing all three companies! One of Brenda's visions is for you to take the smaller motifs out of this for pin keeps and needle cases. Very soft and pretty.
PA Dutch Tomato Pinkeep - A fun little design measuring just 9-1/2 x 3 on 36ct... you can finish it into the round drum shape - or just flat. It uses DMC floss #22 - one of the newest colors, which looks like a burnt-strawberry color. (#21 is the lighter companion color - might be fun to mix them in this!) Inspired by antique German show towels, it's a study in simplicity. Brenda includes instructions for the cute pedestal drum finishing. We now carry the delicious hand-dyed velvet used in this finishing!
The Robins are Here - Brenda is bringing you her 'First Messengers of Spring!' Plump little things! Stitched on 40ct Country Vintage Mocha - they are only 2 x 4! You'll need DMC of 22, 502, 3771, 3826, 3828, and hand-dyeds of Grits, Dove, Palomino, Flatfish, Oscar. Olive and Hickory Sticks. (But remember, not much because these are so little and cute!)
Spring Awakens - Little Violets dancing around the border, our two dapper bunnies are enjoying their Springtime stroll. Finishing a mere 3 x 4-5/8 on 40ct Vintage Country Mocha, grab those DMCs along with more hand-dyeds including Caper, Pumpkin Patch and Highland Heather.
My Home Sweet Home - This is the third seasonal design companioning Be Ye Thankful and Joy & Good Cheer. It's summery and colorful - but we think you should leave it out all year long! Finishiing about 5 x 3-5/8, on 36ct hand-dyed linen, it uses a mixture of DMC and hand-dyeds again - just like all of the other new releases this time around.



Three New Designs

from With Thy Needle's Brenda Gervais

Santa Stops Here! A quaint stone house... I want to stop here too! Brenda describes her design, "This small Christmas piece was inspired by seven small villages of German heritage, in my home state known as The Amana Colonies. When you pass down the streets, you quickly note that the businesses, many of which are brick structures, have simple black signs with white lettering for their business signage. The bonus is that this piece features The Candy Haus -- the place where Santa stops off to shop for candy canes to tuck into stockings of good boys and girls!"
Finishing approx 6 x 9 on 36ct it is worked with a mixture of DMC and hand-dyeds. The little Rudolph & Friends ornament is a companioning design... so don't miss that! So charming, it's presented as a chart.
Rudolph & Friends - This is a companion ornament to the Santa Stops Here piece... Just a sweet design, the little snowman is surrounded by his cardinal and deer friends... and someone even brought a candy cane from The Candy Haus! Finishing about 3-1/2 inches square on 36ct - same fabric and threads as 'SSH' - make it into a small stand-up or tree ornament! Chart format.
The Maker and Mender - This sampler celebrates the needle! The verse is taken from John Taylor's 1634 writing - Praise of the Needle. A small thing, this measures about 7 x 10 on 36ct linen. Brenda used a smattering of different hand-dyeds, and has finished off hers with a hemstitched edge treatment. You could make a little mat out of this... you could mount it INTO a bigger stitching mat, frame it. Turn it into a sewing roll, with lots of the honored needles stored inside... you decide! Two different sets of alphabets included for personalizing, Brenda used her initials along with her mother's - to honor all that patience bestowed by Mom - while she taught Brenda to stitch!



A Pair of Seasonal Designs

from With Thy Needle's Brenda Gervais - each is offered as its own chart. Both arrive in the shop towards the end of August.
A Witch In Her Garden - Here's a rather charming-looking witch gardening among her pumpkins and sunflowers. The design is approx 2-1/2 x 9-1/2 on 36ct Country Vintage Mocha Linen, but because Brenda finished this into a drum shape, it's now a petite pin cushion! She pleated her velveteen topping fabric a little, added some puffy, and found a great pumpkin stem to poke into the center - so now her drum looks like a pumpkin! Stitched with DMCs and a few hand-dyeds... perch it on a painted wooden candle pedestal base.
Joy & Good Cheer - A frosty little snowman seems to be growing out of the urn right there in the front yard! A cozy house, and deep red winter berries, the bird is probably chirping out those words of Joy and Good Cheer! You know, that little bird and his branch - all by themselves would be a cute ornament... and so would the snowman in the urn! The whole design measures 121 x 73 - just 4 x 6-1/2 on 36ct. DMCs and handyeds are called for.



New Arrivals

from With Thy Needle & Thread!

Autumn's Acorn Gathering - Two plump little squirrels - they've been scampering and foraging in your backyard all summer getting ready for Fall. Stitched on 36ct Winter's Brew hand-dyed linen, using various hand-dyeds and DMC, each of these little guys measures just 56 x 77 - so just 3 x 4! You can finish them into cushions or little block stand-ups... they'll be so happy perched near a bowl of baby pumpkins and those little candy corn cobbs!
Be Ye Thankful - I love the pumpkin in the urn! This is worked on 40ct Country Vintage Mocha linen, so finishes about 5 x 4. Again, a mixture of asst DMC's and the hand-dyeds, this is fun for the season. Scattered acorns and wandering vine of Bittersweet, all the colors blend for a pleasing presentation. Presented as a chart pack.
The Rabbit & The Rose, Keeper of the Pins, and Seasons of the Heart
The Rabbit & The Rose is a charming little pin cushion done with DMC floss. Brenda has a few Smryna Crosses in here and she's stitched her bunny tail with Rainbow Gallery's Wisper thread - for a little fluff! Finishes approx 3-1/2 x 5 on 40ct - so a 'hare' larger on 36 or 32! Presented as a chartpack.
Keeper of the Pins - This is one of Brenda's 'medium' leaflets - like Jelly Bean Jubilee and Snowball. It features a collection of pin cushions for the needleworker at heart. Cute new designs to companion 'I Collect' and 'Queen of the Needle'... there is a tomato pin cushion in here, an antique sewing bird, and fun button 'card.' A fat quarter of 36ct Country Vintage Mocha will do everything.... (probably 32 would work as well). All sweet pieces, everything finishes into a small pin cushion size. Gather some fun trims and a pretty display bowl and you're all set!
Seasons of the Heart - All 4 of these designs are presented in the pattern booklet - along with numerous and varied artwork prints of the little seasonal tags you see on the stitched cushions. Do your fun stitching on 40 or 36ct using all the brands of hand-dyed cottons. Then, follow the instructions in the booklet - she uses rubber cement, and tells you how to create your little tags! Really sweet designs, each finishes the same size - I think about 4 x 5.



Rejoice Evermore


Rejoice Evermore - This is a Brenda Gervais original! She's stitching old to new... the old bands found in antique samplers... then all the baskets and birds she loves to stitch... and finally a grand house with a garden of bluebirds.

Finishes approx 12 x 12 on 40ct... she's used a combination of hand-dyed cottons, and tossed in Smyrna Crosses, Algerian Eyes and Satin Stitches



O Lucky Day!


With Thy Needle is helping us get ready for St Patrick's Day with this lucky little leprechaun, his pot of gold, and a few greetings he's sending along - in pin cushion fashion! Such a trendy 'boho-styled rainbow to boot! Brenda's newest chart, it includes all three designs which are stitched on 36ct linen with regular DMC flosses. She has added a smidge of gold metallic thread for the gold in the pot.

You can get all three designs on a 13 x 18 cut of fabric... and I bet you have bits of gold metallic in your stash somewhere! Brenda's mother-in-law, born in Ireland, was a war bride. Inspired by her family roots... she asks "aren't we ALL Irish for a day?"





New Arrivals

from With Thy Needle & Thread
Brenda Gervais has been busy - everything has now arrived!
The Snow Ball - Such a charming set of snowmen... here's another leaflet to coordinate with Jack '0 Lantern and Jelly Bean Jubilee! 7 different designs in the booklet, the cover shows 5, while the inside includes a snowglobe design and a little blue cookie house. All are pin-cushion-sized, and will look awesome nestled in a pretty bowl. You'll need a fat quarter of whatever fabric you use to stitch the set. Coded for DMC floss, they are all embellished with a smattering of 'Sprinkles Buttons' by Just Another Button Company. (The White Wedding pack of Sprinkles contains 35+ assorted shapes of micro buttons that you'll love!)
Cup of Christmas Cheer - Isn't this one fun? A big 'ol Santa mug of peppermint and cocoa! Stitched on 36ct, it finishes approx 3-1/2 x 5. You'll need a fluffy pom-pom for his hat!
A Winter's Day Visit - Here's a plump little guy... he measures 71 x 110 - and he finishes approx 4 x 6 on 36ct. DMC flosses and a smattering of hand-dyeds, Brenda has him finished into a cute little stubby-shaped stocking hang-up. Find three little buttons in your stash, or stitch some on there... (No coal please, because this little guy is being good for Santa!)
Bells of Christmas - Peace on Earth, Good Will to men... a pair of primitives that have been finished into 3 x 5 bell-shaped cushions... the cover models are shown on 40ct. Stitched with DMC and a mixture of hand-dyed cottons.



Jack O Lantern Jubilee

Has Arrived!
Brenda Gervais of With Thy Needle is releasing a fun new collection of Halloween pin cushions! Presented in leaflet format - like Jelly Bean Jubilee - this is a set of 6 cushions - all stitched with various hand-dyed flosses.

Colors used are 3771, 3778, Onyx, Oscar, Pelican Gray, Ultraviolet, Pumpkin, Putty, Carrot, Gold Leaf, Fragrant Cloves, Grecian Gold, Brandy, Avocado, Eggshell, Gingerbread, Hickory Sticks and Copper Penny.

Fabric shown is R & R's 36ct Brenda's Brew. For a limited time, we have 36ct Brenda's Brew Linen rather than 40ct. The 36 is lovely! What a fun collection of smalls!


Presenting

Red White & Bloom


Brenda Gervais has released info about her next set of *seasonal smalls* - they companion Love Notes and Jelly Bean jubilee. Red White and Bloom includes a Lady Liberty, Uncle Sam, busy little bumbler bees, cheery sunflowers and even a family of eagles. All the designs are small, but Brenda promises that they'll make a big statement when you display them together in a tray or basket. (She says it is delightfully fun to find little trinkets and decorations to include with the cushions because it really makes your stitching POP!)

All garden-y in theme, Lady Liberty has sunflowers as tall as she is, Sam is fashioned to look like a garden Whirli-gig, and his hat is even a planter. A bunting-draped watering can is home to a another sunflower, and the Mom and Dad eagles are perched and waiting for a festive party! Lots of the same colors of flosses are called for in both patterns, so no need to buy more thread. (Onyx, Pea Coat, Red Rocks, Grits, Oscar, Pamlico, Blue Suede, Grecian Gold, 611, 712, 3771 and 3778.





Happy Birthday America!


Brenda Gervais is previewing her newest little chart design - a miniature stitched birthday cake to America - featuring a very festive eagle! (But... you could finish this as a small pin cushion as well.) Measuring just 3-1/2 inches round on 36ct linen, it is stitched with bits of DMC floss and hand-dyeds of Grits, Palomino, Loden, Pea Coat, Red Rocks, Blue Suede and Grecian Gold.

Brenda is supplying her alphabet-printed linen you see on the drum sides in the chart. The featured trim is by Lady Dot - Vintage Mini Pom, which is available separately. The chart gives sources for the 2 x 4 cardboard 'cake box' form, and the candle-stick wooden 'cake plate' base. Brenda says her finishing instructions will give you a 'prefectly-shaped cake with no wonky bumps or lumps... super easy, and no sewing machine required!'


Presenting Caroline Amelia Trowell


Brenda Gervais has released a new sampler reproduction! Originally stitched by 10-yr old Caroline - a shepherd's daughter. Brenda tells us about Caroline, her family, where she lived and the significance of some of the motifs she chose for her sampler. The are photos of the original antique sampler in the leaflet as well.

Packed with sweet motifs, there are 3 'sections' to this... lots of opportunity for small cushion take-outs... and a pretty sawtooth border.

Stitched on 40ct hand-dyed linen by Seraphim, we have SEVERAL color options by Seraphim in various counts... so I am sure we can find you something lovely. Brenda uses a medley of DMC solids and Weeks hand-dyed flosses.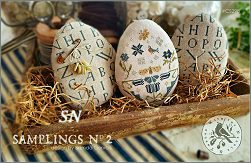 New Arrivals

from Brenda Gervais

Hannah Ann Wallace 1850 - A reproduction sampler - Brenda chose softer shades of the original wools used to stitch this petite sampler. In her leaflet, she's included Ancestry.com research about Hannah, photos, and even some hand-written Quaker meeting notes. It finishes approx 7-1/2 x 7 on 36ct and is stitched with DMCs and some hand-dyeds of Oscar, Olive, Antique Rose, Pomegranate, Ye Old Gold and Sweet Potato.
The Samplings - Brenda has designed and commissioned special printed alphabet linen from England. You can see it in the model/cover pics shown. She is including enough of the fabric - in each chart - for project finishing in this new series.
Samplings #1 features a cross stitched tiny bunny and flowers, with a Quaker motif at the base of the design. It includes the finishing alphabet linen with red lettering.
Samplings #2's design has a bird and butterflies along with another Quaker motif, this time, the alphabet fabric is printed in blue.
NOT ALL of the future designs will be egg-shaped in theme... these two just turned out that way... and the alphabet letters on the fabric will be in other colors as well. Each of these two stitched designs measure approx 3 x 4 when stitched on 40ct... you can finish them into the egg shapes, or make little pin cushions and use that alphabet linen as your backing material! No information yet on how often more in this series will release.... but we'll begin an auto-ship on them just to be safe!



Presenting Jelly Bean Jubilee


Brenda Gervais has just announced her newest leaflet release - Jelly Bean Jubilee! Seven cheerful bunny and bean designs - full of bright, happy colors!

Stitch them all on a fat-quarter cut of your favorite fabric... round up some cute ribbons and trims... and you'll be ready for Easter!


Winter Gatherings, Love Notes and Say You Have
Winter Gatherings is the 2nd in her seasonal Gatherings series - she tells us the floss colors in this piece capture the feel and ambiance of a cold and wintery day. Stitched on 36ct Legacy Linen, it uses 647, 611, 355, 3776, Tarragon, Whitewash, Caper, Teal Frost and Mountain Mist. Autumn Gatherings is the first in this set... see it on our Auto-ship page. If you aren't into the basket portion of these... just capture that cute topping scene and make a small cushion!
Love Notes - This chart includes the charts for all 5 small pin cushions - Lovebirds, Hugs & Kisses, Cupid's Cup, Key to My Heart and Love Stamp. Worked on just about any fabric you like - a fat quarter of something will do all of these to match. Mix and match trims? Find a cute metal tray to display? They are stitched with regular DMC of 351, 352, 610, 732, 733, 758, 760, 817, 838, 3712, 3828 and 3865... and I bet you could get them finished in time for Valentine's Day!
Best Time of the Year!


Here's a little something coming from With Thy Needle's Brenda Gervais... Snow, Snowmen and Santa! Have a Holly Jolly Christmas is coming as a chart, with an optional packet of 7 tiny white flake buttons from Just Another Button Company! (price on that is coming... but shouldn't be too expensive.)

JOLLY is stitched on (your choice of material) 40ct in the pic, and finishes almost 7 x 3-1/2. Grab your DMCs and a few hand-dyeds of Whitewash, Oilcloth, Louisana Hot Sauce and Black Coffee - to get ready for *the Best Time of the Year!





Four New Designs

from With Thy Needle





New Releases

by Brenda Gervais. Here we go!
Winter Rose Manor #289 - This is a pretty, wintery sampler that features several different borders, a beautiful white house, and lots of glorious foliage in the yard. It finishes approx 10 x 10 on 36ct and is worked with a medley of hand-dyed flosses. The round bird design featured on the back cover of this leaflet is finished atop a drum-shaped cushion... same colors - 40ct fabric
BRRR... It's cold Outside #288 - Inspired by 'Bobbing for Pumpkins', here is Brenda's Winter version! Check out the snowballs in the basket, and the bitty candy cane the cardinal is holding! Stitched on 40ct Vintage Country Mocha linen, it finishes about 4 x 7.
Mr Marshmallow #287 - How cute is this little guy? Brenda is thinking she's brewing a series of designs here... Coffee First and The Witches Brew came before this one! Hot cocoa is always perfect on a cold snowman morning! The linen is Picture This Plus's Kermit... but Brenda says a darker neutral fabric color would look good too. Finishing approx 4 x 5 on the 36ct... he uses a variety of DMC and some hand-dyed flosses. Buttons are additional and optional.
When Santa's Away the Mice will Play! CS290 - More of these darling Christmas Mice... MUCH cuter than the ones that sneak into kitchen pantries! Stitched over one on 28ct Lugana makes this ornament-sized, but you can do anything larger that you like. Brenda actually used a piece of cotton batting for the boot top, and suggests that stitching-time-saver alternative!



Three New Designs

from With Thy Needle


The Witches Brew - This is stitched on a gray color - and finishes approx 3-1/2 x 4-/12 on 36ct. The little witch is standing atop her cup of brew... but it doesn't look like it's a scary cauldron of something yucky at all! Brenda garnished with a metal spoon charm she found on Etsy - it's a cute idea! I think that orange rik-rak sets it off too! (probably Lady Dot Jack color.) Stitched with bits of DMC and hand-dyeds.
Hilda Boo & Sunflowers, Too - Stitched on a rich deep purply background, this finishes approx 4-1/2 x 6 on a 40ct. Choose something dark and fun - it really makes that yellow (GAST Gold Leaf) pop!
Autumn Gatherings - This is chart # 1 of a 4-part set of the seasons. Finishing approx 4 x 5 on 36ct Heartland by Picture This Plus, this is worked with a mixture of hand-dyed flosses, and trimmed with Lady Dot's hand-dyed Vintage Twill Tape. Brenda says all four will be this shape, but you can finish in a regular square shape if you'd rather. No word on release dates yet, or fabric and twill choices for the rest... but at least enjoy THIS one now - we think it's darling! We'll be doing an auto-ship for the rest of the Gatherings - sending charts as each is released!
Project Quarantine: Stay Home & Stitch!

from With Thy Needle & thread
Look what showed up in our mail this morning! What a fun project to tantalize your stitching fingers and keep your heart happy... Let's Stay Home and Stitch! Stitched on anything you like, the area inside the little hoop is worked over one thread - so keep that in mind when choosing fabric, the satin stitches on the spools of thread will be ok no matter what you use. It finishes approx 3 x 7-1/2 on 36ct.

Brenda sent a really lovely letter with the shipment... she is donating $1.00 for each of these patterns sold to Center for Disaster Philanthropy Covid-19 Response Fund. The donations to this fund will support non-profit organizations working in areas identified as having high numbers of affected individuals and those working with the most vulnerable populations. Areas of emphasis include helping health-care workers with purchases of masks, gowns, gloves and other protective equipment, supporting quarantined and vulnerable individuals, and hygiene promotion campaigns to limit the spread of the virus.





New Arrivals

from With Thy Needle


I Collect #273 - Cute pin-cushion design finishing approx 4-1/2 inches on 36ct. Embellish with your own buttons and trinkets... uses Dove, Dried Thyme, Mountain Mist, Tomato, Chili Pepper, Eggshell, Gingerbread and Sticks & Twigs!
Berry Keeper #274 - Shown over one on 28 Mushroom Lugana, shown in a 3-1/2 x 5 oval hoop - I love that tiny area of spools near the bottom!
Spring Serenade #275 - Companions Candy Cane Wishes, Here a Peep, Spirits & Spells, and Jingle All the Way... finishing 3 x 5 on 32ct.
Harietta & Co #276 - She companions Merry Old Soul, Peppermint Pals, Boo To You, look at her little bunny pail! She finishes about 4 x 6 on 36ct.
Baltimore Saltbox #277 - Just 3 x 5-1/2 over one on 28ct Mushroom Lugana... Dirt Road, Olive, Grecian Gold, Tomato, Endive, Blue Corn, Eggshell, Sticks & Twigs and Chesapeake Bay hand-dyeds.
Our Hearts #278 - A spot motif sampler. Your heart and my heart are very old friends. Finishes 5 x 11-1/2 on 36ct.
Saltbox Quilt Sampler #279 - Love This! 7-1/2 x 10 on 40ct, think about a whole set of pin cushions from those little houses!
Manor At Quaker Hill #280 - Pretty border and elegant floral urns and bouquets, this finishes 10 x 18 on 36ct.
Coffee First #281 - Cute little 4 x 4 design... no spoons right now because of interrupted shipments from China - but maybe you have something cute to add to this anyway!
Token of Love #282 - Over one on 28ct Mushroom Lugana, this finishes a mere 6 x 5, using just Sandcastle, Schneckley, Oscar, Olive, Deep Fennel, and St Bernard.
Souvenirs of the Heart - Star Spangled Spectacular - One of those little card charts, this is shown over one on 28ct, finishing 2-1/2 x 3-ish. 3rd In this series!
New Designs from Brenda Gervais
Santa's Tree Farm - This festive little guy finishes into an oval shape - 3-1/2 x 5-1/4, so he'd make a nice cushion, and maybe even an ornament if you leave off the trees on the right! Vintage Country Mocha Linen, it uses Weeks, GAST and CC hand-dyed flosses.
Souvenirs of the Heart - Autumn in Amana and Home For Christmas - These designs are the first two in a new series by Brenda. NO SPECIFIC release dates or definite schedule, she's going to design more smalls stitched over one thread like these. Stitch counts are 67 x 87, both are worked over one thread on 28ct Mushroom Lugana using hand-dyed flosses, and finish a petite 2-3/8 x 3. Presented as separate charts.
Candy Cane Lane - Here's a very organized and festive holiday piece! With a stitch count of 83 x 191, it finishes 4 x 9-1/2 on 40ct, or 5 x 12 on 32ct. Flax Linen, I think the bitty cardinal holding the candy cane in there is darling!
Merry Old Soul - This one measures 80 x 110 in size - 5 x 7 on 32ct. I don't know if you can tell from the pic, but Santa is holding a snowman stocking full of candy canes! There are tiny stick arms on him and a little stitched nose... just the cutest!
Peppermint Pals - Mr Snowman is sporting classy trousers to help keep warm, I imagine. He's carrying a snowman 'bucket' - I think he's serving candy canes to the birds! Stitched on 32ct - choose any light blue fabric you like to make all the white show up, he measures 78 x 106 so will finish almost 5 x 7 on 32ct. There is a snowflake shown in the finishing treatment... not in the chart, it's a cute finishing idea.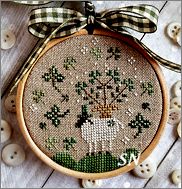 Presenting Holiday Hoopla - A New Series of Smalls


Brenda is celebrating the seasons with some cute 3-inch designs... Easter was the first. Valentine's Day and St Patrick's Day Hoopla designs will round out this cute set of 7 holidays! All are fun and quick to stitch.

She is showing them mounted in little 3-inch wooden embroidery hoops... but if you're hot a *hooper* little cushions or something like that will work well too. (40ct needed for the 3-inch hoop finishing option.)

CS260 Boo to You - Finishing about 4 3/8" x 5 7/8" on 36ct linen. Uses Weeks, Gentle Art and Classic Colorworks threads.
CS263 Hickety Pickety - Remember the nursery rhyme... Hickety pickety my black hen, She lays eggs for gentlemen... Approx 9 1/2 x 5 inches on 36 ct. Uses Weeks, Classic Colorworks and DMC.
CS264 Gone Batty - Approx 12 x 6 inches on 32 ct linen, using Weeks and Gentle Art threads. I bet that cat didn't stay so still for long!
Spring Fling - Pink hand-dyed linen -- approx 10 x 6 on 32ct... we love the colors!
Mrs Bunn E. Tail - What a darling bunny! 71 x 106 in stitch count, she is worked on 36ct or your favorite fabric! Hand-dyed flosses.
Where Liberty Dwells - Two cushions - small is 95 x 72, larger is 111 square. Pretty hand-dyeds, both charts are in this same pack.
Quaker Sewing Tray - We love this little piece! Just 89 stitches square - it's only 5-1/2 inches square on 32ct!
Note: Brenda is using trays from papermart.com supply and ordering info for each is included in this chart.
When Flowers Blossom *The flower doesn't dream of the bee, it blossoms and the comes* Finishing approx 12 x 8 on 32ct... lots of cute motifs in here for make some smaller pin cushions as well!
Note: Brenda is using trays from papermart.com supply and ordering info for each is included in this chart.
Forever & Ever - A Celebration of Love!

from With Thy Needle & Thread
This is a wedding or anniversary sampler! *In My heart -- forever and ever.* Initials are in the design and since 1949 is there as the date... it can be both!

Stitch count is 336 x 113 - so a whopping 21 x 7 on 32ct! BUTTTTT... Brenda also includes a cut-down version of the piece - just the right-side of it, with a new charting of the floral border. Very pretty!





Winter Releases

from With Thy Needle & Thread!

Winter in Baltimore finishes this quilt-inspired 4-seasons set of tiny box designs. Stitched over one on 28ct Mushroom Lugana all the motifs make cute pin cushions if you aren't into box finishing! Flosses used are Linen, Maple Syrup, Blushing Beauty, Lady Bug and Poblano Pepper.
Basketful of Winter Time - A finish to the 4-part 'basketful' set, I think the Santa with his reindeer and skinny little tree would make a darling ornament - just by themselves!
All Bundled Up - This one is cute... even the little bird has a scarf! 186 x 123 in stitch count, the fabric in the pic is kind of on the light-side... you might be able to go darker to see the whites a little better.
Candy Cane Wishes is another small oval design that companions Peeps, Santa and Spirits and Spells. Shown as a box-topper - the oval-shaped borders on these are so pretty.
Plum Pudding - More of Brenda's charming mice!!!! This time, the ladies are preparing Christmas treats! They've been cooking up brew for Halloween, making Christmas tea and I think my favorite place they've been is in 'The Sewing Room!' This is the cutest series of designs, this one measuring just 69 x 77 in stitch count.
Field Mouse Hollow


Brenda Gervais has announced a new pattern with little witch mice in their garden of bittersweet. The big 'ol witch shoe might be the 'house' they are Trick-or-Treating!!! Finishing about 5-1/2 x 6-1/2, it'd make a cute hanging pillow over a doorknob somewhere.

It would also be cute perched as a cushion in that Halloween Candy Basket you might have already started! (You know the one where you buy the Halloween candy NOW, so you'll HAVE it to give away at Halloween... all you find in the trash are wrappers that nobody knows anything about!) The inference of mice in their candy might scare them away! This comes as a chart... hand-dyed flosses.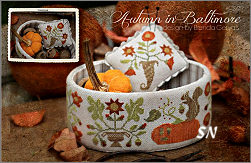 Autumn and Halloween are on their Way
They're here! They are all charts... here's the scoop!!!!
Basketful of Autumn Time -- This is the 3rd of a 4-part series. 93 x 83 In stitch count, preferred fabric is Summer Khaki, which comes in lots of different counts. There are a few over-one stitches in the Jack-o-lantern faces, and all is worked with hand-dyeds. No houses in the basket this time around... just that pile of pumpkins!
Bittersweet & Broomsticks -- 115 x 90, Super-cute! The golden color of the fabric highlights the flosses nicely on this... but something mangy and gray might be fun too!
Autumn in Baltimore -- The 3rd in this series, this time, you are seeing it stitched over one thread on 28ct Mushroom Lugana. Pin cushion, basket wrapper and even a little wool pumpkin, this all fits into a 5 x 3-1/2 x 2 oval paper mache box! Lots of stitching options with this one, each of the quilt motifs would make pretty little cushions and smalls...
The Cat & the Moon -- The 3rd small peat pot design, this makes a cute 52 x 53 pin cushion if you don't want the pot and ruffle finishing option. Notice how she's stitched the cat's face vertically so the thread variations are not horizontal??? I think it makes him look more 'vintage.'

With Thy Needle's

Newest Designs!



Strawberries & Stripes -- Brenda's second peat pot basket design -- finish this however you like. At 47 x 48 stitches in size, it's a perfect pin cushion size. I don't know if you can make it out in the pic, but the bird is holding a flag in his beak.
Betsey Snyder -- A reproduction of a simple sampler from 1822, Betsy stitched the letters in her name in a scattered fashion in the bottom half of this, and I bet she had a dog that she dearly loved! 186 x 142, this finishes approx 11-1/2 x 9 on 32ct.
Queen of the Needle -- Well, you definitely have to put your initials on this one!!!! 3 x 4-ish, pretty hand-dyeds, make this one for your next pin cushion exchange at an event!
Farmyard Parade -- Ole and Ora Woolson are the Grand Marshals of this year's 4th of July Parade! 70 x 70 in size, they finish approx 4 x 4 on 36ct.
To Thee From Me


With Thy Needle is sending a new design this week... a pin cushion finished in a little painted peat pot! Offered as a chart, this measures 49 x 49 in stitch count, and the finished piece is done on Weeks 36ct Linen. Brenda uses a smattering of various hand-dyed flosses to make this precious tiny piece!

She talks about the peat pots ('Jiffy' brand at WalMart JP312) that are available (in season right now) in garden stores. She plans on doing more designs to finish like this one... so buy the pack of 6 pots -- not just one! She's taken that pot, painted it and added some crepe paper as a trim -- those items are described inside the chart in her finishing instructions. Just a sweet springtime basket of flowers -- for you or someone special... do the peat Pot thing... or whatever YOU want!





Eleven New Designs

from With Thy Needle & Thread
Brenda Gervais introduced 11 new designs at Market! There are two new series of Seasonal charts, and some new 'people' Brenda will start to feature in some upcoming designs. All of these are presented as charts.
The Basketfuls -- 4 Seasons of basket designs in chart format. Spring and Summer arrive next week... Autumn and Winter come later. Finishing approx 4-1/2 x 4 on 40ct. Note! There is ALSO another title, CS106, Basketful of Spring, by almost same name... just so you're aware!
Seasons of Baltimore -- Another 4-Seasons set, Spring finishes approx 4 x 6. Summer wraps around a paper box... all are inspired by Baltimore Quilts
Hen & Chicks -- Cute little 3-1/2 x 5-1/2 pincushion.
Brick House Sampler -- Same colors as the Summer Schoolhouse ABC series, Brenda stitched this on the same 28ct Lugana, so it is a COMPANION to that series!
Blessed Bee -- Lots of bees in the garden! Finished size is approx 5 x 5.
Indigo Lane -- Oh all blues and taupes, chart includes patterns for both designs -- picture and trinket box.
Here a Peep, There a Peep! -- The 3rd seasonal in this set -- remember the Halloween and Christmas ovals?
Have Ye Any Wool? -- Pin cushion 4-1/2 x 3-1/2, it features soft denim colors and Ole and Ora Woolson!
Welcome Spring -- Fun smaller pillow, this finishes approx 7 x 3-1/2... aren't the little blue spotted eggs in the wagon cute?
Peppermint & Holly, and Merry Wishes
Peppermint & Holly is a sweet Christmas Angel gathering her holiday holly. Worked on Weeks Dye Works 35ct Twilight Linen, choose something dark. Lots of the various dark grays or chalkboard-colors in both linen and aida will work beautifully. Stitched with a smattering of Weeks flosses... that striped cording (not included but readily available online) adds the perfect finishing touch! Love the red/mossy/gunmetal color scheme!!! This finishes approx 5 x 7.
Merry Wishes - This is a little sheep decked out for Christmas! His festive little holly bow and that pretty basket on his back... this is presented as a small chart, with the design finishing ornament-sized at less than 3 x 3. Fabric shown is Picture This Plus's 36ct legacy, trim is Lady Dot's Lush Lawn Chenille that has been coffee-stained and baked!



Several Christmas Offerings coming our way

from With Thy Needle
Brenda Gervais is sending 4 new charts later this week... always such a fun package to open when the mailman delivers!!! Here's the Scoop!
Merry Christmas -- Santa and his reindeer out for a stroll in the wintry landscape... this is shown stitched over one thread on the same 28ct Mushroom Lugana you might have enjoyed while stitching WTN's Summer Schoolhouse Series! (If you didn't enjoy going over one thread (!), just go over two!! The Cross Stitch Fairies will not be upset with you!) A pretty design, this will finish either a petite 5-1/2 x just 2, or approx 11 x 4. Brenda's lovely color palette of Woodrose, Wood Trail, Endive, Chili Pepper, Eggshell, Peanut Brittle and Straw Hat hand-dyeds are featured. She even suggests you stitch this on large -- like 18ct linen over 2 -- you'd get a 17 x 7 sofa pillow!
Snow Birds -- A snow-person couple chilling in the blustery winter weather! Brenda loves the assorted little winter birds that gather along the side of the roads but then fly away the minute you drive by. You can never get a good look at them... but she's always called them *Snow Birds* and in this design... had given them SCARVES to keep warm! Weeks Confederate Gray linen provides the dreary, chilly background for this charming design! Stitch count is 121 x 85... Confederate Gray comes in 30, 32, 35, 36 and 40ct... so you have size options! Metal snowflake embellishment is a mystery and not included... sorrryyyy.
O Tannenbaum -- This is cute! Make a set of 5 individual pin cushions, or ornaments... or put them into the fun little tray! Presented as the chart. (You're on your own for the sheep figure.) Stitched on 36ct Legacy linen by Picture This Plus, (pin cushions and ornaments can be worked on other counts, but 36 is absolute for the tray) the hand-dyed colors are yummy! Sandcastle, Red Rocks, Dried Thyme, Apricot Blush, Old Red Paint, Cidermill Brown, Woodrose, Roasted Marshmallow, Wood Trail, Eggshell, Hickory Sticks, Weeping Willow and Hazelnut. The wooden tray measures 10 x 10 x 1-1/2 inches in size.
Jingle All The Way -- Another cute paper mache' box finishing treatment -- just like Spirits and Spells -- this is stitched on 40ct Confederate Gray with Brenda's gorgeous color palette of sift hand-dyeds. Bigger fabric count? Just get a bigger box! Trim pictured is Lady Dot Creates -- Mini Balls in Vintage color.



Sneak Peeks from Brenda Gervais


Three new charts are coming our way in the next few days -- With Thy Needle is turning towards Fall and Halloween!
Spirits & Spells -- A small 56 x 80 design, this finishes about 3 x 5 on 40ct (over two), and is shown mounted on top of a little paper box. Full of pretty hand-dyed Autumn colors, it is trimmed with Lady Dot's Vintage Mini Pom Poms -- which will work on the box or a pin cushion finishing treatment. The little owl is darling... if you like the fall flavor but not the witch, leave her off and add your initials instead!
Autumn's Bouquet -- This is SO cute! 126 x 81 -- This finishes approx 5 x 7 on 36ct Picture This Plus Legacy Linen. A mixture of hand-dyed cottons, the little squirrel is stitched with Rainbow Gallery's Antique White Wisper. If you don't get ANY of the other threads -- get that Wisper -- it makes him furry! The red tray looks like 'tin' to me, and acorns everywhere make it seem like he's in an Autumn Acorn storm beneath oak trees!!!
Hallows Eve at Raven's Hallow -- This finishes approx 6 x 10 on 36ct Beige Linen by Weeks Dye Works. More pretty Autumny cotton hand-dyed flosses, it features a very spindly vine that is attractive to blackbirds. The witch on here doesn't look too mean... her broom is home to her cat and that glorious vine coming from the little black urn.

Summer Schoolhouse Abcedarian Series
This is a 4-chart set that makes an entire collection of 4 x 4-ish alphabet pin cushions, a tiny 2-inch strawberry and coordinating little 3 x 4 (Miss Polly's Hornbook) wooden paddle! Part one features ABCDEFG, two is HIJKLMNOP, three is QRSTUV., part four finishes with WXYZ.

Charming little houses, a courting couple, pretty birds and floral urns... everything in this design set is sweet! Stitched on 28ct Mushroom Lugana, the 9 x 54 cut called for will be enough fabric to stitch every piece in the set -- layout instructions are provided for you.
Everything is stitched with Weeks Dye Works hand-dyed flosses.
There are several *extras* you need to know about...
Lady Dot's Birdsnest Baby Rik Rak trim is featured -- available in 3-yard packages.
Weeks Dye Works hand-dyed green wool is featured as the strawberry topper. Our approx 8 x 8 schnigglet cut will do several berries.
NOTE! Brenda has sent us a layout chart that will be really helpful for you to portion out your fabric for the designs.
Click here a pdf of it.


All the New From With Thy Needle!
We have 11 new designs by Brenda Gervais... Easter, Summer and Stitching themes... everything is beautifully presented in her charts. Scroll down to see all of Brenda's cute new things!


Quaker Handework -- Here's a pretty Quaker-inspired sampler -- not huge like so many you see -- this one finishes approx 10 x 6 on 35ct. Usually these are worked with one shade of floss -- this one features 5 colors! Very balanced, very pretty, the bird in the center makes a nice focal point.
Essamplaire Petite Collection I & II -- Here are two different sets of 4 tiny samplers each. Models are on 40ct, and they finish about 2 inches each. You can work them on anything... they are small to begin with, so nothing will make them huge and gangly. Just sweet pieces that are fun for a medley of tiny framed samplers to all gather together on a wall... or a set of pin cushions in a basket... you decide.
Heart & Hand -- *Hands to Work, Heart to God* a simple sampler with a wide border on three sides and bottom alphabet. Very organized and 'new' looking. this finishes approx 10 x 10 on 18/36ct. cheerful colors, nice design lines, this actually would make a very pretty couch cushion!!!
Faith of the Heart -- *God finds a low branch for the bird that cannot fly.* A gorgeous set of birds on floral urns -- that stately house in the center... and the neat verse... this is lovely. Finishing approx 11 x 6 on 36/18 ct, this has a lot of visual impact and good balance. Very pleasing to the eye!
Lady Liberty -- A pretty floral urn and that billowing flag... very pretty design elements in this. Lady Liberty's skirt is kind of pale against the fabric... it was in real person as well. Change it if it clashes with your fabric choice. Finishing approx 5 x 6-1/2... very pretty.
Tulip Festival -- This one has a lot of visual impact -- you see the repeating tulip motifs on here... they mimic the dress! (thank goodness our hips are not shaped like hers!) Approx 4-1/2 x 7 on 36ct... just a cute springtime piece!
Mice in the Sewing Room -- Oh My Gosh... MORE of these cute little mice! We have them at Christmastime... they can't get any cuter than these! Chart... finishes 4 x 4 on 35ct (you choose anything you want), hand-dyed flosses... tehy speak for themselves!!!
Berry Days at Thistle Down Farm -- A charming house design, this is shown on top of a wooden 'book' box, (6 x 5-1/2 x 2) and finishes approx 4 x 4. There is also a matching miniature fob design in the chart ... can you see it in our model pics? A pretty design all by itself, Brenda has finished this atop a wooden box (it is unfinished.. you do the painting) that looks like a book. It has 'pull out pages' -- a little drawer coming out of the side that is so cool! 36ct Linen, Weeks and Gentle Art hand-dyed cottons.
Bloom -- Another *word*... these designs are all fun! Very bold and simple, approx 9 x 3 on 35ct... it's all a brick red and mossy green colorway.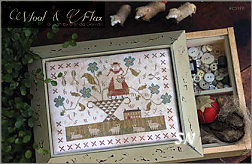 New Designs

from With Thy Needle
With Thy Needle has 5 new designs!
Wool & Flax -- *She seeketh wool and flax and willingly worketh with her hands.* This 5 x 7-inch piece is worked on 36ct over two with hand-dyed flosses. Our woolgatherer is in her garden with her sheep, shears are handy, but her sheep don't look too fat and furry! But the blue flowers are pretty, and the design elements are charming!
Oktober Feast -- This is a cutie! Just a 55 x 55 stitch count piece, it finishes about 3 inches round. Worked with hand-dyeds on 36ct, it'll fit the most CHARMING miniature "wooden table' cushion base! Little 1-1/2 inch legs, give it a spray of paint, distress with some shoe polish or wax, add your stitching and trim with Lady Dot's Vintage mini-ball fringe.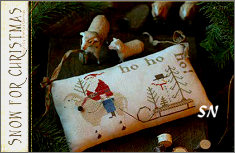 Christmas Tea, The Christmas Bird & Snow for Christmas


A trio of Holiday designs -- each are presented in chart format, and of course, worked with hand-dyed flosses.
Christmas Tea -- This one companions last year's #170 Merry Mouse! She was hanging candy canes last year (still has her apron on and everything) and this year, she's serving Santa hot tea! They're standing on a gigantic Christmas china tea cup, too! Finishes approx 3-1/2 x 6 (petite!), and Brenda has included a few images of the paper tea bag label, so you can make that little hanging tag.
The Christmas Bird -- A lovely china dish set against a deep brown linen, this highlights Brenda's favorite ornament on her tree at home. It's one of the German glass birds with the brush tail. She always puts it on first, and takes it off the tree last -- so it remains of the top of the ornament box every year! The pic finishes approx 3 x 6 on Weeks Chestnut Linen.
Snow for Christmas -- Santa on a sheep -- too early to be in his sleigh behind his reindeer -- he's bring in home a snowman and a few Christmas trees to decorate! You can even stitch JUST that snowman sled as a single ornament in you want. He's making sure we have a White Christmas! Smallish at 3-1/2 x 7.



I Rest Thy Needle


A charming floral urn 3-1/2 x 3-1/2 inch design has to be stitched on 36ct linen to fit Lone Elm Lane's super-cool NEW Sewing Clamp Bpx.

Brenda's design is stitched with hand-dyed flosses, and then is mounted into the top of that darling box! (This is offered in Vintage dove color only, at this point.) Offered as the chart, box is separate.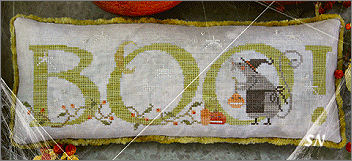 Scary Mouse


Just a big BOO, and a tiny witchy-mouse, this finishes approx 3 x 8-1/2 on 40ct!

Hand-dyed flosses, chenille trim... JUST THAT LITTLE MOUSE is about 40 x 40, and cute enough to be stitched by herself! Offered as the chart.





One For The Crow


On 40ct, this pair of pin cushions finish at 5 x 5 and 2-1/2 x 5. Hand-dyed flosses, I think our witch is planting her garden of Witch Hazel, Mug Wort and Bittersweet -- one for the crow, one to die and one to grow (in her garden!)

Offered as the chart.





Autumn's Fruitful Labor


How pretty for a kitchen eating area or a dining room! *When the year from bountiful labor turns to rest... founts of warmth and comfort in my being flow.* The farmer and his presumed wife (!), their lush harvest and neighbors waiting for the big meal... this measures 137 x 227 -- or 7-1/2 x 12-1/2 on 36ct linen.

Lots of delicious hand-dyed flosses, this is just a pretty piece!Offered as the chart.





Spring Frolic at Bunny Hill


Finishing approx 5 x 5 on 36ct linen, this is mounted in a Sewing Box. Several box colors will look good with this one!

Simply Wools would be neat in the rabbits and their tails and even the chicks in the grass.


Spring Delivery


I love everything about this! Cool irregular zig-zag sawtooth border, the repeating pattern in the tulips, and that awesome running rabbit complete with luscious basket of berries on her back, it's very pretty and festive for Spring.

Finishes approx 6 x 3-1/2 -- very bitty on 36ct linen or 18ct aida.


The Gilmour House Sewing Tray


Brenda has been Inspired by antique coverlets woven by the Gilmour brothers of Union County, Indiana in 1839. This trademark house, between two trees with it's picket fence appears in most of their coverlet borders. Choose this cream on natural color way, or change it up to match your decor. It fits inside a small wooden tray measuring approx 4-1/4 x 7-3/4.

The tray comes unfinished, so she includes painting and distressing instructions for you. You HAVE to stitch this on 40ct to get it to fit the tray... but on 7ct Klostern with #3 Pearl Cotton, it'd look like a coverlet and measure approx 20 x 9! Offered as the chart, we have the little trays for a limited time.


Needle & Thread


*Sew... A Needle Pulling Thread!* Isn't this a fun design??? Thank goodness we don't have to use our rumps to hold our threads like the girl in the piece!!! I love the buttons on the vines growing from the spools -- use some out of your Grandmother's button box. On 36ct, this finishes approx 11 x 6, and is worked with a smattering of hand-dyed flosses.

Check out the little birds -- one has the threaded needle in his mouth, and then there is another going sideways up the tree stem. Cute scissor motifs scattered about, too.


Land of Liberty


Very charming.... just a petite 3 x 7 on 40ct over two. Surprisingly, there are 10 different hand-dyed colors in here -- she has different red, creams and blues in Sam vs the flag... -- but I think you could get by using the same ones?

Don't miss the puppy carrying his own little flag! We have Vintage mini-ball fringe trim by Lady Dot Creates that will look awesome on this, as well.


Good Deeds


*Good Deeds Live Long* Fun little blackbirds in that border, this finishes approx 10 x 6 on 36ct.

Neat pattern repeats in the tulips, but I just LOVE that border!!!


Liberty For All


Wow, wow! What a fun design -- patterned texture repeats all over the place! All the leaves -- basically the same shape angled every which way -- all the tiny berry dots mixed in to separate all the leaves. The milky bowl, the draped striping... the matching stripes in the flag... they take your eye from the left of the bowl right to the tip of the flag. Then there is the hat on the bird -- you almost miss that! I love everything going on in here!

Stitched on 36ct, with yummy hand-dyeds, this finishes approx 8 x 6-1/2 -- doesn't it look much larger than that??? (It's because of the lush leaves and that bowl, that long flat line across the ribbon drapes.. and the bird tail and flag that draw you off the right edge!)


Red Bird Fraktuur


Fraktuur designs are traditional -- lots of them in Pennsylvania Dutch designs.

This one finishes approx 14 x 8 over two on 36ct linen. Pretty rusts and greens.


Our Story


*Home is where our story begins.* What a neat piece to stitch for a housewarming or wedding gift!!!!! Presented in chart format by Brenda Gervais, this is pretty and not 'fussy.' Measuring approx 13-1/2 x 8-1/2 on 35ct, choose any neutral background material -- you just want that neat house to show up -- unless you want to change that color as well!

Simple and fresh looking -- you CAN get it finished in time for the big event! You could even personalize this for your family or another.






Live Simply


This is ITTY BITTY! It finishes about 3-1/2 x 4 over one thread on 35ct!!!!! (Ok... 8 x 10 on 28/14!)

15 Different shades of hand-dyeds in here, it SAYS Live Simply, but it's chock full of busy-ness!!!! Charming!


A Stitch in Time


Oh a sweet little case with matching pin ball... the colors and finishing on this are really neat. Stitched on Gunmetal linen with Dolphin, Cognac, Woodrose, Mustard Seed, Heirloom Gold and Ye Olde Gold.

GREAT pic inside the pattern of the ball edges and inside of the case, this is such an unusual set of pieces!!!


Blessings Be Thine


This love-themed chart by Brenda Gervais of With Thy Needle has now arrived. Stitched on 35ct hand-dyed linen it finishes approx a generous 5 x 6 and calls for Beige, Peach, Woodrose, Wood Trail, Heirloom Gold, Eggshell, Peanut Brittle, Polliwog, and Hazelnut.

I love that soft ball fringe trim on there as well... we have a lot of colors available to blend with the threads and fabrics.


Merry Noel


We've been waiting for this little piece to arrive since Christmas -- a little late for this year's NOEL Season -- but here in plenty of time for next year!!! With Thy Needle's Brenda Gervais has stitched this softly colored design on hand-dyed linen in colors of Mulberry, Woodrose, Toffee, Muddy Puddle, Barn Door, Avocado, Tennessee Red Clay and Ye Old Gold. I don't see much gold in here... the urn I guess... but I see lovely antiqued brick reds instead.

Offered as a chart, Merry Noel finishes approx 3 x 9 on 40ct and is trimmed with hand-dyed mini-ball fringe. Brenda has distressed her linen and finished stitching... you have lots of fabric and color options with this piece - very simple and elegant! Offered as the chart.


Christmas at Winterberry Cabin


A giant St Nick and his reindeer pulling a little snowman sled -- all through a very sleepy village... this finishes approx 5 x 11 on 32ct. Definitely coffee-distress this for an aged look.

Brenda has finished it with rusty jingle bells on the two ends! (Spray them with some sort of matte sealer though... or they'll keep rusting all over your pillow!)



Christmas From With Thy Needle's Brenda Gervais!
Oh... we have four lovely new patters, so dog-gone cute... I don't really have a favorite! All are offered in chart format, so here we go!
Ho Ho Ho! CS169 -- Merry and Bright... this one is stitched on a cut of Week's Dye Works 36ct Tin Roof Linen (it comes in 30 and 32 as well) with hand-dyed flosses. It measures a mere 90 x 90 stitches -- so 6 x 6 on 32ct... a generous pin cushion size. We have the most DELICIOUS chenille and mini-ball fringe trims by Lady Dot Creates... I hope you'll let us choose something pretty to trim this for you!
Merry Mouse CS 170 -- This is an upside-down Santa hat with a little mouse wearing an apron! I think she's decorating holly greenery with a candy cane! The cutest little thing, this is another chart -- 91 x 92 stitches -- hand-dyeds again...
One Starry Christmas Eve CS 171 -- Oh THIS is COOL! It is stitched on Aztec Red Weeks Linen -- so you stitch all that black -- NOT the red! (Think about using some wool to make the outside black area -- save yourself lots of extra stitches with that little trick! Terrifically yummy, this is just 108 x 111 in stitch count. The Aztec Red comes in 30 and 36ct.
Jolly Happy Soul CS172 -- We love this little guy, choose a neutral linen -- something that his light color will show up on, and stitch this little 104 x 70 piece. The words are done in Classic Colorworks Muddy Puddle -- it's such a pretty and distressed flavor for this!



Halloween and Thanksgiving from With Thy Needle


Brenda Gervais has been busy... and has sent 4 new designs!!! Everything begs to be distressed with coffee or walnut shells when you've finished them, and even though they are shown framed... pillows and door hangings would be cool too. All 4 are presented in chart format.
Grateful, Thankful & Blessed is a Thanksgiving piece -- The elegant house, Mr & Mrs, and the lavish basket of blessings up on the roof, this is worked on 36 count and finishes approx 8-1/2 x 10.
Oct 31st -- Kind of fun, check out the jack-o-lantern growing on the vine from the little pot! The blackbirds are clinging to the trees and the oak leaves and acorns on the branches provide lots of balance up in the sky. Stitched on 36, this will finish approx 6-1/2 x 9.
Witches Night Out -- A DARLING 5 x 5 Pinkeep, that little witch looks like she's NOT going to take a swim in the potion anytime soon, either! 36ct Linen, isn't the mini ball fringe yummy on here??? We have several colors that will work on here -- it comes in one-yard packages.
Bobbing for Pumpkins -- Ladies doing the laundry, it looks like to me, but I guess they're planning a party? Stitched on 32ct Weeks Straw Linen, this finishes approx 5-1/2 x 7-1/2. This one could use some ball fringe as well... a little color around the edges.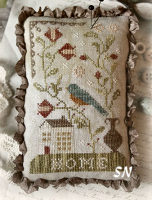 Bluebird Out My Window & Grand Olde Flag


Brenda Gervais has two new charts that are really cute!
Bluebird Out My Window has a stitch count of 60 x 96, so on 30ct, it'll be approx 4 x 6, smaller or larger depending on your fabric choice. Soft hand-dyed colors, just a pretty little piece.

Grand Olde Flag is neat -- it has a STITCHER atop of nice big spool of thread! I suppose this could be Betsy, but I prefer to believe it could be me... battling for LIBERTY by conquering my huge stitching stash... and looking this good when I am finished!!!! (notice the crown on my head???) The model is stitched on 40ct hand-dyed linen with a mixture of brands of hand-dyed flosses. It finishes approx 5 x 6... and is shown finished onto a flat board with mother-of-pearl thread rings attached to the right side.





A & E


*The serpent deceived me & I ate* Oh well!!! Something simple stitched on Weeks 32ct Beige Linen with several shades of hand-dyed flosses.

Peach, Sage, Pelican Gray, Harvest Basket, Woodrose, Parchment, Apple Cider, Heirloom Gold, Weeping Willow, and Terra Cotta, this finishes approx 6-1/2 x 8.


Stars & Stripes


Oh gosh, this is pretty! Check out the neat, spindly stars and those gigantic pomegranites! Worked on 35ct linen, this will finish approx 8-1/2 inches square.

Adobe, Schneckley, Sage, Caper, Pelican Gray, Harvest Basket, Woodrose, Roasted Marshmallow, Heirloom Gold, Endive, Blue Corn, Ye Old Gold and a bit of Terra Cotta! Offered as a chart.


Summer at Cherry Hill


This is a fun piece! Stitched on 40ct linen, it'll finish approx 13-5/8 x 15-3/4, so it is quite large. Worked in lots (19) of various hand-dyeds, I love several of the design elements in here. I like the blocky border, and how it interrupts on the second go-around... and the fact that it doesn't start at the upper left corner. The cherries and leaves, bees and numbers all dot the background. I really like the beehive on its side!!! I LOVE the pattern in the dress.

Then, Brenda tells you to stitch the flower stems down in the grass with the darker parts of your Avocado floss so you get lots of contrast. And... wouldn't the urn of pomagranites be cool done as a small pin cushion?


Shepherd's Sampler


Sheep and a windmill... an irregular border, sun hats on the little people! This was adapted from an antique sampler in Brenda's personal collection. She deleted the verse -- which was terribly morbid -- but did share it with us in her notes! (You gotta buy the chart to find out what the original sampler said!)

Stitched in 12 shades of Classic Colorworks Silks this finishes approx 12 x 5 on 36ct. Silks featured are Angel Blush, Attic Tea, Limestone, Mudpie, Oatmeal Scone, Poison Apple, Pumpkin Carriage, Red Fox, Scarecrow, Miss Green Jeans, Peaches n Cream and Slate -- with DMC floss options as well.


Be Happy Humble & Kind


Well this looks very Pennsylvania-Dutch to me! The giant urn with the house in it is interesting... there are 14 different colors in this!

Stitched on 35ct linen, it finishes approx 10-1/2 x 6. Actually quite a different look than the rest of this new group of designs.


In Season


*Love is a fruit in season at all times & in reach of every hand.* I LOVE LOVE that big urn of bounty! Verse is worked over one. On 36ct linen, this finishes approx 9-/2 x 5-1/2 and is worked with 20 different shades of hand-dyeds. It doesn't look like that to me... but that's OK!

You can pull out that urn, leave off the things in the background, and delete the bird and grape leaf, and it'd make a neat harvest cushion! Offered as a chart.


The Potting Shed


Brenda has finished this into a big 'ol pin cushion! On 40ct it measures about 8 x 4, and is worked with 18 different hand-dyed flosses by Weeks, Gentle Art and Classic.

The chenille trim around the edges is a soft touch... but you could try that torn fabric edge treatment she has shown on her Spring Greeting Bouquet design. That's kind of fun because you can choose a fabric that matches your stitching -- even use a coordinating color from the same fabric line. Offered as a chart.


A Tisket A Tasket


What a charming little piece! Stitched on 32ct Beige Week linen with yummy hand-dyeds, once again, you are making a puffy, covering the gathers along the bottom with fabric, attaching it to your painted and distressed candlestick base, and then sewing on dangly buttons for trim!

Running your floss through a waxer several times gives it that aged, cotton cord feel, and makes a neat, stiffened bow to trim. Offered as a small chart.


Hallo-day Inn


This is a fun design -- a pair of cooks in the kitchen, I think they're starting a fresh pumpkin. The little owl looking on better move out fast, looks like he has to dodge the family cat waiting outside as well!

Brenda offers this as a chart -- it is stitched on CREAM linen that you coffee-stain before stitching. Easy instructions are included for that to make this 8 x 8-ish inch piece. Worked with all three brands of hand-dyed floss, it's just kind of a sparse little thing!


Blue Bunting


A sweet little bluebird worked with one ply of floss over one on 32ct Platinum linen... get out the magnifier! Using just bits of hand-dyed floss, this fits into one the new watch-face charm frames we have.

Quick finishing, I'm not sure where you'd put this... maybe a basket tie or something small... but it is pretty!


Gardener Goode Witch


Look at that little kitty pulling the garden wagon of pumpkins! (she's only 20 x 55 stitches!) And check out the little owl watching over the garden! This is another pretty pin cushion design that measures approx 5 x 10 on 32ct.

Mange up your fabric a little before stitching (Brenda tells you how in the instructions), stitch this, add some mangy fringe, and add this to that overflowing basket of yours that displays a million different walnut-shell-stuffed cushions in it. Good hand-dyed colors from all three floss companies! Offered as a chart.


Summer Saltbox


A wisp of a thing, this is worked over one thread on 32ct linen using overdyed flosses. It fits into the watch face pieces Brenda has used in some of her Halloween pieces.

Stitch count is only 39 x 43... so even a small scissor fob would be cool. Offered as a small chart, watch finding available separately.



Country Stitches' Brenda Gervais has new Autumn and Christmas designs... you can see how cute they are... even without any descriptions from me!
Boo & Baa-bbie

A very competent sheep pulling his pumpkin cart, some of his fall flowers are actually tiny bits of hand-dyed wool tacked on after the stitching is complete. Finishing approx 6 x 7 over two on 40ct... it is worked in hand-dyed flosses that include Gold Leaf, Pumpkin Pie, Toffee, Endive, Caper and Schneckley. We'll send a pretty schnigglet cut of wool that matches the design -- if you need some.
Acorn Gathering Sewing Roll
This makes a calico-lined, button-trimmed sewing case, complete with tiny wool strawberry cushion inside! On 40ct, it measures 8 x 3-1/4 and is stitched with yummy autumnal shades of hand-dyed flosses. Since it is a symetric design -- you could stitch just one half -- but I love the repeat of the squirrels and the flowers.

Christmas Cottage

A cut-away scene of Christmas Eve... this is shown in a frame but it might make a really pretty soft pillow. Worked on 36ct Confederate Gray Weeks linen, it finishes only 8 x 9. See the little sheepie on the mantle? He is over one! The brick wall is a combo of Putty and Almost Auburn overdyeds -- lovely!
Sampler Hill


With Thy Needle & Thread's Brenda Gervais has released three new samplers -- Sampler Hill is just one of them. Worked on Weeks 30ct Cornsilk hand-dyed linen with 21 different shades of hand-dyed flosses, it'll finish approx10 x 13. A pretty overall balance to this, everyone likes the way the trees seem to cradle the house on the hill. The alphabet in the grass is a favorite, and the fact that the beehive interrupts the border at the middle top adds charm.

We love to distress these samplers AFTER we have stitched them. Dilute walnut crystals, or use some leftover coffee grounds to stain your fabric and threads to give them a more aged and relaxed look. Offered as a chart.


Heart of the Home Sampler


This is a charming sampler that celebrates home and family! With a stitch count of 207 x 147, it'll finish approx 11-1/2 x 9-1/2 on 35ct. The hand-dyed floss colors in here are dreamy dusty blues, golds, avocado greens and aged whites. The design itself is cool because of all the motifs and the vines guarding the house. There is the young couple... and lots of 'keys to their kingdom.'

This would make a lovely wedding sampler, our house-established, family tree type of thing. Add specific and meaningful dates and initials in some of the leafy border areas and in place of the medallions in the lower left and upper right corners -- inside of the teal blue borders. Very pretty... what an awesome sampler for a new family!!! Offered as the chart.


Patriotic Poppies


Such dusty and aged colors of denim, brick reds, mosses and taupe, this 6 x 7-1/2 inch piece is worked with Classic Colorworks, Weeks and Gentle Art hand-dyeds on 40ct distressed linen, over two. It'll be a bit larger on 30ct, but not much. The five wool flowers on there could be bits of flannel or even colored linen that you have... you'll just want a color that matches your flower flosses.

Brenda has distressed this with coffee staining... and we offer crushed walnut crystals from Stacy Nash that do the trick nicely, as well.


Sweet Violet


This would be precious in a little girl's room or a sunny guestroom. Worked with hand-dyeds on 40ct linen - don't mange this one up with as much coffee staining -- our Ms Violet needs to stay clean! Again, you can see the small wool flowers that are sewn on here after the cross stitching is finished -- use wool, floral fabric or flannel -- whatever looks best with your flowers.

Violet has a stitch count of 95 x 102, and is offered as a chart.


Springtime Messenger


Isn't this the sweetest little piece??? Your Springtime visitor is worked on 28ct Straw hand-dyed gingham linen with a few Weeks and Gentle Art hand-dyeds. He finishes a mere 4 x 5, and is garnished with a smattering of old buttons.

We have small shell buttons (by Kelmscott -- a set of several dozen buttons runs $7) that work great for this... but you might have some old buttons in your collection somewhere that would be perfect. Make him into a hanging pillow or small cushion... the colors are very dusty and soft. Offered as a chart, buttons are separate.


Easter Parade


With Thy Needle has several new releases... this is another one of my favorites. Mr Bunny riding his Chick friend, he finishes approx 4 x 5 on 40ct... but will be larger on larger counts of fabric! He's offered as a chart and has lots of Springtime personality!

Worked in Weeks and Gentle Art overdyeds, Brenda includes instructions for gathering the silk ribbon to make her pretty edge treatment.


Mary Valentine's Handework


What a charming set of small romantic-themed designs! With Thy Needle urges you to go purchase small heart-shaped boxes of chocolates -- 1.6 oz Whitman's or 1.75 Russell Stover's, and the next larger size -- and use your empty boxes to finish 3 of these designs! Little Valentine Samplers and pin cushions... all 5 designs in here are worked on R & R's 30ct Old Towne Blend Linen with a smattering of overdyed flosses.

I can't choose my favorite design from this. The Forget-Me-Not pin cushion is very pretty... but I think the heart boxes are so unique -- they take your finishing in a whole different direction. Everything in here is offered in chart format with all the finishing and distressing info included. You'll just NEED those *empty* chocolate boxes!!!!!!


Needleworker's Sampler


All my scattering moments are taken up with my needle
Well... every addicted Stitcher needs this sampler!!!! By Brenda Gervais, this measures 146 x 242 stitches -- so on 28ct, it'll be 10 x 17, and on 40ct it'll be 7-1/2 x 12. (You can choose any color and count you wish!) A pretty winding border that is not symetric, the house is neat, I love the little dogs in there, and of course, who isn't drawn to the charming scissors and her fun, trailing thread from her needle?

Great Week's Dye Works hand-dyed colors including Parchment, Straw, Peach, Putty, Pecan, Palomino, Sage, Oscar, Olive and Red Rocks... there is opportunity to add more rust colors as well. Offered as a chart.


Manor at Peacock Hill


Wow, this is a pretty piece in person. You'd think that peacock is awfully big, but the colors are Otter Creek and Mountain Mist and just so pretty. Stitched on 30 or 35ct hand-dyed linen, this has a stitch count of 176 x 150. I like the couple tucked in the border, and the manor that is very subtle on the hill... something about this is very appealing to the eye!

As with a lot of Brenda's designs... you can start with hand-dyed fabric... or you can distress the finished piece all at one time when you are finished if you like that look. Offered as a chart.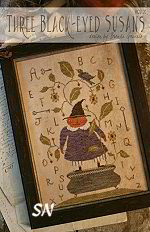 Three Black Eyed Susans


I shall not go to town while the wild bittersweet blooms... but I think she's already dressed and waiting to go! Check out her awesome pants!!! What a fun piece to stitch up quickly and make into a pillow -- I think ticking fabric or dark flannel would look really good with this.

The stitch count is 126 x 191 -- she's worked on 30 or 35ct hand-dyed with Weeks and Gentle Art hand-dyeds. I'm thinking you'll need 2 skeins of Pelican Grey for her pot, probably 2 of Olive for the grass underneath, and 2 of Week's Plum for her outfit! (Her pants are Parchment and graphite.) Kind of fun, offered as a chart!


Noel Sampler


Something very traditional for Christmas with lots of coverlet-inspired motifs, this has a stitch count of 218 x 226, so choose your fabric count based on the finished size you want this to be. Stitched with plain 'ol DMC floss, you can always distress later if you want... but this is pretty, clean and nice just the way it is.

If you're an over-achiever, you can do some special stitches in the #3866 borders dividing the alphabet, or do Satins in all the stars, and you could even stitch the reindeer with Gentle Art's Simply Wool! Offered as a chart -- enjoy!


The Pink Sparrow Sampler


Brenda Gervais has a lovely sampler that begged to be charted and stitched!!! Her antique -- the original -- features a fat little pink sparrow surrounded by a lavish floral border. She believes her sampler to be English in origin, from the 1800's... probably stitched by a young girl. (She says most only stitched one sampler in their school years... where do you stack up to that???)

Stitched on 30ct Week's Parchment Linen with 13 shades of Weeks and Gentle Art hand-dyeds, the chart is a pretty easy-stitch! Finished stitch count is 137 x 169.


Pumpkin Brew


188 x 135 Stitches of Halloween Magic! Our plump witch looks to be preparing for her Scary Evening!!! The border is kind of neat - very irregular. The little owls are precious... the skinny cat looks scared, and the broom looks worn and wispy.

Worked on a mangy hand-dyed... always use the overdyeds called for to maintain the old and antique-y look. Offered as a chart... for some reason, I can picture this finished as a neat pillow with lots of fringes.


Liberty House


A 5 x 7 mini-sampler, just a neat house underneath an ever neater tree, complete with eagle and flag... and of course, the alphabet.

No special stitches or anything, you could always add some in the lettering or the tiny borders and ding-bats, or even the grass or bricks on the house. But if not, this is simply a charming, primitive piece full of rich Pomegranate red and Endive green. Offered as a chart.


The Sewing Bird


How cute is this little pillow? Not your traditional Sewing Bird at all!!! A small 4 x 5-ish piece stitched with overdyed flosses can you see the flannel strawberry in the upper left-hand cornner?

The pattern for that little guy is included with this chart! It is attached to the finished cushion. A sweet design -- offered as a chart.


Brambleberry Bunting


What a fun shape Brenda has chosen for this finishing treatment! A 1 x 4 inch stuffed (ice-cream sandwich, hockey puck, or -- her buttermilk biscuits!) pin cushion, this is a little more structured than all her other floppy walnut shell filled squares.

A charming little bird tucked amidst a few alphabet letters and a berry vine... the stitching on this is minimal... only 64 x 64. BUT... even though it is small in size, it is charming! Offered as the chart with complete finishing instructions.


Dame of the Needles


Oh Gosh... this is SO CUTE!!!! I didn't realize it till I opened my package to help me describe it to you better. The stitching on the front of your 5 x 5-ish roll (really not rolled -- kind of a flat tri-folded case) is the alphabet, house and girl.

Inside your roll/case you'll make a sweet felt or wool bluebird applique design, with a coordinating little ticking pin cushion! Brenda has a couple of really good photographs in here to show you the finished piece, and lots of instructions, along with all the wool piece templates. NOT your average Cross-Sttiched Sewing Roll! Offered as the chart with all the necessary instructions!


The Sampler House


The PERFECT little cushion to store and display some antique keys! Your family mansion stitched on 35ct Weeks Straw linen will finish 5 x 5-ish.

It'd be kind of fun to replace the alphabet letters with house numbers of possibly Grandma's house and some of her old keys??? Offered as a chart.


Brenda Gervais has several new releases --
Three Tulips is one of my favorites.
With a stitch count of 132 x 200 it'll finish approx 6-1/2 x 10 on the called-for 40ct Weeks Parchment linen. It could be quite large on 18ct cream -- it would be 15 x 22 and make a huge guest bedroom pillow with some neat ticking and antique lace!

It's a pretty piece stitched with 10 different overdyed flosses, you could even stitch your bunny in Simply Wools from Gentle Art -- and he'd be a little furry! Check out the rest of the releases which are all chart packs. There is a basket that is finished onto a pillow -- real neat.


Crumpets & Tea


I love this verse: *A garden party of three, twas me, myself and I...I ate all the berries and cream, myself ate all the crumpets, twas also I who ate all the pie, and passed the tea to me!* So charming... can't you just picture a little girl playing by herself in the garden... having a tea party with her dolls and bears? She had a great meal!!! Offered in a chart pack, this can be stitched on anything you like -- the sample is on 40ct Parchment and measures 8 x 9.

Once again, we love stitching some of Brenda's things on large linen...(this one could be up to 18 x 20!) Mona finishes them with darker fabric underneath the linen... it kind of creates a pretty shadow of color... then trims with old lace and pretty mother-of-pearl buttons. (load up that guest bedroom bed with a mountain of gorgeous hand-stitched pillows!) This pillow in the pic features rouched twill seam tape -- another really cool edge treatment!


The Candlestick Maker Sampler


A very traditional house and keepers of the flame... this would be stunning hanging in a foyer as a welcoming piece. I love that big flowing vine... I'm not sure why the shears are there... maybe to trim the candle wicks? (I need to brush up on my sampler history a little!)

Anyway, this is offered as a chart. It is worked with 13 different shades of Weeks and Gentle Art flosses on 40ct Weeks Parchment Linen. Several other linen options would be pretty for this as well, and if you have to change that house color to a steely blue or lovely distressed colonial green... that's OK too! Very pretty and restful... stitch count is 148 x 134.


Valentine Sampler


*Sweet Love-Themed Cross Stitch to tempt you Needle!* Brenda Gervais has a new collection of tiny designs to finish into a scissor/needle keep, pinkeep, sewing box and scissor fob. Everything is designed to enhance your EMPTY Russell Stover Heart Valentine Chocolate Sampler box!!!! (Get the little paper heart-shaped box -- the one that holds 1.75 ounces of chocolate -- and paint it -- it's the featured heart-shaped box in the pics!) You'll need a fat quarter of 40ct linen to stitch the entire set of projects on the small box. (We have TONS of color choices for this) Get the bigger box of chocolate (more chocolate inside to eat -- DARN -- and choose larger count linen instead!)

All is stitched with Weeks and Gentle Art Sampler Threads overdyeds... and Brenda is terrific at providing all the finishing specifics about distressing the linen, filling the cushions, painting those boxes... you're just on your own to buy the chocolate and figure out something to do with it before you need the empty box for finishing! Offered as a chart.


Frances Pool Sampler


Brenda Gervais of With Thy Needle has reproduced an antique sampler that is big on traditional motifs and easy on the stitching! Originally worked by 13yr old schoolgirl Frances Pool in 1832, the antique has colors on the back that are still bright, but the front has aged quite a bit. Faded flosses and darkened linen are the enemies time brings to needlework. Brenda has re-charted her sampler -- lots of fabric and threads are missing from the original, and she has chosen softer colors than Frances used -- because in 2013 -- we 'expect' our reproductions to look old (and honestly, sometimes not quite like that original!!! Not a bad thing -- just an observation!) Confederate Gray, Sage, River Rock, Tarragon, Red Rocks, Tarnished Gold, Harvest Basket, Old Red Paint, Wood Rose, Wood Trail, Heirloom Gold and Otter Creek...!

Anyway, Frances' sampler is lovely. It measures 211 x 205 stitches, is worked on Week's 30ct Parchment Linen and uses 12 different colors (17 skeins total) of Weeks and Gentle Art Sampler Threads. If you sign your name in the signature block... you can make yourself any age you want!!!!!! Offered as the chart.


Heaven and Nature Sing


An angel with a basket of fruit -- trees, reindeer and nature in the background -- this finishes approx 10-1/2 x 7 on 30ct. All hand-dyed flosses, Brenda includes finishing instructions -- even some to *flatten* your pillow and make it LOOK OLD!!!!! You can back the pillow in the same linen for a really aged look too! Lots of old and dusty colors in here... very pretty!


Letters for Santa


Here's another ABC Pillow chart -- matches House of Blues and Browns and Hilda'a Alphabet... THESE ARE CUTE! Stitch the simple alphabet panel and then finish into a pillow at least twice as wide! Find some cool lace or trim you like -- stain it if necessary -- and use coordinating ticking fabric -- YUMMY! A set of simple designs -- they stand out because they are not busy. Offered as a chart.


Witch Pumpkin?


An autumnal pocket decorated with a little witch on her broom looking for her perfect pumpkin! Stitched on 35ct, this finishes a mere 5-1/2 x 6.

Brenda shows it finished with a bit of homespun fabric peeking from the top -- I like the primitive X's all across the seam, and of course that rusty key is kind of cool -- probably a flea market find!!! Offered as a chart. Stitch with Gentle Art overdyeds.


Hilda's Alphabet Brew


With Thy Needle has another long, skinny pillow to companion her *House of Blues and Browns*... only this one has a Halloween theme! A very clean alphabet... the top row is garnished with our resident witch, her cauldron, and neighborhood cats.

The 101 x 96 stitch count design is quick to stitch with overdyeds in your stash. The pillow finishing is just the best! Get some pillow ticking fabric, find a neat rick-rack trim... and make that unusual shape that will tuck so beautifully into a pillow medley display. Offered as the chart... just cute!


Strawberry Hill Sampler


What a pretty set of designs! Brenda has presented us with a Sewing Box topper design, a three-fold Huswife, and matching Pin Keep and even a felt scissor case that is shaped like a little strawberry! Everything you see in the pic is included in the set of patterns... along with templates and of few of the backs of the pieces that you cannot see!

Choose a yummy linen of your liking... grab your Weeks and Gentle Art flosses, get some pretty wool for the berry and Huswife lining... some old lace and buttons for that cushion... and some chenille or rick-rack for the box topper edging... and you'll have a wonderful set of pieces to show off! Pretty colors, great instructions, this looks like a very *finishable* set of designs!





Word Plays


With Thy Needle's Brenda Gervais is beginning a new 12-part set of monthly designs that finish into 4-1/2 x 7-1/2 doorknob hangings. Name of the month is in here, as well as words of the season! Stitched on any yummy hand-dyed you want -- the chart calls for Gentle Art Sampler Threads and one color of Weeks.

Simple and real cute, stitching just a few of the motifs each time and making them into bitty cushions would be another awesome application for this new set of charts! We're starting an auto-ship, as Brenda's new releases tend to sneak up on you... and you don't want to miss any!


Peter & Peep


What a fun design! With Thy Needle has a few new releases -- this one, a chart with a stitch count of 140 x 215 is one of two that are oversized when finished. Brenda has it stitched over two threads on huge fabric -- our models are being worked in 18ct Cream linen -- to finish 15 x 24!!! You can ALWAYS stitch these a bit smaller (like 9 x 13 on 32ct!) but we liked the whole idea of a gigantic, super-simple Holiday decoration -- a full-sized pillow for a pretty guest room bed!

Stitched with Sampler Threads -- you're going to need a lot of thread to cover on the 18ct, but what a unique presentation. Everything is stained with walnut crystals when you are finished, if you want an antiqued and grungy look. If not, keep the crisp cream and Sampler Thread colors. This calls for Pumpkin Patch, Brandy, Walnut, Aged Pewter, Apple Cider, Old Hickory, Pumpkin Pie, Caramel Corn, Wood Trail, Toffee, Endive, and Otter Creek. Sounds more like Autumn to me!


House of Blues and Browns


Houses, the Alphabet and sampler birds... it looks like there are only 3 colors in this, when there are actually 6 different Sampler Thread hand-dyed colors! Another gigantic design -- stitched over two on 18ct Cream linen, the stitching finishes 11 x 11... so this pillow in the pic is really more like 12 x 24 in size!

Going smaller with your fabric choices will produce a piece that is 6 x 6 on 32ct - so don't let that huge linen size throw you. Actually a very simple alphabet design -- I love the finishing treatment -- on a large OR small scale. Offered as a chart with the finishing details.


Boughs of Holly


Here's a snowman planter growing springs of holly! Brenda Gervais has a cute design that she's stitched on large fabric to finish into a 15-ish inch square pillow! It doesn't look that big in the pic, but it really can be if you choose an 18ct Linen! Stitched with Weeks and Gentle Art overdyed flosses, the holly berries are Algerian Eyelets worked over 4 threads -- the rest is simple Cross Stitch.

Next, instructions are included to transform your originally cream-colored fabric to that mangy, distressed and relaxed look of *aged.* With a stitch count of 122 x 128... this is a darling design that will look good on most any fabric you choose. Offered as a chart.


Love-Filled Heart


Another of Brenda's charming heart-shaped pin cushions, this one goes with Sewing Bird and Love Letters... so sweet! Stitch the heart on two pieces of linen (or get fancy and use one piece but fold it to make the pocket)

Finish, and add an old photo or ticket stub, or package of antique needles or buttons. Offered as the chart, this finishes approx 6-1/2 inches stitched on 40ct.


Sampler *THINGS*
Here is a very simple, primitive sampler design that is finished so creatively! Offered as three individual charts, each one is on the small side, but assembled into endearing little shapes!


Welcome Sampler

is a pineapple -- it's stitched on 25ct in regular DMC floss -- and finishes a mere 3-1/2 inches tall (before its leaf top.)
I just love the idea of stitching these tiny pieces, and then finishing them into the various shapes. What a cool, unique way to treat your needlework! What lovely things to tuck into a medley of samplers. You could actually use them as pin cushions -- very untraditional ones, at that! All are offered in chart format with finishing instructions and actual sized shape templates.


Love Letters


Two new "Sampler Things" as I like to call them... Brenda Gervais has a precious new sampler that is finished into a little stuffed heart! Stitched on 28ct linen in DMC flosses, simple letters and tiny motifs are stitched, and then she gives you directions to further distress your stitching with coffee staining! Simple instructions to sew into a heart shape... you'll want to find an old, dirty key lying around somewhere -- that adds lots of charm!