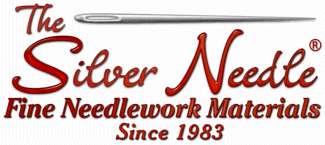 October House Fiber Arts
6068 S. Sheridan Rd. Tulsa, Ok. 74145 (918) 493-1136 (888) 543-7004
E-Mail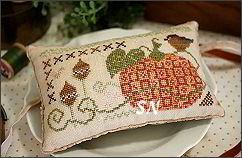 Pumpkins!
Pumpkin Faire is one of October House's newest releases. It is the 3rd in a set of similar designs - Strawberry and Honey so far. The glorious fruit full of stitches that make it look geometrically textured... very eye catching! Measuring about 4 x 6, you CAN pull of the actual fruit and stitch a bowl of those!
Pumpkin Row - This is another Skinny Mini design - about or 9 inches long and only an inch high, these make delightful cushions! Check out Snip Snip, Tomato Row, Deck the Halls - they are all like this one. Fun little geometrics in the pumpkins - not much to this so a very quick and fun stitch.
Coffee & Pumpkin Pie - Breakfast of Champions! Any time of year! Measures 76 x 106 - so 4 x 6 on 36ct.

October House Releases!
Several fun things... all fresh and pretty!
All IS calm right now - before the 'Bustle of Christmas' comes! October House has two small designs suitable for ornaments and one longer, skinnier piece that would make a fun pin cushion.

Just simple and easy, both are done on just about any fabric you want and coded for both DMC and hand-dyeds to give you choices! Enjoy these two small charts.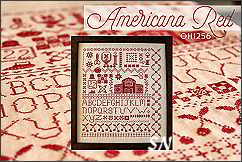 October House Releases... Several fun things... all fresh and pretty!
Vintage Trees - Just a small thing at 105 x 87 - about 5 x 6 on 36ct - she's chosen faded hand-dyed colors to make this look vintage.
Snip Snip - How fun is this? A fun 2 x 7 design stitched with Sandcastle, Flatfish, Bright Leaf, Whiskey and Dirt Road... it needs to be on one side of a cushion and Itch to Stitch on the other!
Itch to Stitch - Coud be the other side! Spools and a little yarn, add a tiny skein of floss on here, if you're good at tying a little one. This uses 5 different shades of peach, rose and berry - so easy to change those to another colorway if you want.
Americana Red - A monochromatic piece full of sewing and quilting motifs, the whole thing finishes approx 12 x 14-3/8 on 36ct - quite good sized. You can pull out that top area of stitchery stuff and make a drum shape out of just that, there are a lot of nice motifs on here along with the borders. And, as always, if you don't like the one color used - just choose another!
Honey Faire - A companion to Strawberry Faire, this features another pretty patterned motif - this time the beeskep. Measuring just 92 x 68 - 5 x 4 on 36ct - it uses a medley of yummy honey-colored hand-dyeds: Lemon Grass, Snowball, Old Marigold, Caramel Corn, Broom Tree, Squash, Chickpea, Goldenrod, Molasses, Bees Knees and Curry.



Spring and Summer 'Flavors' for Stitching!


October House has released a few new patterns and I guess because one is a skinny row of tomatoes, it makes me think of summer and flavors!
Winsome & Wise is stitched with Gentle Art's Simply Wool thread, but coded to DMC just in case. Finishing a little under 6 x 6 on 32ct, it features Dark Chocolate, Apple Cider, Endive, Faded Rose, Terra Cotta, Dungarees, and Chamomile.
Beecher's Blooms feels like Spring! Just a wisp of a design... only 3 x 5 on 36ct. The pin cushion finishing is simple, so it's a win-win!
Tomato Row is actually a bitty little thing! Measuring only 7 x 1-1/2 in size, it'd be cute perched on a windowsill... to remind you of how many tomatoes you're going to get when your vines ripen! Coded for DMC or hand-dyeds.
Strawberry Faire and Every Knitter
Strawberry Faire is a very pretty berry and bird pin cushion that looks delicious! The geometric patterns in the berry and the repeating swirls of the leaves along with the deep reds and soft greens just pop! Charted for a mixture of hand-dyeds or DMC it finishes bout 4 x 6 on 30ct.
Every Knitter - 'Behind every great knitter is a huge pile of yarn!' Do you think that could be true? This fun design is coded for multiple hand-dyeds or DMC and finishes approx 5-1/2 x 11 on 36ct.

October House has a few other knitter-themed designs to stitch as well... we have them pictured on our inside O.H. page. Enjoy!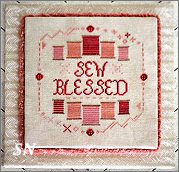 New Designs Coming Our Way
Cheerful Giver --This is a sweet little piece - worked on 32ct with Weeks Sage and Tarragon and Classic's Sweetest heart and Root Beer Float colors. The featured trim is Vintage Mini Poms by Lady Dot.
Love and Joy - Another cushion-sized piece, this is about 5 x 6-1/2 on 32ct, and is stitched with Gentle Art's hand-dyed Simply Wools of Ruby Slipper, Baby Spinach, Old Red paint, Maple Syrup, Chalk and Blue Spruce. The wools are wonderful to stitch with, and really give you a softer, deeper look than the cotton flosses - REALLY nice.
Sew Blessed - A cute Sewing Room sign! Finishing about 5-1/2 x 6 on 36ct, right now it's worked in Classic's hand-dyed cottons of Rose Petal, Strawberry Parfait, Mauvelous, and Weeks Mocha, Louisiana Hot Sauce, Sockeye, and Peony. If you need other colors, they should be really easy to change - might be fun to dig some buttons out from you button box, too!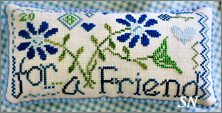 Lead a Quiet Life and Friendly Blooms


A pair of cheerful designs by October House, they are presented as charts and are coded for either DMC or hand-dyed flosses.
Lead a Quiet Life hints at a garden with lush growing rows... butterflies and a little breeze. It finishes a generous 14 x 5 on 32ct.
Friendly Blooms is just that - something to stitch for your friend! She'll love it; it finishes only 3 x 6-1/2 on 32ct. I think you could toss initials onto it somewhere as well.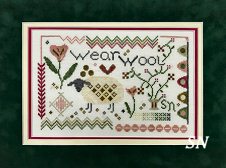 Samplers you can stitch for Knitters, Spinners and Wool-Lovers! from October House


October House is a new designer for Silver Needle. She has lots of cute designs - lots feature a knitting theme, so we Cross Stitchers can finally STITCH something for our favorite knitter! Everything comes in a chart pack... coded for DMCs or hand-dyed flosses and wools. Exceptionally cute stuff... here we go! Four Are pictured here - there are 5 more on her new page, so make sure to click through to see those as well!
Wear Wool - Coded for Gentle Arts Hand-dyed Simply Wool - which is a dream to stitch with! - or DMC floss, this finishes approx 9 x 6 on 32ct. Cute little 'penny rug' border, that wool thread makes the sheep 'wooly!' It'd be fun to add some special stitches to the zig zags and the diamonds on the sheep!
The Knitters Alphabet - SO fresh with great 'lines' and beautiful contemporary colors, this measures about 9-1/2 x 7 on 32ct. Coded for hand-dyed flosses or DMCs, the colors are Tin Roof, Summer Shower, Lambswool, Wood Trail, Shaker White, Toasted Barley and Slate. Stuffed full of all kinds of 'stuff knitters like'... it's darling!
A Knitter's Sampler - Finishes approx 7 x 7 on 32ct Flax Linen, coded for hand-dyeds of Baby's Breath, Pink Azelea, Old Red Paint and Raspberry Frost, or regular DMC... more cute knitting motifs!
A Spinner's Sampler - Finishes approx 6 x 7 on 32ct, I'm not a spinner, so I don't know what all the motifs are in this... but the colors are yummy! Aged Pewter, Dark Chocolate, Pecan Pie, Caramel and Cinnamon... gotta keep those spinners HAPPY!
Sweater Weather - A fun little piece, this measures only 4-1/2 x 7-1/2, but they've made it into a larger pillow - and embellished the fabric side with wool bits! Coded for DMc or hand-dyeds of Soot, Garden Trellis, Tin Roof, Toasted Barley, Cocoa, Caramel and Graphite. Change the colors if you have wool bits in your stash that you want to use for that cute finishing!
Woolly Fobs - 4 Smaller designs for fobs or knitting bag tags, or whatever! All measure 20 to 30 stitches each, so super-bitty! I love the soft colors of Faded Rose, Muddy Puddle, Onion Skin, Chamomile, Peach, Charlotte's Pink and Linen.
Just One More Row --Here's a quick-stitch... only 3 x 5 on 32ct white... they mounted this to the front of a yarn bag!
Socks on the Line - How cute for a gal who knits a lot of socks! Finishing about 6-1/2 x 4-1/2 on 32ct, it's coded for hand-dyeds or DMC... Pumpkin Patch, Pink Azalea, Grape Arbor, Louisiana Hot Sauce, Cobbled Peach and Dark Chocolate.




Live a Humble Life


This is a sweet piece worked on 32ct Week's Dye Works Parchment Linen. Coded for hand-dyeds or DMCs, it finishes approx 14 x 5.

The finishing presentation is pretty. The piece is simply stretched over a board, but then mounted onto another fabric-covered board - so it has a colorful 'mat' around it! Gives it a really nice touch of color!