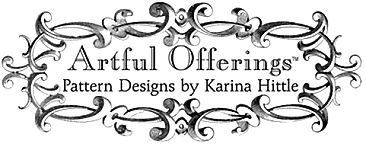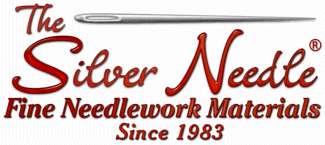 6068 S. Sheridan Rd. Tulsa, Ok. 74145 (918) 493-1136 (888) 543-7004
E-Mail
Winter Pears


Karina has a new design. She describes it as pears on the kitchen windowsill - adorned with greenery and berries - and the peaceful silence of the falling snowflakes though the window.

Choose a Sand-dune-y golden colored fabric and some hand-dyeds for this 7-1/2 x 11-1/2 piece. Main color is Gentle Art's Pomegranate - you will need 2 skeins, so go through your stash for just that perfect red color - against that honey background. Presented as a chart.


Saltbox Sunflowers


By Artful Offerings, this is a delightfully organized little piece! Coded for Gentle Art Sampler Threads or DMC, it measures 161 x 82 - so finishes approx 9 x 4-1/2 on 18/36ct fabric.

Choose a neutral creme, a pretty bright yellow, crisp white or sky blue material - this will look good on a lot of different colors. Sleek and simple!


Posh Strawberry Picnic


Artful Offerings has a fun new design - 'It is the simple things in life like picking strawberries with you, that are the most extraordinary.' An elegant border - 1/2 and 1/2... and the birds dressed just as special... this measures 118 x 105 - so about 6 x 6.

Karina writes: In a glorious garden on a splendid summer day, a pair of brown birds happen upon an ornate urn containing a large juicy strawberry! Dressed in his finest top-hat and her strawberry fascinator, they survey the flowering beauty around them before settling down to enjoy a posh picnic.





Bless this House


The newest design from Artful offerings, this is inspired by Pennsylvania Dutch Barn-Sign art.

Our proud little bird sports his precious crown while perched atop his favorite cherry tree branches. He's presenting and then guarding his house! He's only 6 x 7... stitched with Weeks flosses... very geometric and balanced!


Winter's Peace Sampler


from Artful Offerings
Karina's newest design is here... All blues and browns, it looks frosty-cold and kind of elegant! Worked on a gray or platinum background rather than any fabric that has a yellow tone to it, you're stitching that whole little street in various shades of blues.

Once again, I love her design balance... and the contrast between the blocky, solid houses and the lacy tree branches. Maybe you want to add some brown or blue metallics to this... or silver? Finishing approx 7 x 11, this is presented as a chart.


With a Grateful Heart


New from Artful Offerings, Karina writes 'The key to giving Thanks is doing so with a Grateful Heart. Set among amber stalks of wheat, a pair of smitten blackbirds adorn their favorite pom-pom hats while admiring a magnificent orange pumpkin displayed in a black pedestal urn.' Whew, a mouthful!

The birds are truly thankful for the bounty of wheat and pumpkins! She's trimmed the entire scene with stitched faux tea towel stripes. Charted for 36ct linen using Weeks hand-dyed flosses, it measures 7 x 12 when stitched.


Tomato Garden Adventure


Well, this is a piece full of imagination! Clouds in the sky, the flag blowing in the stiff wind... the little bunny-farmers and working hard to tether their hot-air tomato balloon so they don't lose their little buddy - the other bunny in the watering-can basket!

See the count-down numbers in the background, the sturdy little benches held together with antique keys, and the tiny berry anchors on the ropes? Stitched with a combination of Weeks, Gentle Art and DMC flosses on 36ct linen, this finishes approx 11 x 7-1/2 in size. Just the cutest and most festive thing for tomato season, it's presented as a chart.





New Designs


Artful Offerings has a lot of new designs that are bold and eye-catching! I have NINE that we are adding to her page... so scroll down to have a peek at the rest, too! Whether you finish them as pillows, as she shows, or frame them, they're all darling!
American Sailboat Sampler - Katina writes, "This vintage-look Americana design celebrates Liberty, Freedom and the 4th of July! An eagle is perched atop the mast, high above the red, white and blue sails. Splendid golden laurel wreaths embellish the anchor motifs and a small upper case alphabet completes this simple summertime sampler." I love the graphic lines in this design - the stripes and dots on the flag sails... the swirls of waves and the balance of the anchors! Finishing approx 10 inches on 18/36ct, it is coded for DMC or hand-dyeds.
God Bless America Sampler - Katina's comments on this read, "God Bless America features a beautiful barn with spires, quilt-block-style stars and an eagle weathervane. An American Flag flies above the barn and the border features golden laurel leaves with red, white, and blue flowers." A grand upper case alphabet fills the sky - kind of like clouds! Measures about 9 x 9 on 18/36ct, and coded for DMC or hand-dyeds.
Patriotic Pinwheel Parade - This adorable colony of bunny-rabbits has decided to put on the most amazing patriotic parade using the paper pinwheels they have crafted! Each bunny is dressed in their finest red, white and blue apparel and ready to go. Mr Rabbit has been chosen to lead the parade and fly the colors, while toddler-bunny discovers new and creative ways to use a pinwheel! Finishes approx 11 x 5 on 18/36 - this is coded for DMC or hand-dyeds!
King Crab Sampler - A resplendent Crab and his Glittery Crown! This charming thing is charted for only 5 colors of DMC... but Katina offers info to substitute gold metallics for the crown as well. Truthfully, the stars and crab might be fun with a little sparkle, too! Finishing about 10 x 5 on 14/28... choose whatever count you like best. Watch the single stitches scattered over the background... tie those off individually, or you'll see nasty thread trails!
Cluck-Cluck Farm - 'Chaos ensues at Cluck-cluck Farm now that this Barred Plymouth-Rock chicken's eggs have hatched! Periwinkle stripes at the top and bottom of the design evoke the popular farmhouse grain-sack dish towel style.' Coded for DMC or Week's hand-dyed flosses, this finishes approx 9 x 6 on 32ct. So clean and crisp - again, I love all the geometric lines on this!
Imagine Dream Believe - This looks straight off of a french tea towel... and would make a lovely birth announcement! The back of the chart shows it finished into a plain linen pillow - VERY elegant! Coded for DMC or Weeks hand-dyeds, it measures about 7 x 9 on 32ct - a very light gray tint fabric - it really sets off the gentle colors.
Songbird Sampler - A pair of black-capped chickadees have invited their songbird friends to gather at the ornamental topiary in the center of an enchanted flower garden. This design features 5 songbirds: American Goldfinch, Black-capped Chickadees, Cardinal, Eastern Bluebird and Western Tanager. Musical notes, the alphabet, and numerals complete the 8-1/2 x 12 sampler. Coded for DMC or Gentle Art hand-dyeds choose a light neutral background fabric.
Seaside Sparrow - 'On a glorious summer day, Spiffy Seaside Sparrow sets out for an exciting adventure wearing his finest sailing outfit!' He is just pretty cute, and he finishes only 3-1/2 x 6-1/2 on 14/28ct.
A New Day Has Come - Katina writes, 'Winter is gone, and a new day has come! As flowers bloom, celebrate Spring by stitching this darling pair of robins. They are feathering their nest and tending their eggs on top of the prettiest blue house in the neighborhood!' An upper and lower-case alphabet combo finishes off the top. Super simple with shapes, the hand-dyed variations can really stand out because of the dark outlining!



Love is Patient


Artful Offerings has a sweet new piece to help celebrate the Valentine's Season. A fluffle of bunnies (we had to google that!) is busy bringing the key to your heart!

All dressed warmly in their red Valentine sweaters, it'd be fun to add Wisper furry thread for tails and some red metallic for the hearts! Even black metallic for the wrought iron key. Finishes about 9-1/2 x 5 on 36ct, it is coded for Weeks hand-dyed flosses as well as DMC.





Kind & Gentle Woodland Holiday Sampler


*As the snow gently falls in a not-so-far-away place, a group of kind and gentle woodland animals gather to help each other decorate a feather tree in the forest - for A Christmas holiday celebration.* By Artful Offerings, the alphabet and tiny dots of stitches fill the sky with the falling snow, while everyone in attendance is here wearing their Christmas Jammies! Only two more ornaments to hang on the tree. Once again, Karina's artwork is full of wonderful balance. The horizontal lines in the border, deer jammies and feather tree let your eye travel across the design, while the letters and flakes softly interrupt - like little snowflakes!

Stitched on 36ct Seraphim Antique Lace hand-dyed linen, the chart calls for a mixture of Gentle Art Sampler Threads and DMC, and it finishes approx 11 x 7-1/2. A darker linen would be pretty for this - stitch the letters and flakes in a lighter color... or go for a lighter dusty winter-colored grey background... this is a pretty piece! Presented as a chart.






How The Finch Stole Christmas


By Artful Offerings, isn't this a festive-looking guy? All dressed in his Santa Suit, he's holding a bright green package... lets hope he is DELIVERING rather than swiping!

Stitched on 18/36 he measures about 3 x 5. Coded for DMC and Gentle Art Sampler Threads, Karina has called for Simply Wool for his hat, trousers and collar trim.


Autumn at Bunny Hill Manor


Karina describe her latest design, "Tucked away in the peaceful hills and dales, Bunny Hill Manor is decorated for the season of Blessings and Thanksgiving with Quaker-style pumpkins, acorns and fall leaves. Bunny rabbits abound in the blissful harmony, and numerals and the alphabet complete this miniature sampler."

Stitched on 36ct, this finishes approx 8 x 11 and is stitched with both Weeks and DMC flosses.


Cranberry Christmas


This is kind of a festive little piece! Check out the awesome trees - they each have snow on ONE SIDE! Kind of an elegant presentation, stitch your family name where the date was, and maybe a greeting down on the row with the cardinals.

Coded for DMC or Weeks hand-dyed flosses of Pamlico, Onyx, Grits, Oscar, Red Rocks and regular ol' 349! Finishes approx 8-1/2 x 12 n 36ct - so quite generous in size.


Honey Hill Hamlet


Here's a very organized piece... stitched on Picture This Plus's Doubloon Linen with DMC or Gentle Art's hand-dyed flosses. You'll need Baby Spinach, Ruby Slipper, Carriage Black, Chamomile, Wood Trail, Gold Leaf, Pecan Pie and Chalk.

On 40ct, it is still quite large finishing about 7-1/2 x 10-1/2. The bees in the octagonals would make nice scissor fobs. Very patterned, very neat and tidy... pretty colors!


Rocking Horse Holiday


Harkening back to holidays-gone-by with a sweet rocking horse nestled in the holiday greens. Softly falling snow, adjustable bottle-brush trees, a lovely alphabet and numerals complete this festive miniature sampler.

Worked on Picture This Plus's 36ct Ale hand-dyed linen, you'll use a whopping 3 skeins of Gentle Art's Tarnished Gold and 2 skeins of Baby Spinach, and the piece will measure approx 8 x 15! Not so miniature, but very charming!


Giddy Goat & Folly Farmstead



Artful Offerings has two new designs to add to her fun collection of 'geometrically balanced' artwork.
Giddy Goat measures about 8 x 8 on 30ct Weeks Dove hand-dyed linen. He is worked with Weeks or DMC flosses and features a delightful coat of diamond shapes and striped apples. Your eye is treated to round, diagonal and strong vertical directions in this piece... while all the time, the little guy is wearing his dapper bow tie, and waiting for you to notice! He's bringing you an apple!
Folly Farmstead is a trim farm... clean and organized, with a fantastic landscaper! Check out those topiary trees of the resident farm animals! Stitched on Weeks Beige Linen with Weeks hand-dyed flosses, it finishes about 13 x 6! I just noticed that the pots are different colors!
Honey Bunny Sampler


Thoughts of Spring in the air already? Artful Offerings has a sweet new piece that might make that easier right now! Ms Honey Bunny is stitched on 30ct Weeks Linen color of hand-dyed linen with various shades of hand-dyed flosses. She finishes approx 8 inches square. Can you find the four-leaf-clover hidden in the pic?

Just a fun piece, you get a little graphic texture from the diamond shapes on the rabbit... wouldn't this be fun stitched with Gentle Art's Simply Wool threads?


Wintertide Cardinal


Here's a classy little guy... just 'a settin' on the branch, waiting for more snow! Stitched on Weeks 30ct Dove hand-dyed linen - kind of a dusty blue green - threads featured are also hand-dyeds.

You can see the pattern inside the bird... that is done with two different colors of thread... gives it a real graphic and contemporary flavor. Greenery is also a gentle repeating shape, maybe add some metallics into those snowflakes? Presented as a chart, he finishes approx 9 x 9.


Hoot-Owl Halloween


This is a cool design. All the graphic shapes - the curve of the moon, the curves of the owl and tree branches, and those round eyes... all accented with the bold vertical stripes on the owl and the horizontal stripes in the moon!

Very simple, with lots of visual impact, this little guy measures about 5 x 5-1/2 and is stitched with DMC or hand-dyeds on Weeks Guacamole linen. He'd make a cute pin cushion, but if you work him on 20ct Week's linen, he could be a couch pillow and measure in at 7 x 8 before you make a gigantic pillow out of him! Presented as a chart.


More Snow... Oh No!


Well that about sums it up for some of you out there! We don't get much of it in OK... could you send some our way? Artful Offerings's new design is worked on Smokey Pearl linen with Weeks hand-dyed flosses. It finishes approx 6 x 9 on 28ct.

The chart includes DMC conversions and pillow finishing instructions. It is only January... so there is time to finish this THIS snowy season!


Peppermint Polar Bear


Oh gosh, isn't this little guy cute??? He's peeking out of the greenery just to make sure you are there!!!

Choose a wintry blue/gray fabric (Smokey Pearl, Star Sapphire, Misty Blue) he finishes approx 5 x 6 on 28ct. Coded for DMC floss, HE does feature Gentle Art Simply Wool if you want to make him look fuzzy and warm. Presented as a chart.





New Arrivals

from Artful Offerings
Here is a trio of new charted designs that just make me smile!
Sprightly Snowman -- How cute is this little guy!? Stitched on Weeks Guacamole Linen he measures about 4-1/2 inches square and uses just 6 colors of Weeks flosses. Might be cute to add metallics or a sticky-outey carrot nose!
SHHH... Counting Sheep -- Real cute for a new nursery! I'd try the Gentle Art Simply wool to stitch him -- he's just charted for regular flosses right now. It is a hand-dyed wool thread that has soft variations in it, and it would make him so fuzzy looking! Fabric color is Smokey Pearl -- to look like a soft evening... but you could change that to match the room if need be... and make the numbers coordinate. SHHH finishes approx 6 x 4 on 28ct.
Regal Rabbit -- Another charming design -- I picture this as a pillow on a guest bedroom bed! Stitched on Weeks Avocado linen, she finishes approx 7 x 5, and is worked with hand-dyed flosses. The 'dots' in the background are a mixture of Lilac and Periwinkle... just as sweet as can be!
Happy Halloween Companions


from Artful Offerings
This is just a cute design to make you smile! By Artful Offerings, it is stitched on Week's Havana linen (several counts available, on 30ct this finishes about 6 x 7) and calls for Sampler Threads or DMC.

You could stitch the kitty in fuzzy black threads -- we have several options, you could add glass beads for the spider and cat eyes -- you could do the moon, bow tie and kitty hat in Fyre Werks metallic... you could bead the border... or add a couple more rows of a complimenting color to make it more jaggedy! Lots of options with this, because it has 'good bones!' Presented as a chart.


Squirrely Acorn Banquet


from Artful Offerings
A banquet of Acorns stashed away in this little guy's very best top hat... isn't he spiffy and cute? Stitched on Weeks 32ct Parchment linen this finishes approx 7-1/2 x 6-1/2, and is coded for DMC floss.

You might want to grab a few of the hand-dyeds from your stash too... just for fun! Presented as a chart, you could add some Just Another Button Company acorn buttons to the border, or maybe some leaves!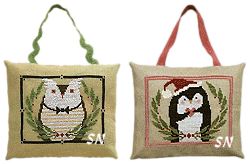 Mr Owl and Penny Penguin


from Artful Offerings
Artful Offerings has a pair of new charts that caught my eye! Two wintery-souls, each is surrounded by a bit of greenery -- like a little wreath.

Stitched on neutral fabrics, they call for either Gentle Art Sampler Threads or DMC floss, and finish into generous-sized 4 x 5 ornaments. No special stitches or anything... just super-cute designs!


Juggling the Holidays and Playful Posies

from Artful Offerings
Punch a colorful winter snowman! Offered as line drawings, you'll need to transfer them onto your weavers cloth to punch. Flosses are good 'ole DMC, making these slightly more affordable to punch than lots of other designs, and each is embellished with a few Just Another Button Company clay pieces.
Very bright and cheerful, Juggling finishes approx 4 x 5, while Peppermint punches approx 4 x 4. So Cute!



Playful Posies


DARLING, this comes as a line drawing you will need to trace on your fabric. It INCLUDES THE BUTTON SET of 7 playful posy clay buttons by Just Another Button Company!!! Finishes approx 4 x 6. Super-easy on the punching because there are so few color changes.