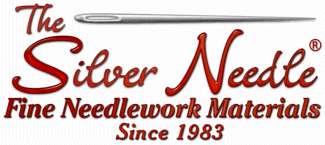 6068 S. Sheridan Rd. Tulsa, Ok. 74145 (918) 493-1136 (888) 543-7004
E-Mail



Winter Stash


This is a neat little design - it's stitched in only two colors of regular DMC - 611 and 3799! Shown on Country Vintage Mocha - this particular color of fabric comes in several different counts of aida and linens, so you have lots of options.

I love those little squirrels up there in the branches! Measures 160 x 100 - so finishes about 10 x 6 on 16/32ct.






Summer Sweets Pinkeep


Isn't this a pretty thing? Stitched on your choice of count of Country Vintage Mocha linen or aida, this hungry parent is bringing home quite the festive meal for baby!

Coded for DMC, it'll stitch in a jiff and be a charming addition to your filled bowl of bowl fillers!





Gathering Together Pinkeep


Brown and blues... this is stitched with just 5 shades of DMC - 413, 611, 844, 3011 and 3032.

It's so bold, yet simple, and finishes 4-1/2 x 8 on 36ct. I think all the curves and the flowing angles of the flowers make this delightful to look at... it's a pretty composition.


Mockingbird's Message Pinkeep


'When this you see, remember me'... The quintessential sampler verse... these two birds make a charming pin cushion.

Stitched on 36ct hand-dyed linen with DMC's of 310, 413, 611, 645, 648 and 3857, it finishes just 4-1/2 x 7-1/2.





Cottontail & Company


Scattered Seed has a charming leaping rabbit that it most certainly on her way somewhere worthwhile! Notice her little company in tow?

Measuring 138 x 100, it will finish about 5-1/2 x 7-1/2 on 18 or 36ct. Coded for DMC floss or Gentle Art hand-dyed... USE SIMPLY WOOL INSTEAD! Gentle Art's hand-dyed wool is luscious and perfect for this design. Those babies - especially - need to be fuzzy!






Acts of Kindness Pinkeep


Isn't this a sweet thing? A small 3-1/2 x 5 cushion, it is stitched with either DMC or hand-dyeds.

Gentle Art Simply Wools would be awesome on this as well - make those bunnies a little furry. Can you see that tiny bunny on there bringing the big rabbit the tulip? Offered as a chart.





Little Berry Thief


This is a sweet berry-shaped pin cushion with a little brown bird nibbling his precious and ripe strawberry. Stitched on 36ct Vintage Country Mocha linen with regular ol' DMC of B5200, 221, 869, 3011 and 3799... it finishes about 3-1/2 x 4-1/2 inches in size.

The chart includes an actual-sized template for the fabric size, and another for the green leaf top. Make that from vintage fabric or some wool. I like that Feather Stitching on the backside, too; it closes your berry!


Miss Matilda and Pure in Heart
Miss Matilda is quite the chubby little kitty, just sitting there watching over her pumpkin. She measures 70 x 70 in stitch count. Now, notice the little stuffed pumpkin! Choose a 28/30/32 ct fabric - beads are used in place of the black stitches on the chart (but you could just do floss), and she has gathered the top and bottom together to stuff it! Cute as can be!
Pure in Heart - Just a sweet and quiet sheep underneath a classic alphabet - the top border and flower basket add a lot of color and softness. Finishes a generous 8-1/2 x 6 on 32ct Platinum.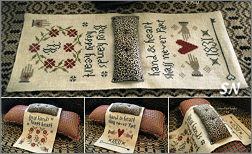 Heart's Content Armchair Pinpoke


Scattered Seed Samplers has a new design that offers a neat finishing idea for some of the other charts-in-waiting in your stash! Designed to be a pin cushion to hang over the arm of your stitching chair, *Busy hands, happy heart* decorates one side, and *Hand and heart will never part* decorates the other.

Charted for only 4 colors of DMC -- 221, 3011, 3790 and 3799, you'll need to choose cushion finishing fabric (and maybe change floss colors) to match your furniture. Simple finishing instructions are included with the chart for the 4-1/2 x 12 overall project. It would make a really nice gift for a stitching friend, and maybe a super-cool finishing idea for a smaller pin cushion exchange thing! (Wouldn't some small Lizzie Kate or Just Nan designs be cute on this??? If you are super-gifted you could even make a pocket on one side of this for scissors!)





A Token of Spring


A Sweet set of three 'panels' surround this 4-1/2 inch high drum that is 3-1/2 inches in finished diameter. Just 9 shades of regular DMC floss, there are instructions in here for tea staining as well as the drum assembly process.

Simple bluebirds and two different urn designs, a very pretty presentation on a shelf in front of a sampler.


Happy Hearts Rejoice


More sweet birds on a pin cushion top, I actually like the finishing on this at least as much as the stitching! What a pretty edging treatment, so you don't need trim!

Stitching measures just 4 x 4... using this edge treatment... you could even make this as a 'mattress bottom' to a special basket. (You know -- the one you are slowly filling with all your stitched pin cushions which are fashionable to call *Bowl Fillers!*) Coded for just 6 colors of DMC.