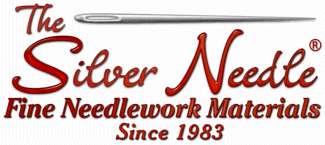 Samplers
6068 S. Sheridan Rd. Tulsa, Ok. 74145 (918) 493-1136 (888) 543-7004
E-Mail

Over the years we've had wonderful samplers in the shop! (As you will soon see, we use that term loosely!) All kinds of sizes and types, numerous designers, available as either books and kits... there are literally thousands to choose from! Since we moved the shop, and we feel like we have so much more room for things, I picked up a few that we hadn't had before. We thought a Sampler Page would be a good idea... a place to begin to show our collection!



Seasonal Samplers

from Tellin Emblem
This is a set of 4 small charts - each features coordinating pots of flowers surrounded by borders and alphabets. Each measures 104 in stitch count, you can stitch them in a 4-square, or long vertical or horizontal piece... whatever.

Now, LOOK at the petty pots in the centers. You could do single pin cushions of JUST those. You could do a stand-up cube with each season on a side... and work in the borders adding the season name if you want. Pretty colors, the alphabet fonts are all different - did you notice that? There are 28 different shades of DMC across the set, along with 6 more Gentle Art Hand-dyed Sampler Threads - so quite a colorful little set of designs!





Hannah Clark 1837


from Hands to Work
A reproduction of Hannah's 1837 sampler... this is pretty basic, but charming anyway. Hannah has 4 different corners on her border... and I like how that one basket didn't get the memo, and interrupted that flow! It's OK if you need to change her name to yours and adjust that birth order a little... the Cross Stitch Police will not come to your house and arrest you for changing the original!

Stitched on Weeks Parchment Linen with Tiger's Eye, Palomino, Lancaster Red, Havana, Caramel Corn, Brethren Blue and Ye Old Gold hand-dyed flosses, it finishes approx 7 x 8 on 40ct.





One Nation Under God - Liberty


from Twin Peak Primitives
This is quite the piece by Twin Peaks (all the way from The Netherlands!) Stitched on 36ct (329 x 310), it'll finish approx 18 x 18 - you won't lose THIS on the wall! The pattern refers to Rustico Aida, but also Picture This Plus's Wren color... so those should give you an idea of fabric choices.

It is coded for DMC or Weeks hand-dyed flosses - 18 different shades. It's really very pretty, and I especially like the big floral pots up by the words. (Do one of those if you haven't got time to stitch this whole thing!) And we love those billowing flags too!





Old School on the Prairie


from Twin Peak Primitives
This is a sweet little piece that feels to me like it needs to hang above the mitten and hat pegs in the hallway going to the back door! Kind of like the 'coat room' in Kindergarten! Measuring just 154 x 123, it finishes approx 9-1/2 x 8 on 32ct - not very large at all.

Suggested fabric is Rustico - which is an Aida color that translates well to Natural in Linen! Coded for 13 shades DMC - all very normal shades you'll have in your stash!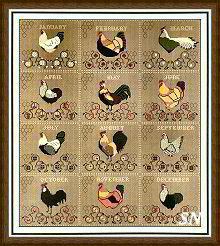 Coop Almanac

from Twin Peaks Primitives
This in an interesting pattern... take a minute to get past the overpowering brown color of the background artwork... and pay attention to the chickens! They are all abut 40 x 50 stitches, and some of them have beautifully patterned areas of stitching on them!

Add some cool threads, do some long stitches... skip the borders, and do JUST A SET of chicken pin cushions! There is some chicken wire charted - maybe do chicken wire backgrounds for your cushions?

I think this pattern has great potential! Charted for DMC cottons, but think about hand-dyed Simply Wools by Gentle Art!






Vintage Sewing Accessories

from Les Petites Croix de Lucie
This is a neat pattern. It is a medley of antique sewing accessories and tools, all stitched with 26 various shades of DMC floss. The charts in here are huge, and all in color. You can stitch each 'thing' individually or do the entire medley, which measures 117 x 141 - so only 7 x 9 on 32ct!

It looks a lot bigger than that, so the moral of this story is PIN CUSHIONS AND LITTLE SEWING CASES! That tape measure is about 15 x 60 the button card is only 34 x 34, the safety pin is only 10 x 30... these are enchanting little what-nots! Get the chart, and then figure out what you want to do with all the designs... this is a 'must have!'



French Garden

from Samplers Not Forgotten
Another gorgeous piece releasing this weekend at Market by Samplers Not Forgotten, this one features a French proverb as the verse (which is also charted in English just in case!). Little by little the bird makes it's nest is the thought - the proverb advises that with patience (or time) and perseverance all goals can be accomplished. Look at those gorgeous florals cascading down the sides... and all those involved dividing bands - aren't they exquisite? That little bird motif in there would make a beautiful little pin cushion all by itself!

Measuring 271 x 351, stitch this on any linen you like - it'll finish approx 15 x 19-1/2 on 36ct. Worked with Weeks flosses, you'll need multiple skeins of Arrowhead, Banana Pudding, Dove, Oilcloth, Caper, Dolphin, Blue Suede, Lily Pad, Whiskey, Gold, Sanguine, and that time and patience it talks about!

The pics look stunning... can't wait to see it! Note: when you click through, you can click on the model image on that page and see a much larger version of this. Bet you get goose bumps!
Needle #1 and #2

from Lila's Studio
This is an interesting pair of designs. #1 (shown at the top of our image at right) was released in 2012, #2 in 2019. They are basically the SAME piece... only #2 is her *Re-Do! with additions.* The verse is a quote from John Taylor in 1634 talking about all the flora and fauna... and how the needle can shape and wrought it all. The borders on each are charming and colorful... and the three or four little scenes in the boxes above the verses are delightful!

I honestly don't know which version I like better! #1 Is smaller - measures 20 x 9 on 32ct, and is coded for 24 DMC flosses. With The Needle #2 is larger - it finishes 11-1/2 x 26-1/2 on 32ct. It is coded for 8 DMC colors and 21 Classic Colorworks hand-dyeds - with no DMC conversions. Even if you don't stitch the entire sampler or samplers... those little square scenes would make fun pin cushions!
Hannah's Sampler

from Shakespeare's Peddler
Here is Shakespeare's Peddler's newest reproduction sampler - Hannah's Sampler. Theresa found the original in terrible condition, but could tell she loved the leafy border and the charming farmhouse - next to the brick wall - covering that little babbling brook. Very pretty colors of reds and greens in here, the row of diamonds below the alphabet are done with Rice Stitch. Those bricks in the wall and the waves in the water are all loosely placed in the original... so neat... you can do that too. Stitched on 36ct Weeks Straw Linen with silks (Gloriana, Needlepoint Inc and Au Ver a Soie) or DMC, it measures a generous 16-1/2 x 15-1/2 in size.

Teresa came to Tulsa for a weekend retreat in our new 'She Shed' Stitching Room... and presented this sampler as our Silver Needle exclusive. (Our class included three small take-out designs from this charming piece... so the weekend was really a treat.) 'Raggamuffin #3' refers to her third antique reproduction piece that came from a really ratty, mangy, and damaged sampler that just needed a little love! So... Hannah's original sampler as well as her reproduction now hang happily at our shop... and she'll be here for years to come!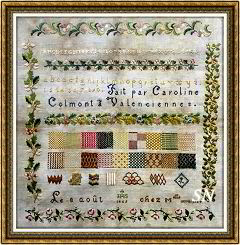 Caroline Colmont 1845

from Reflets de Soie
Reflets de Soie has sent the most gorgeous French Darning Sampler chart... an antique reproduction of one stitched by Caroline Colmont in 1845. The sampler measures 348 x 359 in stitch count - so even on 40ct, it'll turn out to be HUGE at 17-1/2 inches in size! Absolutely stunning, each of the four outer borders feature different florals for the four seasons. Then, you get two more in the sampler... a couple of alphabet fonts... and then the treat -- the Darning Sections!

18 different sections in all, each of those measures about 30 stitches square, and each showcases its own unique pattern-darning design. And, there is even a little Bargello tossed in below that! The darning sections all have such texture and charm, your eye is drawn right to them.

Presented as a chart, this is coded for DMC floss or Soie d' Alger Silk. We have the silks available with the chart purchase - they are all pre-sorted, tied and numbered by Isabelle on her pretty Reflets de Soie thread cards. (And since this is big, there are a TON of threads in here!)



Antique Pattern Album


from Cross Stitch Antiques
This is a charted collection of 26 antique sampler plates - you get some of the colored and some of the blue monochromatics in here.

Coded for DMC, the idea is to create your own sampler using various motifs from the antiques!


Headmistress Samplers

from Cross Stitch Antiques
These are two different sampler reproductions by Kathleen Littleton of Cross Stitch Antiques. (A very accomplished needle artist... between raising her 14 children, earning a law degree, and Masters degree in Theology, she designs samplers and runs an 1870's authentic general store in her hometown of Frankfort IL.) Presented in leaflet format, they are BEAUTIFUL! Coded for DMC floss, the colors you see on the covers and on the original samplers look alike -- nothing has faded in her originals -- and she has kept the pretty colors in her reproductions. Antique Sampler Fragment 1834 -- Finishes approx 5 x 11 on 36ct. Since it is an actual fragment of the original piece, do you have the nerve to distress your linen like this?!






Miss Lucy Calcutt 1826


from Just Stitching Along
By Just Stitching Along, Lucy did a sampler in 1825 at age 8 (shown on our Samplers page) and this one the next year at age 9!

12-Page full color chart format, coded for silks or DMC cotton, it has 28 colors and measures 281 x 380 in stitch count.






Miss Lucy Calcutt 1825


from Just Stitching Along
This is a STUNNING reproduction of a sampler stitched in 1825. Finishing approx 15 x 22 on 36ct, the chart is coded for DMC or silk threads. The colors in this are beautiful!!!! Rich reds and greens, the border is pretty and balanced.

All the interior pots and vines are organized and all lined up neatly. The red house anchors everything down at the bottom... and notice how those motifs are centered above it?


Holiday Quaker


from Lila's Studio
Well, just like her companioning Halloween Quakers chart... we aren't even sure The Quakers CELEBRATED Christmas... but we think they should have! Lila's studio has another awesome sampler full of fun motifs.

There are snowmen inside one motif, mittens in another. Santa's boots are down there too. Stitched on a mangy Dapple Gray PTP fabric (or anything you want!), this is coded for Gentle Art Sampler threads or DMC, and it finishes approx 13 x 9.



Paisley Owl


from Shannon Christine Designs
I fell in love with this little guy the minute I saw him! Presented in chart format, this finishes approx 7 x 8 on 32ct. It is coded for 16 shades of DMC floss with a bit of black, red and opalescent metallic #4 braid, and some coordinating seed bead accents.

Beautifully charted -- a lot of the backstitching is charted in different colors. Fun, lively colors, pretty motifs... I think it's just charning!!!



The Wishing Tree

from Long Dog Samplers
Oh this is a pretty sampler by Long Dog Samplers! *Close your eyes, now make a wish.* Charted for Gentle Art Sampler Threads, it has a stitch count of 152 x 225, so will finish approx 8-1/2 x 12-1/2 inches on 18/36ct. Very specific thread usage is provided, so you will know exactly how much thread to have on hand to finish this!

Such a stunning border and neat, busy motifs all through this... the pattern reminds you that you have to close your eyes when you make a wish, otherwise it will not come true. Also noted... a Long Dog Fairy will be on duty 24/7 to grant your wishes. If nothing has happened within 35 years, please contact Jools! It says so on the pattern!!! Super clear chart and yummy hand-dyed colors!
The Black House


from Long Dog Samplers
This is a fun piece by Long Dog Samplers -- it is worked on white, but you could do the reverse and stitch it on black -- if you have really good vision!

Measuring 111 x 145, this will finish a petite 7 x 9 on 32ct... and is coded for Sampler Threads of Raven, Gingersnap, Tea Rose, Apricot Blush, Tropical Ocean, Lexington Green, Harvest Basket, Banker's Gray, Holly Berry, Cornhusk, Briar Rose and Uniform Blue, or regular DMC floss.

I love the colors in this against that black... even the digital pic on the chart front is pretty!



Cardinal Points


by Long Dog Samplers for The Gentle Art
Long Dog Samplers created this piece using Gentle Art Sampler Threads -- kind of as a promo piece for Nancy at The Gentle Art. The verse reads: The Gentle Art of a Needlewoman lies embodied in her work.

Super colorful and very pretty, I like all the small repeating motifs everywhere -- and all the balance in the border. Coded for 24 different colors of Sampler Threads over-dyed floss, this finishes approx 12-1/2 inches square and the pic on the front of the chart was worked on good old 18ct AIDA! So choose any fabric you like and stitch away!!!
A Perfect World

from The Scarlett House
The colors and balance in this piece is just stunning. The verse is charming... but if it's not your favorite... change it! DO NOT pass by this pretty piece! Measuring only 10 x 9 on 40ct over two, it'll be a little larger if you go with 32ct.

Coded for hand-dyed flosses of Hazelnut, Havana, Beige, Grasshopper, Red Rocks, Dark Chocolate, Boysenberry, Battleship, Juniper, Green With Envy, and Whitewash. You'll also need two skeins of DMC 310. Tanya's 4 dogs are pictured on the back of the chart - I think they were her inspiration!



Three Things Sampler

from Moira Blackburn
We've had this sampler hanging in the shop for almost 30 years... and it's STILL a showpiece! *Three things there are that will never come back. The arrow shot forth on it's destined track; the appointed hour that could not wait; and the helpful word that was spoken too late.*

Great advice, charming motifs, pretty colors, that gorgeous house scene neat the bottom, all the cool rows... you will always treasure this finished piece. Stitch count is 263 x 359, so it finishes approx 14-1/2 x 20 on 36ct, and is coded for DMC (I'm not even sure the year Gentle Art started dying flosses... but it might not have been back in 1992!)
Betsy

from Sheepish Designs
Oh wow... we have had a retired model of this in the back room of the shop for years and years! I had thought we couldn't get the pattern anymore, but I loved the stitched model so much, I couldn't part with it. Then... MAGIC! By Sheepish Designs, this is Betsy Ross stitching the first American flag. She's in her garden of sheep, a peacock, birds, flowers and even a squirrel up there in the tree.

Coded for silks or DMC, it uses only Cross stitch and finishes approx 4-1/4 x 12-1/2 on 35ct. I'm not sure what part of it has the overwhelming appeal that it does... but over the years several gals have tried to buy the model, and were always disappointed that we had no chart! So, we present Betsy, in chart format, probably till we run out again!!


Eye on the Sparrow

from Silver Creek Samplers
Oh this little piece has captured my heart! A small chart offered by Silver Creek Samplers, this has been available for a while, but we finally received our finished shop model back... and I don't want to take it back to the shop! 'DO NOT WORRY' it warns... 'birds do not sow or reap, yet the Lord God feeds them.

Lets not go political here... just take comfort in *the faith part!* Its a lovely little design, and our 3 x 4-1/2 stitched piece is on 28ct Lugana over one, stuffed with lizard litter and trimmed with Crescent Colour's new cotton chenille trim! A trifle of stitched comfort!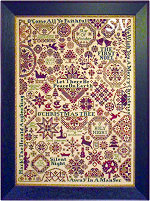 Quaker Christmas II - Songs of the Season

from ByGone Stitches
Oh... here's a Christmas Present to Yourself! This is an incredible collection of Quaker-inspired motifs scattered about -- but look closely -- and find all the songs! Names of Christmas Carols are all over in this -- spelled and STITCHED with more motifs! Can you Three Ships a Sailing? We Three Kings? Little Drummer Boy? By Gone Stitches adds a third sampler to her collection -- this one is just as large and just as commanding as her others.

Offered as a chart, it finishes approx 17 x 25 on 28ct... probably too large to drop down the chimney already stitched and framed... so better plan on getting just the chart from Santa! You'll need 23 skeins (115 yards) of Gentle Art's Currant hand-dyed cotton, and 5 skeins (25 yards) of Blue Spruce. CHECK and see if you like those colors... choose others if you want... just get enough thread right from the start for color safety! (Actually, we recommend purchasing an additional 2 skeins of the Currant and 1 of the Spruce.) Just beautiful to behold!





Keep Home in Your Heart

from Chessie & Me
Oh this is so sweet! Worked on 32ct, it finishes approx 4 x 6, and is stitched with Weeks of Aztec Red, Baked Apple, Bullfrog, Flatfish, Grasshopper, Onyx, Pink Sand, and Schneckley.

HUGE on Chessie charm!




Learning Stitches Sampler

from Jeannette Douglas Designs

Oh wow... this is gorgeous! The whole thing measures about 11 x 14 on 32ct linen. It features a lavish alphabet across the top section, then it showcases 15 tiny blocks below of your stitching lessons! Worked with a yummy array of hand-dyed silks and garnished with some darling stitch-related charms, each of those 15 blocks features a really cool different stitch that just LOVES to tease the hand-dyed threads you are using for it.

Jeannette has designed this to kind-of-be a class! Each section offers you stitching tips and hints, she's talking to you all the way through her book! Beautiful colored close-up pics of the actual stitches... just the pattern book is a treat by itself... but get the threads too. (Otherwise, it's like having a new kit to stitch with NO NEEDLE!)
We have lots more new designs from Jeannette... don't miss them!
M Woods 1759


from Milady's Needle This is a reproduction of a charming antique sampler stitched (most likely) in Norfolk Va. (You can see the pic of the original on the back cover of the chart.) A petite 10-3/4 x 8-1/2 in size, it is so colorful and packed full of balanced motifs. Something about it just speaks to me!

Just a few Eyelets, and several inconsistencies in the charts of the motifs and borders, it's not too big and impossible to stitch. Pretty colors as well... it is charted for silks or DMCs. Offered as a chart.
Plymouth Sampler


from Brenda Keyes of The Sampler Company

A commanding design full of rich browns, grey-blues, rust, gold and sage greens... the designer has dedicated this piece to the innocent victims of September 11th. "The theme of the design -- a harbor scene, is of pilgrims leaving England for America and a new life. Although an ocean apart, both nations have throughout the centuries contined to have strong links, a mutual respect, and a feeling of togetherness."

Stitched over two threads on 32ct, it finishes approx 8 x 16. Although no special stitches are charted in the design, the package includes eight specialty stitch diagrams along with a short history of samplers and a list of 54 sampler motifs, along with their meanings. Available as a chart.


Click the image at right to go to our new Sampler Company page and see lots more of her neat designs!




We have several other favorite designers who have created charming Sampler-Type things. Rather than repeat them all here... we've included a list of their pages. Hillside Samplings, who does wonderful sewing baskets, comes to mind... but here are some more pages you might want to visit!
Hillside Samplings
Shepherd's Bush
Just Nan
The Victoria Sampler