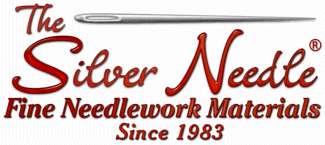 6068 S. Sheridan Rd. Tulsa, Ok. 74145 (918) 493-1136 (888) 543-7004
E-Mail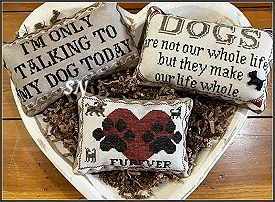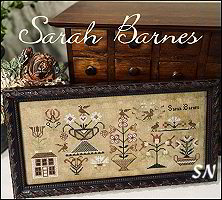 Tanya from The Scarlett House's has been busy - here are her 8 newest releases!
A Sampler For All Seasons - This is charming - it's a story about stitching! The main sampler features the fun verse and a set of 4 houses in different seasons of the year. Each of those could be done as a little stand- alone pin cushion as well. You can see the bonus small cushion in the pic - Tanya has designed that with an alphabet on the back, but you could stitch one of the houses instead! Pretty colors from Classic Colorworks will work on lots of neutral fabrics - choose one you like to work on. The main sampler measures 343 x 145 - so will be approx 17 x 7 on 40ct!
Canine Quotes - Tanya is a dog-lover and no doubt designed this with pups in her lap! She says this is the first in a new series (don't know the series yet) but she does already have a fun design for cats or dogs discussing hair on your stitching! This chart includes all three designs - all done with Classic Colorworks on neutral fabrics. They make you smile...
Ghosts & Goblins - A whimsical Halloween piece... it finishes 5 x 5 on 40ct... quite a wild costume on that little Jack guy!
Sarah Barnes - An Adaptation from an antique, this one features a few lavish urns and a classic little house. It's smaller - 191 x 82, so will be just 9-1/2 x 4.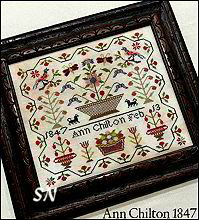 Alistair - Tanya found a handsome dog from an antique sampler and featured him on his own pin pillow! Measures 109 x 77, Alistair is worked with Classic Colorworks hand-dyed cottons.
Ann Chilton 1847 - A reproduction, this one is simple and organized. 144 x 136 - It will measure about 8 inches square on 36ct.
Betsy Jewitt - Another reproduction piece, it's hard to make out from the pic, but there is a white dog that is running against a greenery background on here. Very, very pretty with the meandering twigs and leaves, it finishes a petite 7 inches on 36ct. Stitched with a mixture of Weeks and Classics.
Scarlet Berries - An adaptation of an antique, much more traditional in shape with the alphabets at the top. Lots of Algerian Eyes on there! It finishes a generous 8 x 13 on 36ct.
The Scarlett House's Tanya has some new designs coming our way... the little Spring Alphabet is my favorite!
Mary Jane Kerr - She must have liked dogs, morning glories and birds - but I think this is an original design - and I know Tanya's dogs are her babies! Balanced and organized... it finishes approx a generous 8 x 10 on 40ct!
Sophia Gregory 1835 - Poor thing... has to think about IT when she's only 9 years old! Aren't you glad we get to stitch anything we want... and not a lesson! A pretty little piece - change those words of warning Sophia had to stitch in there to something fun and Springtime! Then, fold it and make a pretty stitching case out of it - the colors are so pretty and bright!
Spring Alphabet - Finishing just 4 x 5 on 36ct, this is stitched with Classic Colorworks hand-dyed flosses and would finish well into a little needle book or block standup. Tanya found a darling little wooden easel and fun scalloped board so you could tuck this between plants on your window sill. Just small and simple and cute.



Coming from The Scarlett House

Tanya isn't big on descriptons and words... but she did send big pics of her four new things! She is not attending market, so will be shipping these right away.
Eliza Rossiter 1853 - 169 x 247 - So 8-1/2 x 12 on 40ct... Weeks flosses of Williamsburg Blue, Terra Cotta, Lily Pad, Juniper (2), Dirt Road, Sand, Blue Heron, Red Rocks, Chestnut, Bees Knees and Whitewash. Little Eliza was a very organized stitcher.
Emma Peterson 1894 - This is a tribute to Tanya's grandmother - I imagine she was born in 1894. She remembers her Grandma carrying around a pretty hanky in her apron pocket.. an inspiration for this piece! Finishes approx 8 x 8 on 36ct.I remember ironing all those pretty hankies when I was little!
Jane Charlotte Wynn 1835 - Tanya's adaptation of a sampler she owns - very 'Scarlett House-y' trees in here! 250 x 230 - This measures approx 13 x 15 on 36ct and uses Weeks hand-dyed flosses - all deep colors of Terra Cotta, Graphite, Pamlico, Light Khaki, Molasses, Havana, Juniper, Garrison Green and Flatfish.
Try to Mark Well - I love this charming little thing! Stitched with just 2 shades of red, green and black... can't wait to hear the story behind the tomato on there!
Two new arrivals from The Scarlett House!
Martha Evans 1879 - Measures 13 x 13 when stitched on 40ct - charted for DMC or silks.
Lucy Owen -- Finishes approx 9 x 9 on 40ct, coded for Weeks or DMC.



New Arrivals

from The Scarlett House
Catharine Croft - Tanya presented this delightful set of smalls and the bigger sampler mat when she came for a weekend event in our She Shed last year! Catharine's sampler is finished as a flat hemmed doily/mat. It's full of alphabets done with specialty stitches, so it's fun to look at. Next is the berry pin cushion, and it's coordinating needle case, there is a bird mounted on a flat board for a scissor fob... but my FAVORITE part is the darling House Pin Cushion! I have a pic of my stitched piece - linen is even still wrinkled because it's not assembled yet! Delightful sheep on the little striped hills and pretty trees in the yard - and even a little dog! The 6-sided tray in the pic was something we did in class... so not something included in the pattern set.of charts. A fat quarter of fabric will do for all - 36ct Picture This Plus Faun is suggested.
Gathering Together - As friends! We did this too at our She Shed event! Hobby Lobby used to have cool little metal trays - and this fit into one of those. Keep your eyes out for stuff like that - wood, metal, paper mache - anything you can paint or distress to finish some stitching! This little 5 x 7 piece is full of Tanya's color palette of dark reds and greens with gunmetal grays. Stitched on Picture This Plus Wren, Weeks flosses, presented as a chart.
Mary Ann Smith 1835 - This is a very organized sampler! Again, Tanya's dark reds, mossy greens and this time lots of Taupe; I don't THINK there are special stitches in the alphabets and borers, but there sure could be if you wanted to add them. Saw Tooths, queens, Eyelets, Herringbones, Rice... just get busy! It measures 278 s 271 - so a generous 14 inches squarish on 40ct!



Needfuls, Colonial Blooms, Philadelphia Vine and Schoolgirl Samplings


Scarlett House's new offerings are coming... click the pics to see more as well. As always, Tanya's charts are beautifully presented in chart format.
Needfuls - A charming collection of cushioned designs - each one measures 100 x 100 in stitch count. Tanya has a coverlet-inspired piece, a quilt, a cushion to feature your favorite old buttons, an English sampler alphabet, and finally the one in the forefront - with all the fun antique tools pictured! It's easy to miss the stitched tape measure and spool borders on there. All are stitched with Classic's hand-dyed flosses. The chart pack includes all 5 designs.
Colonial Blooms - LOVE this... two different fabric options are presented, and believe it or not, both are stitched using the same colors! (except that Collards is used in the lighter version only.) Luscious blooms spilling everywhere!
Philadelphia Vine 1755 Sampler - We don't have much info on this one yet... but it finishes 10 x 15 on 40ct... it looks very English to me - all the traditional colors, borders and motif shapes... and it has a very good and sound verse!
Schoolgirl Samplings - A nice trio of cushions - kind of reminds me that pieces in a set CAN be done on different fabrics and still compliment each other. You could do your initials and age and date on one... and do them for all the past stitchers in your family - or just USE your family names so you don't have random, strange names peeking out of your filled bowl of cushions! Really a pretty idea... and HERE is something to use one of your grandmother's silver trays for - don't the creams and reds look good against that tarnished patina?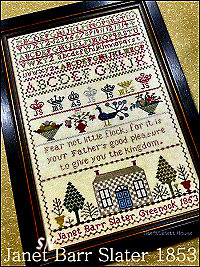 Harriot Passey 1838, Janet Barr Slater 1853
Harriot Passey 1838 - The color of fabric is named 'Dirty Teacup!' The sampler definitely elevates that picture in my mind! Tis religion that can give sweetest pleasures while we live, tis religion can supply solid comfort when we die.
Janet Barr Slater 1853 - This has a heartwarming verse: 'Fear not little flock, for it is your father's good pleasure to give you the kingdom.'



Isabella Jackson 1829 and We Are the Sampler Makers


Tanya from Scarlett House has two new patterns on the way to us!
Isabella Jackson 1829 is gorgeous! It measures 202 x 217 - so 10 x 11 on 40ct... she's using a medium hand-dyed shade - Week's Cocoa is one of the suggestions. *When conscience pleads turn not away tis heaven that speaks and points the way.* A good lesson for life from 15 yr old Isabella!
We Are the Sampler Makers - A fun piece for a fellow needle artist, this measures 167 x 106 - the model is on 36 but you can choose anything you like to work on! Weeks hand-dyed flosses are called for on the chart.



A Changed World and Caroline Suffling 1848


Tanya Brockmeyer of The Scarlett House has two new releases that she debuted at our Silver Needle Stitching Event this past weekend! I couldn't put them up until she was on her way home - they were our surprise for the weekend!
A Changed World reflects her 'thoughts' about what we've all been through this past year... *The world has changed, and so have we. Learning to be still, yearning to be free.* There's also a lesson-for-life near the bottom - *Truth can be very elusive to man. With faith as our compass resolutely we stand.* It's a really pretty piece, full of Tanya's color palette of brick reds, navy, deep greens and creams... it finishes approx 8 x 13 on 36ct linen. We had the model here for our several day event... and found that lots of linen colors look good for this. Coded for DMC or silks, the trees are neat, the row of houses is quaint and charming... it was quite a favorite!
Caroline Suffling 1848 - A reproduction piece, this offers quite the lesson for life as well! It's a reminder to honor God and not to be tempted with youthful ways! Finishing about 8-1/2 x 10 on 40ct, this is coded for silks or DMC. This one would be pretty split, and finished into a sewing roll... choose either the top or bottom for the outside, then the other for the inside - just a thought!



Floral Motif Sampler


This is a gorgeous sampler by Tanya Brockmeyer... full of what else? Floral Motifs!

Finishing approx 11 x 14 on 40ct, it is coded for either DMC or hand-dyeds - and seems to use lots of pretty corals and reds. Stitch the whole thing or make a million different, individual pincushions, it's really a lovely piece!





Holiday Berries, Mary Broom 1824, and Sarah Jackson


Tanya Brockmeyer of The Scarlett House has three new releases!

Holiday Berries is a petite 5 x 5 design stitched on 35ct Weeks Onyx Linen. Stitched with just Brown Bear, Juniper, Chalk, Green With Envy and Buckeye Scarlet hand-dyed flosses, it's really set off against the whitewashed background of the finishing board - so shop around and find something fun like this for finishing.
Mary Broom 1824 - This one finishes approx 6 x 6 on 40ct. Stitched with Chrysanthemum, Beige, Tatanka, Grasshopper, Dove, Teal Frost, Bright Leaf and Cocoa, the verse, dogs and windows are stitched over one. Just a small thing... the colors are dusty and aged pastel - the border has the Chrysanthemum and Teal Frost in it.
Sarah Jackson - Stitched with Classic Colorworks of Roasted Chestnut, Hazelnut, Wilderness, Bing Cherry, Hickory Sticks, Ginger Snap, English Ivy, Nature Trail, Trail Dust and Antique Lace, it finishes approx 8 x 11 on Weeks 36ct Dove Linen. Not really involved stitching on this - the verse is over one, but the motifs are simple, and it's all very neat, tidy and balanced! The Dove linen is a pleasant color surprise.



Little Deeds Sampler, Ceesie Sampler & No Place Like Home


Tanya Brockmeyer has three new things coming anyday... all charts... I love her color palette. Not many details yet - more when the charts arrive (this week?)
Little Deeds Sampler - 129 x 157 on Week's 36ct Confederate Gray linen. Weeks Garrison Green, Chestnut. Classic's Blackbird, Polliwog, Sunkissed, Cherry Cobbler and Snowball.
Ceesie Smitt - 185 x 45 - Stitched on Picture This Plus's 40ct Heartland. I absolutely love all those different floral urns. Frame it or make a stitching mat!
No Place Like Home - 103 x 61 - This says it all! Choose any fabric you want... even change some colors... add a dog or two... it's very timely!
Mary Kemp 1862 Sampler
Stitched on 36ct Wren there are over-one and over-two stitches in here. Finishing approx 8-1/2 x 7 on the 36ct, it is coded for silks or hand-dyed flosses.
Be Merry and Bright
Worked on 36ct, this finishes approx 4 x 5, and is worked with Weeks flosses of Garnet, Moss, Teal Frost, Whitewash, Spanish Moss and Whiskey. Tanya has trimmed her piece with Lady Dot's SNOW Pom pom trim.
I See Red
Six different alphabet fonts on this one, all of it fits into a little 4 x 5-1/2 piece on 36ct. Stitched with just one color - Cherry Cobbler by classic Colorworks - that cute little butter board is available on-line - details included in the chart.

Berry Bowl Sampler, a Collaboration between Heartstring Samplery and The Scarlett House
Wow! This is her collaboration with The Scarlett House! *Life is sweeter when shared with Friends.*

This is stitched on two different pieces of fabric, then joined together. SO... you can each stitch your half... and share it... so your stitching is on one side, your friend's is the other! Stitch Count for the Entire Piece is 200 x 200... I think this will NOT get lost on the wall!


Here from the show! Tanya has 4 more PLUS her collaboration with Heartstrings Samplery. We have them all.
Seeking Refuge - Reminds me of Tanya's 'A Perfect World' design - it's a sampler for Stitchers! 249 x 183 stitch count.
Sweet Tomato - Her Market Exclusive to the shops, this is actually pretty big - 139 x 92, so it finishes about 6 x 8 on 32ct!
Bringing Home the Tree - Feels good that we have a few months to wait before we have to take this adventure again! Just a 103 x 61 cushion size.
Jane Cowey 1850 - Wow, this is a gorgeous sampler! I get lost in the verse, but the colors and shapes of the motifs are nice - it's so organized!



Autumn is coming -

Scarlett House Style!
Tanya is sending new designs... and these just seemed to go together!
Autumn Alphabet is clean and simple - 40ct Weeks Mocha with just 4 colors of hand-dyeds, it finishes a little under 5 inches in size.
Crows Corner is a fun little piece - thin borders, the owl, squirrels and crows in the yard... it's all so divided up and balanced. Charming and organized! About 100 x 100 in stitch count, you could make individual cushions out of the motifs, make a few more with only the borders running across them - like ribbons. It looks like it will be fun to stitch.





Mary Hawley 1808


An American Quaker Sampler originally stitched in 1808, this measures 83 x 191 - so approx 5 x 11 on 36ct Picture This Plus's Ale linen.

There are lots of family initials scattered near the bottom (very similar color to background though), and an interesting combination of lettering in the center... but those all include H... so I bet it's a family tree!





Elizabeth Walsh's Work


The Scarlett House has a pretty sampler mat, scissor fob and pin keep design set - all featuring charming floral urns, coverlet motifs and a little seamstress girl. The main sampler finishes approx 7 x 9 on 36ct Doubloon Linen by Picture This Plus. Everything is stitched with hand-dyed flosses or DMC.

A super-cute set, she has presented in a cool little metal tray! No tray? Tanya offers assembly instructions to make the main piece into a sewing mat.






Elizabeth Hunter 1853


Oh, here's a pretty reproduction of an antique sampler originally stitched in 1853.

Finishing just under 10 inches square on 40ct, it is coded for Weeks or DMC flosses. Soft, gentle colors, just a nice quiet piece!





Berry Bird and In The Berry Beginning


Large and Small, The Scarlett House has two new designs - one a pin cushion size, and the other a sampler that rolls into a cute sewing case, complete with a pin cushion closure treatment!
Berry Bird finishes just under 4 inches in size and is shown as a padded topper for a ready-made candle holder (from the big box store). Using Weeks Whitewash, Havana, Oscar, Baked Apple and Mascara hand-dyed flosses, he's a simple little bird in his pot of strawberries
.
In the Berry Beginning features an Adam & Eve sampler that is approx 10 x 11 in size. Tanya has really done a neat job of finishing this in a different way. She's turned under the fabric edges, then mounted it to the inside of a fabric 'mat.' She's added the scissor pocket out of the lining fabric... and you can see the bonus pin cushion pattern up there on the right. She's put a loop on the back of that, so you can string your ribbon through the loop, and make the cushion a closure garnish for your roll! The fabric roll is pretty just by itself, with your initialed cushion keeping it closed, but then when you OPEN it... wow! Chart... hand-dyed flosses, 36ct linen.



New Offerings

from The Scarlett House
Here are just three of the new we brought home from market... many more on Tanya's inside page, so scroll down to see the others, too!
A Perfect World - The colors and balance in this piece is just stunning. The verse is charming... but if it's not your favorite... change it! DO NOT pass by this pretty piece! Measuring only 10 x 9 on 40ct over two, it'll be a little larger if you go with 32ct. Coded for hand-dyed flosses of Hazelnut, Havana, Beige, Grasshopper, Red Rocks, Dark Chocolate, Boysenberry, Battleship, Juniper, Green With Envy, and Whitewash. You'll also need two skeins of DMC 310. Tanya's 4 dogs are pictured on the back of the chart - I think they were her inspiration!
There's Probably Dog (Cat) Hair On This - Ok, I guess there's no doubt of the inspiration for this set of cushions! Choose just about any fabric you like, in any count, and even change up floss colors if you want! Each finishes approx 4 x 5 on 32ct. Just Another Button Company made a cute pin trio for each of these... the dog's version has a brown dog, checkerboard heart and a little bone, while the cat version has a gray kitty, another heart and a little bird. Pins available separately from the chart.
On Coverlet Court - This is sort of a companion (in name anyway) to On Stoneware Street and On Redware Road. Just a pretty pin cushion design -- about 3-1/2 x 5 on 36ct.
Julia Fletcher 1847, Berry Merry Christmas and Black Dog Sampler
Julia Fletcher 1847 - This is a sweet set of pieces... the pincushion is stitched over one thread (on 40ct, but you can do whatever you like best), and finishes just 3 x 3. Next is the bitty fob - stitched over two it is only a little over one inch in size. Finally is the needle roll - it finishes approx 4 x 10 with that alphabet on the backside, with wool lining on the inside. The stripe you see on the roll is the finishing ribbon to tie it closed, and I think that red berry is an antique. (But you can make one out of Week's wool - the same color you line your roll with!) Chart.
Berry Merry Christmas - Oh, we have 9 months to finish this before Christmas! A sweet 3-1/2 x 6 greeting sign... stitched with Mossy, Wild Berries, English Ivy, Jakey Brown and snowball hand-dyed flosses!
Black Dog Sampler - This is a neat little piece - it doesn't have all the alphabet letters in it! Finishing 7 x 10 on 40ct, it uses Gloriana silks or DMC flosses... maybe you'll choose hand-dyed cottons from your stash. All the motifs are scattered on here in such an organized fashion... but of course that little black dog - the plainest of them all - gets your sampler named after him!
Morning Walk & American Farmhouse
Morning Walk is another of Tanya's cute pin cushion designs. This one features a pair of pups getting their morning walk - look at the glorious sunflowers they pass each day!
American Farmhouse - What an organized farmyard! Lovely quilts 'out of the line', and that charming barn, this finishes approx 5 x 10 on 36ct. Stitched with hand-dyeds, Tanya said her inspiration for this design comes from all the barns in the midwest that have quilts and flags painted on them. (She took quite a road-trip this past summer - complete with all of her dogs!)
Pumpkin Spice Everything


Tanya Brockmeyer has a new pin cushion design... this sends us right into Fall and Thanksgiving Season!!!

Finishing just 3 x 5-1/2 on 36ct Dirty Edinburgh Linen, and stitched with Gentle Art Sampler Threads, it is trimmed with Lady Dot's Jack-colored hand-dyed chenille trim. Makes me want to go downstairs and bake something that smells good!!!!


The Scarlett House has

4 new releases

-- all charts -- finishing varies from pin cushions to framing and that little bag treatment.
Hannah's Brownstone -- 125 x 107, this finishes approx 6 x 7 on 36ct linen; it uses 12 shades of Weeks or DMC. It's very pretty, everyone seems to like the contrast of the all the tiny rectangles in the windows against the rounds of the flowers and the waves of the stems.
Spring Fling Stitching Bag -- Stitching on this measures 100 x 73 so it finishes about 4 x 6 on 35ct. The sewing bag is a simple pouch finishing treatment, so pin-cushion finishing will also work as an alternative use for this design. 8 Colors of Weeks hand-dyeds; it's a pretty little piece, and it will be charming no matter your end use!
Nice to Meet You -- Measuring 91 x 74, this one finished approx 4 x 5 on 36ct... again, Weeks hand-dyed or DMC solid flosses. The picture kind of cuts off the bottom of the design -- there is a basket down there as well as her legs and boots and those of the sheep! More geometrics -- the repeating lines of the tree branches and her skirt vs the tiny repeating squares of the houses... the colors are pretty; it's just a fun little piece.
My Gift to Thee -- This is the smallest of these four offerings -- it will finish approx 4 x 3-1/2. Worked with Classic Colorworks, this has a Christmas 'feel' to it. You have evergreens -- she is carrying one, there is snow, and that traditional berry basket. I think it'd make a cute sewing or scissor case to hang on your Christmas Tree!!! Kind of a 'bonus-ornament!'
Patriotic Shaker Box Set & School Days


The Scarlett House has 7 new releases... I thought these two were charming to show on Just Arrived... all the rest are tucked below. Presented as charts, both of these patterns feature multiple small pieces to finish and tuck into a box of some sort.
Patriotic Shaker has a pretty pin cushion, topper and fob... you CAN finish the flag basket as the cushion and row houses as the box topper -- depends on your box! I like the stars and stripes roofs on them! Weeks and Gentle Art's hand-dyed flosses, with Lady Dot trims.
School Days features two different fabrics -- makes it a really cute set! The schoolhouse threadkeep board and fob are worked on 28ct Gingham, the chalkboard on 28 black (but it's over ONE thread -- so be aware!). That little fob is kind of a 'mattress' shape and is trimmed with Lady Dot's miniature Birds Nest Rik Rak. As for the cool lunch box... go to Goodwill and find something. Hit it on a few things to bang it up just a little...sand it some, leave it out in your yard -- preferably a muddy corner or under a bush somewhere -- let it see some weather, and VOILA! You will have aged it perfectly!
On Stoneware Street


Companions On Redware Road! Just a sweet little house, this finishes approx 3-1/2 x 5 on 36ct.

Uses just 310 and Classic Colorworks of Blacksmith Blue, Stepping Stones, Cherry Cobbler and Weeping Willow, and features Lady Dot's Mossy chenille trim.


Christmas in the Village


A sweet little piece, this finishes approx 4 x 11 on Picture This Plus's 40ct Ale.

Coded for hand-dyeds or DMC, it'd make a pretty little decorative pillow.


Anna Grater 1812


Very traditional and organized alphabets in crosses and eyelets, this finishes approx 8 x 9 on 36ct. Gentle Art Sampler Threads of Woodrose, Endive, Pecan Pie, Oatmeal, country Redwood, Tin Bucket and Black Licorice.

Anna Grater is Tanya's maternal grandmother's name... alive long after 1812... but the photo on the front of the chart IS her grandma! Just a little artistic license with the chart!


Sarah Hopwood 1847


An 1847 piece, Tanya worked this on 46ct linen... maybe you'll want something larger... it's YOUR stitching, so you decide!

Coded for silks or DMC, you can get out your hand-dyed cottons and see where you want to add some -- they take the flatness out of the trees, bricks and grassy area. Also, you CAN leave off the Sara name at the bottom all together, or sub your own! Measures 187 x 183 in stitch count.


Ann Long 1826


This is a pretty piece! Neat border, pretty floral basket motifs, the verse tells you to work as hard as bees do to reject the ill and take the good. It's a cool verse and there is a lot going on in here... it'll make a commanding sampler on your wall.

Measures 297 x 327 -- so 16-1/2 x 18 on 36ct -- quite good sized. Coded for 4 brands of silks or DMC. This sampler is in Tanya's personal collection -- she shares Ann's Birthday... only Ann is 130 years older!!!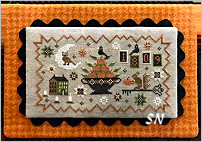 New Offerings!


Tanya has 4 new designs -- all presented in chart format -- that look like Autumn and Halloween are finally around the corner!!! Everything is charted for hand-dyeds or DMC.
Salem Hill Sampler -- Be brave, choose any count of black fabric you can see to stitch on to make this cute evening Autumn scene. On 40 over two it finishes 4-1/2 x 4... on 14 it finishes approx 6 x 6. The dormant grass in the lawn is Sage -- doesn't it look dismal and kind of spooky??? Lady Dot's Mossy Chenille trim surrounds the finished cushion.
Sew Witchy -- This is so cute! Add your own buttons as shown, or actually stitch them instead -- they are charted there just in case. A fun cushion for any stitcher, most neutral fabrics will do for this one, but you might want to get that measuring tape ribbon Tanya shows in the model pic on her cover -- cute trim, and available at Hobby Lobby! Finishes approx4-1/2 x 5 on 36ct.
Fall Frolic -- A busy Halloween scene complete with graveyard, owls and the moon... this is stitched on Lakeside's Cedar Plank linen with hand-dyed cottons. It finishes approx 6 x 3-1/2 on 40ct, (you can work on any count you like) and is shown against black rik rak mounted on Week's Cognac Wool. (We have 4 finishes of that -- all look great -- solid, houndstooth, herringbone and glen plaid.) I love the jaggedy border which looks uneven and herky-jerky... but is actually very even and planned! Would make a cute brick-shaped block stand-up or door stop!
Bonnie's Bittersweet -- A pickle crock full of spindly Autumn Bittersweet, Tanya has mounted it on a *butter board* that you can purchase on Etsy. Pretty coverlet design on here as well, this finishes approx 4 x 5 on 40ct.
.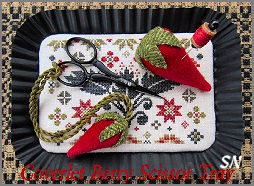 Coverlet Berry Scissor Tray


Scarlett House has released a charming 3-1/2 x 5-ish design that can be finished into a 'tray-setting' or a pin cushion. Stitched over 2 on 40ct is is worked with just 5 shades of hand-dyeds -- Cast Iron Skillet, Caper, Oscar, Sage and Country Redwood. The tray you see in the pic was used for the model -- the chart includes details for preparing that separately purchased (from Hobby Lobby) little tray... but recommends a pin cushion treatment as well.

Tanya has included the templates and instructions for the fun little berries shown on here... they are made from Weeks Dye Works hand-dyed wools of Louisana Hot Sauce and Grasshopper. NOTE: DOVO has discontinued ALL of their matte black scissors like the ones shown in the pic. If you are wanting that gorgeous black finish on a pair of scissors -- do not wait -- DOVO is already sold out and is not shipping these any longer! (I think we have a few left...)





The Scarlett House has beautiful new things!


Pin cushions and an awesome new line of handmade and painted Shaker boxes, Tanya has done a great job!
Samplers -- Kind of an 'advertising sign' for a stitcher! Stitched on 40ct (you can choose anything you want), this finishes approx 11 x 4. Just spot motifs and pretty colors, it'd be fun on your sewing room door!!!
American Homestead Sewing Set is a multi-piece design including a cushion, scissor holder and fob, a mini hornbook. It is shown here tucked into a Shaker tray. The farmyard scene is the focal point on that darling cushion!
Scroll down to see the rest!




On Redware Road


What a cute bitty set of fob and matching cushion! I love the colors of Gentle Art flosses -- Grasshopper, Country Redwood, Soot, Old Hickory, Chalk, Piney Woods and Black Licorice, the cushion measures 95 x 71, while the baby fob is just 29 x 36!

Garnished with 4 black buttons... this is so simple, but so striking! Offered as the chart.


This is my Happy Place


THIS needs to hang above your stitching chair, or as a sign into your Stash Room!!!!! How cute! Presented as a chart, you can add the button embellishments and even that actual needle and thread on there!

Choose any fabric you like, but the model is worked on 40ct, and finishes approx 7-1/2 x 3-1/2.





The Little Red Chair Sampler


Don't know what is the specific charm to this little sampler, but whenever we take it to a show -- it ALWAYS sells out! Stitched on 36ct it measures 7-1/2 x 10, and is worked with Weeks flosses of Bullfrog, Cayenne, Flatfish, Jay Bird, Terrapin and Kohl.

Pretty motifs scattered here and there, everyone likes those little red chairs!!!!





Ann Pegg 1877


Another very popular little sampler, this one finishes about 6 x 7 over ONE on 28ct... or 9-1/2 x 11 over two on 36ct.

Forest Glade, Country Redwood, Copper, Dark Chocolate, Tin Bucket, Apple Cider, Old Hickory, Roasted Marshmallow, Picnic Basket and Garden Gate... organized and simple, but it's charming!


A Peaceful Gathering


Another of Tanya's pretty pin cushion designs, this one features lovely shades of green accented with some teal. It's really simple, but her colors are so pretty -- the Country Redwood color POPS against everything else.

Finishing just 4 x 4-ish, along with the Redwood, use Oatmeal, Black Licorice, Chamomile, Tin Bucket, Picnic Basket, Deep Forest and Piney Woods. Choose a luscious chenille trim to edge this!


Coverlet Christmas


Very organized and repetitive, it features old colors of brick red, mossy green and black.

Stitched with Belle Soie Silks, it finishes approx6-1/2 x 4-1/2... it'd make a pretty pillow on 10ct, with Pearl Cotton as well! (would be 15 x 10!)





Button Posies


What a cute bitty set of fob and matching cushion! I love the colors of Gentle Art flosses -- Grasshopper, Country Redwood, Soot, Old Hickory, Chalk, Piney Woods and Black Licorice, the cushion measures 95 x 71, while the baby fob is just 29 x 36!

Garnished with 4 black buttons... this is so simple, but so striking! Offered as the chart.


Orts and Ends

from Scarlett House
This is a fun design that needs to grace the top of a scrap-box of yours! Offered as a chart and stitched on 40ct with silks or DMC flosses... it is shown on the top of one of those brown paper mache' boxes that has been painted and waxed. Line it with a cut of pretty wool, and you have a really cool little Ort and End catcher!

This would be pretty as the front of a fabric envelope as well... something you could open and tuck the errant scraps into. Save them up all year long, and stuff a clear glass Christmas Ornament full of your Orts for 2012!


Heartland Sampler


You can take the girl out of the country, but you can't take the country out of the girl! This 256 x 143 stitch count sampler finishes approx 16 x 9 on 32ct... and is stitched with Gentle Art Sampler Threads. Tanya says this piece features several of her childhood memories of growing up in The Heartland of America. The corn, the cool barn, check out the cute chicken, too. The willow tree is neat, the house is organized and so is the garden... everything in here has it's place and purpose on the family farm.

A pretty piece, you could personalize it with the family name and a *date established* especially if it was a long time ago! Chart format -- choose virtually any fabric you want to stitch on -- just something that will allow the light 'Picket Fence' color of floss in the house an fence to show up.





Several New Things

from The Scarlett House
We have 5 new releases by Tanya, all of them are presented in chart format...
Find Comfort -- 'and peace at home.' Well, that's pretty basic and good advice! Stitch count is 109 x 81 -- so generous on 36ct at 6 x 4-1/2.
Patriotic Scissor Pocket -- Inspired by antique pottery stoneware crocks, this sports a grand bouquet of summer splendor! The wavy flag in there, the charming sawtooth border -- both are accented with RED scissors (of which we have several offerings!) Main design is 98 stitches square -- approx 6 x 6, and the fobs are coordinating smaller bits of the larger design.
Center Point Sampler -- Wow, this is gorgeous in person! On 32ct, it finishes approx 7-1/2 inches square, and is coded for silk or DMC floss. The colors are bold, and I LOVE something about the organized picture this presents. I don't know if it's the border lines, the squares and their interruptions or simply the gorgeous solid, exciting motif in the center -- those greens are so yummy! I think you could even split this apart -- stitching each main square with its particular part of the middle, along with the middle panel, and make a basket of 5 pin cushions to nestle together -- as 'bowl fillers' in your bowl!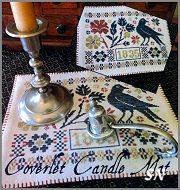 Coverlet Candle Mat


Inspired by Pennsylvania Dutch woven coverlets, this calls for only three Gentle Art Sampler Threads -- Country Redwood, Harvest Basket and Wrought Iron.

You'll want a piece of wool for the back of this -- (design is only 6 x 8 on 35ct) so you might want to find something pretty first and then match your threads. Calming little piece!


Mary Cook 1795 Sampler


A traditional Adam & Eve piece -- this finishes approx 14 x 15 on 40ct.

Coded for Classic Colorworks Belle Soie Silks, very symetric and organized, Tanya owns the original sampler in her personal collection!


Be of Good Cheer


Here's a sweet piece that is worked on the 28ct Natural/Ivory Graziano (from Italy) Gingham Linen. (Weeks has hand-dyed some as well -- another color option.) Worked with just 5 colors of DMC floss, it is shown mounted into a really cool 5 x 7 metal tray from Hobby Lobby! (Information about the tray comes inside the chart with your purchase.)

Super cute finishing for this simple piece that finishes a mere 3-1/2 x 5. Offered as a chart... you may want to change the date of 1837 on there to something else that has significance to you.


Pumpkin, Pumpkin


...on the vine... how'd you get so very fine?
This is shown stitched over one thread for a cool pin cushion finishing treatment. The stitch count is actually pretty good sized -- 152 x 86, so if you choose over two on 28ct, it'll be a generous 11 x 6-1/2!

Offered as a chart, choose a neutral fabric and grab Week's flosses of Fawn, Putty, Chickpea, Cocoa, Swiss Chocolate, Flatfish, Bark, Onyx and Cognac. Then, trim with a bit of chenille trim -- we have several really good color options!!!


The Queen's Garden & Life on Sampler Hill


A pair of new designs by The Scarlet House, both are offered as small charts.
The Queen's Garden is cute... the model is presented on 40ct (again, choose ANY fabric you like best -- YOU are the one stitching and enjoying it!) Putty from Weeks Dye Works is the yummy background color, and the pattern uses a mixture of over-dyed flosses, (which we always like better than the regular DMCs.) Perfect Pie Crust, Forest Glade, Seagull, Oatmeal, Black Licorice, Gingersnap, Mustard Seed, Old Hickory, Roasted Marshmallow, Picnic Basket, Weathered Barn, Garden Gate and Cucumber are the choices. It finishes approx 6 x 3-1/2 on the 40 ct, and the model shows rik-rak trim all around.
Life on Sampler Hill measures 120 x 108 in stitch count so will finish approx 7 x 7-1/2 on 32ct. You can choose ANY count fabric you wish... this is coded for both DMC and Classic Colorworks hand-dyed flosses. I love that big blue house, the repeating patterns of the leaves and that solid green yard... so the hand-dyed flosses will really be showcased in this design-- choose those! It uses Blackbird, River Rocks, Sunkissed, Caterpillar, Blacksmith Blue, Stepping Stones, Antique Lace, Joshua Tree, Ladybug, Cherry Cobbler, Hazelnut, English Ivy, and Whatley Woodlands.
Pin Keeps and Scissor Weights


We have a pair of new charts by Tanya Brockmeyer that are pin cushions with coordinating smaller scissor fob designs. The charts are beautifully presented and the front covers are LOVELY! She does PERFECT photography for you... you could probably stitch off the cover pics!

A Few Favorite Things has the most interesting color palette -- It is so different, but I absolutely LOVE it! I don't know if it's the punch of the acid green against the soft red-pear, or the golden inside of that pear -- I want to cut up green apples and ripe pears and sit down right now and eat them! Stitched on 40ct Aztec Red by Weeks, the main cushion finishes approx 4 inches in size.
Strawberry House is much softer -- all Gentle Art Sampler Threads in dusty grays and raspberries. Again 4 x 4-ish, we're into *bowl-fillers* these days... (a ridiculous new buzz-word on HGTV!) A Soft Tin-Roof-color with a chalk-y house... the berries are growing in the wild garden.


A Sampler Grows


*Inch by inch, row by row, X's make my sampler grow* Scarlet House has a charming pin cushion design that features a tiny companion 'fob' for the cushion. It's shown on scissors, but I think it'd be cute attached to the cushion itself. Generous in size, it measures 119 x 64, so finishes approx 3-1/2 x 6-1/2 on 36ct.

Charted for Needlepoint Silk, it's an easy one to convert to cotton hand-dyeds if you'd rather use them. Offered as a chart... isn't the pink rik-rak finishing striking on there?
Scarlet House has several other new releases... scroll down to see them!





Coverlet Houses


Oh, I like this one! That beautiful repeating positive/negative color scheme... I don't know which way I like it better! Wouldn't it be neat to stitch BOTH ways, and finish your pillow with BOTH pieces of needlework?

Calling for only DMC 3857, 3021, 420 and 310, the stitch count is 145 x 80 -- making this finish approx 5-1/2 x 8 on 36ct.



Very simple, but very striking! Offered as the chart.


Susan Wasband Sampler


A reproduction chart by Scarlet House, this is a charming sampler -- Adam and Eve. The whole serpent/tree/Garden of Eden theme at the bottom, you then get gorgeous urns of flowers at the bottom, and then the awesome house and gardens along the top! It's almost like two different samplers in one chart. *Susan Wasband is my name and with my hands I worke the same that all the world may plenty see what car (no e) my parent took with me.*

There was no date added... so pick one yourself, and change the name to YOU! This is a pretty piece -- measuring approx 15-1/2 square if you choose 28ct to work it. Smaller linen will make it smaller in size. it would be a good beginning sampler to work -- the border is regular!!!!! Offered as a chart.

Very simple, but very striking! Offered as the chart.





In The Pines


Mmm... lush evergreens, a log cabin (even though it looks pretty big and sprawling!) and the wool coverlets... this needs to be stitched for a log cabin! Offered as a chart, this is worked on Week's 36ct (we have 30ct as well) Straw Linen with hand-dyeds.

Picture those coverlets stitched as individual pin cushions!!!!!! Just a pretty piece, it finishes 6 x 8-ish.


Penny Pumpkin and Pumpkins & Bittersweet


Scarlet House has a pair of new designs that are very pretty and appropriate to the Fall Season. Two small designs to make into walnut-shell-stuffed cushions to pack into that ever-growing basket of stitched cushions! Tuck several different projects into one basket, and leave it on an end table or counter... something fun people will dig through to see them all!
Penny Pumpkin is worked on a medium-toned linen -- something to let the Sampler Thread Oatmeal color of the main pumpkin stand out. Stitch count is 112 x 87, so it'll finish approx 5 x 7 on 32ct. The border is reminiscent of a woo; penny rug, and it'd be pretty done with bits of colored wools instead of the stitching -- if you're creative!
Pumpkins & Bittersweet is a little smaller -- 3 x 5-1/2, and is also worked with Gentle Art Sampler Threads. She has it charted so that you can stitch 'bittersweet' over one OR two threads.
Polka Dots and Alphabets


This is a charming project bag, fob and pin cushion set Stitched with only 4 colors of Sampler Threads on the new 32ct Natural Belfast linen that has red polka dots printed on it...it's just the cutest thing! Black Licorice (2 skeins), Picnic Basket, Buckeye Scarlet and Chalk... it features Weeks Dye Works Candy Apple (any of the 4 patterns in our Schnigglet-cut size will do nicely) hand-dyed wool for the penny rug 'tongues' ... one pic has them buttoned down with black buttons, the other shows white X's. The thread spools are 'wrapped'with Satin Stitches... everything is so crisp and cute!

The tiny fob finishes approx 2-1/2 x 1-1/2 -- it is over one. The pin cushion measures 64 x 110 stitches -- but it is over one as well - so finishes approx 2 x 3-1/2. The main sewing case features Eyelet stitches in the alphabet, and those fun wool pennies, with the motifs worked over one thread again. It's stitch count is 105 x 145 -- so it finishes about 7 x 9. I love the colors, I love the polka dots, and I love the wool touches! Get out some red scissors, too!


Button Eyed Cat


Hey, this is kind of a cute thing! Stitch a glaring cat face to tuck beside some of your other Halloween decorations, or make a small ornament/fob -- the stitch count on this is only 62 x 66. Stitch the eyes, or make them from buttons, you'll need your favorite fabric plus Sampler Threads of Oatmeal, Gold Leaf, Raven and Tomato.

Offered as a chart... the tiny fob you see on there is a mere 30 x 30 stitches -- kind of a little bonus.


Sleigh Rides and Snowflakes


Here's a chilly scene, cold and quiet! Stitch the entire thing, or leave off the words -- there are big snowflakes in the background (sort of hard to see in our image, but they're there!) that you can re-arrange in behind the evergreens. Scarlet House presents this design in chart format that is worked on a dusky hand-dyed -- lots of good colors come to mind (like Week's Tin Roof).

The stitch count is 220 x 138, and colors listed are either Sampler Threads or DMC. Dried Thyme, Forest Glade, Country Redwood, Wood Smoke, Tin Bucket, Chalk, Picnic Basket, Wood Trail, Deep Forest and Espresso Bean... you can just feel the deep, quiet colors. The dogs and bunnies are worked over one thread -- everything else is over 2.


Mary Ann Farmer


This is a pretty sampler -- an reproduction of an antique or originally stitched in 1834. With a stitch count of 259 x 193, choose a favorite count you like and work this in either Needlepoint Inc silks or DMC flosses (or check the conversions and find your own colors!) I like the beautiful, flowing florals in the urns and just the overall balance and organization of this piece.

I think it would be stunning if you chose either the right or left hand side and included the middle... much more square... but still lovely! Offered as a chart.