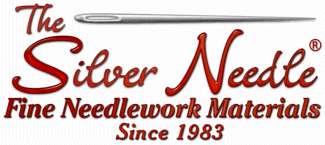 6068 S. Sheridan Rd. Tulsa, Ok. 74145 (918) 493-1136 (888) 543-7004
E-Mail
This is the alphabetical listing of hand-dyed Sampler Threads offered by The Gentle Art. Available in 5-yard skeins -- 5 one-yard lengths of thread in each skein -- these have been overyded with soft and rich coordinating shades of color to give your stitching such an interesting edge.



Gentle Art stresses that their overdyed threads ARE colorfast if you follow the label directions before stitching with them. They recommend a simple soaking in cool water to remove any residual dye... and a quick 'hang to dry.'

$2.60 each.

To make your selections, just fill in the number of skeins you want in the little boxes, scroll down to the bottom of this section, and hit the Add to Cart button to have them added to your shopping cart.

Farther down this page, you will find the Simply Wools and the seasonal and limited release sets.


---




Hand-Dyed 'Simply Wool' Thread


Luscious, thin, single ply wool yarn, perfect for cross stitch, your stitching will take on a whole new texture and elegant look when you use this thread! Wait till you run your fingers over these soft, silky woolen strands! They are exquisite!

Soft, thin wool -- just like Medici used to be -- you can use these in all the same places you'd use cottons or silks. They do well in Punch Needle, stitched as animals and other furry things in your needlework, they love primitive stitching on wool felt... just everything. Offered in 10yd skeins, it is a single-ply thread, so it does work on 32ct linen. There are 20 colors in the Simply Wool line -- we have them all!



Here are the Simply Wools for you individually. To make your selections, just fill in the number of skeins you want in the little boxes, scroll down to the bottom of this section, and hit the submit button to have them added to your cart.
$3.50 each