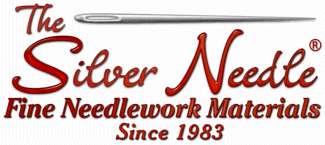 6068 S. Sheridan Rd. Tulsa, Ok. 74145 (918) 493-1136 (888) 543-7004
E-Mail



Yes, Virginia


Yes, Virginia, there is a Santa Claus... Thank God! He lives and he lives forever, a thousand years from now, Virginia, nay ten times ten thousand years from now, he will continue to make glad the heart of childhood.

The famous quote by Francis Pharcellus Church of the New York City Sun Editorial, September 21st, 1897... brings us warm, fuzzy feelings!

Published by friends of ByGone Stitches' Gail... left behind in her stash... the ladies at Stitching Pretty have given Gail's creativity a new life. Stitched on red linen with white thread, the lettering is worked in gold metallic. Stitch count is 160 x 180; isn't he gorgeous?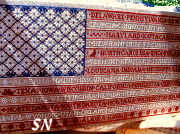 One Nation


Wow... this is a neat piece! It's a flag of the United States... but the stripes are made up of the names of the states, in the order in which they joined The Union! Offered as a chart, the stitch count on this piece is a generous 210 x 400 -- 13 x 25 on 32ct! Stitched in ONLY Crescent's Cupid, Blacksmith Blue and Antique Lace hand dyed colors, it's just stunning!

The stars are all Cross Stitches... but you could Satin Stitch them if you like. (As a bonus... there is a listing inside of the actual dates each state joined the Union -- kind of fun trivia to know!) A lovely piece for a family room, classroom, library or office!


A Quaker Christmas


Offered by ByGone Stitches, we are treated to this decidedly intricate Quaker-inspired spot motif sampler... with a bit of Christmas tossed in! Available in chart format, the whole piece measures approx 20 x 13 on 32ct, and is worked in only three colors of overdyed threads.

Now... study this a bit. The chart is very clearly done... you'll probably want to highlight the three different colors with highlighters. Next... realize that this has potential to be a family sampler... by simply changing the JOY, PEACE, and NOEL words and various scattered letters to those that have significance in your family. It doesn't have to be 'Christmas' if that's not a goal in your decorating scheme, or stitching schedule!

The design is awesome -- such great balance and symmetry -- especially for a spot-motif piece -- it's just elegant! As is, it calls for 20 skeins of Crescent's Balsam Fir, 2 skeins of Cupid and 1 of Ye Old Gold. Look at your decor, choosing your favorite green, a touch of red and gold... and order enough thread at the onset to finish this! All crosses, offered as the chart... this is stunning!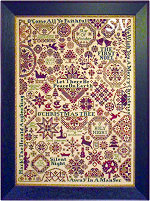 Quaker Christmas II - Songs of the Season


Oh... here's a Christmas Present to Yourself! This is an incredible collection of Quaker-inspired motifs scattered about -- but look closely -- and find all the songs! Names of Christmas Carols are all over in this -- spelled and STITCHED with more motifs! Can you Three Ships a Sailing? We Three Kings? Little Drummer Boy? By Gone Stitches adds a third sampler to her collection -- this one is just as large and just as commanding as her others.

Offered as a chart, it finishes approx 17 x 25 on 28ct... probably too large to drop down the chimney already stitched and framed... so better plan on getting just the chart from Santa! You'll need 23 skeins (115 yards) of Gentle Art's Currant hand-dyed cotton, and 5 skeins (25 yards) of Blue Spruce. CHECK and see if you like those colors... choose others if you want... just get enough thread right from the start for color safety! (Actually, we recommend purchasing an additional 2 skeins of the Currant and 1 of the Spruce.) Just beautiful to behold!