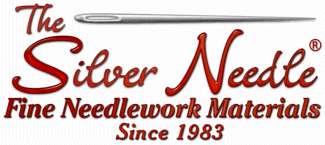 6068 S. Sheridan Rd. Tulsa, Ok. 74145 (918) 493-1136 (888) 543-7004
E-Mail


Brenda Keyes is the creative mind behind The Sampler Company! A beautiful collection of traditional samplers, most are a bit on the larger side. A few special stitches in some of the designs, Brenda is big into bold and deep rich color. Lots of traditional sampler motifs, enjoy some in this collection! All are available as large, beautiful charts.
Plenty & Grace Sampler and The Good Shepherd Sampler

Brenda Keyes has two new samplers... both offered in chart format; we like to stitch ours over one thread on 28 Lugana or with half stitches over two. Charming motifs and houses, the border on the Shepherd reminds me of the marks on a ruler! Always coded for DMC, her pieces are simple and pretty - but we notice that she is using some hand-dyed threads now. Due in the shop anyday, we can't wait to get the models stitched.

Plenty & Grace measures 12-1/2 x 9-3/4 on 14/28 - but if you do the over one, you can get it down to 6 x 5!
The Good Shepherd measures 175 x 177 - so 12-1/2 on that 28, but again - it could be 6 x 6-ish too! Brenda suggests these are easy to stitch and rates them as great projects for beginning stitchers. (But I'm an old stitcher, and I like them too!)





New Samplers have arrived from Brenda Keyes of The Sampler Company


From all the way from 'Across the Pond,' we're excited that they have arrived! All presented in chart format, and coded for DMC.
Victorian Tile Here's a pretty piece by Brenda Keyes. Measuring just 105 stitches square, if you stitch the over two on 40ct - it'll make a 5-inch piece - the size of a tile! You could also do 28ct Lugana over one... and it'd finish less than 4 inches inside, and be a glorious pin cushion. Deep plums and greens, this is coded for regular DMCs of 434, 3024, 500, 676, 223, 844, 317, 315 and 730. The inside of the vase is not stitched, so if you want that creamy, you could darken your background fabric just a touch. Love the rich dark color!
Maryfort Sampler is about 12 x 14 - notice those awesome nautical pics in there - pull them out and make darling pin cushions! I love the repeating border, and just the whole organization!
Blue House Sampler is just 105 stitches square - so just under 6 x 6 on 36ct. Pretty color graduations on this one - the sawtooth border is done in crosses - but you could Satin Stitch it, as well as doing some Mosaic in the grass!
Every Heart is a traditional wedding piece... it finishes approx 11 x 11. You might need to update that couple though!
New Samplers by Brenda Keyes of The Sampler Company
Dwelling Place measures 204 x 205 in stitch count. It features a relaxed and winding floral border that surrounds the grandest of houses! Can you see 2021 stitched in Roman Numerals up on the roof? Kind of looks like a widow's walk!
Tall Ships measures 287 x 287. It's full of tiny motifs, a little village, a church, cool ships and even a mermaid. The verse reads: I must go down to the sea again. To the lovely sea and sky, and all I ask if a tall ship and a star to steer her by.
Both are presented as charts. They look good on just about anything you choose... we have some of hers stitched on 28ct Lugana over one - with a half cross - and they are stunning. Buttttt... you choose what you like best to work with - they are coded for DMC floss.





Look What's Here

from Brenda Keyes of The Sampler Company!

The Ultimate Sampler Motifs Source Book - Brenda Keyes has reprinted her wonderful multi-page book that is CRAMMED FULL of alphabets and different motifs that appear in antique samplers! Out of print for several years, it is just an awesome book, and we are thrilled to be able to have it again. A MUST for your library... you can tell by the cover what treats await inside! A new sampler - this one features a charming village scene - I think that's a little park/garden beside the houses! Pretty border, neat willow tree.



Birds Sampler


*The Bird which soars on highest wing builds on the ground her lowly nest, and she that doth most sweetly sing, sings in the shade when all things rest.*
mmm... I'm writing my words for this, but I'm really not sure what that verse is supposed to be telling me! I just like the shapes, the border, and the colors in this!

Measuring 159 x 209, this is charted for DMC floss. That verse is over one... so if by chance you want to change it and write something else in that place... make it go over two if it fits! Colors are 310, 738, 951, 356, 730, 3041, 3371, 680, 924, 3042, 355, 733 and 502. Pretty colors.


Two New Samplers from Brenda Keyes


A pair of samplers has arrived and each is charming. Stitched over one or two threads, they are coded for regular DMC floss. Each suggests just a basic cream fabric, you can always distress after stitching, or choose something hand-dyed.
I Went to Church Sampler - This is so fun! It is the ultimate test as to whether or not people actually READ the verses on your stitched pieces! This one reads:
I went to church on Sunday. My love, she passed me by. I knew her mind was changing by the roving of her eye.
Now, THAT'S a different verse for a sampler!!!! Stitch count is 235 x 203 - so over one on 28ct, it would be 8-1/2 inches in size... over two it's 17. A balanced border and pretty church scene... it 'looks' just nice and serene!
Learn Little Maid - 'Learn little maid each useful art that may adorn thy youth, Learn to improve thy tender heart in virtue, grace and truth.'
THIS is a more traditional verse than that poor guy's story - the one who got dumped at church!!!!! This one measures 303 stitches square - or a whopping 19 inches square on 32ct. Stitched with DMC, the border is simple, and the alphabet is blocky... but the dividing bands are very pretty, and the house is gorgeous! (I like the inside border around that little mansion... it matches the florals down at the bottom corners.) We have stitched a few shop model over one on 28ct Lugana, and sometimes just do ½ stitches for a cool look! (Learn Little Maid is done with ½ stitches on 28ct... click here to see the close-up) Really striking!
Abigail Markam Sampler


Here is a pretty sampler -- very bold and organized -- balanced and stately! Presented as a chart, this measures 205 x 155 -- so finishes just 9-1/2 x 13 on 32ct. If you choose smaller fabric, you can make your finished piece smaller as well.

Charted for ONLY regular DMC floss of black, two shades of green, two shades of gold and a brown and red, you could easily change some of the colors to hand-dyeds if you wanted to. The border is pretty, alphabet is good, and the house is very eye-catching. It would make a wonderful *family established* piece!


Plant Wisdom Sampler


Brenda Keyes has a pair of new samplers -- both offered in chart format. Plant Wisdom's verse reads: If happiness be your pursuit, Plant wisdom and enjoy the fruit.

Measuring 235 stitches square, this finishes approx 13 x 13 on 36ct, it could be almost 18 x 18 on 28ct... or even 9 x 9 if you go over one! So much the pretty color palette of Brenda's other samplers we love, this is charted for regular DMC flosses of brick, buttermilk, teal and olive greens. Very pretty and balanced!!


Noah's Ark Sampler


Brenda Keyes has a new sampler -- with a Noah's Ark theme. Very simple and bold compared to some of her other things, this measures approx 13 x 17 on 25ct over two. (That's big... it'd be 12 x 9 on 35ct.) Stitched with regular DMC floss as well.

Awesome trees -- I love her different choices for those. Animals -- kangaroos, giraffes, camels, snakes and I think hyenas... this is a very traditional flavor for Noah. Offered as the chart.


A Sampler Story and Sweet Humility Sampler


Wow... we have two new samplers by Brenda Keyes, that are just stunning!!! I highlighted both of them here, because I can't decide which I like better!



A Sampler Story

measures 295 x 199 stitches. 28 Different shades of DMC floss in regular Cross Stitch, it is a study of tiny sampler designs, themes and verses. 24 Small squares of 46 x 46 stitch count... each has its own little story to tell! Just like Brenda's Sampler Musings design... you can stitch this in its entirety, or pick and choose the squares!

We have a shop model of 4 tiny cubes (on 25ct Lugana over one, they are only 2-inches each!) that we've tied together. So, you could make a tower of 3, a long windowsill row of 6, a 4 or 9-patch ... I'm just not sure you'll be able to choose which squares to stitch! Offered as the chart.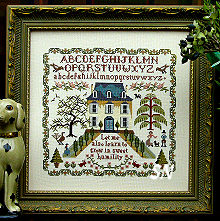 Sweet Humility

measures 217 x 217 Stitches. Featuring 18 different DMC colors, it is regular Cross Stitch. I love the house, the trees, the landscaping, the verse, and the colors that are so classic! 924, 926 and 927 Are the blues, 838, 840 the browns, 372, 3051 and 370 are the greens, with rusty brick and buttermilk highlights.

We think this would make an awesome wedding, new family or housewarming gift. (But of course, I think it'd look pretty good in my hallway... and nothing is new at my house!) Just a beautiful piece, very classic in presentation and design -- choose a favorite fabric, and LOVE making every stitch!!!!


Sampler Musings


This is a smaller piece, full of Brenda Keyes' favorite colors and charming design elements! Each of the 4 squares could be stitched individually... depending on the fabric you choose... anything goes! We love doing her things over one thread on 25ct AND stitching them in only 1/2 the X!

Super easy, it covers well, and you get the impact of stitching over one thread, with half the work! Anyhow, a 65 x 65 square finishes only 2-1/2 inches!!! Just a fun piece...much smaller than most of Sampler Company's offerings... reasonable to finish!!


House on the Hill Sampler


Stitch something traditional and easy -- this is a neat piece just for that -- because the alphabet and motifs are simple. With a stitch count of 252 x 132, this will finish approx 9 x 18 on 28ct... but could be 4 x 7 over one on 35ct! Lots of fabric choices for this one -- it is charted for 12 different colors of DMC floss.

It's a perfect piece to add some overdyeds to, because of the large design area. Look at the trees, the grass, the big alphabet, even the house -- you can add lots of color impact with just a couple of hand-dyeds. A pretty piece to stain and mange up, too!!!!! (We learned to do that in our Shakespeare's Peddler Retreat Class this past summer!)


The Sailor's Wife


Brenda Keyes has a new sampler that has enchanted us! Presented through the eyes of a sailor's wife... this is her dedication to her sailor while he is away at sea. Even King Neptune is there in the waves!!!

Charming in shape, the stitch count for this piece measures 422 x 128m which translates to a whopping 26 x 8 over two on 32ct! (It's as big as the fish he caught!) Executed in crosses with DMC floss, there are no quarter or half stitches... just awesome colors and pretty motifs.

We've been getting our shop models stitched over one on 25ct -- they DO use just the Half-Stitch -- and our model for this will 'weigh-in' at 17 x 5!

'For my dearest love he who works upon the sea On the waves that blow wild and free He splices the ropes and he mends the sails While southward he rolls to the home of the whale.'

Offered as the chart.


Red House Sampler


Brenda Keyes has a new sampler, quite traditional in design content and balance. You have a pretty floral border surrounding bands and bands of more florals, then the house at the bottom, complete with courting couple! You could make this as a wedding piece, a housewarming, or family tree piece by personalizing the necessary initials almost anywhere. (It's OK to move a tree or two, but I'd leave those deer, rabbits and squirrel alone!)

This piece measures approx 14 x 17 over two on 28ct, but fabric selection is totally up to you, you could choose almost anything for this piece. It calls for regular DMC floss, and I do warn you that the reds are 356 and321, so they're kind of bright. That's easy to change, too. Pretty piece, offered as a chart.


Over The Hills Sampler


A traditional design of French and English soldiers preparing for battle... the recruiting sergeant is signing a fresh recruit, while a young girl looks on. The supply wagon is arriving, and a mother and son are waving goodbye to the soldiers as they leave *marching over the hills and far away...* One of the included verses means * Fortune favors the Brave.*

Offered as a chart, this finishes approx 13 x 16 on 28ct. We like to do our shop models over one on 25ct... in only a half stitch. You get a miniature version, the stitches look a bit different, and *totally awesome!* Great colors of DMC in here... this is a *must have!*


Town & Country Sampler


We've received 10 new charts by Brenda Keyes... some aren't actually new to her collection...but they are to ours... so that counts as NEW!

Town & Country, the one featured here, reminds me of so many of her others that have been customer favorites in the shop. Scattered with traditional sampler motifs all stitched in rich rusts, cinnamons, chestnuts, teals and moss greens, we have a couple of our shop models stitched over one thread -- with a 1/2 cross stitch - as she recommends. They are STUNNING... and that simple 1/2 stitch gives you so much more interest than a regular cross stitch -- believe it or not! (and it takes LESS time!)


'If all mankind would live in mutual love, this world would much resemble that above.'

Finishes approx 9 x 12 over one on 25ct (which is actually a breeze to see!!!).


**Make sure to see the other 9 arrivals!!!**




New England Sampler


New from Brenda Keyes of The Sampler Company comes this cool 'Land & Sea' sampler design! Stitch this on any number of different counts of material... if you do half-crosses on 25ct, it'll finish only 8 x 9-1/2, but if you go over two on 28, it'll finish 14 x 17! Choices, choices!

Anyway, it's a delightful scene that is stitched in 25 colors of DMC floss, and uses only regular cross stitches. It looks like you could even split this into two pieces... stitching the top and bottom separately!!! The top -- The Land -- features a village of houses, complete with the local church and towns people all out 'doing their thing'.' The bottom half -- The Sea -- sports the sailing ship, a fun little crab and regal mermaid, some sailors, a fisherman... anchors and waves... very charming! Beautiful colors of golds, teal blues, mossy greens, rich rusts, this is the same basic palette as the Plymouth Sampler -- one of our favorites from Brenda! Check out the Puritan Sampler as well... more of the same elegant color scheme! Offered as the chart.


Puritan Sampler


This is striking! The bargello-influenced border is the design feature in this piece. Actually, I think this could double as a wedding sampler... maybe change the numerals below the couple to wedding dates and family name?? (I don't know the story about those numbers, though...) Anyway, this is offered as a chart, and finishes approx 9 x 15 over two on 32ct. As with all of Sampler Company's designs... she reminds you of the awesome option of stitching her designs in a half cross, over one thread on a 25-ish count material. Stunning, either way, this piece is done in DMC flosses, and features no special stitches. You could get carried away and try to stitch the bargello in long stitches... what excellent texture you'd get! Same luscious, rich color palette as Plymouth and New England Samplers... I think Providence, as well! I just love it!.


Sampler Houses


This is a huge piece that is solid stitching!!! (That's to the point!) Designed by Brenda Keyes, it uses 28 different DMC colors and finishes approx 16 x 16 on 28ct over two. The chart actually calls for 18ct over one...in half stitches (no specialty stitches)... so you certainly have fabric and size choices to make!

A set of nine houses, each isn't too involved on its own, but together this presents really well, and has lots of visual impact. It would be gorgeous as an accent piece in your family room, or in the center of a collection of stitched samplers! Offered as the chart.


The Hetty Child Sampler
An original sampler design by Brenda Keyes, Hetty Child must be the fictitious girl who stitched this!!! Actually a very simple piece, executed entirely in crosses, this has such an appealing look... I think it's that wonderful, exquisite border!!! So even, so patterned, so repetitive, such pretty pinks and greens... the diamond shapes are repeated in the central flower basket motif... and surrounded by various traditional symbols. (I know those squirrels represent mischief!!!) Anyhow, finishing almost 11 x 11 on 28ct linen, this is worked in regular DMC shades of pinks, soft greens, light beige and soft brown. Lovely, it's offered as a chart.


Providence Sampler
Heaven is our Hope, Providence is our Guide... reads the verse on this exquisite sampler! Designed by Brenda Keyes, it measures a generous 16-1/2 x 16-1/2 over two on 28ct linen. (The piece can also be stitched in half-crosses over one thread, and finishes 8 x 8!!!) Full of charming motifs, like the house, trees, the people, and all the pretty floral baskets and border treatment, the colors include soft greens, lots of brick and terra cotta shades, and bits of teal, burgandy, and browns. A very pleasing composition, this is definitely a shop favorite. Stitched entirely in cross stitches, the pattern includes several alphabet, number, and special stitch charts for extra personalization, if you want that, and lots of cool sampler history and meanings of different sampler motifs.





Heaven Doth Ask Sampler


26-1/2 x 9-1/2
on 25ct over 2



Kind Fond Love Sampler


24-1/2 x 15-1/2
on 25ct over 2



Huntsman Sampler


18-1/2 x 12-1/2
on 25ct over 2


Plymouth Sampler
A commanding design full of rich browns, grey-blues, rust, gold and sage greens... the designer has dedicated this piece to the innocent victims of September 11th. "The theme of the design -- a harbor scene, is of pilgrims leaving England for America and a new life. Although an ocean apart, both nations have throughout the centuries contined to have strong links, a mutual respect, and a feeling of togetherness."

Stitched over two threads on 32ct, it finishes approx 8 x 16. Although no special stitches are charted in the design, the package includes eight specialty stitch diagrams along with a short history of samplers and a list of 54 sampler motifs, along with their meanings. Available as a chart.





Floral Sampler


Pictured at the right is one of my most favorite samplers to grace our doors this past year!!! Along with four other beautiful releases by Brenda Keyes... this sampler features specialty stitches, rich, restful colors... and such an appealing design content and pattern. Finishing approx 13 x 13 on 25ct Lugana... you particular linen choice will alter the size... but not the impact!

Make sure you look over the rest in this shipment... all of them are very traditional, very classic, very elegant, and not difficult to stitch. Timeless designs, beautiful charts... it's fun to read about the motif meanings in Brenda's instructions, too! All are available as individual charts, and call for traditional colors of DMC floss.
Country House Sampler finishes approx 17 x 17 on 28ct.