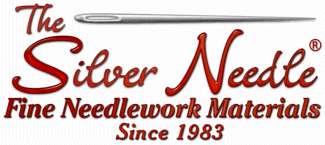 6068 S. Sheridan Rd. Tulsa, Ok. 74145 (918) 493-1136 (888) 543-7004
E-Mail



Entrelacs Roses


Entrelacs Roses is the red version of Entrelacs Bleus. The picture at the top is the entire design - click the image above to see that. Fold in the corners... and you create a two-sided pin cushion. LOOK at it... The picture on the left has the 4 corners folded together. The picture on the right is the center of the main piece - without its corners! So, now you can see how this is stitched flat, but folded into a two-sided cushion! Choose a fancy button to tuft each middle as an added elegant bonus! Coded for DMC or silk, the entire stitch count is 201 square.





Several New Antique Reproduction Samplers by Isabelle of

Reflets de Soie
Always gorgeous, always authentic, Isabelle's sampler collection is extensive... here are three more treats she's sharing! Sorry... these images don't begin to do them justice!
Leontine Breton 1932 features a poinsettia border along with the very 'French' alphabet font. It measures 282 x 314, and is charted for silks or DMC. We offer the leaflet and do have her pre-sorted and labeled silks available separately.
Angela Rafuls 1875 is a Redwork piece full of alphabets and a smattering of random motifs. Actually fairly new in the world of samplers, this is done with just one shade of red. Measuring 304 x 319... grab your DMC 814 or get the silk packet!
Marie Thibon 1878 - Another relatively 'new' sampler, this one is full of gorgeous color. Along with the extensive alphabets and that pretty border, you get roman numerals! There is actually quite a bit of over one in here... those berry baskets up near the top, and Marie must have traveled because there are trains and ships over one as well. That lavish floral motif between the birds is all over one too! Measures 323 x 278, coded for DMC or silks.
Heloise Cornu 1896


This has a stitch count of 283 x 320 so it will finish approx 18 x 20 on 32ct -- which is quite generous. Charted for Soie 'd Alger or DMC it uses 523 and 3051 greens, 407 and 632 browns and 3727 and 3726 pinks.

ONLY six colors in this entire thing... something hand-dyed would translate beautfiully.


Fanny Aujas 1906


Wow, what a beautiful antique sampler! Really just a simple, willow-y border and small pots near the bottom... the grand alphabets in this really bring it to life! Measuring 384 x 308 -- this will finish a generous 17 x 21 on 36ct.

Coded for silks or DMC... the colors are mostly that dark burgandy with medium mossy greens. There is actually quite a bit of very pale pink and cream in this... it's in the border and highlights that pretty alphabet in the center. Presented in leaflet format; the chart is huge and in color. Silks available separately.





Marquoir aux 36 Oiseaux, Leonie-Marie Delorine 1905, and Le Marquoir de Marie-Andree


Reflets de Soie has three new samplers to tempt your stitching fingers! Directly from Paris, France... each is presented in leaflet format with clear charts. Coded for both silks and DMC flosses...
Marquoir aux 36 Oiseaux - Isabelle writes that this is a 'little sampler that is an invitation to take a walk in a garden where 36 birds sing an ode to nature.' The stitch count is 311 x 267 - so 17 x 15 on 36ct... and we do hve her silk packet available for this as well! I love the repeating lines of this, just so unique!
Leonie-Marie Deoorme 1905 - This one is stunning! It needs to be stitched on something a little darker (?) so that the middle alphabet shows up a little better... but OH... the border is cool! The gold lines are stitched, then the small floral surrounds that elegant topper alphabet, then the white abc's you cannot see very well, then all the pretty baskets and urns below. Very pretty, the stitch count is 328 x 324 - so 18 x 19 on 36ct. We have Isabelle's silks for this as well!



Tournesol Bleu


Isabelle of Reflets de Soie has yet another over-the-top elegant beaded pincushion creation. Stitched entirely in petite glass beads, you're doing only half stitches with one strand of thread over 2 on 35ct linen. (I haven't tried it, but you can probably do these on 18ct Aida - but you might need the curve of the cushion stuffing to make the fabric convex so the beads lay properly.)

Presented as the chart with beads, Isabelle has sorted and labeled all the beads, so you're ready to go. Tournesol Bleu measures just 69 x 69 stitches - so under 4 inches in size, and she's finished it into a biscornu shape.Talk about an elegant cushion! The metallic beads just glisten - like the reflecting gold leaf on the display plate!






LR 1844 Sampler


Here's another gorgeous antique reproduction from Reflets de Soie. Presented in chart format - we have it with or without her pre-sorted silk threads. The stitch count is 261 x 302 (silks are enough for 36 or 40ct fabric), but this is also coded for DMC floss as well.

That gorgeous wandering border surrounds 9 floral bouquets and urns - I think quite a few of them would be pretty stitched as individual pin cushions. The reds are 321 and 498, but the brightest yellow is only 676. The greens are 3051, 3012, 3011 and 372 - all very soft.





Antoinette Curera 1862


Isabelle's newest reproduction sampler is here... I just cannot pass these by! Measuring 388 x 304 in stitch count, it will finish approx 21 x 19 on 36ct, and can be stitched in silks or DMC cotton floss. The border is glorious... the flowers are all the same... but not one IS the same!

The 5 motifs in the center consist of an elegant swan, two country cottages, and a pair of lavish florals. But your eye is drawn right to that center bird! Not for every house, not for every stitcher... but wow... all of Isabelle's like this one are stunning! Presented as the leaflet with the option of silks presorted and tied on Reflet's pretty thread cards.





Yvonne Leclercq 1905 Sampler


Wow... this is truly a stitched piece of art! Originally worked in 1905, this 317 x 327 stitch-count piece is done entirely in Cross Stitch. The chart is coded for DMC floss or Soie d' Alger. We have the silks pre-sorted and labeled by Isabelle - the designer - they are colorful, gorgeous, and quite intoxicating to touch and feel!

On 36ct, this will finish an impressive 18 x 18-ish... and it will not be missed on the wall! Of course everyone likes the chicken motif and the villa beside the waterfall in here... but I think it's just the whole big picture that makes this stunning! (No silks separately from the charts, sorry!)





Papillon d' Or II


Isabelle has two new beaded pieces that we just love around here! Charted florals, you are stitching these with one strand of floss that matches your background linen (35ct) and sewing on one petite glass bead instead of doing an X.

The beads look so elegant, and the finish on the fabric is so smooth - everybody loves to hold our stitched shop models! The beads feel smooth and fluid, and slightly heavy in your hand, so elegant! These come as kits with pre-sorted and labeled beads, and the chart. 35ct Linens need to be cut separately for each.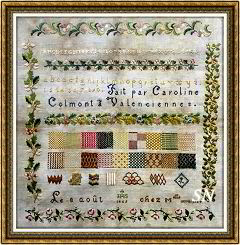 Caroline Colmont 1845


Reflets de Soie has sent the most gorgeous French Darning Sampler chart... an antique reproduction of one stitched by Caroline Colmont in 1845. The sampler measures 348 x 359 in stitch count - so even on 40ct, it'll turn out to be HUGE at 17-1/2 inches in size! Absolutely stunning, each of the four outer borders feature different florals for the four seasons. Then, you get two more in the sampler... a couple of alphabet fonts... and then the treat -- the Darning Sections!

18 different sections in all, each of those measures about 30 stitches square, and each showcases its own unique pattern-darning design. And, there is even a little Bargello tossed in below that! The darning sections all have such texture and charm, your eye is drawn right to them.

Presented as a chart, this is coded for DMC floss or Soie d' Alger Silk. We have the silks available with the chart purchase - they are all pre-sorted, tied and numbered by Isabelle on her pretty Reflets de Soie thread cards. (And since this is big, there are a TON of threads in here!)


Louise Lallier 1901


This sampler reproduction by Reflets de Soie is breathtaking! Presented as a chart... or chart with silks... it measures 312 x 412 in stitch count and is coded for DMC floss as well as the silk. I love the ornate floral border, the alphabet (letters are about 25 x 25) is 'pretty nice' too! Then there is all that lovely country scenery -- it is spectacular! Can you see the church, the country houses, the chickens... the donkey in the center talking to the little dog is so neat! He even has a basket of baguettes on his back!

I'd never in a million years get this whole thing stitched... but you could make those cottages (40 x 60-ish) into pin cushions, or the flower urns or even the chickens (60 x 70). The colors (we have the silks available) are bold and just dreamy... I just cannot tell you how lovely this piece is!!!!!


Entrelacs Bleus


This is a gorgeous medallion picture stitched in 5 shades of blue. Charted for either DMC (823, 931, 932, 3753, 3865) or Soie d'Alger it measures a whopping 198 stitches square. If you stitch it on 32ct, it'll finish 12 inches square. LOOK AT THE PIC... the finished piece is folded -- all the corners to the inside on the reverse. It's now a 6-inch pillow!

I can't believe how different this looks with that finishing treatment!!!! It's the same design, but you'd never know! Anyway, regular crosses... available as the leaflet or leaflet WITH presorted yummy silks -- plenty for counts 28 and smaller.





MG 1889


Another lovely French sampler, this one is coded for silks or DMC and focuses mostly on reds, greens and purples. It measures 231 x 229 in size -- 14-1/2 inches on 32ct.

Beautiful floral bands in the borders, and neat corner florals... you could stitch the chicken as a pin cushion! Classic! Offered as the chart.





Amethyste and Saphir -- MINI TRY ME KITS -- Only $21 each!


We have two new TINY beaded pin cushion kits that are exquisite! Stitched on 35ct linen with one strand of DMC floss... you are going over two -- like normal -- but using a lovely glass petite seed beads INSTEAD of making a cross stitch. THESE ARE BITTY AND A GREAT WAY TO TRY THIS! Measuring just 35 stitches square... these finish only 2 inches square in size.

Very miniature versions of some of Isabelle's other designs, Amethyst features purples and golds, Sapphire features icy blues. The glass beads are heavier on the fabric than regular stitches, so these feel really neat to the touch. Very elegant, they catch the light, and are really a rich look. Kits contain the chart, pre-sorted and labeled beads, and a needle. You'll need 35ct linen and a bit of DMC floss that matches your ground fabric.





Comme un Bijou Beaded Pin Cushions


Comme un Bijou is a set of 4 matching designs that each finish a mere 1 x 3 inches in size! The background is not worked on them. Finish them flat as bookmarks, padded as small cushions, frame them, they'd make stunning doilies of some sort, stitch them and stick them away in a drawer... ANYTHING you want!!! The bronze and 24K beads are just amazingly beautiful! You'll want about a 6 x 9 piece of linen for each of these - choose your color as the background will show.

Presented as charts with pre-sorted and labeled petite seed beads, you are doing a half-stitch with one strand of white floss, and sewing on a bead instead of an X. No colors of floss... just the beads... fabric has to be 35 or 36ct linen to fit the beads properly. These are just exquisite... we have lots of them stitched in the shop -- frame them, cushion them, sewing case them... you decide! Each of these finishes about 2 x 5 in finished size.


More Elegant Beaded Cushions and Cases


We are enchanted with these gorgeous stitched pieces! Presented as charts, each is worked ONLY in beads on 35ct linen with half a stitch and one strand of floss! No thread changing, only half the stitch... each 'stitch' is a tiny Japanese glass bead that glistens and reflects the light. The patterns come with all the beads numbered and sorted in individual bags. Le Bal d Hortense is shown finished into a small jewelry pocket. It is solid stitched beading, and this piece features a beaded fringe that you really can't see in the picture. The little bags of beads are really stuffed full in here!!!!!! Antique Bronze, 24K gold, all the white and a gorgeous metallic gunmetal, this piece finishes only 3 x 3!

All of these kits are absolutely intoxicating to open up and describe for you... I am at home tonight writing these words, and NONE of these kits are going back to the shop... I HAVE to stitch models!!!!!





Biscornu de Victoria


This one is shown in Biscornu-shaped cushion... it measures 62 stitches square -- so about 4 x 4 when stitched. The background is all metallic gunmetal colored with lovely brilliant pink roses making a splash against that dark background.

Presented as the chart with the luscious pre-sorted and labeled beads... this one won't take too long to do!





Pincushion d'Eulalie


Reflets de Soie has another small beaded pin cushion design that is here! Only 41 x 54 in stitch count... if you've never done one of these beaded pieces, THIS IS A GOOD ONE to try! Worked on 35ct linen, you are working from the chart, but stitching on a petite glass bead instead of a cross stitch. You use floss that matches the linen color... you're not even changing colors. This finished cushion will measure only 2-1/2 x 3 inches!!!!

Presented as the chart with enough beads to do both sides, (you could just choose your own colors and regularly cross stitch the design), the beads are pre-sorted and labeled for you. This one features a lovely rose-plum background color with gold, blue and white accents -- just gorgeous!
Remember... this is TWO SIDED! You get both designs in here... so you will need two 9 x 9 linen cuts... to make two cushions or one that is beaded on both sides!!!





Silk Gauze and/or Linen Samplers


Are you a linen stitcher, or do you like to dabble with the silk gauze a little? Both fabrics come in 40ct, and even though linen comes in larger sizes... either of these two new designs will be stunning NO MATTER what you stitch them on! Presented as leaflets OR kits...
Emma Ponguon -- 2 Lovely, flowing alphabets tucked inside that lavish floral border... I love the little pansies decorating the bottom area. Stitch count is 256 x 241. You have choices: Choose the leaflet, any count linen you want and DMC floss; it would finish approx 15 inches on 32ct. OR... the kit with 12 x 12 cut of 40ct Silk Gauze and a gorgeous palette of pre-sorted and tied Au Ver a Soie's Surfine silk -- a hair-fine thread! This will finish approx 6-1/2 inches! It is just exquisite!



Berthe Gazon 1925


This is an unusual piece -- a floral geometric -- that I imagine was stitched in 1925! By Reflets de Soie, it is coded for silks or DMC floss, and will finish approx 14 inches square on 32ct.

It uses: 3753, 931, 3743, 155, 372, 524, 522, 3052, 3772, 223, 778, 316 and 3726 -- all the pretty mauves and soft olive greens. Presented as a leaflet.


Marie T Clement 1868 Sampler


This is a reproduction of an antique French sampler by Reflets de Soie. Charted for DMC or Soie d' Alger it measures 305 x 238, and will finish approx 17 x 13 on 36ct. I don't know enough about French samplers to tell you what the motifs all mean... I am sure they can be researched, and they are on here for a reason.

The florals on the bottom half are spectacular and I especially like the Roman Numerals on there!!!! Pretty alphabets and organized border -- did you notice the flower colors change on it?


Louisa Barny 1892


A lovely reproduction of an old sampler, this has been charted by Reflets de Soie. Measuring 424 x 348 in size... it'll be 23-1/2 x 19 on 36ct! Huge! Charted for 41 different shades of silks or DMC, the original is pictured on the front cover of the leaflet and the backside of the original is shown on the inside of that front cover!

Glorious, brilliant colors, the houses are charming, the floral borders are stunning, the birds are elegant... and then you get a COW! I think this is celebrates the quiet, country life and blessings of nature. I especially love those enchanting little cottages down in the lower right corner... wouldn't they make awesome solidly-stitched pin cushions?





Papillion d' Or & Tendresse


Reflets de Soie of France has sent two beautiful beaded designs -- these are charted just normally -- but instead of stitching them with floss, you are stitching on ONLY BITTY GLASS BEADS! Linen called for is 35ct -- the perfect size for the beads. When you are finished, you have a stunning little piece of needlework that feels heavy and elegant in your hand. Finish them into pin cushions, frame them, make little scissor cases and fobs, small sewing bags and cases... you name it! Presented as charts with both English and French instructions, needle and the pre-sorted beads. You add the linen and DMC floss to match your fabric.
Papillion 'd Or finishes almost 7 x 4... uses 15 different colors of beads, and does not feature a fully beaded background.
Tendresse is a pretty champagne/rose/burgandy cushion -- it finishes just 3 inches square!!! The picture shows a little biscornu shape. Only 7 shades of beads -- all of them range from light rose silver-lined to the real gold bead accent color you see in the design. Elegant!
Ultra-Fine (Beading) Threader


A super-duper thin wire in melted into this plastic threader, securely attached to thread teeny needles, perfectly! Used in quilting, beadwork, heirloom sewing and fine needlework, the super-fine, diamond-shaped wire is designed for threading 'Betweens #12,' 'Sharps #11 and 12,' Milliners #11, and Beading #10 & 12. Absolutely wonderful... you'll want these to keep in every needlecase you own! Ours are packaged 2 to a pack, in a clear, protective plastic case, which includes an outer sleeve. Really cool!

and... BEADING NEEDLES!
#10 Ball Point Bead Embroidery Needles
Your bead kits come with needles, but how about a few more???  These are our favorites... they feature a point, but supposedly have a ball point tip (like an ink pen.)  I say supposedly, because I cannot SEE that small to verify that tip!  But they work beautifully and fit the beads!  Package of 6 by John James.



New Glass Beaded Pin Cushions


Oh my gosh, these are some of my very, very favorite things in the shop right now... GORGEOUS floral pin cushions (or sewing bag fronts) stitched on 35ct that are ONLY tiny glass beads and NO Cross Stitches! Everything you see are the minute French glass beads!!!! Stitched right from a regular chart, you use only a strand of white floss and stitch a half stitch over two on 35ct... putting on a bead instead of using a color of floss. Kind of like miniature oriental rugs... you are creating these beautiful patterns from a chart simply with glistening glass beads. Really 18ct in size, I suppose you could stitch these in floss... but you'd have to make your own color conversions from the beads.

Offered in chart format, the beads are pre-sorted for you. choose 35 or 36ct linen, frame them or make them into small cushions! We have stiff linens or softer ones... if you have a preference, let us know... we have shop models stitched on both and looks are not affected by fabric softness. It would only be that stiffer might be easier for you to work on.
Tresor d'Octavie -- 61 x 89 Stitches (approx 3 x 5), this kit comes with the blue silk ribbon for finishing!!! Roses, green and golds.
Vitrail -- 83 x 83 Stitches (less than 5 x 5) Stunning aquas and roses, with gold accents. There is a butterfly charm on there.. it is NOT included in the kit... just a design temptation!
Myosotis -- ONLY 49 x 33 -- A BEGINNER SIZE -- this finishes under 3 x 2! Gorgeous deep blues, lavenders and golds... this is just a bitty one that you can TRY THESE with!
Tresor d' Apolline -- 53 x 99 Stitches (approx 3 x 5) this one has a white beaded background and features a rose swirl among greenery.
Le bal d' Iseult -- 102 x 103 -- This is bouquet of roses! A very classic, antique design, again a creamy white background with the antique roses and leaves all beaded. Exquisite for a sewing case cover or scissor case!
More Gorgeous Pin Cushions Stitched Entirely in Glass!


Reflets de Soie has new pin cushion designs that have arrived in the shop. Stitched on 35ct linen with one strand of DMC, you are working over two threads of linen and stitching on petite glass beads INSTEAD of X's! Everything is charted just like always, but instead of different floss colors, you sew on different glass beads!

Each packet includes the chart, English instructions and all the pre-sorted and labeled beads. When they are finished, they feel 'heavy' to your hand, and super-slinky and sleek. Just a dream to hold and run your fingers over the solid beaded surface. We have lots of other designs in this collection -- they are so unique and special -- I love being able to offer them in the shop! New is: Tresor d Isaline -- She measures 110 x 110 -- so 6-1/4 inches square. An opalescent white background, this is a wreath of lavender roses.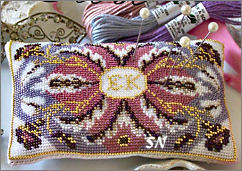 Lila's Rose


Reflets de Soie from France has a new beaded pin cushion design that is STUNNING! This petite 3 x 4-1/2 inch cushion is worked all in lavender, rose, white and gold beads -- some are crystal, some are metallic. You are simply stitching on one petite glass bead with 1/2 a stitch over two linen threads of 35 or 36ct linen. It's charted like regular cross stitch -- but no crosses -- just half the stitch!

Your linen will be covered completely with the design... and it'll feel dreamy, soft and heavy to your hand. The beads just glisten... and the finished product is an elegant heirloom! We have several other designs like this one... all are presented with the chart, needle and all the beads pre-sorted and labeled for you. All you'll need is a bit of linen. Some like the stiff Lambswool or Cream, some like the softer fabrics -- either one works!


Escapade Hollandaise


Reflets de Soie has a new leaflet featuring 6 charming Blue & White classic scenes. Charted for DMC or Silk -- there are only 5 colors featured in the designs - White, and 3750, 3756, 930 and 931 blues. Three of the designs measure approx 130 x 90 in stitch count (8 x 5-1/2 on 32ct), the other three - 90 x 60 - so 5-1/2 x 4 on the same 32ct.

Adjust your finished size by adjusting the fabric count you choose. Beautiful little scenes - they remind me of antique kitchen tiles! Presented together in leaflet format.


O Marie


I had to e-mail Isabelle to ask her what this says... loosely, it reads 'O  Marie, conceived without sin, pray for us who turn to you.'
A beautiful reproduction of an antique sampler, this has a stitch count of  271 x 214. Coded for DMC or Soie 'd Alger, it is presented as a chart.

There is a silk packet available... all the silks pre-sorted, tied and numbered on thread cards. It is enough for a 40ct or 36ct piece. If you want to stitch on something larger, we cannot guarantee there will be enough silk included... but this would be lovely on any count... and you might be a creative thread user!
Mary is surrounded by gorgeous florals and a border of pink roses... this is so elegant and unique!


Camille Emelie Beauvallet 1847


The picture of the cover of this is stitched entirely in cream on cream -- so I don't know if you can see much design detail. Inside, the chart is coded for Gloriana, Soie 'd Alger or 14 shades of DMC. (316, 712, 3052, 3047, 223, 225, 730, 611, 420, 434, 932, 433, 819 and 3857.) Quite generous in stitch count, it measures 443 x 257 -- so about 25 x 14 on 36ct!!!!

It features a super-simple border and is filed with individual sampler motifs all scattered about. I'm not sure what they all mean... this is probably meant for more of a sampler expert than I am... but the cover pic is just awesome, and I couldn't resist the opportunity to offer it!


Albertine Bourgonnie 1907


Gorgeous colors and details in these motifs, it reminds me of Berlin Woolwork. In the same style as our Anais Curveur 1896 sampler, this has an intricate rose border, songbirds on their branches, and a cat and dog motif. The central picture features a castle tower high on a hill overlooking and along side a river -- a small boat is sailing by the staircase that leads up to the tower.
Charted for Retors du Nord from France or DMC cotton, there are 24 different colors in this 345 x 247 piece. Approx 19 x 14 on 36ct!


G. Leger 1898


Oh, this is a sampler that has floated through our front doors that I think is lovely! By Relets de Soie, it is an elegant alphabet piece that has several cool motifs near the bottom, along with a stunning farmhouse pastoral scene. Choose whatever fabric you like -- the model pic is heavily distressed, so keep that in mind when choosing.

The stitch count is 307 x 240 -- so approx 17 x 13 on 36ct -- and it is charted for silk, DMC Threads. You'll need multiple skeins of Weathered Barn, Liberty, Old Red Paint, Caramel Corn, Vintage Lave, Brethren Blue, Green Apple, Wood Rose and Buttermilk... there are 18 different shades in all in here. I love the flow of the letters, and I am totally enamored with that beautiful red cottage on there!


Le Bal d' Anastasie


One of my most favorite, this one seems to have two distinct halves -- the top one is worked with white, aqua blues, two shades of pink, deep purple and brilliant greens. The bottom section features a rich red background with golden roses and more of the blue beads.

Its stitch count is 100 x 126, so it measures approx 6 x 6-1/2 in size. I'm suggesting a white background fabric.


Souvenir d' Amitie


This one features a deep plum background around the rose and green floral ring, with rich champagne/cream in the center area. The gold in the center of the flowers is gold metallic, and this design will finish approx 5 x 6 in size.

We suggest lambswool linen -- something creamier than white because of the champagne background.


Mes Precieux Ciseaux


I think this says precious scissors... but I think the fob is precious!!! With a stitch count of only 39 x 39, this two-sided fob will finish a bit over two inches in size! Assemble it into 2 fobs, or make yours beaded on both sides. (So choose one or two cuts of linen below)

The bead colors are a deep grape, rosy-champagne, kind of a dark denim-y blue, a medium, multi-colored green and some white.


Tresor de Victorine


Oh this is pretty -- it features a crystal white background decorated with purple-y blue scrolls. It surrounds a multi-colored denim medallion that has cinnamon and honey accents. The colors in these are so hard to describe because none of the beads are SOLID of one color. They all have a million different glisteny colors in them... I think that is what makes all of these so pretty.

This case -- or whatever you want it to be -- measures 61 x 91 in size, so it will finish approx 3-1/2 x 5 on the 35/36ct Linen.


Tresor d' Elizabeth


This one is pretty -- it doesn't have a solid beaded background like the rest of the designs do -- so you may want a creme or white linen for this one, as opposed to the Lambswool color. Whatever you use, it HAS to be either 35 or 36ct. The case is approx 50 x 80 which is about 3 x 5. The biscornu (which doesn't HAVE to be a biscornu!) is 50 x 50 -- 3 x 3-ish and the little fob is just 30 x 36 -- 2 x 2.

The colors in this range from gold metallic, to pinks and lavenders, with a tiny bit of brilliant purple and blue -- not much of that. Lots of finishing possibilities for this set! If you are going to do all three pieces -- get a separate piece 9 x 9 for each of them -- Cream or White, they run $5.67 each.


Tresor de Clemence


Oh... this one features that crystal-white background with rose-champagne, crystal pink and metallic plum bead stylized flowers tucked inside a dusty denim-blue border. Sounds strange but the colors of beads are really pretty together.

This one measures just 67 x 91 stitches -- so 4 x 5-ish on the 35/36ct.


Anais Curveur 1896


This one is incredible! It features the most lavish floral border I have ever seen... and all the motifs, animals and main scene are all as detailed as a painting. Its stitch count is a huge 339 x 402 and I can tell it is worked on an ecru fabric. There are 26 different DMC or Sajou silks listed in the key -- I am enchanted with the European feel of this.

I'll never get to stitching it... maybe I'll frame the picture on the front of the chart!!!! (But I could finish the floral basket in the middle on the left!) Absolutely stunning!


Alberine Guiraud 1887


Wow... this is a neat one! Two colors of blue -- 931 and 3750 -- Woad Dye Colors -- (I think that's how you spell that gorgeous indigo blue French dye). This features a lovely alphabet -- can you see how the blue color changes in it???

The panels along the bottom are all different Pattern Darning! The fringe on the tops and bottoms are your thread ends -- you are literally darning over and under the linen threads in different patterns for each block! The last section in a mini band sampler of specialty stitches. The stitch count on this is 271 x 199 -- just a gorgeous piece!