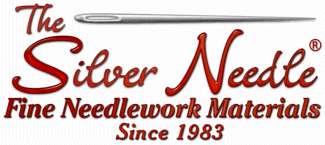 6068 S. Sheridan Rd. Tulsa, Ok. 74145 (918) 493-1136 (888) 543-7004
E-Mail


Sunflowers
Bright yellow and gold flowers...
Barbie has a small 'Vincent's Pinkeep designs included, pictured on the back cover.

Get your fix of yellow colors!


Beach Day


Our favorite farm animals are back again - everybody is at the beach this time around. Petal Pusher has 4 of the most delightful little 'parades' of farm animals - who have all proudly dressed up for their particular occasions. So far, we have Holiday Hoedown for Christmas, Halloween Hoedown, Spring Fling and Patriotic Parade. Each time, it's the same 5 little animals - a horse, pig, sheep, chicken and cow. You can buy the whole set of one season of charts - or collect just the animals you like. The pig is Uncle Ham in Patriotic, Heavenly Hog at Christmas, for Halloween he dressed up as Bat Pig, and here he's Sandy Swine

Beach Day brings us Hang Ten Heifer, Sun Loving Sheep, Patrolling Poultry (the lifeguards up on the tower!), Sandy Swine and Scuba Stallion. Notice that cute little crab on there if you do them invidually? Anyway, each finishes 3 x 5, and together the whole row is 5 x 15. Stitched on a pretty hand-dyed blue - any count you like - coded for DMC.






Fresh Picked Lavender


A pretty little pillow, cushion or mat design.

This is done with Gentle Art Sampler Threads and Weeks hand-dyeds on a crispy white background, measuring 9 x 5-1/2 on 32.



Spring Fling


Here is another fun parade of Petal Pusher's set of 5 favorite farm animals all decked out for their season! So far we have these same 5 animals featured in Halloween Hoedown, Christmas Hoedown and Patriotic Parade. MAKE SURE to visit Barbie's page... as we have them all pictured there. The horse is now the Galloping Gardener, the sheep is Wooly Wellies.

Next, we have Spring Chickens - can you see them all hiding in the flowers of the trellis? The 4th Is my favorite - that little pig. (He was Uncle Ham in the patriotic one, Heavenly Hog in the Christmas one, and Bat Pig at Halloween - now he's Pigmallion!) And finally, Buzzy Bovine - a cow wearing a bee costume, of course! 5 Small charted desgisn available separately, or in their set!






How does Your Garden Grow?


This chart contains 11 different 40 x 40 designs that you can mix and match any way you like. Stitched with regular DMC, on neutral 32ct Platinum linen... you could add beads to these, glass Mill Hill Treasures, a little metallic glitz if you wanted.

Maybe choose a sky-blue hand-dyed fabric... or make a bunch of stand-alone blocks and re-arrange them... or make plant pokes out of them. There are a million possibilities because they all go together!



Patriotic Parade


Here's the next season of the same darling farm animals all decked out for their annual parade! They are the same pig, cow, horse, sheep and chickens. Just like Halloween Hoedown and Holiday Hoedown... these little guys all come in individual charts, but can be stitched together.

Just the cutest, you'll love the names too: Uncle Ham, Moo-other of Freedom, Ewe Lil' Firecracker, Patriot Reins and Chicks on Parade! Stitched on 32ct Sand and coded for DMC, lots of places you could add metallics and beads if you want! This is one busy farmyard of animals!


The Holiday Hoedown


Remember Halloween Hoedown, our little set of barnyard animals all dressed up for Trick or Treat? Petal Pusher's Barbie Tingley has released her Barnyard Party for Christmas - here they are! Moo-dolf is a cow, Heavenly Hog is an angel-pig! The tree in the center has a little chicken there... it's O Chickmas Tree. Frosty the Snow Ram is the sheep that comes next, and finally Whinny the Elf is the little horse.

Each animal is available separately to stitch as individual ornaments - they measure about 4 x 5 with all the background and picket fence borders, but smaller just by themselves. You can join the barnyard together into the main hoedown piece - it finishes about 5 x 16. The Holiday Hoedown border is presented across the 5 charts. Coded for DMC, they are just darling!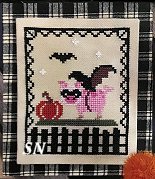 Halloween Hoedown


Oh my gosh, this is the CUTEST design! It's a whole little barnyard of animals all dressed up for Halloween! Presented in 5 single charts, each 4 x 4 design - stitched on any neutral 32ct - can be stitched alone, or joined together with a Halloween Hoedown banner border.

The whole piece measures 16 x 5. (That border chart is offered Free - details inside each of these charts.) Anyway, we get Moo-Ella DeVil, Ewe Witch, Cluck Cluck Boo, Bat Pig and Captain Black Mane. All charted for DMC floss... I don't know which section is my favorite!