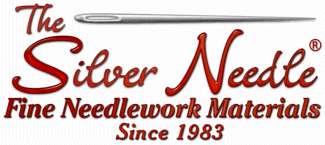 6068 S. Sheridan Rd. Tulsa, Ok. 74145 (918) 493-1136 (888) 543-7004
E-Mail

Primrose Cottage - This Team of Mom-supervised by The Four Sisters - is full of Cheerful Energy! They all get along and they are all part of Primrose Cottage! Everybody has a task and here's what they can accomplish together!
Little Cushions Coming Our Way
Christmas Quaker - Grab three skeins of your favorite red hand-dyed and a cut of 28ct (or smaller fabric and less thread!) to stitch this little cushion that companions the Autumn Quaker.
Christmas Trees & Stitching Please - This one measures just 71 x 67 - a little under 4 x 4 on 18ct - coded for 7 shades of DMC.
Autumn Quilt - Just a simple little 75 x 75 piece, this is done with Dublin Bay and Bright Leaf hand-dyed flosses. Charming to tuck into your bowl of stitched cushions!
I Love Fall Most of All - This one measures only 60 x 71 - so could be under 3 x 4 on 18ct! 6 Colors of DMC, the finishing treatment adds some size and matching color.
Primrose Cottage Stitches is in a Fall Mood! Several new Arrivals:
Leaves of Autumn - A full-sized leaflet, this finishes approx 10-1/2 x 7 on 32ct. It is coded for Color & Cotton hand-dyed floss, but if you have others in your stash, Google Color & Cotton conversions to DMC. (gives you a color benchmark.) Then, Google DMC to the other thread companies you want to use. It's quite an eye opening experience because across all the conversions, you really do see lots of color differences. Getting that DMC # makes all the difference in choosing alternative colors.
Autumn on the Farm - Another full-sized leaflet, this design measures a whopping 11 x 6 on 32ct Country Vintage Mocha linen. Very colorful, you'll need 4 skeins of Cherry Cobbler hand-dyed floss for this (There is a lot of solid stitching in this.)
Autumn Quaker - A pretty little pin cushion, it measures 81 x 79 - so finishes about 6 x 6 on 28ct Lugana. Choose an Autumnal hand-dyed floss color you like... even two or three might be cool.
Honeybee Quaker - Same idea as the Autumn Quaker - finishes 6 x 6 on 32ct, this one uses 8 different DMC shades as opposed to the Autumn's one. It coordinates with PC's whole Honeybee series of designs.
Autumn Alphabet - Smaller than the Quaker cushions, this finishes approx 4 x 4-1/2... coded for Classic Colorworks hand-dyeds, cute alphabet font.
Incoming Patterns
I'd Rather Bee Stitching - Just a cute pin cushion design for all of us. Measures 124 x 42 - 9 x 3 on 28ct white - just a cute design ready for fun finishing fabrics. Coded for DMC.
Fresh Lemonade - This is a bitty thing, but if you finish it like this... it is tall enough to stand out in your display bowl. Just bits of DMC.
Snowman 2023 - This little guy is super cute! Tall hat and that billowing scarf, he's worked on any taupe fabric - so the white shows up. Coded for DMC, he's only 57 x 61 - so about 4 x 4 on 28ct.
Perfect Hot Cocoa - Not too big to try stitching on black fabric! Just 3 x 3 on 14ct... this is done with overdyed flosses and a little DMC. Super cute, imagine looking in your cocoa cup and seeing little legs like this!
Welcome to the North Pole - This is colorful, busy and fun! Stitch it tall, or stitch it wide... it has everything in here you need for Christmas! (You could even take 2 rows, stitch them together for a 12-inch strip and make little drums out of them.) Measuring 100 x 257, it'll finish approx 6 x 16 on 32ct. Coded for hand-dyeds or DMC, some metallics, beads and buttons would be fun additions on here.
New for Winter, Valentine's Day and St. Patrick's Day
St Patrick's Day - Something fun to stitch for next St Pat's Day! Primrose Cottage's medley of words design for the holiday companions their Valentine's day design. Presented in a leaflet, this measures 91 stitches square - so about 6-1/2 on 14ct. One of the things Lindsey likes about her Subway Art charts is that you can split them apart and make smalls out of them. She has multiple examples in here. Anyway, colorful, easy and fun. Always cool to add metallics and beads... see what golds and greens await in your stash!
Hey Sweetheart! - What a fun Valentine greeting to stitch in a jiff! Split up all the words and do small cushions or little blocks... or make a pillow or block stand-up - lots of possibilities. This is coded for regular DMC, but what an opportunity to get out your hand-dyed pinks and various metallics and beads! As charted in the leaflet, the main piece measures 100 x 101 - so about 6 inches on 16/32ct.
Snowplace Like Home - Even though I want Valentine's Day... that doesn't mean half the country isn't still covered in snow! This 4 x 6 (on 32ct) piece is done with regular DMC floss on Vintage County Mocha - which comes in counts from 14 to 40! Add some opalescent to all that snow, and maybe a carrot nose button or two! Charted for DMC.



A Little Halloween

from Primrose Cottage Stitches
Several new charts are here... all published in 4-color leaflet format with huge, colorful, easy-to-follow charts. They like to put the finished model pics on the inside pages beside the chart offering a nice glimpse of what you are stitching.
13 Spooky Smalls is a collection of nothing larger than 5 x 6. Easy stitching, cute finishing, various fabrics were used, everything is coded for DMC, and the graphics on the 13 pages are good enough that you can duplicate the fun finishes right from the pictures.
Halloween Letters - a cute way to spell Halloween down the left-hand side... with fun words across. Worked on your favorite fabric, it'll finish about 7-1/2 inches square on 32ct. Coded for DMC along with a few hand-dyeds, it'd be really cute if you made the ghosts opalescent, the bats sparkley black, maybe even bead the main letters down the left side. A lot of room for special things in this cute design!
Witch's Kitchen - She's making a mess... I hope the spiders and bird aren't the next ingredients! DMC and hand-dyeds, this finishes about 6 x 6 on 32ct.
The Salem Sisters Apothecary - You're going to need 4 skeins of Weeks Dye Works Kohl to stitch this fun shop sign. On 32ct Country Vintage Mocha, it finishes about 5 x 8. The wooden frame is available for this.. details for ordering are inside the leaflet. You could change 'the salem sisters' to Mom's Apothecary, and then change the date to the year Mom got married and started cooking for her family!
Home Sweet Haunted Home - This is a half-sized leaflet pattern - it finishes a little over 4 inches square on 32ct and is worked in Weeks hand-dyed flosses. Just a fun sign to put on the door everyone uses to come into the house - maybe it's the garage door into the back hall... everyone needs to know what they're walking into!
Gather & Religious Christmas Trio
Gather - Just the word... doesn't need to say anything else. Presented in leaflet format stitch this on any fabric in any color you choose. If you like this type of design, Hello From Liz Matthews does quite a number of them... take a look at her page... you might find some you can't live without!
Religious Christmas Trio - Three smalls that are all shown on the same count and color of fabric and stitched with the same 6 DMC's of 520, 522, 680, 754 (8 stitches of that!), 839 and 3777. If you choose smaller count.. like 36... they'll finish 2 x 3 and 2 x 5.



Hive Rules, A Bee C, Bee Nice, Bee Happy, Kind Words and Bumblebee Kisses


Several cute new designs... I'm going to group them by season, so make sure to click through to see the rest!
Hive Rules - Lindsey is the designer-sister. *Bee Sweet -- like honey, Mind your own beeswax!, Love and Be Loved...* Hive Rules Aalong with these 5 other designs - all follow the same buttery/teal color scheme, and feature a bee theme. Beautifully published in leaflet format, the charts are colored and huge, with actual pics of the stitching right on the page. Worked on any white of your liking, everything is done with DMC. Cute as can BEE! Hive Rules measures 70 x 274, so finishes approx 5 x 20 on 14/28 or 4 x 15 on 36ct.
A Bee C is the alphabet of bees and hives. Measures 118 x 54, same color scheme, it'll finish 3 x 6 on 36ct. Full-sized leaflet format, with a huge, colorful graphic chart.
Bee Nice - Or Buzz Off! I love that! Half-sized chart, this finishes 2-1/2 x 4-1/2 on 18/36... again choose a white of your liking.
Bee Happy - This one measures 45 x 112. Even though it looks big in the pic, it really measures just 2-1/2 x 6 on 18/36ct - another bitty cushion-sized bowl filler!
Kind Words - Kind words are like honey sweet to the soul. Measures 71 x 55 - so finishes 3 x 4 on 18/36ct.
Bumblebee Kisses - The smallest BEE design, this one comes in at 40 x 72 - just 2 x 4! What a cute set of designs - all different, but they go together - like the 4 sisters!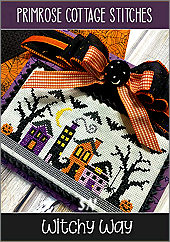 Bold Halloween thoughts!
Toil & Trouble - Choose some mangy hand-dyed fabric to add a little drama to this. It measures 76 x 113, so almost 5 x 7 on 16/32ct. Bright DMC colors, presented in a huge full color chart in a full-sized leaflet.
This is Halloween - Another beautifully presented full color leaflet - they've put another photo of the finished stitching right there inside so you can see what you're making! Super cute, coded for DMC, finishes about 9 x 9 on 25 over two, or 6 x 6 on 18/36!
The Witch Next Door - What an interesting neighbor! Pretty stink'in cute household though... this is done on anything beige... needs to be an early evening sky so the house shows up. Coded for hand-dyeds, I wonder if there is a story behind the address numbers - 4211? Full-sized color leaflet, The Witch Next Door finishes about 5 x 12 on 16/32.
Witchy Way - This is a small chart - just a 93 x 46 design - 3 x 6 on 16/32. I love that shoe building! Something fun to sit on the windowsill.



Autumn Rules & Pumpkin Kisses


Here is a large and small combo - 6 Rules of the Season to make Autumn afternoon's fun... the model is stitched on Vintage Country Mocha with regular DMC colors. VCM comes in just about every count - 14, 16, 18, 25, 28, 32 and 36, so you have choices here!

Autumn Rules comes as a full-sized leaflet... while Pumpkin Kisses is a small card that delivers the 2-1/2 x 4-1/2 cushion-sized design - that is finished so cute in its cover pic!





Star Spangled Street and Happy Independence Day


Another large and small combo of designs -
Star Spangled Street measures 195 x 42 - so 2-1/2 x 12 on 16/32. Charted for hand-dyeds, it'd be cute with some button on there... and is e perfect size to be finished into a round drum shape.
Happy Independence Day is festive, too. Done with hand-dyeds, it measures 3 x 6. Emily is a sister - the model stitcher. And there's another family member on here - Jim - and he made the frame!



Christmas Letters and Christmas Rules


A pair of leaflets with more fun rules and words of the season.
Christmas Rules measures 59 x 300 - so 4 x 19 on 16/32... DMC... choose any fabric just make sure the white shows up!
Christmas Letters measures 56 x 118. A few Smyrna and Satins thrown in here. You COULD stitch the whole thing in one, long line... it'd be like 20 inches long! Traditional reds and greens of DMCs.