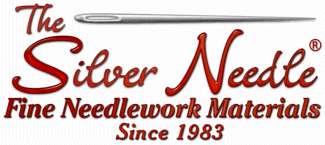 6068 S. Sheridan Rd. Tulsa, Ok. 74145 (918) 493-1136 (888) 543-7004
E-Mail



Complete Sentence


Here's a cute Mary Engelbreit design that needs to be hung in just the right spot! (Actually, it might be fun to just cut out the front of the leaflet and frame the pic!)

Choose a white background fabric to keep this clean and simple - and regular black. Just for fun! Presented as a leaflet.





Underestimate Me


Featuring the art of Mary Englebreit, this is a fun piece to stitch and enjoy. Actually, I think you could cut out the cover of the leaflet and frame IT! (I'm not going to underestimate your creative talents here, but stitching it would be easy and what a statement you'd make...)

Using only black and gray - there are 11 white stitches in the necklace - which you could bead instead. Finishes 7 x 8 on 14/28ct, but choose any fabric you like and stitch away!






Delighful by Mary Englebreit


Charted by Imaginating
Well, this says it all!

Measuring only 66 x 92, it will finish approx 4 x 5 on 18/36ct, and is worked with a whopping 7 shades of DMC floss! I think we all need this!


Jolly Old St Nick and Holiday Farm Animals - A pair of fun Christmas designs
Jolly Old St Nick - Wow... this guy needs to be stitched and grandly framed so he can be pulled out every year and hung in a place of honor. Designed by Mary Engelbreit, you'll want to stitch this on something white and over two threads. All the backstitch is half-placed, so that middle hole gives you a nice, even place for your needle, and makes your stitches a little smoother than Aida would. On 14/28, He finishes only 9 x 9, on 18/36 he's a mere 7 x 7! Regular DMC - 27 colors - lots of shading on this. The beard is against the unstitched white - just go to town with all those backstitches! He's so commanding and makes you smile!
Holiday Farm Animals - Isn't this festive? All three are cute just by themselves - stacked or not - but I LOVE that little pig! You could stitch him just by himself (3 x 4 on 18ct) as an ornament - he is precious! Actually, this piece is kind of on the larger side. Entire stitch count is 152 x 213 (11 x 15 on 14ct!) so it won't go missed anywhere you display it. Stitched with normal colors of regular DMC.



Gather and Give Thanks


by Mary Engelbreit for Imaginating
Kind of a 'retro-looking' design this is presented on Fiddlers or Rustico Aida. The backstitch everywhere... alot going on... it's actually a fun little piece!

Lots of color changes, all those half-placed backstitches... this finishes approx just 5 x 6 on 18ct, 6 x 8 on 14ct. A new release, I guess it reminds me of the patterns we had 35 years ago when we opened!





Grateful Hearts


by Mary Engelbreit for Imaginating
Imaginating has charted the artwork of Mary Engelbreit, and presented it in a leaflet format. I'm not sure how old the actual picture is, but the charting is new for 2020. Coded for DMC, it measures 168 x 142, so finishes approx 10 x 12 on 14/28ct. The model is shown on Aida, but working on Lugana or Linen is MUCH EASIER because of all the half-placed backstitching on this. With Aida, you have to MAKE your own holes... with anything over two - you HAVE that perfectly spaced middle hole already.

Next... notice the bottom is solid stitching. It is #369... and it's a MILLION stitches. Consider doing those in half stitches - along with the peachy-part in the center. It's lovely this way, but there are a ton of stitches there that you could probably do without, and not ruin the charm of the picture! Just a thought!


Teeny Witch


This is a Mary Engelbreit design charted by Imaginating! On 14ct it measures 4 x 7 and it uses 24 different shades of DMC floss. The chart is huge, and easy to work with.

There are lots of 1/4 stitches that get crossed with your backstitching. A lot of people don't like tat effect, but since the chart is so large, they are really easy to deal with on this!


Halloween Shoes and Halloween Hats


Quite a fun sampling of expressive shoes and hats for the season! Measuring 6 x 6 on 18ct, and coded for DMC floss, it might be fun to do these with some metallics to brighten them up a little... maybe add some beads?

Just fun pieces! Presented as leaflets.






Sugar Skull


This is super-energetic on color... Imaginating's Sugar Skull is quite an eyecatcher!

Coded for DMC floss, it finishes approx 8 x 10 on 14/28ct. No special stitches or anything... just a fun design for Sugar Skull Lovers!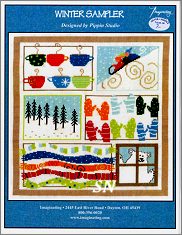 Winter Sampler


Winter Sampler is colorful and fun. Pretty large actually, it's about 12 x 13 on 14ct!

Here's another one to add to! Opalescent thread in the snow, beads for the flakes in the sky. Hand-dyed green for the pines, Simply Wool thread for the scarves and mittens - or some wild hand-dyed something, and white angora or something fuzzy for the bear. Fresh and fun!



Ocean Air, Salty Hair
This would be so cute in a girly bathroom, or on the wall of a cheerful and bright beach house! Stitched on white or whatever, in 19 shades of DMC, it finishes approx 8 x 11 on 14/28ct.

Dress it up with metallics and beads, or cute sea-shore charms... for SURE their belly buttons need to be gold beads! Just a cute overall design!



Sea Creature Squared
These are darling 4 x 4 squares of 'fishy things' that we smiled at! The pattern calls for Tropical Blue fabric - you can see that in the background... BUTTTTT wow, we have some white/opalescents that would be great too. THEN, stitch these in sparkling metallics!

Think about 18ct linen, and using Rainbow Gallery's metallic ribbons or nylon threads - add opalescent to the bubbles in the backgrounds --or even beads. Each design is super-simple, but so cute for a children's bathroom decoration... but you could always stitch the shark and make him a refrigerator magnet!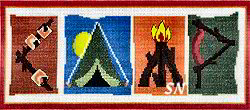 Camp Essentials


Well, not something you'd stitch for the family tent... but maybe the camper or the cabin? Just a fun little piece that maybe can commemorate a special trip or weekend... or even a whole summer?

Presented in leaflet format, this finishes 6 x 13 on 14/28ct. DMC.


Happy Camper


Isn't this THE CUTEST little camper???? Talk about fun Tiny Houses -- wouldn't you love to stitch in this -- even if it was parked in your driveway??? You could pull it to all your stitching events during the year, and save on hotel fees! Imaginating published this leaflet and I think it is just charming.

Approx 7 x 9 on 14/28ct, all DMC floss and just plain X's... it's super busy in color and design, and just makes me smile. *Home is Where We Park It!* I'm thinking every RV in existance needs this as decor!!!





Bless Baby


A cute little birth announcement filled with baby animals, it finishes approx 7 x 9 on 14ct.

Coded for DMC floss, alphabet is included for personalization. Leaflet.