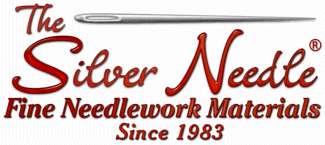 6068 S. Sheridan Rd. Tulsa, Ok. 74145 (918) 493-1136 (888) 543-7004
E-Mail
This is a selection of fun fobs and needlecases... designed by two gals in Atlanta who love both beadwork and stitching! Available as complete individual kits, I chose a few designs at Market that were my favorites! We have the stitched models in the shop... so I've tucked them into our color copier, enlarged them, and given you a few more pics than the actual kits do. We're inserting them into all the kits we're selling... things like fringe detail, the insides of the needlecases... stuff that makes a picture worth a thousand pages of instructions!
I understand Peyote stitch, so I could follow the instructions. But if you are unfamiliar with it, you might want a friend close-by who knows Peyote.



Nicolas Fob


Here Comes Santa Claus.. Here Comes Santa Claus!
The Fern Ridge Ladies have a new beaded scissor fob design that looks like a super-fun project to construct. Santa is holding a wish list and his sack has several cute toy charms hanging from it - so I guess he's been reading that list!

The complete kit contains the chart styles - colored and numbered - all the beads and findings, charms and threads. This little guy is approx 1 inch wide with 2 inches of Peyote and then another inch and a half of that wild and frizzy beaded fringe.





Prairie Necessaire Sewing Case and Scissor Fob


This is a cute Little-House-on-the-Prairie inspired set of smalls... the case is lace trimmed and features buttons, old fashioned safety pins, a spinning wheel chart and a tiny wooden covered wagon button. The complete kit contains all the linens, fabrics, threads embellishments - everything to make this 4 x 6 case.

The Beaded fob is totally fun by itself - in case you want no case! Blue sky and the wheat growing in the Plains. you can see the wheat charm tucked in between the fronds of the grassy green fringe. Soft bead colors - everything matches between the case and fob. Case will take about 12 hours to complete - the fob - about 3-1/2!





HO, HO, HO!


Here's a fun, last minute set of designs to dress up your holiday stitching. The ladies at Fern Ridge have a new small Peyote beaded scissor fob - a darling little Santa face - that companions a 2 x 2 needlecase. All red and white, both kits are complete and contain lots of unique beads and embellishments.

Each of the projects should take you 3 to 6 hours to complete. Cute for a stocking stuffer or stitch group gift - nothing says you have to be the over-achieving friend and make it before you give it away! Anyway, each kit contains all the threads, beads, embellishemnts, fabric, just everything each kit needs.





The Fern Ridge Ladies have 6 new MINI Needle Case and Scissor Fob Sets and one new Sewing Wallet creation!


We're picturing just three of the sets here... everything else is described and pictured below.

Fully kitted, the 2 x 2 needle cases are done on various linens, and usually with hand-dyed flosses and silks. Pat and Peggy decorate the edges and always add lots of tiny pockets and flaps inside their tiny 2 x 2 cases to make them fussy and fun. Since they are the Queens of Beads, and they love embellishments of every kind... you'll get charms or buttons or ribbons or beads on these cases as well. The 3-inch beaded Scissor Fobs are always OVER THE TOP! HERE is where P & P go crazy with all their cool beads. The basic flat beaded part - the picture part - of the fob is about 1-1/2 inches long and worked in Peyote Stitch, which is a beading technique done in-hand, rather than a loom. Instructions can be daunting in the beginning, but these are totally fun to do! Each fob will take approx 3 to 4 hours start to fringed finish. Work the flat beaded area, add that glorious fringe - about 1-1/2 inches of it - and adorn your favorite scissors or a tote zipper pull! Because of the nylon thread you have used, they are stronger than they look!
Display your finished sets in the Fern Ridge Scissor Box too! Everything comes fully kitted.
Strawberry Pie - Bitty berries - some ripe and some - not so much! A pretty set full of pinks and greens, the fob features white blossom beads and red glass berries in the fringe.
Simply Stitches - classy black and white... the case features lots of stitch doodles (haven't seen the inside yet!) but that darling fob steals the show again! They found a tiny dice bead, and a fun silver X - a cross stitch! I like all the little cube beads down in the fringed area.
A Black Cat - Striking lime green and black... this set is not too involved and would be great for a beginner. The fringe on the fob isn't too frizzy so it's easy to deal with, and the case is just plain cute! Complete kits contain all the thread, fabric and beading 'ingredients' and there is even a wooden cat face thread board included in the case kit.



More Festive Sets


Flamingo's Folly - Only a teaser pic of this right now! The fob is charming - love those corals and blues in the fringe! The stitched case promises a mother-of-pearl fish button embellishment, but I am sure there is more to this than just that. Details to follow when our shipment arrives!





7 New Needlecase and Beaded Fob Sets


The Fern Ridge ladies have been busy! We have 7 new needlecase and beaded fob sets to show you. The beaded scissor fobs are all flat Peyote beading - which you do in your hands - not on a loom. They look super hard, and really aren't at all. The most challenging part is keeping control of your threads and not tangling them between the 'frizzies' of the fringe! We have a ton of models in the shop for all of Pat and Peggy's things, so next time you're in... we need to give you 'a tour!' All of their kits come complete with all the threads, beads and extra stuff you need! They have actual photographs inside of stitch layouts and clear stitch diagrams and good color pictures to help you with your finishing.



Carrot Patch


The Needle/Sewing Case of this set is done on white linen, and is lined with bright orange. Stitched with silks, it finishes about 2 x w when closed, and comes with that cute bunny-shaped wooden thread board. One of my pics shows the kit ingredients - the beads and charms are just stunning!

The Carrot Patch fob has the same cheerful bright greens and oranges, and more rabbit and carrot charms... this one has a few less rows of Peyote than some others... TOPS, it'll take 3 to 4 hours from start to finish.


Magnificent Magnolia Set


This little fob is really elegant! The green, cream and white are highlighted by the golden yellow. They've put white opalescent flower beads into the fringe.

The matching stitched case is about 3 x 4... the original picture shows a rectangular shell button but the kits have been released with the most gorgeous creamy mother-of-pearl fillagree drops instead... two of them. Background on this case is natural linen.


Night Owl


The browns, greens and golds in this set are stunning. The incredible case kit comes with a feather waxer, a wooden owl ruler lots of butter-scotchy beads, and luscious hand-dyed green silk ribbon - which is there to hold scissors.

The case is lined with green calico fabric, pockets for those wood tools and waxer... lots of special stitches, and an awesome beaded edge to the case.


Just Love


Oh just the prettiest pinks and whites in this! The case is stitched on white - and the kit comes with the heart thread board. The fob features 6 different shades of raspberry pinks, with silver accent beads down at the ends of the fringe. (They are actually tiny hearts.)

Not too large a project... but this one has those 'frizzies' of beads in the fringe that like to get tangled with your thread while you're stringing them!


Nashville Sweet Bag and Fob Set


If you like bright aqua with touches of lime green - this is for you! Playful flowers decorate the fob and the fringe is full of clear aqua glass flower beads.

The Bag is made of the yellow-green fabric included and lined with the bright aqua fabric. I love that tiny covered spool though... but I can't tell you what it does... because the kit I brought home with me to write your words has all the cool materials and beads in to but no paperwork! (I have to go back to the shop and get that fixed!) Anyway, the sampler on the bag front is about 3 x 4.





By the Light, Summoning, Buttons and Black Lace, Under The Sea


Pat and Peggy have been super-creative these past few months dreaming up all sorts of cute new cases and Peyote Beaded Scissor Fobs! They are all due in the shop this week, and until i can get my hands on the actual kits - I cannot tell you fabrics and colors... so will fill in that info ASAP! The stitched cases are all completely kitted - finish about 3 x 6 and then fold. The completely kitted beaded fobs (which take between 3 and 4 hours to complete) are generally an inch and half log, BEFORE all that lavish beaded fringe they love to add. The kits are stuffed full of cool stuff... and they are including pretty good inside pics for your finishing info. All fobs are $37, all cases run $36.

By the Light has crows and pumpkins - lots of delicious black and orange beads.
Under the Sea - These two always find the CUTEST seaside-themed charms and use the prettiest aqua blue fabrics on their mermaid projects... look at those mermaid charms and that star fish!
Buttons and Black Lace is a little more subdued... really pretty metal and pearl buttons to add a silver hue to the classy black and white.
Then, the Wooden Scissor Tray! Wow, is this cool! The Girls have commissioned wooden storage trays to display your scissors with all your gorgeous finished fobs attached - and then remembered to add storage for the matching stitched cases! Measuring about 2-1/2 inches high and about 4 x 7 in size, you have 12 holes here to hold scissors, and room for about 6 cases inside! You COULD use this tray for other scissor fobs and little cases and cushions as well... we won't tell! Really a neat storage piece - it really shows off all your hard work, and lets you enjoy all those stunning beads!


Boardwalk Revue
Gorgeous seaside blue crystal and frosted beads, a bicycle and flip flops, and even a teeny seahorse!

The only one this time around without a matching needle case. Complete kit comes with beads, threads, findings and charms.





Bunny Rabbit, Rabbit


A charming set of bright and happy chartreuse greens, wooden browns, and oranges... the fob is glitzy and bright. The case is stitched on Zweigart's Lime Green Linen, it's lined with darling bright green polka dot fabric, tied with bright orange ribbon, and holds a little wooden bunny thread board!

It's all included in the kit that makes the 3 x 6 fold-to-close-and-tie little case!





Bee Bungalow


What a charming set! The bee fob is darling - such a profusion of gold on there.

The case is done on Amber linen, your lining fabric is super-gorgeous too. Tiny beads with lazy-daisy wings make the bees flying around the wooden hive thread board that fits inside one of the interior pockets!





Acorns Among Us


OK... The fob is woodsey - it features lots of wooden beads in the fringe.

The little case features a small wooden acorn thread board, along with a brass squirrel charm and lots of other button embellishments. The finishing lining fabric is gorgeous... just everything is yummy! Ties together with rust satin ribbon.


Sunflowers and Crows


Seems like we're just getting past the sunflower and crow season... so technically you have a year to get ready for them again with these! Fern Ridge's matching beaded scissor fob and pin cushion set is FULL of lip-puckering late fall color. The linen for the 3-1/2 x 5 cushion is 28ct Riviera Olive - a strong olive green, and the flosses are bright golden yellow, deep burgundy, along with crisp green and cinnamon. The complete kit contains that fabric and thread, along with the Chianti Lady Dot Ball edging trim, the hand-dyed silk ribbon to hold a pair of your scissors, coordinating batik backing fabric, the JABCO clay sunflower button and 4 burgundy corner buttons, and the little glass black crow pin by The Glasshopper.

The matching Peyote Stitched beaded fob is stunning! Those beads and crystals in the fringed decoration really pick up the light... I can't stop playing with all that beaded fringe! This kit comes with everything you need to make that piece - which should take you 4 to 6 hours to complete.






Mountain Mist


This little 1 x 2 beaded fob features an earthy landscape in the picture half, and sparkly 'red rock' and sky blue crystals in the fringe.

The whole thing should take you about 4 hours to make, the complete kit contains all the beads, thread, and clam shell finding to attach to a favorite pair of scissors.





Beaded Bracelets!


Here is a pair of super-simple Peyote Beaded bracelets by Pat and Peggy of Fern Ridge Collections. Everybody always 'gets' the easy beading part of their fobs... so here are the fobs - only skinnier and much longer! Each beaded band is just about an inch in width, and the ends are literally sewn together around the gorgeous silver sliding closure piece.

The complete kits contain all the beads, thread and little charms dangling from the design. If you aren't a 'bracelet gal' - just loop these around the strap of your tote bag, or make them as flat ornaments for your Christmas tree!

Everyone's Uncle has joined this little group this week! The blue bead background is a rich denim blue... he's just the cutest!


Fern Ridge's Swan Button Box!


Here Now! All the 'pieces and parts' are ready! This is a charming button box by Fern Ridge's Pat and Peggy. What a fun way to display your needlework and special buttons you might be saving! The box - approx 3 to 5 inches in size - features 5 slots to rest 5 stitched panels.


Fern Ridge gives you a trio of blue buttons to go on the 'blue bunny' card, but want you to use your special memory buttons (and other cool stuff) from wedding dresses, tattered baby clothes, worn out jean patches... maybe some special silk ribbons from something. Find curiosities to make your cards your own.

The ladies also suggest tucking a special pair of scissors into one of the slots as another accent. The whole thing is such a neat idea... such a fun project to stitch. I have no idea if they'll offer boxes separately or not... we'll just have to wait and see! For now... all of this comes as a complete kit - box is already constructed - linens, charts and threads are included... you add buttons!





The Gathering Sewing Case and Fob Set


Oh these girls - Pat and Peggy - obsessed with morbid little crows and spiders and gravestones! (At least on their delightfully detailed little sewing smalls!) As always, the sewing case kit comes with the linen and lining fabrics, gorgeous hand-dyed silk threads, luscious beads, and this time a spider charm. Complete assembly instructions are inside, along with some nice finishing photographs to help you.

The fob has more awesome beads - all the colors coordinate with the case design, and actually, this fob is a little easier to construct than some, because the fringe isn't out-of-control frizzy and wild. Delightful little crows loitering around the graveyard... if you have black scissors, attach that finished fob!





Bring On The Beads Fob and Sewing Case


This is a beautifully colored set full metallic frosted beads, and golden/mossy fabrics. Pat and Peggy made a pocket in the sewing case and actually have included a 6-compartment plastic bead case in the kit! Just funky swirls and jagged beads everywhere, I love the frosted teals, purples and brick reds in here... Fob finishes approx 4-inches from top to bottom of fringe, and case is approx 3 x 4 when closed.

Complete kits contain the charts, beads, threads, findings, linings, everything!


The Hour Sewing Case and Beaded Fob Kits


Pat and Peggy have delivered another fun Halloween-themed case and fob set... this one features a black witch on mangy hand-dyed linen. She is accented with a 'dirty lime' moon and her fob has that same nasty witch-y green in the background with just awesome beaded fringe!

Owl and spider charms in the case kit, the fob has a really cool silver broom in it. Complete kits of everything you need, these are always wild, crazy and super fun to enjoy when you finish them! Even though they look involved, they really aren't too bad to do!


Get Away Ghost Needle/Sewing Case and Matching Beaded Fob
Fern Ridge's newest Scary Smalls Set is here, and super cute - if you are into scary-looking little ghosts! Offered as complete kits, you get ALL the fabrics, beads, buttons, charms, threads, findings, linings, EVERYTHING but your time to stitch them in the kits!
Get Away Ghost Needle/Sewing Case is worked on Weeks 32ct Spanish Moss linen with weeks flosses. It features tulle to make those 3-dimensional ghosts on the front. Several cute silver charms appear on the inside of the case - a little skeleton, gravestone and flying bat... everything is gray, black and silver! Measures approx 3 x 4 when closed.
Get Away Ghost Beaded Fob is simple Peyote beading... again, that little ghost, with beautiful gunmetal beads and crystals. He's just the right size to finish in about 4 hours... fringe and all. Some of the Fern Ridge fobs have tons of 'fussy' fringe, but this one has a little less, so much easier to control. Kit contains all the beads, threads and findings you need.
The Beach House Sewing Case and Scissor Fob
Fern Ridge has another whimsical set of stitched needle/sewing case with matching Peyote Stitched beaded scissor fob. Presented in kits with ABSOLUTELY EVERYTHNG you need to make them just like they are shown.

I always marvel at all the little pieces and parts, all the fabrics, buttons and charms they collect in here, everything is labeled and sorted out for you. Pat and Peggy include color pictures of the finished pieces in their kits -- so nice to have when you're constructing.

Short Term Beach Rentals folds closed to about 3 x 4 in size. The matching fob has breathtakingly beautiful beads, crystals and shells in it... it features a little sandcastle in the bead work.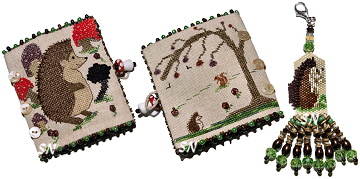 Herman The Hedgehog: His Sewing Case and Fob!


This is SO DARN CUTE... you are going to fall in love with Herman! Fern Ridge's Pat and Peggy have created such a fun sewing set... presented in full kits... you get EVERYTHING neat and cool to finish this little guy in style!

Herman - The Sewing Case This measures about 3 x 4 when closed. Beaded edge treatment, check out the little hand-made red and white spotted glass mushroom button holding it closed! Stitched on 32ct Flax linen with Sullivans floss, Herman is on the front cover, his little forest on the back. Lots of special stitches in the tree. Open his case to find a stitched pocket for a hedgehog thread winder -- it's garnished with a silver mushroom charm. Next, there is a ruler band -- yes, you get the wooden ruler etched with another baby hedgehog. then linen pages to hold needles, another pocket to hold the hedgehog waxer that is included, and another pocket to help hold one of your small scissors. Great colors, and super cute, the kit includes the chart, linen, lining fabrics and interfacing. Beads, buttons, glass mushroom, ribbon, waxer wooden winder and ruler, silvery mushroom charm... I hope I haven't left anything out!
Herman - The Beaded Fob This little guy is so much fun to do! He is Peyote Stitch (which is a beading technique, not Cross Stitch) with lavish fringe at the bottom and sticky-outey 'quills' from his back. Presented in a complete kit, the Peyote part takes about 3 hours to do... quills another hour, and fringe another one or two -- I'm always getting my thread accidentally wrapped around the rest I have already done! Pretty browns and greens, you get everything in the kit. Herman finishes approx 4 inches long from head to fringe!



Scared Crow Beaded Fob and Sewing Case


Fern Ridge always does the cutest stuff... those girls are HUGE into little details and fun extras in their designs... and since they fully kit everything -- you GET all the neat beads and trinkets! Scared Crow is one of three of their newest sets. The Peyote Stitched fob is done with matte finish glass beads in denims, and grays, with a creamy background and shiny little pumpkin oranges. His head is actually a wooden bead, and his hat is a glass bead! All that lavish fringe along the bottom matches off the colors in the fob design.

The matching sewing case is stitched on Weeks 30ct Parchment linen with Dinky Dyes hand-dyed silks and silk ribbon. You get that little pumpkin waxer in the pic, and all the beads and buttons for the edging, you get the pretty lining fabric, a black raven charm... everything but the small pair of black scissors. The fob measures approx 1 x 2 with an additional 2 inches of fringe, the sewing case is about 2 x 3 when closed -- TOO CUTE!!! GREAT colors!
Check out the neat matching biscornu on the inside page!





Scared Crow Biscornu Cushion


A sweet matching mini-cushion to your Scared Crow Sewing Case and Beaded Fob, this is stitched on the same linen with matching threads... and features a pair of Glasshopper glass pins! You get a blackbird AND pumpkin -- miniature handblown glass -- topping your pins!

The complete kit contains the linen, threads, pretty backing fabric that matches the sewing case, all the beads and those awesome glass pins!


On Pins and Needles
I can't wait till we have our shop model finished to show you how stunning this set is! A study in silvers, grey, taupe and antiqued silvery Mercury Glass colors, the case is stitched on Picture This Plus's 28ct Pewter hand-dyed linen using Gentle Art's Portobello and Aged Pewter flosses. The inside features a stuffed pin cushion, while the outside features those antiqued pearls and lovely pieces of antiqued gold filigrees.

You get the linen, linings, ultra-suede, calico lining material, the bodkin, EVERYTHING to make this 4 x 4 tri-folded needle case. Lovely! The matcing beaded fob is just gorgeous. It looks like tarnished glass -- already old and very treasured! That complete kit comes with the findings, threads, and all the luscious beads to complete the fob and all that awesome fringe!


Glitzy Stitches Fob and Sewing Case


Black & Metallic Gold -- this set is STUNNING and ELEGANT!!! (Like you should be stitching in a strapless black sequin evening gown, with a martini, -- but having taken off your stilettos!) The 1-1/2 x 2 inch beaded fob area features gold stork scissors -- then add all the drippy gold and black beaded elegance down there for the fringe! Don't attach silver scissors to this -- only gold will do!

The matching sewing case is worked on black 28ct linen with gold silk floss. You can see the rows of special stitches on here... you'll make a 2 x 3 case. Fern Ridge kits contain everything, everything you need to make their featured component. I don't know how they keep track of all the little treasures in each of their kits - they are so much fun to construct!


Clifford the Crab


Clifford the Crab WOW... THIS IS A STUNNING PIECE OF HAND-MADE BEADING ARTWORK. Little Mr Clifford is Peyote stitched with deep ocean-blue Delica beads. He is accented with bronze. His legs are his other good feature -- besides his great body! They are added on and stitched on wire -- so they can bend and be positioned! You can see the gorgeous glass and crystal beads that make up his legs... he is awesome at about 1-1/2 x 2 inches in size!

He's a little on the advanced end of Peyote stitching... but I think he's do-able!!! Presented in a complete kit of beads, wires, thread, everything!


The Buzzzzz - Fob and Case Set


If you love Bees -- you'll need this! The 1 x 2 beaded fob is worked in honey-golden yellows with tons of black accent. The fringe is spiky, and the bee wings are big, loose loops of beads. Cute by itself... or with it's matching HIVE case! That tri-fold case finishes approx 3 x 4 when closed -- the front, middle and back are all stitched on 28ct Golden Sand Linen with hand-dyed flosses -- but the front features that solid area of special stitches and Satins. The complete fob kit contains all the beads, threads and findings.

The Case kit includes the charts, linen, lining fabric, threads, neat winder and al the beads and findings... even the little pair of golden scissors to store inside the case!!!


Sally's Seahorse


Here's a pretty fob of with a little green sea horse in the center of his aqua-blue water. The fringe on this is what steals the show... it showcases huge aqua fresh water pearls, red coral, and a pair of star fish charms and a really cool sea horse charm that is about an inch in size!

Gorgeous colors... if you love the water, shells and sand and all that... you'll love this! The beading finishes approx 1 x 1-1/2, fringe is another 1-1/2 inches.


The Sewing Society Needle Book and Beaded Scissor Fob


Sewing Society is just one of the new SIX -- and it's a little decorated TIN with fob! A four-inch square by 1/2 inch high hinged tin, you are decorating the top with a vintage print of a needle advertisement. Inside, you are lining it with blue calico, and adding a stitched pocket -- 28ct hand-dyed linen -- to hold needles, a tiny spool waxer, bits of old lace, a wooden ruler and a wooden thread winder -- ALL OF WHICH are included in your kit. (I couldn't even get it all back in the bag easily!)

A sweet little needle tin -- there is a magnet in here as well to help hold scissors. THE FOB: Mauve, gray and demin blue -- all the colors that match the tin -- the design on the fob is a spool of thread and you can see the little spool charm dangling from there. Always the lavish fringe to trim it off -- the hardest part of that is not getting your thread tangled around the fringes you have already strung! Super fun -- they do a colored diagram of threading order so you can't mess it up.


No Bodies Home


Pat and Peggy LOVE Halloween -- so here is the Family Grave Marker-- to store the Family Scissors and Needles! 28ct Picture This Plus's Kermit (an acid green AWESOME color!) stitch the marker on both the front and back -- this is a trifold case. There is fun beaded trim edging on here (striped green beads), and pockets inside to help store little black scissors -- included in the kit -- as well as skull charms to adorn some fobs and more pockets. It finishes approx 3 x 6 when closed.

The matching Fob is all black and gray -- I think it's the front door to the Haunted House. All the lavish trim is gorgeous -- matching acid green pearls and beads, lots of little black stringers, and the cute skulls and crossbones charms down at the bottom! Offered as compkete kits of EVERYTHING you need to complete them as pictured.


Memories Forgotten


Oh, this is so pretty! It's supposed to be a little lost antique sewing tin that has been found! WHO lived in the house??? WHO are the two sisters in the picture??? Was this their sewing tin??? This one includes a six-sided tin 4-inch by 1-inch tin that you decorate with three different vintage paper prints. Inside, you'll stitch a tiny biscornu on Picture This Plus 28ct Regency Linen, along with a little sewing case that stores needles, the spider waxer, and small black scissors that are also included in the kit. Some hand-dyed silk ribbon, a metal key, a few pretty buttons and even some cool beads to trim the ends of the twisted cord closure.

THE FOB: More pretty golds, greens and creams -- this has a matching button to the tin -- it's up at the top, and a darling miniature spider charm. Moths and flowers decorate the beaded part of the fob.


October


I love this one! A linen sewing case all decorated with birds and bats, spiders and pumpkins, this is worked on Picture This Plus 28ct Regency linen with Rainbow Gallery silks. Inside, you'll get to store a tiny thread catching hook that you've embellished with a beaded dangle, a thread winder and ruler, and your beaded trim edge will be stunning. It is made with the most gorgeous frosted teardrop beads in every shade of copper and lavender-brown. You even get the printed lining material in here.

The matching fob has an intoxicating bag of amber, orange and copper crystals and frosted beads. You'll make the little kitty, the moon with the bat flying across it, and those threads sticking up are spiders!!!!! Great colors in this set., both are offered individually as complete kits.


The Mask


This set screams EXOTIC! Stunning Autumnal colors of silks and the lining fabric and wool, this is worked on Week's 30ct Cappucino linen. The Silk'n Colors in here are Warm Brick Path, Turkey Feathers, Gingersnap, Chocolate Caramel and Bark & Branches. Need I say more on color??? The case is decorated inside and out with assorted metal, glass and natural shell beads and buttons. The scissors are included in the kit, but the wooden pieces are separate. Really a different subject matter for Pat and Peggy -- but this is REALLY COOL!

And how can you not be in love with all the cool stuff hanging from the fob??? The Mask part is beaded with matte finish beads -- I love his hair! The fringe is so neat with all the natural bones, shells and beads. Both are offered as separate, complete kits.


Prissy Peacocks


OHHH.... love the brilliant aqua blues in here... into the periwinkle and then the bright lime green! This is a 8-1/4 x 3-1/2 SEWING ROLL with matching 2 x 2 Pin Keep. Stitched on 28ct Lambswool, it features the yummiest colors of assorted silks, elegant lining fabric along with Warm 'n Natural. Two of the inside pockets store a peacock thread winder and a bitty ruler. Just picture Caribbean blue waters -- and you're here!

This matching fob is alive with the same goreous blues and that festive peacock. A little smaller than some of the other fobs... it'll be easy to stitch. Can you see how the fringe is offset -- it's his tail! Both are offered as complete kit of EVERYTHING you need to work them.


Just a Few Shells Case & Fob


The gals at Fern Ridge have presented us with the most CHARMING Deep Blue Sea Silk Sewing Bag and Beaded Fob Set!!! I don't even know where to begin describing this beautiful set of artwork... it truly IS beaded and textile ART! The silk bag is made of Aquamarine Silk Dupioni fabric. It is garnished with your stitching on 28ct Tempest hand-dyed linen by Picture This Plus.

The COMPLETE kit (which is absolutely intoxicating!) includes Treenway Silks in Mermaid Tears, Sea Spray and St Thomas hand-dyed colors. There are starfish, seahorse, scallop and fish charms in here... beautiful tiny shells and glass beads... teeny buttons... Delica beads, Hannah silk ribbon -- Sea Goddess color! -- abalone buttons, a wooden ruler and wooden shell needle keeper (by Doodlin Around Design), a starfish waxer, and a real starfish that you'll use as a threadwinder!
The verse by Anne Lindbergh reads: Patience, Faith, Openess -- is what the sea has to teach. A Gift From the Sea. You can see my hands in our pictures... this finishes approx 4 x 5. Absolutely GORGEOUS!



Just a Few Shells Peyote Stitch Fob


A small matching beaded fob to go with your awesome Shell Purse, the beaded part of this is really very easy to stitch... just hard to teach someone else to do! The fringe looks like the hard part... but it is the easiest! You are stringing together a multitude of exquisite little shells and charms and findings. Luscious aqua blue and deep sea green colors in here! Offered as the complete kit!


Lamsey Divey Set


This is a charming sheep and pasture sewing set!!! The stitched case is offered separately from the fobl The Lamsey Divey Case: Stitched on 28ct Aerial Cashel linen by Picture This Plus, the complete kit contains Blue Heron Weeks Wool, a cut of blue print calico lining material, finishing supplies, and all the necessary silks and flosses for stitching.


There is a mother-of-pearl sheep button in here, some crystals, hand-dyed silk ribbon and even a little sheep waxer made in an antique candy mold! The case finishes approx 3-3/4 x 5-3/4 when opened, and Pat and Peggy have some nice pictures inside here of the outside and inside of the finished piece.



Lamsey Divey Beaded Fob Kit


Oh... love, love this one! The Peyote beaded part is not too large, the tiny sheep scene is cute with a small splash of color. The fringe is an explosion of brilliant grass green dotted with sky-blue crystals and pretty silver beads as accents. The complete kit contains everything you need to make this little guy -- which is finishable in about 8 hours! (I think it takes that long because I always get my fringe tangled in my working thread!)


Spooky Night Sewing Case and Beaded Fob


This is a study in black and grays. The sewing case is stitched on 28ct Thunderstorm linen with Treenway Silks, there are spider, and little 3-D skull charms in here -- just *charming!* Complete kit contains the fabric, linings, silks, beads, ribbons... everything to make this faux-elegant case! Can you see the crystal chandelier on the cover??? It has tiny black beads dangling from it!!!

The Spooky Night Fob is all gray and purple! The Peyote beaded part is a grave stone but the fringe is the exciting part! It has that open casket dangling... and more of those 3-D skull beads! Just the funniest thing... this fob is a MUST HAVE even if you get nothing else to match it this time around!


Bats All Folks Sewing Case


Gosh... this is CUTE! A graveyard scene stitched across the outside of this darling case, the fabric is 28ct hand-dyed Midnight Fantasy Opalescent and your stitching is done with Gloriana silk. The lining is orange silk, and the embellishments everywhere include Swarovski crystals and black stars, red aventurine and black lip stars, blue agate beads and tiny buttons.

The case measures approx 4 x 6. The wooden ruler and thread winder set and black scissors shown in the pic are offered separately.





Bats All Folks


Another fun little fob design -- this too, finishes approx 1-1/4 x 2, then you add all that lavish fringe treatment! The fire-polished greys and blacks in here are so pretty! There is a bat set against the bright moon and lots of clouds in the sky.

The bat charm is added on top after all the Peyote Stitching and that fun fringe -- which is just loops of strung beads! (Looks so hard, but it's the easiest part!!) Offered as a complete kit of beads, findings, threads... just everything!





Night Prowlers Sewing Case and Beaded Fob


A little more toned-down than Spooky Night... this case is worked on 32ct Grey Belfast linen with hand-dyeds. It features a graveyard with spiders, dead bugs, crows and a cat... all sort of small, silly things. The complete kit has the fabrics and threads, beads and charms... the sewing case measures approx 3 x 6.

For the fob... there is a crow on a grey pumpkin, with a creamy moon in the sky. More cute stuff in the fringes of this one... it is a bit smaller than Spooky Night... so a bit easier to construct. Very cut set!






Elephants Walk


***The Fern Ridge Gals have been busy again... we have 10 new things...!!!

Elephants Walk is just one pair and makes me want to go to Africa!!! A matching 10-ish x 2-ish sewing case and scissor fob the colors in these are stunning -- cinnabar, cucumber green, golds and black. The COMPLETE kit for the little case is amazing! You get the 28ct Cashel Linen, the cinnabar printed lining fabric, chart for the little parade of elephants tramping across the outside your case, and small panels inside.

Lovely beads for the edge trim are here, beads and a magnet for the closure loop, and a tiny crystal butterfly for one of the palm trees. Three different brands of floss are in here, along with Gloriana silk. Because the little case has interior pockets, you even get the tiny wooden elephant thread winder -- it is 1-1/8 inches, and a 2-inch ruler... along WITH the black 3-inch scissors AND a 1-1/2 inch elephant thread waxer!!! (They tell us that shape is made using an antique candy mold!)

THEN... you'll need the matching Elephants Walk Peyote Stitch scissor fob -- remember, you have the scissors in the sewing roll kit! It is a small piece that features lavish beaded fringe and a neat elephant charm. Same awesome colors, and another crystal butterfly! The fob is offered as a complete kit as well.
Make sure you scroll down to see the other 5 charming sets of fobs, boxes and matching cases!


Maren's World (The Fob)


Same luscious beads -- only more of them. This one features matching charms to the crab -- you get a mermaid and seahorse to garnish the fob. The beaded part of the fob measures approx 3/4 x 1-1/2 inches in size. Then, add the exhuberant fringe!!! I took the fob class at market -- so my beading is finished -- I'm just working on the fringe now. If you're GOOD at making these, you can get them done in a day. I did the flat beading in the 3-hour class, the fringe will take me another 2-3 hours. Such gorgeous colors in these!! Complete kit contains all the needles, threads, beads, and instructions presented two different ways -- both numerically and pictures!


Daciana


They tell me she's a vampire...! Daciana's fob is Peyote Stitch, with her hair added as loops after you are finished. Her skirt is simply 12 fringes of the most exotic sequins and beads -- can you see her skinny little legs in there?

The fob part finishes approx 2 inches long, and with her dress and topping, she's almost 6 inches tall! Offered as a complete Peyote Stitch Bead Fob kit.





Raven and the Rose Scissor Fob


A dark orange, gunmetal grey and black piece, the raven it set against that midnight-gunmetal sky.

Offered as a complete kit of beads, findings, nymo thread and all those larger beads for the fun fringe, this finishes approx 1-1/4 x 2, then you add that fringe!


Doodle-Doo Sewing Case & Beaded Fob Set


Fern Ridge has so many new releases -- we brought home 10 different things from Market -- all eclectic and really cute! The Doodle-Doo Set is SO colorful and wild... I love the FR Kits because you get EVERYTHING in them... and this one is no exception!

*Doodle* is stitched on 28ct Touchstone Silk/Linen in hand-dyed silks and garnished with the coolest rainbow hand-dyed silk ribbon on his tail feathers. The case edges are trimmed with yellow and black square beads, and inside the case, you'll find a burlap banding that is rolled up to be a little hay bale! There's even a bitty 1-inch wooden barn trinket in here... along with a 2-inch matching wooden ruler! All the laces, threads, beads, wood, fabrics, trims and linings are included.

Then... Peyote stitch Doodle on a matching beaded scissor fob!!! The *tail feathers* on that one are just loops of beads attached after the fob is finished! LOOK at the luscious colors on that little thing! Just spectacular! Both the case and fob are offered as complete kits.






Posey Patch


One of Fern Ridge's gigantic beaded fobs... these are designed to fit your 8-inch shears... as they should not go naked! A companion to Loosey-Goosey, this one features a rainbow of petite beads to create the charming quilt pattern in the Peyote Stitch top... and a TON of awesome glass beads for the bottom fringe treatment.

Crisp aquas, apple greens, opaque white bell flowers trimmed with orange and yellow crystals... the Peyote Stitch is a challenge for me to keep straight in my head... but that bead-stringing on the fringe is my reward for a job well done! Offered as a complete kit.


Loosey Goosey Beaded Scissor Fob


Fern Ridge has lots of new releases... this is just one of the five of my most favorites! Loosey Goosey is a big Peyote Stitch scissor fob -- offering a larger-than-normal scissor clamp finding that will fit your larger dressmaker shears. Their smaller fobs fit smaller embroidery scissors -- this one is larger for larger scissors. As always, Fern Ridge puts EVERYTHING into their complete kits -- ALL the cool beads and charms, all the findings, lots of thread... everything except a spare pair of hands to do the stitching!!!

Loosey Goosey features a traditional quilt motif... and you'll notice the missing flying goose is attached as a charm! Approx 2 x 4, you'll love stringing all those beads into the lavish fringe... These are so much fun to work, and they feel so fluid in your hands -- the Delica beads catch the light so beautifully -- everyone loves them!


Jo Jo's Santa


Fern Ridge has a stunning new Santa Peyote Stitch piece that can be used as a pin, ornament or necklace pendant. Charming Mr Santa Claus is entirely beaded -- no loom, no base fabric. You stitch him in your hands using a beading technique named the Peyote Stitch -- where the beads fit together like miniature bricks!

He is basically charted -- complete beading instructions are included with the color coded diagrams. He finishes a mere 2-1/2 x 2-1/2, his face is flat... but that beard is a wonderful mass of looped beads, all glistening with silver star mixed in. Offered as the complete kit, you get all the threads, beads, embellishments, findings... everything... along with great instructions!


Coffin Bones


Here's the matching Peyote-Stitch beaded scissor fob to go the A Coffin to Die For. Fern Ridge always kits with the EXACT same beads and findings on their models -- everything is exquisite! Coffin Bones has the same bone charms, silver skulls, glass flowers, and petite Delica beads, so your fob will look just like the one in the pic!

Just the most fun... instructions for Peyote Beading is included!


Moonlight and 11:58 PM
This stitched and beaded needlecase and scissor fob set is over-the-top with Halloween personality!!! You'll see from our pics, that each has so many fun little details in the beads and stitching, I don't know where to begin my description! Designed by Fern Ridge, these are offered as complete kits that contain all the necessary beads, threads, findings, charms, fabrics, needles, lining fabrics and linen, beading threads... just everything... except you!

The needlecase features a beaded edge, a sterling spider and skeleton charm, is stitched on 28ct Silvery Moon Cashel Linen in silks, silks and more silks, and overdyeds flosses -- all of which are included in the kit. With special stitches and finishing instructions, the verse -- in a crooked alphabet font -- reads, "Moonlight and it's 11:58pm. Don't just stand there! Come on in. Our Stitch-in is about to begin. The linen we use is a spider's web. Our threads are the hanging moss. The needles we use will delight and amuse. So, come on in. There's no time to lose. It's 11:59 pm and the stitch-in is about to begin!" Lots of black, greys, bronze and brown... this is CHARMING! Finishes approx 4 x 4 when closed, and because of all the cool beading around the edges, this feels heavy in your hand.

The RIP fob is stitched in Peyote Stitch. It's trim features a sterling skull charm, hematite stars and amber beaded accents...all the beads have a frosted matte finish... and make this look old and weathered! So creative and unusual, this is such fun!