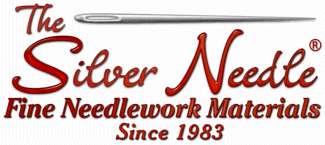 6068 S. Sheridan Rd. Tulsa, Ok. 74145 (918) 493-1136 (888) 543-7004
E-Mail

Welcome to our Sale Page!

Just a few things that have been past favorites... or little things that have been forgotten over time. Maybe the last one of something? Possibly something we can no longer order from Designers?

Our Sale Page is full of fun, LAST-CHANCE Treats! You can see the original price in the dropdown, as well as the Sale Price.
All Sales are Final. Enjoy the Browse... we hope you find something that needs a new home in your stitching stash!
Note from Mary: We are adding to this page literally every day right now. In fact, we have now added a second page! Check back often!




Celebrate

- WOW!
This is Teresa's 15-Year Anniversary Celebration Book - it contains 15 NEW cross stitch designs! The computer-generated pics here show you what's in the wire-bound book... just really cute things for every season! Farm animals, chickens and eggs, Halloween, a harvest scarecrow, everything is charted with DMC and an occasional Week's Dye Works hand-dyed floss.

Really a nice treat!


Celebrate Punch Needle Book


This is Teresa's promised HUGE punch needle book - presented just like her 15th Anniversary Cross Stitch book - it has 15 punch needle designs in it.

No pics of the inside yet, but at $16 it's a steal for all you get!



Just SOME of our 8 New Arrivals by Teresa Kogut

Oh My Bird is presented on Graham Cracker Linen - so choose a pretty golden brown you like to highlight your colors! DMCs and hand-dyeds, it finishes about 8 x 12 on 32ct.
Above All - Love one Another! This is shown on 35ct Cornsilk Linen by Weeks - kind of a green-ish gold color - and uses both DMC hand-dyed flosses. It finishes square - 10 x 10.
Fraktur finishes 8-1/2 x 10-1/2 on 40ct over two. Super traditional colors and motifs!
More Festive Sets
April Showers - A spring rainshower is the theme behind this pretty rose, purple and grass green set. No design details yet, but they do have frosted flower tulip beads and the ends of the organza ribbon ties on the case, and a cute teeny umbrella charm on the beaded fob.
May's Bounty - Features butterflies! Bright summery colors of blues, yellow or bright oranges, the fringe on the fob looks kind of 'out-there!'




Juicy Bite Set


Wow... lip-puckering bright yellow and greens!


Family Fourth


Pat and Peggy have been super-creative these past few months dreaming up all sorts of cute new cases and Peyote Beaded Scissor Fobs! They are all due in the shop this week, and until i can get my hands on the actual kits - I cannot tell you fabrics and colors... so will fill in that info ASAP! The stitched cases are all completely kitted - finish about 3 x 6 and then fold. The completely kitted beaded fobs (which take between 3 and 4 hours to complete) are generally an inch and half log, BEFORE all that lavish beaded fringe they love to add. The kits are stuffed full of cool stuff... and they are including pretty good inside pics for your finishing info.

Family Fourth - Looks like a schoolhouse - I think the green beads on the fob are sculpted flower shapes!




Summoning is the back of a little witch working on her spell!

The artwork on the outside of the case is the same as the beaded fob... cute charms too!


Christmas Hare Beaded Fob & Matching Sewing/Needle Case


Pat and Peggy of Fern Ridge have another new beaded scissor fob piece along with matching needle case. It did come out before Christmas this last year... but we waited till now to put it up... now you are almost a YEAR ahead of schedule with it! The Hare Peyote beaded fob features a stately rabbit silhouette with Pat and Peggy's signature beaded fringe all along the bottom edge. It looks involved, but is actually pretty easy to do.

The kits contain positively everything you need - all the pretty beads and baubles - everything. The 1-1/2 inches of Peyote itself should take approx 2 to 3 hours, the 2 inches of fringe will be another 2. (Our model stitcher can knock one of these out in 3 hours, as a comparison... so 5 hours is pretty accurate.) Festive red and green crystals accented with lots of gold!

The Sewing/Needle Case is stitched on 32ct Flax linen with Weeks hand-dyed flosses of Collards, Oilcloth, Juniper, Whiskey and Red Rocks. They've tossed in a few special stitches here and there... and inside the case, there is a tiny stitched needle case, and 4 bone rings to hold treads. Fern Ridge has new charting software - the chart in here is in COLOR! There are color photos in here of the the case insides, and actual-sized templates for the finishing (but this time, there is no calico lining fabric.) The case finishes about 4 inches in size when folded closed.


Hare Pins


Well, this is a cute set of PIN-inspired designs! Browns and rusts mostly in the color schemes... the rabbit case measures about 4 x 4 when closed, and the inside sports cute safety pin fabric! It is stitched on Picture This Plus's 28ct Oaken hand-dyed linen.

The complete kit contains a million things... fabrics, trims, embellishments, a waxer, a glass rabbit button... everything to make this charming little bunny-envelope!
The matching Peyote Fob has lovely copper and brown accent beads. Colors are hard to see in the pics, but the beads are exquiste!


Long May She Wave Sewing Case Set


The sewing case features a cross stitched flag to match the fob, and includes a star button for the inside, as well as a few red-headed pins. There is a 2-inch felt 'mattress' piece included that you make a fabric pocket for -- and the entire case then folds closed kind of like an envelope. When both are finished... just do NOT hide that fancy fob inside all the time!


Let it Be -- A Bee! Sewing Case


Peggy and Pat definitely use imagination and color in their designs! I don't even know where to begin describing this set! Hot pink, searing oranges, slime lime, lemon yellow and bright fuscia!

Your sewing case kit contains Tropical Lime and Tangerine linen, 6 different cuts of Week's hand-dyed wools for the bee/flower petals on the front, tons more matching beads like those in the fob kit, and even fuscia and black leopard print organza!

LOVE, LOVE all the color and energy in this set... you might need to buy a house on the beach to go with your finished needlework!!! Offered as complete kits stuffed full of all the necessary ingredients -- except, of course, the wooden tools displayed inside the case.





Pretty Peas - The Beaded Scissor Fob


Oh... I took a class at Market and MADE this little beaded fob! Those Fern Ridge Gals are way too happy and have so much fun with their designs and kits... we had such a fun afternoon!

Pretty Peas -- The Fob -- is a Peyote Stitch piece -- actually very basic and small in size. You see that pea vine on there -- that's tacked on after the basic beading is finished. Then, that lavish trim... just cool beads all strung together zip-zap! Their complete kit contains ALL the cool beads and charms, the threads, the findings, everything!


"Owl"oween Stitching Case


What an eccentric owl this little guy is! He adorns the front of his linen stitching case. Offered as complete kits, the Linen case finishes approx 4 x 8 on 28ct Stormy Gray Linen. Worked with Thread Gatherer's Silk 'n Colors overdyed silk threads of yellows, greens oranges and that awesome Monster Mash combination color, the case is lined with grey fabric, embellished all over with beads and crystal paillettes -- the owl's beak is a big 'ol teardrop crystal!

Then, you'll find a pair of cute, primitive owl thread winders! Fern Ridge's *coffin-man* made some silly little owls, and you get them too! A few special stitches -- Blankets around the eyes, Bargello on his tummy, even little gold bugle beads for his feet! The Owloween Fob is equally as fun. Orange, green and purple beads of all sorts of sizes, there is an owl charm on here, and a big beak crystal again! Complete fob kit comes with all those beads, a spool of the special beading thread, and all the necessary instructions!


Join Us?


A vulture hovering over that boiling cauldron... lots of cool 'ingredients' go into this case and fob pair!

Silks, beads, crystals and wild fabrics... case and fob are both offered as complete kits... and each individually.

VERY funky and fun -- quite on the unusual and unique side of life!!!






Spellbound!


Fern Ridge has, once again, delivered us a charming beaded scissor fob! The Spellbound fob is peyote-stitch bead work. It's complete kit contains a huge wired spider that you bend a bit to attach to the fob (WAY TOO authentic for me!) and lots of black crystals and beads to adorn the fringe -- which you string apart like a web! Just the most imaginative thing!


The Ladies Garden Journal is Now Complete!


Summer House Stitche Workes has a pretty series of garden flowers, each stitched on 32ct Beige linen and finishing 5-1/2 inches square. There are six florals in the set - each offered in a separate chart, and they are coded for DMC or Classic Colorworks hand-dyed flosses. Sweet William is the first, Hollyhock is number 2, and Solomon's Seal is the third so far... with the last three releasing every 6 weeks or so till September-ish.

Beth Ann describes them as her whimsical garden! She did a finishing kit for this project - we will have these for a limited time. She's provided 8 unfinished wooden boards, 7 precut to size mat boards, 4 yards of twill tape ribbon, a coordinating Journal cover design, and finishing instructions to construct your stitched set of flowers into this cool zig-zag-folding journal! A fun finishing idea, kind of a surprise presentation if it's folded on your table and someone picks it up to look at it! Each of the six flower panels could be framed or cushioned as well... it's a cheerful set!


Miss Eliza Garside's Sampler


Beth Ann and her daughter found this original stitched sampler in a Lancaster PA antique shop. Of course after HAVING to buy it... she put her talents to work and re-charted it for us. It is a charming floral urn with several design oddities in the piece! I love reading the history of stuff like this... she researched and found several Eliza Garside, but found this one's marriage certificate, her occupation... all sorts of cool stuff.

Beth Ann made a little paper token ornament to match the sampler... added some charms to it... just did a really nice job on everything. Miss Eliza probably worked in the local wool factory in England... her sampler was stitched in wool. Beth Ann has chosen Gentle Art's hand-dyed Simply Wool for this - so luscious to work with, you'll love the effect! Set of wool includes 3 skeins each of Endive and Ruby Slipper in addition to 1 each of the 8 other colors... Brandy, Summer Shower, Portobello, Oatmeal, Forest Glade, Dungarees, and Antique Rose. Simply Wools follow the same colors as the Gentle Art flosses - so if you check your stash, you can see the colors in this.





Fragments in Time


Here are 4 small card designs that celebrate sampler motifs. They are supposed to be 'fragments' of stitching that kind of look half-finished! Display them in a hoop... or better yet, mount them into wooden pin cushion forms -- like the ones we have from Lone Elm Lane or Sudberry House. Or... you can just sew them into stuffed cushions.

They all are 50 x 50 in size, stitched on the same fabric - we have 28ct Vintage Country Mocha Cashel Linen, and use the same Gentle Art Sampler Threads of Cinnamon, Grecian Gold, Endive, Chamomile and Wood Trail. It might be fun to finish right up to the edges on these a little, too! Kind of like lost little scraps of stitching!


Starflower Sampler


This is a delicate piece -- worked in only 4 colors of DMC 310, 831, 221 and 3852. It finishes approx 5-1/2 inches square on 32ct, and is full of specialty stitches of Smyrna and Star Crosses.

There is a bonus biscornu chart in here as well! Offered as a small chart.


Calendar Crates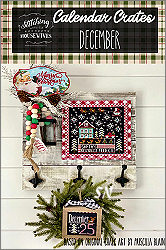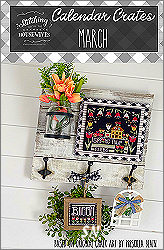 Truckin' Along
All Jarred Up
Sip of the Seasonl
Up on a Pedestal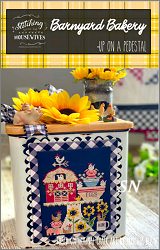 Back Up the Truck




Seeds of Love


Just a sweet pattern that measures about 4 x 4... it's stitched with a few Weeks hand-dyed cottons.

I like the finishing trim - it's rik-rak that is glued to the inside edges of the frame!


Spring Flame Pincushion


Bright colors on this neat Bargello piece... Weeks Cattail, Dove, Blue Spruce, Monkey Grass, Grasshopper, Lichen, Busy Lizzie, Dahlia, Teal Frost, Maple Syrup and Ohio Lemon Pie, this is trimmed with Sea Glass mini ball fringe by Dames of the Needle.

Offered as a chart, it measures just 115 x 65 in stitch count. Offered as a chart.


Springtime Pin Drum


Springtime Pin Drum - A rotund little stand-up cushion, we can't really see all the sides on this, but I think tulips go all the way around. *Bloesem* is the word I see spelled across the top... maybe the chart mentions something about that inside?

It's only 3 x 10 on 36ct, and uses Weeks hand-dyeds of Bluecoat Red, Clockwork, Concord, Curry, Grasshopper, Oscar, Parchment, Red rocks, Sanguine and Teal Frost.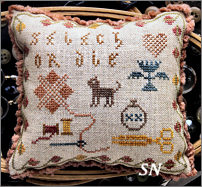 The Stitching Life, Coffee Drinker's Confession & Stitch or Die Pincushion
The Stitching Life Sampler's verse reads that *I could use a little more stitching in my life!* It has a tiny pair of scissors in there, beside a threaded needle. It measures 150 x 223 - so quite big actually - 10 x 14 on 32ct!
Stitch or Die Pincushion - Don't take that the wrong way!!! :) Finishes a little under 4 x 5 on 32ct... just a fun cushion to tuck into your bowl of smalls!
Sweet Lovers Love the Spring


A smidgen of a quote from Shakespeare, this is worked on Week's 40ct Angel Hair linen with Corn Husk, Copper, Brandy, Woodrose and Apple Cider hand-dyed flosses.

There is a matching fob that is stitched and covering a silver dollar piece. It is finished as a pin cushion on the chart cover.





Sweet Summer Pin Square


Sweet Summer Pin Square -- This is finished as a little 3 x 3 pin mattress! The neat sampler edging is really a scrap of fabric... do you have a SKINNY border design you like?

Stitch IT and make it the mattress border!


Wedding Sampler


The Wedding Sampler - Lots of repeating motifs in this busy and happy Marriage sampler. The little tiny farmhouse is surrounded by so much love! The border moves back and forth, the roses are sprouting out of the pots - like 10 children!

Those evergreens in the yard are so even and calming, but then there is all that commotion going on in the yard... it's John and Zella's homestead! Stitched on 36ct linen, this will finish a generous 14 x 16, and it uses A LOT of thread! (at least 6 skeins for that busy yard of grass.)
You Make My Heart Happy and WIP It Good
You Make My Heart Happy - Heartstrings Samplery has a new release - a 6 x 10 sampler full of her favorite things - houses, birds, flowers, her Farmboy's initials, her cup of coffee and her stitching scissors! Stitched on 32ct Picture This Plus fabric with Weeks hand-dyed cottons, you can add what ever else makes you happy, as long as you can chart it.


WIP It Good - This measures 117 stitches square and is stitch with Weeks dye Works Grits thread on 32ct Weeks Dove colored linen. She's put little scissors and threaded needles in here - to signify the WIPs of the 2020s - your Works in Progress. Might be an area you'd want to personalize or something. If you put this over one on 25ct Lugana (something most everyone can see), it'd make a pretty biscornu. Put a gorgeous button in that center area, it'd be less than 5 inches and finish into a pretty cushion.

Ye Old Noel
Beth's late 1800's sampler is unmarked, undated, and missing a lot of stitches, not to mention its strange color scheme! It's disorganized and she loved the jumble of motifs squished together. So, she's reworked the colors, filled in a few missing stitches and added the word NOEL to give it a second chance at life! The pictures are bitty, but the urns of flowers and the 4 different borders are lovely. You could even do just that NOEL motif as a small pin cushion. Measuring 153 x 127, the whole piece finishes a beautifully petite 8-1/2 x 7 - a tiny Holiday surprise! DMC conversions are included but this is charted for Weeks and classic hand-dyed flosses.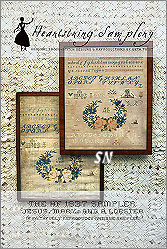 Beth has been BUSY!
The HF 1837 Sampler - Beth says this gorgeous sampler features an intricate floral wreath, some lovely alphabets, two monograms representing Jesus and Mary as well as a fantastic lobster! Mmm, it'll be fun to see the design when i finally arrives next week! Finishes a generous 11 x 15 on 40ct!
Perry Pryor - Beth tells us there is strong evidence that this charming and primitive sampler was stitched in the 1830's by a boy. It features two large deer, a tree, some playful bands and a sweet saying. *Perry Pryor is my name, and with my needle I work the same, that everyone may plainly see what care my parents take of me* It finishes about 6 x 12 on 36ct.
Tudor Rose Biscornu - Beth's 5th floral biscornu-shaped pin cushion... it finishes towards a generous 4-inches in size, and features stitching on both the top and bottom.




The Mary Pearson Sampler


Beth reproduced this for the Sandy UT Historical Society Museum. She has 4 pictures in here of actual areas of the original piece that are 'very strange indeed.' She has included LOTS of instructions, and lots of thoughts on how stitches were executed in the original.

Fun reading, there are 25 pages of the chart in here... and one-over-one detail, so probably not for a beginning stitcher to tackle. Charted for DMC floss, the book is a treat to look through... stitch count is 262 x 427.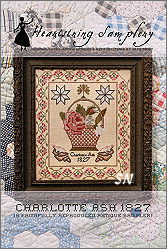 Heartstring Samplery's Beth Twist has sent new charts.

Charlotte Ash 1827 - Quite an old little sampler in Beth's collection, it was stitched using wools, silks and cottons.

You see the bleeding from the black threads in her pic of the original. Pretty border, bold basket of flowers and seashells!





Dressmaker's Sewing Kit

This is a set of three pieces - motifs taken from a larger unfinished antique sampler in Beth's collection: a sewing tray, needle book and drum pin cushion.

The little girl who stitched the original sampler 'might have made' these pieces for her sewing kit based on the motifs in her sampler. Beth talks about finishing techniques in here... and color changes... if you want!





Fruit Basket Pendant


Another cool way to finish a stitching project, this is a traditional fruit basket design that is stitched with one strand of Weeks hand-dyed floss over one square of 32ct silk gauze. Actually easier to see than 32ct linen, you are making a whole cross stitch, and filling in the background with black. Then, the tiny 1 x 1-1/2 inch oval bit of needlework is mounted into a wooden cut-out pendant/frame/ornament piece.

Just 45 x 67 in stitch count... I think this would make a really pretty ornament addition to your tree! Kit includes chart, gauze, threads, backing felt and hanging ribbon, wooden piece and instructions for assembly.


IL 1817


Oh, better buy enough floss for this little guy! Stitched on Week's 40ct straw linen, this has a stitch count of 349 x 249, so will finish approx 17-1/2 x 12-1/2 in size. Beth took two years to get his charted and chose DMC flosses because she didn't want the hand-dyed varigation effects. The original sampler is faded, but not streaked like hand-dyeds would have given you.

A pastoral farm scene... lots of animals everywhere... the border is gorgeous and lush... but, wow... there is a lot of solid stitching in here! Offered as a chart.


Really Friends - Another release of a previous exclusive design, inspired by Jane Austin - it measures approx 7-1/2 x 11 on 32ct. The bottom band looks really charming with the castle and carriage on it, but we'll know more when the patterns are in our hands! Available in a chart format.
Mercy Megginson 1849 - Beth describes this as a 'bright and cheerful' piece: Mercy was 11 when she stitched it, and it finishes approx 10 x 12 on 32ct. Chart includes lots of genealogical research into her life story - which always makes the stitch more fun and the finished piece more special. Weeks and Classic Flosses, 32ct Fox and Rabbit Hogbristle.
Five Songbirds - An adaptation of part of Mercy Megginson's sampler- I see Adam and Eve on there, so I think it's part of the bottom area. Good colors, cute trims... Same fabric as the main sampler.




Let it Begin With Me


A bitty pin cushion-sized design, the measures only 59 x 77 in stitch count, so over one on 28ct it's only 2 x 3-ish!

Pretty hand-dyeds, just a simple design... you could do Satins on the sawtooth border!


Autumn Sampler Compendium and Susan Scott 1734 English Sampler


from Gentle Pursuit Designs
Two new samplers have arrived... beautiful booklet charts - 9 and 24 pages respectively - both clearly charted.
Autumn Sampler Compendium is worked on 40ct linen with silks. It features stitching on the front, spine and back, as well as inside front, back and inside spine. Stitches featured are Algerian Eyelet, Cashmere, Double Running, Florentine, Mosaic, Nun's Stitch, Pavilion, Queen, Satin, Smyrna, Straight, Tent and Cross.... and Cissy says this is for 'the adventuresome stitcher.' Lots of stitch diagrams, beautiful full color charts with correct placement - along with actual photos of the stitching before it is assembled... the book is lovely and the stitched case is enchanting. Its total size is 4-1/2 inches folded, with the inside pockets at 2-3/4 inches deep. Full of specialty stitches and autumn charm!
Susan Scott 1734 English Sampler - This sampler features The Lord's Prayer. A reproduction, stitched on 40ct with silks, it finishes an impressive 17 x 23-1/2 - and is full of Algerian Eyelets, Satins, Stems and Straight Stitches. Nothing hard - but still a commanding piece. Mostly blues and golds over the top 2/3, but then reds, greens, golds decorate the bottom. This 'leaflet' is the 24 page one - offering your chart super-large, colored and clear!
Pumpkin Harvest Pinkeep


from Stacy Nash
Another cute chicken, this finishes 8 x 13 on 35ct Confederate Gray linen.

A lot of stitching in that house... save that part for a time when you don't want to have your chart with you to keep up with -- just mindless, relaxing repetitive stitching!!!





Sister Sampler Pinkeep, Liberty Sewing Pouch and Manor House Sewing Roll


from Stacy Nash
Three more delights - all with different finishing treatments...
Sister Sampler Pinkeep - This one is stitched on two different colors of linen - and then joined into one cushion. Cornsilk on the left, Straw on the right... see what you have in your stash for this. Pretty Weeks hand-dyed flosses - this features delightful floral urns and flowers... check out the bird in the next and the beehive! Finishes a huge 15 x 6!

Liberty Sewing Pouch - 36 Weeks hand-dyed Parchment Linen with Weeks flosses, this measures about 6-1/2 x 9 - primitive in design and construction.

1806 Manor House Sewing Roll - This is very pretty! Put your closure ribbon at either end - depending on what you want to show when this is rolled up. (But maybe you want to display it open like in the pic? Finished size is 7-1/2 x 15... I like all the design elements she's featured!


Sisters Three Pinkeep


from Stacy Nash
Here's a sweet piece -- finished into a small pin cushion pillow. Stitch count is 51 x 64, making it finish approx 3 x 4 on 32ct. With the bit of homespun finishing fabric, the overall pillow will be 4 x 6-ish.

Worked in Gentle Art's Brethren Blue, Straw Bonnet and Apple Cider, it will make a nice addition to your basket of stuffed cushions! (Note: the stitch count and finished size is mis-quoted on the instructions... be advised when you cut your fabric. Doesn't hurt the design... just confuses you a bit!)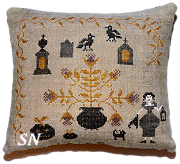 Thistles & Spells Pinkeep


from Stacy Nash
Another eerie graveyard scene this design finishes approx 8 x 9 on 32ct Tin Roof. Huge for a pin keep, small for a pillow.

It really coordinates with the Potions, Mourning tree and Pumpkin Harvest piece.


Cat & Mouse Pinkeeps & Slipper


from Stacy Nash
Stacy Nash has a few new designs, the finishing on this one is fun and different. Worked on week's 30ct Cocoa linen in only 4 shades of floss, the main cat pillow measures approx 6 x 8, the pinkeep is 3-1/2 inches square and the cute little slipper is only 1-1/2 x 5-1/2!

It's a cute set... and if you do nothing else... LOVE that little slipper... and finish some other designs that way! What a fun piece to tuck into a basket of finished pin cushions!


Wool & Flax Pocket Roll


from Stacy Nash
One of 2 new designs... She seeketh wool and flax and worketh willingly with her hands. From Proverbs, this is one of the characteristics of the virtuous woman.

Finishing about 10 x 23 on 32 ct, with Gentle Arts fibers... Stacy made hers into a pocket roll, but it looks very worthy of a frame, too. Stacy even gives instructions for aging the fabric to make it look even more antique.


Freedom Needle Book


Wow... I love that shallow bowl with the berry vines spilling out from it! Add a blowing flag and a noisy crow... very classic!

Stitched on Weeks 30ct Linen, you are using only Gentle Art Threads of Linen, Endive, Cranberry, Brethren blue and Garden Gate to stitch this 4 x 7-ish piece! Another cute bowl-filler, too!


Summer Gathering Pinkeep Drum, Slipper and Strawberry


Oh, I love this set! The stand-up drum measures 4-1/2 inches high by 3, slipper is 5-1/2 x 2-1/2, and berry tucks inside -- like a little foot -- 3-1/2 x 2. Stitched on Weeks 35ct Parchment linen in just a few Sampler Threads, this is just really a unique little set of smalls.

You'll want some neat wools for the slipper and berry finishing - Stacy uses homespun cotton for the top of the drum.





Malabar Farm Pinkeep


A peacock and flower urn... pretty classic! Generous in size, this finishes almost 8 x 8... stitched on 30ct Week's Straw linen.

The back picture shows pretty finishing -- two different antique fabrics on there, she's made a storage pocket back there for scissors and such.





Hooray for the Red, White & Blue


A sweet little patriotic piece, this finishes only 5 x 6 on 32ct. Presented as the chart, you get the star embellishment in with the chart.

*Fireworks and cookouts parades and sparklers -- it's always inspiring and fun* Pam and Susan send Happy 4th Of July Thoughts!!! I think this would be cute if you left off the bottom row of people and dogs... you're already delivering a pretty good message here!





Rooks' Feast


This is a tribute to Autumn, and the garden harvest... as favored by the Rook!!! Kind of a Quaker feel to this... the Pumpkin square says *Pompion* which is the colonial word for pumpkin!

The squash, corn and pumpkins are all Mr Rook's absolute favorites... and they fit into this 7 x 6 piece stitched on Weeks 30ct Cocoa Linen.





The Stitcher's Diary for 2023


Isabelle has sent a lovely calendar/planner for 2023 that features color pictures of antique samplers in her personal collection that she says 'haven't been published yet!' So, along with her preview of designs coming... this offers the monthly calendar pages, and several pages at the end to log special projects, and your needlework-related notes!

You can see from my pics that this book can hang like a traditional wall calendar if you like, but I think it'd be really happy stuffed into your daily stitch tote to help keep you organized! I have some of the inside pictures when you click through the images. Isabelle printed a sticker-sheet of tiny vintage images - so you can decorate your pages and dates a little. This would make a lovely stitcher-friend gift - but get one for YOU too!


A Rainbow of Threads & Garden Beds and Stitching Love and Kindness

from Ardyth Designs
There are two gorgeous new multi-page books by Ardyth Designs artist Amanda Mae Mac Naughton. Definitely multi-media - both books feature several different projects and different techniques!
A Rainbow of Threads & Garden Beds is 73 pages. In it are charming projects for Cross Stitch, Punch Needle and Wool Applique. The Table of Contents page has 15 lovely teaser pics of what follows in the book... including skydiving chicks, and a pretty antique sampler - full of garden-y motifs - all beautifully re-charted. There is a Needle and Thread Garden Bed sewing case project in here - every project has its own page of finishing steps and pics. Pages and pages of color and pretty pics.. it's a lovely book.
Stitching Love and Kindness has 14 projects in Cross Stitch, Punch needle and Sewing... all it its 45 pages. There's a cross stitch Love Pug, and two adaptations from an antique sampler... along with cute valentin-y designs. Amanda mentions kids helping with one of the projects in here - resulting in 'wonky stitches.' To her, it's a special memory to treasure. Great pics and huge charts.
Two New Charts
Stitching Sisters is worked on 36ct linen with Weeks hand-dyed flosses. It finishes a petite 5 x 7. From My Humble Hand to Yours... More Than Friends, We're Stitching Sisters
Hannah Comperf 1818 finishes approx 10 x 11 on 36ct. Coded for Classic Colorworks hand-dyed flosses, the large central alphabet is done in Algerian Eyes. This one is fun... see how it kind of divided in the middle? You could stitch only half... or make it super long and skinny!
Scarlet's Pin Cushion


Scarlet Pomegranate's newest pin cushion design, this can be stitched in silks or DMC -- 3371, 316, 902, 732 and 948 -- it's small, and works up to be almost 3-1/2 x 5.

Little Scarlet is stitched over one, and the pomegranates are all worked in Smyrnas!





Quaker Work Tray


Stitched on 32ct, this fits a tray that Linda has used on some of last year's designs.

Charted for Weeks hand-dyed flosses, it finishes only 4-1/2 x 7-1/2.





Miss Nettie's Needle Usefuls

This chart includes patterns for the 5 x 8 (when open) needlebook, needle leaf (that page inside the case), the pin pillow (with the kitty and spool on it), and the scissor fob.

The stitcher girl on the backside has her threads, and the cat has the ball of yarn: Of female arts in usefulness the needle far exceeds the rest! (In these times... a rather narrow view of things!)






Martha Jefferson 1842 Sampler


Beautifully organized - approx 10 x 12 - and Linda has offered just the house as a cushion option in the companion chart - Martha's Pillow.





Birds & Blooms


Oh this is cute! A miniature thing... it measures just 2-1/2 x 3 on 36ct, and is shown mounted to a bitty Priscilla's Pocket black painted hornbook. Again, great specialty stitches for texture, and the crisp Nun's Stitch edge treatment.

Depending on the size of your tree...you might be able to get away with turning this into a Christmas ornament... sewn OR on the hornbook! Offered as a chart.


Not Even a Mouse and Whooo Owl Stockings


Sam Sarah has two new stockings to add to her set of 8 others! These are all stitched on Weeks 20ct Hand-dyed linen -- all in different colors. Patti uses Watercolors hand-dyed Perle Cotton for these... that it what makes all the colors *move* in these. Quite on the contemporary side of stocking designs... these are a fun option, and there are enough for an entire family!

Mouse and Owl join, Kitty, Puppy, Cocoa, Snowkids, Ornaments, Sugarplums and Reindeer. The names are spelled out in alphabet buttons... these are wood with paper letters, but Just Another Button Company has letter 'tiles' almost like Scrabble letters. They look great on these stockings, 4 different colors... we special order your name's letters. Pattern suggests 2 inches of fabric around design -- a little easier on Santa's budget! Whooo has 4 tiny black buttons in those eyes... big beads will work as well.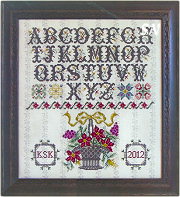 Surrey House Sampler


What a pretty antique-y-feeling piece! A delicate floral basket beneath a very Victorian alphabet... the fabric is of special note with this piece. See the 'wallpaper lines' in the background??? THAT is printed very lightly on the 28ct Antique White Surrey Fabric specially made JUST for this particular piece! This main design finishes approx 12 x 12 and is stitched with regular DMC floss. The fabric features those pale motifs for your background that add such a flavor! Charming! Offered as the leaflet (you can stitch this on any fabric you like..) with this awesome Surrey Fabric offered separately.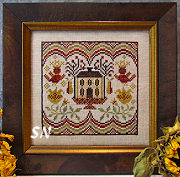 Two designs


from Kathy Barrick
Crowned Owls -- I really like the Bargello border on this, warm greens and browns
. Pennsylvania Fraktur Heart - PA is new. PA is a little larger - 115 x 115. Very striking!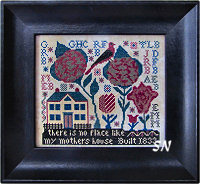 My Mother's House


by Kathy Barrick
Well... don't do this if your Mom didn't have a green thumb!

DMC on (any count), 32ct - this finishes a little over 7 x 6.






A Dictionary of Bras


*Zebras and Algebras* this is a really cute piece that would be fun to stitch for a gal and her awesome dressing room, bath or closet!

About 140 x 170 in stitch count... it's just silly!


Bow Tie Black Cat and Pumpkin Boo Picks


A trio of scary Halloween characters that can be finished into these cute little picks...they're perfect to poke out of a big bowl of candy corn! Offered as three small charts, each has a stitch count of 40 x 60 and are worked with hand-dyed cottons on Week's 35ct Parchment Linen.

Old and retro in feel, I love the big eyes full of surprise! Cute to finish in a million different ways -- the assembly instructions for the pics are included... all three are quick to stitch!






Let Freedom Ring


Sampler Threads of Carriage Black, Grecian Gold, Midnight, Maple Syrup, Dried Thyme, County Redwood, Shaker White and Raspberry Frost.


Peace on Earth


Dames of the Needle has a new miniature hornbook ornament that finishes a mere 2-1/2 x 2-3/4. Both sides of the little paddle are stitched, and garnished with Just Another Button Company buttons... very simple and cute!

Although the hornbook is technically supposed to be displayed with the handle downwards... where one would hold it... to avoid having to drill holes in your paddle piece... you could always 'adapt' and hang it on the tree from the top hole in the handle! (We won't send the Cross Stitch Police after you!) Offered as the chart, stitched on 32ct linen in overdyeds... linen, hornbook and buttons (8 stars and 1 sheep) all available separately.


Deer Hornbook and Scissor Case


Elizabeth Ann Talledo has another cute little hornbook just like her Maryland Sampler and Christmas Peace on Earth pieces. The cute little wooden paddle is decorated with stitching on one side (while the other two have both sides of the paddle decorated) and this design features a matching needle case. Stitched on 32ct with Sampler Threads, there is a bit of over-one stitching and Nun's and Blanket stitches garnishing the edges.

Cute and quick, offered as a chart with hornbook separate. (Note: the paddle in this pic is not available... we have the same paddles available that are featured on the Maryland and Christmas pieces -- they'll all match!)


Getting Old Sucks


BUT, pass me of piece of cake anyway! Lots of stitching in this one to commemorate a special birthday, but then again... there might be a lot of birthdays to commemorate!

Offered as the chart, this finishes approx 7 x 8 on 32ct and is stitched in overdyeds. Little confetti buttons decorate the cake, and I think the candle flames would be fun stitched in metallic!





Embroidery Christmas


Nikki-from-Italy has a darling new little piece - a 100-stitch square of Christmas motifs with a stitching theme. Choose any fabric you like - on 40 over 2 this will finish 5 x 5 - and 7 x 7 on 14.

Coded for DMC floss, (she has 18 colors called for) there are small scissors, a spool, and a needle on here... what I see are lots of tiny options for some mini pin-cushions to make a set. She has finished this on the front of a stitching pouch - another really nice idea to show this off, and make it useful at the same time!


Three recent releases... all finished into pin cushions
Bee Busy measures a generous 6 inches x 1 on 32ct. The chart includes beautiful pictures of the assembly process for this miniature mattress... there is stitching around all 4 sides. It's a really cute finish. Charted for DMCs of 310, 420, 840, 370, 822, 522, 3033, 3859 and 3864.
Spring Scissor Sampler is just a whimsical piece - those ever-important scissors - for a stitcher AND a gardener. Finishes 5 x 7 on Niky's baby gingham linen... DMC flosses.
Nikyscreations has new releases!
Country Village -- 97 x 99 Stitch count... cute farmyard, complete with neighboring church, house and quilt on the line.
Garden Thyme Sewing Bag
Such a pretty pot of flowers, there are bees buzzing overheard, a rabbit running in search of his carrot down there on the right, and garden shears that I hope will not be cutting any stems! 80 x 85 Stitch count, DMC.



Be Friend


This is so sweet... I'm not sure the title translation happened correctly... but who cares?! Two friends, two houses, the basket of flowers and all the rabbits, it's just cheery.

Presetned as the chart, finishes approx 7 inches on 14/28, it is coded for DMC floss.


Leaves - A 7 x 8 piece stitched with DMC floss, the house in the center has a filled-in background -- making it a little picture in the center of the busy birds and vines surrounding it. What makes it fun are the wool acorn cut-outs Niky has added to the left side as part of her finishing treatment. Super-simple, yet they add texture and an additional focal point. Leaves is shown finished as a pocket... but it'd be cute as a pin cushion too - and you could do more acorns on the back if you wanted to.
Blooming Scissor Fobs


These are sweet, dinky little things! Just 1 x 2-ish, they feature backgrounds that are solidly stitched.

All matching floral baskets -- they'll make great 'bowl-fillers' for something petite -- like the metal soap dish in the pic!


New Samplers


from Nikyscreations
Stitching Sampler - This one finishes approx 6 x 6, calls for DMC and reads; *Any day spent sewing is a good day.*

Tiny scissors, threaded needles and spools, it'd make a cute needle case and fob set I think -- if you can finish a little creatively!
Seasonal Band Sampler


Kind of a fun design composition .. . the four seasonal houses all stacked up... the balanced motifs on either side... and the little thin bottom borders.

This calls for only 8 colors of DMC! 372, 523, 3864, 3860, 3781, 3045, 3046, and 318. Very pretty, it is offered as a chart.


Spring Sampler


The third in Niky's seasonal samplers -- cute houses surrounded by profusions of vines. Spring is full of little critters as well! Birds, butterflies, and that charming yard full of rabbits, this is offered as a chart and is worked in DMC flosses.

As with Summer and Autumn, choose your favorite fabric -- the design size is 100 x 100 stitches. (We don't have Winter pictured here... we will be getting it!)


Summer Sampler


Nikycreations has four new pieces, I thought this pair was fun to highlight all the new. Scattered alphabets, sampler motifs stuffing the yards of the houses choose your favorite linen, a few hand-dyed flosses and get busy!

Both measure 99 x 99 stitches -- a perfect small size. Nice balance, charming motifs, I like them both. Offered as charts.


The Birthday Gift


This is lovely! Stitch just the vase and flowers, or the verse, too. There is a partial note in here about Birthday being intentionally mispelled as Brithday... but that thought isn't finished! A mystery!

Pretty colors... is for my birthday!!! Offered as the chart, 5 x 6 on 35ct.






Thread Keeps

from The Primitive Hare
These measure 4 x 5-1/4 and are about 1/4 of an inch thick.

Vintage-inspired designs, they are hand painted onto the wood. They look nice, and they're smooth.





Lucy Navier 1818 Greeting Card


A really pretty greeting card, about 5 x 6 with envelope.

The chart you see is a very small piece of the reproduction sampler on the cover, Lucy Navier 1818.


New York/New Jersey Sampler


OH... this is for anyone who loves New York and/or New Jersey!!! Jeannette is a great traveler, and after a visit to New York City... she designed this charming medley of everything fun and cool about New York! (She even used her own skyline picture she took while on the Ferry for her cover!) Offered as a leaflet with awesome silks, metallics and assorted embellishments, you are treated to a band sampler full of fun stitches and the neatest motifs!

The Statue of Liberty, the clock on 5th Ave, Atlantic City's Boardwalk, a Big Apple, Sugar Maples and Northern Red Oaks, Goldfinches and Bluebirds. The Brooklyn Bridge, the Jersey Shores and Cape May, even a short lesson on how to hail a cab!!! She has tidbits about New York and New Jersey history all throughout the pattern -- explaining why everything is in here... the whole thing is just like a miniature vacation -- all from your stitching chair! Finishes approx 5 x 14 on 32ct Confederate Gray Belfast Linen.


Take Time to Scrapbook


Jeannette's newest 'Take Time' piece is a small medley of colors, little flowers and vines, and a tiny area for a 1-inch picture! Stitched on 32ct, it finishes approx 4 x 4. Satin stitches around the border, a row of Hungarian, and some Bead Cup stitched leaves, it is stitched in your choice of YUMMY hand-dyed silks of golden and lavenders AND/OR the same butterscotch golds and teal blues; the thread packet contains BOTH colorways!

The words 'take time to scrapbook' are stitched on here... but you could change 'scrapbook' to 'family'... because of the little photograph -- of your choosing -- that you get to attach in the lower right-hand corner. It is a lovely design, easy to work, and full of pretty color! Offered as the leaflet with 2 sets of silks and beads.


Sports Line-Up


Here's something for the busy Mom who's spending time on the fields or the gym bleachers!!! Stitch this and add a couple of rows around the edges that represent the team colors... add a couple of important tournament dates to the bottom... stitch it for the school trophy case!

Offered as the leaflet, this finishes approx 5-1/2 inches square on 32ct.





Rabbit Stew


A cute fat rabbit... he looks like he's taking a nap in the carrots and cabbages after his lovely lunch!

The stitch count is 108 x 83, so he finishes approx 5 x 7, and believe it or not, he's only stitched with regular colors of DMC floss!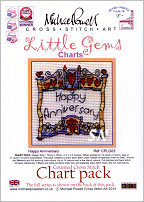 The Little Gems


Here is a delightful collection of small designs -- each one kind of looks the same -- but all of them are different and as charming as the last! They are presented as small charts -- and finish about 3 x 3 each on 14/28ct. Charted for DMC, Madiera or Anchor flosses, they are whole Cross Stitches and feature Michael's signature 'hither-and-thither' whimsical backstitching.

14 Different designs in the set... they are all pictured on the back of each one of them... so if you have one border chart... you have 13 other ideas for different words to stitch inside! (and when we run out of the ones you ordered... we might ask you to sub... and you'll still be happy!) Just super cheerful and fun!


Forest Friends Finger Puppets


Something else too darn cute from Bareroots! This is a set of five 2-inch felt finger puppets -- a bear, bunny, squirrel, owl and tree. Each finishes a mere 2-inches high, and is made from the included felts. A nice smattering of browns, golds and greens... your little animals will look just like they do in the pic!

Simple cutting and blanket stitching. Each little guy is open along the bottom so a finger fits inside! Offered as the pattern with the felts and threads.





Bareroots Candle Mats


This is a collection of 10-inch felt candle or cup mats. By Bareroots, each is presented in an actual-sized line drawing pattern.

All the felts used are included, so YOUR mat will look just like these! No Cross Stitch involved, just a a little cutting and straight stitch tacking, and you're done!





Wraps and Mini-Mats!


Oh Wow... make a mini 5-inch mat for a candle, vase or your coffee mug... and if any still seems underdressed... make a matching wrap-around for them! Same fun artwork as in our Candle Mats... each of these packages contains a mini-bottom mat pattern, and TWO coordinating wrap patterns.


Sweet Sheep

from Filigram
This is a pattern we've been enjoying in the shop for some time. I've just never highlighted it for you, and need to, because it's so cute! It is definitely a tribute to one who raises sheep, shears them, spins wool, knits with it, wears the mittens and scarves, or even counts sheep in their sleep!

Offered as a chart, it finishes approx 6-1/2 x 9-1/2 on 32ct and is stitched with Gentle Art Sampler Threads or DMC.





Spring & Summer Vegetables

I love these matching seasonal garden scenes! The picket fence that surrounds everything, all the neat and tended rows, the yummy fruits and vegetables, the shovels, spades, rakes and watering cans, and those darling scarecrows -- they rule the gardens!

Very well done with lots of cute motifs that are very recognizable, the charts are printed in color. Coded for Gentle Art Sampler Threads or DMC flosses, these finish approx 6-1/2 x 9-1/2 on 32ct.


There's even MORE!