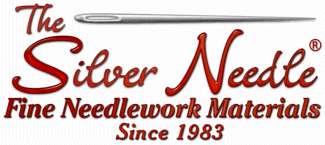 6068 S. Sheridan Rd. Tulsa, Ok. 74145 (918) 493-1136 (888) 543-7004
E-Mail
Charming Designs from Italy!
We have new designs that are enchanting... direct from Italy! Not much English instruction inside of these, the charts are beautifully presented in color... you could almost frame that teacup one!!!! I think they are all worked on Lambswool -- we have several different counts available -- with DMC floss. I think there are a few overdyeds, but then DMC blends are suggested. I love the teacup sampler -- just stitch one cup if you don't want to do them all! The floral vases and baskets come for all four seasons -- six designs in each chart. And, those ADORABLE little elf/gnomes steal the show! We have this Anniversary piece, a Valentine design and another that is a delightful Christmas Sled scene. All offered as charts, unique designs!!

Shabby Halloween Calendar
Here's a fun Halloween design to stitch as one piece, or split into 31 little bitty pieces! Charted for DMC each day of October is represented with a cute little bird, ghost, jack-o-lantern... all sorts of stuff. Very cute! In all, it measures 218 x 345 - so a generous 13-1/2 x 21-1/2 on 32ct. She has presented everything inside in colored charts - very clear and easy to read.

If you have Google Translate on your phone, you can even hover over her words and read them in English! (but you don't need to because DMC is the Stitcher's Universal Language!)





Halloween is Coming! Pagine di Halloween


Check out this cute collection of Tall and Skinny Halloween People! Choose some assorted gray fabrics, these are coded for DMC, and stitch them up.

Might be fun finished like they are, but attach them onto sticks to poke into fake pumpkins, so they'll stand up above your display. Each measures 30 x 110 in size, and all are in this chartpack.


Christmas Baubles


This is a darling collection of 12 roly-poly ornament designs that are all the same size but feature 12 different 'people.' Beautifully charted in full color for regular DMC floss, each bauble measures about 40 x 50 in stitch count and the assembled ornaments measure approx 4 inches in diameter on 36ct.

Super cute, you get Santa, snowmen, elves, an angel, reindeer and gingerbread cookies, and even a pair of gnomes! The fabric has the polka dots printed on it, but if that isn't available, you can always stitch single or quads of white x's here and there to simulate that snowy background. What just 12 colors of floss can do!





Twinkle, Twinkle, Christmas Star


By Cuore e Batticuore of Italy, this pretty piece just LOOKS like it's twinkling! A pair of angels floating over a lacy star, it measures 189 x 210 - so 10-1/2 x 13 on 36ct, and is stitched with DMC.

The fabric they used is actually printed with the little spots. If that is not available to you - just stitch them individually... kind of a pain... but really, really charming if you can stick with it! This design would be perfect for bead and opalescent metallic additions - make all that snow glisten!





Estate con gli Angeli (Beach Angels)


Here's a delightful set of Beachy-Summer Angels! We already have these as Springtime and Christmas Angels... and now here they are ready for a summer swim!

Stitch counts on each are 83 x 87, and they are worked with regular DMC floss. Pig-tails and dresses on the girls, striped and fishy wings on the boys... they are all cute! The chart has all 6 designs inside, Stitch them on just about any fabric you like best, as well!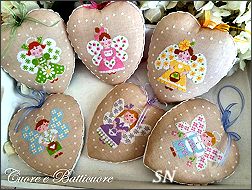 Primavera can gli Angeli


This is a sweet collection of little Springtime angels - both boys and girls on here! We have a Christmas set as well - just the cutest.

All stitched with DMC flosses, they are all about 60 x 60 in stitch count, and you can finish them in lots of different ways - bedroom door-knob hangers come to mind, and what about the Tooth Fairy? 6 Angels in each set... they are beautifully charted in color.


Craft Room My Love


This is such a cute little piece.... it needs to hang in your *Crafting Place of Honor!* There is a tiny hoop, cute pin cushions, a bitty sewing machine, scissors and skeins of yarn... If you're not into doing the whole piece, just pick out motifs and make little pin cushions out of them.

The entire stitch count is pretty big - 287 x 182 (18 x 11!) - so those smaller projects sound kind of good! Presented in a chart by Cuore e Batticuore, it calls for DMC flosses.





Autunno in Tazza and


Spring and Autumn in tea cups! If you are into tea cups, these are for you! Choose your favorite cup and flower to stitch or do them all... they all feature flowers of the season and the cups really do match the flowers!

Charted for DMC, the charts are printed in color - very nicely done, and each cup/combo measures about 80 x 80 stitches.





Halloween and Cross Stitch


This is kind of a fun little scene when you study it a bit. Lots of cute motifs in here to take out and stitch into individual pin cushions and spooky smalls. You get spools of spider thread, thimbles with scary faces on them. Pretty scrolled scissors hanging there, that shoe pin cushion is super cute. The stitcher-witch is standing on another pumpkin pin cushion, even that polka dot safety pin up at the top is cute.

Stitch count is 210 x 240 - so it finishes 13 x 15 overall, and it is coded for regular DMC floss. Lots of possibilities!





Un Pupazzo di Neve per Te & Christmas on the Beach


Oh gosh, these are two new and super-cute designs from Italy. Don't feel bad if you cannot pronounce the titles - we can't either! But we CAN understand the DMC numbers in the color key - and that's all you really need.
Un Pupazzo - Reads 'Christmas is a snowman for you,' and features a delightful snowman-building scene. I love the teeny little snowball guys perched on the shovel and signs. Measuring 260 x 140 on 32ct Natural Linen, this will finish approx 9 x 16... so you won't miss it on your walls! It actually might make a really cute couch pillow as well.
Christmas on the Beach - (that title is in English, don't know why the other one isn't!) What a fun scene! You get a Christmassy Light House - complete with a billowing knitted scarf, a decorated beach umbrella along with Mr and Mrs standing in their dingy! We never see beach/ nautical/Christmas together... so if you live near the water - YOU NEED THIS! Stitch count is 270 x 146 - 17 x 9 on 32ct - and it is coded for DMC.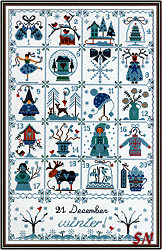 Shabby Winter Calendar


14 x 22 on 32ct! A delightful winter-y collection of 3 x 3-ish inch motifs, everything is stitched on frosty blues and soft browns.

Think about adding some opalescent thread... and make small pin cushions for a basket instead of the whole sampler. Coded for DMC, presented as a chart.


Welcome Great Pumpkin


*Halloween is waiting for The Great Pumpkin!* I remember the Charlie Brown's friend Linus always spent Halloween Night waiting in the pumpkin patch for The Great Pumpkin to rise above... so here is a new group to carry on the tradition! I think Snoopy is sitting on top of the dog house and everything! Two little gnome friends perched on Jack-o-Lanterns... check out the little ghost-dressed kitty on the swing, too!

Measuring 279 x 160, this is stitched with just 13 shades of regular DMC floss. If you don't have time to do this entire piece... notice the tree on the right with that kitty and the tiny witch in the upper branches - it's a cute motif all by itself. Or, stitch just the best friends on the pumpkins - they're cute too.


Halloween in Quilt & Halloween in the Rain


A whimsical design to celebrate Halloween! Presented in chart format, each is coded for DMC floss and can be stitched on just about any fabric you want!
Halloween in the Rain - Besides the cute umbrella in here, the little bat has heart wings, the moon is holding a jack-o-lantern, the clouds are polka dotted, and I think the Trick or Treat candy bag has the poison symbol on it!

Finishes large at 12 inches square, you could leave off the words and the little border if you needed to.


Pumpkins Farm


This is a fun design by Cuore d Batticuore -- an Italian company. A busy pumpkin farm, it's stitched on 32ct Vintage Country Mocha Belfast Linen with DMC flosses and finishes approx 15-1/2 x 9-1/2 in size. Cute little house, fun pumpkins and jack-o-lanterns everywhere, what I think are the most charming elements are the translations.

*Pumpkins* is plural, and the big fat ones up at the top left are only 2 CENTS each!!! Presented in chart format -- very clear -- they offer colored charts, so this is supereasy to stitch from.


Summertime


This is delightful, and I just HAVE to share it with you! A Summer Seaside Scene, I'm not sure what my favorite design element is in this. The Little Gnomes with their pointy hats... going swimming??? The umbrella is delightful, the tiny flags are festive. The hearts in the air are cute, the little swimmer on the polka-dot innertube is precious -- see her braids trailing behind? I like the beach shack and the gulls perched everywhere... but I think the itsy-bitsy fish in his bowl -- with his OWN little pointy hat -- is so funny.

This has a stitch count of 285 x 157 and will finish approx 18 x 10 on 32ct Vintage Country Mocha Linen. Beautifully charted in color, the verse is presented in both English and Italian, and it calls for DMC floss. I think it's just the cutest thing... very different and endearing! Offered as a chart.


Santa Claus Montgolfier


Talk about a creative delivery process -- I'd rather have these dedicated reindeer taking care of me instead of the futuristic delivery drones we hear about in the news! Santa is up in the sky in his balloon-sleigh dropping deer and gifts everywhere!!! I love all the different patterns on the balloons and packages, but the sleepy street of elegant houses is missing all the excitement happening in the night sky!

Stitch count on this is 179 x 238 -- it'll finish approx 11 x 15 on a 32ct. I can read 'Lambswool' in here for the fabric color, and DMC for the flosses. If you don't have time to stitch the whole thing, think about JUST the balloon-sleigh part!


Vacanze in Montagna


Welcome to our Mountain Home! This looks like a cabin straight from a German Cuckoo clock! Beautiful garlands and evergreens, everything is snowy and festive for Christmas.

The stitch count is 205 x 200 -- so it'll be 12-1/2 inches on 32ct Vintage Country Mocha Belfast Linen. Do you see the tiny reindeer heads in the border? Kind of like the deer heads that might hang inside up high on the cabin wall???


Alberto di Natale


*It's not Christmas without a Christmas Tree!* He's bringing home a tree, she's bringing him hot chocolate with LOVE! Check out the little squirrels on their hats, her apron strings and the tree!

Absolutely enchanting, this measures 274 x 133 in stitch count -- approx 8-1/2 x 17 on 32ct! Coded for DMC floss, it's just the cutest thing! Chart format.


Aubusson


This is a pretty set of small florals -- charted for pinks or lavenders -- that finishes into a scissor keeper, pin cushion, scissor fob and needle holder set. Everything is petite -- approx two and three inches in size -- and you can see how charming they all are by the collection in the picture.

Italian and English instructions, I imagine you can use any number of assembly methods to make your set of smalls, as well as any color combinations. Offered as the chart for all the pieces.


You Are My Angel


A stitch count of 164 x 95, this is stitched with two colors -- pink or blue and white. (Click the image at right to see more options.)

It'd make a lovely pillow on a bed -- natural or white linen, pastel colors... just simple but stunning!




Be My Valentine


More cute Gnome charm... they are just sitting there on the tree branch -- Love is in the air!

Stitch count of 106 x 148... you might have someone to stitch this for!!!