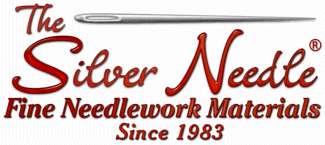 6068 S. Sheridan Rd. Tulsa, Ok. 74145 (918) 493-1136 (888) 543-7004
E-Mail
More cute editions from The Stitching Shed!


Absolutely the happiest palette of thread colors in these designs -- we just LOVE them all! They are Happy, Cheerful, Smiley, Bright and truly unique. Some are fun for a sunny kitchen window, but most need to find a home in the bedroom of some special little person of yours. Personalize them for bedroom signs or make bed pillows out of them... they are just the freshest, sweetest designs!

All are coded for Anchor Floss -- if you don't have it, go on-line and look for a conversion to DMC. The cover pictures are clear enough that you could even just match up DMCs and hand-dyeds from those!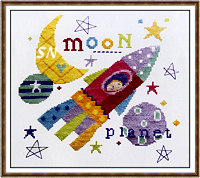 Lift Off -- Wow... this is darling! We don't see too much rocket and moon themes... so any little stargazer would love this one -- especially if you name that planet after them! 9 x 9.

Madison Baby Girl and Boy - A pair of tiny birth announcements, I think it'd be cute to put the baby's name up there instead of Girl or Boy.

This would be darling stitched and then attached to a baby blanket. Change around the wording at the bottom - these finish approx 6 x 6 without it.





New from The Stitching Shed!


Talk about cute and colorful designs of whimzy! Direct from the UK... we have a fresh shipment of endearing designs that BEG to become part of your stash!!! All offered as charts, each is coded for Anchor Floss. It's an easy fix to go on-line and find color conversion charts... but the pics are so good on these covers, that you might be able to match the colors you have to the pics!
Robot Alphabet -- 7 x 9 -- This would be cute hanging in a little boy's bedroom, with his name on it! You could even re-arrange the letters for a name on a door sign.
Tree of Love -- 5-1/2 x 7 -- The colors in this are so soft and pretty! Do just the tree and mount it onto a plant poke!



Owl Sampler


Approx 9-1/2 x 11-1/2 in size, how can something so simple be so cute!!! Stitch one of all of them!


Cupcake Sampler


Perfect for the Birthday Girl!!! Finishes approx 5-1/2 x 8-1/2, don't you just love the colors? Add a few bead sprinkles for decoration!

Chicken Sampler

Just like the Owls and Cupcakes... this one features chickens of every color. They can't make up their minds which way they want to stand!
8 x 8-1/2 in finished size, just darling!!!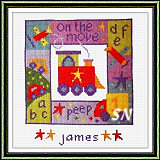 Home Sweet Home


Well, the verse says it all! finishing approx 7 x 7, this one would be cute with some hand-dyed flosses tucked into the grass and sky.



On The Move


For the boy... each of these finishes approx 6-1/2 x 7. You could leave off the words at the top and personalize these if you'd like... you could even leave the stitching out of the middle and insert a photograph -- just like a stitched photo frame!





Tree Card and Santa Card


These two are shown glued to the front of a paper greeting card... so these charts comes with their own paper card and envelope. Finishing a bit under 5 x 7... I think these would be cute displayed on the card -- in MY OWN HOUSE! I don't think I'd stitch these and actually mail them to my card list!!! Maybe someone special, though!!!