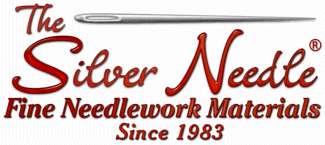 6068 S. Sheridan Rd. Tulsa, Ok. 74145 (918) 493-1136 (888) 543-7004
E-Mail



New Additions

from Luminous Fiber Arts
Misty has a few new leaflets that will add nicely to your stash... and join the *To Do* List!
Gathering Stitches - This is the 6th is a set of mono-chromatic pin cushions - all measuring 76 stitches square. Each is stitched with only ONE color of hand-dyed thread, and each is offered in it's own separate leaflet. Gathering Stitches is the rose version, the bees are the gold, snowman is the blue... I think we have a pic of all of them together!
Hop Peep Leap coordinates with Jingle Jolly Joy and Sneaky Spooky Spells. Measuring 160 x 60 - so 10 x 3-1/3 on 32ct. Cute with a retro-personality, you could make these into small cushions as well.
Cottontail Farms - This would make a cute Springtime decoration - it reminds me of a flour sack or dish towel. It measures 159 x 94 - so 10 high by 6 wide - soft colors with another antique retro feel.
Enchanted Quaker - This would be fun stitched all in black hand-dyed - but with added metallcs or beads for a little glisten. Measuring 124 x 254 - 7 x 14 on 18/36 ct... it's actually pretty cute as far as halloween Quaker Samplers go - more going on than just roundels. (In reading this description, this will take EIGHT skeins of Black Coffee Classic hand-dyed floss to complete on 32ct! That is a lot of thread!!) Would be fun all divided up into cushions too!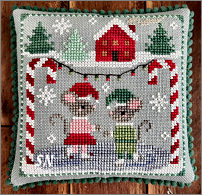 Mousecapades

is now Complete!
What if mice lived at the North Pole? The answer is Mousecapades! Stitch this darling set of Christmas Mice all busy playing in the winter snow! Luminous Fiber Arts continues her set of 7 fun little cushion-sized designs. They are building a snowmouse, and practicing for the Olympics with that peppermint hoop! Presented as full color charts, you can do any of them by themselves, or join them all together for a festive grouping. I took a pic at Market of the whole set... they're definitely cute! The auto-ship on these is now ending, and can catch you up with any you are missing.

Stitched on Smokey Pearl (we like Star Sapphire too), they can be stitched together if you'd rather. 1/4 of a yard of whatever fabric you like will do nicely.





Sweet Christmas I & II


This is a 2-leaflet set of holiday animal ornaments. Stitched on any light blue you like, these are coded to DMC floss, and will measure approx 3 x 4 in stitched size. Misty supplies the template for the mounting boards used in the finishing and links to a tutorial about the process.

Animals featured in #1 are a bear, cat and bunny. Book #2 has the fox, raccoon and deer. Super cute, some Simply Wool by Gentle Art would really be stunning on the animals, and you could add a little opalescent metallic Treasure Braid for those snowflakes as well!





Hocus Pocus, Sneaky Spooky Spells and All Hallows' Eve


Luminous Fiber Arts has three new Halloween designs with a fun, retro flavor.
Hocus Pocus has the cutest little kitty - SHE looks spooked! Misty wrote a charming poem and printed it on the back cover of this leaflet - it's about Boo the Black Cat who wanted to visit the moon. Finishes about 3 x 6-1/2 on 18ct.
Sneaky Spooky Spells features three panels of designs that you can stack, or stitch singly. Actually I like 'Sneaky' and 'Spooky' just by themselves!
All Hallows' Eve sports a wonderful pile of happy pumpkins! The moon is cool, the jumping cat just makes you want to hold up that tilting pumpkin, and I LOVE that white ghost pumpkin in there! Measures 154 x 88, so will finish about 8-1/2 x 5 on 18/36ct. (You could even leave off the gorgeous moon, the bird and the cat... and be left with that fun stack of Jacks!
Stticher - Just something cute for a Stitcher! Pick your favorite fabric, choose a color, find some old buttons, and you're ready to stitch this fun sign. I think it needs to hang above a special stitching chair or hang on the door of your 'lair!' It'd be cute stitched into the front of a fabric envelope tote, too. Measures 53 x 120 - so it'll finish a little over 3 x 7 on 32ct.
Gathering Honey - Luminous is continuing her fun monochromatic set of pin cushions with her golden colorway - Gathering Honey. Measuring just 76 x 76 stitches, and stitched in one color of hand-dyed thread, Honey joins Berries (red), Clover (green), Acorns (rust) and Snowflakes (blue.) Trimmed with coordinating colors, they are making a really nice set! Quick and easy to stitch.
Stitching Birds - Something fun to stitch for a button box topper, or needle case, this measures approx 3 x 7 and is worked with both Weeks and DMC flosses. Presented as a leaflet.
Turkey's Thanks - No fair eating a stitched turkey! Something festive to display amidst your Fall Pumpkins, he measures just 93 x 74, and might be a little smaller if you leave off the red star motifs along the top.
The Seamstress


from Perrette Samouiloff
Here is another neat design about stitching, that just begs to be displayed with The Stitcher, shown above. So we put it here. Choose your favorite color of hand-dyed thread (or solid DMC if you'd rather) and stitch this glorious medley of everything dressmaker!

Just like some of the other 'stitch-related' designs we have, you can take small motifs out of this and make some REALLY cute pin cushions, or do the whole thing to frame and hang. Choose any fabric you like... on 14/28 this finishes 9-1/2 x 11-1/2.





Fleece on Earth, Catty Cane, and Gathering Snowflakes


Luminous has three new designs that we like... all three are presented as beautifully done charts with fantastic clear pictures on their cover.
Fleece on Earth measures 62 x 62 in stitch count, so it'd make a perfect pin cushion for a knitter or someone who tends sheep! Cute as can be, it's charted for DMCs and a few hand-dyeds.
Catty-Cane is for a kitty cat lover. It measures 70 x 70 - and coded for DMC and hand-dyeds. This one would be cute with fuzzy thread for the scarf and hat trim, or metallics in the candy cane.
Gathering Snowflakes - This is another of Misty's monochromatic seasonal pieces - it companions several others she has so far. Choose ONE hand-dyed color of your choice and stitch away. Count on his one is 76 x 76... so 4-ish inches on 36ct.



Boo Whoo, Jingle Jolly Joy, Gathering Acorns and Stashing Squirrels...


Luminous Fiberarts has 4 new printed leaflets that we like!
Boo Whoo features a retro-inspired pair of friends - BOO and WHOO! Stitched on anything you want, with just black and Weeks Carrot floss, notice the two-color ribbon finishing on the edges. These will make cute pin cushions - 3 x 4 on 18/36ct - or little pokes for the candy dish or pumpkins!
Jingle Jolly Joy is shown stitched as one on this front cover, but I fell in love with the individual finishing on the BACK cover. I think they are over one of perf paper... but against that striped background they are charming! I'd even consider 28 Mushroom Lugana over one - you're talking less than 2 x 3!
Gathering Acorns - This is the third one of these designs we have - Valentines with Strawberries and St Pats with shamrocks... each is worked with just one color of hand-dyed thread. So, so simple, yet so striking!
Stashing Squirrels - Part of a friendship series - I think these two are having a stand-off about that acorn! Great colors, it finishes approx 4 x 7-1/2 on 32.



Gathering Berries, Playful Cats, A Robin's Discovery and Gathering Clover


Here are four small designs by Luminous Fiber Arts.
Gathering Berries is worked with one color of hand-dyed thread - choose a red you like. It finishes about 4 x 4 and is garnished with buttons from our botton box.
Playful Cats - Finishes approx 4 x 7, the cats are stitched in opposite shades and have little star motifs in their fur! Find some metallic for the fish and maybe some wool thread for the yarn?
A Robin's Discovery - A sweet Easter-y cushion - I think that bunny has his eye on that gorgeous egg!
Gathering Clover - This is a companion to Gathering Berries. The stitch count is 76H x 76W, and this design also finishes about 4 x 4. Those of you who have clover growing within your lawn will especially appreciate this.
Spring Scamper


Oh my gosh, this is the CUTEST! What a wild ride everyone is enjoying! *It's time for Spring Scamper, the annual race through the tulips to see who is the fastest! The bunny and chick are leaping into the lead, while their friends race to catch up in their carrot-mobile. A chick in a radish plane (that is the best part!) flies overhead towing the race banner while tossing carrots like confetti down on the competitors! What a charming scene!

Presented as a chart, this measures 111 x 266 - so it'll finish approx 7 x 16 on 32ct. Worked with hand-dyeds and lots of DMC, I just love it. You COULD do this on 18ct linen and use #5 Perle Cotton... like the Bent Creek globe kits or the Shepherd's Bush stockings... then finish it into a glorious big couch pillow... it'd measure 12 x 30! (take a ton of thread... but how fun anyway!)
Enjoy several other new designs when you click through!


Counting is Hard and Midsummer Song

, Two new designs by Misty Pursel of Luminous Fiber Arts
Counting is Hard! Counting should NOT be hard, but honestly, have you ever mis-counted and ripped something out MORE than once? It IS hard! Measuring 68 x 124, Misty has also shown this finished as a drum pin cushion, topped with a velveteen strawberry on the leaflet's back cover. Cute design, coded for DMC... something fun to make for a stitcher friend!
Midsummer Song - The cuckoo comes in April and stays the month of May... he's singing a delightful song in the pretty garden! The strawberry vine is cool, the trees are neat, this is just a very cheerful and colorful design! Measures 168 x 236, coded for DMC; Vintage Country Mocha is one of the fabric suggestions.