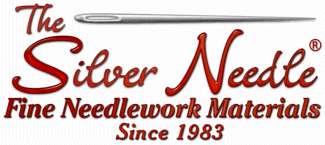 The Blue Flower
6068 S. Sheridan Rd. Tulsa, Ok. 74145 (918) 493-1136 (888) 543-7004
E-Mail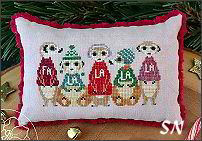 Christmas 2023

from The Blue Flower

12 Dogs and Cats of Christmas - Presented in two different books - enjoy all these little fur babies doing things they are supposed and NOT supposed to do at Christmas! Jeannine has cats in one book, dogs in the other... she's mixed up the dog varieties, and given all those cats different colors of fur coats, so you can find your favorites and adapt if need be. Cats are worked on a steel blue color (close to DMC 415), dogs are on a tan (DMC 613/453 background.), and coded for DMC and hand-dyeds. Both are full of cuteness and color!
Language of Flowers - Peace - Just a very pretty piece - so very relevant in the world this year. Jeannine chose holly and hellebore as her flowers. We had a Google lesson in hellebore as I am writing this description - they are Christmas Roses, and have a lonnnngggggg and fascinating history. Anyway, this finishes approx 9-1/2 x 3 on 40ct, and is coded for DMC.
Holiday Card 2023 - This year we are treated to Merry Meerkats - who are all bundled up for their unseasonably cool weather. 4 x 2-1/2 On 40ct, the are done in DMC and hand-dyeds - but since they are so tiny - you don't need much thread, or even a big piece of fabric! Presented as a chart.



New Designs

from The Blue Flower

Autumn Bee - If you have been a member of our A Little Help From our Friends, you'll recognize this glorious bee amidst her garden of Autumnal florals. Jeannine mentions the blazing leaves and colorful flowers and berries that surround her bee. Coded for silks for DMC, she's used a violet fabric - we had used a light green - both versions are lovely. Measures a generous 9 x 7 on 32ct.
Forest Home - This design is a celebration of the woods and was particularly inspired by the lovely Pacific Northwest Rainforest. She's packed it with native plants and animals - to give you the feeling of being immersed in the deep green forest. I see little spotted mushrooms, a bat, a chipmunk, all kinds of flowers and trees - it's charming! Measuring a generous 12 x 9 on 32ct, the fabric is close to DMC's #644 for color reference. It is coded for DMC as well as Weeks and Classic hand-dyeds.
Spooky Halloween Smalls - Not your average Halloween spooks! This is a set of pin cushion-sized creatures - who all love the cool weather and a little drama! You're getting a spider web biscornu, a trio of black cats wearing striped socks, and a darling little raccoon. He's peeking out from behind his dinner - that you've so thoughtfully displayed - as Fall Decorations on your front porch! Everything is stitched on a linen close to DMC color #502, and done with DMCs, Weeks and Classic hand-dyeds. Cute as can be, all 5 designs are in this chart!



Coming in Mid-May

from The Blue Flower
Happy Camper - The Blue Flower is celebrating summer-time camping with this charming piece! Whether you prefer tents or campers, a lodge or sleeping bag under the stars, there is something for you stitched into this piece! Coded for DMC and hand-dyeds, it measures 226 x 191 - so will finish approx 12-1/2 x 10-1/2 on 36ct. A beaver and porcuppine are toasting marshmallows, there are dogs out there canoeing, a bear emerging from your tent, and even squirrels enjoying their meal at the picnic table! Fun stylized trees, the starry sky, welcoming lodge and cute campers on here, it is enchanting! Presented as a chart.
Stitching Squirrels - You'll recognize this medley of designs from our Summer Event with Jeannine a few years ago! A pair of squirrels are stitching together, there are more perched atop their mountain of gathered acorns, and the third design in the chart is an acorn border surrounding a verse about friends gathering. Pretty Autumnal colors, our ladies loved all the projects from that retreat. Now, these three are together in one chart. (Note: there was a 4th design included in this set... it's still a Silver Needle Exclusive. It is Silver Needle Squirrels, shown below, and is still available through our shop!)
Silver Needle Squirrels,

a Silver Needle Exclusive
Silver Needle Squirrels features 4 stitching squirrels each perched atop their own acorn tuffett. Everyone is a different color... but their little hats match. Finished into a rather large octagon shaped cushion - about 6 inches in size, the center is anchored with a clay spool-of-thread button.

Charted for hand-dyeds and DMC, Jeannine chose a very light hand-dyed green background linen. We have fun acorn buttons and leaves - so you might want a different button on the underside, and Lady dot's hand-dyed velveteen would be wonderful as your backing material, and the chenille or baby balls would be fun as edging trim.


New Spring Arrivals
Rabbit Parade - Jeannine loves little animals, and she has a profusing of unusual ones in this pic! If you've done her 'Animal Alphabet' you know she uses all kinds of animals that you never knew EXISTED! She'll tell you their contry of origin in her chart... so unfortunately I cannot tell you who everyone is on this one either! But, can you see that they are all wearing bunny ears? She uses smoky blue linens a lot... a soft color which lets her whites show up. Rabbit Parade measures 173 x 80 - so 9-ish x 4 on 36ct.
Spring Quail - Three designs in this chart pack... our Spring bird is surrounded by Dogwood blossoms, and coordinates with Winter Quail. Again, the smokey blue fabric and gently flowing vines and stems.
Tudor Goat - Jeannine says this is the latest in her 'Tudor Menagerie Series.' Her goat is earing a crown and surrounded by lavish flowers - her signature flowing leaves against that smokey blue background.
The Glad Sun - Celebrating the return of the Spring Sun, the splash fo flowers has a Art Nouveau feel to me! Stitched on a soft gray, coded for DMC and hand-dyeds.



Winter Quail, Holiday Card 2022 and Seasons of the Heart Winter

... The Blue Flower's Winter releases are here!
Seasons of the Heart - Winter - finishes her set of 4 hearts... full of seasonal flowers and tiny animals... fox and quail, snowdrops and poinsettias... each finishes into a 4 x 5 pin cushion on 40ct linen and is charted for DMC floss.
Holiday Card 2022 - I think this is bees and poinsettias. It finishes 4 x 5 on 40ct, is charted for DMC, and would make a bright addition to your bowl of cushions! Jeannine says the inspiration for this came from a German Holiday pyramid figurine her husband bought for her years ago. Beth Twist of Heartstring Samplery has taught her that bees are awake in their hives all winter, so who's to say they are not enjoying the seasons as much as we are?
Winter Quail - Another of Jeannine's birds, this finishes about 5 x 5 on 40ct. Coded for silks or DMC, the little guy is wearing a scarf that is done with long stitches of Thread Gatherer's Aurora thread in Desert Moss. It's a really neat stitched feature. Jeannine says: these little guys keep visiting my back yard and I never get tired of watching them. I haven't seen any with scarves yet... but I'm crossing my fingers!



Incoming Autumnal Arrivals


Jeannine has some lovely designs!
Autumn's Hymn is her ode to the Stitcher's Autumn. Our Stitcher is stocking up with thread - check out the horse-drawn wagon with the spools, the gigantic tomato pin cushion and that DARLING LITTLE FOX perched atop all! They are all enjoying the natural Fall beauty by stitching outside in the yard - the chipmunks and birds all over the yard are staying out of the way - for now! Pretty colors of good 'ol DMC - 8, 300, 356, 413, 422, 435, 500, 680, 730, 831, 838, 841, 918, 950, 2, 3012, 3022, 3046, 3051, 3857 and ecru. It's a pretty scene!
Seasons of the Heart - Autumn - This is the third of 4 seasons of hearts. Spring and Summer exist - Winter will probably be released March of 2023. Based on a heart-shaped frame surrounded with seasonal plants and animals, each is super cute and colorful. Autumn features a tiny hedgehogs and owls, along with corn, apples pumpkins and sunflowers. Really nice colors of basic DMC!
Magpie and the Moon - Jeannine loves her little bird - ready for Autumn. Showing off festive plumage along with seasonal berries and leaves, she's perched on her branch underneath a watchful moon. 90 x 90 Stitch count, DMCs and hand-dyeds.
Seasons of the Heart - Summer, and Animal Alphabet


Jeannine McGowans' Spring releases join her growing collection of designs.
Seasons of the Heart - Summer - This is the second in a 4-seasons set of hearts. Based on what I have learned in the above Animal Alphabet description.. could this be a Zorro or a Cat featured on here with the summer berries and bees?
Animal Alphabet is done on a green hand-dyed background and worked in regular DMC - 33 shades! You'll be stitching an Armadillo, Bat, Cheetah, Dragonfly, Emu, Fennec Fox, Goose, Hare, Ibex, Jellyfish, Koi, Lyrebird, Mammoth, Narwhal, Owl, Puffin, Quetzal, Robin, Seahorse, Tiger, Urial, Vicuna, woodpecker, Xeme, Yabby and Zorro! Once you are finished, you'll know what all those animals look like too! What a fun piece - it measures 182 x 218 in stitch count.
New Springtime Stitching
Moggie Manor Jeannine's cat was named Moggie - and this was Moggie's dream yard! Her house - as big as a mansion, her pond - full of the most delightful fish (I didn't say delicious!), and her trees attracted the most wonderful birds to watch! Coded for DMC, this finishes about 10 x 11 on 40ct. Such a fun piece because there is so much to discover each time you look at it. That's how Moggie felt, too!
Seasons of the Heart - Spring - There are four rabbits in here all tucked between the fresh spring flowers. Just a small design, it is coded for DMC and measures 101 x 80 - so 4 x 5 on 40ct over two.
Our Hearts Go Out - To Meet the Spring! A lot of hand-dyed thread variations in this piece... you can really see it in the border and bird colors. Finishing a generous 8 x 11 on 36ct, this is coded for DMC along with Jay Bird, Old Marigold, Magnolia Blossom, Steamed Broccoli and Bean Sprout!



Spring Forest Scrapbook

from Lindy Stitches and The Blue Flower
This is a collaboration design between Blue Flower Designs and Lindy Stitches. You might remember their Saltwater Scrapbook piece last year... this year's is bursting with the new spring animals in the forest. Presented in two charts (each is available separately, so you will need to order both to get all 9 panels) - Jeannine from Blue Flower has contributed the snail delivering spring blooms, racoons under their umbrellas, a lazy bear, and pair of sleeping foxes. Stephanie from LS did the deer, that awesome grasshopper tipping his hat to the ladybug, the birds, bees and butterflies, and finally those darling hedgehogs.

You can stitch each of these 3 x 3 (61 x 61) pieces individually, or join them together... depends on your finishing talents! Choose a pretty light blue fabric, a fat quarter will do all either framed or singly. All are stitched with various hand-dyeds and coded for DMC as well. I just love the different animals, and all the pretty colors - such a refreshing collection of charm!


Winter Blooms, Tudor Ermine, Cozy Christmas Cat, Holiday Card 2021
Winter Blooms - They 'bloom amidst the Winter's snow.' Stitched on a wintery-gray background, this is a plump pot bursting with glorious flowers and leaves. Finishes about 5 x 7 on 36ct, Jeannine chose a mixture of DMC and some hand-dyeds.
Tudor Ermine - What a gorgeous border surrounding this delightful little Ermine! The entire design measures 97 stitches square - so a little over 5 inches in size on 36ct. I love the wintery evergreens, the pine cones and red berries with the snowflake touches. Just 9 shades of DMC floss, the trim is Lady Dot's Sizzle Chenille - that bright, rich red!
Cozy Christmas Cat - He has a tiny snowman decorating his shawl! Just 3 x 3, only 6 shades of floss... this would be pretty with that Red Sizzle trim as well.
Holiday Card 2021 - This little llama is all decked out for the Holiday! He's wearing his hand-knitted sweater, with coordinating scarf and socks (complete with tassels!) One version has his Christmas Tree, but both have the fun string of Christmas lights. Stitched on Lambswool linen - there are several counts to choose from, so you can make him any size you want!



New Releases

from The Blue Flower
We were treated to two new designs at our recent Summer Stitching Retreat -- Jeannine was one of our guest designers -- and these two new things came along with her -- in addition to our exclusive class projects!
Moonlight Sampler - Kind a tribute to the beautiful night-time moon and all the little critters that scurry at night! *Though my soul may set in darkness, it will rise in perfect light. I have loved the stars too fondly to be fearful of the night.* Stuffed full of darling little animals and colorful flowers, the border of this should remind you of a wrought iron garden gate or arbor decoration. We think it'd even make a really cute baby announcement - by taking out the verse and adding baby's name and important info instead!
Measuring 269 x 254, it finishes approx 14 inches square on 36ct, and is stitched with DMC and hand-dyed flosses. Jeannine has also shown the alphabet, with all its fun little animals, stitched by itself and finished into a pillow. Every time I look at this I see another animal - sloth, hedgehog, bat, fox, moth, beaver, possum, cats, owl, a skunk, rabbit, duck - I think that's why I like this as a good-night-story piece!
Harvest Magic - Oh the bounty of an Autumn Garden! Celebrating the magic of a gardener's green thumb... she's brewed up a cauldron of yummy veges and pumpkin vines... while her crow-friends hover over her State-Fair-Ready preserves! This just makes me want cooler weather - but it's supposed to be 105 here all next week! :( Something to stitch for this Fall... Harvest Magic will finish approx 5 x 7 on 32ct, and is stitched with DMC and Weeks hand-dyed flosses. It'd make a cute little block stand-up for your windowsil!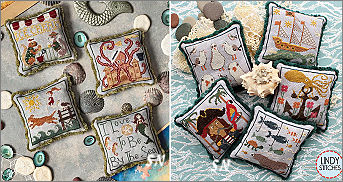 Saltwater Scrapbook

from Lindy Stitches and The Blue Flower
This is a delightful set of small designs - all with a seaside/saltwater theme. Jeannine's favorite squirrels are building sandcastles... and that octopus really loves his beach house! This is one half of a collaboration between Blue Flower and Lindy Stitches... the back cover of this chart shows all 9 smalls stitched together. Coded for DMC.

Part 2 has 5 little pin cushions 3" square on 40 count fabric. Stitch count is 61 x 61 each.


Jeannine McGowan of the Blue Flower has three new releases!
From Nature To My Needle - *I count not my day complete 'till needle, thread and fabric meet.* Kind of the Stitcher's Creed, this measures approx 13 inches square on 36ct. The pretty nature-inspired border is full of little creatures and flowers, and Jeannine shows the center part stitched all by itself as another option for this. It's coded for DMC... 22 different shades.
Strawberry Bird - A pair of elegant birds at home in their billowing strawberry vine... I don't think the berries on there are going to last very long! Coded mostly for DMC with a trio of hand-dyed cottons, it finished approx 5 x 5 or 6 x 6 dependng on your fabric selection.
Jeannine McGowan has some pretty new designs:
The Gentle Rain - To capture the awesome feeling of the soft, spring rain Jeannine loves, she designed a scene of flowers and trees. She featured a big bird bath with all sorts of delighted birds, and then, there come all the little creatures - squirrels, a racoon, and even a neighborhood dog coming out for his walk! Something pretty to hang in the Springtime! Measures about 9 x 11 on 36ct.
Wildflowers - Buttercups have honeyed hearts, Bees they love the clover, but I Iove the daisies dance all the meadow over. Inspired by wildflowers and a favorite poem, we get another pretty springtime piece that a gardening friend might really love. Stitched all in DMC floss, it finishes a little over 9 x 9 on 36ct. Not really too big at all.
Language of Flowers - Spring - The sun shines when I'm with You. Fresh blooming Narcissus just make you smile! 165 x 82, It'll finish 8 x 4 - a generous cushion that would be pretty perched on a windowsill.
Tudor Bee and Tudor Swan - A pair of coordinating designs, each is finished as a pin cushion. Trims and velveteen backings are by Lady Dot. Jeannine says the Swan's border was inspired by the ceiling at Hampton Court palace, and swans are very common in Tudor art - symbolizing fidelity in love.
Acorns & Halloween Parade
Acorns - Measures 137 x 141, so finishes approx 8 x 8 on 36ct... this features little scurrying squirrels all keeping track of their plentiful acorns! Bright Leaf, Pamlico, Molasses, Juniper, Grasshopper, Sweet Potato, Bee's Knees, St Bernard, Pebble beach, Tea and Biscuits, and Trail Dust make up the delicious autumnal color palette. *The creation of a thousand forests is in a single acorn.*
Halloween Parade - *Strange things are seen on Halloween!* Enjoy this scene of all our pets our trick-or-treating! Jeannine says they'd get bones and fish instead of candy, but they'd still dress up! There's a tomato-puppy in here... a bee, a lion, an angel, a dinosaur, a turkey... and of course the big dog with the skeleton outfit on! This measures 183 x 120 - 10 x 7 on 36ct, and the whole thing is stitched with good old regular DMC floss!

Previews of the New...

Huckleberry Farm, Summer Squirrel & Summer Acorns


Jeannine of Blue FLower has announced some of her new designs.
Summer Squirrel is next in her seasonal squirrels... this little guy looks like he's peddling an ice cream cart, only it's full of acorns! Notice his navigator up in the front - with his helmet on! Stitch count is 143 x 103, and it calls for lots of DMC and hand-dyeds.
Huckleberry Farm features a lavish border surrounding a neat farmhouse, and highlights all the flora and fauna living there! Actually, there are mountains on here, and Jeannine's memories of bears and huckleberries inspire all of it. We'll see a better pic when we finally see this in person at the show. But for now, it finishes approx 14 inches square and uses lots of hand-dyed flosses.
Summer Acorns is yet another pin cushion design that is stunning. Along with the same colors used in the Squirrel, we get this small geometric that has tiny squirrels hidden in its vines, and hearts hidden in the acorns!



Sleeping Bee & Winter Valentine


Jeannine McGowan has another glorious bee design to companion her Quilting Bee design... this one is kind of a 'winter' bee... it has snow on the hive and evergreens loaded with berries in the background. Stitched on 40ct linen, it will fit into an 8-inch round opening, and is stitched with both Gentle Art and Weeks hand-dyed cotton flosses. Soft buttery golds, winter whites and luscious dark evergreen colors.

Winter Valentine features two love-birds in the snow. Cardinals, add the mistletoe if you want! This measures 105 x 77, so would be about 5 x 7 on 32ct. It's stitched with regular DMC floss - but two different colorways are presented, as well as the sweet sentiment!





New Arrivals


Jeannine McGowan continues her gorgeous seasonal squirrels and acorns with Halloween!
Halloween Acorns - Delish! Stitched on a light neutral background, this is worked with hand-dyed flosses and DMC 730 and 371. Hard to see in the pic, it is trimmed with Lady Dot's Wizard (deep purple) hand-dyed chenille trim. Stitch count is 86 x 86.
Halloween Squirrel - This is a little mouse-princess (she is wearing a crown and a little striped skirt), who is Trick-or-Treating for acorns! I hope that is a friendly vampire who's serving her! The porch lantern is an acorn, her bucket is a pumpkin acorn, the whole thing is just really cute. It features exactly the same colors as the Halloween Acorn design, so they'd make a cute companion set. Stitch count is 129 x 93.
Night Walked Down - This is supposed to remind you of a night fairy coming down to the lavish early evening garden. The flowers are all still boldly colored, but the night sky is falling... and everything will soon be calm. Stitch count is 256 x 151, and this is stitched with 15 shades of hand-dyeds or DMCs.
Sneak Peeks of New Landscape Drums
Jeannine has two new designs that are releasing mid June of this 2019. Cute as can be, they are tiny landscape scenes that can be stitched flat and framed or 'pillowed'... or finished into drum shapes as shown in the picture. Presented as charts, the featured wool toppings are a new Lady Dot Creates product... and LD's hand-dyed chenilles are also featured. The wools and trims are available separately.
Alpaca Farm highlights a little coral barn, tiny alpaca and even a tire swing. It is stitched on 40ct (you can change that to any count you wish) using Weeks Dye Works flosses of Linen, Graphite, Schneckley, Tiger's Eye, Roasted Figs, Tatanka, Grasshopper, Clockwork, Sand and Buttercup. Colorful and really charming!
Summer Quilts features a girl hanging her quilts on the line to dry with her little puppy 'helpers' peeking out of the grass. It's a warm summer's day - can you see the breezes blowing across the sky? String Bean Velveteen and Ogden Grass chenille are featured, and the Weeks flosses used are White Lightening, Skinny Dip, Bright Leaf, Garrison Green, Dolphin, Seagull, Charcoal, Grasshopper, Gold, Red Rocks, Chrysanthemum, and Chesapeake.

The Blue Flower, her Acorns and Squirrels, and a Bee!
The Acorns
Gorgeous new designs by a new designer - Jeannine McGowan - these are absolutely stunning, and I do not know how you are going to choose just one or two as favorites. Her Acorn cushions all measure between 80 and 90 stitches square - so not too big.

Hand-dyed silks are featured in Autumn Acorns with DMC conversions, and hand-dyed Gentle Art and Classic C flosses along with DMC conversions are used in the rest. (Some of the silks are not here yet for the Autumn piece... takings for those, price TBA but approx $80. You use the SAME colors in the Autumn Squirrel - we think one set of silks will do both projects.)



The Squirrels
Aren't these charming? Each one is tending to her precious stash of acorns! Spring and Winter are coded for Gentle Art Sampler Threads and Classic Colorworks hand-dyed flosses, while Autumn calls for 10 different hand-dyed silks. (Again, silks are not all here yet, so on those, with anticipated cost of approx $80 - they are the same colors used in Autumn Acorn, we think one set will do both designs.)

All of them include DMC conversions, so a trip to your thread stash is a fun little excursion to take! Each of these measures approx 90 x 130 in stitch count, so they finish approx 5 x 7 on 18/36 ct. Not big at all, but HUGE on charm!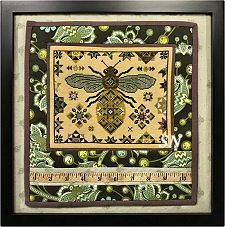 Quilting Bee
Wow... talk about big on impact! This 133 x 110 bee is done with Gentle Art and Classics of Lagoon, Raven, Mountain Mist, Mustard Seed, Old Purple Paint, Piney Woods and Green Onion.

It has lots of quilt sampler motif inspiration... just a gorgeous piece!


A Greyhound Year
This is super cute - a directory of what your dog celebrates about each month! Little Greyhounds dressed up, January has long-underwear and hot chocolate, February is wearing an Abe Lincoln hat, March has a raincoat, August is wearing a life preserver and standing in front of a fan (I love that one!), September has a stack of books, and December is standing in front of the Christmas Tree.

The twelve blocks are all bordered by a set of rabbits and squirrels in those center diamonds! Measuring 267 x 169, this will finish approx 17 x 10-1/2 on 32ct, and is coded for Weeks, Gentle Art Sampler Threads and Classic Colorworks hand-dyed flosses. If you stitch this, and your dog is not a Greyhound, I am sure he or she will appreciate your sentiment anyway!!!


The Color of Winter
*The color of Springtime is in the flowers, the color of Winter is in the imagination.*

Look closely at this. The design is the same on both sides... but she's changed around all the colors in the flowers, so it doesn't look like it. Measuring 228 x 163, this finishes approx 14 x 10 on 32ct and is coded for Weeks, Gentle Art and Classic hand-dyed flosses.