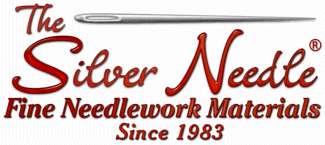 Lindy Stitches
6068 S. Sheridan Rd. Tulsa, Ok. 74145 (918) 493-1136 (888) 543-7004
E-Mail



Loose Rooster


from Lindy Stitches
Stephanie at Lindy Stitches made a darling rooster pin cushion as her Market Special this spring.

Presented as a full kit, you get the 32ct Lugana, Weeks Dye works hand-dyed flosses for that brilliant rooster, the striped ticking finishing fabric, rust topper and bottom fabrics, mini pom pom trim hand-dyed by Lady Dot, an awesome rooster charm and 2 different colors of silk ribbons.

The finished cushion measures a little over 3 inches in diameter and a good 7 inches tall. Everything about it is festive, lively and lovely!


Little Stranger Birth Sampler and Wandering Sheep
Little Stranger Birth Sampler - By Lindy Stitches, this pattern offers two different announcements. Since she's presented them on two different fabrics, you can really see which you like better and tailor your sampler to your nursery. On 18ct aida or 36ct linen the larger piece finishes approx 8-1/2 x 6-1/2 in size - so finishable before baby comes!
Wandering Sheep - I was a wandering sheep. I once preferred to roam but now I love my Father's voice. I love I love his home. Choose a pretty seafoam-colored fabric - this is coded to DMC - the contrast between the pinks and green is pretty - especially with the black pops of color.



Spring Forest Scrapbook

from Lindy Stitches and The Blue Flower
This is a collaboration design between Blue Flower Designs and Lindy Stitches. You might remember their Saltwater Scrapbook piece last year... this year's is bursting with the new spring animals in the forest. Presented in two charts (each is available separately, so you will need to order both to get all 9 panels) - Jeannine from Blue Flower has contributed the snail delivering spring blooms, racoons under their umbrellas, a lazy bear, and pair of sleeping foxes. Stephanie from LS did the deer, that awesome grasshopper tipping his hat to the ladybug, the birds, bees and butterflies, and finally those darling hedgehogs.

You can stitch each of these 3 x 3 (61 x 61) pieces individually, or join them together... depends on your finishing talents! Choose a pretty light blue fabric, a fat quarter will do all either framed or singly. All are stitched with various hand-dyeds and coded for DMC as well. I just love the different animals, and all the pretty colors - such a refreshing collection of charm!


Autumn Strolls and Susie Susie Samplermaker


Lindy Stitches has a couple of new designs that are fun...
Autumn Strolls make thankful souls - I guess because they are out walking instead of being cooked! Stephanie loves turkeys... so stitch these little guys; do not have them for dinner! Finishes 7 x 10 on 36, this is a medium hand-dyed blue linen background, and threads are a mixture of DMC, Weeks and Classic.
Susie Susie Samplermaker is a companion to Mary Mary Needleworker. Finishing about 12-1/2 x 10 on 32ct, it's stitched Classic, Weeks and DMC. The verse asks about Susie's garden, which is probably NOT growing too well as she is inside stitching samplers rather than keeping away the hungry deer in her yard!
Mary, Mary Needleworker


Lindy Stitches has a cute new design that needs to hang in your stitching room or somewhere in close proximity to your stash, fav stitch spot - or gee - the Family Room! She has two color options - day or nighttime stitching - and it's cute either way!

Finishing 12 x 10 on 32ct, the little spool flowers are cute, and the dangling scissors, and of course the verse - it just makes us smile!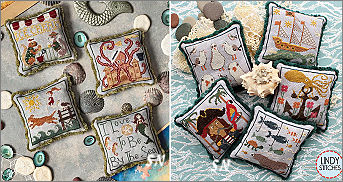 Saltwater Scrapbook

from Lindy Stitches and The Blue Flower
This is a delightful set of small designs - all with a seaside/saltwater theme. Jeannine's favorite squirrels are building sandcastles... and that octopus really loves his beach house! This is one half of a collaboration between Blue Flower and Lindy Stitches... the back cover of this chart shows all 9 smalls stitched together. Coded for DMC.

Part 2 has 5 little pin cushions 3" square on 40 count fabric. Stitch count is 61 x 61 each.





Beautiful Things


*Oh my darling it's true... beautiful things have dents and scratches too.* What a fun little piece! Even though the urn is broken and the fence is a bit crooked, the bird has found a lovely place to be!

Finishes approx 9-1/2 x 12 on 36ct... actually fairly good sized. Coded for DMC and Classic Colorworks over-dyed flosses.


Penelope's Pincushion was a limited edition from last Spring's market... but since it sold out so fast, she re-issued it again this year! We've bundled ours with the chart, gorgeous aqua blue Lady Dot ribbon trim, the frosted flower pins and cute little silver crown charm dangling from the bottom corner of the cushion. All you add is the bit of white fabric and the 9 colors of DMC floss. It is the cutest little thing... but since it's available again, I had to bring my shop model back TO the shop from my dresser top at home!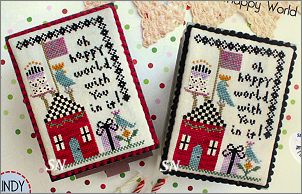 O Happy World

from Lindy Stitches
A cute little Happy Birthday piece that can even be a birth announcement! Presented as a chart, stitch it on something light in color so the Weeks hand-dyed flosses show up well. Trimmed with either Chianti or Licorice chenille by Lady Dot, just a fun little piece!


Bunny Lace Trio

from Lindy Stitches
A chart of these three designs that feature a way to highlight all your crazy overdyed threads.

Vintage County Mocha linen... get some trim and them dig through all your beloved random threads!

This design highlights three of Classic Colorworks flosses that have multiple color variations in them -- so no DMC conversions. Cobbled Peach, Goldfish and Meadow Green are featured. Three sweet cushions for the season!


Mr & Mrs Delicious

from Lindy Stitches
Just for fun, stitch this pair of pincushion designs and tuck them into your collection of smalls... hide them in that big basket of asst pincushions! If you have a huge basket/tray of stuffed cushions sitting on your counter - nobody can resist playing with them. Then, they actually READ them... and HERE are Mr and Mrs Delicious!

Each finishes just under 5 inches square on 32ct... stitched with various hand-dyed cottons or DMC floss... just cute! Thanksgiving is coming!