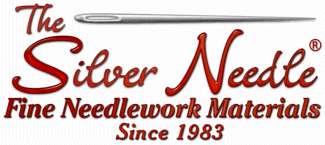 6068 S. Sheridan Rd. Tulsa, Ok. 74145 (918) 493-1136 (888) 543-7004
E-Mail
Scroll down through this page to see designs especially for
Weddings, Anniversaries and Birthdays
Baby and Children's Projects


Weddings, Anniversaries and Birthdays




Blackwork Mille Fiori Sampler


from The Sweetheart Tree
Sandra Vanosdall's 40th Wedding Anniversary Sampler! Presented in full size leaflet format with a smattering of black glass Paillette embellishments, this explosion of Blackwork finishes only 6 x 10-ish on 36ct.

You can construct it like it is on the cover, change the color, or dissect it into smaller bands for borders, ornaments, sewing cases... lots of things. It's so striking because it is such a busy, lacy, delicate, and actually quite bold presentation! Presented in the leaflet with emb packet.






Always You


from Heart in Hand
It was always you... Heart in Hand has a new Wee One chart -- worked on Picture This Plus's 28ct Haunted linen, it is so pretty!

The rich teal colors of the fabric set off the creams and caramels of the flosses, the silvery metallic, and the matte taupe of the glass seed beads. Finishing just 4 x 4-1/2 inches, this is so striking... and it delivers SUCH a message!!!!!

New Wee Ones: Forever Love & Two Become One
Both of these are small card charts that make really nice wedding or shower gifts.

Simple designs, neat colors that you can always change if need be, each finishes approx 3 x 4 and comes with it's timy brass embellishment.
Mr & Mrs and Happily Ever After


from Heart in Hand
Heart in Hand has released two wedding momento designs that are very simple, clean and contemporary feeling. Not too fussy, just very 'stitchable' for a nice wedding gift. My favorite is the little Mr & Mrs, which finishes a mere 4 x 4 on 30ct. Cute to include in a picture frame beside a special photograph or the invitation. Happily is a little larger -- 2-1/2 x 12. It'd make a cute pillow, or be neat sewn into a fabric wall hanging.

They both call for overdyeds, and although you'd want a pretty red or pink for the hearts and flowers -- you could use almost any other colors from your stash for the rest! Mr & Mrs comes with a few glass bead embellishments, Happily includes a few beads as well, and a tiny brass heart charm.
My One and Always

from Heart in Hand
This is a great wedding piece for someone you might know. They're all young these days, they don't want *foof and fuss*... this one doesn't even mess with a date! Don't stitch them a lacy-band-sampler... just pick a fabric you like and do this! It's clean and contemporary, and they'll love it!

Heart in Hand does really GOOD wedding designs... she has lots more farther down on the HIH page -- maybe take a peek! This one comes as a chart with a brass heart charm. It measures approx 9 x 4 on 30ct.
Our Story

from With Thy Needle & Thread
*Home is where our story begins.* What a neat piece to stitch for a housewarming or wedding gift!!!!! Presented in chart format by Brenda Gervais, this is pretty and not 'fussy.' Measuring approx 13-1/2 x 8-1/2 on 35ct, choose any neutral background material -- you just want that neat house to show up -- unless you want to change that color as well!

Simple and fresh looking -- you CAN get it finished in time for the big event! You could even personalize this for your family or another.
Wedding Row


from Bent Creek
'Of my love be sure' is the perfect verse for this wedding remembrance! Offered as a leaflet, in the same 'row' format as Bent Creek's other designs, this is stitched on 32ct Summer Khaki Belfast linen in soft, dusty shades of overdyeds. It calls for Whitewash, Cocoa, Old Red and Blue Paint, and Harvest Basket... but you could always alter some of that to match the home's decor.

Finishing approx 3 x 18, there is an alphabet included to personalize... and as of posting time... we have no extra button embellishment set. I know there will be one... probably full of lots of hearts! Something young and fresh... not too much stitching... this is really nice!
The Marriage of Minds


from The Drawn Thread
Simply stunning, this sampler will quickly become a family heirloom to be treasured! Based on a Shakespeare Sonnet, the verse speaks of love and the commitments of marriage over time. Perfect for a wedding or anniversary sampler, and finishing approx 8 x 26 on 32ct Natural Linen, the design is stuffed full of special stitches, and is worked in lots of green, raspberry, cranberry and burgundy, warm browns, soft golds and creme. Choose between flosses, silks, or a mixture of both threads! Along with all the beautifully presented stitch diagrams comes the entire chart... on one continues piece of paper that measures 11 x 34 inches! (No guessing where the pattern repeats from one page to the next! It's all here in one chart for you!) Beautifully presented, full of details and wonderful sentiment!


Baby Projects



Tooth Fairy Pillows


Presenting a BLUE 6 x 6 Tooth Fairy Pillow... in case the PINK version (already in the line) is un-popular at your house!!! If you want to make your fairy more boy-ish looking... leave off the crown, pigtails and little curls -- just his hair is perfect. Then, take off the few extra stitches of 'ruffle' on the top, and you're all set! Who says the Tooth Fairy has to be a girl!??

Offered as a complete kit of already sewn and stuffed pillow, 16ct White Aida cloth inset panel and all the DMC flosses... the pillow back features a pocket to hold any amount of money -- depends on the Tooth Fairy's budget! Now... get this finished NOW and insert the $$... so that when that first tooth falls out at 7pm at night... the Tooth Fairy is PREPARED!!!!!


Baby Boy or Girl WITH BINKY! from Just Another Button Company
Just Another Button Company designed this darling chart which comes with either a blue binky button and BOY letters, or a pink binky button and GIRL letters. Cecile does remind you that she used her grandchildren's coloring for these, but if you search 'DMC floss skin tones' online, they give you lots of options for diversity with skin and hair colors! So.. your little person can look just right! Use flosses from your stash, but buttons are included with the chart. The designs finish about 4 inches in size, unless you personalize with a name too. Cute as can be... I have a two-year-old binky-lover... and that thing comes out for peanut butter and other equally special things!
Ear-Resistible Rabbit from JABCO and Val's - This is a fun little piece... but you don't stitch the whole thing! Little Rabbit is printed on 18ct perforated paper... you stitch the black and white border and the green leafy vine. Thats it. The rest are Just Another Company buttons and Val's pre-cut felt flower that you tack on! Zip-Zap - it's done! The packet includes the rabbit printed on the new Mill Hill 18ct perforated paper, chart, buttons and pre-cut felt pieces. A Needleprint & Play design - a collaboration between Val's Stuff and JABCO, super colorful, cute and quick!



Little Stranger Birth Sampler


Little Stranger Birth Sampler - By Lindy Stitches, this pattern offers two different announcements. Since she's presented them on two different fabrics, you can really see which you like better and tailor your sampler to your nursery.

On 18ct aida or 36ct linen the larger piece finishes approx 8-1/2 x 6-1/2 in size - so finishable before baby comes!


Two by Two
from Vintage Needlearts
This is a classic Noah's Ark piece - complete with darling animals and the bible verse. The ark and Noah are there along with giraffes, camels, elephants, lions, pigs, sheep, snakes, turtles and ducks and flamingos... it's a delightfully busy scene!

I think the ducks on top of the alligators are pretty cute! Stitched with 26 different shades of various hand-dyed flosses, this finishes a generous 11 x 12 on 32ct.


Good Night, Sleep Tight


from Fairy Wool in the Wood
Isn't this the cutest design? Stitch this on whatever you want... it's coded for 9 colors of DMC floss. Finishing approx 4 x 5 on 14/28ct... I think that is a little moose on the right. Check out the wise little owl on the left... just checking him out with his eyes wide open!

I remember that last part of this verse - *don't let the bed bugs bite!* If I had known at age 6 that bed bugs were REAL, I'd have never slept again! So, forget that part, and just enjoy the pair of forest friends having a sleep-over! Chart.



How Old?


*How old would you be, if you didn't know how old you were?* I love this! It's appropriate for so many settings and people!!!!!

Offered as a leaflet, it finishes approx 8 x 10 on a 14/28ct and is coded for DMC or anchor floss. The model is worked on a very light blue -- so the whites in the shirts shows up. An uplifting lesson to life -- possibly for someone you know???


Her Ladyship and His Lordship

Have Arrived from Peacock and Fig
Here is a pair of charming 7 x 8 birth announcements to decree the arrival of the *Chosen One!* They are very regal, and quite different than the usual baby announcements. I love them! Presented in chart format (super clear and nicely colored), they are stitched on white fabric with DMC floss and each features a smattering of Mill Hill glass beads and a bit of Kreinik #4 metallic braid in gold and silver.

There is a piece of graph paper in here and really nice instructions for personalizing with the backstitch alphabet OR creating that gorgeous flowing one. (I have to laugh... the sample word she shows in the alphabet font instructions is *vodka* -- I guess you'll need that when Her Ladyship or His Lordship summon!) Choose 25 or 28ct White Lugana, 28ct white linen or 14ct white Aida to best fit those beads. We're thinking some awesome custom framing on these, too!





Bless Baby


from Imaginating
A cute little birth announcement filled with baby animals, it finishes approx 7 x 9 on 14ct.

Coded for DMC floss, alphabet is included for personalization. Leaflet.





How Wonderful Life is...

from Heart in Hand
*Now that you are in the world!* What a CUTE birth announcement... or maybe just something fun for a daycare or classroom? ...or a bedroom... you get the idea!

One of Heart in Hand's newest designs, this measures a nifty 27 x 3 inches on 28ct! (or 14.) Stitched with DMCs or various hand-dyed flosses, cute little flora and fauna are scattered along the verse. Cecelia has included the set of tiny wooden buttons -- 6 of them -- they are laser-cut flowers, a bird and a heart -- you can see them in the pic. Such a happy sentiment, it makes you smile!

Cecelia has several other new things... I have them tucked on the HIH Main page and her


Twinkle, Twinkle

from Rosewood Manor
Karen designed this as a possible baby announcement sampler!  Worked on 28ct White or Antique White Lugana, she has mounted it with a piece a gold lame' fabric on the back -- so that the gold metallic 'peeks through' the Lugana.  Everything is stitched with Rainbow Gallery's Petite Treasure Braid -- a very nice, soft metallic thread -- you use only one stand and do not separate it. 

Finishing approx 8-1/2 x 10, she has incorporated a few Diamond Eyelet Stars, Hexagon Stars, and Algerian Eyelets just to make it sparkle a little more.  You can even stitch the geometric stars an individual Christmas ornaments if you want to.  Presented in leaflet format, Rainbow Gallery Threads offered separately.  (PB02, 04, 05, 21, 27 and 60)
Read Me A Story


from Abby Rose Designs
*Read me a story, tuck me in tight, say a sweet prayer and kiss me goodnight.* Do you know a special little someone who would love this hanging on their bedroom wall... or near their bed at YOUR house??? Abby Rose has released this new chart -- the design finishes approx 6-1/2 x 7 on 32ct. It is coded for either DMC or hand-dyed cottons.

Pretty colors, you can change them to match your room... frame it, pillow it, even re-arrange the rows a little and make it long and skinny -- in case you want to bolster-shaped pillow for the bed! It's a sweet design!



Oh Baby!


from AB Designs
DARLING for any sex of baby, this can be stitched on any color or count of fabric... you can stitch it with or without personalization... frame it... pillow it... whatever! It's colorful, fresh, young and cute.

Model is shown on a light blue and finishes approx 5 x 5 on a 14/28ct. You can add cute safety pin embellishments, maybe some polka dot ribbons, maybe glue a binky to a frame, change the DMC colors to match a nursery??? Even repeat the word BABY if there are twins or triplets!!! Oh Baby, Baby, Baby!!!!!! Presented as a chart.

Antique Toys from CW Designs
Oh my gosh... these are LOVELY designs full of nostalgia and charm... and LOTS of different DMC colors (like 50 to 60 each!!!!!) I don't know how to choose a favorite! Offered in chart format...
Set #1 has 'Anna's New Dress' -- approx 11 x 13 on 28ct and 'Jerry's Friends' -- 13-1/2 x 10 on 28.
Set #2 has 'Going for a Ride' -- 11 x 12, and 'Drawing Lessons' -- 14 x 10.
Set #3 features 'Story Time' -- 11 x 12, and 'The Train Ride' -- 8-1/2 x 15.
Very detailed and beautifully shaded, their antique flavor is just stunning! Pretty for a nursery or as pillows on an old chair or shelf!


Baby Celebration
from Just Nan
There is a new granddaughter in Nan's life! Baby Hope arrived this past Fall, just as sweet as she can be! So... Nan's best-selling Baby Garden has a sequel!!!! Baby Celebration is a garden full of baby critters, delicate florals and greenery. Stitched on 32ct Raw Belfast linen, there is a baby in the crib, the garden clock recording time of birth, and rows and rows of bunnies, bees, and ladybugs.

Featured is a hand-painted swan charm gliding in the garden pond. Like Baby Garden, just a *lovely* birth memento -- timeless. Finishing approx 4-1/2 x 10, there are six special stitches featured, and those bees and bugs worked over one. Offered as the leaflet with embellishments.
We've Been Waiting for You!

from AB Designs
A cute birth announcement, you could change color and count of fabric to match the nursery, get it stitched and add that name and any other details as soon as you are done waiting!!! What a darling adoption celebration!!!

Offered as a single chart, this is coded for hand-dyed cottons as well as DMC. Amy warns that 4-legged babies would like this, too!!!
Bless You!

from AB Designs


'Pillow this, or frame this... Add a name... whatever you choose... this is one lucky baby!!!'

AB Designs has released a really cute bedroom piece stuffed FULL of bright and happy COLOR! Stitched on Week's 20ct Guacamole linen in shades of overdyeds or DMCs... this finishes approx 6 x 13. Those fluffy, colorful sheep... besides offering the nighttime blessing... they can be counted if need be!!!

Offered as a single sheet chart... VERY, VERY cute!
Baby Row

from Bent Creek
'The patter of little feet, a voice so soft and sweet, Sweet Child of Mine' is the verse on this cute birth record! Bent Creek has a new *row* pattern that can actually be worked in any colors you wish, and personalized with that Sweet Child's name and birth date. Offered as a leaflet, the finished piece measures approx 3-1/6 x 16 on 32ct.

Normally, the Row Series is garnished with lots of fun clay buttons from Just Another Button Company... but this one doesn't have any...yet! If we're talking about a girl... we have precious hearts, flowers and 'girly stuff' that would be cute... and if you want something with dogs and worms on it... we have that too! I think this is a PERFECT row to get creative with your featured baby's future traits! Remember that fabrics can change too, so think about room colors. Real Cute!
Pampered Baby

from Stoney Creek
Stoney Creek has 6 charming designs that will fit our bibs and little towels! Of course, you might have something darling that is already waiting in your stitchery stash of patterns... but if not, here is a set of six different charts.

Most will look great stitched on any of the terry cloth colors, so keep that in mind as you choose. All patterns are offered as a single chart of matching bib and towel. So Cute!





Hooded Terry Cloth Baby Towels


Such lovely towels to dry off the tiniest member of the family... this is the kind of thing that you'll never part with! I still have my daughter's baby towel that I stitched 20 years ago... and SHE still loves to see it! (and it's in some of my favorite old pictures, too!)


This is a beautiful collection of 100% Cotton terry cloth hooded towels made by the Dohler Co in Brazil. Available in 5 colors, each towel measures approx 30 x 30 inches, and features a corner pocket with an aida-weave right IN the fabric. You have an area of approx 2 x 10 inches to personalize your towel with baby's name or some cute motifs from something you've treasured in your pattern stash!

Each towel is piped with woven cotton edging, and is so wisper-soft! The colors are just as dreamy! White, Pink and Blue towels feature white piping. The yellow towel features lime green piping, and the lime green towel has light blue trim. Precious!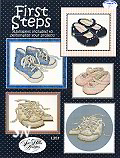 First Steps

from Sue Hillis
Aren't these the cutest little shoes??? Can't you picture the little people who wear them??? One of Sue Hillis's newest releases, this leaflet features three different shoe designs stitched 5 different ways. Included is a full alphabet and number set, so you can personalize the shoes of your choice.

Each finishes approx 3 x 4 or 5-ish on 28ct, and is stitched with DMC flosses. Change shoe colors if need be... what a darling baby announcement?! You could even get the original shoes bronzed, frame them in a shadow box, and feature this stitching in the box! Moms and Grandmas... get busy!
Out of the Everywhere
from Teresa Layman


'Where did you come from, baby dear? Out of the everywhere, into the here.'

Teresa Layman has brought us the most exquisite birth sampler announcement! It is cross-stitched on 36ct Cream Edinburgh linen in shades of DMC, Weeks and Gentle Art overdyed flosses. There is a special opening in the chart which is reserved for a miniature knotwork piece by Teresa called 'Fairy Godmother.' (Available with this chart, or separately) If you choose 'not to knot!' you can cut out the opening in the linen, hem the edges, and insert a photo of your special baby instead.

The main sampler is worked in blues and aquas, because of the colors of the Fairy Godmother showpiece in the center. If you really, really want more pinks... change the checkerboard blanket and baby's dress in the miniature knotwork portion, and adjust border colors in the sampler. Measuring approx 12 x 17, this piece is elegant and stunning -- we haven't begin to do it justice in our image, in fact. (Our fabric cut is a 'fat quarter yard' chunk -- more economical for you than the 18 x 23 cut!) Definitely at home in a 'decorator' nursery... and treasured forever... wherever its final hanging place will be!
Don't miss Teresa's other new designs, too, shown on her page.



Treasure Me!

from Sam Sarah Design Studio
Oh my gosh... is this the cutest birth announcement??? Something so 'little boy' that can hang in his room for years and years!!! Your little pirate is stitched in overdyeds on 28ct linen, and finishes approx 6 x 6.

There are alphabet letters and numbers included for your personalization... and we have the darling set of button embellishments as well. You get a sailboat, dragonfly, buzzard, and some gold coins -- the pirates bounty! Offered as a leaflet with claypack.



Sweet, Sweet Babe


from Sam Sarah Design Studio
I LOVE this soft, cheerful, colorful, delicate little piece!!! Stitched on 28ct in soft pastel shades of lavender, moss, buttermilk and rose overdyeds, it welcomes the newest lady to your family! Finishing approx 6-1/2 x 6-1/2, it features a set of clay buttons... a bumble bee, lavender rose, and three tiny posy flowers. Very sweet and fresh!



Baby Garden


from Just Nan

Nan and John became grandparents on August 6th of last year, and this darling sampler commemorates little Victor! Oh gosh, his baby garden features his cradle, room for his name, a clock for his time of birth, and tons of little critters! Stitched on 28ct Natural linen, using 8 different stitches, you'll find all sorts of treasures tucked into this!

Victor has a fish pond, lots of flowers and trees, bunnies (the featured embellishment is a hand-painted bunny Charmbead), assorted bugs, frogs, birds and a nest, squirrels, kitties (Grandma's favorite animals), a turtle, spider and even a little lizard!!! What a lucky kid!!! Baby Garden finishes approx 10 x 5, and is full of Just Nan detail and elegance! Offered as a leaflet with coordinating embellishment pack, it's stitched with your stash of DMC flosses!

Graduation Projects
Standard of Grace

from Erica Michaels
I will hold myself to a standard of Grace -- not perfection! DMC or hand-dyeds of Currant, Flax, Old Hickory and Linen, this measures 83 x 131 in size. 2 x 3-ish On the 40ct gauze... and about 6 x 9 on larger fabrics like 14ct Aida or 28ct Linen.

Neat graduation gift... just classy and timeless. It doesn't need to scream a diploma or date that 'ages' on the wall... this'll inspire forever! Offered as the chart with cut of 40ct Gauze for the miniature version.
Piracy


from Sue Hillis Designs
*A viable career option!* Looking for 'just the perfect' graduation gift? This might be it! Something for the rebel graduate, this is offered as a small chart, coded for DMC floss.

It finishes approx 4 x 6, and will fit in a 4 x 6 or 5 x 7 frame beautifully. Make them smile, and glad they're out of school!!!
The Graduate

By Sue Hillis Designs
Full of rich navy, cinnamon, and golds, this is a stunning graduation remembrance -- very classy! Stitched on 28ct, it finishes approx 7 x 8," with an alphabet, with spaces provided for personalization. Included are two antiqued brass charms: a key that sits on top of the books, and a lamp-of-learning to place beside the graduate's name. Available as a leaflet with the charms.