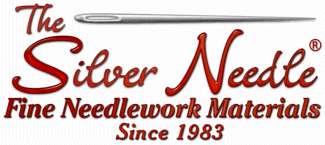 Fairy Wool in the Wood
6068 S. Sheridan Rd. Tulsa, Ok. 74145 (918) 493-1136 (888) 543-7004
E-Mail
Two New Designs have Arrived!
Christmas Mug 2022 features a plaid cup of steaming hot chocolate, complete with little gingerbread cookie taking a dip! The chart comes with two jingle bells and a candy cane embellishment, and it finishes about 4 x 7 on 32ct. Coded for DMC.


ABC of Cowboy - This is darling... a pair of cowboys lasso-ing the ponies and toasting marshmallows over the campfire! There is a little row of cactus and steer skulls down along the bottom as well. Chart comes with a tiny running horse charm, it's coded for DMC and the whole thing finishes about 4 x 4. Too cute!



Cool Sailor


Here's a guy who means business! Steering the wheel of his ship - he's quite classic - the white hat, beads, striped shirt, smoking pipe, and the tattoo!

Measuring about 4 x 6, the chart is coded for DMC and also includes a skein of Romy's Creations hand-dyed floss for the wording and border flags. Also included with the chart is an antique brass anchor charm, three bells and a length of twine - all to be used in your final finishing treatment.


Fairy Wool in the Wood has New Designs for Christmas
The Nativity is charming! Super-simple, it includes all it needs to! Coded for15 shades of DMC floss, it finishes a little less than 6 x 6 on 14ct. No backstitching or anything like that, the chart does come with three brass star embellishments.
Gifts is another little elf that companions her Elf-on-the-shelf Pattern. Coded for 11 shades of DMC, it finishes approx 4 x 7 on 32ct. The chart includes 2 brass bells and a tiny scissor charm.
Dogmas & Catmas - The little kitty is playing in the box of tree lights, while the dog is perched on his little bed with his favorite bone. A pair of ornament designs, presented separately, they use DMC and finish about 4 x 7 on 32ct. Kind of large for ornaments - they'd be cute hanging from a doorknob too. Each comes with two bells - kitty has a love hart, and dog has a little name tag.
Good Night, Sleep Tight


from Fairy Wool in the Wood
Isn't this the cutest design? Stitch this on whatever you want... it's coded for 9 colors of DMC floss. Finishing approx 4 x 5 on 14/28ct... I think that is a little moose on the right. Check out the wise little owl on the left... just checking him out with his eyes wide open!

I remember that last part of this verse - *don't let the bed bugs bite!* If I had known at age 6 that bed bugs were REAL, I'd have never slept again! So, forget that part, and just enjoy the pair of forest friends having a sleep-over! Chart.





Sea Time


from Fairy Wool in the Wood
Here is a fun design that is made up of 8 smaller insets. Stitched on 36ct Country Vintage Mocha Linen (any count will do) it finishes 8 x 12.

Coded for DMC, this is a perfect design to break up and finish into individual pin cushions for a fun basket or tray display. Super charming that way... you get glimpses of a seafaring family and life at the beach!





Elf On The Shelf


from Fairy Wool in the Wood
We're a little 'off-season' right now for this little guy - but ARE WE? Hmmmm.... by Fairy Wool in the Wood, this cute little design should remind you all year long of what Santa is seeing!

9 x 100 In stitch count, it is presented as a chart with a key charm and two little jingle bells, and coded for 10 shades of DMC floss. Don't know how long this little guy will be around!