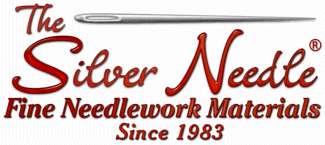 Little House Needleworks
Don't miss her sister (daughter, really!) site: Country Cottage Needleworks
6068 S. Sheridan Rd. Tulsa, Ok. 74145 (918) 493-1136 (888) 543-7004
E-Mail



Seasonal Thread Packs

from Little House Needleworks and Classic Colorworks
Diane Williams of Little House Needleworks and Classic Colorworks Flosses is doing a 4-Seasons set of thread packs. 'Winter' - releasing late October 2023 - is the first of the 4. You get her chart... she describes the cover pic as a 'nice computer image'... along with 6 full skeins of her CC hand-dyed floss. We are not aware that any of the colors are new... just pretty colors you'll probably use in other designs as well.

You have enough thread to stitch the design on just about any count you want. She suggests a blue-grey or dark beige fabric so that the snow shows up. Stitch count is 101 x 78. No word on release of the other three designs and threads... but I have no doubt they'll be the same size and compliment this one. (Auto-ship is available on them!) The threads regularly run $2.60 per skein, so effectively, that cute little chart is costing you $.40!

Note: when you order an auto-ship, it will show up on your order form as a "zero-cost" or $.01 item, as we won't charge your credit card until we ship.



The Seasonal Petites


Diane is making a nice collection of smalls - all 39 x 39 in size - and if you look over the entire collection of different charts so far, you're going to have a hard time choosing a favorite set. My answer is to do them all - choose one fabric for each set, and maybe one trim color for each set... make tiny stuffed cushions... and nestle in a cool vessel. We've seen tall glass vases - where you can stack them inside and arrange the stitching-side-out - nobody can handle them that way. But I like the bowl on the kitchen island where everyone who comes by fiddles with them just a little - kind of like digging through the Halloween Candy Bowl!

This Americana set is worked on 30ct Portobello with Classic flosses. We're showing the entire growing collection here - choose from Autumn, Thanksgiving, Winter or Snowy, Valentine and Love, Bumble Bees and Spring Sunshine so far... and now Americana.


Alice's Winter Wonderland


Little House has a new Winter-y street scene... this one features the Alice-in-Wonderland characters as the shop-owners. Alice's tea Room, White Rabbits's Watch Repair and the Queen of Hearts Art Studio... each proprietor is outside their shops - waiting to greet customers! White Rabbit is standing on his bench - made from a big key.

Coded for Classic Colorworks hand-dyed flosses, this finishes approx 10-1/2 x 6 on 30/32ct fabric. You could make it a little smaller by leaving off the row of trees along the bottom, and I think it'd be easy to change the names on the buildings if you are not an A-I-W fan... because the shops are just plain cute all on their own!





Peace on Earth


Peace on Earth is a quiet Christmassy/Winter scene, Diane said it reminds her of her older designs - the Two Red, Blue, and Yellow House charts.

Stitched with Classic hand-dyeds, it finishes about 5 x 11 on 32ct Country Vintage Mocha Belfast linen. Stitch a house and one tree... stitch just the words for a tiny, long brick stand-up to perch on a windowsill.


Neighborhood Dog Show


What a cute row of all shapes and sizes and colors of dogs! All we need is a squirrel! Originally published by Diane in 2014 as a fundraiser for a local pet shelter, here it is again for everyone.

Coded for DMC, you could change some dog colors if you need to, add hand-dyeds or even use Gentle Art's Simply Wools. Just Another Button Company has dog bone and flower buttons... and Puntini has tiny squirrel and acorn buttons. A super-cute pattern... what about fun names on there too?



Little House Needleworks'

Fall on the Farm Series for 2022 - NOW COMPLETE!


Beginning this December and running till finished in August of 2022, Diane is starting a set of nine small designs that will follow the same formatting as her Farmhouse Christmas set.

Stitched on 30ct Portobello, (which is closely comparable to 32ct natural linen), the whole thing will measure 13 x 13.

No border this time... but each individual design will be 63 stitches - around 4 inches. 18 Skeins of Classic Colorworks flosses required... we'll be starting an auto ship for it all! Enjoy her teaser/promo pic!


Note: when you order an auto-ship, it will show up on your order form as a "zero-cost" or $.01 item, as we won't charge your credit card until we ship.



Jingle all the Way


A pretty house, a neat and tidy barn, gorgeous quilts outside, a snowman in the yard and full evergreens... probably not a very realistic scene... but one we all love anyway! Every little design element in here just makes you all warm and fuzzy... so stitch this and make a pillow for the couch.

The needlework is coded for DMC or Classic Colorworks hand-dyed flosses and will measure 12 x 7 on 32ct. Add some fabric strips all around to make a nice big, plump pillow.





Cocoa Cafe


Stitch a sign for the kitchen to announce all the goodies waiting within!

Worked on 32ct natural linen, this finishes approx 6 x 9 and calls for only 6 colors of DMC or Classic Colorworks hand-dyed floss.





Gather Ye Pumpkins... While Ye May


Kind of like ordering everything in Pumpkin Spice flavor for just these few short weeks!

A cute design by Little House, it's coded for her Classic Colorworks hand-dyed flosses or DMC and finishes about 10-1/2 x 6-1/2 on 32ct.





Sleepy Hollow Lodge


Here's a most welcoming log cabin-in-the-country scene. If you're lucky enough to have a little cabin like this... change out the name for YOURS and put YOUR family established date up there at the top!

For the rest of us, Sleepy Hollow finishes about 6 x 9 on 32ct Summer Khaki Linen, and for all of us... it's coded for Classic Colorworks hand-dyed flosses or DMC. A happy little place!





Sit and Stitch


A pair of new arrivals by Little House Needleworks, both are presented as charts. Sit and Stitch features a fun verse that praises your fav stitching chair - so no explanation needed as to where you'll display that! It works up to be 7 x 9 on 30ct.






Geppetto's


*In the land of toys, every day except Sunday is Saturday.* Here is where Pinocchio came from! Little House Needleworks has released this fun piece that finishes approx 12-1/2 x 14-1/2 on 30ct, or 10 x 12 on 36.

Stitched with Classic Colorworks or DMC floss, what a cute Wintery decoration. The verse comes from the original story book, we just love it all! You'll need multiple skeins (20 total) of the hand-dyed flosses, so get it all at once so dye lots match.






Months of the Year


This is a complete chart collection of 12 monthly designs - all measuring 70 x 70 in stitch count - and all just as cute as can be!

The front of the chart makes reference to 'former thread pack sets, now available without thread' on the cover... so this must be something that we missed when previously released! (Who knows? The copyright date is 2020.) Each design is charming, and coded for Classic Colorworks hand-dyed floss.

Stitch it all as one, or assemble into a set of stitched blocks - you could stitch all 6 sides and have fun turning your little cubes around in that filled bowl of bowl filler cushions! Anyway, all 12 charts in here, hand-dyed flosses are probably already in your stash, but we can send more if you need them!






Heart of America


This is a reprint of a past favorite design from 2008. Originally, it was available with threads and buttons - now without. The smattering of Just Another Button Company buttons (I think about $13) featured includes acorns, blackbirds, sheep and stars, and it is coded for Classic Colorworks flosses.

Stitch count is 165 x 198, so a generous 10 x 12 on 32ct. Presented as a chart; threads, fabric and buttons all available separately.





Kringles


Little House Needleworks has designed this CHARMING Department Store all decorated for Christmas Holiday Sales! It is absolutely enchanting... stitched with gold metallic and everything!

Finishing about 13 x 15 on 30ct Parisian Gray linen, it uses 8 skeins of 7 different DMC colors along with 20 skeins of 8 different Classic Colorworks hand-dyed shades. We get shop windows of a train, the Nutcracker Prince and Clara, the toy department, the stuffed animals and even the bakery. Love it, love it!


Two New Releases

from Little House Needleworks

Old West Dry Goods - One of Little House Needleworks' *Tumbleweeds* designs, it's a needlework shop from the Old West! Finishing approx 8 x 8 on 28ct fabric, I think it'd be fun to change the word BOOTS to HOOPS! Coded for Classic Colorworks hand-dyed flosses or DMC.
The Stitching Bee - Some of you might remember this design - it was our Little House Edition from 'A Little help From Our Friends' - our Stitching Circle from last year. Measuring abut 4 x 4 choose a natural or Lambswool linen, this is coded with Classic Colorworks flosses, and Diane has released it in her small chart format.



Farm Life


New from Little House Needleworks, Diane's verse is from one of the Psalms that deals with plants and growing life. Her farm scene to go with it is charming... full of rows of growing vegetables, farm animals scattered everywhere, even one little black sheep!

Measuring 190 x 129, it finishes approx 12 x 8 on 32ct and uses DMC and Classic Colorworks hand-dyed flosses. It's quite a bustling scene, presented in chart format.


Keeper of the Pins


Little House Needleworks has a new pin cushion design that was 'done' for our recent wholesale trade show. Presented as a chart with 6 complete skeins of Classic Colorworks hand-dyed floss and a trio of Just Another Button Company hand-made strawberry pins, you'll need just a bit of your favorite fabric for the stitching.

Leave off the girl, and make this square -- poking your pins into the space she occupied... or choose a pretty Weeks Dye Works wool for that cushion finish... we have at least a dozen different colors that go with the CC threads provided.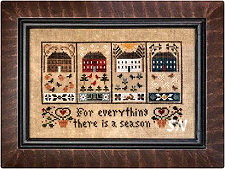 Four Seasons


New from Little House Needleworks is this sweet 4-seasons piece... stitch it all together, or split the houses and just make tiny small cushions. You could do the houses and just the bottom seasonal band in one cushion. Then make 4 more of just the tiny pumpkins, evergreens, birds and flowers... then make another with the words, and 2 more with just the flower pits.

You'll have dissected the whole piece and made a basket of 11 small cushions to nestle together! (or stitch it just like it is and ENJOY!) Approx 8 x 4-1/2 on 30ct. Coded for DMC and Classic Colorworks flosses.





Jack Frost's Tree Farm


Diane's delightful new series is now complete! Stitched on 30ct Portobello Linen with her Classic Colorworks hand-dyed flosses, you can see ALL the upcoming parts and determine how you want to stitch this!

Floss and fabric options as well!





Summer ABC'S


Little House Needlework is continuing her tall and skinny alphabet samplers with Summer. (We have needleworker's and the seasons so far.)

The letters down the left-hand edge, a few selected words here and there with cute pictures to go with them, this makes a perfect decoration for a lonely, skinny wall somewhere!

Lemonade, Ice cream, watermelons and picnics, it finishes approx 2-1/2 x 19-1/2 on 32ct. Stitched with 9 shades of Classic Colorworks hand-dyed flosses -- all of these in this set are really cute! Presented as a chart.


Potted Posies


Little House's 12th punch needle design, this pot finishes approx 5 x 5. Presented as the line drawing that you transfer onto your punching fabric, the hand-dyed variation in the floss gives you all the design movement on the background.

Cute, bright colors, easy to punch because of all the large one-color areas, the background takes 5 skeins of Khaki Mocha!


Bee Garden


Little House is working on Punch Needle designs again! One for springtime and another for the Autumn, these are line drawing patterns you transfer onto weaver's cloth for the punching process.

Using your favorite punch needle, these are worked with Classic Colorworks hand-dyed flosses -- skein counts are provided so you have enough of a single dye lot to complete your pic. Pumpkins finishes approx 5 inches, Bee finishes 5 x 6.


Down on the Farm


A PUNCH NEEDLE design by Diane Williams. She punched it in her Classic Colorworks Size 8 Pearl Cotton with an Ultra-Punch Needle set on #1. If you want to use floss -- colors are the same, and you can choose either a #3 or #6 needle! Lots of choices here.

Approx 5 x 6 though, the happy little cow with the barn in his tummy and pumpkins underneath is punched with Brandied Pears, Colonial Copper, Toasted Marshmallow, Weeping Willow, Cobbled Peach, Cupid, Ye Old Gold and lots of Black Coffee! Pattern is presented as a line drawing ready to be traced onto your weaver's cloth.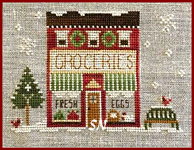 The Hometown Holiday Series


Little House Needleworks is beginning a set of designs -- The Hometown Holiday Series. It will be a set (undisclosed number of designs in the set at this point) of small charts of houses and businesses in *A Village.* Diane does NOT have specific release dates for each subsequent pattern... and is not planning a monthly release for this set. (She's releasing as she finishes them... and is happy with her results.)

The idea is to stitch them (on any fabric YOU LIKE BEST!) and finish them as small stand-ups. As your collection in *The Village* grows... you can arrange your stand-ups in any order you wish! They will not all be the same dimensions... but will follow a cohesive color palette.

The first pattern is supposed to depict YOUR house. The second 'Main Street Station' is a cute train depot. Third will be Caroling Quartet and 4th is planned to be a Sweet Shop. (Remember NO scheduled release dates at this time.) No plans to put it all on one piece of fabric either... so this is just a *heads-up* to pay attention and watch for Hometown Holiday Designs!!! My House measures 49 x 59 stitches and features DMC or Crescent flosses. Offered as the small chart - no button embellishment.




---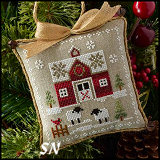 Presenting Farmhouse Christmas
This is the completion of the Farmhouse Christmas series of designs by Diane Williams of Little House Needleworks. Shipping has now completed, and we have them all! Stitched on natural linen (your choice of count), each design measures 63 stitches square - approx 4 x 4 on 14/28ct or 3-1/3 on 18/36. You can make individual cushions or join everything together into one 209 x 209 stitch count piece (she includes her freebie border chart.)

Stitched with Classic Colorworks hand-dyed flosses, (multiple skeins of the colors). The designs coming are: Little Red Barn, Dairy Darlin', Cock-a-doodle-do, Horsin' Around, Grandma's Quilt, Farm Folk, Grandpa's Pick-Up, Pinewood Farm and Baa Baa Black Sheep.
Fabric: Lots of count options - 28, 32, 36, 40. Individual cushions or entire set together? You decide and tell us!
Floss Set for entire piece with border: Bamboo (6), Blackbird (2), Cherry Cobbler (2), Pebble Beach (2), Roasted Chestnut (2), Weeping Willow (2), and DMC 435 and 754 - 1 skein of each.
---




Spring ABC's


Little House Needleworks has send her next lonnnnggg and skiiiinnnnyyy alphabet -- all of these are just TOO DARN CUTE!

Measuring a very unique 2-3/8 x 19-3/8 inches, it's perfect to hang on a narrow wall somewhere. All the motifs scattered along the letters celebrate Springtime! Coded for Classic Colorworks hand-dyed flosses or DMC's.


Presenting the ABC Sampler Series


Diane has a charming set of 9 house designs -- all balanced with pretty front yards and trees -- stitch them individually as pin cushions or all together as a framed piece. Each features letters of the alphabet, which you can easily change to family initials or something special to you.

63 x 63 Stitches each, each house finishes approx 4 x 4 on 32ct linen, and all are worked with Classic Colorworks hand-dyed flosses. Choose your favorite three or four houses -- each is presented in its own small chart format and available separately. Stitch them in a row... change those letters... be creative!



---
Winter ABC's


Little House Needleworks is designing a set of skinny seasonal alphabets! Winter is the third - Autumn and Stitcher are the first two... these are fun. Presented as the chart, it finishes approx 2 x 19... and is coded for Classic Colorworks or DMC flosses.

The small motifs on this would make cute individual ornaments if you have a time crunch... but the whole things would be great hung on a tall, skinny empty wall somewhere!

Coming in January: Little House's Farmhouse Christmas
The next set of designs... it'll be our next LH auto-Ship series... we know NOTHING ELSE right now!
Here's the teaser pic... cute!!!! Watch for details!


Bethlehem


This is kind of neat... definitely a reminder of the Reason for the Season!

Bethlehem is presented as a chart; the design finishes about 11-1/2 x 2 on 32ct.





Autumn ABCs


Wow, this is cute! The alphabet done vertically, you probably have a skinny wall next to a door or between closets or something that could a little dressing up! Diane's Fall Alphabet is a companion to her Stitcher's ABC's... it measures approx 2-1/2 x 19 inches in size.

The chart calls for Classic Coloroworks flosses - you'll have to add some basic DMC for smaller areas that kind of 'don't count! Anyway - quilts, leaves, pumpkins and sunflowers - the letters help to spell the 'flavors of the season!'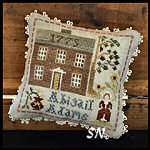 The Early American Series


This 9-chart set features 8 well-remembered American historical figures. Betsy Ross, John Hancock, Martha Washington, Nathan Hale, Paul Revere, Abigail Adams, Patrick Henry, Molly Pitcher are all featured along with a FREEDOM block design.

You can stitch them individually or all together in a nine-block arrangement. Stitched on Weeks Dye Works Tin Roof Linen... you count options range from 30 to 40ct... so let us know fabric thoughts when you know yours! Presented as individual charts... the series has finished, so all are available now!


He is Risen and No Place Like Home


Little House Needleworks has released two new charts -- one for Winter and the other for Easter.
He is Risen -- We think this would be awesome hanging in a classroom or Sunday School room! Finishing approx 5 x 6 on 32ct, it is stitched with good old regular DMC floss! Lent is coming... you'll want to get this stitched for Easter!!!!
No Place Like Home
-- Another cute ornament-sized design that finishes approx 5 x 5 on 32ct. Might be cute to change out the girl for a snowman or little puppy... it calls for Classic colorworks hand-dyed flosses. Presented as a small chart.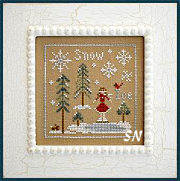 Snow & Ice


Another 4-inch square piece -- stitch count is 61 x 61 -- so depending on fabric count, you COULD get this sort of small! I think my favorite thing is that little 4 x 6 stitches bunny!!!

Small chart, over-dyed or DMC flosses.


Gingerbread Street


Gingerbread Street is a 4-1/2 inch square design when worked on 32ct. Cute little row of houses... might be kind of fun to add real lace instead of stitches to the top and bottom borders!

Two predominant colors are Classic Colorworks Brandied Pears and Weeping Willow.


Dwelling Place


Oh, a mansion with serious trees... you could put the family/household name above the house for this 5 x 7 piece.

You COULD stitch just the house and a tree for a cushion -- or even JUST the bunny, fence, vine and a tree! Classic Colorworks flosses on 32ct brown-ish neutral.


Home Sweet Home


Home Sweet Home is just a very simple stylized flower pit with clean lavish blooms.

Very stiking and crisp... presented as a small chart.


Little Lady Liberty


Little House Needleworks has a cute new design -- just 4 x 4 in size on 30ct linen. I think I like the finishing on this the most. Look at the simple dark-colored border on this... it coordinates with and sets off the same coordinating Weeks Dungarees colored Wool panel on the side of the small pillow.

Add a few buttons for color, the twine edge trim and those fun little red x's decorating over the seam... it's a charming and super easy presentation! (Remember this finishing theme for so many of Diane's smaller designs!) Little Lady Liberty is presented as a chart.


Oh My Stars!


Approx 6-inches square on 32ct , this is stitched with DMC 712, 926 ad 950, along with Classic Colorworks flosses of Barn Door, Gingerbread, Hickory Sticks and Weeping Willow.

A classic Little House design, this might be fun *unstacked!* Stitch the top area with the alphabet and urn BESIDE the two girls... you'll get a 3 x 12 design... something you can finish with neat fabric or wool panels on the ends -- to make a long and skinny pin cushion! Presented as a chart.


Four Freedoms


from Little House Needleworks
Inspired by FDR's 1941 State of the Union Address, here are the four freedoms he talked about. With a stitch count of 97 x 189, this finishes approx 6 x 12 on 32ct.

Coded for Classic Colorworks of Antique Lace, Wilderness, Cayenne, Hazelnut, Gingerbread, Hickory Sticks and Blue Corn, you could add Saw Tooth Satin stitches to the borders, just for fun!


Forest Friends


Measures 81 x 148 in stitch count -- approx 5 x 9 on 32ct. Coded for both DMC and Classic Colorworks hand-dyed flosses, you have a well-manicured yard full of curious critters!

Actually, only the bear belongs in the forest -- but I know lots of people that have bears in their yards, too!!! Chart format.


Two New Designs


Little House Needleworks has two new releases... charts, Classic Colorworks hand-dyeds, neutral light tan fabrics, regular Cross Stitch, no embellishments...
Red Rooster Inn
Cute if you changed that name to yours and hung it in the kitchen -- ONLY you need to be a good cook and offer stunning breakfasts!!! Finishes approx 7-1/2 x 8
Homestead Sampler
An original sampler by Diane, this finishes approx 10 x 11. Traditional border and alphabet, the cabin and barn are really cute. There is a cactus by the gate... I just found that!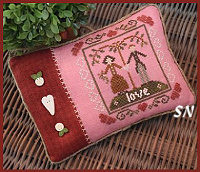 Loving You


Loving You is a new 'All Dolled Up' piece -- it calls for a few beads for the word LOVE. Stitched on Weeks 30ct Red Pear Linen, it finishes 4 inches square. You'll notice Merlot hand-dyed wool on the finishing and a trio of cute JABCO buttons -- very Valentine-y!







The 2015 Sampler Tree Ornament Series


Little House Needleworks is beginning a new set of Sampler-Inspired ornaments in 2015 -- the first one -- Old Colonial is here now. Worked on 32 count linen, it finishes approx 3-1/2 inches square. Diane offers another way to work with your over-dyed threads, and has stitched this model with that technique.

Pull your two strands of over-dyed floss, but reverse the direction of one of the strands. (Technically, you are now working with one thread against its grain... but life goes on, and it's OK!!) Then, stitch across your entire row, and return. That way, you are getting the mottled effects of the hand-dyed variations but not stitching whole X's at one time. Make sense? Old Colonial is presented in small chart format, and we will be offering an auto-ship for the charts. Fabrics are due to vary almost monthly.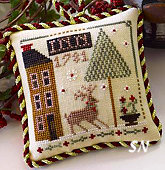 ---
Snowy Winter


One of Diane's smaller sized charts, this features huge evergreens surrounding an ice rink. I think this is a skater and her sledding friend enjoying the ice.

Hand-dyed of white, green and brown, this finishes approx 5 x 5.


Three Snowy Hills and Born in a Manger


Three Snowy Hills -- This should appeal to the organization in you... perfect little houses atop perfect little hills... but maybe you could add a snowman to one of the yards, a little dog in another and a bitty sled on one of the hills??? Instead of the alphabet, it might be fun to list all the neat things you do at home during a snowstorm -- like bake and do puzzles! Finishing approx 13 x 4-1/2, it is coded for Eggshell, Black Coffee, English Ivy, Licorice Red, roasted Chestnut and Chai hand-dyed flosses -- or DMC.


Born in a Manger -- Diane is promising a new set of designs that features sheep -- this is the first in that new set. A Christmas piece -- not big on the red and green christmassy feel -- those colors are easy to adapt if you want to! Finishing approx 6 inches square, offered as a chart. I am unsure when the other designs in this series will release... we'll let you know!


Thread Keeper


Here's a cute design that needs to grace the front of a thread pocket. Offered as the small chart, colors used are Classic's Bean Sprout, Blue Corn, Fool's Gold and Manor Red.

Finishing approx 5 inches square on 28ct, Diane has made her pocket out of Week's Dye Works hand-dyed wool to match the flosses she used. We sell the wool in 8-1/2-ish inch Schnigglet cuts, so you will need two that match to make your case. Let us know if you want red, blue, green or gold wool!


Patriot's Row


Little House Needleworks has a new design -- Patriot's Row. It'll finish approx 7 x 11 on 28ct. Coded for DMC along with Classic Colorworks hand-dyed floss, it is kind of a neat design because I can see three different parts.

The row of houses -- love all those skinny windows! The row of berries and flowers, and finally the row of the alphabet and date. I just now see the little Betsy and Sam in there as well!!! Offered as a chart.





The Tumbleweeds Series


This is a departure for Diane. It is dedicated to her husband and the challenges that our lives journeys bring us. Coded for DMC and also includes Classic Colorworks conversions.
2nd in her Tumbleweeds series of designs, Cowgirl Country features a trio of smaller designs that can be stitched all together on one cut of fabric, or separated as shown and mounted on a piece of Weeks hand-dyed wool!
#3, American Frontier, finishes approx 8 x 14 on 39ct Confederate Gray Linen, and is a mirror image on each side -- except for the ponies.


---
Lantern Lane


A pretty Holiday House so festive and organized! (I bet the tree is set up inside there perfectly... and not a creature is stirring!) I think my house looks this good on the outside... but inside, there are tree decorations everywhere... mixed in with the scattered doggy toys and my stitching stuff!

Use this as a pretty welcome in your entry way... add your family name instead of the alphabet... kind of a 'family established' thing... and change the date. Finishing approx13 x 8 on 30ct Natural, this is coded for classic Colorworks Belle Soie Silk or cottons -- very elegant!


My Lady at Christmas


This is designed to showcase an old family photo! Find a miniature frame at the big-box store (we have small brass ones as well) stitch her and her elegant velvety dress, and insert a photo in your frame.

Finishing approx 4-1/2 x 8 on 30ct linen... this is coded for DMC or Classic Colorworks floss. You don't need the frame... you could add another special embellishment if you'd like... I actually really like JUST that tapestry background behind a picture for an old-victorian-antique flavor! Offered as the chart, miniature frames are separate.


---
Route 66


Coming RIGHT THROUGH the city of Tulsa (where we are!) is Route 66! A fun drive with lots of memorabilia all the way along the way, you need to stitch this for your RV! It'd make a darling pillow!!! You could even stitch little dots on the map for other places you love to visit, or to commemorate past trips. What a cool memento for travelers!!!

Offered as a chart, this finishes approx 13 x 8 on 28ct linen, but you could make it larger on 10ct Tula -- 10 x 19 -- if that RV or camper has enough space for a neat pillow like that. Really cute!





Hands to Work


Celebrates a good work ethic. Offered as a small chart... it features a shepherdess and a stunning farmhouse.

Finishes approx 5 x 5 on 28ct.


Batter Up!


Little House Needleworks has a neat design for any baseball-lover in your family! *Homerun, Slugger and Baseball*... decorated with red, white and blue banners. This just Speaks Summer!!!

Stitched on 30ct with DMC and overdyeds, this'll finish approx 4-1/2 x 8-1/2. If you like this design, take a peek at LH's Take Me Out to the Ballgame chart, as well!





Orchard Valley Quilting Bee


Little House Needleworks has a new sampler, quite a bit larger than most of her other things. Measuring 241 x 241 stitches (17 x 17 on 28ct!) it depicts the ladies, houses and farms of the Bee! Their quilt in the center, Diane advises that you can change names in here, and stitch any of the squares individually if you want.

Coded for regular DMC floss, just a simple, very pretty piece! Offered as the chart.





Vanilla and Chocolate


Like Ebony and Ivory living together in perfect harmony... V & C make a classic couple! Little House has a cute piece that is stitched -- appropriately -- on 30ct Week's Cocoa Linen!

Finishing approx 3-1/2 x 8-1/2. Offered as a chart with fabric thread-book available separately!





2012 Monthly Ornament Series


Little House Needleworks begins her 2012 set of 12 monthly ornament-sized designs with *Blessed* -- I think she could double as a bride! Offered in small chart format, each month will call for a different color of 30ct Week's Dye Works hand-dyed linen, along with a smattering of hand-dyed flosses from your stash. This first design accents Crescent Colour's new hand-dyed chenille cotton trim around the finished edge.

I don't know if the rest of the finished pieces will feature special trims -- we just need to be patient to find out! We are beginning an auto-ship this year on these... chart only or chart and linen. I'll let you know if trim will become an option! Blessed is stitched on 30ct Cocoa, fabric pieces each month will measure approx 9 x 9.



---
Take Me Out To The Ballgame


Little House Needleworks has a charming scene-of-old, taking us back to the days of ball games at a summer fair. Dirt blowing all around the field and bleachers... the yummy fresh-popping popcorn smells... the cheers of the crowd... the decorations... everything about this piece is endearing... right down to the uneven bricks in the dugout walls! Worked on 30ct Straw Linen by Weeks, this measures approx 12 x 5 and is stitched with both overdyeds and DMCs.

So, so cute... frame it with stubbs you have from your World Series tickets! Frame it in a shadow box with an old baseball shirt! Do you have even one or two old baseball cards??? What about pics of your kids on the plate??? There are lots of family possibilities with this one!!! Offered as a chart.


Around the World in 80 Days


This design commemorates Jules Verne's famous book, published in 1873. Phileas Fogg and an employee attempt to circumnavigate the globe in 80 days... on a bet! Actually, the balloon was barely mentioned in the book... Verne considered it very risky, if not impossible at that time. But was prominently featured in the 1956 movie and even the movie's promotional poster.

Stitched with Gentle Art, Weeks and Crescent Colours, this is neat whether you like Jules Verne or not! Offered as a chart, it finishes approx 7 x 7 on 32ct.


Old Nantucket


What a pretty piece -- the sweetheart waiting for her sailor to come home across the foaming sea. Finishing approx 10 x 16-1/2 on 30ct Cocoa Linen, this is stitched in either DMC or a mixture of hand-dyed flosses. It has all the design elements everyone loves -- the seaside cottage, the billowing sails on the ship, whales and waves -- and all the dusty, nautical colors that remind one of the seashore.

'To the journey's end ye roam upon the foaming sea, Nantucket waits to see thy sails as my heart waits for thee.' Offered as a chart.


---

2011 Ornaments


Here is Little House's complete set of ornament designs for 2011! Cardinal Winter is presented as a small chart, and calls for Crescent Colours hand-dyed flosses, and DMC Jan, Feb and March's designs are all promised to be worked on weeks 30ct Cocoa Linen... and they are switching fabric colors every three months. The Tin Roof linen they are using on the next three ornaments is just awesome!

Absolutely charming, you can almost hear the singing birds, against the quiet of the freshly fallen snow, and the silent little rabbits! 57 x 57 Stitch count, these will all finish approx 4 x 4. Our monthly auto-ship has now finished with Good Tidings.



---
Thirteen Colonies


WOW this is a pretty piece! Finishing approx 11 x 16 on 32ct, this offers lots of design choices for you! Stitch the main sampler -- complete with the traditional border on three sides, and the names of the 13 original colonies. OR... stitch JUST the charming colonial village scene panel in the center -- it measures approx 50 x 90 in count of solid stitching.

Charted for DMC, Crescent Colours and Weeks Overdyed flosses, this is a beautiful piece with timeless appeal. No special stitches... just wonderful little X's! Offered as a chart.


Hillside Travelers




'Up the hill, around the bend, through the woods and home again!'

This is a charming new piece by Little House Needleworks that measures 271 x 101 stitches. Wouldn't it be fun to stitch this and somehow personalize the houses ? It'd remind you of all your travels visiting family or friends during the years!

Stitched on Weeks Dye Works 30ct linen in Crescent Colours, Gentle Art Sampler Threads, Weeks and DMCs, it would be awesome hanging in the Family Room. (we even had fun remembering our prepositional phrases in grade school! Offered as the chart.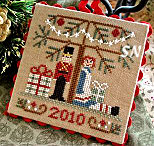 2010 Ornaments of the Month!


Little House is delivering a charming set of 12 ornaments this year... here are the first few of the collection which will finish in December of 2010. Each is offered in chart format, and features approx the same stitch count.

Various colors of 30ct linens, a few have beads embellishments, but not all. Most are worked in DMC, the Red House in Winter features Crescent Colours's Bing Cherry. Cute, we have an auto-ship for these, so it's easy to collect the whole set.


Family Sampler


Diane has designed a Family Sampler with all sorts of *extra* people, pets and an alphabet, so you can fit *any and everybody* you want into YOUR Family Sampler! Offered in chart format, the entire sampler is laid out for you... with suggestions for 'people/pet' placements. There are some different colored dogs... three different sizes of children... lots to change, personalize and plan!

It uses only regular Cross Stitches -- but there are lots of places you could add some special stitches if you are so inclined. Finishing approx 13 x 19-1/2 on 32ct, the called-for colors are DMC and Crescent Colours -- but you might be changing some of those to match the pets, clothes and house that is special to your family!


Simple Joys and The Mercantile


Little House Needleworks has two new designs. I love the flowing vine beneath the bird in Simple Joys, this piece has lovely symetry. It begs to be stitched on some mangy hand-dyed linen!

The Mercantile goes so perfectly with her Yesteryear and Old West designs, and the Country Cottage Cowboy Dreams piece! Both offered as charts, DMC or overdyed flosses, nice additions to Little House's growing collection of designs.





Robin Hood


Hey, this is fun... and offers a neat decoration for the lover of history and old tales! Actually, I can see this is a little boy's bedroom... a conversation piece to decide on the evenings bedtime reading -- especially at Grandma's House!

Offered as the chart, it finishes approx 9 x 12 on 28ct linen... a charming design theme!!!





Sailing, Sailing




'Sailing, Sailing over the Bounding Main...'

I know the tune, but haven't a clue what the rest of the words are!!! (Did Sylvester and Tweetie sing it, too?) Little House brings us a neat piece that needs to hang anywhere near water!!!

Your beach house somewhere exotic, accenting your nautical-flavored samplers, (or even a bathroom!!!) Pretty motifs, nice balance, you even get the mermaid and whale, along with the billowing winds! Charming... this is offered as a chart, finishing approx 5 x 11, stitched with DMCs and Crescent overdyeds.





Poinsettia House


A charming Christmas house... I think of our Mary -- your faithful SN webmaster! When she was in grad school for horticulture... she grew poinsettias in the Kansas State University greenhouses!!! (She critiques in nurserys all season long... but still enjoys big poinsettias every year!)

Offered as a chart, this finishes approx 7 x 7 on 28ct.


The Library


Little House Needleworks has a new design (all the parts of this are in this ONE chart!) ... a tribute to reading and all your favorite books! The Library showcases 4 types of literature -- Romance, Mystery, Western and Classic... each a 'window' into the library. Charming scenes, each is perched atop its book's type!



'An Open Book is a Window into the World.'

The Romance section has a courting couple... Mystery has that classy town house -- where 'the incident allegedly took place!'... walk past the library door... to the Western section -- complete with its covered wagons, and onto the Classics -- sailing ships and all! I just love it!

Stitched on 32ct, it finishes approx 8 x 16, and uses Crescent hand-dyeds as well as DMC flosses. You'll need 2 skeins each of Roasted Chestnut, Caterpillar, Cayenne, Pea Pod, Brandied Pears, and Stepping Stones, along with the other colors. Offered as the chart.


Yes, there's even more from Little House!