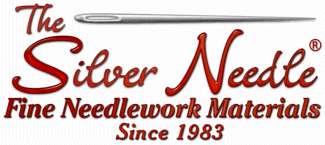 6068 S. Sheridan Rd. Tulsa, Ok. 74145 (918) 493-1136 (888) 543-7004
E-Mail
Ghoulies & Ghosties


Shipping to us the 4th week of August, we expect a great new release of Nan's Halloween and Christmas designs! Ghoulies and Ghosties is a colorful piece... kind of a spindly 'tree' of Halloween silliness... it's full of bright oranges, yellows, slime green, black, white and purple. All of Nan's favorite creatures are in this one, the little swirly ghosts, the HUGE spider, the funky witch, it's just darling.

We're planning on finishing our shop model into a Tall Triangle Stand-up, with a big, lavish topper. Ghoulies and Ghosties looks to finish approx 5 x 9, and is stitched on 28ct Country French Cappuccino Linen in DMC's or an awesome selection of silks!


Christmas Ribbons


Nan's 2007 Christmas Band Sampler, is stitched in Weeks overdyed flosses, bits of #4 metallic Braid, and #8 Perle Cottons. The satin-y flowers, the lacy trees, all is garnished with lots of tiny gold beads. I don't know the design size yet, or any stitch details... so all we have at the moment is this tiny teaser pic!

Very Classic Nan... something elegant to dress your home for the Holidays! Offered as the leaflet with embellishments, this is stitched on 28ct Light Mocha Cashel Linen.


Bellemeade


Just Nan's third breathtaking seasonal manor house sampler has also arrived. I would be thrilled to live at Bellemeade, Winterhaven or Silkwood Manor... but I'm not so sure I could afford the mortgage!!! Straight from Nan's creative imagination comes this exquisite study in brilliant, rich summer color, gardens full of ripe strawberries and graceful wildflowers, morning glories and ladybugs, running rabbits and a swan swimming in the pond, and stitch after special stitch!!!

A commanding piece, Bellemeade finishes approx 9-1/2 x 13. Stitched in an incredible assortment of silks and some pretty wools, the thread assortment includes enough to stitch the tiny 3 x 3 matching needle case piece, as well. (It features that pretty swan in the pond!)

Lovely borders and motifs, the verse reads

While summer days are long and sweet, with blossoms ever new, I'll show to others of my time, what clever hands can do.

Offered as the chart with overdyed silk, beads and gold butterfly charm; silks and linen offered separately. I just love this!!!


Making Friends


Just like Frightful... this is a tiny collection of tiny pieces... they go together... but individually... they fit perfectly into their own little Just Nan Whimzi Frames!!! Are you watching that little snowman making another??? Each square of the main design tells a part of the Making Friends story! Garnished with a central snowflake embellishment, it's a challenge to see where the stitches stop and the embellishment begins!


Scream Girls


OK... WAY cute! Another of Nan's cute little Halloween Whimzi designs... this one complements her Crow Jackers, Moon Riders, and the four small designs that make up Frightful! And... if you came to the Hershey, PA Stitching Festival last year... you have a special edition -- never released JN exclusive -- Be Witchy -- and I think another retired regular Whimzi, as well, which is in my stash somewhere!)

Anyhow, Scream Girls is offered as the chart, and is stitched in DMC on 28ct Natural Linen. Very cute, when you begin to finish all of these, you can have a darling Halloween tree of Whimzis!