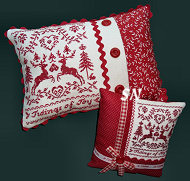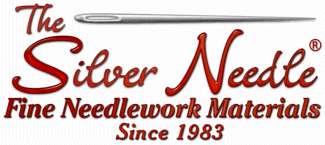 6068 S. Sheridan Rd. Tulsa, Ok. 74145 (918) 493-1136 (888) 543-7004
E-Mail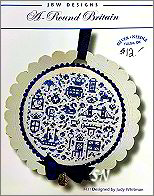 Pretty New Offerings by JBW Designs!


Another Round, some bitty stockings and a charming Bluebird Sampler. All the stockings are presented in Judy's small booklet format.
A-Round Britain - Another of Judy's 4-inch circular designs, she says she has more than 19 British-themed motifs in here. Great gift for a traveling friend... and you know, you can pull out recognizeable motifs to stitch just by themselves ofr smaller cushions or ornaments.
Bluebird of Happiness - This is a lovely sampler presented in a full-sized leaflet format. Stitched on any creme or neutral linen, the motifs, rows and birds are so pretty... lots of options for cushions and sewing cases from this one!
Hannah's Bluebird Sampler - More birds to companion Judy's larger sampler, I love the signature and date area long the bottom.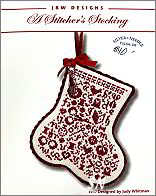 A Bristol Stocking - Small Bristol-Styled sampler stitched in red.
A Danish Stocking - Scandinavian influences in this one... you can see the stitched color reverse in the pic - white on red fabric.
A Sampler Stocking - Third tiny stocking ornament this time around - house on the hill, alphabets, floral basket.. all 'samplery!'
A Stitcher's Stocking - Filled with scissors, bobbins, sewing birds, needles, a hoop or two... this one would make a neat stitching friend gift.
JBW's Latest Set of Releases are Here!
A-Round France #418 is the latest 'round' design - filled with tiny motifs of France. Choose any shade of hand-dyed red thread.
Melinda's Marking Sampler #419 - A reproduction of an old sampler - girls needed to learn to stitch the alphabet so they could 'label' the family linens. This was Melinda's lesson!
O'er the Fields We Go #420 - Another pretty white-on-red scene that coordinates with several other JBW pieces, Judy does show this stitched in and on different colors as well.
Owls in the Round #421 You know the drill with these.. 58 stitches in diameter, choose any hand-dyed color and fabric you want!
Petite Christmas Cottages #422 - A Trio of holiday houses... each is only 20 x 30 in size.
Christmas Trees X! #423 - This is quite a growing set of Judy's tiny trees... stitch them over one or two... they are all about the same size.



Christmas Ornaments I, II, III, IV and V


Re-prints of previously released tiny ornaments - these go all the way back to 2000! Stitched over one or two threads, they are all small, and coordinate with each other in their original collections.

Judy has 5 Reprint Collector books now - and you can see from the cover pics, that between them, you're getting quite the assortments of the trees and mitten sets. Each book contains 20 ornament charts coded for DMC and hand-dyed flosses. Hit up your stash for any beads and charms if you'd like.


Judy Whitman has 5 New Spring 2022 Releases
Birds in the Round - Another charming teeny round medley of small motifs - Judy found all her little birds in various antique samplers. Finishes about 4 inches over 2 on 36.
An Elegant Alphabet - A lovely little piece inspired by antique French samplers. Stitch this in any color you wish; it finishes approx 7 x 9 on 32ct - look at the bird bringing the love letter!
French Country Giraffe - A new nursery animal - Judy has a whole zoo of critters done like this so far! Cute as baby announcements, stitch just one, or a whole toy train... everyone's on their own rolling platform!
French Country Lion - This guy looks a little more daunting than some of the other animals in this set... but he's a circus lion, so turn up the last stitch on his mouth and he'll be happy! Some of the interior motifs are a circus wagon and elephant!
Petite Cottages - Cute little 2 x 3 houses... each is charted for DMC and Judy has embellished the flower areas with Mill Hill beads. Would make cute stand-up blocks!




Antique Sampler Collection II


Judy has a collection of antique Redwork samplers - and she has charted 5 of them here. A little history about every girl that stitched one... it's fascinating to read all that inside the pattern!

Choose your favorite fabric and a red you love... none of these are very large... and Judy suggests that you might want to take elements from several and make you own sampler!






2022 Limited Edition ABC Hornbook


This is a delightful little 4 x 5 painted wooden hornbook that you adorn with a teeny Redwork sampler. Simple and classic, you'll stitch the easy little sampler on the provided 32ct Flax Belfast linen - DMC #498 is included for stitching and the trim cord.

The mouning board 4 x 4 is included... but you'll trim it a little to make it fit on the cute little 4 x 4-1/2 red hornbook. Done over one thread, it really is sweet when it is finished! Kit includes the chart, painted hornbook, Belfast linen, DMC, board, ribbon and finishing instructions.





Judy Whitman has 5 new releases that are here.


Each chart has multiple pics inside of various other fabrics or colorways.
Alphabet in the Round #406 features a font from an antique French sampler that Judy has manipulated into small rounds, initials and monograms. She's played with color combinations as well.
Be Merry #407 is simply a statement for the season... the finishing can be a no-sew... just grab a bottle of your favorite glue!
Christmas Smalls #408 includes 5 pretty florals - I think the best one is the little strawberry - but it's the hardest to see in the pics! The tree piece has a pocket on the backside for scissors, and while it looks Christmassy - the other designs are simply small colorful florals that work for any season.
Dashing Through The Snow #409 is charming! The same tiny sampler is stitched on three different fabrics in three different colorways - how different they look from each other! We love that red one - it companions Joyeux Noel, O Christmas Tree and Tidings of Joy - all little one-over-one samplers stitched in white on red! (We have that red fabric in three different counts too!)
French Christmas Tags II #410 Small single birds meant to be ornaments, finished onto wooden boards, but you could use pretty papers as well.
Here are Judy's 4 newest releases
Candy Cane Pockets - Two little pockets to hold your candy canes! One has a Gingerbread Man, the other has Ice Skates. Stitched in reds and greens, they are only 23 x 28 stitches.
Sing a Song of Christmas XV - "I heard the Bells on Christmas Day." You'll recognize your Christmas Carols when you read these little 3 x 4 mini stockings. They make cute tree ornaments.
Summer and Fall in the Rounds - Same format as some of her others... these are 56 stitches in diameter, and can be worked in any color you wish. (Hand-dyeds look the best.) Just fun little bits of the season!



New Arrivals


Judy Whitman has several new things...
A Little Chintz Sewing Set Kit includes the chart of tiny floral motifs to stitch this 3 x 3-ish pin cushion and matching scissor fob. Judy has included the rik-rak trim, 32ct white Belfast linen and the pink flosses for the corded edging on the tiny fob.
A Collection of Antique Red Samplers includes charts of 5 old samplers. Between them all there are 15 alphabets, 5 sets of numerals, and lots of small borders. Change up the fabrics, even change the color thread - The Cross Stitch Police will not come to your door and haul you away without a needle. You CAN stitch bits of these and make a hundred pin cushions for a basket. You can do whatever you want! Lovely pieces, Judy does mention some origin and condition info about them.
Spring and Winter in the Rounds - Same format as some of her others... these are 56 stitches in diameter, and can be worked in any color you wish. (Hand-dyeds look the best.) Just fun little bits of the season!



New Arrivals

from JBW Designs

#394 Chintz Alphabet - Reminiscent of Royal Winton Chintzware China - this is full of delicate color and tiny motifs. The whole piece finishes just 6 x 7 on 32ct Antique White Belfast.
#395 LOVE - Coordinates with lots of Judy's other fancy-lettered words... Blessings, Hope, Grace, Welcome, (another) Love, and Joy! It is a vintage JBW design.... re-printed into Affectionately Yours, then out of print again... and now re-printed for the second time.
#396 Love in the Round - the same pretty format as kitties and dogs, Halloween.... finishes approx 3-1/2 inches round.
#397 Beach Umbrella and Sailboat - sweet pieces for your beach house (if you are lucky to have one. We're laughing about the Hallmark movie where the girl has the 'Vision Board.' My VB has a beach house on it!)
Fall Releases

from JBW!
Judy Whitman has 7 new small card designs - one for Halloween, and six for Christmas. Three are shown here... scroll down just a bit to see the rest. Everything can be stitched over one or two threads on your fabric choice, and remember that when stitching the monochromatic designs - you CAN swap out thread and fabric colors if you want!

The bitty wooden sled designs are cute... you have to paint the wooden sleds yourself... these are green. In years past, we have had red. The mini-stockings continue Judy's series of Christmas Carols, they make cute ornaments. If the designs feature embellishments, our card charts include them. A nice selection of small designs to finish in a jiff. Note: embellishments are *iffy* and *not always available* so cards are sold without in some cases. We never know when we will have them.







Kitties in the Round, Doggies in the Round, Christmas Ornaments II, Blessings, Hope


Here are the 5 newest releases by JBW!
Kitties and Doggies are both about 68 stitches round in size, and can be stitched on anything you want with any color you want! Judy shows them finished as ornaments, and tucked into box lids.
Christmas Ornaments II is a compilation of out-of-print teeny-tiny ornament designs Judy has published over the years. 20 In all, they are shown stitched over one on 28ct, but you can do anything you want with them! Presented as a spiral-bound 5 x 7 mini-book.
Blessings and Hope - Both of these measure around 2 x 9 on 32ct... coded for DMC or hand-dyed threads. Small designs with a big message!




Spring Bouquet Needle Book


JBW's Nosegay Bouquet is featured on the front of this little round, with the teenier version worked on the fob! Kit includes the finishing materials to construct this set (but you need the cardboard material.)

White linen, floss for cording, ribbon, tiny buttons and that pretty aqua floral fabric, the fob measures about 2-1/2 inches while the case is a bit larger at 3-1/2. Judy's Limited Kit for 2020.





The New JBW Designs

are here! Six New things...
Three designs follow her Country French design flavor, you can choose ANY colors you wish to work those... Green Gables is a small sampler, and Grace simply says Grace! (The entire alphabet is not included, so Grace is your word.)


JBW's Christmas 2019 designs are here!
Christmas Tree Collection X - This set brings Judy's miniature tree collection of designs to 20! Stitch them over one thread or two - either way, they are small sized.
Twelve Days of Christmas - in Tiny Ornaments! Each day is celebrated with it's own 43 x 41 design... they measure only 2-1/2 inches each! Each features a small charm, and the entire collection is presented on 4 separate small charts. Prices vary because of charms... 1-3 in book #1, 4 - 6 in book 2, etc.
A Scandinavian Christmas - Stitched in only one color (you have millions of choices on that one!), and garnished with the included 6 buttons, this finishes approx 5 x 10 on 32ct.
A Christmas Scissor Basket - This is the same format as the rest of Judy's little scissor pockets... they are actually small enough to hang on your tree as an ornament! Stitched with DMC from your stash, the chart comes with the 32ct linen, 2 buttons, 2 skeins of floss for the twisted cord edging finishing treatment, and the green holly-print fabric you see in the cover pic. I believe this is a limited edition.
Summer Releases
Sing a Song of Christmas: #10, 11 and 12 in the Series - You'll recognize your Christmas Carols when you read these little 3 x 4 mini stockings. They make cute tree ornaments.
Be Joyful - Contains two simple words of Greetings for The Season. Choose any count fabric, and even hand-dyed green thread to replace the 3 shades of DMC used.
French Alphabets I and II - Judy purchased an antique French sampler - it features these two fonts in it. She's charted them, so basically you can spell anything you want to with them. #1's Letters feature flower and leaf decorations, #2's has the curlicues!



New Christmas Releases


Small card format for each of these, they finish into mini-stockings or the little wooden sled ornaments.
Sledding Santa & Sledding Snowman -- Ready to deliver their packages, stitched areas are only approx 25 x 50 stitches, charted for hand-dyeds or DMC. 16 or 32ct for the sleds.
Merry - Stitched only in white... choose a pretty red or green fabric -- your choice for this! 198 x 70 in stitch count. Finish into a pillow or block stand-up.




Sing A Song of Christmas #'s 7, 8 and 9... more little Christmas Carol Stocking ornaments! These all finish approx 3 x 4 on 32ct Antique White Belfast Linen, and are the cutest! Nine now in the set, finish them flat, or actually make bitty stockings for candy canes or bits of greenery. O Little Town of Bethlehem, Rudolph the Red-Nosed Reindeer and Winter Wonderland are the featured songs this time around, the other 6 previously released are still available for your collection!





Summer 2018 Releases


Judy Whitman has 5 new small designs -- Christmas, Americana and just plain 'ole everyday! Presented in her small card formats, everything is coded for DMC floss, some use hand-dyeds as an option.
346 Christmas in Williamsburg -- Super traditional berry basket motif... it's only 30 x 30 without all the border treatments.
347 Christmas Tree Collection IX
-- Stitched on red 32ct... these really look nice over one thread, and really show up against the branches of a green tree.
348 French Country Ducklings
-- Stitch these in just about any color you want...
349 Le Jardin Needlework Accessories
-- A charming trio of small designs all stitched on black linen. All the pink accents really look great with this, very basic finishing instructions.
350 Sweet Land of Liberty -- A miniature home, school and farmyard scene, this measures only 2 x 6. Cute block on your window sill, or a little wedge stand-up as well.



The New

from JBW Designs
Judy has 4 new small carded designs... Seaside Series III and IV, along with *With Love* and *Ode to Britain.* She loves her country French look and continues those in the little sea creatures -- you can choose any color you want to work them -- and any fabrics.

With Love needs to be done with a pretty red or rose-colored hand-dyed thread -- it measures about 84 stitches in size... over one, it'd be gorgeous! Ode to Britain is fun... little motifs scattered all over in here. I'm not sure if it's England, Great Britain, or the United Kingdom (which the Post Office says doesn't exist!)... but I've visited there and loved every trip!!!!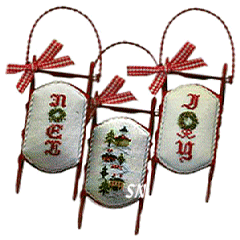 Joyeux Noel - This is the third small pillow like this from Judy, it measures 80 x 107 in stitch count, and can be stitched over one (3 x 4) or over two (5-1/2 x 6-1/2) on 28 or 32ct. Companioning Tidings of Joy (#311) and O Christmas Tree (#326), she has both matching designs pictured (charts are available separately) on the inside of this chart - one stitched with white on red, the other is red on white fabric. SO... you can now have a trio of these, and since the pics of the matching two are so beautifully presented, you'll have a decision to make about fabrics and threads!
Little Red Sleds - A trio of designs stitched and mounted onto the Foxwood Crossings wooden sleds - you have to paint the sleds red - they do not come that way! Go over one on 28ct and use the baby-sized sleds... go over two on 32 and you can use the medium sized sleds. (Confusing? Just ask us to get the right thing!) Charted for DMC or hand-dyed flosses, they are super quick to stitch and finish!

Sing a Song of Christmas: Away in a Manger, Hark the Herald, and O Christmas Tree are this year's songs to celebrate... they join last year's #327 Over the River and Through the Woods, #328 Here Comes Santa Claus, and #329 Frosty the Snowman. Finishing into 3 x 4 inch stockings, brass charms included where called for, the beads come from your stash. Super-cute, we've seen these done over one and they are DARLING!





Little French Pin Keep


This is companion to Judy's Oh La La Eiffel Tower Scissor Case from last year. (That is now offered in chart format, #333, so you can still get the design!) Presented as a kit, you get the chart, pink finishing fabric for front and back. the rik rak, heart buttons and the cut of 32ct Baby Pink Linen to stitch on.

All you'll need is a bit of DMC 601, 602 and 605 from your stash! A sweet little thing, the pins featured in the pic are a fun set by JABCO, and are available separately!



Lots of other pretty Country-French-Inspired designs, the baby one presents you an AWESOME finishing treatment! Those shadow boxes are sold at Hobby Lobby -- lots of the time they are even half-off! Choose from a million sizes, add bits of your stitching and some cute baby momentos, and WOW, what a darling new-baby gift!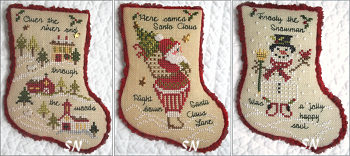 New Releases

from JBW
Judy's Christmas 2016 creations are here... her little cards and one limited edition kit. Take a look...
Sing a Song of Christmas -- This is a three-card series celebrating Christmas Carols! Finished into 3 x 4 inch mini stockings, they are coded for DMC or hand-dyed flosses -- your choice.
#1 is Over the River and Through the Woods
#2 is Here Comes Santa Claus
#3 is Frosty the Snowman.
You can see the red trim along the outside edges -- that is Lady Dot's Sizzle Red Chenille trim -- which we carry.


O' Christmas Tree


What a pretty presentation for this design! Stitched over two on 32ct, the design finishes approx 5 x 7.

One way shows it stitched in just white -- you could choose any color of fabric and match your finishing fabric (like all greens or all blues) or in any color on white material. Add metallics or opalescents if you want... I love that pillow finishing treatment.





New Halloween Designs


Get out your black and white floss, or counterparts in your hand-dyeds, to stitch these 4 simple seasonally-inspired designs. Work then over one or two choosing any count you like.

Lots of finishing possibilities as well. Judy has them finished two different ways in each small card chart... so lots of good ideas. Each measures 50-ish x 50 stitches -- the crow and ghost are a bit larger, but still on the petite side. Presented as small Sweet Nothings Cards.





6 New Designs

from JBW
Judy Whitman has 6 new releases that we needed to show you!!! All are offered in her small card format, embellishments -- if called for -- are included with the chart.
Floral Alphabet #315 -- I LOVE this!!! Measuring 148 x 114 in stitch count (9 x 7 on 32ct), this is a gorgeous flowing alphabet worked in only ONE hand-dyed thread color (which can be any color you want!!!) Frame it, pillow it... very elegant.
French Country Bicycle #316 Classic French motifs of flower baskets, lavender, a cafe and bicycle all brim with charm. Stitch it on any cream color with hand-dyeds from your stash. Finishes approx 4 x 5.
French Country Snowflake #317 -- Her pattern shows several different fabric and thread options for this... a pin cushion, add the letters or not... without the word, stitch count is 48 x 57... and if you did that over one on 28 Lugana... you'd have a 2 x 2-1/2 in mini ornament!!!
Country French Stork #318 -- A New Baby Classic! Stitched on Polka Dot linen... the pastel stripes would be pretty too... or something even solid pastels -- match your thread to your fabric color. A complete alphabet and set of numbers is here for personalization.. stork is approx 65 x 70 stitches by himself.
A Visit From The Tooth Fairy #320 -- For quite an important occasion... get this NOW so you are ready for the first *big night!* (Remember it could happen at Grandma's House!!) It is stitched on opalescent fabric -- we have 28 and 32cts as well as some super-pretty pastel opalescent Aidas as well -- lots of options for this 68 x 53 design. The prefinished pillow treatment has a small tooth pocket on the back.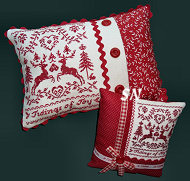 Tidings of Joy


JBW has several new designs -- 7 more actually -- but I absolutely love this one, so I chose it for Just Arrived! Choose any color of Red over-dyed floss or silk you like, stitch this over one or two threads, and finish it like either of these two options!!!

Sweet little reindeer surrounded by evergreens and a pretty border, this stitch count on this is 91 x 110. Presented in small card format.
(Click the pic to see the rest of the new arrivals.)


French Country Santa Pere Noel #310 -- 53 x 107, he is full of tiny motifs -- and stitched in one shade of red hand-dyed. Trees, stars, reindeer and a sleigh... it's all in there!
Trick or Treat #313 -- A little bag stuffed full of halloween motifs... they'd be cute just on their own as well!
Alphabet Owls #314 -- An owl of alphabet letters! Stitch him in just about any colors you want... there are several options for charms to hang off the bottom... yours will be an assortment of 4.
Autumn Basket with Birds Kit


This is a kit to work up the chart over two threads on 32ct Cream Belfast linen. You get the chart, needle, linen, and the yellow calico fabric, orange rik-rak and trio of pearl buttons for the pin cushion version on the left in the picture.

You'll need bits of hand-dyed floss or DMC from your stash. Not much of it... the stitch count on this is a mere 41 x 28.





New Arrivals!


Judy Whitman has sent a charming set of new designs... I think the Antique Rooster Sampler is my favorite. Mostly monochromatic in theme this time around... everything is offered in her small card format, The Antique Rooster Sampler being the only one with separate embellishments.
*Joy of Living -- Joie De Vivre -- Just a simple sentiment surrounded by a simple border... tucked into a lovely fabric bolster pillow, this is perfect for an elegant guest room. Choose 498 DMC red, Schoolhouse Red from Gentle Art... or something pretty from your stash. Finishes approx 4 x 10-1/2.
*Antique Rooster Sampler -- Finishing approx 15 x 5-1/2 on 32ct Judy has chosen motifs and roosters inspired from antique French samplers and some in her personal collection. Scatter her set of buttons in between everything, or find your own from a family button box... stitch this is the traditional red, or another pretty hand-dyed. You choose!!!
*Country French Elephant -- Little circus motifs here and there inside this elephant pull-toy, what a cute birth announcement! Stitched on 32ct French Stripes fabric -- the neutral shade -- you could choose either the pink or blue stripe options as well... or the Polka Dot! The card includes alphabets for personalization.
*French Country Snowman -- This little guy's tummy is full of winter skates, flakes and birds! Stitched on the Fabric Flair 32ct Polka Dot Linen... you could pillow him... make a little cube stand-up... lots of things. Offered as a small card, he'd be cute on the striped fabrics as well!!
JBW has new offerings!
French Country Witch -- she's got bitty cats, crows and acorns in her dress! A different take on Halloween -- stitched with only one color of hand-dyed black.
Halloween Alphabet -- A petite piece -- 4 x 9 on 32ct, it uses 11 different shades of overdyeds -- but you might be able to get away with fewer if your stash is good!
Scandinavian Ornaments I and II -- A set of 9 designs stitched on opalescent or antique white linen they finish between 1-1/2 and 2-1/2 inches depending on your choices. Can you see the dots in the backgrounds of the larger models? There are single stitches of opalescent #4 Braid on them!



Affectionately Yours


A softcover book of 64 pages, this features lovely photos and instructions for 11 projects. An Engagement Pillow, Bridesmaid Gift, Ring Bearer Pillow, Wedding Quilt Sampler, Brides Handkerchief, Birthday Heart Sachet, Housewarming, a pair of baby and birth samplers, and two Anniversary samplers!

All the lovely creations of Judy Whitman, everything is pastel and delicate. Finishing instructions are included as well as wholesale product sources that can direct you to shops that carry everything you need!





A Friend So Dear, Seaside Alphabet and Now I Know My ABC's


from JBW Designs
JBW has several new designs... all presented in small card format charts.

Seaside Alphabet is a companion to Great Pumpkin, Christmas, Reindeer and Hearts! It's a scattered alphabet that meanders through lots of individual motifs to set its theme. Stitched in dusty nautical blues and reds, there are tiny lighthouses, sailboats, flags, fish and even a little sand-colored seagull. Finished size is approx 2 x 16!
A Friend So Dear is a BEAUTIFUL piece!!! (Actually, I can't believe it's offered in this petite card format!) Finishing approx 6-1/2 x 12, the verse is lovely, and the motifs are charming. Everything is divided up by very pretty borders. *How sweet it is to have a friend so near and dear.* 28ct Confederate Grey linen, this is stitched in a medley of hand-dyed flosses or DMC. Nothing called for embellishment-wise... but you could always add some heart charms or a few buttons or beads if you have just the right thing!
Now I Know My ABCs -- Stitched completely in red and white, this piece measures 62 x 166 in stitch count. It features all the letters of the alphabet with corresponding itty bitty motifs -- and everything is divided up by the lacy white borders.
French Country Spring Basket -- Stitched on 32ct Fabric Flair Polka Dot linen... choose any floss color you wish for this. The basket is full of teeny motifs, finishing approx 5 x 5.
French Country Hot Air Balloon -- Choose a pretty color and add the words in either English or French... this is stitched on 32ct Polka Dot Linen... over one thread or two!
Antique Vases Sampler


Judy Whitman has discovered a lovely antique sampler... that is now safe and sound in her *Private Collection*! She's re-charted the original, and it is SO pretty! Stitched on 32ct Soft Ivory Belfast Linen Judy talks about the age of the piece and lots about the design oddities in it. Inside the chart is a picture of the original -- you can see the faded colors and the linen that is frayed right up to the stitching! (No three extra inches of wasted linen in those days!)

With a stitch count of 203 x 155, this is worked with 12 different shades of DMC and hand-dyeds. I just Love it! Offered as a chart, if you want your finished piece to appear more distressed, begin with a mangier fabric, or coffee stain your finished treasure!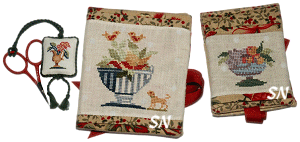 Antique Vases Needlework Accessories: This card features take-out designs from the Antique Vases Sampler. The large sewing case features Tan Polka Dot fabric from Fabric Flair. Measuring approx 4-1/2 x 6 when closed, the inside and back all feature gorgeous fabric and a trio of pockets to hold tools and threads.

The smaller case pictured is a scissor case. It features coordinating fabric to the sewing case and two interior pockets. It measures 3-1/2 x 4-1/2 when closed. The cases are sold separately from the little card.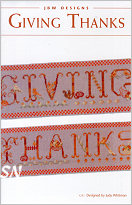 Giving Thanks


A 3-1/2 x 31-1/2 inch banner, this is stitched on Mill Hill's 27ct Orange Checkered Banding. Judy has stitched this with a whole collection of different oranges with the occasional greens for leaves and browns for the squirrels and other little creatures.

The picture of the finished piece in the center of the pattern shows this mounted against fabric for a table runner treatment.





New Sweet Nothings!


Reindeer ABCs: A long, skinny alphabet row... this coordinates with the Great Pumpkin, Abc's and Christmas Trees, and Alphabet Hearts. I love the striped fabric from the Alphabet Hearts -- think about choosing that for this one, too!





New Arrivals by JBW Designs


Judy has been busy with more tiny animals. Petite designs... choose one color of your favorite hand-dyed thread for each. The poodle and umbrella are stitched on the Fabric Flair printed fabric that is a light beige with white polka dots -- so slight -- you might have missed that in the pics.

Alphabet Hearts is larger -- it finishes approx 3 x 14 on 32ct Neutral Parisian Stripe fabric that is actually a printed stripe of beige and white. A selection of 6 pink and green overdyeds in this one... it is charming! Home at Last is a long-requested re-release. It has been retired for several years, but no longer! Just a nice collection of small designs, we have to get our hands on the new fabrics featured!

Patriotic ABC's -- REAL cute -- lots of small motifs, great denim, gray and cranberry shades, garnishments include 9 or 10 white buttons scattered throughout.





JBW Releases Celebrate Christmas 2012!


Judy has 6 new small designs... some doves for the tree, and some darling miniature stockings are both shown as ornaments. Gingerbread Cookies features two smalls that would also be cute ornaments, apron panels, or even little wedge stand-ups for the kitchen window sill.

ABC's & Christmas Trees is a new lonnnggg alphabet to coordinate with JBW's recent Halloween Alphabet, but not quite as long, so she could package it in small card format!

Always cute things, all JBW's designs are offered in her small card format, and are easy on the stitching time!!!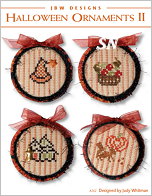 Halloween Ornaments


JBW has a new set of small Halloween designs -- 12 in all -- that finish into small 2-inch rounds. Stitched on Light Sand 32ct linen in either overdyeds or DMC's... the models are mounted onto fabric covered rounds, and trimmed with festive cords and ribbons. You can see orange stripes in the backgrounds -- that's not the fabric -- it's your stitching.

Offered in a trio of 3 small cards, each with it's own embellishment pack of charms, beads and clay buttons... real cute!





Beach Bound


A delightful little beach cabana scene... complete with lighthouse and sailboats.

A mere 51 x 117... offered as the small card. No extra embellishments called for.


The Great Pumpkin Alphabet


A fun lonnnggg, skinny alphabet, this has a stitch count of 28 x 316!

Finishes approx 2 x 20 on 32ct!!!! Stitched in a few hand-dyeds, raid your stash for cute embellishments to add to this!


The Rabbit Alphabet


Little bunnies everywhere -- this is darling! A scattering of alphabet letters, a lovelycollection of mother-of-pearl buttons, and all those rabbits, this piece finishes a nice 5 x 13 on 32ct Belfast!!! Stitch it on any fabric you with, in any color you wish -- you could even add some family heirloom buttons from your Grandmother's sewing basket.

Offered as the small Card chart with button set.


Rose Motif Sampler


Wow... this is really European in flavor... just lovely. Soft floral bands, the scrolling alphabet, very simple cross stitch, this finishes approx 7 x 8 on 32ct Belfast. Again, choose a thread color of your choice -- the hand-dyeds are perfect for this look.

Offered as the small card chart.


A Sweet Bouquet


A hopeful reminder... JBW is donating proceeds from the sale of this chart to the American Cancer Society.

She has dedicated this design to all of our families and friends who are facing cancer treatments.


Sterling Silver Pendants and Ornaments


JBW has introduced three sizes of spectacular sterling silver mini-frames that can double as jewelry pendants or Christmas Tree ornaments. Remember her tiny hearts and trees... when you work them over one thread, they fit PERFECTLY into these frames!

Very heavy in feel, elegant in look, choose almost anything tiny for these, and it'll look great. Shiny sterling, you might see a red and white checkered bow attached to the tops -- that is simply ribbon -- change it if you like to match your new piece!

Tree opening measures approx 1-3/4 x 2.
Heart measures approx 1-1/2 x 1-1/2.
Round measures 1-3/8.
These are just lovely... get looking into your stash for other designs you might have for these, they are definitely heirloom quality.





New August Arrivals


Judy Whitman has sent a set of Christmassy designs.
Christmas Welcome is a full-sized pillow -- the stitching area is almost 7 x 11 on Belfast.
#244 French Country Squirrel -- Look for the hidden birds, owl, pumpkins and berries, his favorite acorns are in a different color!



Releases from JBW Designs!


Judy Whitman has been busy! Six new Sweet Nothings; Babies, Weddings, the Winter Snow, and even the family dog! Heirloom Baby Sampler is stitched on a variety of pastel 28ct Cashel Linens... you could use just one color, and backstitch some 'boxes' if you'd like. We have a pre-sewn sham available that features a push-button electronic music box, too. Each panel is decorated with a few asst buttons. The little Teddy Bear is cute -- he's filled with tiny baby motifs.

The Winter Collection of hats, snowman and skate is cute, Snowman comes with either the alphabet hidden on him OR tiny wintery motifs. Of course, MY personal favorite is the Scottie Dog design... he can be finished oodles of different ways, isn't he precious? All are presented in small Sweet Nothings card format, some have button embellishments.



Note:

5-Panel Linen Pillow Sham for the Heirloom Baby Sampler measures 9 x 9 and is a medley of Antique White, Apricot, Mint Green, Baby Lotion and Blue. The panels are NOT sewn absolutely, perfectly, straight on the linen threads. It is well done, but NOT perfect. If you are *picky*, please purchase individual linen pieces to assemble yourself. You may not be happy with the pre-sewn option.



JBW Designs has 6 new releases!


Finish your tiny Christmas Village with a church, mill, covered bridge, and schoolhouse... Scaredy Cats is shown stitched all in oranges, but think about black cats, or metallic or furry cats... or overdyed lettering... or all black!

Judy has released 6 new cards.. the villages come with embellishments. They're all cute, the stocking really compliment Judy's tiny tree collection, the angel is timeless, and those little kitties have so much potential, they ARE scary! Offered as small cards.





Christmas is Coming... and we have the trees to prove it!


JBW has released 4 additional tiny Christmas Tree designs -- to bring this charming collection to 6 cards of 2 trees each for a total of 12!

All finishing either 1 or 2 inches in total size, each is different and quite charming! Hidden motifs, tiny charms to top each, and Mona's cute rouched ribbon finishing treatments... HOW can you pick an absolute favorite from this set?

Each card offers 2 different trees, shown stitched over one or two threads. Models are exquisite... and some reside at The Silver Needle!

Scroll down to see Judy's other new releases!


Twas the Night Ornaments
Judy Whitman has finished her 12-piece set of Twas the Night Before Christmas designs... all at one time! (Card #1 was released last Fall... we now have cards #2, 3 and 4!!!) Following the verses of the famous poem about Santa's midnight visit, each tiny 2-1/2 inch square ornament features a bit of the verse, and a coordinating picture to tell the story.

A REAL cute set of small ornaments... each is garnished with a tiny embellishment (brass, clay, bell, pon-pom, etc) that is included with the card. Each card features 3 ornament designs. (JBW offers the free border design, in case you want to stitch this set of 12 as one larger sampling... details about that are on each card.)





Christmas Tree Collection IV


Four more darling little evergreen trees... EVERY one of these is really cool... and together, they make quite an eyecatching site! Our Mona has finished them, with twisted cording on the larger 3-inch-ish pieces, and rouched ribbon on the babies.

I don't know why, but the included embellishments DO NOT include those for the smaller versions... you'll need to rescue a few beads from your stash instead! Cute, cute!


Inspired!
New designs with all those tiny motifs hidden everywhere. It would even be pretty on the opalescent 10ct Tula fabrics -- done in perles , few beads scattered here and there -- and used as a candle mat!

Each of these is offered as the small card, no embellishments featured. Just fun little designs!