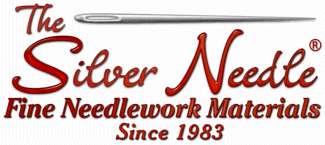 Serenita di Campagna
6068 S. Sheridan Rd. Tulsa, Ok. 74145 (918) 493-1136 (888) 543-7004
E-Mail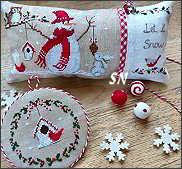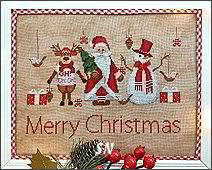 Several pretty new designs

from Serenita di Campagna - We're ready for Autumn, Halloween and Christmas!
Let it Snow #220 - A darling scene of snowman and forest friends... the bitty owl on the branch, the hungry rabbit, and then the snowy cardinal! This is shown as a pin cushion - they've stitched the 'Let It Snow' panel on a different fabric - and the finishing treatment really sets that off. Coded for DMC, you could take that round greenery border around the birdhouse ornament and insert the owl or bunny instead!
Merry Christmas #219 - Here's that same busy snowman with Santa and Rudolph... her group photo! Leave off the words if you want... it'll make it a little smaller to finish. Coded for DMC.
Paesaggio d' Autummo #213 - Autumn Country A classic farm scene... complete with pumpkin patch. Coded for DMC, 162 x 38 is the stitch count.
Foglie d' Autunno #212 - Autumn Leaves Love this one! Just a medley/spray arrangement of Fall leaves and berries. 86 x 26 for the smaller design, 169 x 42 for the larger - the charts are huge and in color - almost as pretty as the finished stitching! Coded for DMC.
Melodia Autunnale #214 - Autumn Melody - Gosh, what a gorgeous fox... sitting among the gourds and pumpkins - very peaceful. Measures 187 x 136 in stitch count - so finishes about 10 x 7-1/2 on 18/36ct. Coded for DMC.
More Cute Charts for Halloween!
Foto de Gruppo Halloween #215 - A group photo of Halloween delight! Coded for DMC, this measures 149 x 97 in size. Coded for DMC, everything about it is cute! Might be fun as a standing sign beside your candy bowl.
Welcome to Halloween Town #216 - Not much color in here, but it's really very cute. The tiny witch-raven is cute on there, the spiders and skulls, and the scattered candy corn! Measures 217 x 87, coded for DMC.
Hocus Pocus #218 - Oh gosh, the witch is cooking up something intense! The cat holding the recipe is cute, and it looks like the ghost is bringing her skulls and jacks to cook! Here again, the designer has stitched part of this on a different fabric, then joined the two pieces during the finishing process to accent both halves of the design. It's a great way to add color to your piece, and raid your trim stash! All the designs shown in the pic are included in the colored chart - all coded for DMC.
Bandierine Flags and Giochi d' Estate


Summer at the Beach - Italian Style! From Serenita di Campagna come these two charming summer beachtime designs. Coded or DMC, she uses gentle shading and classic seashore coloring. Although the pictures on the covers are really small, your finished stitching will be enchanting.
Bandierine Flags features 4 designs - a lighthouse, seagull shells and the word beach, and a charming sand shack, complete with suit drying on the line. Her charts are lovely and done in color, so very easy to follow. (much better than the cover pictures!) Most of these measure about 40 x 60 in size, and can be finished in any number of other things - rather than the flag shape.
Giochi d'Estate has a trio of designs - just 70 x 70 each (or under 4 inches each) of children playing on the beach. Very traditional - the girl is gathering seashells by the lighthouse, and the little boy is flying a kite. You don't need to stitch the central round Summer panel unless you want to... do the two small pics by themselves, frame them and set them on easels... or make tiny windowsill blocks out of them... they'd look fantastic in a beach house! (Remember, the charts are much easier to follow than the graphics on her front covers!)



Fresh Flowers and Animals all from the Farm

from Serenita di Campagna
I love these designs... all so classic and soft in color and composition.
#207 Welcome to the Farm Features a glorious chicken atop his favorite wash bucket. The tin is DMC #415... so finding a matching gray fabric for the verse side of the pillow is do-able.
#169 Fresh Flowers Market 2 Mama and her babies - who I believe are stepping on all the new flowers!
#208 Farm Fresh Has the cutest bunny checking out the snails on his lettuce! Here's another where she's chosen a different color of fabric for the portion of the design with the wording on it, it makes a neat finish.
Fresh Eggs features more charming chickens - not doing much - as most chickens do! Each of the pillow designs measures approx 3 x 7 while the side panel with the extra verse is smaller at 3-ish inches. Notice how she's kind of repeated the ribbon pattern on the dividing ribbon up there above the words?



Easter Eggs


from Serenita di Campagna
This is a pair of charts, that together stitch into a set of 8 charming fabric egg cushions. Beautiful bunnies, a chick, hen, bells and a dove, the two that say Happy Easter are larger. They measure 4-1/2 x 6-1/2 on 32ct - if you include the borders and greeting (which is included in English, French and Italian).

The rabbits themselves are just 35 x 55 - so just 2 x 3-1/2. The set of 6 smaller eggs all measure just 34 x 51 - so totally 2 x 3 on that 32ct... with each inside motif a little smaller. Beautifully charted in color, they are coded to DMC floss, and I think they'd be lovely nestled in a basket of dyed eggs and fancy grass.





4 Lovely Designs from Serenita di Campagna


So beautiful, these 4 charts feature soft colors and delightful designs - I just wish the cover pics were about 5 times the size they are!
#138 Gita in Barca - Translates to Boat Trip - There are RABBITS on this ship, being tossed by the waves - coral ahead, lighthouse behind. The second pattern included is the Summer word with beach cabanas. Charted for DMC, that little rolling ship is exciting!
#139 Gita in Barca Cusinetti - Another that translates of Boat Trip - this one has 4 pin-cushion designs with a backstitched border design. Use that border as the sides to a mattress-shaped cushion - you can see one in the cover pic! Summer, Beach and the light house - coded for DMC - I just want to be there - whatever beach it is!
#171 I Love the Sea - Two small designs, one is a light house, the other is a back view of a girl standing on the beach holding her sand pail. Both measure a mere 30 or 40 stitches without the wording... coded for DMC. Just charming!
#170 The Beach is my Happy Place - It really is... only I am in Oklahoma! I can only imagine the peace and relaxation of a gorgeous place like this. If you have one... stitch this! DMC, 225 x 131... something fun for your beach house!
Note: We have several other Serenita di Campagna designs on our Spring Seasonal page.





The Night of Christmas and Merry Christmas


from Serenita di Campagna
This is a pair of Christmas designs with classic appeal. By Italian designer Cecilia Votta, each is offered as a chart and coded to DMC floss. Just simple and really pretty.
Merry Christmas measures a generous 12 x 7 on 18/36ct. If you do it on 25 or 28, it oculd be 9 x 15 - perfect for that large elegant pillow on the chart cover.
The Night of Christmas features Santa in his sleigh - the reindeer look like they could lose a little weight - so looks like tonight is their night to do it! Add a little sparkle to the snow on the trees below... I just love this one!