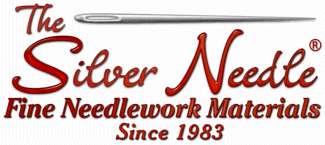 6068 S. Sheridan Rd. Tulsa, Ok. 74145 (918) 493-1136 (888) 543-7004
E-Mail


A whimsical selection of assorted designs... Patti looks at life with a positive attitude, and wants you to, too!!! Many, many designs in her portfolio... I have a few of my favorites pictured here!



Over The Hills

from SamSarah Design Studio
I couldn't pass these up in Patti's suite at the recent Needlework Galleria show we attended in St Charles MO. They were released as part of her Over The Hill series (see the little checkerboarded hills on them?) All presented as small charts with button embellishments, each is stitched on Weeks Dye Works 20ct Blue Jeans hand-dyed linen, and finish about 8 x 8. They call for Watercolors thread - which is a heavier pearl-cotton thread suitable for that 20ct.

If you want to make these smaller on 30 or 35ct linen, you can match the called-for DMC threads to weeks hand-dyed flosses easily. On 36ct, these will all finish about 4 x 4! (Get the patterns and then decide which way to stitch them.) Cute and cheerful, they make you smile!





Heard it Through The Grapevine


This is a cheerful hearts and dots thing all swirled together -- stitched on 32ct Charlotte's Pink Linen by Weeks. (don't get hung up on pink... you can change that if you need to!)

Presented in only 3 parts with no embellishments, you can always add as you want to, but this is fine just the way it is. Stitch the alphabet letters or make up a message of your own to spell in here! The entire design finishes approx 18 x 7.


Be aware that each portion CAN stand alone if you aren't doing the whole alphabet... so don't feel like you have to buy all three of these to get the full charm and impact of the design! We're doing an auto-ship for charts two and three -- in case you want them all.


Halloween Party


Sam Sarah has a couple of colorful new designs that are small enough for pretty pin cushions!!!!! Offered as charts with a few button embellishments, what I love best are the colors in both! Patti shows these finished with large frames and a huge quilted finish... but really, they are small designs, and they would be CHARMING finished just as little cushion pillows with some bumpy ball fringe trim or tassels, or something like that. You can get by with 9 x 9 cuts of the Peoria Purple in either 30 or 32ct for either, and there is virtually no difference in seeing the 30 vs 32ct.

Halloween Happy is stitched on Week's (30 or 32ct) Peoria Purple Linen with 5 shades of DMC or hand-dyeds. It finishes just under 5 inches square. Can you see the buttons? Stars in the background, the bat on the ghost arm and heart on the cat.





Vote * Indivisible * I Pledge Allegiance


Sam Sarah has three designs that are very timely and I thought these would present well together! All offered as charts, each comes with a small button or two. How about a bowl of Political Pin Cushions??? Choose some Lady Dot Creates Union, Sizzle, Vintage, Snow or Vanilla Ball Fringe or chenille to trim these -- get the trim and then match your hand-dyed threads for the set!
VOTE -- 30Ct Havana Weeks Linen, this fits into a 4-inch tart tin you can find in a kitchen store -- and will make a cute round cushion as well. Can you see from the pic how Patti stitched the hand-dyeds in the squares in a square rotation -- so that she didn't have horizontal shaded lines in this? She wanted the shading to follow the square shape. Chart comes with a small red heart button.
Indivisible -- Weeks 30ct Light Khaki Linen, this one finishes approx 3 x 7. The chart includes three bitty buttons.
I Pledge Allegiance -- Stitched on Week's Dye Works 30ct Periwinkle Linen with over-dyed flosses, there are 5 star buttons included with the chart. Finishes approx 6 x 3-1/2.
Treasure Me!


Oh my gosh... is this the cutest birth announcement??? Something so 'little boy' that can hang in his room for years and years!!! Your little pirate is stitched in overdyeds on 28ct linen, and finishes approx 6 x 6.

There are alphabet letters and numbers included for your personalization... and we have the darling set of button embellishments as well. You get a sailboat, dragonfly, buzzard, and some gold coins -- the pirates bounty! Offered as a leaflet with claypack.