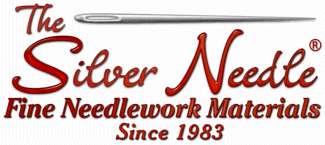 6068 S. Sheridan Rd. Tulsa, Ok. 74145 (918) 493-1136 (888) 543-7004
E-Mail


Cathy Habermann is the creative genius behind HandsOn Design. She used to be half of Cherrywood Studios.

Cherrywood is no longer designing, and our supply is exhausted. HandsOn has colorful designs -- and you'll recognize Cathy's color sense and finishing talents in the new designs!



New Designs from Hands On Design are Here


Cathy has a few new designs to 'decorate' your tree and possibly your stash!
The Tree Lot - This chart includes all three of these pink, red and green trees - all stitched on 32ct Charcoal/Gunmetal fabric. Measuring 53 x 64 - they'll finish approx 3 x 4 on that 32. Classic Colorworks flosses of Bamboo, Cherry Tomato, Chocolate Mousse, Frog Legs, Onion Skin and Pea Pod - they all 'pop' against that dark background.
Pere Noel - Another chance to use the charcoal fabric color, this little guy is coded for Sulky or DMC flosses - he's just a little over 3 x 3, so if you leave off the letters, he's be even smaller.
A Homestead Gathering - A sewing set of Sampler block needlecase, barn quilt pinwheel, flag fob and pumpkin patch pin cushion. Everything is done on natural linen, but the pic on the cover looks like a light blue. Coded for good old DMC.
Enjoy The Stitch - Here's something fun for us stitchers! You could take out the words and add your name - then put this onto a stitching pouch. Both designs are included in this chart and stitched on 32 Angel Wing or any light neutral you have - using DMC. The cushion is only 47 x 36 - so a bitty little thing!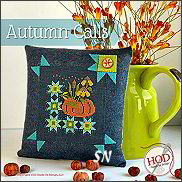 New Releases from Hands On Design -

Due in the Shop August 21st! All are offered as single full color charts.
Autumn Calls - Cathy says this is 'fresh, clean and classic' - a whole fresh new palette for the season. Worked on Charcoal linen with DMC, it measures a mere 49 x 55 in stitch count.
A Classic Haunt - 'A fool moon, flying bats and a helpful ghost hanging up the decor.' A 4 x 4 round worked on 32ct Orchid linen, its worked with Weeks or DMC floss.
Pick Your Pumpkin Patchwork - A 65 x 65 quilt-inspired design for Autumn... stitched with regular DMC!* Cast a Spell - 'Spells go awry when a frog catches a fly, take cover when the potion gets knocked over!' A little 4 x 4 design in the Plaid All Year series, this is done on 32 Slate with DMC floss. Quick and colorful!
Cast a Spell - 'Spells go awry when a frog catches a fly, take cover when the potion gets knocked over!' A little 4 x 4 design in the Plaid All Year series, this is done on 32 Slate with DMC floss. Quick and colorful!



The Berry Basket Series

from Hands On Design
A yummy mini-series kicks off with a strawberry covered strawberry! This one makes my mouth water!

Stitch Count is 86 x 68, on 32ct. Cathy says the berries will all be shown finished as strawberries, and that we can make a fruit salad with what is coming up. Assorted fruit, I expect, and perfect for a basket in your kitchen! We will start an auto-ship for these... they're going to be delicious!


Charms, Charms & Charms!


Both Hands On Design and Summer House Stitche Workes use these delightful little charms on their various collaborative designs. You don't HAVE to reserve them JUST for those designs. LOOK AT THESE - they are enchanting! Perfect for embellishing other cushions or ornaments - these little things are sometimes so very hard to find when you're looking for them!
French Kitchen Set features a strawberry, pear, cherries and an apple - these have a loop at the top for attachment.Set of 4 $6.00
Between Friends - Summer features charms that have a hole THROUGH some of them, so you can thread them onto a pin or length of thread - like to end a tassel or something. You can see the top loop on some, the rest in the pic have that hold running through them - the fly, bird, snail, butterfly. Attach the shears, carrot, radish, rake and shovel through their loops.
Christmas Past is a charm set for Summer House's trio of paper ornamnets. Snowflakes, holly, mittens, bells... just a medley of cute Christmassy and Winter charms.



Between Friends: A Summer Sampling


from Summer House Stitche Works and Hands On Design
Beth Seal and Cathy Habermann's seasonal collaboration book is here! Working together in their 'needlework garden' they weeded, coaxed and watered daily to bring us 7 cute summery/gardeny designs.

There is a picnic plaid pin cushion in here... great finishing instructions for tassel making, a cute tool holder for hoops, pens, trinkets - along with its finishing tutorial, and a pair of seed packet covers. 24 pages of pretty pictures and lovely charts - but nothing too big to not-get-done!





Between Friends: A Spring Sampling


The first of the 4 seasons, this is a collaboration between Cathy and Beth Ann Seal of Summer House Stitche Workes and Hands On Design. We're getting 4 books with 2 projects each... one from C and one from B. (Only from the pics - I count more than that.) They're big on finishing and lovely graphics, so this'll be a fun set! No release schedule yet for the other three, but we'll have them!

24 Pages of the 8 projects, each is beautifully photographed, and Cathy has added lots of clear pics during her finishing processes. They have a 'Stitch Academy' section in here... I read that the odd numbers in the stitch diagrams are always needle up, even number is always down, and remember to pull 'up' stitches to get the pretty holes you are looking for! Just a tiny tidbit of what resides inside these beautiful pages!


Hands On Design has new releases.
Oh Christmas Three Just in time for Christmas in July stitching - a new holiday classic trio for your tree. Each ornament is 45 x 45 and Cathy has stitched them on 32ct Charcoal-ish fabric... the dark color really makes the designs stand out. Another set is expected this fall.
The Pocket Neighborhood A sweet little pincushion (there's a pocket in the back!) inspired by Cathy's time spent in Pittsburgh with its many pocket neighborhoods last summer. The coordinating fob gives you a closer look at these adorable row houses!
Strawberry - The Berry Basket A yummy mini-series kicks off with a strawberry covered strawberry! This one makes my mouth water! Stitch Count is 86 x 68, on 32ct. Cathy says the berries will all be shown finished as strawberries, and that we can make a fruit salad with what is coming up. Assorted fruit, I expect, and perfect for a basket in your kitchen! We will start an auto-ship for these... they're going to be delicious!
A Vintage Stitch - Too Hexie Are you a little Too Hexie for your pincushion? Two sizing options for these sweet pincushions - the larger Hexie Bouquet Pincushion (9 x 13.5) & the Maxi Hexie (9 x 9)... so you can go smaller on the pincushion but bigger on the hexie! Finish it off with this brand new JABC Sewing Bird Pincushion Pin!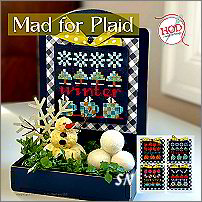 Plaid All year: Hoppy Easter, 4th Of July, Oh Canada - These are small 3 x 3 designs that are stitched on a black or gunmetal background. With touches of checkerboard patterns in them, Cathy laughs that they aren't 'plaid' at all... but that's the word that comes to mind to describe them! Each design is offered separately in small chart format.
Mad for Plaid - This is the Winter edition of 4 small patterns in this pack. Stitched in regular DMC, each season measures 51 x 51, and all are stitched on a dark chalkboard fabric. Might be cute finished as a 4-sided cube - just turn the front side out for your season!
Plaid All Year: A Day at the Beach and Happy Birthday - Checkerboards define the underlying color theme in this series... lots of fun times of the year are celebrated... all with checkerboarded motifs. Stitched on a darker chalkboard or even black background, each finishes approx 5 x 5. Cute, quick, easy to switch out with the seasons and special days - like a family birthday! Small Chart Cards.
The Polar Plunge Set - There will be 6 charts total in this set. Here are the first three - the next two available soon, and the 6th is a PDF Cathy will be selling from her site later this year, as a fundraiser for Special Olympics.
Polar Bear Peek, Wally the Walrus and Whale Hello There are the three featured... awfully cute! Threads needed for the whole set are Classic Colorworks of Black Coffee, Field of Greens, Honeycomb, Key Largo, Mint Julep, Persimmon, Ribbon Red, Snowball (2), Stepping Stones (2), Tartan Plaid and Thundercloud.

Cathy has a special place in her heart for The Special Olympics... this is one of her fundraiser pieces! A total of 6 designs in the set - we will have the first 5 - the final one will be available later his year - as a download on her website - with your donation to Special Olympics. (See her site for those details.) Anyway, this charming set of 3 x 3-ish water and wildlife scenes is endearing! Choose a blue fabric -- these are mounted on her set of finishing boards - which are PAPER-covered! Those cute flakes on there are PAPER! How sneaky is that? No hunting for fabric, glue on the paper, zip-zap! Lady Dot snow rik rack is the featured trim - one package will do all 6 designs. Love that little walrus!
The Winter Basket - This joins its coordinating Summer and autumn Basket design trios. Cathy has chosen her finishing fabrics and THEN chosen her stitching colors... so you might hit the quilt store as well, before you start yours. The patterns are repeating enough to make color changes easy for you.
The Autumn Basket - A trio of small quilt-motif designs - each is 67 x 67 on 32ct. DMC floss - they finish approx 4 x 4 - and then your gorgeous quilted finishing. Small chart format.
The Summer Basket - Mix quilty cross-stitch themes with coordinating cottons. I think Cathy chose her fabrics for this first, then coordinated her thread colors. She's done pillow finishing featuring 'big-stitch' quilting, and offers that info via a FlossTube Finishing Tutoral. These three designs are done with DMC 321, 3328, 3809, 3816 AND 3865 on 32ct Flax Linen. Autumn Basket's set of three designs will release in late August.
The Spring Basket - The final set of these... just gorgeous... Cathy suggests you find your finishing fabric first, then coordinate the threads. Chart includes all three designs, and we now have all the other seasons.
New Designs
A Classic Christmas - A classic little Christmas design - stitch it this August while you're on the beach! A quick covered board finish adds color to the edges, and makes a slim decoration that stores away easily. Small chart.
Snow on the Ground - A small house-shaped pin cushion with coordinating little folded scissor fob, this is stitched on 28ct Touch of Blue linen with regular DMC floss. Cathy has a link inside the pattern to the finishing tutorial she has for this on her website... so you are guaranteed a shot at getting yours to look like hers! It finishes about 3 x 5 - into a charming little house-mattress!



New Arrivals

from Hands On Designs

Stitch Some Happy - Here's a small design to finish into a round cushion, bag tag, ornament or name tag! Worked on 32ct Flax Belfast linen with DMC's of 163, 169, 347, 733, 3328, 3799 and 3816, there is a little rik-rak trim accenting the edges - choose any color from the palette and it'll be darling! Offered as the small chart... trim and flosses from your stash.
Tomayto, Tomahto - Love this delicious design! Make that fun little 5-inch wool/fabric pinch tray, then fill with the stitched bottom panel. Cross Stitched on 16/32ct (a gray color looks good against the reds, a 9 x 9 cut will suffice), the fantastic tomato cushion is done on Weeks Dye Works 32ct Aztec Red linen. (You'll need a 12 x 9 cut) Top trimmings are Weeks hand-dyed wools, (You'll need a schnigglet cut of any of our green Weeks wools) and the little ladybug on the pin VERY closely resembles the Mill Hill ladybug treasure #12159. Just a cute and unique little set - there is a link to the finishing tutorial included in the chart. Let us know if you need any or all of the 'ingredients' for this!
Resting Witch Face - This Resting Face joins Beach and Stitch! Choose a gray-toned fabric, DMC flosses and cute ribbon, rik,rack or chenille trim and you're all set! Finishes approx 4 inches, small chart format.



New Arrivals


Cathy has some summer releases that look like they'll be fun to stitch and finish!
Clover & Hive - Luscious shades of honey yellow, mossy green and soft lavenders... between the hives, clovers and little bees, this is a busy place! Choose a pale green fabric and your Classic Colorworks hand-dyed flosses and get busy like the little bees!
Beach Please - Here's a fun idea - this piece is made up of 15 tiny little motifs all arranged together to make the main presentation. Each square is 18 x 18 in stitch count so changing your fabric count will change overall sizes on these. Stitch just a few into fobs or cushions or make the pillow - the model is shown on 32ct Light Mocha Belfast linen and is stitched with just 10 shades of regular DMC floss! Cathy also worked each block on perforated paper, mounted them on foam core board, and arranged them in a shadow box frame! What a neat idea!
More Beach - A pair of designs sharing the same colors and motifs, this is stitched with Week's Dye Works hand-dyed flosses. 'Come to the beach where the sea is blue and little white waves come running at you.' The companion smaller design reads 'Less Mondays, more beach!'



New Arrivals

from Hands On Designs

Life is Just... A BIG Bowl of Cherries! This small chart comes with a cherry charm and a matching thread card to organize your threads while you stitch this! Coded for DMC and stitched on any white, grab 347, 351, 435, 472, 535, 676, 931 and 3346 from your stash and you're ready. Your bowl of cherries will finish approx 3 x 5 on 32ct. Cathy designed this as a class bonus piece when we had her here last year for 4 days of classes in our She Shed! It's fun to see it published!
Home of the Brave - A lovely, flowing piece, Cathy publishes this through licensing with Lily & Val. Stitched on white with DMCs of 4, 535, 930, 932, 3712, 3799 and 2 skeins of 3831... It's a MUST!



The New Treats

from Hands On Designs' Cathy Habermann

Season 2 - This companions her first set of Monthly Celebrations - and like the first set, ALL 12 IN THE SET are published here - together! Cute as can be, I see repeating patterns of one, two and three motifs in all of these... and I just love the different design elements. Corn in July, Beekskeps in May, Sunflowers and crows in September... each finishes approx 3 inches in size... and you can get all 12 from a fat quarter of fabric. Stitched with Classic Colorworks hand-dyed flosses, the set does need two packs of Lady Dot's Birdsnest Rik Rak to trim all. Presented as a large chart.
Red She Said -The next installment of A Banner Year. 4th In this set... red, denim and taupe hand-dyed colors, it features designs for all year long - not just one specific season! Stitched with DMC.
F is For Flag - '4th' Is the next Block Party design to come our way. IT IS THE CUTEST! An eagle, tiny town, and flags and quilts decorate all 4 sides of the stitched cube cushion. If you aren't into cubes... just finish this flat! It makes a lonnnngggg row, and you can see everything all at one time. We'll have the pins, too!
Resting Stitch Face - Goes with Resting Beach Face! Cute little 4 x 4 design, you need to make the cushion to perch beside your stitching chair! Stitched with DMC, the little tomato pin is available separately... it has a tiny pin poking out of it... and kind of pricey, but kind of cute too!



Several New Designs On The Way


Cathy has been busy, and is showing us what is coming our way the final week on January...
A Waffle Lot - Wow, what a charming little 'mattress' pin cushion! A vintage-inspired Valentine, both sides (actually all 6 sides!) are stitched on 32ct Antique White Belfast linen with DMCs of 436, 471, 3801, 3816, 3822, and 3833. It measures a mere 4 inches square and just about an inch high - because it's stuffed. Cute finishing... the whole thing is fun, and it is presented in chart format.
Lets Talk Quilting - Well, Cathy had to give Quilters equal time - after she released Talking for Cross Stitchers! Same size and colorway as the other 5 designs in the Lets Talk Series... the main pic measures about 7 x 8-1/2.
Block Party - The 17th! Celebrating the St Pat's Day season... this is another lonnnnng design finished into a cube cushion OR a long, framed row. 'It is in the shelter of each other that people live.' is the sentiment that floats above the field of lucky March clovers that travels around the sides of the cushion. The Block Party chart comes with that bit of hand-dyed houndstooth wool you see dressing the top, pins are offered separately as well. This is worked on 28ct artichoke Linen and uses the most luscious Weeks hand-dyed flosses so the whole thing presents as a fresh bit green for Spring!
Bottle and Brush Tree Farm and Coastal Holiday
Bottle and Brush Tree Farm - Cathy has released a cute pillow to place in a basket or set on a shelf to accompany your holiday decor. Stitch count is 67 x 67. Choose your favorite neutral fabric in your favorite count. Uses DMC floss 367, 645, 747, 964, 3346, 3860, 3865.
Coastal Holiday - Two of Cathy's favorite things - Holiday stitching and the beach! Set of three beach themed ornaments... they use the same finishing template as the Flamingo ornaments from last year. The cabana box will hold this year's Coastal ornaments and last year's Flamingos. Stitch count on the ornaments is 49 x 63 and the box is 108 x 67.

New Treats from Hands On Design!
Fright This Way - The Complete Set of 9 Designs - Presented in 3 Charts!>
Trick or Treat, Toil & Trouble, and Hocus Pocus are all in the first chart. You can see from the pic that Cathy is giving us TWO DIFFERENT colorway options for stitching these. You can use the ever-popular dark chalkboard gunmetal fabric, or lighten it up a little with Weeks Dye Works Confederate Gray material instead.

Stitched with Weeks Dye Works flosses, we have two different color assortment options, depending on which way you go. Designs are 63 x 55 in stitch count, so 3 x 4-ish on 32 ct. If you are frugal with your fabric, you can get all nine on a fat quarter of material... but if that worries you, just get a half (but it's twice the $$!) The final 2 charts - with the other 6 designs in the set - will release at the end of August, so there is plenty of stitching time before Halloween.





The Kitchen Counter - The Complete Set of 4 Designs - Presented in 3 Charts


A new trio of smaller designs for the kitchen is coming from Hands On Design. Presenting in three single and separate charts, the first is titled *Lick The Bowl.* Cathy's promo says *Life is what happens at the kitchen counter... cooking, eating, visiting over coffee, and a bit of retro wisdom!*

Each design will measure 5 x 7, is stitched on 32ct Antique White (or 16 Aida), and uses good old regular DMC floss! (317, 415, 437, 760, 964, 992 and 2 of 350 will be needed for all the pieces.) You'll get parts of a bonus design with the trio of charts -- so when your set is complete - you'll actually have 4 designs in all. Fun colors, fun subjects, the first one releases the second week of June, the others will follow mid July and mid august.


Lets Talk Stitching


Something cute that talks about our favorite thing - STITCHING!

Stitched on a dark fabric, with DMC flosses, Cathy has shown it framed, pin-cushioned inside a hoop, and then mounted into a fun stitching pouch.





The Chalk Talk Series


Each of these is a trio of designs, presented in one chart. Cathy has now completed her 4-season set of 'words-of-the-season.' She has done a main design which is 7 x 9 in size when stitched on 32ct. It is shown in an 8 x 10 frame. Then, there are two smaller take-out-designs from the main - that you can finish in different ways. Same design charm and personality - just less stitching time involved! Worked with DMC floss, choose any count of the many chalkboard-colored fabrics available - just get something you can see to work with. (We estimate a 1/2 yard for all 4 large pieces; you can get 6 of the smaller ones from a 1/4... depends on how many of the pieces you want to stitch.)

Notice the leaves on the hoop finish? Those are stitched on perforated paper! Cathy is using 14ct brown perf paper for a cute finish on all four of her seasons. Spring, Summer and Winter will follow in this order, and most likely release every 8 weeks or so. If you like that trim option, a package of brown perforated paper contains two 9 x 12 sheets, and will be plenty to do all four, even while splitting the package with a friend! All the seasonal colors just POP on that dark fabric, this will be a fun set of designs! We'll do an auto-ship for the charts as they release... you decide on fabrics and the paper option as you wish... there are tons of choices for both!





If Pumpkins Could Fly



If Pumpkins Could fly... Up in the sky, I'd ride with you and shout out BOO!
Isn't that the cutest verse?

I love everything about this... the main piece measures 115 x 74 - around 5 x 7, and the little ornament is about 3 x 4. Stitched on 32ct Platinum Belfast linen - it's a good neutral background color... and notice the fun rik-rak and fabric trim in the framed piece? By Lady Dot Creates, the trim color is Jack. Offered in a single chart.





A Banner Year!


This is the first of an 'occasional series' - Cathy has no set release date schedule for the rest to come... but we are promised a companion design trio by year's end.

These three triangles finish together to form a little seasonal banner. They are stitched on 32ct Kermit hand-dyed linen by Picture This Plus. They are coded for Colour & Cotton hand-dyeds as well as DMC floss.


Newest Arrivals!
31st: Block Party - Oh a new one of these darling pin cushions... this is so bright and colorful... it joins the seven or so Block Party designs already in print. Worked on 28ct linen, the chart comes with that pretty cut of Weeks Dye Works hand-dyed wool featured on the top. We have the pin set also, because you'll want the whole presentation! Believe it or not, these take a 1/4 yard of fabric - the side is stitched all as one piece, then you need the top and bottom!
25th: Block Party - You'll never forget all the reindeer names if you have this little baby stitched as a Christmas decoration! So darn cute... stitched on 28ct Amber linen, chart includes the wool topper cut. These pins are available as well... but there are lots of other JABCO and Puntini pins that would be fun in here.



The French Kitchen


Enjoy this neat set of designs that celebrates the bounty of the French Kitchen with the fruits and flowers of the seasons. A collaboration between Hands On Design and Summer House Stitche Workes, Cathy designed Strawberries & Mint and Apples & Sage. Beth designed Pear & Rosemary and Blueberry & Thyme. (Don't know who designed the little bucket!)

Each tall sampler measures 53 x 135 - finishing approx 3 x 8 - stitched on 32ct linen. When your 4 are finished... either display them or store one or all of the 'out-of-season' panels in the cute little stitched 'bucket!' It's also perfect for storing recipe cards or chocolate! Love it, love it!


First Frost, With This Needle, Hop on Inn and Resting Beach Face
First Frost features a pair of wintery village scenes stitched on plain white or antique white fabric with good old DMC floss of 07, 21, 168, 422, 598 and 611! Depending on your fabric choice - they'll be about 3 x 7 each.
With This Needle - I Thee thread! What a cute needle case and matching scissor fob! Cathy insists your stitching accessories should be fun - so this chart comes with those cool miniature needles and the spool charm. Stitched on 32ct Platinum Linen, you'll use only Weeks Aztec Red, Blackboard, Capri and Pepperocini!
Hop On Inn - Serious Spring Cuteness coming your way... this is worked on any chalkboard-colored fabric you like to work on. The chart is coded for DMC as well as Sulky 12-weight thread - if you bought the thread for More Chocolate Bunnies - you already have it, and you have enough to stitch this too! Finishing 5 x 5 on a 14/28... we'll have those HOP buttons as well!
Resting Beach Face - Cute Summer colors - 11 DMCs used... it finishes a cute 4 x 4!



Bring on the Flamingos!


Hands On Design introduces a mini-series of flamingos just in time to stitch and finish for The Holidays!

Presented in three separate card-charts, they are stitched on 32ct Icelandic Blue linen using Weeks Dye Works flosses of Aztec Red, Blackboard, Dirt Road, Hibiscus, Hunter, Lichen, Sockeye, Verdigris and Whitewash.

You'll want the 'Pinki Poms' mini ball trim featured on the finish for these - no matter how you assemble them!


New Arrivals from Hands On Design
Present Blessings - Reflect upon your present blessings... of which every man has plenty! Part of a Charles Dickens quote, this finishes approx 4-1/2 inches square on White 32ct Belfast Linen.

It uses regular ol' DMC! 152, 169, 610, 818, 3053 and 3778. There are hand-dyed button garnishes along the bottom... they are included in the chart.


Grace of a Flower - This finishes approx 4 x 6 on 32ct Platinum Belfast linen and is stitched with Barn Door, Bean Sprout, Deep Fennel, Frog Legs, Queen Bee, Trail Dust and Zack Black.

May your day be blessed by the grace of a flower touched by the sun.
Be A Pineapple!


Hands On Designs is releasing flamingos and pineapples! She debuted this design at our Annual Summer Event 2 years ago, and now, here it is! Included in the chart are all 4 projects - the Flamboyance Flamingo Drum, Pineapple Scissor Fob, Working Your Crown Pinkeep, and the darling Tray-of-Advice to hold everything.

*Stand Tall, Wear a Crown, and Be Sweet.* Fun Summery colors, everything is stitched on 32ct Platinum Belfast Linen. Cathy has a link inside the pattern to on-line finishing tutorials, as well. The pink flamingo pin featured is completely hand-formed by JABCO, so that's why it's on the pricier end of embellishments!


Humble Honey


What a cute little pin cushion design! Something little to try out those dark gunmetal fabrics... we have lots of counts available - including 14ct hand-dyed Aida for these - so youi have options!

Humble Honey measures just 65 x 46, and we even that that darling JABCO pin set shown on the cover.


Two fun Needlework Box & Tray Sets
My Stitcher's Heart comes as a chart for the box top, pin cushion, key holder and scissor fob, with awesome finishing instructions to make them all! !/4 Yd of Platinum Belfast will do everything, and you'll need hand-dyed flosses of Blackboard, Bright Leaf, Collards, Grasshopper (2), Swiss Chocolate, Crab Cakes (4), Deep Fennel and Tartan Plaid. Lady Dot's mini ball fringe - Witchie - is the featured trim.
Stitch in the Garden features a fabric tray with matching scissor fob, and a cute little mattress cushion that is trimmed with a wool 'penny.' Stitched on 32ct Antique White... you'll need 1/4 yard for the set, the cute little Just Another Button Company jpm mini-pin set of spool, tomato and flower, and a smattering of hand-dyed flosses. Over-the-top cute!!! Cathy has great finishing instructions inside the chart.
Memorial Day


Oh, this is fresh and summery! Stitched on 32ct antique White Belfast Linen; it uses Sulky brand flosses, which come packaged as a set for this design.

BONUS: you will have enough thread left over from that pack to stitch BOTH of Summer House Stitche Workes Liberty Hill Farm drum cushions!

Memorial Day measures 175 x 124. Can you tell from the pic that the stripes feature little tiny x's and do-dad stitches on them?





Well Rounded!


Cathy Haberman has a new chart coming with 12 'rounds' in it... 3 for each of the 4 seasons. Graduated sizes, each season is stitched on it's own fabric, and trimmed with its own colorway of Lady Dot Trim... so there are a ton of 'ingredients to collect' for these!
Super cute, if you don't want to make the rounds... just do pin cushions!

Fabric by Stephanie has special linen packs - we will have them for a very limited time.
Lady Dot has a twill tape trim pack - we will have IT for a limited time.
Cathy has a finishing kit, which is ALSO limited ... but the charts will be around for years and years, and they call for DMC, so life is good!
NOTE! We now have more twill packs in and the fabrics by Stephanie!





The Secret Santa Series is finished!


Spread Joy and Jingle All the Way are the final two Santa designs in this cute set! All are available separately, in case you missed some of them!

Presented as individual charts, they are stitched on 32ct (you'll need a fat quarter yard of fabric) Vintage Tiffany from Hand Dyed Fabrics by Stephanie.






Cool Yule: Due in the Shop November 25th


- This is a single ornament chart that uses three of the Sulky cotton flosses you have left over from your Cranberry Christmas chart! (coded for DMC as well, just in case.)

Choose a dark chalkboard-colored fabric... this finishes into a 3 x 4-ish size. Single, small chart.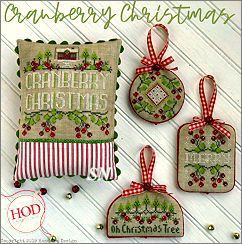 Cranberry Christmas


Filled with reds and greens of the season, finish CC as a pillow, stand-up or wall hanging... and you'll still have 3 more ornaments to enjoy! Presented as a chart, this set is stitched on Weeks Dye Works 30ct Cocoa Linen with SULKY brand flosses. (DMC conversions are included in the chart.)

The Sulky thread is heavier than regular floss... so you use ONE strand of thread instead of two... just kind of a fun stitching option. The main pillow design measures 75 x 77 - so about 4-1/2 inches square. Ornaments are 3 and 4 inches in size. Rich, deep colors, Cathy will be using three of the threads in this featured Sulky Thread Set in her next ornament chart - Cool Yule - which releases in October.





The Chalk Full Series


Here are 7 jars of seasonal delight - all done in Chalk-Art-inspired cross stitches. Stitched on any chalk-board-y colored fabric (that you can see on!), they finish approx 4 x 6, and each feature a smaller 3 x 4 pin cushion companion design.

There is a matching set of Just Another Button Company pins to go with each of these... use them to garnish the framed piece or the smaller cushion, they are offered separately.


---



The Farmhouse Chalk Series


Little Hippity Hop is only a bonus design in the first chart of Hands On Design's 4-part Chalk series! I think it's the cutest little pin cushion, and I am featuring it here, because I don't want it to get lost in the shuffle of new stuff!!!!! Cathy's new chalk-art series will be full-sized charts celebrating holidays on the farm. Along with the main scene and 'sign' this year, we get pincushions as well.

Choose a gun metal gray fabric of your choice (There are many options from easy-on-the-eyes - 14ct hand-dyed to 36ct dark!!! You choose and do not be bullied by those who think their vision or their lamp is better than yours!) I am excited by that small bonus design - because I know I can get that done!!! (Felt leaves and orange buttons are on-your-own... but we have Weeks Schnigglets of wools and JABCO Sprinkles buttons that are perfect for that!)





Autumn Skies


Some cute finishing ideas for two contemporary 4 x 5-ish pumpkin patch designs, the two scalloped orange felt strips on the cushion are included with the charts!

What a fun project to try a variety of your pretty autumnal hand-dyed flosses, and some of the pretty patterned wools we carry! Fabric featured is 32ct Platinum, natural or Lambswool would be great as well.





The House on a Hill Series


Cathy has completed another small series of seasonal *mattresses!* The Summer Night is the first, and is here now. It comes as a chart of the small (2 x 2-ish) fob that matches the DARLING little 4 x 1 inch squared pin cushion! *The Summer Night has a smile of light and she sits on the sapphire throne* is the stitched verse that goes around the square.

Stitched on 28ct linen with Weeks hand-dyed flosses, the patch of Weeks hand-dyed green Houndstooth wool for the little Cape Cod cottage's lawn is included in the chart. There is a JABCO pin set featured as well... a little whale, heart and flower... we've included those in our auto-ships, but you can get them separately. Super-cute finishing on this!
Flower of Winter - The third in Cathy's House On A Hill Series of pin cushions, this is a 4 x 4 x 1 'mattress' that sports a Houndstooth hand-dyed wool yard! Featuring a trio of JABCO's hand-made pins as garnish, the sides of the box cushion have stitching on them. *Stillness is the Flower of Winter, all hope lies beneath a blanket of snow.* We have an auto-ship going on for this set of the 4 seasons... check out the rest gathered on the Auto-Page, and pick up the ones you like.



Safe Harbour and Give With My Heart
Safe Harbour - A Quick little 65 x 68 design, *Follow the stars and find your safe harbour.* Stitched on Platinum linen, a light blue would be pretty too!

Give With My Heart - *What I make with my hands I give with my heart.* Cathy's 7 x 9 design can be completely stitched (model is on white) or you can create the pretty felt floral flourish at the bottom instead! 'Give' is presented as a chart pack which includes all the fixin's for the wool felt finish - precut leaves and flowers, along with hand-dyed buttons and a charm etched with the word 'handmade.' This is charted for DMC, but Cathy chose Sulky Threads for HER model... and that packet of threads is available as an option to you. So cheerful!





Scary Apothecary


We are finishing this CHARMIMG set of vintage-inspired Halloween 'pharmacy signs!' that are vintage in color and feature fun Halloween-inspired humor. Presented in 6 x 9 card charts, the last 3 have now arrived. Each piece finishes approx 3-1/2 x 5 on 32ct linen, and the entire set is stitched with Classic Colorworks hand-dyed flosses and 10 different #4 metallic Braids by Kreinik. The first three are: Bat Balm (*zing for your wing!*), Bitter Brew (for a fowl scowl!) and Broom Stick Fuel (gives your broom some zoom!)

Cathy recommends a 1/2 yard of linen for the set... but if you're careful, we think you can get by with a 1/4 yard piece... you decide. CC flosses are: Bean Sprout (2), Boysenberry Jam (1), Finley Gold (1), Frog Legs (2), Pumpkin Harvest (3), River Rocks (3), Shamrock (2), Sugared Violets (1), Ye Old Gold (1), Zack Black (4). Now you can collect the whole set together!





MEOW & WOOF - The New Block Party Designs


We're getting two more of these super-cute square blocks of stitched fun! Cathy is releasing these that first week of March. Charts come with the bit of Week's hand-dyed wool you see on the cushion top... and we've made sure to include the Just Another Button Company WORD pin set. (There are also optional pin sets... one for dogs and one for cats... available below.)

Stitched on 28ct linen, both use Weeks hand-dyed flosses. These join the other 6 Block Parties we have had... they're still available, and we have shop models of them all!





You Had Me At Flamingos


This is a chart for a small pin-cushion pillow that features a back-pocket finishing, with a trio of small fobs - just as little design accents!

Weeks 32ct 'Linen' color of linen, Weeks hand-dyed flosses... you'll also need a pack of Lady Dot's Mingo colored rik rak for trim, and that darling little flamingo pin!






More Chocolate Bunnies


Hands On is releasing this darling design at the show... it features Sulky brand flosses... which we will also have available! Cute new design, wouldn't this be fun finished as a flat 'sign' on a stick to poke into an Spring flower pot or Easter Basket? Life DOES meed more Chocolate Bunnies! Stitched on 32ct Weeks Aspen Linen (or anything medium colored), it measures approx 5 x 5, and features Sulky brand 12-weight Cotton Petite thread.

Cathy HAS coded this for DMC in case trying other thread scares you... but Sulky thread is *SORT OF LIKE* miniature, soft Perle Cotton #12. You use only one strand of this instead of two strands of regular floss. The chart comes with 6 white mini-buttons, the thread is offered separately, and is priced in between regular DMC and the hand-dyeds - so a pretty good value. This is a nice time to step outside your circle and try something a little new... cute design, favorite designer... kind of like a new outfit for Spring!





Favorite Brew - A companion chart for Scary Apothecary


Hands On Design has a complimentary chart (send a self-addressed stamped envelope is you need JUST the chart copy) that companions her Scary Apothecary series of designs.† Favorite Brew finishes 3 x 4-ish.

Our charts have the cute JABCO pin set, the Lady Dot Creates Jack Rik Rak trim, and a green felt ball Cathy uses in her finishing.† We aren't going to be offering the chart with finishing materials for very long... it was just a little something we picked up at Market!





Ready, Set, Snow


A sweet little $7 chart that comes with the star button and bit of wool for a carrot nose, this little guy finishes about 3 x 4.

Start him for next year's stitch group ornament exchange, or finish him NOW... we still have a couple of months of Wintertime snow to HOPE for! (We're in Oklahoma, remember, we don't get enough snow at all!)





A Year of Celebrations


This is the ENTIRE set of 12 monthly (50 x 50 in stitch count) small designs that were originally published in 2014's Cross Stitch & Needlework Magazine.

Cathy has compiled the collection - updated some color selections - and added two more monthly designs for stitchers in Canada!

Stitch them into individual block stand-ups, or join them... or pin cushion 'em... whatever you want. All are the same size, all are full of cute and colorful motifs... charming! (And the whole set is here NOW... vs shipping on auto every month!)


A Needle of Silver


We hosted Cathy Habermann during our annual 2018 Summer Stitching Event... and here is a tiny benefit! To honor the gals at The Silver Needle, she incorporated our shop name into her verse: A Needle of Silver & a Heart of Gold. She has designed us a pin cushion that measures 76 x 77 in stitch count.

Included with the chart is a bit of aqua felt to mark the place to poke needles and pins... and we just love it! Stitched on 32ct Antique White Belfast with DMC flosses of yellow, aqua and mossy greens. Offered as a chart. Thanks Cathy!!!





Chalk on the Farm Series


Cathy Haberman and Priscilla Blain teamed up with a new chalk-art 4-Season series this year! Chalk on the Farm... Fresh Eggs Farm is the first -- the Spring edition of this set. Presented as charts, each has a main picture with a smaller seasonal sign -- the first one says Fresh Eggs. Choose your favorite fabric that is chalkboard colored (we have several different counts available) and Gentle Art Sampler Threads from your stash.

Measuring 10 x 7-1/2 on 32ct... the smaller design is 7 x 3. You'll probably want to purchase a 1/2 yard cut of your fabric all at one time for this... so dye lots match. We can help with selections!
Introduced in February 2018, this finished in December 2018. Each chart runs $12.





The Short Stacks and Flap Jacks - Around the Holidays!


Sounds like a yummy breakfast meal is coming our way, but it's just a new set of pin cushion designs by Hands On Design! Cathy is doing a 6-chart set of super-cute drum and matching square projects. Oh Say Can You Sea is the first. You can see just part of the whole design -- that cute submarine floating by amidst the crabs and seaweed. She has the drum design printed on the chart's cover, so if you want to frame it instead, you can see how cute the entire stitched design is.

The round cushion -- the drum -- the SHORT STACK -- measures about 4 inches in diameter and 2-1/2 inches high stitched on 32ct. It is trimmed with Lady Dot chenille and topped with the coordinating velvet. The rectangular cushion -- the FLAP JACK -- measures about 3 x 4. The delightful set of pins poking from them is an optional coordinating set (NEW from JABCO) that will be offered for each set of designs. 'Oh Say' is here now, the rest of the five in this set will arrive every two months from now on. Stitched with Sampler Threads, the charts come with enough velvet to finish one piece -- either the stack or jack.

We're beginning an auto-ship for this cute set!
The sixth and final installment has now arrived, and the set is now complete.






Wild Salt Air


This is a fun set of beachy-things! Hands On's latest release there is a main sampler, a pin cushion, spool and corner gauge piece.

Pretty aquas and shell pinks... makes me want to buy a beach house just to decorate with my stitching! Chart includes all 4 designs, stitched on 28ct Cashel Linen.





The Laundry Company


Hands On Design has published three designs celebrating the Joy of Laundry!

*The Never Ending Cycle* and *Loads of Fun* and *Irony*... they finish to fit a 5 x 7 frame. Absolutely the cutest set of designs... each one deals with the *Joys of Laundry!*

If you are lucky enough to be one of those that has a pretty laundry room -- these will add lots of charm for everyone to see. If you're like me... my laundry room is buried in my basement... you'll probably be the only one to enjoy these down there... but it's worth it! Each of the three designs comes as a single chart, each finishes approx 5 x 7 in size.





White Christmas, a Completed Series


Here is the nine-chart set of White Christmas ornaments by Hands On! Pretty soft whitewash and pine greens against a warm brown linen... these first three are all about the tree! (Releasing in 3 sets of 3 charts each time) 1 design on each chart, they are worked on Weeks Dye Works Straw Linen and stitched with Classic Colorworks hand-dyed flosses.

You'll be able to stitch all 9 ornaments from a fat quarter of linen -- regardless of the count (30, 32, 35, 36) you choose. Specify linen count of preference.


Stitch Over Two


This is a fun little cushion design that uses two different colors of linen (32ct Straw and Linen) and a bit of Weeks Wool for the finish.

The 4 x 4 cushion is joined together at the 'faux rik rak' seam, and features two fobs looped over the same cording that holds your scissors. Offered as the chart with bit of wool.





Let it Snow Bungalow


The 4th seasonal chalk-art house by Hands On Design, this is the charming WINTER version to finish the set.

Stitch the whole house, or just the season label - Winter - it looks so fresh because it is mostly Sampler Threads of the color Chalk stitched on any gunmetal Aida or linen you choose. Very festive.... each of the seasons has been presented in chart format.

***Cathy is promising a new 2018 4-part Chalk Series in collaboration with Priscilla Blain! More info to follow in January!





Sunflower Manor -- Chalk for the Home


Cathy's third in this seasonal set of glorious houses is here! Inspired by chalk art, Sunflower Manor celebrates Autumn with the greeting of HOME or AUTUMN. Stitch just the houses, or just the greetings... you decide... both designs are included in the chart.

Stitched on slate/gunmetal/dark gray fabric -- there are quite a few options across the various fabric companies and quite a few count choices available -- choose something you can SEE on -- as dark fabrics can be challenging. Coded for Gentle Art hand-dyed cottons, this whole set has been enchanting -- Spring and Summer are here, and on Hands On's page! Presented as a chart, fabric available separately.


Chalk for the Home


Hands On Design is continuing her charming 4-Seasons set of chalk-art houses -- each one a gorgeous burst of color and white stitched on gunmetal shaded fabric. Rose Cottage -- the Summer design, is the second, joining Tulip House -- the Spring edition. Finishing approx 8 x 10 on 32ct, you get the main house, and a separate chart for the season, so you can sub the whole bottom part that says HOME for the season if you want.

Pretty pinks and whites, this is coded for hand-dyed flosses. There are quite a few fabric options in this dark gray family now -- you can get Aida in 14 and 18ct, as well as solid and hand-dyed linens in all sorts of counts. Since it is dark, it is harder to see to stitch on this color. Don't get hung up on fabric count... just get that awesome gunmetal color. Autumn and Winter's house charts will be following in the next few months!





Hands-On's Newest Releases


Cathy Haberman has three new designs; all have arrived in chart format.
Sunshine on a Stem -- Super-simple stitching for this glass jar of Black-Eyed Susans... what adds the charm are the felt leaves. Included with the chart for the 3 x 6 design is a strip of felt, so you can trim out little leaves to add to the stems. You will need Gentle Art Sampler Threads of Baby Spinach, Dungarees, Heirloom Gold, Wheat Fields, and Wood Trail. Easy Breezy!
Stitching is My Heart's Desire -- This is a cute little scissor storage case -- Cathy calls it a 'pillow keep.' Finishing only 4 x 4 and 2 x 2 on 28ct, the chart is coded for 4 colors of DMC floss. You can choose your finishing fabric FIRST and then change your floss shades to match -- easy stitching, the chart comes with a few finishing pictures as well.



Pumpkin Spice Farm


This is a pretty piece by Hands On's Cathy Haberman that we have been waiting for -- it features hand-dyed flosses by Romy's Creations (direct from Italy!)

Presented as a chart, it is stitched on Weeks Dye Works 32ct Tin Roof Linen and finished with Lady Dot's new 'Blue Corn' Velveteen and her 'Jack' chenille trim. It'll finish 6 x 4 -- and make a medium-sized little pillow.


Cool Beans!
Hands On Design is beginning a new set of designs to celebrate Coffee!!! Nine single 1/2-Sheet full color charts, each finishes approx 4 inches square on 32ct linen. Each chart is available individually, and you can stitch these individually, but there IS a simple border chart.. click the image at right... that guides you in stitching them together into one (235 x 237) 14 x 14 square.

Coded for DMC, they are fresh and fun. The first three designs of the nine are available now.. the other six to follow in two more shipments (May and July).





Block Party


Hands On is beginning a set of 6 pin cushion blocks -- each with a different theme, and a wool topping decoration treatment.
The first one... HOME is a 4-1/2 inch block that is stitched on 5 sides. A few flowers on the top, all the sides are decorated with different houses. There is a small piece of Weeks Dye Works hand-dyed wool included with the chart that tops the center of the block -- visible in the picture.
WOOL is #2 in the set -- HOME is the first. Over-the-top cute, this is a 4 x 4 x 2-1/2 cube cushion that is stitched on 5 sides. Each of the 4 sides shows little wooly sheep from each of their four directions (so it is different on every side).
THEN, you can get the optional set of JABCO pins to poke in there -- this one says HOME!

We're offering the charts separately from the linen and pin sets, to give you all the choices here! Amazingly, it uses quite a bit of fabric -- if you use 3-inches around all the pieces, a fat quarter is the most economical way to go. Please note: we offer the chart, pins and fabric all separately, but are sending all of the auto-ships with the chartpak and pins.



The Chalkboard Ornaments Collection


Hands On's collection of nine designs is now complete.... a trio of small charts, each is stitched with Sampler Threads on 30 or 32ct Gunmetal Linen. This set of three collections will offer you 9 ornaments in all -- all varying sizes. Along with the chart, Cathy has included 6 pre-cut green felt holly leaves and three red button berries to decorate your ornaments.

Be Jolly, Be Merry and Believe -- each will fit on a 9 x 9 cut of fabric, and if you are VERY careful and frugal with your fabric, I think you'll be able to get all 9 out a fat quarter (18 x 27) cut. To play it safe, a fat third will give you the nine 9 x 9 cuts you might want. We have Aida as well as linen fabric options open to you, and we've started an auto-ship on the charts.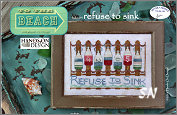 Hands On To The Beach!


Hands On has 4 designs out so far in a cute 12-part series of *Beachy Thoughts!* Presented in 5-1/2 x 8 inch card format, each design finishes approx 4 x 6 on 32ct, and uses a dusty color palette of Gentle Art Sampler Threads. (Coded for DMC as well.)

Cute as can be, choose just one or two, or collect the entire set. Fun to finish as little stand-up door-stop bricks, maybe 4 together in a pillow... a lonnnggg skinny picture to hang above a doorway???



Winter Whites


Another cute block pin cushion to companion Stitching By The Sea! I think this must be a 4-Seasons Set in the works -- we have Summer and Winter now! Worked on 28ct Hazelnut linen, it calls for hand-dyeds of Hunter, Bluecoat Blue, Chalk, Ohio Lemon Pie, Evergreen and Banker's Gray. Trimmed with gigantic Sunshine Yellow rik-rak trim by Dames of the Needle, it is garnished with a matching set of pins by Just Another Button Company.

Excellent finishing instructions are included in the chart -- 10 pictures of the process! You'll need a 16 x 16 cut of fabric as well as a 13 x 13. If you are frugal, you can get by with a 1/4 yard cut -- 18 x 27.


Give Thanks for this Day


A sweet chart to stitch on a yummy color of fabric, this has a stitch count of 53 x 62.

Apple Cider, Blackboard, Monkey Grass and Oatmeal Sampler Threads are the featured colors.





Bumble Bits -- Square*ology!


A pair of cute new Square-ology charts have arrived -- a small bee fob design and a Bumble Bouquet. Offered as the small charts with the button smattering, there is a darling new JABCO bee featured on these. Part of the Square-ology Series by Hands On Design and Just Another Button Company... you might not want all in the sets so far... but some of these are REALLY stunning little designs! They are all pin cushion or fob sized as well. Offered as the chart with 'Square Bits' -- the buttons!


Garden Duet


The Spring version in this 4-seasons set of designs -- this companions Winter Solstice and Twice Blessed. Like the others it is a set of smaller pin cushions that comes in chart format. Cathy has added some wool *dots* -- precut circles to use for the penny-rug decoration on here -- if you don't want to stitch those.

Very pretty and colorful, another nice set of patterns to "bowl fill!"


Pomegranate Pocket and Pincushion


Hands On Design has lots of new things... Pomegranate P & P is REAL CUTE... and is her Show Special from our Fall Trade Show! You'll need 30ct Aztec Red Weeks hand-dyed linen and a pretty finishing fabric to make this case... it uses just 4 colors of hand-dyed floss. The main case features a band of rick rack -- do you see it? It's garnished with cute Lazy Daisies, French Knots and Straight Stitches -- it reminds me of a caterpillar!!!

The matching pin cushion is a SQUARE cube shape. When you see the shape of the chart, you'll instantly see how it fits together. Unusual colors, this is just a lovely set of pieces!! Offered as a chart. MAKE SURE to see the rest of Cathy's new things -- the acorns are darling and there is a cute Halloween piece!


Indigo Star


Inspired by Polish Pottery patterns and hand-dyed indigo cottons, Cathy designed this sampler and the coordinating 5-pointed star pin cushion! The star is what fascinates me -- there are 8 different rectangular panels offered - choose 5 of the patterns for your star. She has you actually CUT right through some of your stitching... that is part of the reason why it looks like old scraps of fabric -- cut where-ever!

The main sampler is stitched with Weeks navy floss and finishes approx 7 x 7. The star is also Navy, and finishes under 5 x 5. Offered as a chart with assembly instructions.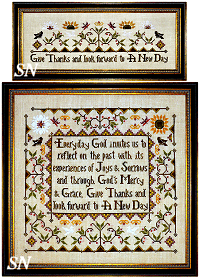 Everyday Sampler


This is a really striking piece with a wonderful sentiment. The borders are really cool -- different sized triangles all around -- you COULD do them in Satins. Next are all the greenery vines and little red flowers. The leaves COULD be done with more Satins -- they would resemble Hardanger Embroidery. Then, notice the border of checkerboarded triangles surrounding the center verse??? Those are worked in Smyrna Crosses! (You could do those in crosses as well!)

Offered as a chart, this finishes 11 x 12 on 32ct and is worked with Pecan Pie, Gold Leaf, Moss, Claret, Briar Rose and Oatmeal hand-dyeds. If you don't have time to stitch the entire piece -- go for that smaller option across the top. It has all the striking features of the larger piece -- 200 x 60 in stitch size.


Grandma's Garden


'It's always Spring in...' or 'Love Blooms in' Grandma's Garden! This is a pair of sweet designs offered in the same chart pack. Love Blooms is the featured design -- it is worked on Week's Dye Works Light Khaki Linen with Cottage Blue Sampler Threads.

The pack contains the bit of coordinating Week's Houndstooth wool you see on the pynpillow along with Dames of the Needle's hand-dyed rik rak and twill tape trims. There are even 7 blue buttons in here to match everything! It's always spring is charted, but there are not wool pieces or it's charm in here. (But we can match that... AND we carry the tiny Made-with-love charms open stock!)


Love My Stitching


Well, this is a fun design... frame it, pillow it or follow the included instructions to make it into a cool stitching pouch! Offered as a chart, the entire design is worked in only three colors of DMC floss. If you find fun fabric for your pouch and it doesn't match -- CHANGE the COLORS of floss!!!!!!! (The Cross Stitch Police will not visit you!)

Simple and real cute, raid your embellishment stash to see what fun things you can come up with to decorate this. I love that gigantic rik-rak trim on there...chenille ball fringe would be wild!!