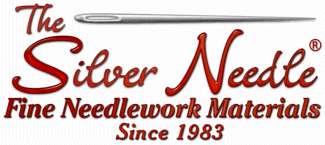 6068 S. Sheridan Rd. Tulsa, Ok. 74145 (918) 493-1136 (888) 543-7004
E-Mail
Daylight Company


This is a wonderful line of very reasonably priced magnifying lamps! Developed and marketed in England for the past 10 years, these are finally available in the USA! They are nice looking, feature heavy-weighted bases, and strong table clamps. The light is wonderful -- like daylight! Each lamp features a "gooseneck" type arm that is easy to steer in the direction that's best for you.



Omega 3.5 Magnifier Lamp


Daylight has a new table lamp - it attaches via a clamp to the table. Quite a long reach, it features a 3-inch, 5-diopeter lens - which means MORE MAGNIFICATION than standard magnifier lenses. This is a cool little light. It comes in a black nylon carrying case - Velcro closure, adjustable shoulder strap. Inside, one pocket holds the lamp top with covered gooseneck arm, next pocket holds an extender stick, then 2 pockets that hold the cord and clamp.

The arm reaches well over a table or desk. This daylight-balanced magnifying lamp has 3 levels of LED (57 lamps in here!!!) brightness as well. Looks like it'll work well in specific spaces - where you need extra magnification.


Our New Daylight Magnificent PRO 3-in-1 Magnifying Lamps are here!


Oh... this is a lovely floor or table lamp! Completely new and updated by Daylight Co this little baby boasts true Daylight-balanced LED lighting that never burns out. Awesome features include an adjustable stick height, a removable magnetic lens cover to protect against sunlight burns, an ergonomic switch and handle area to adjust your 5-nch lens, and 3 brightness levels.

I took it out of the box, and set it up in less than 3 minutes... and that was even looking at the little book instructions and everything! Smooth lines, the whole thing weighs 9 pounds including the box! A really nice streamlined and contemporary light... every stitcher needs one!

FYI: Look below at our little Daylight Foldi-Go rechargeable travel Lights - 2 Pounds, little 6 x 6 x 3 folding thing that comes in a zippered hard-sided travel case - Fantastic! OR... Our Halo-Go Lamps - same idea as the Foldi-Go - just a little larger with a magnifier. It, too, folds up SMALL and FLAT for travel.Also 2 pounds and rechargeable!





The Foldi-Go Light


Wow, this is the coolest little light! It weighs less than 2 pounds - including its little hard-sided carrying case! Rechargeable, it has 8 hours of battery time - with a battery level indicator. It extends, bends, rotates, has 4 levels of LED 6000K brightness, and will work for a million different tasks!

A perfect little light to travel with, every time we unwrap one to display in the shop - we sell it in a jiff! SO compact and lightweight!
We had been waiting since November for a re-supply, and now they're here!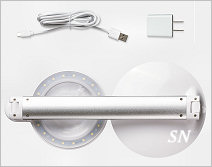 The Halo Go Lamp


This is an awesome little lamp! Fairly new to the Daylight Company's Line, we have them in stock and really like the features. It's a little table lamp -- weighing LESS THAN 1-1/2 pounds. It folds FLAT -- 1-1/2 inches thick by 13 inches long. It fits in your TOTE BAG! (or between your clothes in your suitcase)

It unfolds into a really nice sized (!) table lamp -- the 12-inch arm tilts, the lens and bulb top tilts AND rotates, and there is a protective cover over the lens. It has two daylight-balanced LED brightness levels - with the touch of your finger. 6-inch low-profile base, that lens is 3-1/2 inches in diameter with a 5 diopter magnification (most of the lamps on the market are only 3) and an inset the gives you 12 diopters.

The lamp has a recharge program that will give you up to 8 hours of light, and a battery level indicator. It's clean, it's white, it looks nice, it's SO portable, we are very impressed! Comes in a little box - 6 x 15 x 2 - we can Priority Mail this baby for the 2-pound rate!!!


The Duo Lights


Oh wow... this is a neat little light! It is LED and dims for 4 different light levels. It is SUPER lightweight, and comes as a table clamp, or stable standing light. (The floor version is due in at the end of May.) It has a cord... so not battery chargeable.

What makes it really neat is the light design itself... it is two little 10-inch long 1-inch round sticks that spread apart in the middle, so you can direct your light where-ever you want! (My first thought is having it on your table at a class - and both you and your friend get a light!) The design is such that the light is directed down... not right in your face. The on/off switches are just touch buttons at the ends of the light sticks.

The table version weighs just 1-3/4 lbs... (28 ounces) while the clamping one LESS THAN A POUND! The goose neck is covered in soft white plastic sheath, it looks so nice and smooth and clean. The clamp for that model is a SCREW clamp. It is not a pinch-grip thing... you don't have to squeeze it to death to get it to work. Right above the clamp base, you see a cylinder that is about 2 inches high... that is a 'screw'... so simply turn it to release the clamp, which can open as much as 2 inches!
I really like this light... no magnifier, though. Lightweight, VERY packable, clean, white, daylight balanced light... really, really nice!