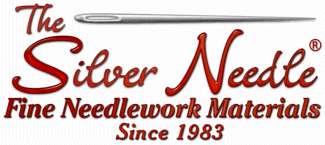 6068 S. Sheridan Rd. Tulsa, Ok. 74145 (918) 493-1136 (888) 543-7004
E-Mail

Charming, primitive cross stitch designs, Blackbird is a design company with a great, dsitinctive look!
The patriotic designs use dusty, 'faded glory' colors, and the seasonal birds are large and colorful enough to look great wherever you place them!



Several reprints of Blackbird's favorites are on the way!


Due in the shop any day... have you been looking for any of these? Another Second Chance!
Note: Many of these are more fully described farther down on this page. So cruise around and enjoy!



More New Blackbird Reprints!
More new Reprints on the way from Blackbird Designs! Our shop models are once again happy - we have all these stitched in the shop and it was tormenting not to be able to get the charts!
The Bells on Christmas Day Five designs in here, 20 pages... that gorgeous main sampler measures a petite 7 x 10 on 36ct Oaken hand-dyed by Picture This Plus. Adapted from an antique sampler, Barb and Alma made 4 other projects to coordinate! The Thimble Bag, glass box liner, pin cushion and little needle book are all included, beautifully photographed, and of course charted clearly. Finishing materials sources are included as well. Such a pretty book to page through!
Midnight Watch Gosh, I LOVE this one! Stunning colors, bold design, this stitches to finish approx 8 x 15 on 30ct. Lots of hand-dyed flosses, and simple cross stitch, I love absolutely everything about this! Barb and Alma are 'Queens of Crafting' because of the following tip! Look at the candle on the right-hand side of the cover - they tell you how to scan you needlework, reduce it by 50%, print it using an inkjet on clear-full sheet labels, spray with Krylon matte finish, peel the paper away from the backing, and line a plain glass hurricane! Holy COW! ...all from a cross stitch chart! Offered as the leaflet.
Away We Ride Blackbird has a new Halloween Sampler that is CHARMING!! *Away we ride till it's dark as pitch to find the home of the wicked witch.* Doesn't sound like the safest Halloween Night activity... but the picture in the sampler shows a nifty little stone cottage full of 18 lit windows! A lavish border and lots of big 'ol birds lurking in the gardens, this measures 171 x 191 in stitch count. Calling for Gentle Art's Brandy, Garden Gate (3 skeins!), Heirloom Gold, Maple Syrup, Mulberry, Onyx (2 skeins), Pecan Pie, Pumpkin Pie, Woodrose and Woodsmoke... the chart is coded for DMC as well. It's full of personality and good design balance! Offered as a leaflet.



Blackbird's Summer, Autumn & Winter Have Been Reprinted!

(There never WAS a Spring!)
Barb and Alma's popular trio of seasons... see the date on our shop model is 2012... we are thrilled to have all three of these titles in stock again! Each season is its own leaflet. Here is our shop model from years ago - we have always loved this set of 3 leaflets by Blackbird!

All joined together in our model are Summer - on the left with the strawberries, Autumn - the middle section, and Winter - the right-hand panel.


Blackbird Reprints! Finally!
These are all from the For the Birds Loose Feathers Series that debuted in February of 2017. All half-sized full color mini-leaflets, just like the original printings. Click through to choose yours.
Sweet Summer, Come Again Barb and Alma's latest new release... this is a sweet berry basket with matching bird pin cushion. The basket design measures just 59 x 58, (3-1/4 inches on 36ct Wren) while the bird is even smaller 2-1/2 inches - at 46 x 45 stitches! Grab a few hand-dyeds from your stash, and whip these up!
Moonlight Visitor The moth in the sky above our special house this month is our Moonlight Visitor! Pretty border, stately tree and darling little puppy waiting in the front yard to romp and play, this is the perfect picture! Number 9 in Blackbird's Anniversary of the Heart Series for 2010... I believe #10 follows and then, the final three designs in the final publication. You can stitch each of these houses on it's own piece of linen, or get the 1/2 yard cut of 30ct Olde Town Blend - to be amazing - and stitch ALL 14 parts into one huge sampler!
Winter is Past - A gorgeous, soft, dusty denim and taupe sampler, this is stitched on 36ct PTP Oaken and finishes approx 10 x 9. Pairs beautifully with Spring Fever -- the first Loose Feathers of 2017... traditional border, organized alphabet, just a lovely and finishable piece. It's not too large, but super-pretty!
Violet's Blue A charming sampler... a house surrounded by the blooming violets of Springtime! Barb writes, The ground is covered in snow and it is so cold here in the Midwest. We are tucked in front of a blazing fire as we dream of the arrival of Spring. We know when the weather warms up and the grass turns green, violets will pop up all over the yard adding lovely little dots of purple, white and yellow. Offered as a leaflet, this is stitched on 30ct hand-dyed linen in nine different shades of Weeks, Gentle Art and Crescent hand dyed flosses, with a finished size of 9-1/4 x 9-7/8.
Farm House #5 of the Anniversary of the Heart Series.




Blackbird's Strawberry Fields and Feast of Friendship are being reprinted!


Finally... two past Blackbird favorites will be available again later this week!

Strawberry Fields is part of the Beatles series of Barb and Alma's designs.
Feast of Friendship was quite the Autumnal favorite.
Leaflet format - the heavy card stock - everything just like before!


Crowns & Shields, a Collection of Cartouches


From Alma: "All of these projects were influenced by one of my favorite antique samplers. I purchased it about 8 years ago. It is 43" by 9 1/2," and quite the drama queen! These patterns are an adaptation of the antique piece.

"The drum pincushion, Kindred Spirits, pictured on the top left was a class piece from 2017. The bottom pillowcase and the top right sampler are made from the same design. The use of color makes them both look so different!"
8 projects in total.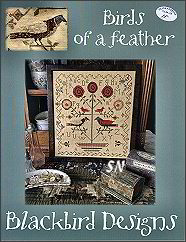 Two Reprinted Past Favorites
United We Stand is a lovely 20-page booklet featuring three designs with a patriotic theme. The main 'mattress' with the eagle in the center is done on 36ct Wren by Picture This Plus and measures a generous 6 inches square by about an inch high. Stunning in design, there is a verse all around the sides, and it is coded for Weeks and-dyed flosses. Lots of assembly photos are included to help make your finishing task easy! The scissor case folds together and ties closed to contain your scissors. A few specialty stitches on here, also Weeks flosses, also 36ct Wren, this measures about 6 inches before it's folded closed. Last is the Needle book, featured on the back cover. A gorgeous billowing flag steals the show on this one! Fantastic inside pics of the case... there is a sampler inside, some needle pages, and a floral urn motif on the back. Charming!
Birds of a Feather - We remember this design as being one of Barb and Alma's first. Super primitive flower basket with birds, it is shown on 32ct with silks or DMC floss.




When the Leaves Fall


Gorgeous pictures as always throughout these 48 pages! Some designs in here are new, some older - one is Barb's 2006 Loose Feathers release.

Alma has finishing steps for drums, pin cushions, box tops, draw string bags, a sewing bag, and a charming 'pumpkin' shaped pin cushion with a real stick for the stem! Everything in the book is lovely - and it's so much fun just to page through!





Deck the Halls

has been reprinted!
This is a funky-little-sized book - 6 x 4 inches in size. It features 6 pin cushion-sized designs that can be framed or finished into strawberry-shaped cushions or ornaments. The actual-sized finishing template is included in the book - and sized for 36ct linen.

Just pretty little things, I think Christmas Cactus is my favorite! All 6 were designed by Barb, and the book was originally published in 2018. So... if you stash doesn't have a copy - it needs one!


Blackbird Design's Arrivals!
A Heart Remembers - This book features Alma's interpretation of a gorgeous antique floral sampler with red roses and birds. It also includes the previously out-of-print 5 bonus charts from the 2008 Loose Feathers Series, along with the Basket of Memories Reward of Merit. Barb designed four smaller heart-shaped samplers that are finished as pin cushions. Breathtaking photography across the 52 pages... just a treat to browse through!
Humming of the Bees - Lots of floral urns, with a very primitive house and borders, it is Alma's interpretation of an antique sampler from 1839. Worked on 36ct Veldt from Picture This Plus, it finishes approx 13 x 10-1/2 and is stitched with a variety of hand-dyed flosses.
What Remains - Is Love. Worked on Weeks 36ct Straw linen with hand-dyed flosses, it finishes approx 9-1/2 inches square.




In Full Bloom


In Full Bloom - This book is NOT Cross Stitch - it is filled with 9 quilts and fabric projects by Barb and Alma.

They have hooked rugs in here, full-sized quilts, a wool applique pin keep, just gorgeous things! The full-sized templates for everything are in here... the pictures are dreamy... and you'll LOVE paging through every one of the 60 pages inside!






Souvenirs of Summer


Barb and Alma are treating us to another re-print of this awesome book that is full of patriotic and summer designs!

Our supply has just arrived!


A Christmas Rose


#4 In their Christmas Series of samplers, it is stitched on Picture This Plus's 36ct Wren and uses Weeks threads of Dirt Road, Havana, Oscar, Parchment, Pelican Gray, Red Rocks, Sandcastle, and Tarragon.

It finishes a petite 6 x 8-ish... perfect to perch on a table or bookshelf. (I THINK the other three in this series have been Merry Christmas, Feliz Navidad and Bringing Good Cheer.)





Winds of Autumn


Due in the Shop right after Thanksgiving! Barb and Alma are printing a new book containing 12 projects. 4 Are retired, and 8 are new. The retired - and now in this book are: Spell of the Moon, Bittersweet September, Patchwork Pumpkin and Waiting for the Harvest.

The rest of the 30-ish pages are full of gorgeous photos and pretty samplers and cushions - you can see a few of the new on the cover pic! That's all the info we get until our books arrive right after Thanksgiving! Reserve yours now, to get it right away!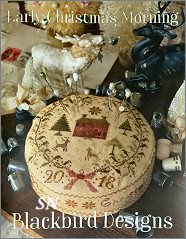 Early Christmas Morning


Blackbird has released a darling round mattress pin cushion! Stitched on 36ct hand-dyed, it measures approx 5-1/2 inches in diameter. The stitched band wrapping all around wishes Merry Christmas and is just 1-1/2 inches high.

Stitched with a medley of hand-dyed flosses, the entire little round mattress will finish approx 6 inches round by about 2 inches high! Just beautiful... You CAN get this done in time for Christmas!





The Stocking Collection


These elusive and truly favorite little stocking patterns keep coming... and selling out! Barb and Alma have reprinted these charming monthly booklets, so ENJOY them once again.

Each contains three mini stockings that finish approx 3 x 5 on 30ct linen. The CUTEST when they are stitched and finished!
(Click each leaflet image so you can see all 3 of the stockings that come in that book.)







Come Into My Garden


A Fresh Arrival! Barb and Alma's latest release measures 245 x 253 in size, is stitched with lots of hand-dyed cottons, and is shown here on 36ct Picture this Plus Veldt colored linen.

Our pic is kind of dark and the fabric is blotchy... so it's more colorful in person, and we have lots of pretty fabric options as well! Presented as a leaflet.





Sweet Land of Liberty


Freshly Reprinted by Blackbird!

We loved this book the first time around. It even had a reprint of In Full Glory - a very favorite Reward of Merit that had retired! Lots of pages (24), beautiful pics by Alma... we're glad to see it again!


In Friendship's Way


Barb and Alma have re-leased this gorgeous book - 40 pages - featuring 12 small designs with a friendship theme. As always, Alma's stunning photography is throughout the book and just turning the pages like a story book is delicious!!!

They begin with a pin cushion in a wire basket, next a lovely bird perched atop a painted and waxed paper mache box. Next is another topper for a wooden box... then a set of six stitched strawberries dedicated to friends, that are showcased in a 4 x 6-ish inch wooden and glass box. There is a framed sampler, and finally a button box that is actually the SAME box as used in Casting a Spell.

It turns out that ALL THESE FUN FINISHING PIECES ARE AVAILABLE at Hobby Lobby and JoAnns... so they are inexpensive, available, and really easy to transform! (They even give you the stock numbers of the items!) Gorgeous, soft designs, pretty hand-dyed fabrics and flosses... I LOVE, LOVE it!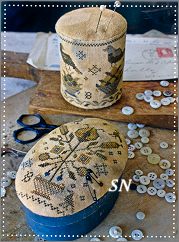 Blackbird Designs Arrivals!


Sewing Club -- This is Blackbird at their finest! It is a 60-page book stuffed with 16 projects they have taught at various events and exclusive designs previously released as Club Pieces for shops. Bags, drums, box tops, pin cushions, framed pieces... there are pictures galore along with the charts. Finishing and assembly instructions are also in here... it's such a pretty publication!


Oh Joyous Day - Alma's son got married - this is his wedding sampler! Approx 10 x 12 on 36ct Legacy and stitched with a mixture of hand-dyed flosses, the motifs are fun and stylized! Love it!
Little Birds - They're all over in here! All the pretty baskets and that neat border, this finishes a generous 22 x 19 on 36ct Heartland. Think of all the individual pin cushions that await from this!
My Heart Can Rest - Reproduced from a French Antique, this is a bitty thing at 9 x 9-ish on 36ct Heartland. Everyone likes the huge flower and bitty house!
We Live in Hope - There are two samplers in this leaflet. The main one is about 11 x 11, while the smaller one is less than 6 x 7. First time Barb and Alma have used ships in their pieces... they were picturing the women waiting for fathers and husbands to come home safely from sea. Both are stitched on 36ct with hand-dyed flosses.



Flea Market Souvenir


This is a reprint of Barb and Alma's 2006 design! Stitched on 3 different pieces of fabric, you are supposed to sew them together and then frame. The idea is to simulate stitching on 'found objects' such as scraps of linen.

It's a charming concept... but be aware that if you are a perfectionist and want your fabrics to join up perfectly, they might not - joining them evenly is harder than you think! But, in the end, the design is endearing, and it was worth the reprint!





Frosty's Night Out


Barb and Alma's latest leaflet features Barb's charming vision of a cheerful Frosty Snowman! He is stitched on Murky hand-dyed linen by Picture This Plus, and measures just 4-1/2 inches in size. You can make him into a perky drum shape, or a flatter pin cushion shape, nothing is set in stone.

The book includes, though, a super cute paper mache' HAT BOX finishing treatment. The box comes from Hobby Lobby (# given in the book), and Blackbird supplies pictures and finishing details to make that cute finish. We love the colors of Weeks hand-dyeds in here, we love that little Frosty face... just all of this!






Easter Parade


One of Blackbird's recent re-prints... this was originally published in 2005. Finishing approx 6 x 7 on 30ct, you could make your basket squares out of Satin stitches.

You could leave off the checkerboard border on the main design. If you do that little bunny over one on 25, he'd be only 3-1/2 x 4! Pretty tulips - a Blackbird Classic!


Our Lasting Friendship & Ooh La La


Barb and Alma have been busy with new books FULL of gorgeous projects and ideas along with all of Alma's exquisite pictures!
Our Lasting Friendship 3 Stitched designs celebrating friendship. Our Lasting Friendship is the large sampler - 11 x 12 on 36ct PTP Legacy Linen - make the center box larger if you have more friends you want to celebrate. Coded for Classic Colorworks hand-dyed flosses. Just Gorgeous! My Heart to Hold is a take-out of the larger design, shown on a box top to hold photos or special trinkets. Shepherd's Bush Pincushion is a small token design to special friends!!!
Ooh La La Wow, this book (48 pages!) features 15 projects! It begins with lots of classic French designs that are all stitched in red. Then, we move on to a Sewing Box cover with birds and a basket, a bitty Pin Roll - it was stuffed with emery so it felt super heavy and it just fit in my hand! Rose Bouquet box top and a Spring Green Pin Cushion... we went from all reds to all of Barb and Alma's palette of soft roses and pretty greens! And watch for Le Poulet.
Merrily, Merrily We Welcome Spring


(Well... lets work on winter first...!) Blackbird's Barb and Alma have a pretty new sampler that Alma adapted from an antique stitched piece. Worked on Picture This Plus's 36ct (we also have 32ct) Oaken hand-dyed linen, this finishes approx 15 x 15. Lots of pretty hand-dyeds - 16 shades - you'll need 2 skeins of Baked Apple, Palomino and Putty so that'll give you an idea of the predominant colors in this.

Lots of florals and urns, Alma added the border along the bottom as it appears to be cut off of the original. Lots of room to add family initials all over in this... it's actually fairly symmetric - look at the pots and vases, they're the same on each side, just different colors. (and the flowers in the right pot aren't there!) Presented as a leaflet.


And Blossom as the Rose


This leaflet is a collection of adaptations from an antique Quaker sampler originally stitch mostly in greens, taupes and creams. You get another delightful paper sewing box set, a family register sampler, a fun little drum-shaped cushion, a square (framed or cushioned) and a smaller upside-down box cushion treatment!

Pics and charts for everything... lots of assembly and decorating tips included... Barb shows how she's taken vintage linens and laces found at antique shops and flea markets, and incorporated them into HER boxes. Just a gorgeous book of 20 pages... you'll want to stitch everything in it!


Shall I Compare Thee to a Summer's Day?


A pretty 'found' Adam and Eve antique sampler is the inspiration for the projects in this leaflet. A paper sewing box, pin keep, the main house re-stitched, the main floral urn featured in its own cushion. There are pages and pages of pretty pics, and great finishing and assembly techniques in here, everything is worked on 32ct with Weeks Dye Works hand-dyed flosses.

Barb and Alma have been busy, you'll love the pretty presentations of everything in this book. More ideas for using Flea Market finds to add to your lovely things! (It's easy to cut up someone else's old lace instead of your own!)


Maria Selby Humphrey 1831


Barb and Alma have found another charming antique sampler that has inspired a pair of new designs. Maria's original sampler is charted in the leaflet - Blackbird does supply thread colors of Gentle Art Hand-dyeds to stitch it... but there is no re-stitched model in the book. (You'll need your imagination for that!) Anyway, they have taken design elements from the original and created a Pin Cushion Drum along with the original house charted with hints of the pretty quilt block border along the top.

Stitched on R & R 30ct linen, the My Home piece finishes approx 6 x 6, and the little drum (on 28) measures approx 5-ish inches high by 3-ish inches in diameter. Great finishing instructions are included for that drum assembly, as well. Verrrry pretty! Offered as the leaflet.


Honeysuckle Manor


Blackbird has a new 40-page book of exquisite sampler projects, all inspired by an antique sampler stitched by Louisa Bell sometime in the 1700's. Recharting the original sampler Barb and Alma found on E-Bay, they each have designed lots of smaller projects - cushions, boxes, a covered tape measure, even little pin and needle cupcakes!

Everything is done in the same color palette of the original sampler - soft overdyeds of roses, attic teas, mosses, steel grays and cremes, both Belle Soie silks and weeks, Gentle Art and Crescent cottons are used. Pages and pages of lovely pictures, charming projects, and Blackbird charm!


Shall I Compare Thee to a Summer's Day?


A pretty 'found' Adam and Eve antique sampler is the inspiration for the projects in this leaflet. A paper sewing box, pin keep, the main house re-stitched, the main floral urn featured in its own cushion. There are pages and pages of pretty pics, and great finishing and assembly techniques in here, everything is worked on 32ct with Weeks Dye Works hand-dyed flosses.

Barb and Alma have been busy, you'll love the pretty presentations of everything in this book. More ideas for using Flea Market finds to add to your lovely things! (It's easy to cut up someone else's old lace instead of your own!)





Blackbird Designs has New Releases!


Barb and Alma have begun a new 9-part Loose Feathers Series, and published 6 new full sized leaflets... Samplers and Pin Cushions... here are the first 3... click through to our blackbird Designs page to see them all!
My Dear Heart - A pretty reproduction sampler, this finishes approx 8 x 10 on 36ct PTP Ale. Using Weeks hand-dyed flosses, there is a separate pin cushion design using one of the urns... it is worked on RED linen with beige flosses as an alternative look! Who Knew? It wakes you up a little and lets you know that color changing IS possible, and it can look great!
Feliz Navidad -- Barb and Alma have decided to do a set of international Christmas samplers. Barb said this would be a *relaxed series* -- meaning no specific release dates, and no specific countries right now, but they are intrigued with Christmas samplers around the world. Feliz Navidad is gorgeous! Approx 7 x 11 on 36ct PTP Legacy, they threw in Eyelets and Smyrna Crosses just for fun. Adapted from the original which is pictured in the book, and originally done on open canvas, they've used all Week's flosses for the new. Really Pretty!
Winter is Past - A gorgeous, soft, dusty denim and taupe sampler, this is stitched on 36ct PTP Oaken and finishes approx 10 x 9. Pairs beautifully with Spring Fever -- the first Loose Feathers of 2017... traditional border, organized alphabet, just a lovely and finishable piece. It's not too large, but super-pretty!
---

The Magical Mystery Tour Series, To The Beatles, With Love From Barb!
Blackbird's Barb is a die-hard Beatles fan -- she saw them debut on Ed Sullivan in 1964, and evidently manages to get to as many Paul McCartney concerts as possible!!! She has designed *Very Black-Birdy-Flavored* pieces to commemorate her favorite songs and the anniversary of that television broadcast. All offered as leaflets, they tell us you won't need a ticket to ride this tour bus!!!
Strawberry Fields Forever - The 'Woolton Children's Home' (which could be your house instead!) surrounded by the strawberry gardens and the neat iron entry gate... 6 x 9 on 32ct.
The Long and Winding Road -- Also the THIRD Sewing Box Topper Design, this is sweet. Lazy Daisies on the trees, this fits is stitched on 36ct Lakeside Butter Pecan Linen.
Eleanor Rigby -- Greys and Blues for the subdued piece, and pretty pinks and greens for the birth sampler shown on the back, Eleanor finishes approx 6 x 6 on 32ct.
After months of waiting, we once again, have Barb and Alma's Yellow Submarine and Octopus's Garden leaflet back in stock!!!!! *The Suits* somewhere were a bit concerned with legal mumbo-jumbo and didn't think we stitchers should have the right to stitch this darling pattern! Barb and her wonderful loyalty to The Beatles won out... and here is the remaining design in her Magical Mystery Tour celebrating her favorite Beatles songs!

Finishing approx 6 x 8 on 32ct Linen... I am sorry to tell you that Lakeside Linens has never delivered our fabric order we placed last September for this pattern. It's time to get creative, and look at something like Week's Tin Roof, or a neat Copper Penny-ish or a neat teal for this. Flosses are all Gentle Art Sampler Threads or regular DMC.






Home for the Holidays


Blackbird has a new 38-page book that is full of their design charm, and Alma's exquisite photography! Along with 10 projects, they've also presented really good directions for painting and distressing those paper boxes they love to use, and transforming other decor items into gorgeous props for your needlework!

Re-printed is Christmas Garden, Tis The Season and Blessings be Thine. Also included are a set of 5 stockings that measure 5-3/4 x 8-3/4 in size. Everything has a Christmas theme, and it is a lovely book!!!





New Rewards of Merit


ALL NOW INCLUDED IN WINDS OF AUTUMN! Alma and Barb have new mini-designs offered in their small Rewards of merit size... perfect for small framed pieces or pretty pin cushions. Grab a schnibble of Week's hand-dyed linen and some overdyeds from your stash for these!!!
Patchwork Pumpkin -- LOVE, LOVE the border on this one and the trailing pumpkin vines all over the sky!!! Quilt motifs on the pumpkin and that structured brick house -- the whole thing is charming!!!
Bittersweet September -- A fall-flavored design much simpler than the Patchwork Pumpkin piece -- you get the huge bittersweet blooms, the crisp moon, and more pretty autumn-y color!
Spell of the Moon -- On Week's Tin Roof Linen, this is steely grey ...accented with that yellow moon. Just the cutest little thing at 4-1/2 x 6.
Leona's Sewing Box


Barb and Alma have a new leaflet -- a small homestead sampler piece -- dedicated to Barb's mother, Leona. It is worked on 32ct linen with Gentle Art Sampler Threads and fits into the top and inside compartments of Lone Elm Lane's Square Queen Crown Box.

The main design finishes approx 6 x 6 and features colors of Aged Pewter, Antique Rose, Endive, Garden Gate, Lexington Green, Mountain Mist, Old Red Paint, Parchment, Sable, Tin Bucket and Woodrose -- all lovely, soft and dusty. Leona's Sewing Box is offered as a leaflet, the box is separate!


Cats on Parade


A trio of pesky cats on parade... find a neat fabric color to showcase these little guys and make that cute drum-shape stand-up like in the pic! (Just make sure to weight the bottom, as it is almost 7 inches tall!)

You'll need 4 skeins of Espresso Bean floss, and we can send you some black Arctic Rays which is a thread that gives your twisted cord edging treatment that little bit of glitzy frizz!
Aren't these guys cute? They finish approx 6-1/2 x 10 on 30ct linen.





Blackbird's Loose Feathers for 2013 Begins with Wild Berries


The 12th and final design in Barb and Alma's Abecedarian Series of their Loose Feathers books, Garden Borders, is here. The Loose Feathers Series are referred to as their Abecedarian Project (pronounced a b c DARE e n).
Always an alphabet in each, and always dedicated to a member of their family -- you'll be able to personalize yours if you wish. They promise manageable sizes so you can complete these each month, too! The first -- Wild Berries -- measures 89 x 90 stitches, 6 x 6 on 30ct Abecedarian Blend Linen by R & R.


All 12 of the samplers in this set are about the same size -- all of them are shown and listed on the back of the leaflet, and are still in print. They all feature an alphabet, some of Barb and Alma's favorite motifs and are dedicated to family members.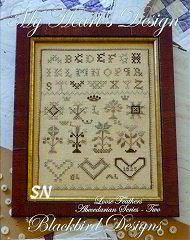 ---
Dear Daughter


A pretty floral vine with plump berries... cheerful butterflies in the garden... the verse on this says *Dear Daughter of Mine* but could be changed to reflect ANY message you have! Stitched on R & R 30ct Creme Brulee (matches Irish Creme, Abecedarian Blend, Sheeps Straw and Olde Town Blend as well!) with 13 shades of Gentle Art and Weeks flosses, this finishes approx 8-1/2 inches square.

I am inclined to darken the house a bit, as it looks pale in the model pic, but you might want to change the color all together if you have a house color you are wanting to match Alma has personalized her piece with her daughter's initials and birthdate in the center of the urn. Offered as a leaflet, this is just a very pretty piece!


Sisters


Wow... this book is a study of two different samplers by sisters "A and H Shields* in 1823 and 1824. A was the older of the two, but finished her sampler a year after H. Although they used the same pattern... each sampler is completely different -- such as sisters can be!!! Each original sampler is re-charted, and then Barb and Alma have gotten to work and designed three more samplers inspired by the original two!
One is Halloween with a new verse rather than the alphabet: 'At first cock-crow the ghosts must go Back to their quiet graves below.' Lots of orange and black.
Next is a Christmas piece -- just a lovely collection of small floral urns.
Finally, Witch No More is a tribute to Alma's 11th Great Grandmother.
Jannetje's younger sister, Judith had been imprisoned and charged with witchcraft in Hartford CT. Whole little ditty in here about brother Nicholas who's wife wrote a letter, and MS Judith later married his wife's nephew in the Netherlands! (Talk about family history! I have a great grandmother a while back -- like 150 years ago... Grandpa bought a statue for the family graveyard, Grandma thought it was ostentatious... lightening struck and the thumb broke off -- they found it years later - after she died - in her sewing basket!) Well anyway, a lovely book -- 24 pages -- full of Alma's beautiful photography and those charming samplers!


Liberty Eagle


Quite a cool set of designs, the main eagle features the alphabet stitched over one in his belly.

A small smattering of Weeks and Gentle Art threads, the larger piece finishes approx 7 x 8 on R & R 30ct, while the cushion is a bit smaller -- 5 x 6 -- but not tiny at all! Offered as a leaflet.


Long May She Wave


Barb has stitched a simple flag, but added 48 Eyelets in place of stars in the design. Worked on 30ct linen -- your entire piece is covered in stitching -- so choose something you can SEE to work on, because you won't see any linen when you're finished! Crescent's Blue Corn and Dublin Bay along with Week's Baked Apple (10 yds) and Oak (15 yds) are the only 4 colors featured. The Oak blends in so beautifully with the two blues, and you'll get lots of definition if you get a little pull into your Eyelets.

Charming... on 30ct this finishes approx 4-1/2 x 6, and is shown on top of a wooden box from the big box store. (complete instructions for distressing that, as well!) Offered as the leaflet.


2012 Loose Feathers Series




Summer's Last Rose


The third (of 4) 2012 Loose Feather's Design is here!!! A trio of small designs, Barb and Alma discovered another charming antique sampler that spoke to them of the end of hot summer days. Maybe the colors and motifs??

From their original piece, they have adapted a sewing box with four floral motifs on top, My Home -- a tiny house made into a pin cushion, and a lovely vine of stylized posies that they've mounted on top of a small basket. As always the pics in the book are stunning... and really offer lots of inspiration for other ways to finish your things. Fabric this month is R & R 30ct Creme Brulee, threads are by Weeks and Gentle Art.


Merry Christmas


from Blackbird Designs
Blackbird has a very simple and plain sampler... they designed it for those of us who leave our Christmas things out all year long!!! (it even refers to that on the back cover!)

A mere 4-1/2 x 8 on 35ct linen... Barb chose pretty pinks and greens for this piece... and almost hid the *Merry Christmas* sentiment in here... because of those colors! No special stitches, just a quick, pretty piece. Offered as a leaflet.


Flowers for You


'Flowers for your birthday' is the verse on this gorgeous new piece by Blackbird. Reminiscent of their 'older' designs... we just LOVE the sweeping, gently relaxed flowers billowing out of their basket. You could stitch this as a birthday gift, or change that sentiment to friendship -- just anything.

Stitched on R & R 30ct Sheep's Straw hand-dyed linen -- listen to the colors you get to use: Camouflage, Dublin Bay, Endive, Grape Arbor, Heirloom Gold, Old Red Paint, Raspberry Frost, Toasted Barley and Hazelnut. Just so pretty, finished size is approx 5 x 8, which is a perfect petite size!!!!!! Offered as a chart.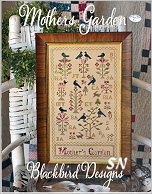 Mother's Garden


Blackbird's Barb has a new sampler to commemorate a mother and all the relatives on her side of the family. (Of course, it could be ANYONE and both sides of a family, too!) Pretty urns of traditional sampler-style florals, the blackbirds scattered in the garden might be all those relatives hanging around!!! After all, she *does* offer lots of spaces for initials!

A very pretty piece, stitched on R & R Irish Cream -- which matches our Sheep's Straw -- this finishes approx 8 x 13-1/2. Lots of delicate elements to pull out and stitch individually, too. Offered as the chart.


---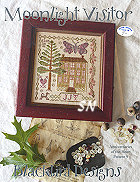 Anniversaries of the Heart


Blackbird's has released the final design in their 12-part Anniversary of the Heart Series has arrived! *Remember Me*.... personalize this with YOUR name instead of Elizabeth Jane's! This leaflet also includes the final bonus pattern that works into the entire 15-part collection. All houses, all parts designed to be personalized to commemorate people and places in your family history, that bonus pattern is needed in case you are working all 15 parts on one piece of fabric. All the leaflets in this collection are still available, but I do not expect that to last for long. Blackbird does NOT re-print designs as they sell out... so if you fall in love with any or all of these in the Anniversary of the Heart Series - DO NOT WAIT to get them! Each house is charming by itself, and stitched on various shades of hand-dyed linen.



Flowers of the Field


Barb and Alma bring us flowers from their gardens -- capturing the fading blossoms as Summer wanes and Autumn appears promising brisk temps to turn the yellows and pinks into tans and browns. A matching sewing bag and pin cushion design, the stitching is simple, the finishing kind of fun... especially if you want to dye your fabrics and ric-rak like they did... and find the Lizard Litter to stuff your cushion!

Stitched on 30ct hand dyed linen, in Gentle Art and Crescent overdyed flosses (probably all are already in your stash), the cushion stitching measures approx 3 x 4, the sewing bag just 4 x 5-1/2. Your finished bag and cushion can be any size you want. Offered as a leaflet.


Raise a Glass of Cheer


...for the beginning of a New Year!'

5 x 15 on 30ct, stitched with Gentle Art Sampler Threads... just a pretty thing, and a theme we don't see too much of!


Halloween Greetings


Just a simple thing -- this is stitched with only ONE color of Weeks floss -- Jack-O-Lantern! There is a pumpkin cushion featured on the cover.

Simply stitch 48 rows of 75 stitches each... and then gather that little thing together for a *Totally Stitched* little pumpkin! Too cute! Offered as a small leaflet.


Vintage Halloween Stockings
Blackbird Designs has released a book of 13 Halloween Stockings -- to match their on-going series of mini monthly stockings!!! 36 Pages full of charts and lots of color pictures for you to enjoy! In addition to the 13 stocking patterns, there are several other projects too -- small necklaces and pin cushions, and a little 'keeper' on a ring for flosses.

5 Of the mini stockings are stitched on R & R's hand-dyed 30ct Cafe Kona Linen, 5 on 18th Century Brown, and 3 on Witches Brew. Any of the 13 would be good on any of the linens... but the set of three fabric colors gives you lots of subtle color variety.

The entire book uses just a few hand-dyed floss colors... and we've estimated that you'll need several skeins of a few colors to stitch all. If you are picky about matching dye-lots in your hand-dyeds... our floss set includes 3 skeins each of Weeks Carrot, Sweet Potato, Charcoal, and 4 skeins of Crescent's Blackbird. ( I think there are only 8-ish more colors to find in your stash.) Each stocking finishes approx 3 x 5 -- just like Blackbird's monthly series.


Our recommended linen cuts include 1/4 yard of Cafe Kona, and 1/4 yd of 18th Century (enough for 6 - 9 x 9 individual cuts out of each), and a 9 x 27 cut of Witch's Brew for 3 more -- you'll have enough fab for AT LEAST 15 stockings... and if you're really *good* you can place them closer on the linens, stitch a few of them in different colors -- mix it up a little -- and get crazy! Or... make your own fabric choices!!
PLEASE NOTE! We are out of this design at the moment, but are hopeful that it will come in again.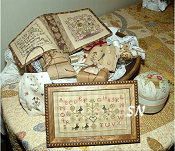 My Heart is True


Another of Blackbird's lovely books... this one features small pincushion projects by Italian artist Nicoletta Farrauto, along with Barb and Alma. The 'Friends With You' project book and Garden Gem Pin Box are my two favorites...

All are stitched on hand-dyed with overdyeds, and then tea-stained! A 'must-have' book for Any and All Blackbird Fans!!!