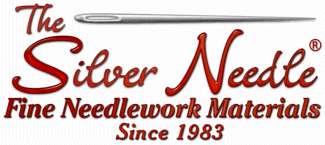 6068 S. Sheridan Rd. Tulsa, Ok. 74145 (918) 493-1136 (888) 543-7004
E-Mail

Lovely, intricate designs... Blackberry Lane's designer, Marie Driskill, believes in LOTS of shading and LOTS of detail in her tiny designs! The snow globe ornaments feature about 45 different DMC colors in their tiny 4 x 4 design area. This collection offers traditional heirloom holiday flavor!!!
Gingerly Spiced Teapot


Marie D has a cute new pair of designs - both are offered in the same chart pack! Mrs Gingerly is worked on Gingerbread hand-dyed linen with 18 different shades of DMC floss. She measures about 6 x 7 on 32ct and is worked over two threads.
Her companion tea party ornament is a little smaller - about 4-1/2 inches in size. The charts are big and clear.

There are finishing materials of green ribbon, white ball trim, and darling sugar-y gum drop beads you see on the ornament hanger, along with finishing instructions included in the chart.
Mrs Gingerly is dressed in a rich red dress and surrounded by her border of greenery. The clay JABCO buttons shown in the 4 corners of her design are offered separately, and optional to the design. Very festive... we have a little time to get this done before next Christmas!





Gingerbread Valley Series


Marie Driskill has been busy designing gingerbread house ornaments! You see several pics here... Peppermint Candy is both the front and back of the same house! Sugared Gumdrops is her second house-in-progress - and you are seeing only the front of it so far.
So... Peppermint Candy is stitched on 32ct Gingerbread Linen by Picture This Plus. It measures approx 4 x 4, and is FULL of charming design detail! The chimney is a cupcake... and can you see the elf climbing on the roof? On the front side, you can see him just to the right of the cupcake - I think he's sneaking a snack. The front is decorated with a clay wreath on the door, tiny gingerbread cookies, and snowy evergreen tree buttons - all are made by Just Another Button Company and Puntini. Now, look at the back of the house... there's the little guy on the roof again!

We have the set of hand-made clay buttons featured on both the front and back of this house all gathered together. A peppermint, wreath, 2 gingerbread cookies, 2 evergreen trees and two hand-made gifts - they are lovingly made by Just Another Button Company and Puntini Puntini!
The cutest miniature gumdrop beads are included with the chart - Marie has used them on her hanger - they are cute enough to eat - so keep them away from little fingers and mouths!


Sugared Gumdrops - Marie Driskill's charming companion to Peppermint Candy Cottage is HERE! Sugared Gumdrops is an intricate stitched house full of color, and even some over-one design details. Worked on Picture This Plus's 32ct hand-dyed Gingerbread linen - with 'just' 43 (!) different shades of DMC floss, the cottage finishes approx 4 by 4-3/4. Marie has added over-one details inside the windows - Santa and Mrs are in there, you can see the tree... and on the back of the house the little elf that is steering the sled is done over one as well! Absolutely enchanting!

The chart comes with some really cool sugared gumdrop beads for your ornament hanger, and there is a separate button packet available that includes the nine gumdrop embellishments featured. Just stunning - offered as a chart.





Baby It's Cold Outside


Isn't this a sweet little winter bird? He looks all puffed up to stay nice and warm! Marie Driskill's newest design is stitched on 32ct Storm Linen by Picture This Plus and finishes just 4 x 4.

She's used 33 different DMC shades in here, so you'll be busy with this one! She says this companions her other Winter Bird - When Cardinals Appear (about halfway down our Blackberry Lane page).





Gingerbread Mittens & Reindeer in Flight


Blackberry Lane has some darling mitten ornament charts that are just precious!
For a limited time, our charts coming from the recent market are coming with actual little metal mitten clips. When our first shipment runs out, no more clips will be included. We hear they are available at Hobby Lobby, so if your chart doesn't include them, HL is the place to find more!
Reindeer in Flight features the deer on one side, the flake on the other, and Marie has even charted them so the deer can face right or left! Totally interchangeable! Worked on 32ct Oaken, they use only 8 shades of DMC and measure  just 46 x 56 in stitch count - so 3 x 4 on 14ct! We've been selling perforated paper for these as a fabric alternative... and Marie says these make great money sleeves, as well!
Gingerbread Mittens are also two-sided... the chart has two festive gingerbread bakers one for each mitten, as well as a patterned background for the other sides. Absolutely enchanting, they measure the same size as the deer, and use only 13 different DMCs. The red 28ct Phoenix fabric is by Picture This Plus.




Christmas Eve Nutcracker


This chart has two different designs - one a 2 x 3 ornament, the other a 5 x 5 stand-up. Marie has done the larger on 36ct Picture This Plus's Gingerbread linen - going over two threads, but the ornament is on 28ct over one!

Each Nutcracker has different details... everything is outlined there for you in her instructions. 33 Shades of DMC are called for along with a little gold metallic. BOTH of these are stunning, as Marie's designs usually are!





Welcome the Snow


Another darling design - two charts in this pack! Welcome the Snow is stitched on 36ct Picture This Plus's Twilight hand-dyed linen over TWO or ONE threads - you decide.

One of the snowmen has bird feeders with several wrens and cardinals. The other has lots of sizes of snowflakes - over one, no birds. 25 Shades of DMC, they look the same at first glance, but have a lot of subtle design differences. Just the cutest!





At Home For Christmas


Oh my gosh... this little guy is living in a broken glass ball... and Marie says he's eating the popcorn and cranberry garland on your tree!!!

By Blackberry Lane, this chart is due to arrive in early December. He's stitched over TWO (she usually does over one, this is do-able!) with 'just' 37 different shades of DMC floss. Picture This Plus' 32ct Woodland Belfast is the required linen... and the whole thing measures just 65 x 67 stitches -- or 4 x 4!!!

Absolutely precious... he is full of Marie's fantastic color sense and design charm!!!


Winter Snow Owl


Marie Driskill has a new dramatic design - this little owl face just makes you stare right back at it!!!! Winter Snow Owl - only 55 stitches round - is stitched on 32ct Storm hand-dyed linen by Picture This Plus.

Regular DMC flosses - 20 different shades - this finishes less than 3-1/2 inches in size! All the stitching around the eyes and beak are over-one, and Marie has added petite glass seed beads to the snowflakes to make them glisten! What a charming little thing! Presented as a chart.


Naught or Nice -- Blackberry Lane is announcing her 6th and final design in her set of stitched Snowglobe Ornaments. We have had these since 2011 -- and each has been as involved and shaded and detailed as the rest... simply stunning! This year's features Santa checking his Naughty or Nice list before the Big Night!
-Over one on 28ct, it finishes less than 3 x 3 and uses a million different DMC floss colors. All the rest of Marie's annual globes are still available, so you can still enjoy gathering them all.
Jingle All The Way -- Stitched over one thread on 32ct -- choose any light color, so this amazing jingle bell shows up -- every stitch of it! 96 x 108 In stitch count, it finishes a mere 3 x 3-3/8 in size. Stunning shading, lots of DMC floss colors... presented as a chart!
Sleigh Ride


Blackberry Lane presents her 5th Annual Snowglobe!!! ABSOLUTELY EXQUISITE... these measure 82 x 82 stitches but finish a minute 2-7/8 inches in size, because they are over one thread on 28ct! Calling for *a million* different DMC threads, Marie does an awesome job with her shading and color sense.

Truly a work of stitched needleart... make sure you haven't missed the first 4... and we have only one more year to wait for the 6th in this set! Offered as a chart.


Up On The Rooftop


Blackberry Lane as released #4 in her incredible Annual Snowglobe Series -- this one features Santa on the roof getting ready to drop down the chimney! Absolutely breathtaking detail in color shading and design detail, this entire ornament is only 82 x 82 stitches and is worked over one on 28ct, making it less than 3 x 3.

TONS of different DMC flosses from your stash, since there are so many called for in here... you won't use much of any of the colors!!! Look for the companion designs in your stash -- 2010 is The Snow Day, 2011 is Midnight Ride, and 2012 is The Carolers. These are all stunning! Get them and stash them away for a 110 degree month next summer when you can stay inside stitching!!!!!


The Carolers


Marie Driskill's 3rd annual snowglobe ornament design has arrived... and true-to-form... it is as exquisite as her other two! Jammed full of 56 different DMC floss colors, and a bit of opalescent filament, this Victorian-inspired trio of Carolers is rich in shaded color and design detail. Along with the opalescent thread to make the snow sparkle, Marie has scattered her globe with petite seed beads as well.

If you want to 'over-achieve' this will finish a slight 2-7/8 in size over one on 28ct. On 32 over 2, it measures a more generous 5-1/8 in size. Companion to The Snow Day and The Midnight Ride... I think these are stunning on the Christmas Tree, and WAY TOO pretty to put away the rest of the year! Offered in chart format... it doesn't take much floss of ANY color -- you just need 56 of 'em!


Midnight Ride


Blackberry Lane's second Snow Globe ornament design, Midnight Ride, features a tiny silouette of Santa and his reindeer pulling the sleigh against the deep winter sky. Below... the sleepy snowed-in village awaits his visit... just charming!

Marie Driskill's second annual globe design, this is just as detailed as the first. Offered in chart format, you can choose any fabric you want, but her favorite is 40ct over ONE! Stitched on 28 over two, this finishes approx 6 x 6... more of a picture to frame than an ornament... over two on 40ct -- 4 x 4. Charted for DMC, this uses 54 different colors and two metallics!!!


The Three Wise Men and The Snow Day


Blackberry Lane Designs has two *ornament* designs that are beautifully detailed and FULL of lots of DMC color! (Kind of generous in size for ornaments!) The Three Wise Men has a stitch count of 120 x 120 -- features 44 different colors, and will be exquisite stitched over one on anything!!!! The chart includes three bead 'jewels' and a tiny brass camel charm, along with a one-page history lesson of the Story of the Three Kings. It is going to be the first of Marie's 6 First Noel Ornaments... the chart's back page teases us about the rest coming in future years.

The Magic of Snow Globes first design is The Snow Day. A classic, antique scene, complete with plump snowman... this one measures 80 x 80 and calls for 48 different colors! Simply lovely pieces... offered as charts.





Keeping Watch - The Ornament

from Blackberry Lane Designs
Blackberry Lane has released her 2012 ornament that companions The Three Wise Men and Journey to Bethlehem. An EXQUISITE little piece, this is worked over one thread to get it small enough to be an ornament size. With a stitch count of 80 x 112 -- it would finish approx 5-1/2 x 8 on 28 over two... solid stitching... the chart calls for a whopping 63 different DMC colors and two blending filaments. Since a picture is worth 1000 words... I don't need to say any more.

NOT for the beginner stitcher, NOT for the impatient stitcher! DEFINITELY destined to be a family heirloom! Offered as a chart... choose your poison. (oh, I mean fabric!)


The Journey to Bethlehem


Blackberry Lane has just released new ornaments that you have a whole year to work on before Christmas!!!! The second in her 6-part 'The First Noel' set, Journey to Bethlehem is a companion to The Three Wise Men we received this past fall. Solid stitching, incredibly involved, and using 48 different colors of DMC floss in it's 81 x 100 stitch count size, your choice of fabric count determines your finished size.

Just a stunning miniature piece of needlework, Mary and Joseph are on their Journey to Bethlehem... offered as a chart, it includes a brass palm tree charm and 3 glass beads to dress up your finishing. Use bits of floss from your stash.


Presenting with Excitement:

Stitching in the Garden!


Stitching in the Garden is offered as a chart -- it has a lovely Country French Girl surrounded by her border of violets. On the back of the cushion, her stitching basket is there... just a bit of gorgeous color to treat the backside of your cushion!

Stitched on Picture This Plus's 32ct Wren linen with lots of hand-dyed flosses and a few DMC flosses, it finishes approx 4 x 4.





The Hocus Pocus Hats!


WOW... talk about a gorgeous and detailed set of pattens!!!! Marie Driskill has designed 4 *faces wearing hats.* Each is Halloween-themed, and TWO-SIDED. Her exquisite shading talents are showcased in all of them... they are STUNNING! Choose to stitch them individually and frame them flat or finish into 8 ornaments... OR make them into little miniature linen hats! She has the templates and instructions included for finishing options.


Stitched on Weeks 32ct Confederate Gray, Pumpkin or Peoria Purple Linens, using about 15 different shades of DMC floss (which for Marie, is not a lot!), each face finishes approx 2-3/4 x 3-1/2. Just bitty things, but her charts are nice and large and clear!
You can see the black display clamp in the pics holding up the hats... those are hand-made by Heart's Content's husband... so they are kind of special too! (They're on order, expected soon) Six-inch black iron twisting table clamps!

Get these patterns FIRST before you decide on fabrics and various JABCO embellishments, finishing wools, beads and perle cottons -- there are lots of choices here -- and you need to study them first. (You don't necessarily need all the add-ons) Here are the names for each -- remember, each chart features a front AND back design!
Hocus Pocus I (179) -- *Oops ah' Ribbit* features a bright lime-green toad with a pretty purple spotted hat. (This pattern has a charming original poem by Marie about a witch named Theodora who accidentally turned herself into that toad!)
Hocus Pocus II (180) -- *Whooo's a Goood Kitty* is a fierce-looking little black cat under a birght orange spotted hat.
Hocus Pocus III (181) -- *Sooo Boo-t-ful* This one is a lighted smiling jack-o-lantern with a black hat in top of him -- complete with a sliver of the moon.
Hocus Pocus IV (182) -- *Whooo's Scarrred* -- It's a very intent and focused owl with a beautifully patterned hat design.



Presenting Seasonal Real Estate!




Relaxing at the Beach

and

Gingerbread Camper


I don't know which one I'd like to live in more... I guess one could do BOTH! Marie Driskill has a pair of darling camper designs -- each finishing approx 2-1/2 x 5 on 16/32ct. She has a couple of small design variations in each of them... buttons or not, flags or directional signs on the beach one, words vs no words.

Get the charts, then study your design preference. We do have a few JABCO buttons already for them. Lots of DMC shades (I have to laugh... true to an artists nature, the software dating at the top of the printed chart reads 12:57:40AM!), fun colors and such a NEAT design theme... you'll never find campers as cheerful as these little guys!





Jolly Jingle


ANOTHER stunning Blackberry Lane design... this one can be stitched three different ways -- small and over one, larger over two, or larger with special threads and embellishments! Jolly Jingle is Santa's diligent elf... he's dressed in his crisp white shirt with red vest and green striped pants.

If you choose, you can give him Memory Thread gold glasses and Wisper fur in his beard, along with Arctic Rays in his hat. (Get the chart first to figure out your options) Featuring 26 DMC colors... this little guy measures 3 x 6 on 18/36ct... and will be a delightful challenge to 'whip up!'





Carrots for Ewe


Blackberry Lane's newest design has arrived! This is a darling sheep having lunch in the garden, while his buddies look on from the wrong side of the fence! Stitched on Weeks Dye Works 32ct Scuppernong Linen, he measures just 52 x 53 inches in stitch count and fits into a black tart tin! (No access to the tin, finish this with black fabric or trim or a black mat -- that black color around this is KILLER!)

Only 12 colors called for in here... Marie is going easy on us with this one, and the chart is printed HUGE so super easy to follow. Anyway, her shading talents are lovely in this design... the faces on the sheep and the carrots and greenery are just awesome. CHARMING little pic, we love it! Presented as a chart.







In The Beginning with Adam and Eve


This was Marie Driskill's first design released in 2008! She brings the model to Market every year, and dismisses it (oh yes, that... it as an early design), but this year... she brought CHARTS!

No, the clock is not available. BUTTTTT, the design measures 130 x 320, and is worked over one thread on 32. You can go over two, and choose any count you wish, over one on 32 this finishes only 4 x 10. Only 98 different colors of DMC in here and 3 hand-dyes, it's pretty amazing.

The chart is intense -- like the Heaven and Earth patterns -- and they do take patience and concentration to work -- two attributes that others have more of than me! Just gorgeous!





All Dressed Up for Winter

Blackberry Lane's Marie Driskill has a companion design to her new Jolly Olde St Nick! Introducing a festive snowman with quite the scarf and hat set!!!

Presented in a chart -- just like Nick, he is stitched on the same fabric with loads of DMC flosses. Everything is over two threads except his little cardinal friend, and since that is small, it's not too much of a challenge to work up.

Marie has a great design sense and her shading is always amazing... hard to believe there are that many different floss colors to use! Anyway, Mr Dressed Up is cute... and finished approx 3 x 5 -- and will be STUNNING on your tree, or framed!





Jolly Olde St Nick


This little guy is certainly cute! He measures a mere 2 x 6 -- 36 x 95 stitches on 32ct. His hair can be stitched, but Marie shows you how to couch on FEATHERS instead to make it look more fluffy and real!

Worked with DMC floss, YOU make his glasses out of DMC Gold Memory thread -- a thread coated twistable wire -- and simply tack them onto his face! Very creative, presented as a chart.


Home for the Winter


This mixes the seasons in my mind... but WHO SAYS *patriotic* has to stay in the summertime anyway???! The chickadees -- which are stitched over one thread -- are Home for Their Holidays!! Neat birdhouse, this is stitched on Picture This Plus's Storm linen, which has a lovely bluish-gray mange to it.

Definitely a wintery-stormy sky -- the snow is just starting to fall, so it's a good thing everyone has made it home! Worked in various hand-dyeds the stitch count is only 52 x 71, so this finishes approx 3 x 4-1/2 -- not too large for an ornament.


Moonlight Haunting


Blackberry Lane's Marie Driskill has designed the most delightfully colorful Halloween-y night scene! Presented as a chart, it is stitched on Picture This Plus' 32ct Mirage Linen with 15 different hand-dyed shades of flosses. Finishing only 4 x 5-ish, (we're cutting 9 x 9 in size) there is a little toad down there in the left-hand bottom corner that she says you could stitch as an individual fob as well.

The giant moon has that wonderful smiling face, the Jack looks great too, not to mention all the circling bats -- and everything is set against that wonderfully dark, moving sky color! It'll finish small enough for a pin cushion but you can make your pillow larger with the fabric strips and cool trims in the cover model pic.


Sweet Treats for Santa


Another charming Blackberry Lane design, this is a collection of 8 designs that all finish LESS THAN two inches in size. (stitch count for each is only 28 x 28.) Worked on Picture This Plus' 32ct Gingerbread Linen, each is stitched with DMC floss -- over two. You can finish them into small ornaments, pin cushions, or mount them in the little fluted metal tart tins -- still for cushions or ornaments! The cover pic on the chart shows them strung together as a garland as well.

Peppermints (2 of them -- they are my favorites!), Santa and Mrs Claus, Christmas Puddings and Popcorn, it's a delightful set of ornaments (and none of them will take you long to stitch!) Presented in a chart, fabric (get enough pieces) and tins (sets of 8) separately.


When Cardinals Appear


Marie Driskill of Blackberry Lane has a new wintery piece -- a fat cardinal perched atop snowy pine boughs. Worked on Picture This Plus 32ct Storm Linen -- a pretty deep grayed blue -- you'll be stitching over one and two threads, adding the border or not! (The cardinal is charted over two, the two different border options are charted over one.)

A few French Knots and glass seed beads are featured in here, some of the pine needles are tiny straight stitches as well. Coded for regular DMC floss, there are bits of opalescent blending filament in the snow for a bit of extra glisten. Presented as a chart, this is a lovely, serene, elegant piece!





Freedom Tree


Marie Driskill has three new things -- all Patriotic in theme -- so click the pic to take you to her inside page to see the others! Freedom Tree is stunning. It is a companion to her Christmas and Halloween trees... they are just amazing little works of stitched art! Presented as a chart, the entire thing is only 3 x 5 on 32ct. The tree branches themselves are worked over two threads, but all the decorations on the tree are over one thread and SUPER, SUPER detailed.

Solders and drums and flags -- all of them are like 5 x 6 stitches in regular size, but because they are charted for one thread... they are really twice that size. A cannon, the Liberty Bell, George is on here, fireworks , an eagle... we get everything!!! 29 Shades of DMC, and either a beaded garland (Mill Hill 40479, 40020 and 42043 Petite seed beads) or cross stitches... I think I see a pair of ANTS down at the bottom holding a flag that is 1 x 1-1/2 stitches(!)


Christmas Memories


Blackberry Lane has a lovely new pair of Christmas Tree designs -- kind of a feather tree idea -- featuring branches filled with antique Christmas toys and trinkets. Two different designs -- both feature the trees cross stitched over two threads with long stitches to mimic the pine needles. THEN, the ornaments are all stitched over one thread. Absolutely incredible design detail -- Marie Driskell excels at this sort of thing! -- you won't believe how beautiful all the little toys are! Snowmen, angels, dolls, sheep, a nutcracker, caboose, gingerbread man, Santa a horn, just a million little things!

The smaller version is worked on 32ct lambswool and measures 43 x 67 stitches -- 2-1/2 x 4-ish. The larger tree is done on the 32ct natural linen with the white spots painted on it. It's a little more challenging because of the paint kind of clogging the fabric holes (but the finished effect is SO COOL) That one measures 52 x 69 and finishes approx 3 x 5. Honestly, this is a CHARMING set of designs!!!!! Get it for the Stash!... and maybe stitch JUST the bitty ornaments that are only 10 threads high!!!!!


Hollow's Eve Trees and Sir Scissor Hollow
Hollow's Eve's Trees -- Wow, this is a pincushion tree, ornament, and/or scissor fob! Offered as a chart, it's similar to her new Christmas feather tree., I can tell there is over one and over two stitching.
Sir Scissors Hollow -- He's an addition to Marie's Fright Night series which includes Baron Von Bat and Rest Ye Pins. So darn cute, it is pictured with a 4-inch sized embroidery scissor.
Let it Snow


Oh Wow... Marie Driskell has designed the MOST CHARMING little snowman!!!!! He is just the happiest little guy! Stitched on yummy hand-dyed fabric -- on 32ct, he measures 65 x 65 stitches -- so 4 x 4. Charted for DMC floss, he also uses blending filaments in an ice blue and opalescent for the wind, his body, and the words, along with glass beads dotting the snowflakes. You'll need the JABCO clay nose... and maybe the white ball fringe (Big box stores -- our mini-balls are all hand-dyed and not pure white.) and snowflake button for finishing???

I just love everything about this piece that is presented as a chart. We have GORGEOUS Crossed Wing hand-dyed linen in stock NOW... will have to wait for the Picture This Plus Stellar this calls for. (The filament, braid, bead and button dropdown lists no price... because there are too many variables with thread options. All that will run approx $12. The Lady Dot SNOW Mini-ball fringe looks fabulous on this.
Fabric? Do you want 28 or 32? Do you want it now, or do you want to wait!) HELP with thoughts in the comments box of your order!!! :)


Frosty Weather


Blackberry Lane has sent a charming snowman/Christmas design stitched on the 32ct Belfast linen that is a Twilight blue with white dot decoration. Coded for 22 shades of DMC floss, this finishes approx 4 x 4 on the 32ct linen.

You really can't see from the pic, but there are rabbits and squirrels that are stitched over one thread, as well as the bird feeder and the 5 snowflakes that are tucked in the background. Quite a busy little piece, this is offered as a chart.






Teddy Express Christmas - Toys in the Attic


Joining her Sock Monkey, Rocking Horse and Sheep Pull Toy antiques, here is a brown teddy in his own little wagon! Offered in chart format, you can stitch JUST the little toy animal, or surround him by the polka dotted border and alphabet blocks that spell Merry Christmas beneath him.

Exquisite color shading, Teddy is worked in DMC floss and finishes a mere 55 x 45-ish stitches. With the border, he'll finish approx 3 x 3 over one on 28ct!


Toys in the Attic -- A trio of ornaments


Oh my gosh, these designs are so old-fashioned and charming!!! Marie Driskell's over-one design detail is apparent in this trio of small designs -- but these are MUCH, MUCH easier to stitch than some of her previous pieces. Worked on 28ct linen, each finishes approx 3 x 3... but much smaller if you leave off the Merry Christmas greetings on the bottom.
Sock Monkey by himself is only 40 x 50-ish...
Giddy-Up Horsey is 70 x 43... and
Baa Baa is only 53 x 42 without his borders.
Each of the three are beautifully charted and call for DMC floss. The colors are old and faded... and the designs are just precious! Offered as charts... these are FINISHABLE!


Frosty Blue & Misty Blue


A pair if frosty friends.. these are both stitched over one thread on 28ct white Lugana with silver metallic highlights. Another alternative fabric would be white Cashel with opalescent highlights. Worked with 19 different shades of DMC floss and some Rainbow Gallery White Wisper thread, they each finish approx 2-5/8 inches in size. Marie has stuffed them and then stitched a beaded edge around them with Mill Hill petite (42010 and 42017) and Magnifica (2 each of 10113 and 10049) beads -- WOW -- that looks so elegant on these!

Really not so bad stitching-wise... they just look that way because they are so small, delicate and beautifully shaded. Offered as charts, Frosty Blue -- the Boy -- was originally published in the 2010 Issue of Just Cross Stitch Magazine's Annual Halloween Issue. Misty Blue is the girl, and she is new!


Tools of the Trade Part V


This is Marie's embroidery scissor case that goes with her set of stitched Power Tools!Offered in a chart, and 5th in the set, everythiing is stitched on 28ct Vintage Country Mocha Linen in either DMC 815 floss or classic Colorwork's Tulip Silk. (Of course, you can make your set in any colorway you wish!!!) Precious little motifs on here, it's just delightful. The folded case holds a 3-1/2 inch pair of embroidery scissors.





Tools of the Trade - Part IV


A little sewing can!! Stitch the redwork around the sides and make a cushion for the top -- the artwork on here matches everything on the smaller pieces in this set!

The 3 x 3 clear paint can source is listed on the chart... part IV is offered in chart form, just like the other three parts!





Tools of the Trade - Parts 1, 2 and 3


A little sewing can!! Stitch the redwork around the sides and make a cushion for the top -- the artwork on here matches everything on the smaller pieces in this set!

The 3 x 3 clear paint can source is listed on the chart... part IV is offered in chart form, just like the other three parts!


Witches Night Out
Blackberry Lane has introduced a stunning sillouette of witches playing in their lairs... presumably in anticipation of Halloween!

The main design features a big tree -- branches flowing everywhere and surrounding each of the design vinettes. It measures 136 x 465 stitches! (That's 9 x 29 on 32ct!!) Stitched entirely in black, as you can see, lots of different fabric colors look good with this.

Every little section is enchanting -- there is so much going on in each. All of the smaller projects are take-outs from the main design -- Marie has re-charted bottom edges so they can stand alone. VERY imaginative... quite a stunning piece... this is offered as a chart.


Goblins on Parade
Oh My Gosh... check out this miniature 3 x 3 x 3 swing handle Paint Can Ort Bucket!!!!! This is a cool design... Marie offers a bunch of different finishing options for her miniature Goblins on Parade. Stitched in black... choose some fun linen or aida colors for any of your projects -- we have TONS! The bell pull features a swirling path with the creatures and a graveyard, and spiders and a zombie, and rats and cats and bats! You can split them all up and stick them on needle cases and pin cushions... or you can stitch them all in a straight line.

LOOK at the dinky little can! It is a clear plastic miniature paint can. The needlework inside is done over one on 28ct. Can you see my pic of the inside? Marie has lining in there -- see the scissors and all her orts? Check out the lid. There is a spider web stitched and stuffed on there, she used magnets to hold it there, but since the little can is only $4.50... I'd put the cushion top on there with a dab of glue.

So creative, the silouettes are amazing in detail -- you'll love this! Offered as a chart, paint cans are separate, your fabric options vary! I can get bigger paint cans... so if over-one with black thread on 28ct isn't your favorite thing... we can adjust and go larger... this will require a phone call to discuss specifics!


Mr Baron Von Bat - The Needle Minder
Blackberry Lane's Marie Driskill is amazing! Check out this Over-The-Top scary and realistic stitched BAT!!!!! *Mr Von Bat takes his job seriously and tries to be intimidating with his fangs, but he's too cute of a fellow to take seriously. He has a baby bat button (JABCO's little black bat) as a bowtie with two dickeys made with (Week's) overdyed wool where he guards his needles well.*

Stitched on 36ct linen, (fabric options vary for this) with DMC flosses (only 25 colors!) he measures 8 inches from wing-tip to tip and 3-1/2 inches high. He is stitched on BOTH sides -- so you see his back on the outside, and his tummy on the inside. You'll need to get a couple of those super-stong magnets to put inside his wing-tips to help then close. (A pair will do, but you might want more.)

Offered as the chart, the instructions to assemble are all here. You'll need the bat bowtie button, those dinky magnets and bit of Weeks wool to finish. I have never seen such a cute needle case like this... the design is incredibly detailed, such a different and unique subject matter .. this little guy is a MUST HAVE!!!!!!!!! Models are a possibility for us in St Charles and Houston!!!


Rest Ye Pins -- The Pin Keeper


Well, isn't this just the cutest stitched tombstone to hold some whimsical pins??? The poem included with the chart warns you to beware of the skeleton hiding behind the stone... he's waiting for YOU to come by! Choose a mangy hand-dyed or stony-colored linen (we have so many choices in several counts) in a 36 count to make this approx 4 x 4 in size.

The chart includes assembly instructions for this over-the-top-cute little thing! You'll notice JABCO's Monster Mash Pins garnishing the top, and a dangling purple spider on there, too. the whole thing is a really neat concept, with cute finishing. Offered as the chart with Monster Mash Pins separate.


The Nativity Story


Blackberry Lane designs has a set of lovely table dressings -- a Runner or Topper - each offered separately in chart format. The 8 x 29 (stitched size on 28ct, before any border) Runner features the Nativity story in a long row... the Topper 33 x 33 (on 28ct includes a 5-inch border), is basically the same design, stitched into a square.


Quite classic, each design is monochromatic -- pick a favorite hand-dyed to match your decor -- and features the Star of Bethlehem in gold metallic. Each side of the Topper tells the story of Joseph taking Mary to Bethlehem, Shepherds gazing at the Star, the Shepherd's visit, and finally the 3 Wise Men.

The runner is charted minus Joseph's trip with Mary. Really nice pieces, very classic. I don't know which version to tell you to stitch -- they're both elegant!