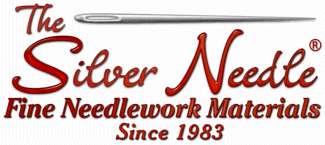 6068 S. Sheridan Rd. Tulsa, Ok. 74145 (918) 493-1136 (888) 543-7004
E-Mail
These are super fun new designs that we are excited about!
Contemporary flavor, and fun subjects, they are worked on any fabric you like best, and coded for DMC floss.



Team Work, Show Your Teeth and More Hearts


A trio of cheerful designs for your stitching fingers! By Susanammcrossstitch (which is a mouthfull to say!). All are offered as charts and coded for DMC floss.
Team Work Makes the Dream Work - Measures a generous 174 x 179 - this finishes a whopping 10 x 10 on 18ct. Lots and lots of solid fill-in stitching on these, the colors are fun and fresh. And what a true message it delivers!
Show Your Teeth measures 74 x 150 - so finishes approx 5 x 8 on 18/36ct. Super cute and very eye-catching... there is A LOT of solid stitching on this... kind of fun to do the outlines and design details and then just fill in the backgrounds with no char needed!
More Hearts measures 148W x 134H and is stitches on 18 count.
Skeleton - Isn't this little guy fun for Halloween? He's pretty big - 87 x 102 - so about 5-1/2 x 6-1/2 on 32ct - and he's solid stitching. BUT pretty darn cute! Coded for DMC.
Cute Pumpkin and Cross Stitch Quilt #19 (Flag)


We're crossing the holidays with these two new releases by Susanamm Cross Stitch. Really cute pieces both are presented as charts. Susana's charts can be a little challenging as the flag, for instance, is full coverage, and her symbols are quite similar side by side in the chart. Coded for DMC.
Cute Pumpkin is stitched on Weeks Havana hand-dyed linen - a khaki color of Aida will work too. Coded for 33 shades of DMC, it measures 132 stitches square - so it finishes about 8 inches square on 32ct. It looks like fun to stitch... you might just need to blow up the chart a little to tell the symbols apart... but there is lots of solid, so it's easy to work on!
Cross Stitch Quilt #19 - Measures 126 x 168. Doesn't matter what you work on, as it's all covered - so chose something you LIKE to work on! The stylized flag has a checkerboard background that you really can't see in the pic - it looks REALLY cool when you can look at the pic closely though. Quite an eyecatching piece, it uses 10 different shades of DMC red, blue and ecru. This will finish approx 8 x 11 on 32ct.
Two Fun New Designs

by Susanamm Cross Stitch
Love USA - This is solid stitching - measuring 197 x 104 in stitch count. That will make it 14 x 7-1/2 on 14/28ct... so you'll be crossing for a while with this one! Worked with DMC's of 221, 225, 311, 712 and 3722, it's really cool because the Star Spangled Banner words are stitched across all the stripes. I think it'd be easiest to stitch the stars first, then that background. Then the verse, and then the stripes - that way you are mostly filling in rather than counting so much. Really a striking piece - choose any fabric YOU like to work on, since this is full coverage.
Children's Books #2 - Kind of a funny title, but just concentrate on all these darling little creatures that belong in children's story books. Stitch the whole medley - it's about 200 x 180 - so pretty big - or just your favorite little characters. They suggest these for bibs, but little stand-up blocks might be cute too. We laugh at all the baby bibs we used to stitch 35 years ago... all that time we spent on something that would get stained the first time the baby wore it. Lets go with those nursery blocks instead! Or... a cute bedroom door name sign!



Cute Variety by Susanamm Cross Stitch!


All of her designs are funky... and generally heavy on the stitch count. They are big, lots of solid worked areas, and they'll use tons of your DMC! Sometimes the charts are intense because they are so much solid stitching... but a lot of needleworkers really like that!
Infant Book #1 - This is a set of colorful motifs to arrange however you want. The animals along the top row are larger - 100 x 75-ish in stitch count - so they would make darling single pillows or bedroom door signs - something like that. The little birds and mushrooms are 40 and 60 in count... just cute and fun.
Happy is just that! Focus on the chickens - not the blue background - you can stitch these on any color fabric you want! They are 161 x 172.
The Skull - Oh my gosh, I think this is so cute! But, but, I think I would skip the pumpkin because the chart makes my head spin! (It's solid and about 80 x 80 stitches of 349, 606, 646, 720, 817 and 922 - it's a whopper!) The skeleton is so darn cute, and the whole thing uses only 9 shades of DMC... just super fun... so get out that floss!
Fancy
How about a new shoe for the Holidays? This is colorful selection... it finishes about 8 inches square on 28ct... and uses 30 different DMC flosses.
Fall #2
This is a very bright medley of squash and pumpkins... it finishes about 7 x 8 on 28ct. There are a lot of 'busy' symbols in the chart... a little hard to read, but none of the elements are really too large, so you can get through it OK! Bright, clean, contemporary and smart!
Los Charros features three friends - a kitty, mouse and birds - all wearing their delightfully colorful headgear! Stitch count is 144 x 149, so on 14/28ct it finishes about 10 x 10.
Trick or Treat is my favorite. It is solid stitching - unless you find that gorgeous shade of turquoise for your fabric. So, the chart is a little intense... a lot of solid symbols. Stitch count is 110 x 148 - 8 x 10-ish on 28ct. I love the colors, I love the cat, everything about it is snappy!
Coffee Time is smart, clean and fresh! What a pretty piece to hang in a contemporary kitchen... it measures 145 x 169. Choose a fabric to match the background color of the wall behind the flowers - then skip all that stitching. Otherwise, it is completely solid stitching - which sometimes, is really fun to do (but sometimes not, so be aware!) Peaceful colors of grays and light browns with a splash of mossy green and lavender tossed in.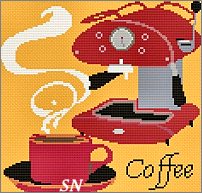 Love Coffee


This measures 118 x 114 - so it could be 6 x 7 on 18/36 ct.

Choose an amber-colored background so you can skip all the background stitching - or even choose a different color - the retro red, along with the black and gray will look stunning on lots of different background colors.


Buildings and Colors


Isn't this one fun? It's a whole busy city full of funky apartment windows... colors everywhere... and neat shapes! I want to live in one of those! This is another solid design - be aware the chart is pretty intense, just a lot going on.

Coded for 36 different DMC flosses, it measures a generous 140 x 160 - so 10 x 11 on 14ct. It's only 22,400 stitches though! (Maybe you could just get by with only the top half... or one of the top corners if you aren't ready for 22,400 stitches!


The Quilting Farm


Same artsy flavor as the Buildings and Colors, this one could use a chestnut-colored background to save you thousands of stitches!

I love the trees, and especially the little 'penny rug circles' in the grass!


Ewe and Friends


Gosh, this is a cool design! The little birds are just the cutest, but that sheep's coat is the best! Find a pretty green material to stitch on, this measures 137 square - so about 10 x 10 on 14/28ct.

The chart gets a little hard to read when you get into that sheep's coat... you'll need a little patience with that, but the overall effect is just awesome!