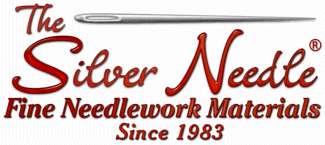 Wooden Accessories, Gadgets and Frames
6068 S. Sheridan Rd. Tulsa, Ok. 74145 (918) 493-1136 (888) 543-7004
E-Mail



Fun Ouija Thread Organizers!


Something cute for your stitching threads... use this 3-3/4 x almost 6-inch mini 'gameboard' to hold your project threads. The coordinating needle minder - the planchette - is what we used to move around the board to tell our future and fortune! It features two magnets so you can attach it to fabric if you need to.

Just a fun blast from the past! Want to know more about the history of Ouija Boards?


Lap Stitch Dutch Treat Frames


We have the coolest lap/table frames, very easy to use and gentle on the tabletop or the clothes on your lap! Offered in three different sizes, you have lots of options. Basically, they consist of two rounded end pieces, 4 round knobs, and sets of dowel rods with fabric belting on them -- ready for you to attach your stitching fabric. (There IS enough room on there to get that belting strip under the presser foot of a sewing machine.) See how it stands? There is nothing encumbering your hands on the back side. Great ergonomic shape, everything about these is smooth and very heavy-duty.
The Lap Stitch Dutch Treat MINI-MINI is approx 6 inches high, and 11 inches wide. It features one set of 7-inch dowels, so your stitching area is approx 4 inches long x 6-1/2 inches across. Perfect for smaller things... or skinny band samplers... you can scroll your finished stitching up around the top or bottom dowels.
Next is The Lap Stitch Dutch Treat MINI (***NOT to be confused with the MINI MINI!) Just a bit larger, you get two dowel sets 9 and 12 inch, and since the sides are a little larger (they stand approx 7 inches high) your stitching area is approx 7 inches long, and either 9 or 12 inches wide -- depending on which dowels you use.
Wonderful frames, very curvy and smooth!




The Lap Stitch Doodler Frames


These are the same idea... but see how the side bars curve opposite those on the other frames? Some people like them one way, some like them the other!!!
The Lap Stitch LITTLE Doodler stands about 7 inches high and comes with 9 and 12 inch dowels, one set of knobs and one set of oak sidebars.
The Lap Stitch Doodler Frame is about 9 or 10 inches high and comes with 12, 15, and 18-inch dowels, along with the one set of knobs and one set of sidebars.
Handy 3-Inch Corner Gauges


Something fun to stuff into your stitching tote, these handy wooden boards measure three inches in size. Align it with the corner of your fabric, and it will show you your starting place three inches in and three inches down.

We chose some vintage dry goods shop artwork for ours... I like the color variation from the lazer etching on the wood. Makes a great stitcher-friend gift!


The Bench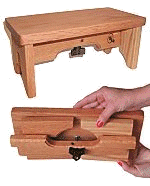 From K's Creations, this is a cool, collapsible foot stool that's just the right size for us stitchers! Raising your feet a little off the floor can take so much stress off your lower back... you'll be amazed! Easy to fold up and tuck into your tote bag, this smoothly finished oak stool measures just 5 1/2 x 11, and 5" high.

The legs fold up under it, and a fancy bolt fastens them in place, making a bundle that is only 3" thick! It takes 2 seconds to unfold... and is just the right size to tuck under your feet while you're stitching! Perfect for stitching weekends, traveling, whatever!


Jeannette's Tray Tower!
WELL... if you are into Jeannette's little tray designs - YOU NEED THIS REVOLVING TRAY CABINET! It is the coolest little tower! Handmade by Cabranmary Woods, it measures approx 7 x 7. It features a rotating base, a topper area to display one of your finished tray sets, and FOUR more compartments to store 4 of your other finished little creations... plus another one on top!

You can alternate showing off your stitchery by pulling out a different tray whenever you feel like it! Love it! So far, we have Pumpkin Patch and Bird Boxes. Journey and Mermaid make 4. Your tower has room to grow - because it has space for one more tray!
Priced as tower only... trays not included.

Here are the little tray options!

Tray for Bird, Pumpkin and Journey Patterns have one large opening and three small ones a 1-3 Configuration. Brown finish.
Tray for Christmas, and Stitch patterns have one large opening, another one a skinny and long and then 2 bitty openings, a 1-1-2 configuration. Brown finish.
Tray for Mermaid Pattern is the 1-3 configuration in a gray-nautical finish.


Miniature Scissor Blocks


OHhhh... we have the cutest miniature scissor blocks! Made from assorted woods, these little 1-1/2 x 2 x 2-3/4 chunks feature a slanted top, complete with ruler slot. Along with that slot, notice the larger hole near the top? That holds a pair of 3-1/2 to 4-inch embroidery scissors. Then, notice the two smaller holes? They store needles. Each of them as a tiny magnet in their bottom -- just enough to make your needles *cling* so if the block get knocked over, no needles errantly spill to the floor.

Not big, not heavy, just functional and cute! The slit can hold a small pattern, or one of our rulers or paddles that double as thread organizers. If you order multiples, we'll try to mix up your woods, but try to match ruler and organizer woods to blocks. All of these are just the coolest things!


Miniature Vintage Pincushion


from Sudberry House
I've been seeing this little guy for some time, and finally ordered some for the shop. What a pleasant surprise they are! Sudberry House delivers a 2-3/4 x 4 x 1-3/4 inch box (it kind of reminds us of a tiny manger) with a design area on top of 2-1/4 x 3-1/2! Almost an inch deep inside, you can finish the top -- and still have a tiny storage area underneath the pin cushion lid.

I don't know what we'll put into ours yet -- probably a small Blackbird design... doesn't matter... this is just the cutest little thing! Look around for something small to stitch, the box/tray/(manger!) comes with the padded piece to mount needlework.