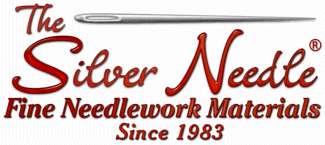 6068 S. Sheridan Rd. Tulsa, Ok. 74145 (918) 493-1136 (888) 543-7004
E-Mail
This is a collection of witty and whimsical designs that will bring a smile to your face! Full of fun, original sayings, Waxing Moon does smaller designs that are easily finishable and fun to display with the seasons. They feature lots of familiar motifs with fun and different twists! Usually available in chart packs or leaflets... enjoy looking!



The Littles for Every Season... and Now Holidays!


Coded for Weeks hand-dyed flosses or DMC, each measures only 46 x 46. On 14ct that's 3 x 3... on 40 over one - they're an inch! Choose a fabric you like, or coordinating shades for the seasons. The animals are all different, and several together would make a colorful bowl of personality. I think the sawtooth borders add a lot to the designs, too.
AND NOW! The latest of this series, Christmas Littles and Valentine Littles have arrived!
Float your mouse over each image to see its name... then click them to see larger views.


Patriotic And Autumn Barn Trios
Patriotic Barn Trio - Waxing Moon has another trio collection of smaller designs - this time we have barns for the summer. Finishing about 4 x 5 on 30ct... they're pretty cute when you stitch them all and finish into a 3 or 4 sided triangle or cube stand-up. Takes less display space, and you still get to enjoy all of them at the same time.
Because of the saw tooth edging, they look like postage stamps... and would be perfect to work up on 14ct perforated paper... but even better - the NEW 18ct Paper!
Scroll down to see more trios.
Autumn Barn Trio - This companions several of her other Trio designs... all the same size, all with the saw tooth border, they make nice brick stand-ups and plant pokes - if you do them on perf paper.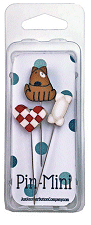 Dog-Cat Owner's Welcome


These tell you who the Boss-of-the-Household is! Cute finished as flat hangings so they can be displayed right inside the door somewhere, each finishes approx 6 x 6 on 14/28ct.
All Guests Must Be Approved by the Cats or Dogs... singular or plural... all families are covered! Cats are one chart, dogs the other.

Coded for Weeks Dye Works hand-dyed flosses or regular DMCs, you have some pin options for these. The dog chart shows JABCO brand dog bone buttons and Cats has two red hearts for the kitty collars - they are available separately. ADDITIONALLY, Just Another Button Company has two new sets of pins for cats and dogs. Look to those as well.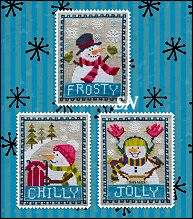 Cute Trios of Designs


Little 60-ish x 80-ish pieces... each set comes as it's own chart... coded for Weeks hand-dyed or DMC solid floss. The zig-zag borders look like Sawtooth edging - you could stitch those in Satin Stitch.

Finish them into 3 or 4-sided stand-ups, or a small three-fold standing thing. The set keeps growing... rest of the months to come!





Christmas Pounds


*When what to my wondering eyes did appear, but 10 extra pounds on my thighs and my rear.*(Ho Ho Ho... Merry Christmas!!!)

Waxing Moon has sent this fun design... it finishes about 7 x 10 on 14/28ct, and is stitched with DMC floss or Gentle Art Sampler Threads. Stitch it for your work-out club or the lunch room at work!