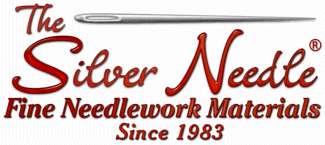 6068 S. Sheridan Rd. Tulsa, Ok. 74145 (918) 493-1136 (888) 543-7004
E-Mail



A Joyful Hollyday


Here's a darling set of 2-1/2 inch ornaments by Val. Worked on 18ct perforated paper they are done with your bits of bright colors of DMC flosses. Love that pop of the lime green!

The kit includes both charts, the 18ct paper, red and black backing felts, bell, button, twisted cord and black hanger thread. These are so fast to work up, and they take NOTHING to finish... but gosh, they look great and will make you smile!





Sunshine Jack Pin Cushion


Here's a limited edition happy little fellow for the season! Val Danish presented here this weekend... and little Jack was a surprise bonus for the class ladies. We have a few kits left over to share. Grab a needle, a little black floss and some glue.

The complete kit for 4-inch tall Jack includes orange wool for his pumpkin head, 3 wool sunflower pieces, green and brown felted wool for his leaves and nose, orange polka dot ribbon, 3 hand-made Just Another Button Company clay buttons - his eyes and flower swirl, 2 black painted spools (one for his stand and the other for his stem) and a black topper button.

You'll see a trio of decorated clay pins poking from him... we have several different sets of those, and they are optional and offered separately to dress up your little guy! Any of these look cute on this... we can choose for you if you want!





If Witches Came True, Bite Me and Halloween Pumpkin Poke


Three more cute things by Val...
If Witches Came True is a small chart stitched with hand-dyed flosses on any darker blue or mangy color! (White or cream are simply too perky!) Finishes just 5 x 7-ish on 14ct...
Bite Me is one of Val's small perforated paper kits. You get the chart, paper, purple and black backing felts, and the googly eyes and star buttons.All you need are the bits of DMC from your stash - this finishes about 1-1/2 x 3 inches and is just the cutest thing!
Halloween Pumpkin Poke - This is a small 3 x 3 sign - just like Val's other new Pokes. Kit includes the chart, the 18ct perforated paper, felts and buttons, along with the painted stick (a wooden skewer.) Simply stitch, poke the stick between the stitching and backing felt, and find a cute 'empty' pumpkin that needs a poke, and you're all set! These make nice magnets too - if you don't want to poke a pumpkin.
I'll Keep You Warm


Val has new wintery designs, bright in color and quick to stitch. Each is stitched on 14ct perforated paper with DMC from your stash. The kits come with the chart, paper, back mounting felt pieces.

I'll keep You Warm is just a cute sunny thing to perch on your windowsill, or attach to a wooden block. It finishes about 3 x 5. Get creative with your finishing... these are too cute!





New for Fall

from Val's Stuff
Here are a few fun things to bring us out of the heat and into the cool pumpkin season!

Fall is Best, Fraidy Cat and Turkey Time
These are mini pumpkin poke kits! Small 3 x 3 designs stitched on the newer 18ct perforated paper with DMC, stitch them in jiff. Back them with the felt cuts, adding the black poke stick, and you're finished. No sewing - just stitching!
Val's little kits contain the design, paper, felts and stick. You supply the bits of DMC from your stash. Poke these into plants, craft pumpkins, real pumpkins, a bowl of candy, a cake, even your pencil cup at work! Nice bright colors to add a splash of FALL.
Fall is Best of All and I Just Can't Wait for Halloween Night!
Two new charts to stitch on some wild Halloween-y colored fabric you might have in your stash. Cute verses, fun colors, Val doesn't call for any specific Just Another Button Company Buttons, but there are a million pumpkins, leaves, spiders, birds, and bats that would look really good on these.
Presented as leaflets, coded for Weeks and DMC, these linens are by Weeks, but there are so many fun colors out there now, you have lots of options! Both finish approx 5 x 7 on 28ct... or smaller on smaller counts.



Bee Happy, Happy Bunny Day and Spring


Three cute Spring-y Things to makle you smile from Val's Stuff!
Bee Happy is a tiny wearable pin or magnet design. Stitched on 18ct perforated paper, it measures only 1-1/2 inches square in size. You get the chart, 18ct white paper, the pink and black felts, a pink heart button and a pin back. You need BITS of your DMC floss, just a sweet little piece.
Happy Bunny Day - Another small kit, again on the new 18ct white perforated paper, this one includes the chart, paper, yellow and pink felts, a pink JABCO clay button, and a bit of white pearl cotton for a hanger. You add bits of DMC from your stash, this finishes approx 2-1/2 x 3-1/2 in size.
Spring - This one comes just as a chart. It is stitched on Weeks 32ct Banana Popsicle hand-dyed linen - or another bright yellow fabric. (Val suggests backstitching the bunny with Peoria Purple floss if you cannot find a bright enough yellow background.) Weeks flosses along with DMC are used, this finishes approx 3 x 5 on 16/32ct.
Waiting for Santa and Ho Ho Ho Happy Holidays


Val's stuff has two new ornament kits...
Waiting For Santa is done on the smaller 18ct white perforated paper (included) using DMC from your stash. Measuring just about 2-1/2 x 3, it's just a plain little wintery scene - actually not Christmas at all! Package contains the chart, paper, felts and tiny black hanging cord.
Ho Ho Ho Happy Holidays - This is a pair of 2 x 3 pieces - just as cute as can be. Floss from your stash, you get the 14ct brown perf paper, backing felts, plaid ribbon, bell, star and bird embellishments. A fun Stitch!



3 Little Boos Kit


Val's Stuff has a trio of small 1 and1-1/2 inch designs that are worked on the new 18ct perforated paper vs 14ct. They remind me of big postage stamps.
Cute as can be, the kit includes the paper, backing felt, chart and pin backers. Use bits of DMC from your stash... these are bright and fun - they'd make cute magnets too.





Limited Editon Halloween and Snowman Favorites


Val's Stuff has been busy designing Halloween and Wintery things... giving us plenty of stitching time before we're ready for scares and snow again!
Halloween Favorites Book II Limited - A set of 6 paper ornaments - all worked on 14ct perf paper. You'll need bits of floss from your stash, but all the stitching papers, the orange, purple, green and black backing felts, eye buttons, bead teeth, and little ghost and star buttons are included. Val's individual ornament kits usually run about $14 or $16 each... but this special collection has SIX for $50!
Val's Favorite Snowmen - Bright red, yellow, green, blue, black and white... these are all different but they go together! The limited edition kit contains the 14ct perf paper, the black backing felt and a small smattering of buttons. Lots you could add to these - a little opalescent in the snowmen and flakes in the sky. Cute for January decorations - because 4 of these at NOT Christmas at all!



Kitty's Four Seasons Pins on Paper


A cute set of 4 tiny 1-1/2 inch cats - with their seasonal backgrounds.

Val has charted the cats for black or gray... the chart comes with the bits of 14ct perforated paper and backing felts... you supply the bits of floss from your stash. Perfect as small magnets!





Seasonal Plant Pokes - Val's decor for 'your bloomin' plants!


Hot fun in the summertime rounds out this set of 4 designs - all about 4 inches square - that come with a skinny wooden skewer to poke into your plant's soil. The newest is Summertime... Please Grow, It's Fall Y'all, and Snowtime are the companions.

Each comes as a kit with 14ct perforated paper, and backing felts - you supply bits of floss from your stash. Each of the designs also comes with its brightly colored felt pre-cut flowers and a bright Just Another Button Company clay button embellishment... and that skewer plant poke stick!





Fright Night


Val's Stuff has a new ornament/magnet design... a scary little purple bat flying through the night sky RIGHT TO YOU!

Like the rest of her cute designs, this is done of 14ct perforated paper with bits of floss from your stash. She's provided the stitching paper and the backing felts, along with the two bitty green eye buttons. Cute and Quick!





Spring is Springing


A new arrival by Val's stuff... they hint at Spring, but after this last February weather... who knows?
Spring is Springing features a snowman who's going to melt soon. You don't actually stitch him - that's the background fabric... and the flower on there consists of tiny felt pieces... so actually, this goes pretty fast! Kit comes with the chart, 28ct Jobelan fabric, and pink felt pieces. You'll need bits of Week's hand-dyed floss from your stash - Chartreuse, Watermelon Punch, Envy and Pumpkin!


Not Even a Mouse-All Hearts Come Home and 1 + 1 Equals BOO
Not Even a Mouse-All Hearts Come Home
Two designs in here... paper, felts, eyes and flake included!
1 + 1 Equals BOO



Bunny Tails, Just a Few Flakes


It depends where in the world you are right now - you might be getting a little warm spring weather - or a couple of inches of snow! So... something for everyone by Val's Stuff! We also have 2 more Halloween designs that are new - so click the pic to visit them al on our inside pages! Val's kits all come with 14ct perforated paper, the backing felt and necessary embellishments shown on her designs. You supply regular DMC floss from your stash - nothing earth shattering color-wise, just basics... but she does have conversions to hand-dyeds if you'd rather use those.
Bunny Tails - So cute! Both designs are included. You're on brown paper - so the black background is stitched. The bunny tails are half-balls of felt - included - as well as the whisker thread. Each finishes about 3 x 3.
Just a Few Flakes - All three included in here, Brown paper, black backing felt, snowflake embellishments are included. 2 x 3 x 4-ish inches in size, kind of cute to perch on a windowsill!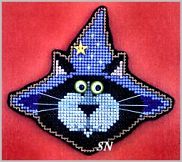 Abra CAT Dabra - Just a cute little kitty face, he finishes a little over 3 x 3. Package contains the 14ct paper, backing felt, clay button eyes, and the little star.
Kitten in my Mitten - Not really Halloween at all, the kitty head is actually a separate piece of the paper - all glued together when you are finished. About 4 x 6-ish.



It's Snowtime!


Val's Stuff has a pair of snowmen ornaments worked on 14ct perforated paper that can hang around after Christmas and stick around till your snow melts! Presented together in one pack... you get both charts, both pieces of perf paper and black felt backing.

You'll need some DMC from your stash. Both finish approx 4 x 4, and look great just perched on your kitchen windowsill - they have such bright colors in them!


U Don't Scare Me


Isn't he cute? He's about 4 inches tall - stitched on 14ct perforated paper. He's 'dressed' in a cloud of cheesecloth! The kit contains the chart, paper for stitching, black sparkle felt for finishing, clay eyes and the cheesecloth for his 'drapery.'

Stick a magnet on his back and set him on the fridge? Make him a pumpkin poke like the scarecrow? You'll need some black and white floss from your stash for the stitching.


Tis H'owl'oween


A fun chart that comes with clay button eyes, green leaf buttons, and felt pieces to make those leaves. I'm thinking though... if you have some rust or orange felt... you may want to toss some of that Fall color into your leaves!

You'll need flosses from your stash for this, can it can be stitched on just about any fabric you like.


Witching You a Happy Halloween


One of Val's cute paper ornament designs, our little witch features a slime-green wool ball (actually half a ball!) face, with a black felt hat and sticky-outey green toothpick nose! She finishes approx 3 x 4, is stitched on 14ct brown perforated paper with DMC or hand-dyed floss.

The little kit comes with the chart, paper, black glitter-felt backing, the hat wool, ball face, painted toothpick (if you mess up the first nose, you still have the other end of the toothpick as a backup!) as well as star buttons and a handmade frog button by Just Another Button Company. Get out your Purple Majesty, Chartreuse, Dahlia and Pumpkin Week flosses or DMC of 552, 907, 3607 and 721. Too Cute! Thanks Val, for our Exclusive Kit that celebrated our Needlework Galleria Show in September of 2019!





Cool Dude & The Just 4 Ewe Set


Val's stuff has 5 new ornament designs for all year long. Hers are colorful, bold little 3 x 3 or 4 x 4-ish square designs that she has worked on 14ct perforated paper. SUPER easy on your eyes, and actually very nice and quick to stitch on... the paper is easy to hold, holes are majorly easy to see, and virtually NO fussy finishing needed!
Cool Dude comes by himself - he's about 3-1/2 x 5, and is stitched with DMC floss from your stash. Pattern comes with the paper, burgundy backing felt, the holly button, and a bit of black cording for a hanger string.
Just 4 Ewe includes the other 4 designs pictured here. *Hop to It!*, *Just 4 Ewe*, *Jack's Back* and Jump for Joy* - you get all four of these 50 x 50-ish designs. All finish approx 4 inches on the 14ct perforated paper included in the package. Along with the black sparkly backing felt for finishing, you get the 16 buttons shown in each of the corners as well!! Super colorful and bright, these are coded for DMC and Weeks Dye Works hand-dyed flosses.



Halloween Hooters, But I Don't Want, Ghoul Friends


Val's Stuff has three new Halloween 'ornament' pieces - all stitched on 14ct perforated paper, they are easy to stitch and even easier to glue to the provided black sparkly backing felt when you are finished.

Cute for little stand-ups, fridge signs, magnets - anywhere you want a tiny but of Halloween humor, each finishes about 3 or 4 inches in size. Chart comes with the paper and felt, and usually buttons for the eyes, you'll need DMC from your stash.





Fill 'er Up!


What a cute ornament with the BEST advice for Santa on it! Val's Stuff has sent a mini-kit for this 2 x 4 piece that is stitched on perforated paper - so tedious finishing is NOT involved.

Stitch with bits of your DMC, then cut around the edge of your stitching, glue to black felt, garnish with the provided greenery, candy cane pipe cleaner chenille, jingle bell and striped ribbon. All that's left needed is Santa's attention. (You can do this on fabric as an alternative and actually make a mini stocking to stuff if you want.)

Kit contains the chart, paper, felt, greenery, bell, candy canes and ribbon. (I remember when we were little, Dad would pull into the gas station, roll down the window, and announce to the attendant to 'fill 'er up!' We'd always chime in *With Ethyl!*


Two Merry Moos


Merry Christmoos And a Happy Moo Year! Another darling set of ornaments by Val's Stuff... she's dedicated these to an old friend and mentor who loved cows!!!

Bright, fun colors of red, green, yellow, black and white, each finishes about 3-1/2 inches square. The kit contains the chart for both designs, 2 cuts of 14ct perforated paper, red backing felt (with a little sparkle on it!) You'll need the DMC flosses from your stash for the stitching.


Bats in My Belfry


Val's Stuff has a line of whimsical Spring, Halloween and Christmas ornaments -- all stitched on perforated paper. Bright colors, most of them have little googly eyes as the embellishments. Her newest is Bats in My Belfry -- it even has a little sparkly paper bat with baby-sized googly eyes!

Finishing about 3 x 4, stitched with your DMC or hand-dyeds, the stitching in these is super easy because of that stiff paper. When finished, stick on the sparkly black sticky-felt backing that is included, and you have a cute paper decoration to hang just about anywhere! *Bats* comes with the chart, paper, felt, little bat, buttons and some black floss.






Triple Treat!


This is a special release kit that contains clay, felt, charts, and perforated paper to make all three designs!

*Whoo's a Scaredy Cat?, A Little Spooked, and Just Hang' in Out!* are the three... all you add are the flosses.

These look cute hanging from a scraggly tree branch stuck in a bowl of candy!





Val's Book of Halloween


WOW... this is a set of EIGHT Halloween ornaments -- just like the others Val has published these last couple of seasons! (Individually, these would run $14 each -- and that's $112 -- but THIS SET is all together for $45!)

Included in this awesome limited edition kit are all 8 charts, 2 sheets of brown perforated paper, sparkly black backing felt for everything, and a button packet of eyeballs, mini buttons, a few bits of felts and some spotted ribbon -- all the garnishes on all the ornaments. Coded for DMC and a few hand-dyeds, you add the floss from your stash.


Under the Mistletoad and Have a Merry Christmouse!


Val's Stuff has the cutest collection of Christmas (and Halloween) paper ornaments... here are two from her Christmas collection that came in a few weeks ago that we missed putting on the website!

Presented as the charts with cuts of perforated paper, black sparkly felt, and clay googly eyes, they finish approx 2 x 3, and are super bright and cute!


More Ornaments from Val's Stuff


The latest pair of paper ornaments has arrived to go with Val's other cute designs. Presented as charts with the cut of 14ct brown perforated paper, black mounting felt and one or two eyes by JABCO... Jingle My Bells includes the bell as well.

ALL of these are fun, and the paper makes them super easy to stitch. You will need to supply the flosses from your stash.


Merry Christmas to Ewe & Baa Humbug!


Let us all take a minute in our extreme record-breaking heat weather right now to acknowledge that Winter and Christmas will indeed come this year. When it does... we'll be saying that it was here before we knew it! So... HERE is your warning! Christmas ornaments in July!

Val's Stuff continues her super-cute look with more stitched sheep on perforated paper. Bright-wintery colors of garnet, olive and golds, the packages come with the paper cut, the black felt backing and those hand-made clay eyes by JABCO. Lightweight pieces to hang on your tree... get 'em NOW while you have time to stitch them!!!


Whooo Gives a Hoot?


Val's Stuff has sent this darling design -- just a curious owl asking an age-old question! Two different versions on the theme, the one stitched on the deep purple fabric has the golden moon behind the owl, the other version is slightly smaller, worked on 14ct perforated paper and features clay button eye embellishments.

So along with both charts, you get the felt backing, perf paper and eyes for the ornament version, which matches all of Val's other Spooks of the Month and most of her other recent releases.


Spring Bunnies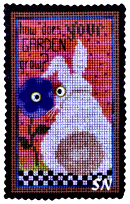 Here's a trio of darling rabbits -- Easter and not -- they just make you smile! By Val's Stuff, they are stitched on 14ct perforated paper (you'll remember her Spooks of the month last year? same deal.) Finish them flat, with felt backing, and they look great hanging on a spray-painted white spring tree branch, standing up in an Easter basket, or attach a magnet and stick them on your file cabinet at work!

There's a Hare in My Candy needs to prop in a bowl of candy -- he finishes approx 3 x 4 and includes the felt, paper, eyes and bean buttons.
How Does finishes 3 x 4 as well, includes the wool for backing, as well as the purple flower, and the clay eye buttons. Cute as a plant poke!
Jelly Bean Buzz DEFINITELY needs to be perched in a bowl of Jelly Beans!!!!! He's 2 x 4, and includes the paper, felt, sparkly purple ribbon and green crazy eyes. You'll need bits of flosses from your stash for all of these.
***Lots of other new things by Val's Stuff as well... scroll down to see the rest!!!






Sheep Tales


A pair of small designs featuring sheep and puns...
Ram-a-lam-a-ding-dong has a bell (4638.t) embellishment,
and Just a Little Sheepish has a (2221.t) flower!

Presented as the chart, buttons are separate.


Cookies for Santa


Cookies for Santa -- A small chart just like the Spooks and Peppermint Twist, this is a black kitty saving cookies for Santa. Presented as just the chart only, you can use perforated paper and the felt finishing treatment if you like, but fabric and a stuffed ornament would work as well.

We have clay chocolate chip cookie buttons that would be super cute on there!


The "Eyes" Have It!


Val's Stuff has a new release that compliments her Monsters-of-the-Month series... cute new designs that are too much fun to pass by! Stitch them on perforated paper and hang them on a crooked tree branch for decoration. The Eyes Have It -- Read the quotes on these -- they are so cute. *I spy with my little eye!!!* * I have my eye on you!* This is another chart designed for 14ct perforated paper -- but fabric works just as well. The chart has all 4 designs in it, along with the clay eye buttons and 'U' cube.