6068 S. Sheridan Rd. Tulsa, Ok. 74145 (918) 493-1136 (888) 543-7004
E-Mail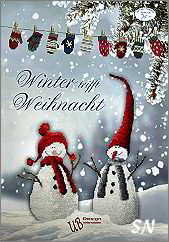 Presenting UB Design

This is a glorious collection of books by German artist Ulrike Blotzheim stuffed full of both stylized and realistic florals, charming whimsicals, holiday, seasonal, and Christmas themed designs. Each book (we have 18 different titles) has its own personality - they vary in size from 30-ish pages to 80. Extra thick, glossy pages, superior photographs of the actual stitched pieces - sometimes multiple finishes and presentation of each piece - they are a treat to simply page through! Each project has the smaller digital photo for your overall chart view, the chart in HUGE colored symbols, the actual stitched piece, and then multiple take-out pics to give you more display, gift, ornament, pic cushion, pillow...(etc) ideas.

Every time I travel to Europe (always have to visit the local stitch shops!) I find her gorgeous books... and have been treasuring my trip souveniers for years and years. Ulrike's designs are just breathtaking. They can be super-contemporary, darling and whimsical, softly shaded (especially the florals), stark and clean... a lot of birds in branches. Obviously between our 18 different titles, she has hundreds of different designs and subjects.

So Oder So
42 Pages of designs - the is companions our Autumn/Winter version - this is Spring and summer. Florals, done in positive and negative colorways - very clean and crisp - very organized! Fun to stitch and see the designs come to life!



Hallo Fruhling
38 Pages of GORGEOUS designs! I LOVE this book! Along with the daffodils and and spring florals, we get polka dot and floral bunnies, and then finish with the bunny delivering the most glorious Easter Eggs! If you can't choose which of these books is a favorite - get this one!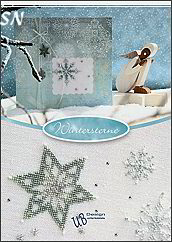 Wintersterne (Winter Stars)
This is Christmas and Winter done in pastel aqua blues and light mint greens; it is stunning! Remember the It Glistens book of silver and gold? This one has a lot of the same design feelings - but in these gorgeous frosty colors that go all the way into deep and dark. One of the pics has 12 dfferent little trees - all coordinating but all different from each other! Exquisite!



Sommerduft (Summer Fragrances)
From Fingerhut by Christiane Dahlbeck, 34 Pages of dandelions little brown birds, delicate wild flowers, who knew 'weeds' could be so pretty! Lots of different arrangements for tiny blue flowers, and lots of dandelions - both blown away and blooming!



Blutengluck (Lucky Flowers)
From Fingerhut by Christiane Dahlbeck, 34 Pages - This companions the Sommerduft designs. I love the bulbs growing in the water, there's a little flower vending truck design in here. The pic on the cover is sweet; they show those elements re-arranged in other ways as well... charming!



Im Blumengarten (I'm in a Flower Garden)
From Fingerhut by Christiane Dahlbeck, 38 Pages of wildflowers and buds in water vases. I love the bleeding hearts bouquet and check out that stunning daisy! So many different stitched combinations and arrangements from the motifs in this book.



Paradies - 'Meeting Point: Paradise'
Delightful! 32 Pages, this one features three stylized florals all measuring 150 or 210 square - depending of whether or not you include the offset bordered areas. (Kind of hard to explain.) Coded for DMC, you can see some digital pics, as well as s page that reminds you that take-outs from these can really be pretty just by themselves. I love the pretty colors in this and it makes me smile!



Fur Dich - 'For You'
59 Pages, this one is full of medium-shaded blue and pink florals. The main piece shows a sampler with 4 blocks of motifs. The rest of the book contains TONS of smaller companion florals and borders al shown finished into place cards, pin cushions, pillows, sachets, framed pieces... just everything. A really pretty color palette throughout the book.



Farbtupfer 'Splashes of Color'
82 Pages. This is REALLY GOOD one! It includes many different subjects in the designs... I chose to highlight the little European Pizzeria street, a pillow with wildflowers and a charming sailboat medley. The street scene measures 106 x 199, and uses 38 shades of delicious caramel-colored DMCs. The wildflowers are part of a larger piece they show in a framed version... don't really know which one I like better... I guess you could do the both - hang larger on the wall, and make coordinating pillow for bed? The sailboats are just light and Summer-y! Stitch them individually, line 'em up, whatever! Book has several other designs in here as well - remember 82 pages!



Fur Jeden Etwas - 'Something for Everyone'
Another luscious book, this one has 73 pages of charts, pics and design ideas. I chose two different seaside village scene that you can split up if you want. Love those colors! They show just one building with a seagull perched atop a piling finished into one side of a pillow... you'll be able to tell from the rest of the pictures what you can do with these scenes. The lighter green tree scene is stunning! 212 x 119, It's a scene of stylized trees - I wouldn't guess that the colors go together, but they do! Each tree has lines inside that make them all look different! The whimsical girl piece is cute too. She's done in blues, but easily changeable to another colorway. Several other designs in this one as well.



Sommerzauber - 'Summer Magic'
42 Pages of lovely stylized pink florals. This one was harder to show the main projects, as they have a million borders and rows in here, as well as small blossoms. Everything is stitched but re-arranged differently, scattered on pillows, cards, pin cushions, pillows, it's CHARMING! Tiny hearts with irregular backstitch lines, little polka dots decorating them, the idea of the monochromatic 'dots' in the backgrounds... there is a lot of room in this book for creative finishing and different projects. Everything follows the same DMC color palette.



Mein Liebstes Hobby - 'My Dearest Hobby'
Love, love what is inside this book! 73 Pages... there is a heart medley pic full of differently shaded pink, red and purple hearts... with lots of different finishing presentations for the smaller parts. The bright green design is a charming summertime pastoral scene - the colors are bright and lip puckering! Next is a picture of bubbles! Don't know what else to call them... but delicate bands of leaves and vines accented with shaded balls - no reason for it, just really enchanting. The last pic is an underwater scene that is full of busy fish and lots of texture. I like those horizontal lines through there... there's even a super-cute cross stitch sampler in here, but all the words are in German! I can make out the scissors and hoop, and threads but not the words!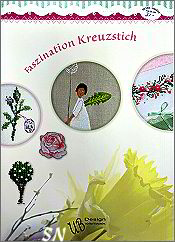 Faszination Kreuzstich -'Fascination of Cross Stitch'
Lavender, Roses, Tulips and birds, this book has 69 pages. The red tulip makes a simple pillow, there is a whole set of gorgeous blue blossoms - both large and small. The lavender sprigs and wreaths are stunning in the next picture, and there is another section like this for roses!



Der Fruhling Kommt - 'Spring is Coming'
Another pretty book full of florals, this one has 33 pages of tulips, bluebells and crocus (I think!) The finished pillows in here are super elegant, the stitching is understated and elegant.



Die Welt ist Bunt - 'The World is Colorful'
This is one of the larger books in the collection - 73 pages. Highlights are a gray tree with those colored balls - reminds me of the pic from Mein Liebstes Hobby Book. One of the most charming pieces is the dachsund carrying the bouquet of balloons! What a fun backstitch background for those balloons! Next is the fisherman walking down the beach - so simple and so peaceful. Then these fish! They are simply blue and white, but all of them are different and you can just FEEL them swimming. Up close the textures are bold and really surprising for such a seemingly simple design. ( I'd love that bench on that deck too!)



Spitzentanz - 'Point Dancing'
This book has 73 pages. Inside is a trio of dancer pictures along with some lovebirds and lace, and finally a composite page of stitched laces. Another book to really study, I think you could stitch a whole set of small 3 or 4-inch lace squares and rounds and make a set of pin cushions.



Rosenmelody - 'Rose Melody'
This book has 71 pages. It's full of tiny rose designs all arranged into motif samplers and scattered across pillows. Every tiny size you can imagine, borders of them, both small (45 x 45) and larger (100 x 100) rose wreaths are in here. Lots of different finishing ideas, if only there was enough time in the world to stitch everything in here!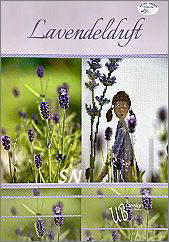 Lavendelduft - 'Lavender Scent'
This is a smaller book - only 25 pages. It features a girl holding huge lavender springs, along with a still life (139 x 195 in stitch count) purple pot full of lavender. The colors in here are glorious - you get to use every purple and lavender color in your thread box!



Dream Flowers
31 Pages, this book features 4 tall and slender blue flowers all in slightly different vases. The all measure about the same size, and can be mixed and matched together. All coded for DMC, they are so fresh, light, and PRETTY! Models are shown framed and in pillows inside the book - good finishing ideas.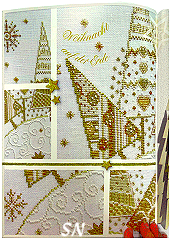 Es Glitzert - 'It Glitters'
This is one of my favorites! 43 pages, everything in here is creamy gold, white or silvers. Ulrike uses Rainbow Gallery metallics in here, some silks, and Kreinik metallics - so you'll want to gather threads before you begin. My favorite piece is the round hill of whimsical trees that we're showing in the pics. There is a whole Christmas Village all outlined in golds in here, as well as a couple of really cute ornament designs. So different from American Christmas colors... so bright, clean and elegant!



So Oder So - Either Way
This book features 43 pages of designs 'in the negative and positive.' An Autumn leafy 4-square, a Wintery holly version, and a frosty light blue snowflake medley, they are lovely! They show different ways to arrange stitch the component parts, and offer more unique finishing ideas. The leaves are especially pretty as little fobs. There is a pair of hearts in here too, gorgeous graduating colors in either a pink or blue colorway. Very pretty, you have lots of options to make the larger designs or the smalls.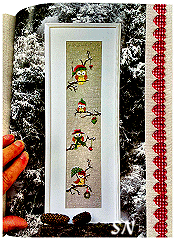 Von Draub vom Walde 'From Outside the Forest'
An awesome 66 page collection of CUTE Christmas designs! The cover has a gigantic Santa Boot - full of Santa's Loot! You can see a medley sampler stuffed with reindeer, hearts and gingerbread cookies They spend the next 10 pages breaking all that up into smaller ornaments, pillows, pulls and tags, gorgeous finishings and trims. Next, is an evergreen decked out in a forest of 'lace.' Do just the tree if you want. There is a very swirly red heart design next... very European in personality. The cutest, though, is that tree branch of little owls wearing scarves and hats!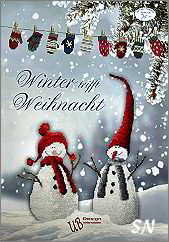 Winter Tifft Weinacht - 'Winter Meets Christmas'
OHhhh super cool stuff in here - 74 pages! A beautiful cottage in the woods is nestled inside the moon. Another design is that snowman gazing at the night sky and star. I love the multi-colored comtemporary tree medley! You get to use every bright color of DMC you own for this one... so it just makes me happy! The dachsund working the Christmas Tree lot looks pretty happy too! Just a different christmas-themed design for a change. You could stitch one of the evergreens and 'decorate' it with beads and random metallic stitches here and there. And... you get that pair of snowmen dreaming about new mittens hanging from the clothesline!



Weihnachtszeit -'Christmastime'
This book has 54 pages. There is a gorgeous holly vine in here - I think it's about 24 inches long and an inch or two wide, the model is shown on banding. Next is Santa and his helper gazing at stars. Another snowman set against a bright blue snowflake sky. Isn't the little elf in the cocoa cup cute? I didn't shoot a pic of the Christmas bicycle or the Christmas word medley in here, wanted to save some pleasant surprises for you!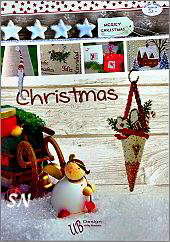 Christmas
75 pages of stitching delight in here! There is a set of 4 santas in here - tall and lanky - cute sleeves and beards though! The little red house in the woods is charming too. An elegant pair of white ice skates are hanging from a green bow, and there is a pretty table square of snow-topped red berries all around. Lots of darling things in here... too many pretty pages to capture everything in these two sentences.