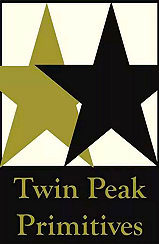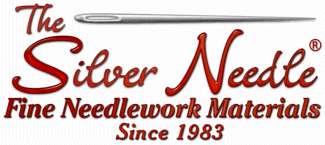 Twin Peak Primitives
6068 S. Sheridan Rd. Tulsa, Ok. 74145 (918) 493-1136 (888) 543-7004
E-Mail



Peace on Earth


A new Christmas Sampler by the Twin Peak Primitives Girls, there are a lot of charming elements in here. Check out the border - there are reindeer inside all that holly! I think just that part would make a lovely pin drum. Then, Santa and his reindeer are flying above the grand manor... and there is a stitching blackbird and even scissors on here.

Love the colors, love the house, the balance of it all - just everything. Measuring 211 x 176, this finishes about 12 inches on 14/28ct, and is coded for DMC floss. Pretty colors, fun elements, I just keep going back to those lovely reindeer!





The Seafarer's Journey and Haunted Chateau


We're starting to get in Autumn patterns and school has started here, but this chart finally floated in via USPS today... and it's a reminder that is really still IS Summer!
The Seafarer's Journey by Twin Peak is just a fun piece. Coded for 14 shades of regular DMC, this measures just 111 x 108 in stitch count - so an enchanting 6 x 6 on 18/36ct! Ice blue is the suggested fabric color - it's showing through in the side and bottom panels. The flag across the top is solid stitching, as is the clipper ship in the center. Absolutely delightful, you could get 5 separate cushions out of this, finish the houses and flag bands into tiny drums, make a small stand-alone cube from the clipper ship section, even back the clipper ship block with the two side panels. Very eye catching... we like it!
Haunted Chateau - Quite the heavily guarded castle - it looks scary even before we bring Halloween into the mix! Knights and shields, that wrought iron fence -y border, then the wonderful haunted house, you could leave off the Halloween word and the alphabet and add a "welcome to our home' and you name! Measuring almost 275 stitches square this will finish approx 16 x 17 on 32ct - too big to miss! Coded for DMC, it's charming in a creepy way!



2023 Patriotic Smalls, Amish country and Primitive Stockings with Mice


The girls at Twin Peak Primitives have lots of different design looks... here are three!
2023 Patriotic Smalls - 9 Different designs in this book, the cushions are charming! All coded for DMC floss, the motifs are cute - the lighthouse covered in stars and stripes, that tiny sailing ship scene, the eagle is cool, and the farmhouse barn with the quilt and sunflowers is pretty too. Everything is shown against a sky blue fabric background. The book itself is beautifully published. Heavy paper pages, each design is featured on it's own 2-page open spread. You get the clear chart over one page, and then a smaller colored chart, as well as the photograph of the finished cushion right there - while you're looking at the chart. It's very nicely presented and a nice value for what you are getting!
Primitive Stockings With Mice - These are darling! The stockings themselves are finished into kind of an angular shape, but I think you could fix that and make these into a more traditional stocking shape if you choose. Each little stocking is actually not so little - they measure 4 x 9 on 14ct. Coded for DMC, they each feature little mice residents that are the cutest! Real different, I think they'd be fun with real bells at the bottom, furry or wool thread for the mice, maybe metallics for the candy canes, and you COULD do some special stitches for texture on the striped and checkerboarded ones. These are worth the look - you get all 4 stockings in the single leaflet.



Red Smalls


A brand new book by Twin Peak Primitives, this has 9 charming designs all stitched solidly in red. You CAN choose ANY OTHER colors that you want... they chose red. Beautiful little cherubs, florals, a little sewing-themed drum, the designs do have a Valentine's/Love feel to them.

They're all 5 x 5-ish or a little larger... perfect for all of you that have a 'stitching limit of 75 x 75!' Large enough to be worth the stitch, small enough to get finished for a pretty presentation!


The American Trilogy


This is a really neat 'retro-inspired' designs to celebrate America! The Twin Peak girls are from The Netherlands... and I usually think the designers from other countries don't always 'get' our 'Americana Flavor'... but these are pretty good! Charts are large, and in addition to the black and white version, you get a complete color version as well. Available separately or all three together in one leaflet... choose just your favorite one or two... or do all three for a really nice trio presentation!
Shore of Freedom is fun. We're arriving to Ellis Island via that glorious hot air balloon and the sailing ship. Did you see the mermaids on here? 12 Colors of DMC, it finishes approx 10 x 10 on 32ct.
Independence Bell - This has the flavor of a European church! But we like it anyway! 16 Colors of DMC, this finishes about 7 inches square on the 32ct.
Lady Liberty - This is my favorite... love those ships sailing into the New York Harbor! This one finishes about 10 x 10 on 32ct.



Stitching Summer


Smell the Sea and feel the Sky - just don't get sand in your stitching bag! This is kind of a fun piece by Twin Peak Primitives... I see three bands of design in here... so lots of possibilities. The top row features spools of thread with those shorebirds, bitty cabanas and the fishermen on them. Notice the clothesline there with the scissors and needles on it? (and the bitty swimsuit!) The crabs are super cute, and the row of whales down below just makes it a busy sea-scene.

Presented as a leaflet, the stitch count is 170 x 119 - so 10-1/2 x 7-/12 on 16/32ct, and it calls for regular DMC floss. Easy to add some hand-dyeds , you could do the crabs in metallic, or the tiny swimming fish... or add buttons here and there if your stash 'overfloweth!'





Cherry Garden


*All flowers blossom at different times*... a pretty piece. Stitch all of it, or choose just the bands you like!

By Twin Peak, it measures 167 x 248 - so 12 x 18 on 28ct - it is worked with DMC floss. Presented in leaflet format.





One Nation Under God - Liberty


This is quite the piece by Twin Peak (all the way from The Netherlands!) Stitched on 36ct (329 x 310), it'll finish approx 18 x 18 - you won't lose THIS on the wall! The pattern refers to Rustico Aida, but also Picture This Plus's Wren color... so those should give you an idea of fabric choices.

It is coded for DMC or Weeks hand-dyed flosses - 18 different shades. It's really very pretty, and I especially like the big floral pots up by the words. (Do one of those if you haven't got time to stitch this whole thing!) And we love those billowing flags too!





Old School on the Prairie


This is a sweet little piece that feels to me like it needs to hang above the mitten and hat pegs in the hallway going to the back door! Kind of like the 'coat room' in Kindergarten! Measuring just 154 x 123, it finishes approx 9-1/2 x 8 on 32ct - not very large at all.

Suggested fabric is Rustico - which is an Aida color that translates well to Natural in Linen! Coded for 13 shades DMC - all very normal shades you'll have in your stash!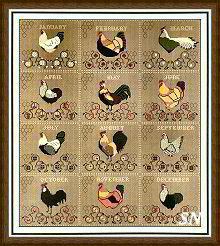 Coop Almanac


This in an interesting pattern... take a minute to get past the overpowering brown color of the background artwork... and pay attention to the chickens! They are all abut 40 x 50 stitches, and some of them have beautifully patterned areas of stitching on them!

Add some cool threads, do some long stitches... skip the borders, and do JUST A SET of chicken pin cushions! There is some chicken wire charted - maybe do chicken wire backgrounds for your cushions?

I think this pattern has great potential! Charted for DMC cottons, but think about hand-dyed Simply Wools by Gentle Art!





Black Halloween Series


There is a lot you can do with this trio of designs. Right now, they are simply black on white. Think about neat fabric colors from your stash with that same black stitching.

Or... use a hand-dyed black for more effect. You could add a few stitches of just one color to make them POP - like gold metallic for pumpkin eyes, or black metallics for the spider. Super simple and understated... they'd make striking Halloween decorations.