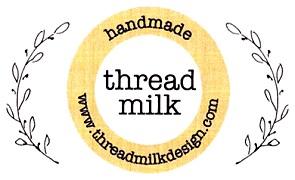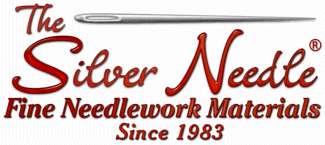 Thread Milk
6068 S. Sheridan Rd. Tulsa, Ok. 74145 (918) 493-1136 (888) 543-7004
E-Mail
Thread Logo Milk Caps and Halloween Caps


We have two new sets of Thread Milk's vintage milk cap thread cards. Just something fun to put with your stitching, you are supposed to tie your current prject's threads to these little guys to keep yourself organized. Inspired by the cardboard caps on the milk bottles when we were little... the Thread Logo set of 10 has artwork that appeared on wooden thread spools.

The Halloween set features logos of four dairies and 6 caps with vintage Halloween artwork on them. Actually kind of an 'extra fussy' thing... these ARE cute, and really fun to have!





Patriotic Milk Caps


Thread Milk has sent 2 new sets of Vintage-Artwork Milk Cap Thread Rings. Charming retro images printed onto her round, drilled cards, these are fun to organize threads for your individual projects.

Patriotic designs join Christmas and Everyday sets... and if you choose to by-pass the ring/charm/bow decorations... you can get 50 assorted Cap Cards by themselves! We don't know why these are so much fun... but they ARE!



Cardboard Milk Bottle Caps for Threads
These are sets of 1-5/8 inch cardboards that feature antique-inspired artwork from old milk bottle caps. Each is drilled with two holes - one to attach to a ring, the other to tie your threads onto. (Picture those paper coasters they give you in English Pubs, and the beer coasters you get in bars - these are the same material.)

Something fun and colorful to dress your threads, they are super-cool tucked into sewing cases or decorating the zipper pull on a sewing pouch. They'd also be neat tucked between your stitched cushions in an old bowl, like the props used in The Bowl Series! Two different sets at the moment - The Ring set has 10 caps plus the charms and logo tag. The other set is simply 50 loose milk cap cards.





The Statehood Splendor Series


By Thread Milk, these are educational! Of the 50 United States, we have 25 charted so far, and they are offered as individual state charts. Each design measures 50 x 50... you can stitch them on any fabric you want... even mix and match the colors if you like. Coded for DMC and hand-dyeds all 50 will use the same color palette. Thread Milk has researched every state, and included a lesson with each chart... then used that info to make different motifs for each state. The 13 colonies each feature a medallion on the lower right... some of the designs use a monochromatic hand-dye thread... they're all different but they go together!


Not being designed in any particular order, we're not taking s for states not done yet, as the design plan is one state per week till the end of 2022. I think we are showing my pic I took at market of her collection so far... all the cushions are nestled in a big wooden table decor tray from Hobby Lobby - which will hold all 50 when the set (and YOU) are finished! Note: The charts have numbered the states - for example, Delaware is listed as #2, California is #9. That is just the order in which she designed them... NOT the order in which they became a state. Don't get confused by that!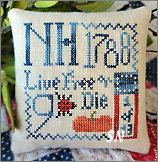 10 New Statehood Splendor Charts


The Thread Milk people have been working on more of our United States in ornaments and pin cushions! All the 50 designs coordinate, using a combination of the same color palette. Each has the state abbreviation, the year it was made a state, and its number.

We FINALLY get Oklahoma - we were the 46th state - so I guess that's why we're at the end of the pack! This is a cute set - each state is offered individually.


Thread Milk's Statehood Splendor Series is FINISHED!


Thread Milk has finished her set of 50 state pin cushion/ornament designs with her final 10 charts. You'll notice in the pic that they are all different, but coordinate. The state abbreviation is on there... something about the state, and that number is the order in which it joined the Union.

A fun set... now everybody can get THEIR state! The entire set is now pictured on the Thread Milk Page.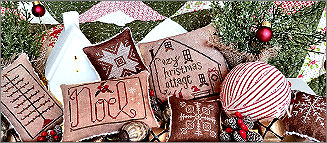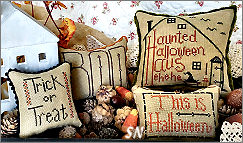 The For The Bowl Series
The Bunny Bungalow, Cozy Christmas Cottage, This is Halloween and Turkey Tavern are 4 new charts featuring small seasonal and holiday pin cushion designs. All coded for DMC and/or hand-dyed flosses, everything you see has been stitched on various colors of 36ct linen, and each is trimmed with various hand-dyed chenille trims.

Just small and simple... look at all the fun trinket-y props they've added to the bowls to accent the stitching! What a great excuse to browse the aisles of Hobby Lobby - you NEED all that stuff for the benefit of your needlework!

Wander With Me
This is a sweet woodland scene... a hedgehog, rabbit, snail, bee and bird - 'everyone' is stitched with Weeks and Classic hand-dyed flosses, and on 32ct Flax it finishes approx 3-1/2 x 7.





Forest Friends Pincushion

from Under the Garden Moon


This designer is good friends with the Thread Milk people, so we are storing this design on this page for now.
This is enchanting. It's a 6 x 6 x 2 hand-appliqued felt pin cushion decorated with charming animals, vines, and little spotted mushrooms! NOT cross stitch at all... this is for all of you that love cutting bitty pieces of wools and felts, and then adding bits of Crewel embroidery to embellish.

The pattern has actual sized templates for cutting and arranging. We bought her little material packet, so EVERYTHING is included in here. So yours WILL look like this - same colors and fabrics, etc. You can't see the edging or back in the pic, but that features red baby rik rak, and a darling red/white and aqua floral backing fabric. I'm a sucker for this kind of thing... I think it's Over the Moon - even though it's by Under the Garden Moon!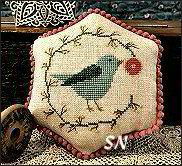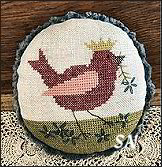 A Little Birdie Told Me

from Under the Garden Moon
This designer is good friends with the Thread Milk people, so we are storing these designs on the bottom of this page for now.
This is a cute set of 5 small pin cushions - all featuring little springtime birds. All about 4 x 5 on 36ct linen, coded for DMC, they're just simple and cute

We bundled the whole set together for collection ease... finish them all with different trims as shown, and you have a cheerful Springtime set!