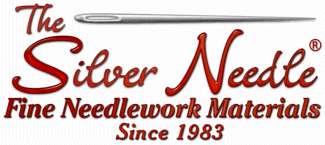 6068 S. Sheridan Rd. Tulsa, Ok. 74145 (918) 493-1136 (888) 543-7004
E-Mail



Gorgeous New Designs from Samplers Not Forgotten's Kimberly Nugent


Kimberly has a soft, floral style.. she's done 3 new pin cushion kits as well as some bigger samplers - in leaflet format.
Key to My Heart Kit - A hint of a plaid to the background, this sweet little heart pin cushion is done on 36ct Beige hand-dyed linen with the softest colors of Weeks hand-dyed flosses. Your complete kit will contain the linen, threads, dusty light blue backing fabric, Lady Dot ecru baby rik rak trim and hand-dyed sage rayon ribbon, and a small key (to my heart!) charm - along with the chart and needles. Finishes approx 4 inches in size. Just beautiful!
Posey Basket - Another 36ct linen cushion kit - approx 4-1/2 x 6. The linen is Week's Cornsilk, the cottons are dusty medium pastels. Hand-dyed blue ribbon, a medium blue backing fabric and butterfly charm are included along with threads and fabrics... very 'dusty and vintage.'
Regal Bird Cushion - Brighter colors on this - yet an aged look too. Complete kit of all deeper, yet dusty Weeks flosses, there is a deep berry-colored ribbon to rouche the edges, and a matching bit of finishing fabric for the back. There is also a heart charm included that you might not see in the picture. Finishes approx 4 x 5.
Double Crown - An adaptaton from an antique sampler... Kimberly has initials stitched in a different color on here - she's suggesting it as a birth or wedding memory. titched size is 10 x 5 on 36ct, everything is worked with Gentle Art Sampler Threads.
Garden of Stitches - WOW... this one is an original design, and Kimberly has packed it full of special stitches. Resembling her English and French Garden Samplers - this has 'sections' that you can pull out and stitch individually if you aren't up to the whole thing. The two band samplers and that lush pot of roses... everything is worked with Weeks hand-dyed flosses and measures a petite 9 x 10! It just looks larger than that to me, it was exquisite in person at the Needlework Market! It looks advanced to stitch, but probably isn't too bad, because the rows are close together and short! Shop model coming of this one!
One Nation - What a delightful little set of needlebook, cushion and fob smalls. Grab some pretty wool for lining and finishing, everything is done with Weeks hand-dyed flosses on 36ct. Needlebook finishes about 6 x 7 when closed. It is exquisite on the back. I have pictures - but it's even more charming in person. Lots of detail on here!
We're excited to bring home our Treasures by Samplers Not Forgotten!
Peony Bouquet is Kimberly's Market Exclusive Limited Edition design this year. Presented in fully-kitted format. Stitched on 36ct hand-dyed linen, it features a very soft vase of lavish blooms - all stitched with soft, dusty colors. Kimberly has included antiqued lace trim, coordinating backing fabric and hand-dyed velveteen to make the scissor pocket she shows on the pattern. A very pretty little cushion, it'll finish approx 4 x 5.
Dutch Rose Kit - another beautiful little floral cushion design. Again stitched on 36ct hand-dyed linen, this one includes the charm, silk ribbon and hand-made antique lace trim. A little smaller than Peony at 3 x 4-ish.
Patriotic Heart Kit - A softer take on stars and stripes, this complete kit offers you 36ct hand-dyed linen (I think it's putty - but not sure.) The coordinating hand-dyed ribbon and ball trim to match the threads.
Memories - Kimberly did a fun beach-y thing... Memories features three different framing borders of waves, crabs, seahorses, seaweed and tiny swimming fish. 'Our memories of the ocean will linger on long after our footprints in the sand are gone.' The beach chair is neat - there is a whole little scene along the bottom. Stitched on Weeks Dye Works 36ct Confederate Gray hand-dyed linen using Weeks cottons, this will finish about 8 x 10. We have BEAUTIFUL pin and button options by Puntini - little sand dollars and lighthouses... all sorts of cute mini things - I think they would be great together with this design!
Dutch Rose Garden Sampler 1849 - Wow, look at these gorgeous motifs scattered about in this! Stitched on Weeks 36ct Parchment Linen with multiple skeins of 17 shades of Weeks hand-dyed flosses, this will finish about 14-1/2 x 15-1/2. If you don't think you're up to a larger piece like this - DO THOSE MOTIFS as individual cushions! What a gorgeous set of smalls to nestle in a bowl... use Kimberly's finishing ideas from the rest of her cushions as inspiration for yours. This is just an exquistite piece - presented in chart format.



One Stitch at a Time


This is a sewing envelope design that features three panels of stitching along with a small matching fob/cushion piece. Stitched on a 32 or 36 neutral linen, the colors are quite pale - Confederate Gray, Adobe, Dove, Garrison Green and Arrowhead. Kimberly wanted a soft and antiquey look on her 5 x 5 envelope which is trimmed with lady dot's Blue Fescue Velvet and Rainy ribbon.

The cut of wool you see measures 3 x 4 - to help with perspective. Since Kimberly designed this during all the lockdowns... fabric shopping for lining was not an option, but know that you can line your piece with anything else besides the solid you see behind that small wool panel.
*Beautiful things come together one stitch at a time.*





Floral Heart


Samplers Not Forgotten has released a new pin cushion design - a pretty heart-shaped floral - stitched in pale rose and moss hand-dyed cottons.

Fully kitted, it is stitched on 36ct Weeks Dye Works hand-dyed linen with Weeks flosses. The featured lace trim and ribbon for the finishing is by Lady Dot. The kit includes the chart, linen, threads, trims, the charm and the backing fabric - which you can get a glimpse of in the background of our pic. What a pretty piece!





One Hundred Hearts


A hundred hearts would be too few to carry all my love for you. Samplers Not Forgotten did this piece for us several years ago as part of our A Little Help From Our Friends Stitching Circle! It is a precious design... I even took home the model and it's been on my dresser ever since (so now I'd better bring it back to the shop!)

Soft colors of Weeks hand-dyed flosses (Pamlico, Jay Bird, Bullfrog, Grasshopper, Aztec Red and Hibiscus) on weeks 32ct Tin Roof hand-dyed linen, it finishes about 5 x 5. The little wool heart on the back holds a small pair of scissors if you want it to, so you'll want to choose wool and cushion trim that matches.





Descending Sun


This charming piece finishes about 8 x 9-1/2 on 36ct - it measures 170 x 147. Dove, Dirt Road, Baked Apple, Merlot, Gold, Arrowhead, Endive, Piney Woods, and Carriage Black are the featured hand-dyed threads... I love, love, love that floral basket to the right of the house!

Count that day lost whose low descending sun derives from my hand no worthy action done. What a nice way to remind one not to have a wasted day!





French Garden


Another gorgeous piece by Samplers Not Forgotten, this one features a French proverb as the verse (which is also charted in English just in case!). Little by little the bird makes it's nest is the thought - the proverb advises that with patience (or time) and perseverance all goals can be accomplished. Look at those gorgeous florals cascading down the sides... and all those involved dividing bands - aren't they exquisite? That little bird motif in there would make a beautiful little pin cushion all by itself!

Measuring 271 x 351, stitch this on any linen you like - it'll finish approx 15 x 19-1/2 on 36ct. Worked with Weeks flosses, you'll need multiple skeins of Arrowhead, Banana Pudding, Dove, Oilcloth, Caper, Dolphin, Blue Suede, Lily Pad, Whiskey, Gold, Sanguine, and that time and patience it talks about!

The pics look stunning... can't wait to see it!





Sweet Finch, Rose Bouquet, Token of Love and Catharine Negus 1810


Samplers Not Forgotten has a trio of pretty pin cushion designs that are presented in kit format.
Sweet Finch - This is the little bird that is featured in the French Garden Sampler! He is precious! Very soft colors of cotton flosses, it finishes approx 4 x 7 and has a matching fob that is less than 2 x 2. Kimberly's kit contains the 36ct Weeks hand-dyed Beige linen, a gorgeous mossy green backing fabric cut, hand-dyed vintage rik rak trim, frosted gunmetal glass beads, the vintage safety pin and a pearl button. So, so lovely!
Rose Bouquet - YUM! This one is stitched on 36ct Edinburgh linen with Weeks hand-dyed flosses (included.) The hand-dyed velvet and matching silk ribbon is by Lady Dot. There are fresh water pearls in here as well. The stitching is a solid area measuring 82 x 36 in stitch count. The colors are LOVELY - reds and mossy greens for the stitching, and a deep, deep denim blue for the velvet (reminds me of Weeks Dungarees - but this is hand-dyed by Lady Dot so it is her blue.) I would never have guessed that the stitching and velvet would go together, but they really do! The finished pin keep measures less than 5 x 5... the finishing instructions are in here to help make yours look just like this one. The blue is NOT bright-ish like on the cover pic - it is rich and vintage looking!
Token of Love - A charming heart-shaped cushion, this is stitched with Weeks 36ct Putty Linen and those rich red and mossy green cottons. The stitch count is 85 x 72, so it measures a little over 4 x 4. The kit contains the chart, linen, floss, ribbon for finishing and red and creme homespun finishing fabric for the back.
New from Samplers Not Forgotten
Liberty - Very primitive in feel... looks like the yellow house from With Needle and Thread's Sampler and the girl from 4th of July - but not exact. Fun border, pretty colors, just quiet. Measures 8 x 10 on 36ct, coded for Weeks flosses.
BG 1874 - This is a gorgeous sampler... awesome floral motifs, borders and those alphabets! Wow! Stitch count is 496 x 202 - so it finishes approx 28 x 11 on 36ct. If you like only either half - just do HALF! If you like the florals - make a couple of pin cushions and call it good. There are no 'Cross Stitch Police Rules' anywhere that say you have to stitch the whole thing to enjoy just a part!!!
Blessed and Thankful - I think that verse is describing the little squirrel! Stitched on 36ct (only the words are stitched over one thread) with Cypress, Charcoal, Picnic Basket, Endive, Cidermill Brown and Fragrant Cloves... this finishes approx 6-1/2 inches square on 36ct. I think some veins (long stitches) in the leaves would be pretty, and what about some Leviathons in the acorns and Satins on the caps?
New Designs from Samplers Not Forgotten
LW Motif Sampler 1821 - This is a pretty pink and green floral sampler with a SUPER-antiquey flavor to it. 16 Different hand-dyed flosses in here, it is petite, but VERY pretty on color! Not too big, it finishes about 5-1/2 x 10 on 36ct... it is just charming!!!!
English Garden - This finishes approx 10-1/2 x 18 on 40ct. It is INTENSE! Stitched with Weeks Dye Works hand-dyed cotton flosses, you'll need multiple skeins of several of the colors, so buy your floss all at one time. Parchment (2), Confederate Gray (1), Sage (1), Garrison Green (3), Grape Vine (1), Red Pear (1), Pea Coat (2), Oscar (3), Whiskey (1), Gold (2), Sanguine (1), and Cinnabar (2). There are only Cross Stitches in this, but the borders and patterns are rich and full - the stitched piece in person was absolutely enchanting. Remember, you CAN break this up and make pin cushions out of some of the solid areas... and the 1813 floral basket on the right hand side is available separately as a cushion kit! This is lovely... buy it for your stash... it's worth it!
Bouquet 1813 Kit - That sweet little floral take-out from the English Garden Sampler... Kit of linen, finishing fabric, threads... so pretty!
Pensee Savauge Kit - Another delicate floral cushion kit... you get the finishing fabric, button and silk ribbon in here along with chart, linen and floss.
Floral Cup Pin Cushion Kit - Oh this is delightful! It is a soft spray of flowers stitched on Weeks Dye Works 36ct Tin Roof hand-dyed linen with Weeks Dye Works hand-dyed flosses. The complete kit includes the darling little 2-1/2 inch white enameled cup with the green ribbon for the rouching trim, along with linen and flosses. The heart-shaped waxer in the pic is included... and so are the 3 crystal pins! Really a fun way to finish a *small*... something to perch on a shelf, windowsill, or just another unique and interesting finishing treatment for a small design!
The finished design measures approx 4 x 6-1/2. The kit includes the hand-dyed wool and ribbon to make the backside 'flower' treatment, as well as that antique-y black and taupe finishing fabric. The left edge also features some tone-on-tone Eyelets and Satins!
Ann Wright's 1726 Pinkeep Drum Kit is finished into a charming little cylinder -- a drum shape. It was another Nashville Market Exclusive kit as well! This kit comes with the 36ct Weeks Beige hand-dyed linen, a cut of gorgeous hand-dyed velveteen for the strawberry, along with green hand-dyed wool for it's topper. Flosses are Weeks -- gorgeous rich shades of denim, burgundy and greens. You get the trimming buttons shown on the model and the denim and tan finishing fabric. Its design is a small take-out from Ann Wright's large sampler -- which we have on SNF's interior pages!!! CHARMING!



Ann Wright 1726


Here is the main sampler that provided the small design featured on the 1726 Drum... shown here as both the new model and the original sampler. Stitched on 40ct linen, this measures an impressive 9 x 21 inches when finished.

Charted for silks, if you have the matching drum pattern, you can convert to those hand-dyed cottons used. Stitches include Saw Tooth, Satins, Eyelets and Bargello over 4. Absolutely stunning, this is just rows and rows of florals and trees, with a flock of angels at the bottom!


Garden Urn Pinkeep


Kim Nugent released such a charming pin cushion... it is her limited edition... and it is just lovely. Presented as a kit, she chose 36ct Vintage Pear Lakeside Linen, paired it with an antique-flavored calico backing fabric, and soft hand-dyed Sampler Threads of Old Brick, Pecan Pie, Endive, Brethren Blue, Briar Rose, Heirloom Gold and Mustard Seed.

The stitched area is 3-1/2 x 4... the finished cushion about 4 x 5-1/2. You get the linen, backing fabric, threads, along with a red felt heart to decorate the back, and the trio of mother-pf-pearl buttons garnishing the front. Super soft and pretty colors, this is very nice.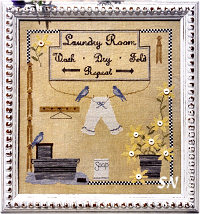 Laundry Day


Laundry Room -- Wash * Dry * Fold -- Repeat
Something cute to decorate the walls of your laundry room -- if you have a nice one! (mine is behind my furnace in the basement... so all I'll enjoy is a stitched model in the shop!) Samplers Not Forgotten has released this charming design -- all yummy, faded colors of Gentle Art Sampler Threads -- that finishes approx 11 x 11 on 36ct.

Stitched with Harvest Basket, Barn Grey, Butternut Squash, Liberty, Dungarees, Baby Spinach, Chalk, Picnic Basket, Onyx and Garden Gate, the dusty grays and denims are perfect with the soft yellows of the flowers. Did you notice that the border is made of wooden clothespins? And... this is a much more FUN way to use the stray buttons that come off in the wash, instead of sewing them back on where they came from!


Fourth of July Picnic


Here's a fun piece -- it sports a lot of different little borders and a flower urn that features buttons or stitched flowers -- or both! Just 130 x 100 -- approx 7 x 6 on 36/18ct, this is worked with Sampler Threads of Onyx, Picket Fence, Wheat Fields, Endive, Freedom, dungarees, Cranberry, Linen, heirloom gold and Picnic Basket.

I like the borders and those buttons -- there is a house in the background -- maybe your fabric choice will let that show up a little better. Cute as a door-stop block!!!


With Needle and Thread


What a CHARMING sampler design by Samplers Not Forgotten! My Soul is fed with Needle and Thread. I love everything about this piece!!!!! Presented as a chart, it is for anyone who loves to stitch! Worked on 36ct, it'll finish approx 11-1/2 x 8-1/2. Stitched with Sampler Threads and Classic Colorworks of Lexington Green, Roasted Marshmallow, Garden Gate, Endive, Wheat Fields, Brown Hen, Deep Fennel and Eggshell, the border is different all the way around.

Pretty white flowers, the scissors adorn the right edge while the spools of thread adorn the opposite. Your initials are on here nice and big -- because you are important! The flower urn is pretty just by itself, but so is the little yellow house with the band sampler below! Can you see the special stitches between the rows? There is a thimble on there... and the bottom band is a tape measure!!!!! Then, for a special touch -- choose some pretty antique buttons to embellish here and there... just so pretty!


Autumn 1831


A quiet, house... what I really like on here is that gorgeous floral vine border. It winds all over the piece and is different all the way around. There are several white flowers in it that you cannot see on the cover pic.

The entire piece finished approx 11 x 10 on 36ct, colors used are: Blackbird, Burnt Orange, Dark Chocolate, Barn Gray, Onyx, Honeycomb, Eggshell and Endive.


Parents Love


By this work You may see My parents love to me. Generous in size, this finishes approx 15 inches square on 40ct. I'm not sure of the meanings of the motifs in here... or why the verse says what it says... but it does have that charming yard down at the bottom, and it's very colorful! Offered as a chart, it's interesting!


Bird Song


This is a charming piece by Samplers Not Forgotten, stitched with Gentle Art Sampler Threads of Onyx, Oatmeal, Picnic Basket, Brandy, Buckeye Scarlet, Endive, Piney Woods, Cottage Blue and Toasted Barley.

On 40ct, it'll finish approx 10 x 7, and features teeny Padded Satins on the birds in the border, and more along the bottom in the green grass. The wild vines and swirly roses are delghtful! A fun little piece offered as a chart.


Autumn Garden


Even is something is left undone, everyone must take time to sit still and watch the leaves turn. What a fun verse for a fun sampler! The trailing ivy border along the edge, acorns and golden flowers, I especially like the crow perched atop the pumpkin! The neat area of special stitches is kind of cool, too.

Stitched on 32ct, this finishes approx 11 x 12 in size, and is worked with Gentle Art Sampler Threads of Pecan Pie, Garden Gate, Flax, Moss, Autumn Leaves, Brick Path, Gold Leaf and Onyx.


Mary Shepherd


This is a gorgeous little piece... a heavy cross-stitched border surrounding a floral basket -- all in special stitches. The basket/urn is stitched over two threads, and then AGAIN on top of that over 4 threads! The entire floral part is really a line drawing that you use as a guide to fill in the greens and flowers with straight stitches!

Only 4 colors in this, you could choose some hand-dyed to give it even more depth if you like. VERY unusual, the overall stitch count is 105 x 138.


Strawberry Pincushion


Just a bitty wisp of a thing, this measures only 30 x 35 stitches... and uses just 5 colors.

I think the red ribbon edging really sets it off beautifully! Offered as a chart.


Black Cat Sampler


This is a pretty piece -- the dainty border with all the alphabets and more border motifs at the top... I love, love all the motifs in the bottom half. Can you find the Strawberry Pincushion chart above in here???

Pretty urns and florals... why is that black cat so prominent??? Stitch count of 368 x 347 -- very pretty balance in this one.


Isabill Robb 1803


Such a pretty sampler that our image doesn't come close to doing it justice. This has a stitch count of 447 x 481 -- so on 36ct, for instance, it'll finish approx 25 x 27 -- awesomely huge!

LOTS of delicate design detail in here... great floral borders, some over-one work, lots of elegant floral motifs. Charted for DMC or silk, there are only 11 colors used. Really nice balance, this is offered as a chart.